Healthy Pumpkin Bread
A delicious, healthy pumpkin bread recipe – the BEST pumpkin bread I've ever had! And, it's made with half the amount of sugar, half whole wheat flour, greek yogurt and coconut oil. A healthier pumpkin bread you can enjoy without the guilt!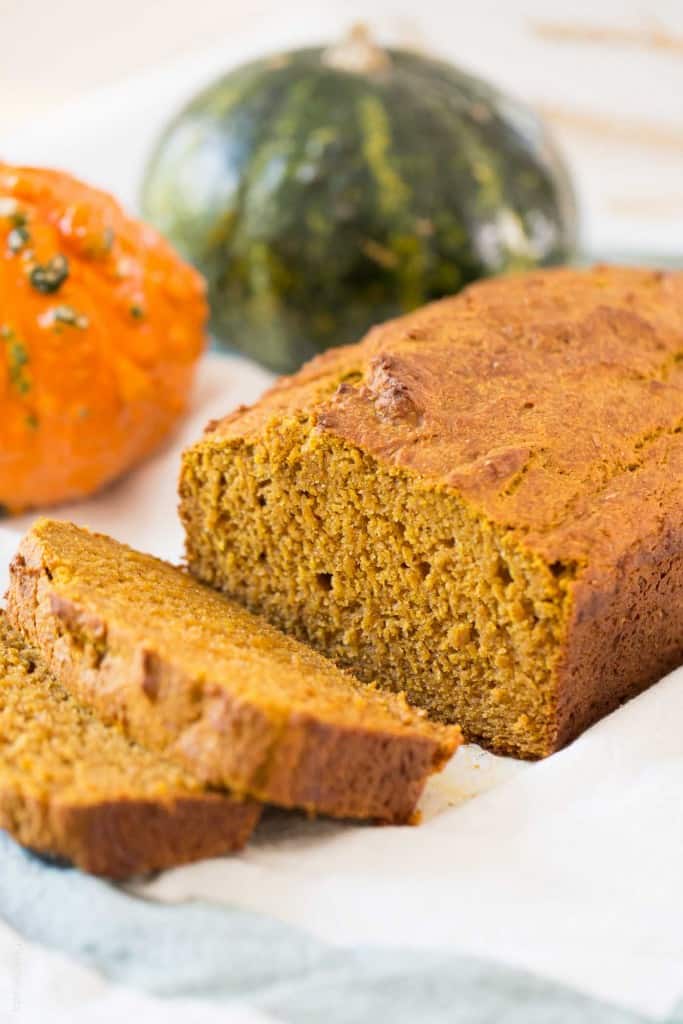 Every laundry day, I like to play a little game. It's called "How Many Things Can I Find in Shawn's Pocket". My guy is a pocket hoarder. And he never cleans out his pockets before throwing his clothes in the laundry basket.
Wait, did I say in the laundry basket? I meant on the floor in front of the laundry basket. Because actually putting his dirty clothes in the laundry basket is apparently my job. That's ok, he works hard. I can lift his clothes the extra 2 feet for him to put them in the basket.
At least he puts them very close by, right?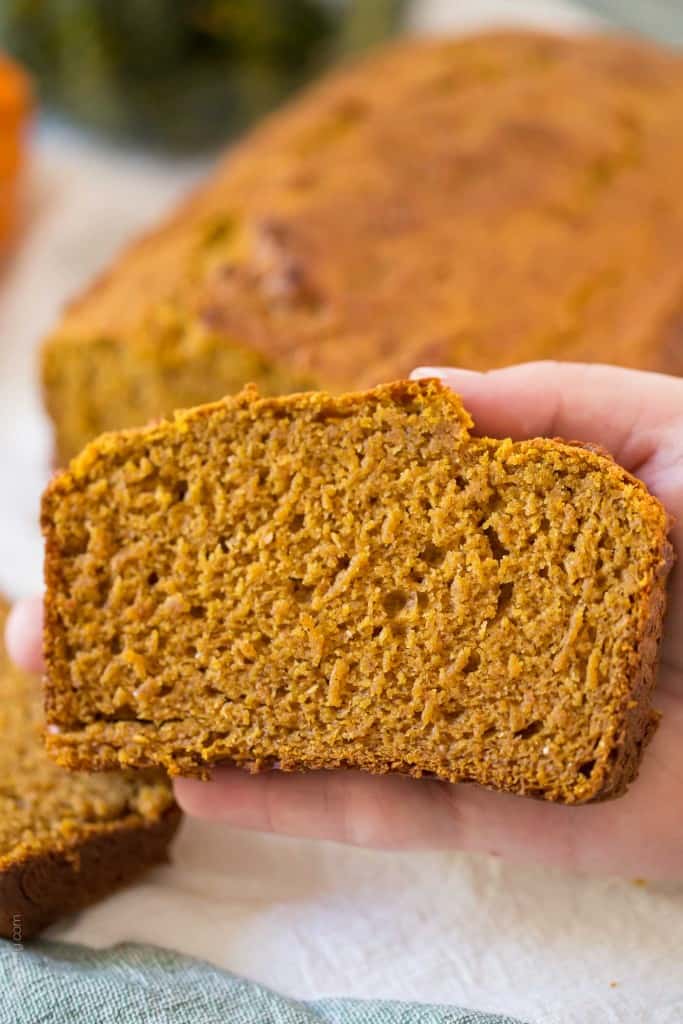 At his job his jeans get really dirty, so he goes thru at least about 4 pairs of jeans a week. And there is an endless amount of goodies in those jeans.
This week I found 2 sharpies, 1 ball point pen, 1 construction pencil, 4 different drill bits, some plastic zip ties, a piece of paper folded up about a million times with measurements written on it, and a business card.
I forgot to check his shirt pockets before doing a load this week. Big mistake because there was a sharpie in one of those pockets. I didn't realize that until putting the clothes in the dryer. Thank goodness the cap stayed on. That would have been an ink stain disaster!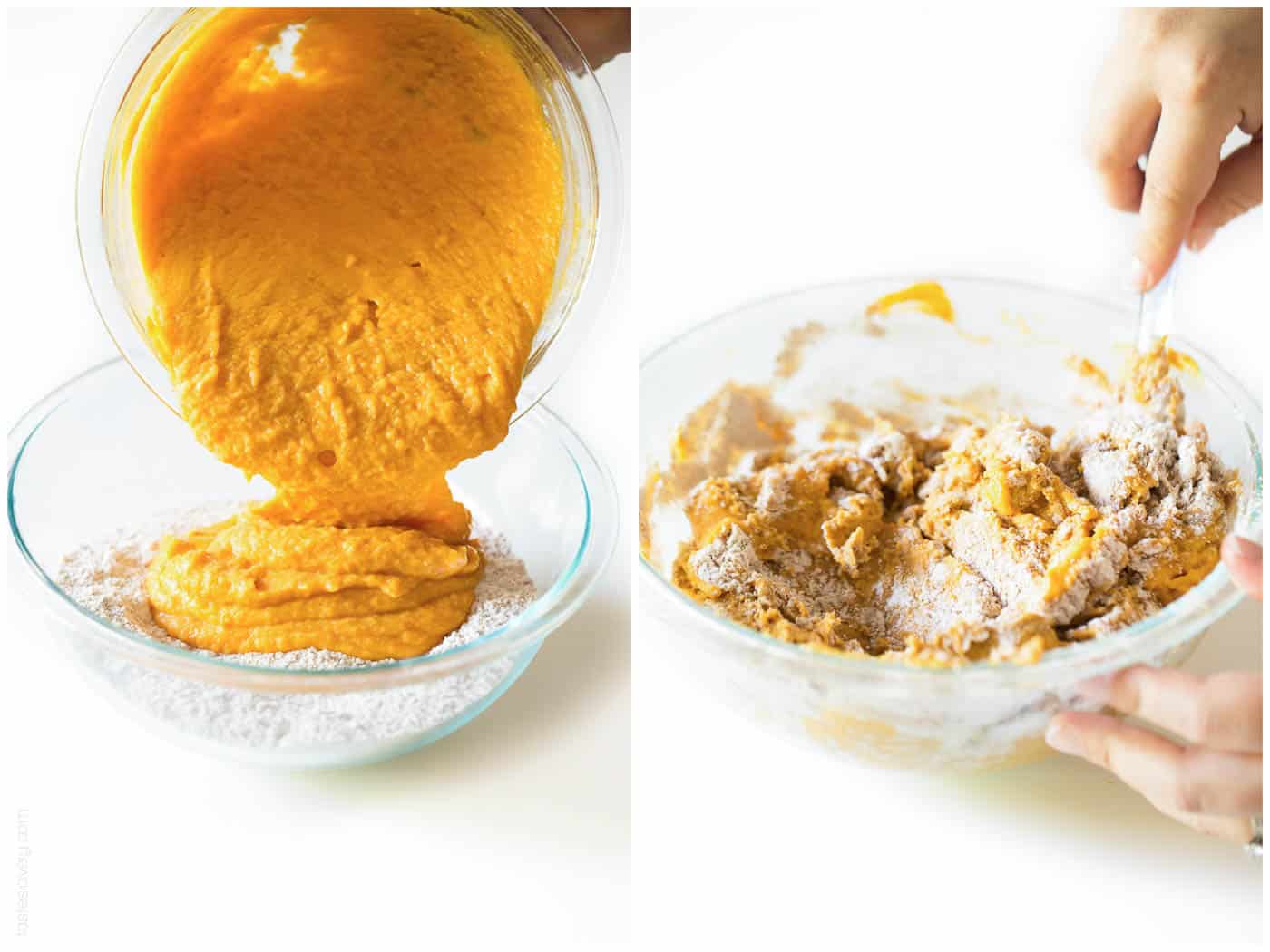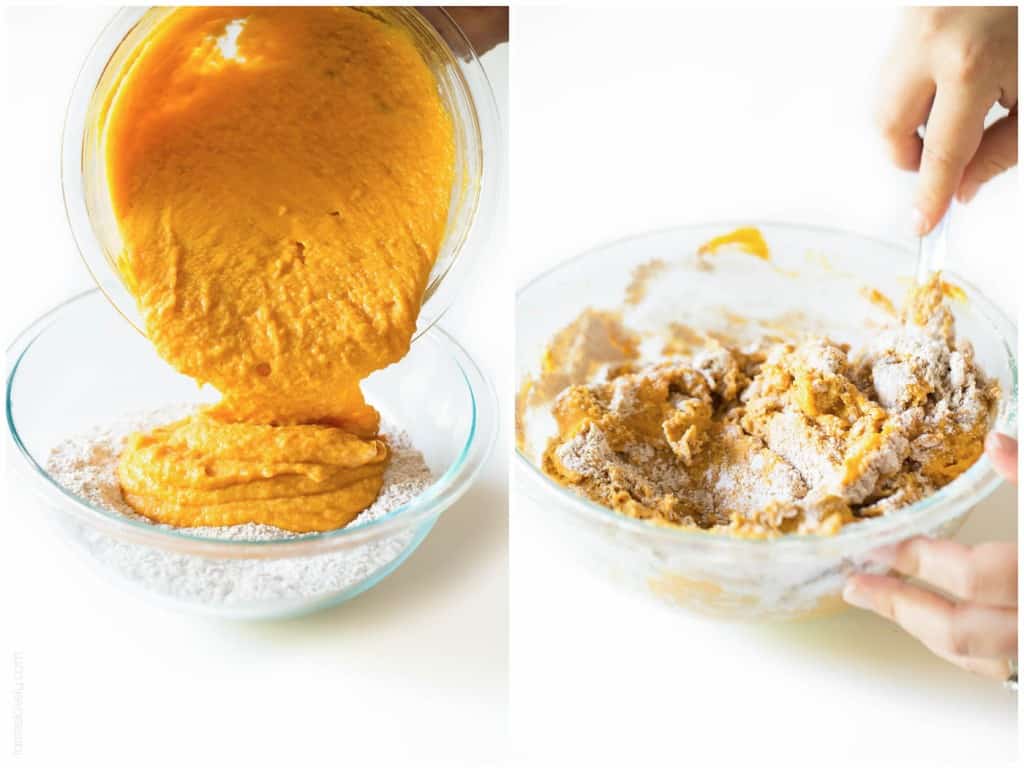 Another fun game I've been playing the past few week is "Create the Perfect Healthy Pumpkin Bread Recipe". And after attempt number 3, I nailed it!
Of course I wanted to make a healthy pumpkin bread recipe. The ones I've made in the past have oh so much sugar and butter in them, they're really cake in bread form. I was determined to make a healthier version that still tasted great.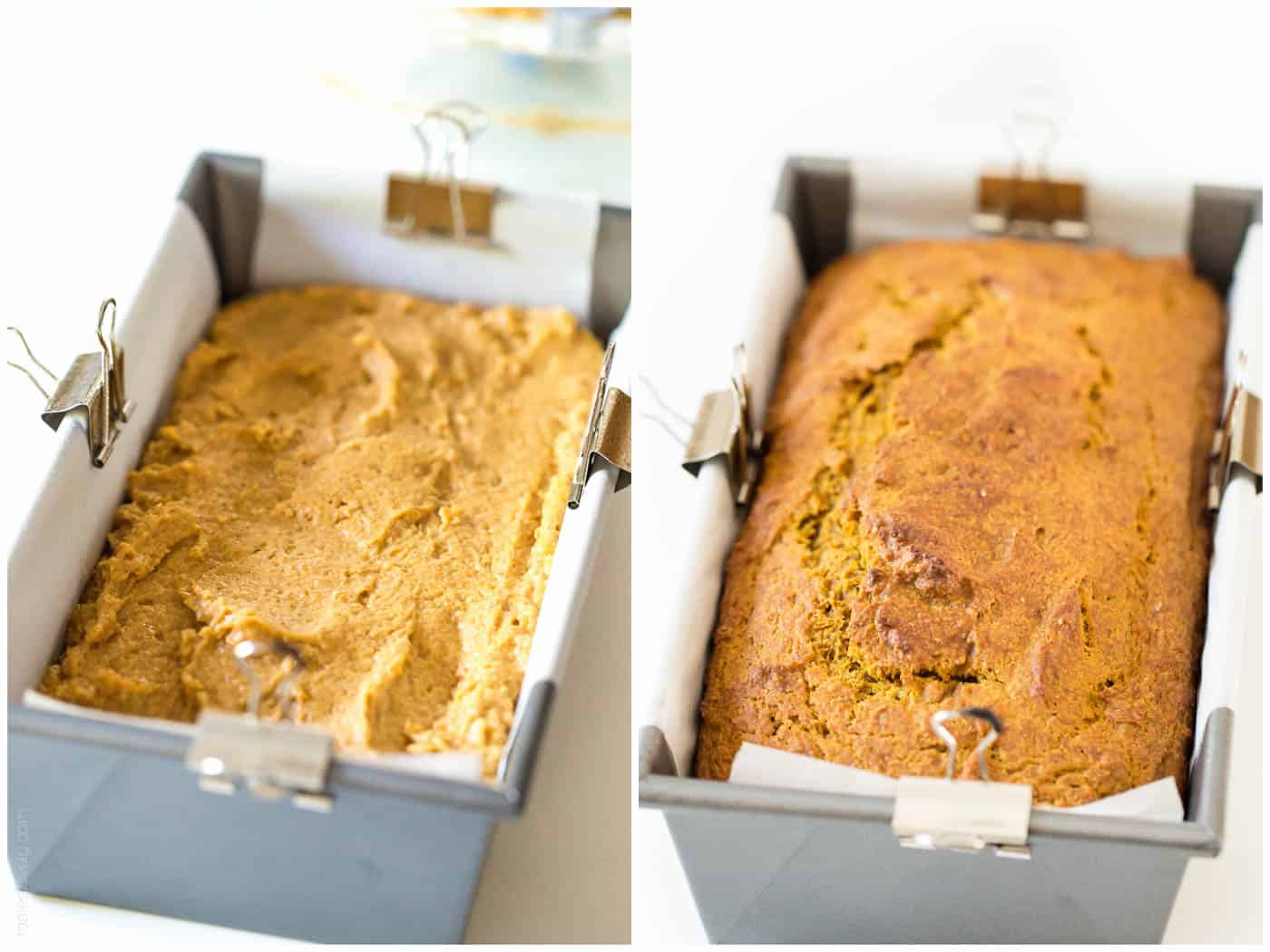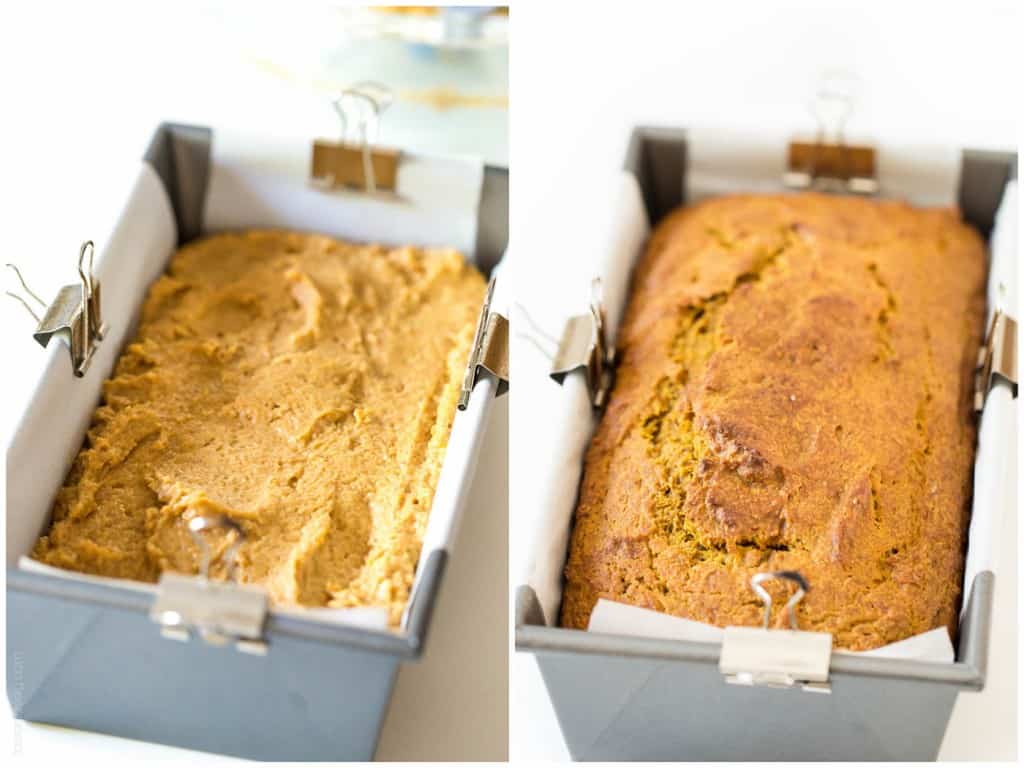 I started off with my healthy zucchini bread recipe that I perfected this summer, which is seriously amazing. It uses half the amount of sugar than normal quick breads. And it uses coconut oil instead of butter, half whole wheat flour, and non fat greek yogurt to keep it extra moist.
After making a few minor tweaks, I had the perfect healthy pumpkin bread recipe. Shawn and I cannot get enough. Ummm, we ate a whole loaf of this in 3 days. It's healthier, so that's ok, right? Right?!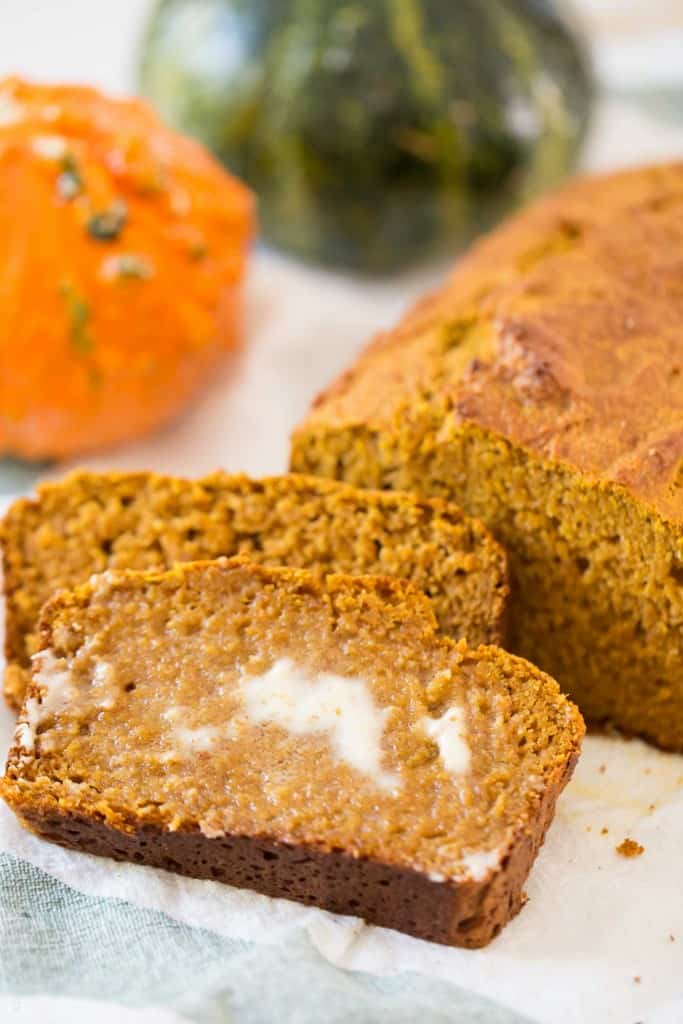 My favorite part of this healthy pumpkin bread is the delicate crumb. Usually when I eat pumpkin bread it's really dense and "spongy", usually because it has so much oil and sugar in it. But this is light and fluffy, and really does taste like a bread instead of a cake. It tastes like you're eating a pumpkin cloud.
So delicious, especially when you spread on a little butter.
Print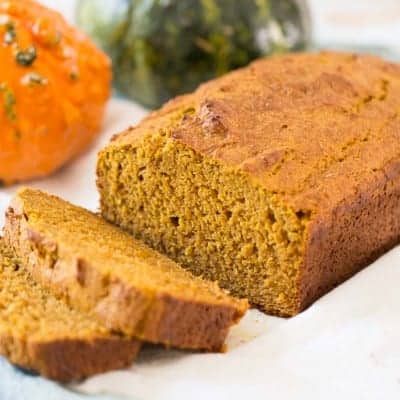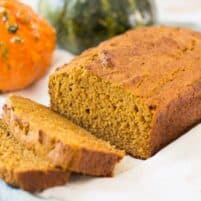 Healthy Pumpkin Bread
---
Author:

Prep Time:

10 mins

Cook Time:

60 mins

Total Time:

1 hour 10 mins

Yield:

1

loaf

1

x
1 cup

white, unbleached all purpose flour

1 cup

whole wheat flour

1 tablespoon

+

1 teaspoon

pumpkin pie spice

1 teaspoon

baking soda

1 teaspoon

baking powder

½ teaspoon

salt
(1) 15-oz can pumpkin puree (not pumpkin pie filling!)

½ cup

white granulated sugar

¼ cup

honey

½ cup

plain, non fat greek yogurt

2

large eggs

6 tablespoons

coconut oil, melted and cooled
---
Instructions
Preheat oven to 350 degrees, with the rack in the center. Line a 9 x 5 inch loaf pan with 2 sheets parchment paper, 1 running the length and 1 running the width, both cut to fit. This will make it extremely easy to lift the pumpkin bread out of the pan. I use binder clips to clamp down the parchment paper so it stays in place.
In a large mixing bowl, combine the flours, pumpkin pie spice, baking soda, baking powder, and salt. Whisk to combine.
In a medium mixing bowl, combine the pumpkin puree, sugar, honey, greek yogurt, eggs, and coconut oil. Stir to combine.
Transfer the pumpkin mixture into the flour mixture. Fold until combined.
Transfer the batter to the parchment lined loaf pan. Bake for 60 minutes, or until a wooden inserted in the center comes out with a few crumbs attached. Cool in the pan for 10 minutes, then lift it out of the pan using the parchment paper and cool on a wire rack for another 10 minutes. Slice and serve.
Wrap bread in plastic wrap and store at room temperature for 3 days.
More Quick Bread Recipes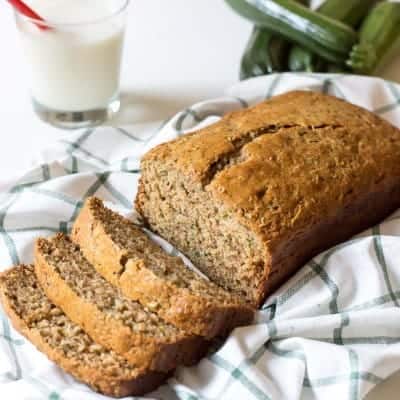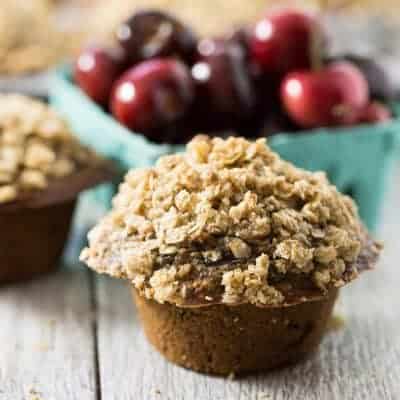 Healthy Cherry Oatmeal Muffins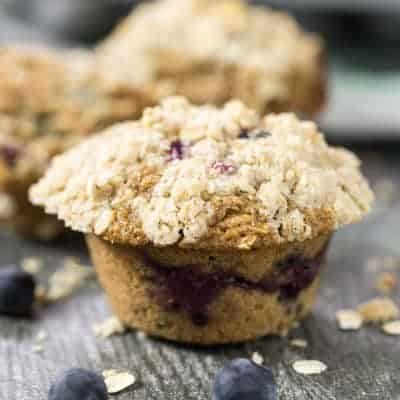 Healthy Blueberry Oatmeal Muffins

Never Miss a Recipe!
Get new posts delivered straight to your inbox! For free!