Slow Cooker Mexican Shredded Chicken Tacos
Stupid easy slow cooker Mexican shredded chicken tacos. A true dump and cook crockpot recipe that results in the most flavorful, juicy Mexican pulled chicken.
Shawn and I are extremely even tempered. In the 12 years we have been together (yes, 12 years, we started dating at 15 and 16!), we have never had a yelling fight. We've never even had a raised voice fight. Actually, now that I think about it, I don't think we fight?
We joke when we watch reality shows or movies where the couples get in huge, screaming fights. We'll look at each other and say, "Should we fight more?"
We like getting along and having a happy home. And we just like each other too dang much. If Shawn is doing something bothersome, I just let him know in a loving way. Usually it's telling to put the seat on the toilet down, which apparently is impossible for him to remember.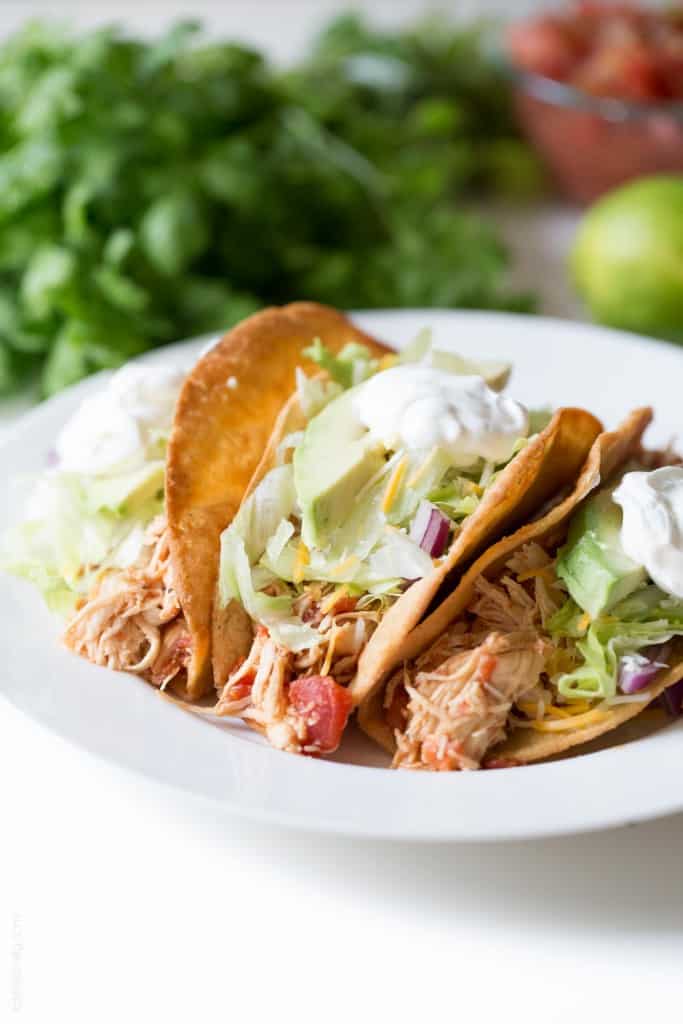 We are also very slow to get worked up and upset. Take this past wedding we filmed for example. At the end of the wedding, Shawn packs up all the gear. He has our gear very organized, and after putting everything away there was 1 open slot in our bag where our 135mm lens should go. But it was nowhere to be found. We looked all around the area we kept our gear, checked with the photographer and event coordinator to see if they had seen it. No luck.
After almost an hour of searching all over the venue, we looked at each other, shrugged our shoulders, and Shawn said, "Meh, looks like it's gone. I shouldn't have left it out. Oh well." No anger. No panic, No sorrow. $1000 dollar lens lost and we barely blinked our eyes.
We learned our lesson, and are going to be much more careful with our gear. We got locks for the cases, and have a new "no leaving lenses out" rule. Plus, it's worked out kind of nice for me because we replaced our lost lens with the 100mm macro lens that I have been dying to get. It is my new favorite food photo lens, I'm obsessed! There's always a silver lining.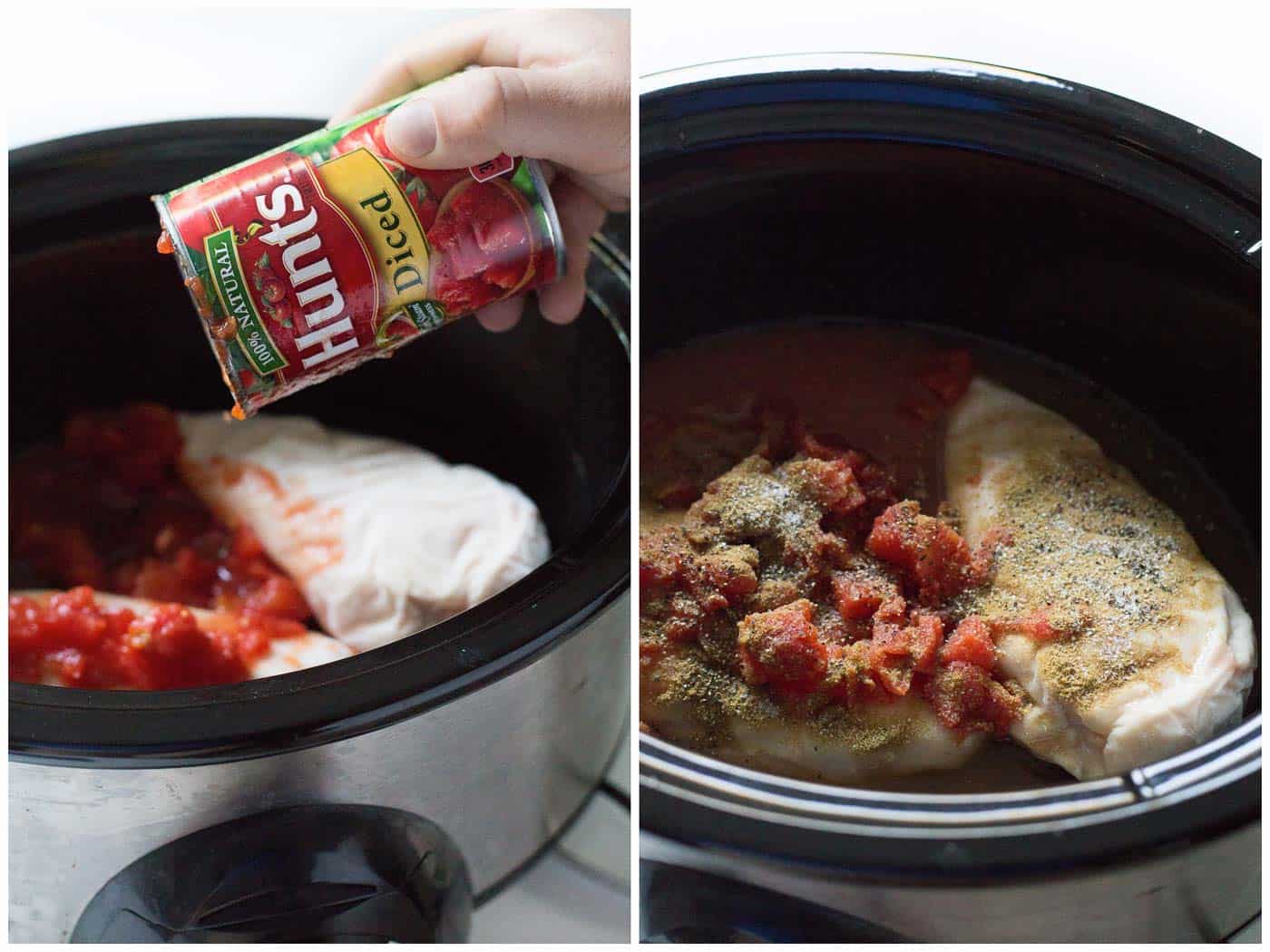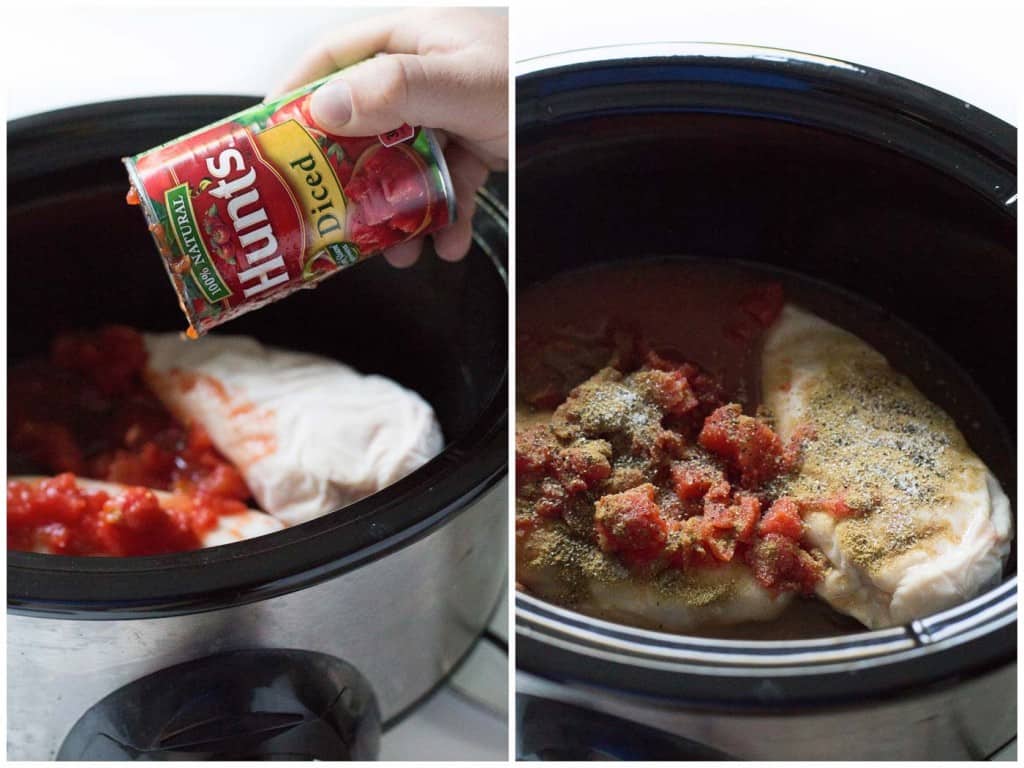 Along with avoiding fuss in life, I love avoiding fuss in dinner recipes. And these slow cooker Mexican shredded chicken tacos might be the easiest dinner recipe I've ever shared. You know when you go to make a slow cooker recipe, and you hope it is just you dumping a bunch of ingredients in and it magically turns out perfect 8 hours later? This is one of them.
In your crockpot (I love this Crock-Pot brand one I got as a wedding present!), you combine chicken breasts, Hunt's Diced Tomatoes, chicken stock, cumin, salt and pepper. If you buy frozen chicken breasts like I do, you don't even need to thaw them. Just throw them in frozen. I don't even to stir it once it's all in. Just dump, cover, and cook away.
8 hours later, you shred it right in the slow cooker, set out your taco shells and taco toppings, and dinner is ready. Couldn't be easier or more delicious.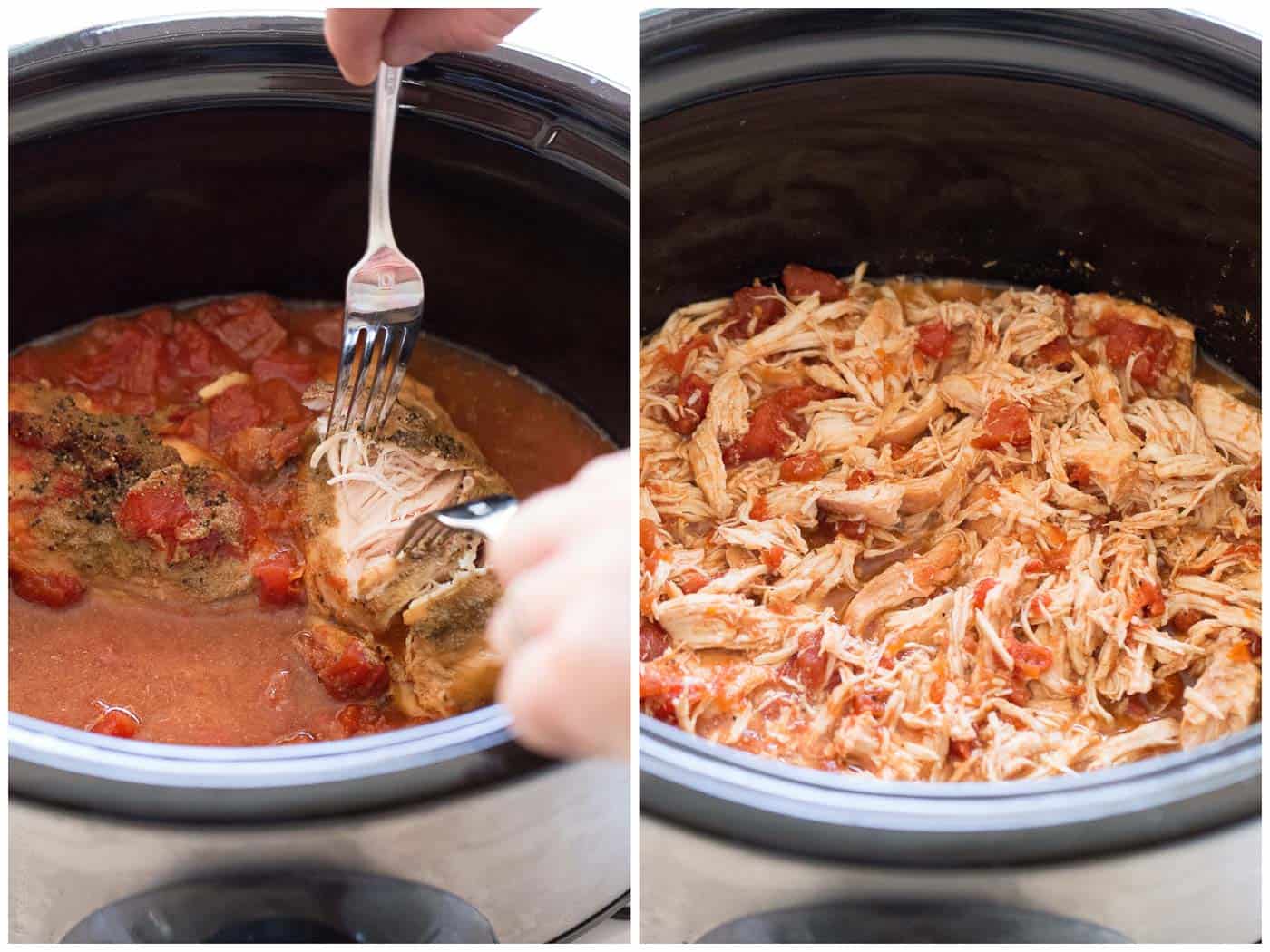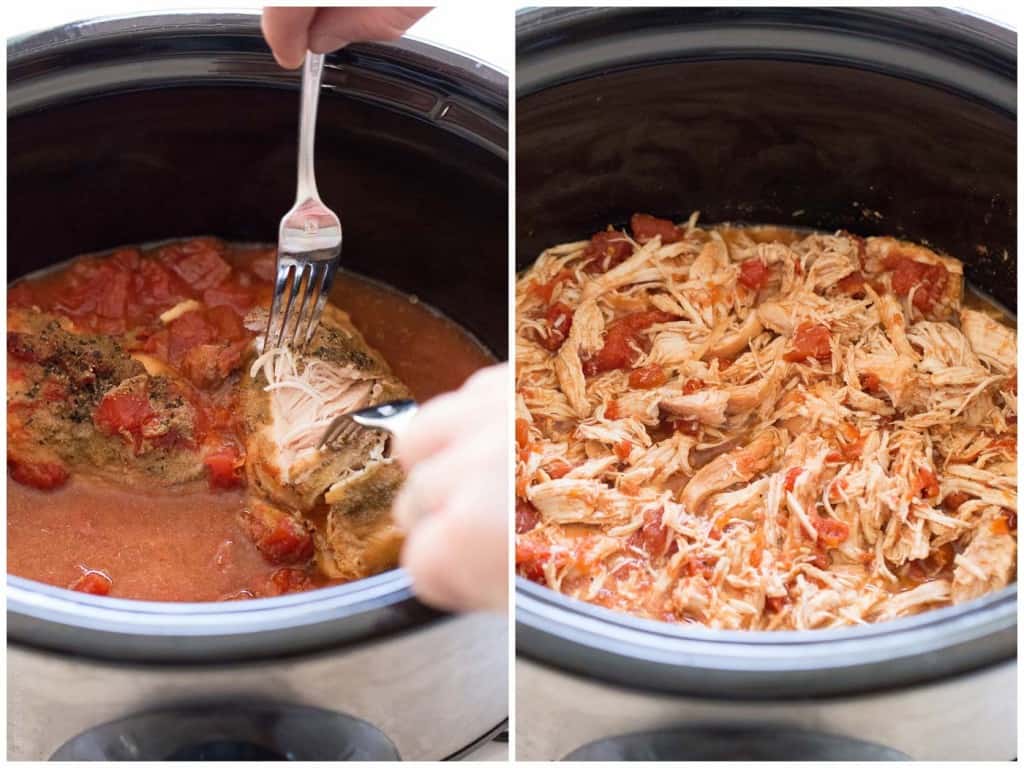 This shredded Mexican chicken is so juicy and flavorful. Just like you get at an authentic Mexican restaurant. All the flavor is thanks to Hunt's Diced Tomatoes. Whenever I need to use canned tomatoes, I always get Hunt's.
Hunt's are by far the best tasting canned tomatoes. Don't take my word for it, America's Test Kitchen, who are the taste test experts, declared Hunt's the best diced tomatoes. Dinner is only going to be as good as the ingredients used, so it's important to use the best.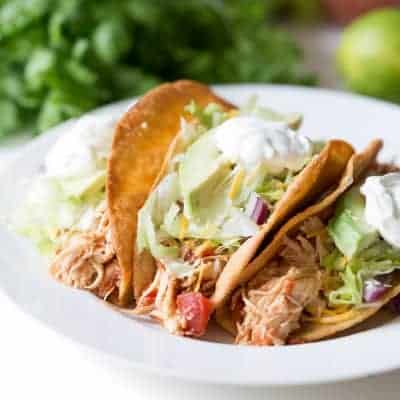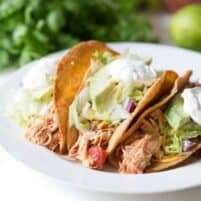 Slow Cooker Mexican Shredded Chicken Tacos
This is a super easy slow cooker Mexican shredded chicken tacos recipe. A true dump and cook crockpot recipe that results in the most flavorful, juicy Mexican pulled chicken.
Ingredients
2

large boneless

, skinless chicken breasts (about 1 pound) (I get my chicken from ButcherBox, which I highly recommend)

1 14.5-oz can Hunt's Diced Tomatoes

1

cup

chicken broth

1

tablespoon

ground cumin

1

teaspoon

salt

1

teaspoon

pepper

corn tortilla taco shells

2

cups

shredded lettuce

1/2

red onion

,

chopped

1

avocado

,

chopped

shredded mexican cheese

sour cream
Instructions
In your slow cooker, combine the chicken (if it's frozen, no need to defrost, throw it in frozen), Hunt's diced tomatoes, chicken broth, cumin, salt and pepper. Cover and cook on low for 8 hours, or high for 4 hours. When it is done cooking, shred the chicken using 2 forks in the slow cooker. Will be falling apart and shred very easily. Stir around in juices.

Build tacos by adding shredded chicken and toppings of choice.

Leftovers will keep refrigerated in an airtight container for 5 days.
Calories:
390
,
Total Carbs:
34.1
g
,
Protein:
30.4
g
,
Fat:
15.6
g
,
Fiber:
6.8
g
,
Net Carbs:
27
g
Did you make this recipe?
Please Leave a comment and give this recipe a rating!

More Taco Recipes: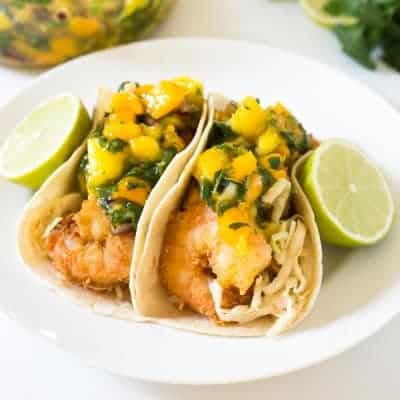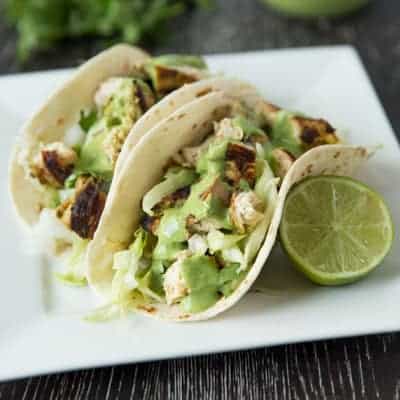 Chicken Tacos with Cilantro Lime Ranch Dressing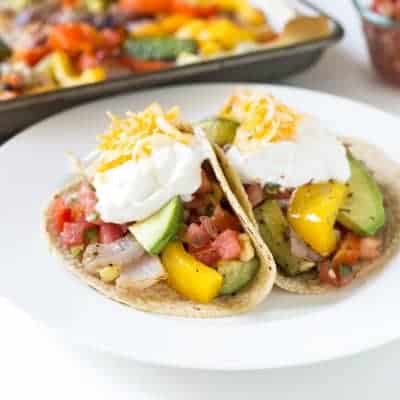 Oven Roasted Vegetable Fajitas
This post is sponsored by Hunt's Tomatoes. All opinions are my own. Thank you for supporting the brands that support me! This post contains affiliate links, thanks for the love!