Chicken Tacos with Cilantro Lime Ranch Dressing
Tell me if your brain works like mine.
I often think about how few things there are left to "invent" or "discover".
When I was little, I distinctly remember my little girl brain thinking that if I'm ever going to write a song, I better hurry up and do it now. Because pretty soon there aren't going to be any songs left that someone hasn't already written.
I still think it's crazy that people are able to write original songs. How are all the note combinations not used up?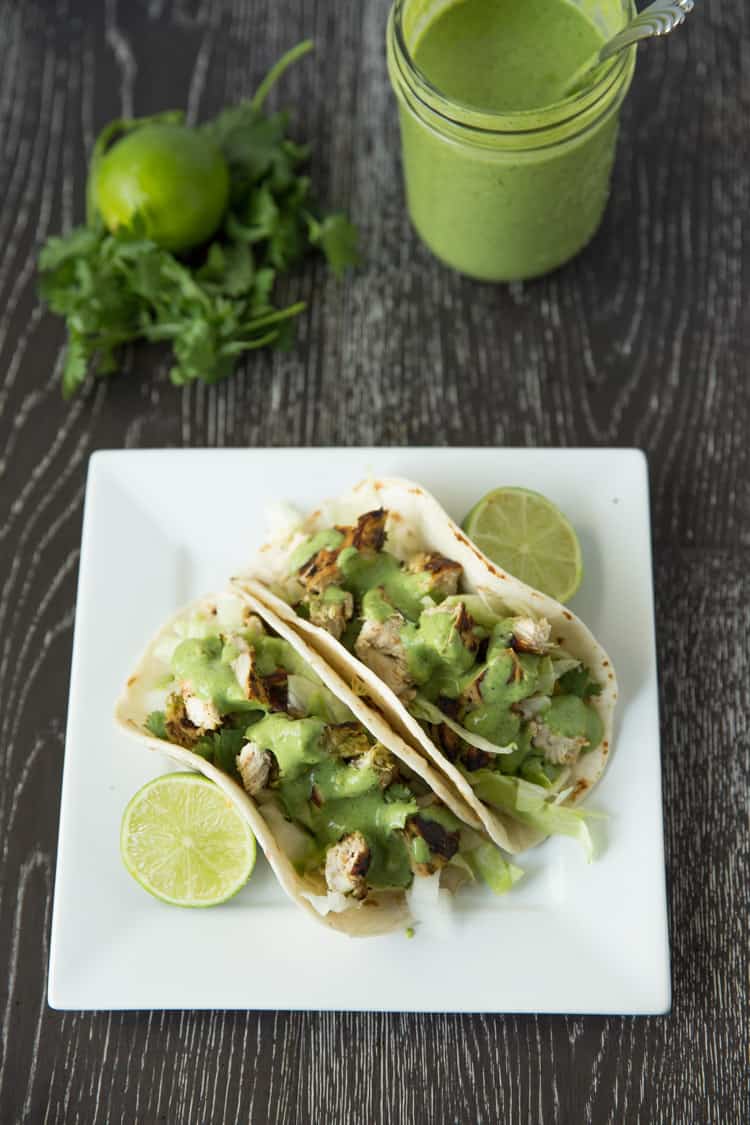 There aren't any "lands" left to discover. Google Earth has an image of every square inch of the globe. No uninhabited islands left to find and claim as your own, Swiss Family Robinson style.
I actually have a hard time watching the movie Cast Away because the whole time I'm thinking, "There's no WAY this awesome island could exist and no one knows about it. Surely some celebrity would have bought this up and made it their paparazzi free vacation island. FAKE!"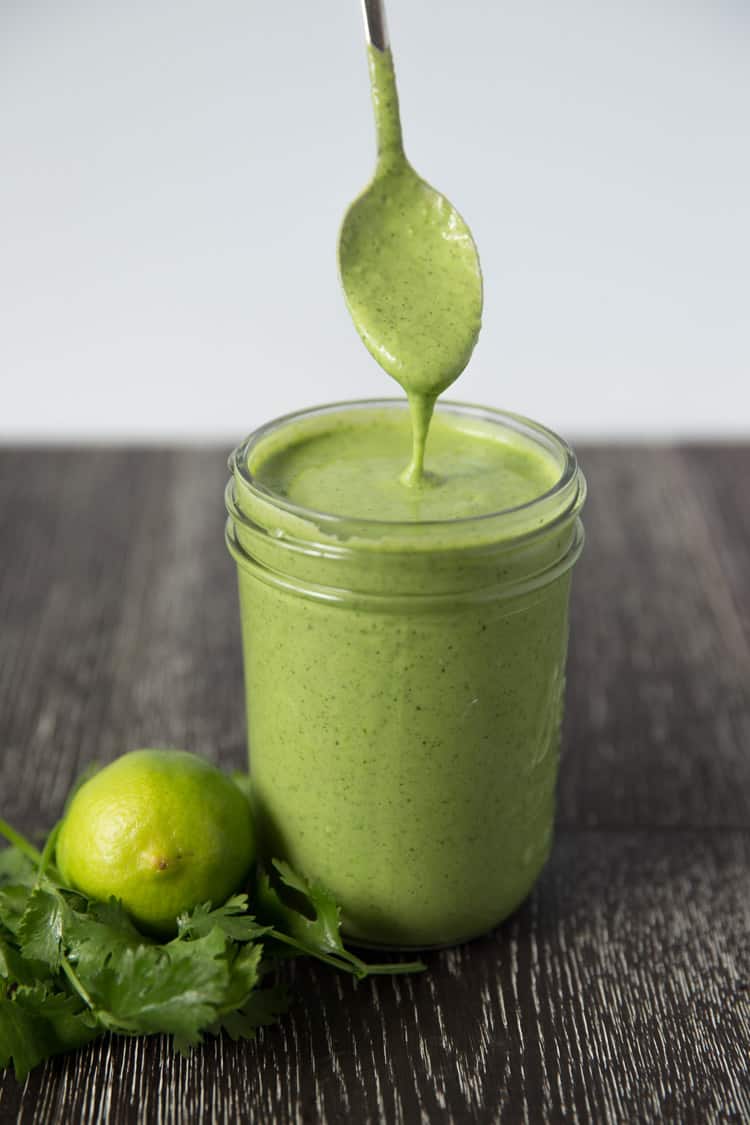 I especially worry that there aren't going to be any revolutionary "food" discoveries. Besides the cronut, I can't think of too many completely original new foods that have been invented recently. Maybe a few new food combinations here or there. But nothing life changing, like discovering chocolate.
How did someone even think to make chocolate?
"You guys know that weird brown bean growing on the trees? Well, I picked some, ground it up really fine, added in some sugar and butter, then added in some milk. I know, sounds crazy. But you won't believe how amazing it tastes! I'm calling it chocolate."
That guy is a hero.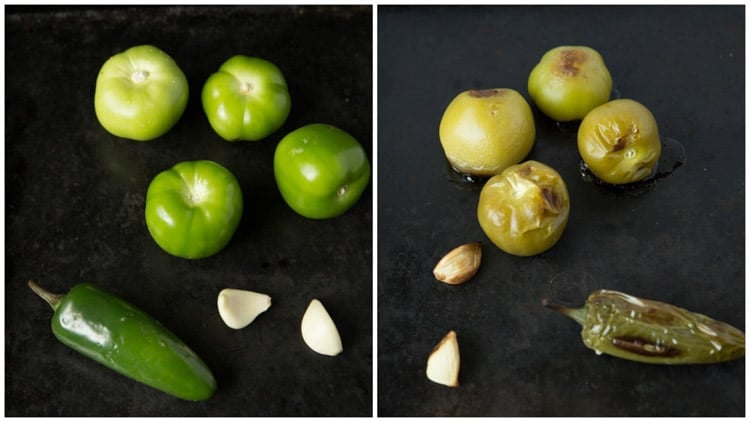 Well, fear not. There are still food discoveries left to have!
After tasting this cilantro lime ranch dressing I can confidently say I had a life changing "HOW have I never tasted this before?! How is this not served on everything?!" moment. I love ranch dressing (like, really love), and I love Mexican food. This cilantro lime ranch dressing is a match made in food heaven.
While these tacos are amazing, the real star here is the cilantro lime ranch dressing. The dressing is made with cilantro, lime, roasted tomatillos, roasted jalapenos, roasted garlic, ranch seasoning mix, greek yogurt, and a little milk. You throw it all in a blender, and then try to restrain yourself from eating with a spoon.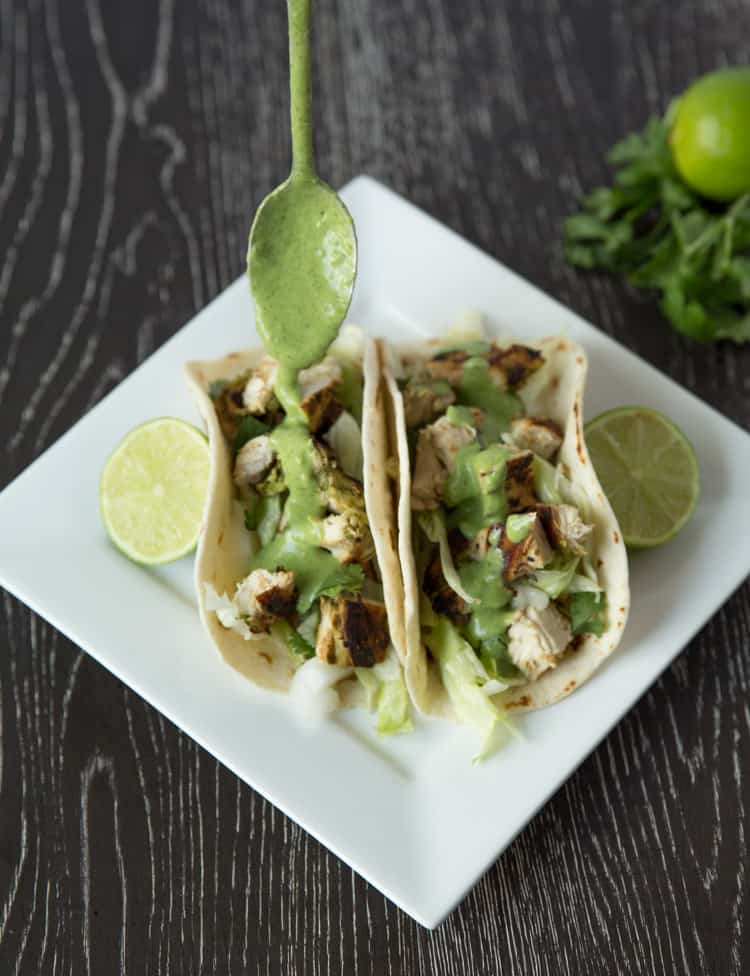 While this sauce is perfect for tacos, I also use it on salads, in sandwich wraps, burritos, ice cream.
Ok, just kidding about the ice cream.
But if a little bit of this somehow dripped onto some vanilla ice cream, I'd eat it no sweat.
I'm not gonna waste it!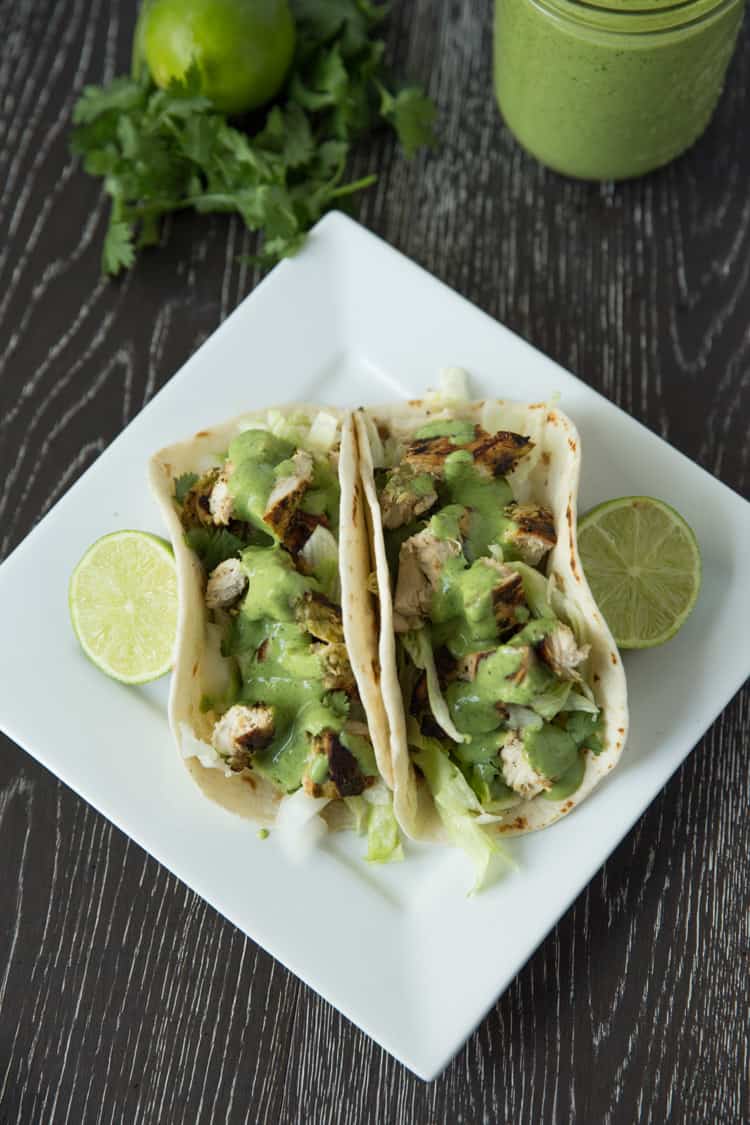 Make this for Cinco de Mayo and blow everyone away.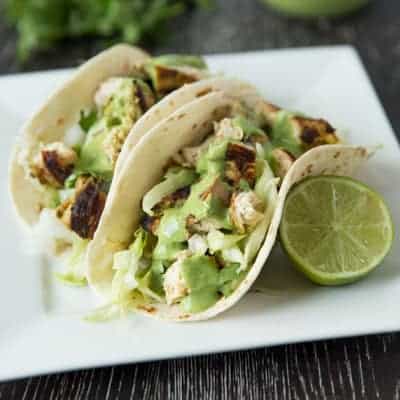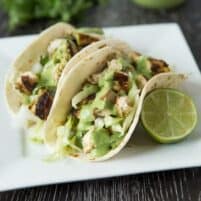 Chicken Tacos with Cilantro Lime Ranch Dressing
This chicken tacos with cilantro lime ranch dressing is great for a bright and delicious dish! Made with using cilantro and lime, the ranch dressing can go on almost anything.
Ingredients
Chicken Tacos
2

boneless

, skinless chicken breasts, about 8 ounces each (I get my chicken from ButcherBox, which I highly recommend)

1

medium white onion

,

chopped

1/2

head iceberg lettuce

,

shredded

8

taco sized tortillas
Cilantro Lime Ranch Dressing
4 to

matillos

,

husks removed

1

large jalapeno

2

cloves

of garlic

zest and juice of 1 lime

1

packed cup cilantro

,

leaves and stems OK

1

packet Hidden Valley Ranch Dressing Mix

, or 2 tablespoons homemade ranch dressing mix

1

cup

non fat plain greek yogurt

1/4

milk

pinch

of salt and pepper
Instructions
Dressing: Preheat oven to 450. Roast the tomatillos, garlic cloves and jalapenos, whole. After 10 minutes turn the tomatillos and jalapeno, remove the garlic since it should be golden and roasted. Return to oven for another 10 minutes. Remove from oven, allow to cool for a few minutes. Peel the skin from the jalapeno, slice the jalapeno in half and remove the seeds. In a blender, add the charred tomatillos, jalapeno, garlic cloves along with the lime zest, lime juice, cilantro, ranch dressing mix, greek yogurt, milk, salt and pepper. Blend until combined. Makes 1-1/4 cups. Will keep in the fridge for 1 week in an airtight container.

Tacos: Marinate the chicken in 1/4 cup of the cilantro lime ranch dressing for 30 minutes. Preheat grill (or indoor grill pan) over medium high heat. Grill the marinated chicken until it is cooked thru, about 8 minutes per side. Allow to cool for 5 minutes before dicing into 1/2" cubes. To assemble the tacos, warm the tortillas then fill with chicken, shredded lettuce, onions and top with cilantro lime ranch dressing.
Notes
This sauce is medium spicy. If you like it mild, only add half the jalapeno. If you like hot, add in the jalapeno seeds.
Calories:
377
,
Total Carbs:
35.3
g
,
Protein:
37.1
g
,
Fat:
10.1
g
,
Fiber:
5.8
g
,
Net Carbs:
30
g
Did you make this recipe?
Please Leave a comment and give this recipe a rating!
This post contains affiliate links, thanks for the love!