Herb and Cheese Puff Pastry Sticks
Before leaving for a dinner party I asked Shawn, "Hey, what do you think of my new boots?"
"Hmm? New boots? They look just like those other boots you have. But I like 'em!"
"Shawn! These are ankle boots! The other boots are over-the-calf boots. They're totally different."
He shrugged his shoulders and said, "I dunno, boots are boots." He then proceed to put on a dirty, white baseball cap.
"Are you planning on wearing that hat to the party?"
"Ya, I don't really like how my hair dried today."
I decided I would let it go and let him wear a baseball cap AND a nice button up shirt to the dinner party. The guy clearly has a little bit to learn about fall fashion. And to be fair, I had given him a hair cut a few days before that was a tad bit short, and it was drying weird. Whoops! It will grow out, right? *fingers crossed*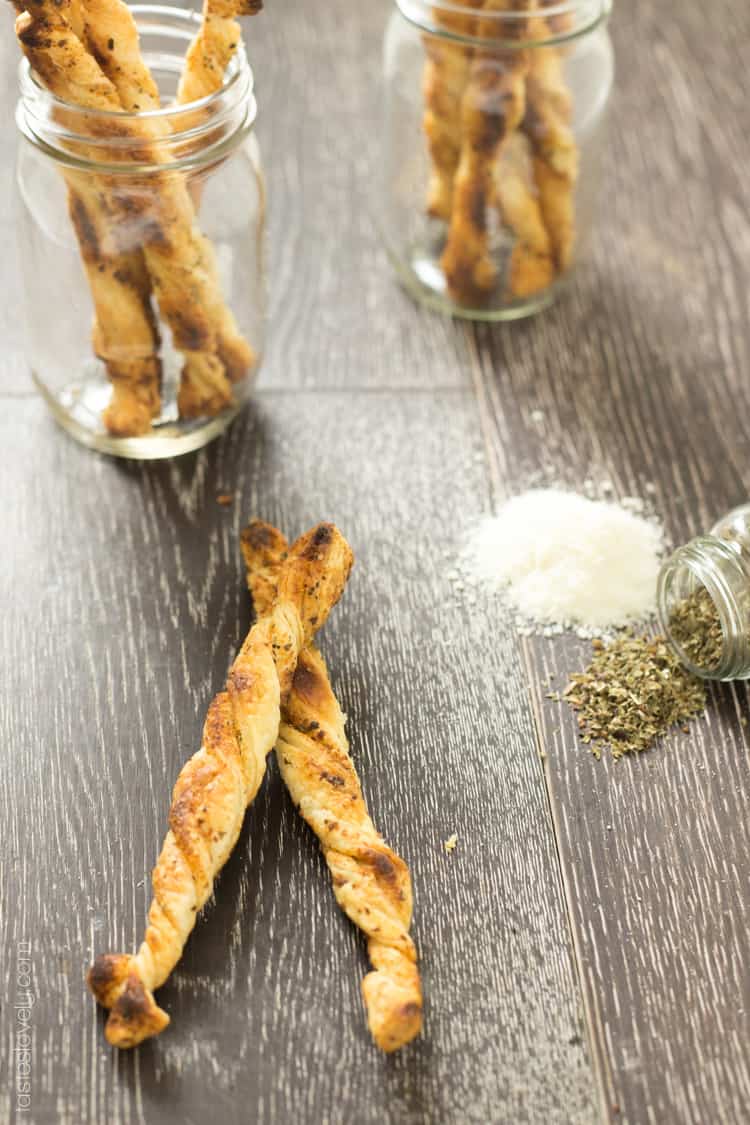 We got to the party and no one made a what-was-he-thinking face when they saw Shawn wearing a baseball cap. I'd like to think they were too busy admiring my cute new boots, but I really think it was because everyone was too busy devouring these herb and cheese puff pastry sticks I brought as an appetizer.
If you're looking for an easy and crowd pleasing appetizer, these herb and cheese puff pastry sticks are your new best friend. They are easy to make (only 4 ingredients!), they look beautiful and dramatic when you set them out at the table in a cute mason jar or vase (hello appetizer that gives height!), and you can make them a day in advance so you aren't rushing around at the last minute before guests arrive.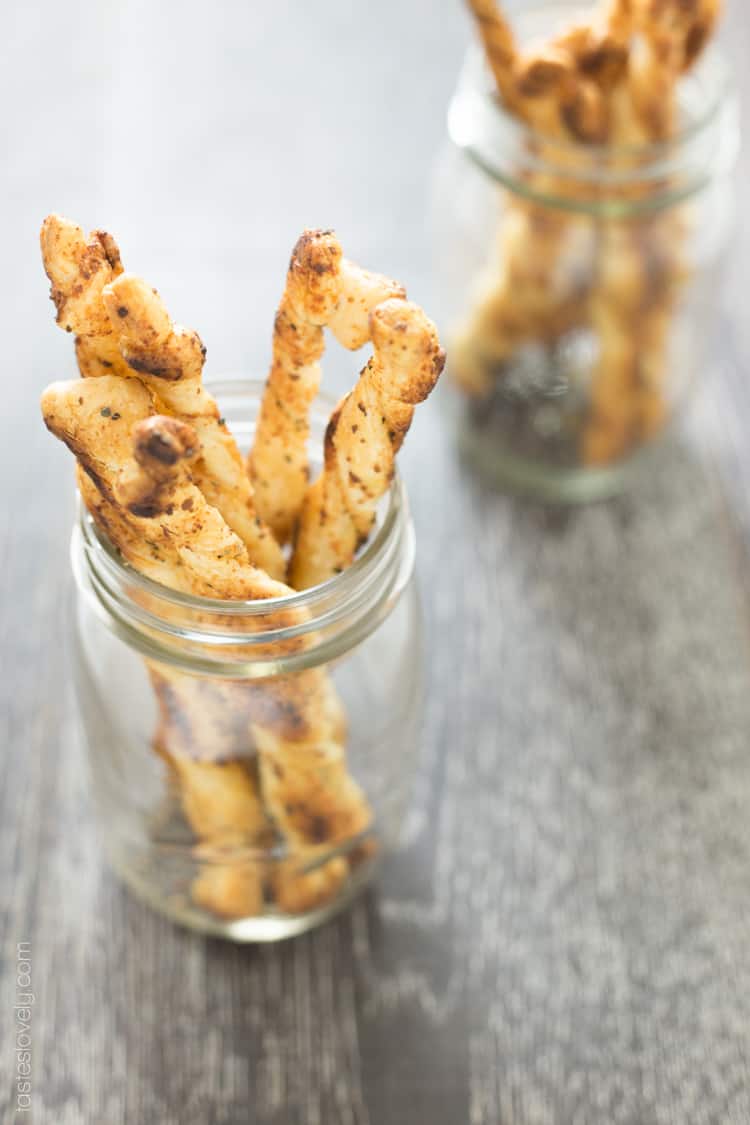 They taste amazing too. Buttery and crispy, with lots of cheese and herb flavor. Like a super fancy herbed, flaky cracker. Everyone loves them, and they're always the first to go at parties. They pair wonderfully with wine too. Win win!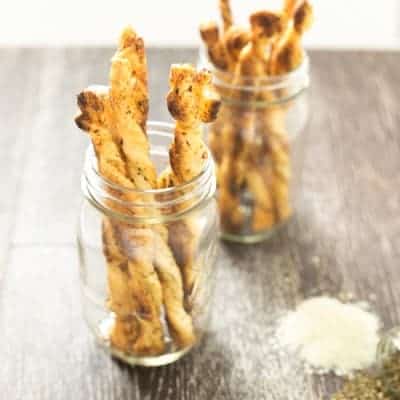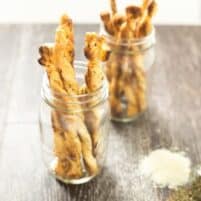 Herb and Cheese Puff Pastry Sticks
These herb and cheese puff pastry sticks are a simple and crispy appetizer that all your guests will love.
Ingredients
1

sheet of puff pastry

,

thawed

2

tablespoons

of butter

,

melted

1

tablespoon

dried basil

1/4

cup

grated parmesan cheese
Instructions
Preheat your oven to 400 degrees with the oven rack in the upper thirds. Line a rimmed baking sheet with parchment paper for easy clean up (optional).

On a large cutting board, brush both sides of the puff pastry with butter. On one side, sprinkle the dried basil and parmesan cheese evenly. Using a pizza cutter, cut the sheet of puff pastry into about 12 strips. To twist the sticks, fold the cut strip lengthwise so the herb and cheese are on the inside. Then, grab both ends and twist it. (See video for visual demonstration)

Lay all twists in an even layer on the baking sheet. Bake for about 15 minutes, then flip the sticks bake for another 5 minutes, or until they are golden brown. Allow to cool for at least 5 minutes before serving. Will keep in an airtight container for 3 days.
Serving:
2
sticks
,
Calories:
138
,
Total Carbs:
9.4
g
,
Protein:
2.2
g
,
Fat:
10.2
g
,
Fiber:
0.3
g
,
Net Carbs:
9
g
Did you make this recipe?
Please Leave a comment and give this recipe a rating!