My Favorite Vitamins, Supplements, Medicines + Wellness Products
My favorite vitamins, supplements, medicines + wellness products in my cleaned up and more natural medicine cabinet.
Vitamins + Supplements for Me
These are the 4 products that I take daily for vitamins and overall wellness.
New Chapter Postnatal Vitamins. Not all vitamins are created equal. I've done my research, and the ingredients and formulation of New Chapter vitamins is stellar. The vitamins source from whole fruits, vegetables, herbs, and mushrooms, are non-GMO, and are fermented for easier absorption. Amazing! I'm currently taking their postnatal vitamin since I'm breastfeeding, but they have a prenatal, a women's and men's formulation. They are pricier, but you get what you pay for and it's worth the investment to me. I take 3 of these every morning on an empty stomach when I take my probiotic.
Seed Symbiotic. (code TASTESLOVELY for 15% off) This is THE BEST probiotic on the market. It is a 24 strain broad spectrum probiotic and prebiotic formulated for digestive, gut immunity, and additional systemic benefits. What sets is apart is the capsule. It has an outer capsule that is made from pomegranate that dissolves in your tummy, and then a protective inner capsule that will not get broken down in your stomach, but will instead make it all the way to your colon to deliver all the probiotics. Any other probiotic on the market isn't going to survive your stomach acid, so not really doing it's job. Cannot say enough great things about it! I take 2 every morning on an empty stomach with my multivitamin.
Beekeeper's Naturals Propolis Spray. This is a throat spray that is made from Bee Propolis, which is what bees use to keep their hive disease and bacteria free. It is natures ultimate defender! I take 4 sprays of this a day when I am feeling well to boost my natural immune system, and 8 sprays a day (4 in the morning and 4 at night) when I am feeling sick. It tastes like honey and is so natural! Also safe for when pregnant and breastfeeding.
Collagen Peptides. I love collagen peptides! It's a great way to get more protein, plus collagen is so beneficial for your gut health, hair, skin and nails. I swear collagen peptides helped me tremendously with postpartum hair loss. There are tons of great brands out there. Lately I've been getting the grass fed Thrive Market brand. I add 2 scoops to my coffee every day (tasteless), or to my tea (I can taste a bit). Lately I've been loving this Golden Milk by Golden Ratio (code TASTESLOVELY for 15% off!). It's a coffee that you brew like a tea! They roast the beans at a really low temperature so it's much less acidic. Plus delicious with flavors of turmeric, vanilla, black pepper, and sweetened with monk fruit.
Vitamins + Supplements for my Kids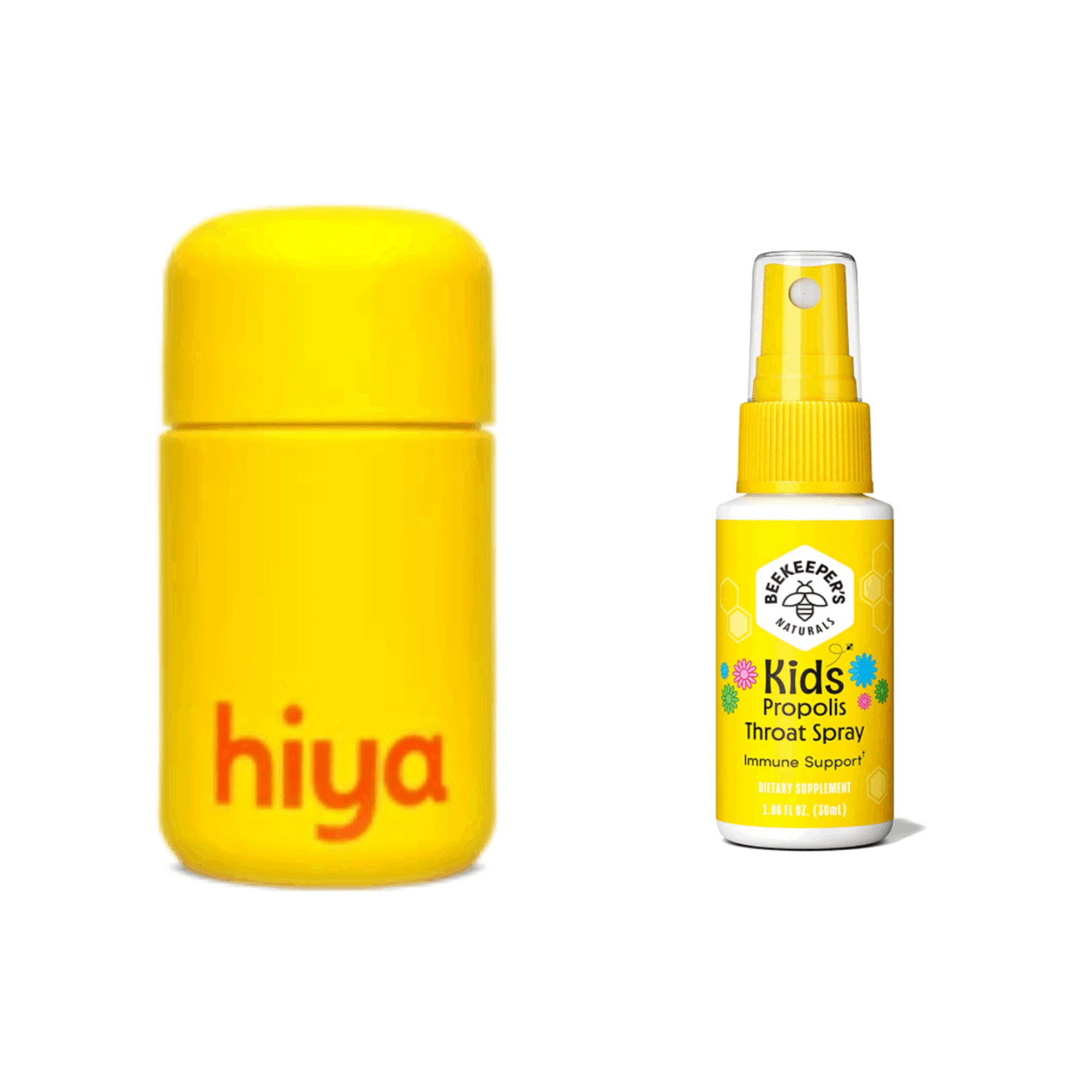 This is what I give my kids daily for vitamins and overall wellness.
Hiya Vitamins: (code TASTESLOVELY for 50% off your first order) Hiya vitamins are the most amazing kids vitamins. It is made from 12 organic fruits + vegetables and 15 minerals. It contains 0 sugar, and no artificial colors, flavors, dyes, completely "junk" free. It is 1 chewable tablet that tastes like a Smarties candy. My kids each take 1 Hiya kids vitamins every day as soon as they're 2 years old (or able to chew easily)
Beekeeper's Naturals Kids Propolis Throat Spray.  This is a throat spray that is made from Bee Propolis, which is what bees use to keep their hive disease and bacteria free. It is natures ultimate defender! I give this spray to boost their natural immune system, and encourage a quicker recovery when they are sick. This is the kids version, which has added in buckwheat honey to make it even sweeter. My kids love it, they call it honey spray. I give them 4 sprays in the morning with their vitamins after breakfast, and another 4 sprays at night when they're in the bath.
Over-The-Counter Medicine for Me
I honestly don't take any over the counter medicines.
Since I'm almost always pregnant or breastfeeding these past 6 years, I've just learned to go without. I'm super careful when it comes to medicines when pregnant and breastfeeding. If I have a headache, I'll just diffuse some peppermint essential oil and drink more water. I haven't had any fever issues that would require medicine in such a long time. But if I did, I would check with my doctor and just take acetaminophen (generic tylenol).
I use the same touchless thermometer and humidifier that I have linked in my Kids roundup below!
"Cleaner" Medicine + Medical Supplies for Kids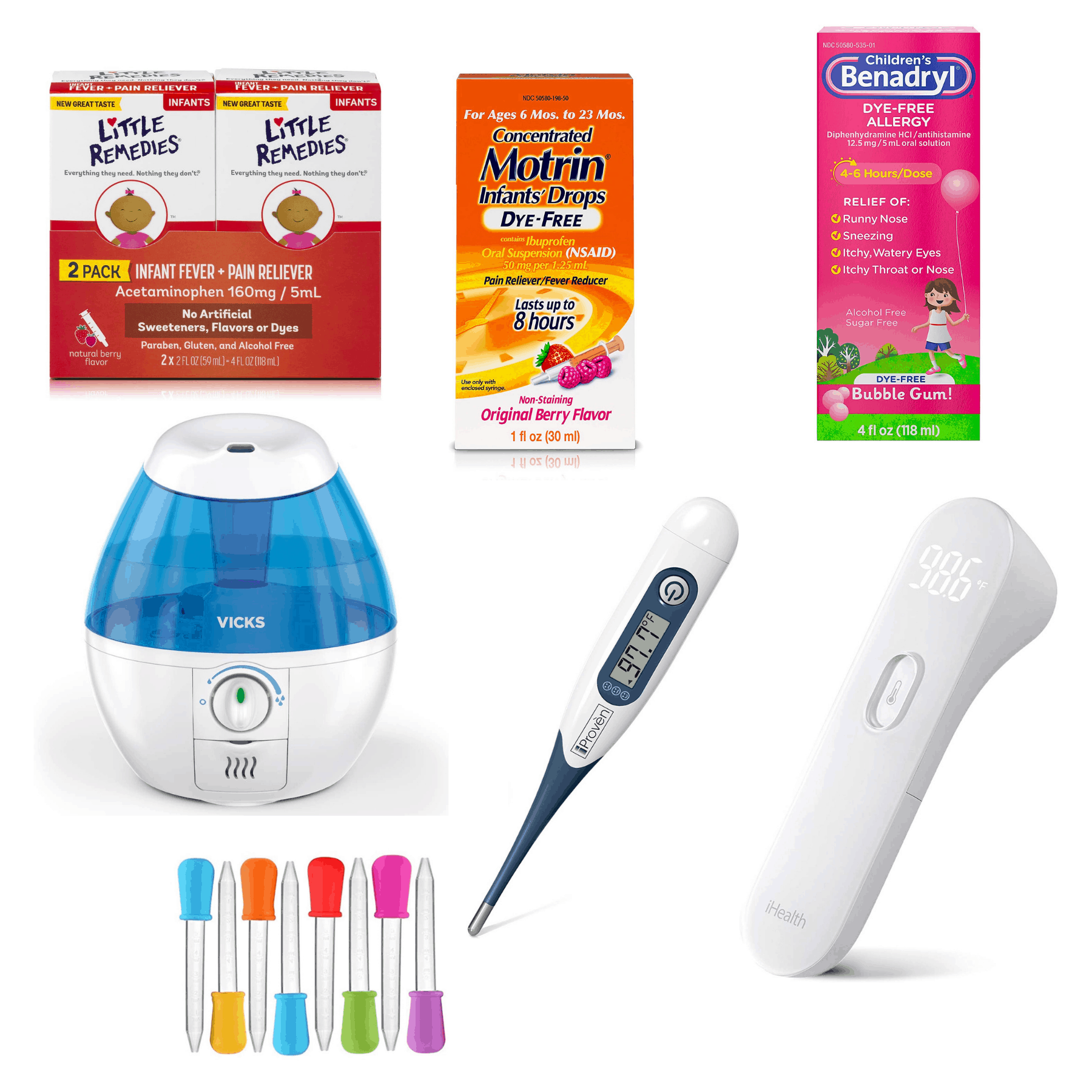 Little Remedies Dye-Free Infant Acetaminophen. I love this dye-free kids tylenol for fevers and when they're teething and particularly fussy. Little Remedies makes my favorite, but Tylenol has a dye-free version as well that is good.
Dye-Free Children's Benadryl. Just in case my kids have an allergic reaction, I like having this dye-free benadryl on hand. My pediatrician has even had me give it to them when they've had extremely runny noses to help dry it up, and it's worked surprisingly well!
Dye-Free Infant Ibuprofen. I have rarely had to give my babies or toddlers ibuprofen. I think I've only given it to Josh after he's had surgery. But I still like to have it in my medicine cabinet *just* in case.
Cool Mist Humidifier. Whenever my boys are stuffy and/or have sore throats, I bust out our cool mist humidifier. Nothing worse than dry air on sensitive noses and throats. I'll have it going all night long in their room while they sleep.
Syringe medicine dropper. I have these syringes to give my kids their medicine and their vitamins. Super simple!
iHealth No Touch Forehead Thermometer. This thermometer is amazing! You hold it within an inch of the forehead, it gives a readout in ONE SECOND! It vibrates once it registers the temperature, but DOES NOT make a beeping noise. I love this because I can take my kids temperature when they're sleeping if they're sick and it won't wake them up. It's very accurate. Extremely, extremely love this thermometer.
Rectal Thermometer. I love having a rectal thermometer for little kids (under 2) since it is the MOST accurate, and under 2 is when I worry about fevers the most. This one is great!
This post contains affiliate links, thanks for the love!