My Favorite Vitamins, Supplements, Medicines + Wellness Products
My favorite vitamins, supplements, medicines + wellness products in my cleaned up and more natural medicine cabinet.

Vitamins + Supplements for Me
These are the 4 products that I take daily for vitamins and overall wellness.
Mega Food Prenatal Vitamins. Not all vitamins are created equal. I've done my research, and love the quality of ingredients in these vitamins! I take these vitamins when I am both pregnant and breastfeeding, which has been non-stop the past 6 years, ha! You can get them in store at Whole Foods or Sprouts, or here is a link to them on Amazon. They are pricier, but you get what you pay for and it's worth the investment to me. I take 2 of these after eating, since I am a little sensitive to vitamins on an empty stomach.
Beekeeper's Naturals Propolis Spray. (code TASTESLOVELY35 for 35% off, expires 11-30-2020!) This is a throat spray that is made from Bee Propolis, which is what bees use to keep their hive disease and bacteria free. It is natures ultimate defender! I take 4 sprays of this a day when I am feeling well to boost my natural immune system, and 8 sprays a day (4 in the morning and 4 at night) when I am feeling sick. It tastes like honey and is so natural! Also safe for when pregnant and breastfeeding.
Farmhouse Culture Gut Shot. (code TASTESLOVELY for 15% off!) This is a probiotic drink made from fermented vegetables. It has naturally occurring probiotics. Probiotics are so important for gut health, digestion (also keeping your bathroom visits regular!) and your immune system since your immune system lives in your gut. Bonus, these help me tremendously with pregnancy heartburn! I prefer this over a probiotic pill since the probiotics are alive. It feels more natural to me. I take 2 shots a day, 1 in the morning after breakfast and 1 in the evening after dinner. My favorite flavor is Apple Cinnamon, which you can only buy from their online store. My 2nd favorite flavor is Ginger Beet, which you can get in large glass bottles at many health stores. These drinks are low carb, no added sugar, and sour. Most of the flavors I just want to shoot back real quick, but the Apple Cinnamon is actually yummy to me!
Vital Proteins Collagen Peptides. I love collagen peptides! It's a great way to get more protein, plus collagen is so beneficial for your gut health, hair, skin and nails. I swear collagen peptides helped me tremendously with postpartum hair loss. There are tons of great brands out there. I always get Vital Proteins. It's cheapest at my Costco, but you can also buy on Amazon or tons of other stores. I add 2 scoops to my coffee every day (tasteless), or to my tea (I can taste a bit).
Vitamins + Supplements for my Kids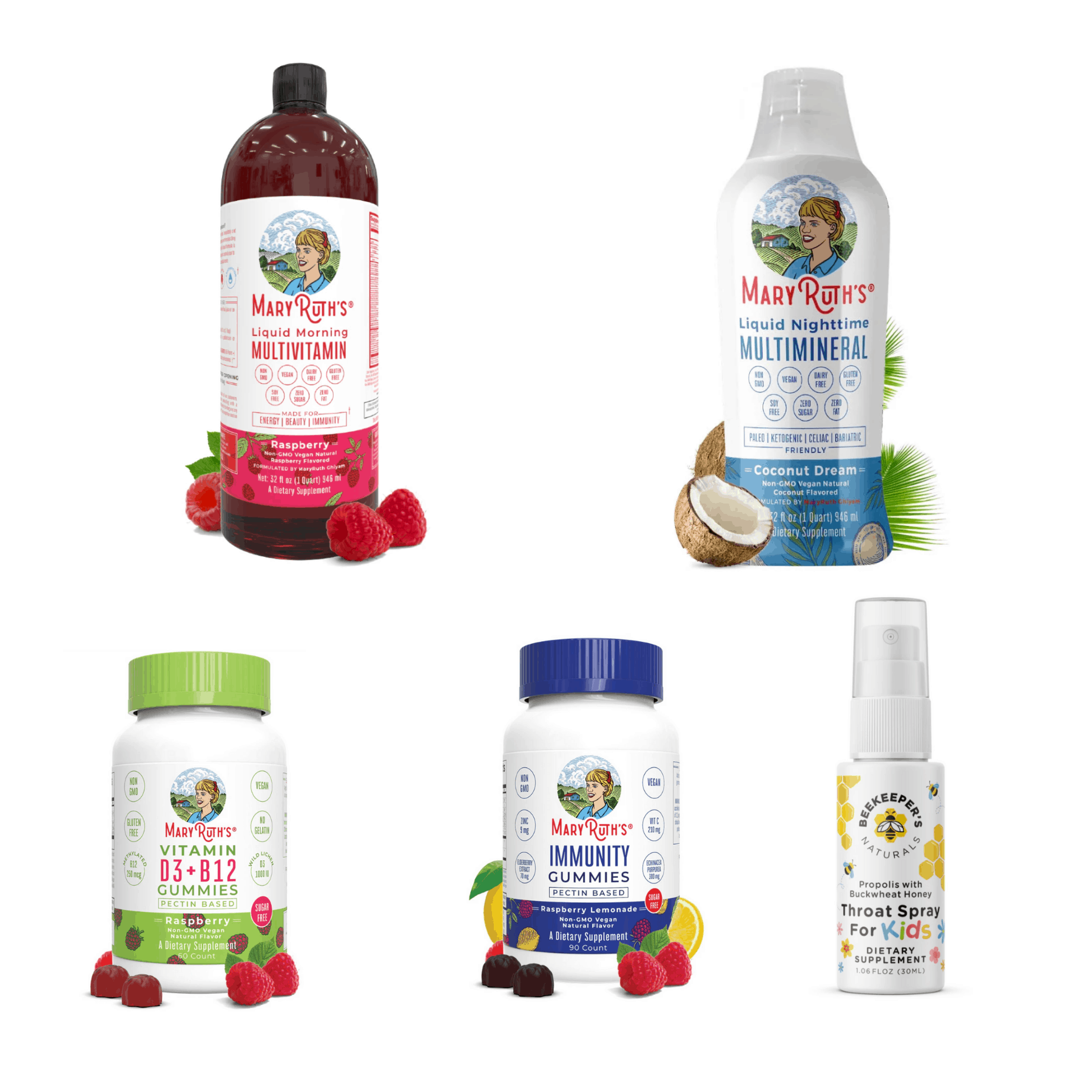 This is what I give my kids daily for vitamins and overall wellness.
MaryRuth's Organics Liquid Morning Mulivitamin. This is hands down the absolute best vitamin you can buy on the market. (They're 8g net carbs, which is a tad too high for when I'm in weightloss mode, otherwise I'd take them myself! But when I'm doing keto and trying to stay under 20-25g net carbs a day, 8g feels like too much sadly.) I love giving it to my kids! They love the raspberry flavor. I give them their dose every morning after breakfast. It's really yummy, they act like it's a treat whenever they get it. You do have to keep it in your fridge. I start giving my boys vitamins when they are 2 years old. Before they are 2 they are usually still breastfeeding, or I'm pumping and giving them a bottle so they're getting their vitamins that way. They have dosage for every age on the bottle!
MaryRuth's Organics Liquid Nighttime Multimineral. I give this multimineral every other night, at the end of the day when they're in the bath. They love the coconut flavor. This is a great way to make sure they're getting all the minerals they need, plus can help a ton with growing pains in their muscles and bones during growth spurts. Again, I give them this when they turn 2, and their is dosage for every age on the bottle!
MaryRuth's Organics Vitamin D3 + B12 Gummies. D3 is so important for strong and healthy bones, especially as kids are growing. I became fanatic about this leading up to Josh's last knee surgery. B12 is important for your red blood cells and brain function. I give my boys these gummies every day. I get the sugar free raspberry flavor. They think they're eating gummy bears.
MaryRuth's Organics Immunity Gummies. These gummies have Zinc, Elderberry, Vitamin C and Echinacea to support a healthy immune system. I give these gummies to by boys every day, whether they are well or sick. I get the sugar-free raspberry lemonade flavor. They love them. They think they're eating gummy bears.
Beekeeper's Naturals Kids Propolis Throat Spray. (Code TASTESLOVELY35 for 35% off, ends 11-30-2020) This is a throat spray that is made from Bee Propolis, which is what bees use to keep their hive disease and bacteria free. It is natures ultimate defender! I give this spray to boost their natural immune system, and encourage a quicker recovery when they are sick. This is the kids version, which has added in buckwheat honey to make it even sweeter. My kids love it, they call it honey spray. I give them 4 sprays in the morning with their vitamins after breakfast, and another 4 sprays at night when they're in the bath.
I don't give my kids probiotics, because whenever I have, it is a bathroom mess the next day. And I'm not talking pee. Haha! I haven't found the right balance of probiotics for their little tummies yet. They don't have any bathroom or digestion issues (if anything they're too regular, haha!), and I feel like I have enough immune boosting vitamins and supplements for them. So for now I just skip it.
Over-The-Counter Medicine for Me
I honestly don't take any over the counter medicines.
Since I'm almost always pregnant or breastfeeding these past 6 years, I've just learned to go without. I'm super careful when it comes to medicines when pregnant and breastfeeding. If I have a headache, I'll just diffuse some peppermint essential oil and drink more water. I haven't had any fever issues that would require medicine in such a long time. But if I did, I would check with my doctor and just take acetaminophen (generic tylenol).
I use the same touchless thermometer and humidifier that I have linked in my Kids roundup below!
"Cleaner" Medicine + Medical Supplies for Kids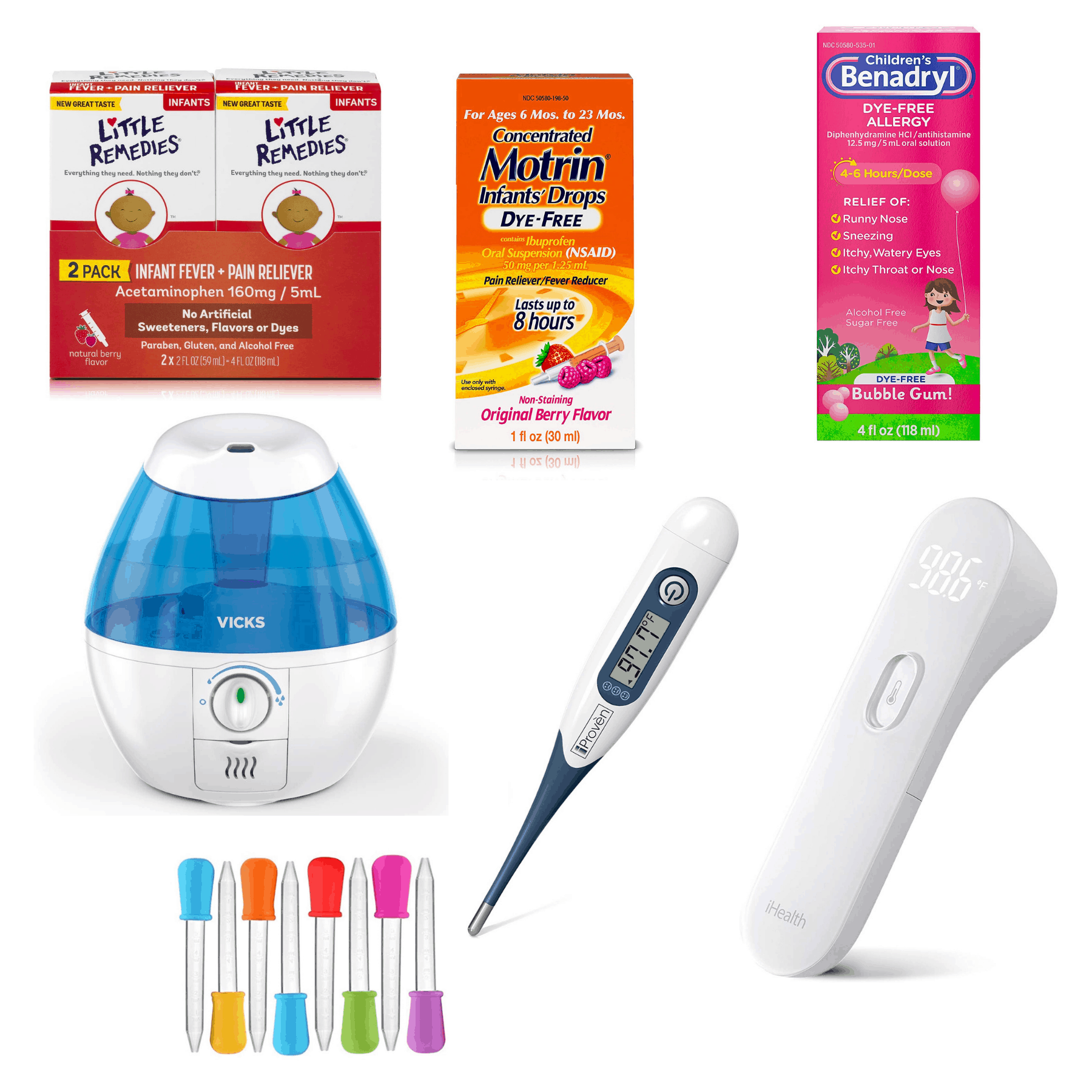 Little Remedies Dye-Free Infant Acetaminophen. I love this dye-free kids tylenol for fevers and when they're teething and particularly fussy. Little Remedies makes my favorite, but Tylenol has a dye-free version as well that is good.
Dye-Free Children's Benadryl. Just in case my kids have an allergic reaction, I like having this dye-free benadryl on hand. My pediatrician has even had me give it to them when they've had extremely runny noses to help dry it up, and it's worked surprisingly well!
Dye-Free Infant Ibuprofen. I have rarely had to give my babies or toddlers ibuprofen. I think I've only given it to Josh after he's had surgery. But I still like to have it in my medicine cabinet *just* in case.
Cool Mist Humidifier. Whenever my boys are stuffy and/or have sore throats, I bust out our cool mist humidifier. Nothing worse than dry air on sensitive noses and throats. I'll have it going all night long in their room while they sleep.
Syringe medicine dropper. I have these syringes to give my kids their medicine and their vitamins. Super simple!
iHealth No Touch Forehead Thermometer. This thermometer is amazing! You hold it within an inch of the forehead, it gives a readout in ONE SECOND! It vibrates once it registers the temperature, but DOES NOT make a beeping noise. I love this because I can take my kids temperature when they're sleeping if they're sick and it won't wake them up. It's very accurate. Extremely, extremely love this thermometer.
Rectal Thermometer. I love having a rectal thermometer for little kids (under 2) since it is the MOST accurate, and under 2 is when I worry about fevers the most. This one is great!
This post contains affiliate links, thanks for the love!
Never Miss a Recipe!
Get new posts delivered straight to your inbox! For free!