Orange Mustard Glazed Salmon
Orange Mustard Glazed Salmon – an easy 4 ingredient dinner recipe that is ready in 15 mins, and healthy too! Paleo, Whole30, gluten free, dairy free and low carb.
On Friday night, I dropped my phone in water for the 4th time. Yes, you read that right. The FOURTH time!
The first time was at a restaurant I worked at. I put my purse in an ice well behind the bar, which is always empty. But this day, it had 4 inches of water in it, and my purse got soaked. I didn't realize this until after my shift. That phone did not make it.
The second and third time were both bathroom related. I'm sure you all know this, but it is not a good idea to have your phone in your back pocket when it's time to…ummm…take a seat. It took me 2 different times to learn that lesson. Once at a restaurant here at home, once at a casino in Lake Tahoe. Both of those phones did not make it.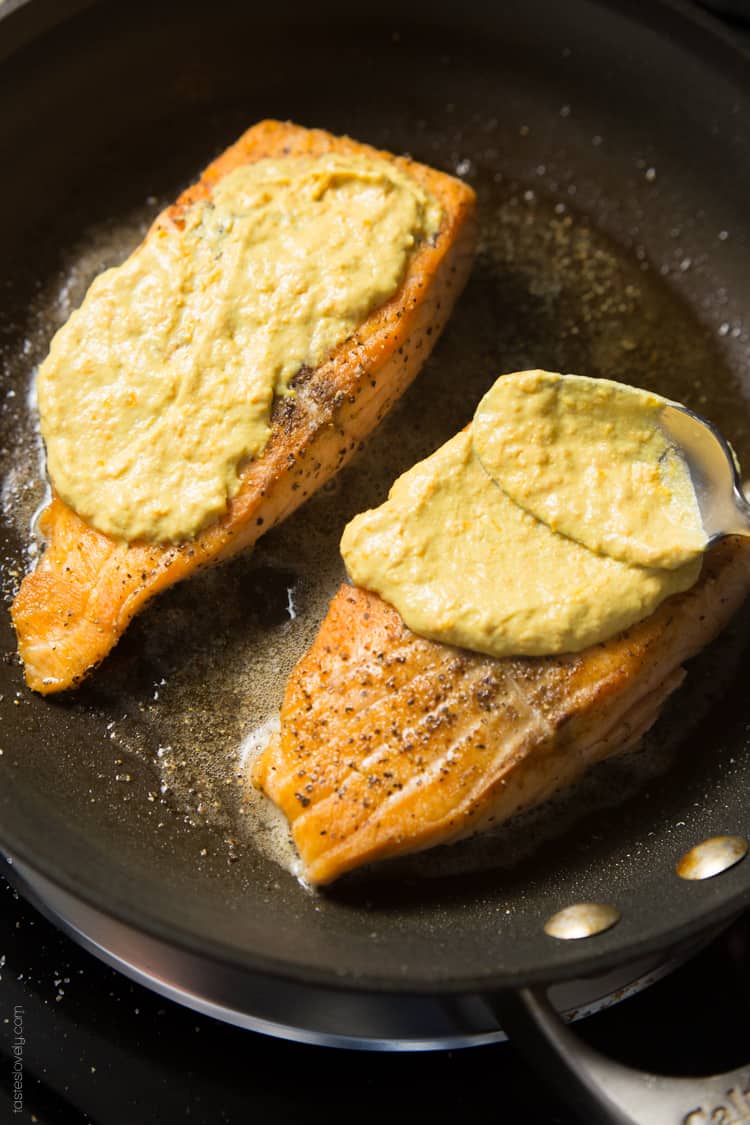 It has been a good 2 years since my phone has gone swimming. But on Friday night, we were sitting on the edge of a big fountain at a restaurant having a glass of wine. I went to pull my phone out to check the time so we wouldn't be late for our movie, and *plop*, my phone fell right out of my hands and straight to the bottom of the fountain.
Shawn has a lot of practice at saving my wet phones now. He reached his hand right in, got it out, and turned the phone off immediately. Then blew into all the holes to get out any extra water. When we got home, he put the phone in a ziploc bag with a bunch of silica packets (we have a ton to keep in with our camera equipment.) 48 hours later, I turned it on and everything is fine! It survived!
I can't decide if this means I have the best luck with phones? Or the worst?
This easy orange mustard salmon is going to be one of your new favorite weeknight dinners. You can have dinner on the table in 15 minutes.
I like a nice, crispy salmon, so I start off by searing this salmon in a pan. Once the first side is golden brown, flip the salmon, then top with the delicious orange mustard glaze. Transfer the pan to the oven, and let it finish cooking.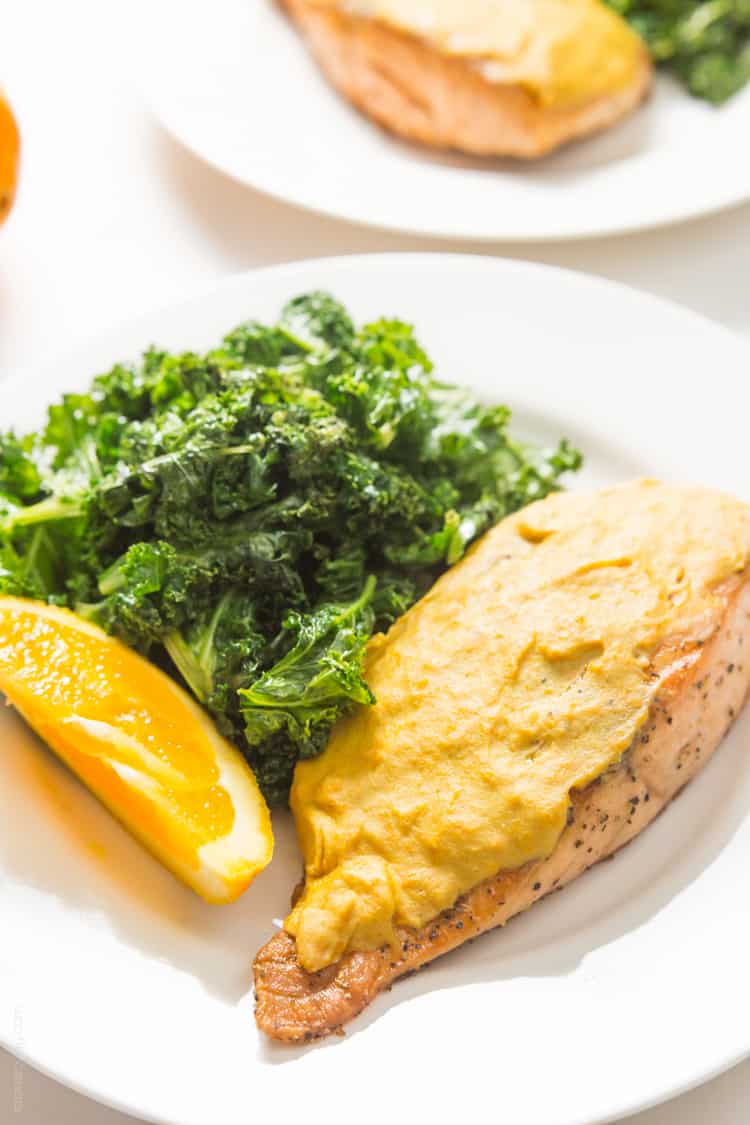 I love this recipe because it is only 4 ingredients, and all things I have in the kitchen. And, it's healthy! Paleo, Whole30, gluten free, low carb, dairy free, low calorie, and high in protein. What's not to love about that?
I usually serve this salmon with some kale I saute in coconut oil, then finish with fresh squeezed orange juice. They pair perfectly together.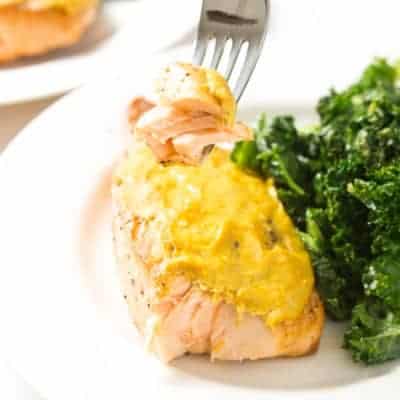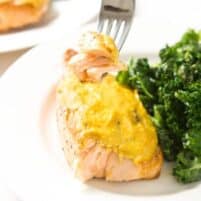 Orange Mustard Salmon (4 ingredients)
Salmon topped with an orange and mustard sauce. An easy 4 ingredient dinner recipe that is ready in 15 mins, and healthy too!
Ingredients
2

salmon filets

,

about 6 ounces each

1

tablespoon

coconut oil

1/4

cup

dijon mustard

,

or grainy mustard if you don't like the "horseradish" quality of dijon mustard

zest from 1 orange

salt and pepper
Instructions
Preheat your oven to 450 degrees with the rack in the upper 3rd, and heat an oven safe skillet over medium high heat.

In a small mixing bowl, combine the dijon mustard and orange zest. Stir to combine.

Dry your salmon filets well so they will get a crispy crust, then season with salt and pepper.

When the skillet is heated, melt the coconut oil and cook the salmon. If your salmon has skin, start it with the skin side up. Cook for 5 minutes until the salmon is crispy and golden brown. Flip the salmon, then top the cooked side with the orange mustard glaze.

Finish the salmon in the oven and cook until the internal temperature is 165 degrees, usually about 5-8 minutes, depending on the thickness of your salmon.

Serve warm with wedges of orange.
Calories:
461
,
Total Carbs:
2.7
g
,
Protein:
66.6
g
,
Fat:
20.6
g
,
Fiber:
0.5
g
,
Net Carbs:
2
g
Did you make this recipe?
Please Leave a comment and give this recipe a rating!

More Fish Recipes You'll Love: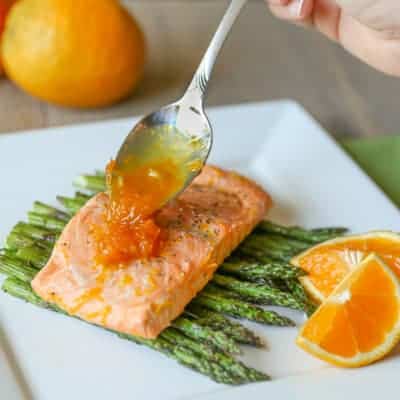 Grilled Salmon with Orange Maple Glaze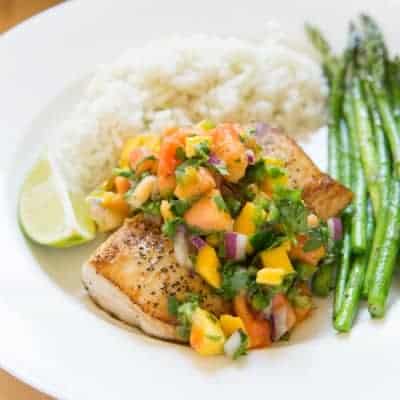 Pan Seared Mahi Mahi with Mango Papaya Salsa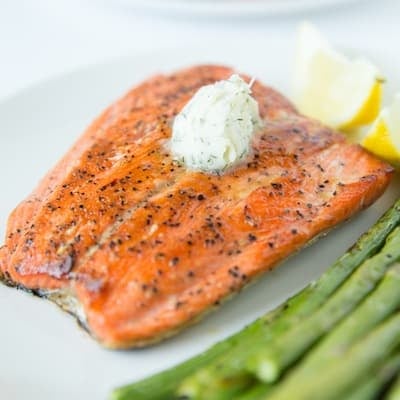 Pan Seared Salmon with Dill Butter
Salmon Recipes from my Blogging Friends:
Salmon Power Salad with Honey Dijon Vinaigrette by Kristine's Kitchen
Chili Garlic Salmon and Broccoli Bowls by Maebells