Pan Seared Mahi Mahi with Mango Papaya Salsa
Pan seared Mahi Mahi topped with a tropical mango papaya salsa. The Mahi Mahi is cooked in coconut oil and a little butter to give it a crispy, brown exterior that pairs perfectly with the mildly spicy fruit salsa.
Coming home and unpacking from a vacation warrants a whole new vacation. Amiright?
We got home from Hawaii tanned, rested and relaxed. But we were not even home for 24 hours before having to pack our bags again and head out of town to Lake Tahoe to film a wedding over the weekend. By the time we got home on Sunday afternoon, we had even more bags to unpack, a fridge full of expired food, and a few too many dying plants.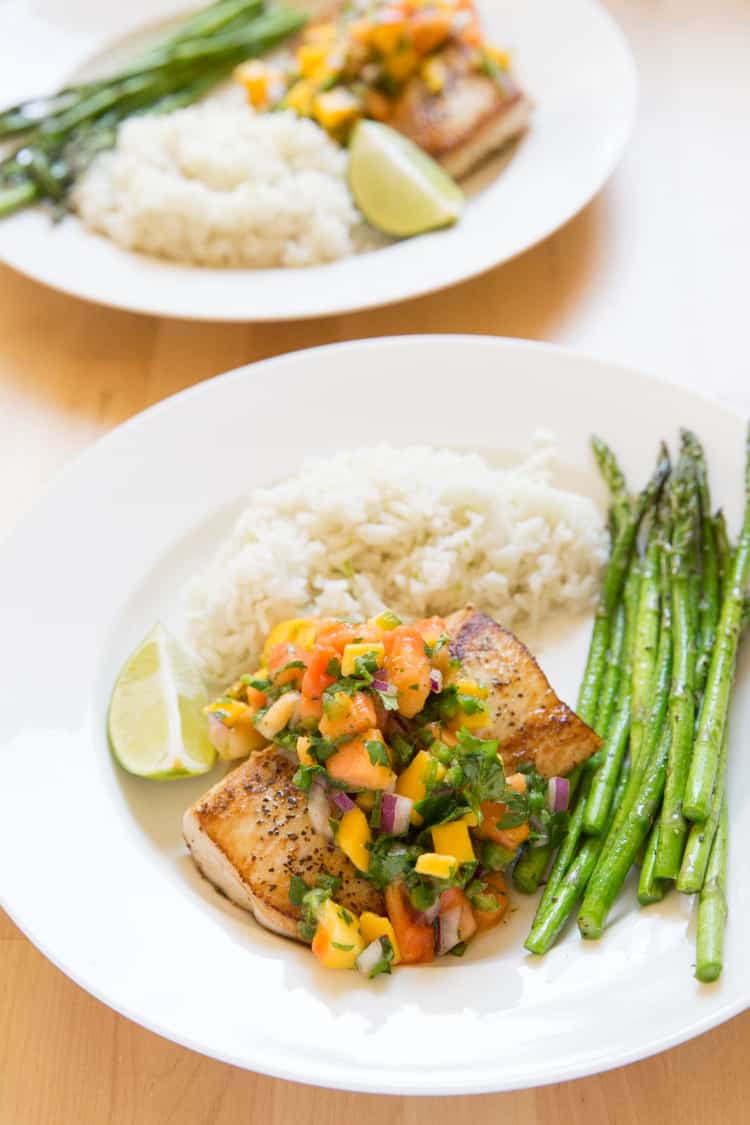 Rather than getting a head start on the week by unpacking, cleaning and grocery shopping when we got home Sunday, we plopped ourselves on the couch and watched TV for a few hours with some wine. Because…lazy.
Our laziness on Sunday really came back to bite us in the butts this week. Instead of coming home from work on Monday to a clean house, I came home to too many loads of laundry and an empty fridge. We went all out last night and finally got all of our chores done. Feels great! It must have wiped us out, because we went to bed at 8:30pm.
While I'm happy to be home, a tiny piece of me wishes we could just live in Hawaii forever. I'm all about the slow paced island life.
The next best thing is eating like we are still in Hawaii. This cripsy, pan seared Mahi Mahi with mango papaya fruit salsa has definitely helped us ease in to regular life. The flavors just scream tropical island.
Yesterday I shared my addicting tropical mango papaya fruit salsa. The fruit salsa is delicious with chips, but it is even better on top of this fish.
You sear the Mahi Mahi in coconut oil so it gets a subtle coconut flavor, and a little butter to help the fish get brown and crispy. The crispy Mahi Mahi is topped with the sweet and slightly spicy mango papaya salsa. You can practically hear the waves crashing as you're eating this.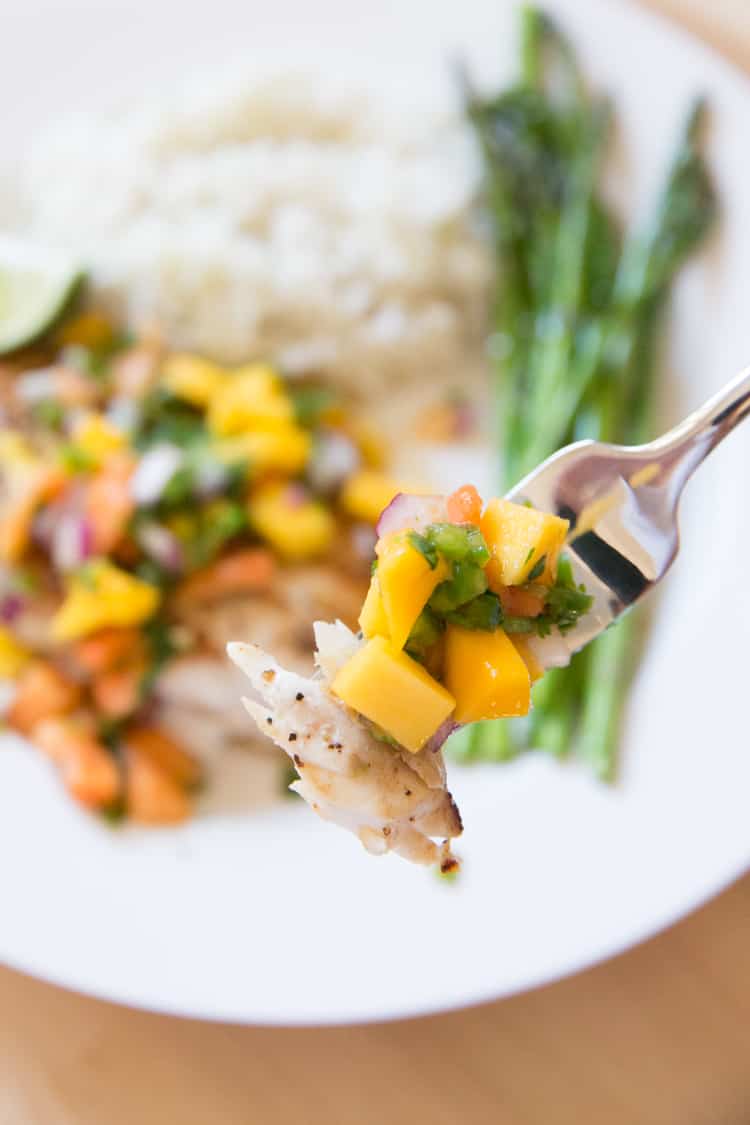 Not only is this mahi mahi with mango papaya salsa delicious, but I can have it on the table in less than 30 minutes. Can't beat it!
You guys, this is one of my favorite dinners I have made in weeks! It is so good! The flavors go perfectly together. To really put this dinner over the top, be sure to serve it with my coconut lime rice. Amazing!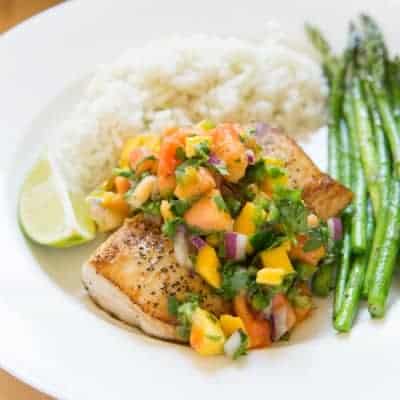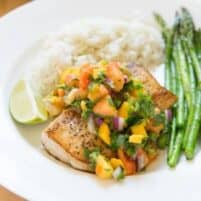 Pan Seared Mahi Mahi with Mango Papaya Salsa
This man seared mahi mahi is topped with a refreshing topical mango papaya salsa.
Ingredients
Mango Papaya Fruit Salsa
1

medium size mango

,

chopped into ½" chunks*

1

medium size papaya

,

seeded and chopped into ½" chunks*

½

medium size red onion

,

finely chopped

1

medium size jalapeno

,

seeds removed and finely chopped

1

bunch of cilantro

,

stems removed, finely chopped

juice of 1 lime

salt & pepper to taste
Pan Seared Mahi Mahi
2 6-ounce Mahi Mahi fillets, thawed and patted dry

2

teaspoons

coconut oil

1/2

tablespoon

butter or ghee

salt & pepper to taste
Instructions
Mango Papaya Fruit Salsa: Combine all ingredients in a medium bowl, stir to combine. Leave in the refrigerator until ready to use. Will keep in the refrigerator for 1 week.

Pan Seared Mahi Mahi: Preheat a medium size pan over medium-high heat. Season the Mahi Mahi with salt and pepper. Add the coconut oil and butter to the pan. Cook the Mahi Mahi for about 5 minutes on the first side, or until crispy golden brown. Flip and cook the second side for 5 more minutes. Transfer the cooked fish to a plate, and top with the mango papaya fruit salsa.
Calories:
409
,
Total Carbs:
28.5
g
,
Protein:
34.6
g
,
Fat:
18.1
g
,
Fiber:
4.8
g
,
Net Carbs:
24
g
Did you make this recipe?
Please Leave a comment and give this recipe a rating!