Coconut Lime Rice
Want to hear about the most ridiculous problem Shawn and I have?
Our new house is on an old ranch, and it isn't wired with an internet line. So we have to use satellite internet. Satellite internet is a little…interesting. It functions like a cell phone plan: we get unlimited web browsing and email internet use, but for streaming (Netflix, renting movies off iTunes, playing music off Pandora) we only get 10 gigs a month. 10 gigs!
When we found this out, I thought it was a joke. 10 gigs? That's only like 3 movies streamed. Well our internet had some "good news" to soften the blow. We get unlimited streaming between the hours of midnight and 5am. Perfect. I can't wait to set my alarm for midnight so I can wake up and binge watch House of Cards all thru the night. Except not.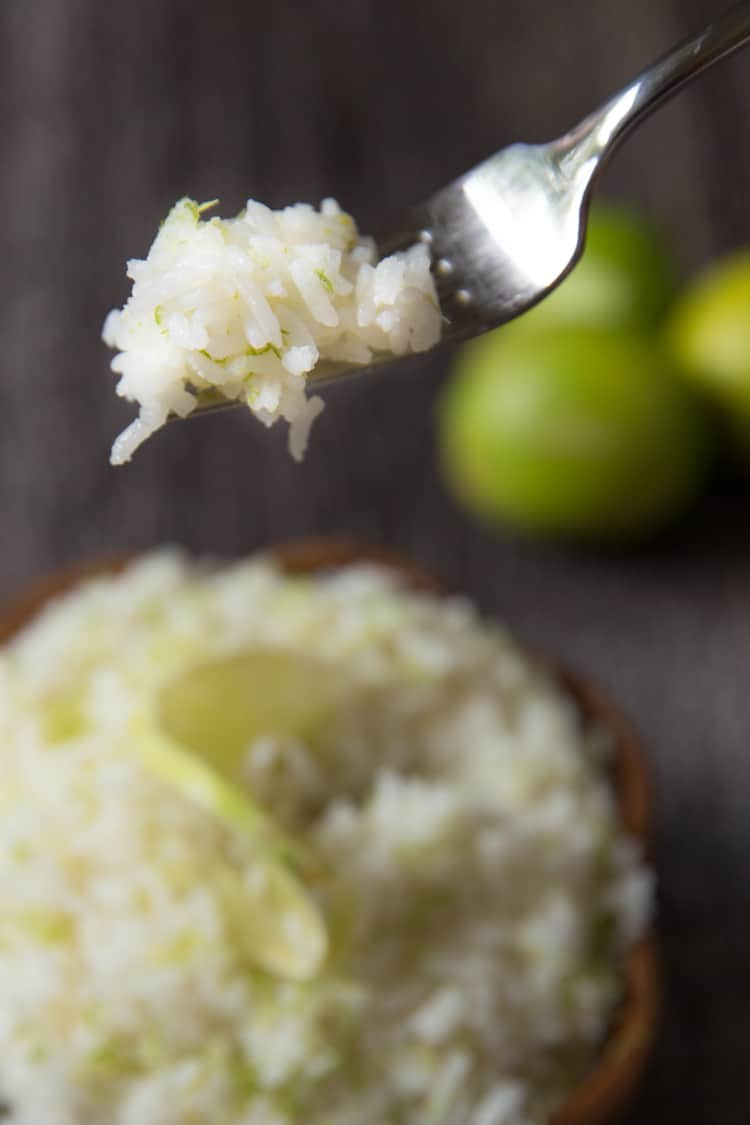 If we go over, they basically turn our internet off until the billing cycle is over. That is, unless, we want to buy another 5 gigs of internet for the low low price of $30. Which we had to. On Sunday. When we already used up our 30 gigs only 3 weeks into the billing cycle.
A little advice if you're in our situation. DON'T leave your TV on the DirectTV channel that talks about all the upcoming movies to rent and shows to watch. Apparently that channel requires the internet. And we had our TV on that channel for most of the weekend. So whenever we were scrolling thru our DVR list, that channel was what was playing in the background and used up a majority of our streaming gigs. Whoops. Lesson learned. The hard way, of course.
Thank goodness rice is cheap, because with crazy internet bills like this, it might be the only food we can afford. Just kidding! Kind of.
But this coconut lime rice is SO insanely delicious I could eat it everyday. Which I kind of have for the past week. If I told you I made this coconut lime rice to serve with our dinner 3 out of the 7 nights last week, it would be a lie. Because I made it 4 out of the 7 nights. I can't stop myself!
It couldn't be easier to make. I start off by sauteing the rice in coconut oil for just a minute to really get the coconut flavors started. Then you add in 1 can of low fat coconut milk, let it cook for 35 minutes as it soaks up all the delicious coconut flavor. After the rice is done cooking, you fluff it with a fork, stir in some lime zest and lime juice, and devour. The resulting coconut lime rice is light, fluffy, and tastes like something you would eat on a tropical vacation.
I served this coconut lime rice along grilled fish, shrimp tacos, and this amazing chicken dish I'm sharing with you on Thursday. Stay tuned!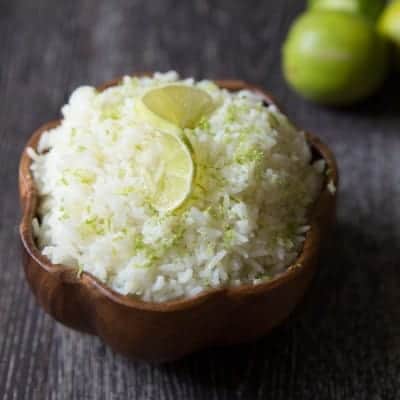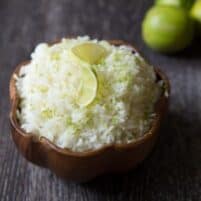 Coconut Lime Rice
This coconut lime rice recipe is a favorite side dish to go with any dish. It is made with canned coconut milk and flavored with fresh lime zest.
Ingredients
1

teaspoon

coconut oil

1

cup

white jasmine rice*

13.5

ounce

can coconut milk (or coconut cream)

zest of 1 lime

juice of half a lime

salt to taste
Instructions
In a small sauce pan over medium high heat, saute the rice in the coconut oil for just 1 minute. Pour in the can of coconut milk and stir to combine. Bring to a boil, cover with a lid, and reduce heat to low. Simmer the rice covered for 35 minutes. Remove from heat, and allow to sit with the lid on for another 10 minutes.

Remove the lid, fluff the rice with a fork, then stir in the lime zest, lime juice, and salt to taste. Serve warm.
Notes
*This recipe is the ratio for white or jasmine rice. If using brown rice, you will need more liquid and cook it for longer. Follow your specific rice's cooking directions, and replace water with equal parts coconut milk.
Calories:
184
,
Total Carbs:
15.5
g
,
Protein:
2.3
g
,
Fat:
13.3
g
,
Fiber:
0
g
,
Net Carbs:
16
g
Did you make this recipe?
Please Leave a comment and give this recipe a rating!