Our Virtual Learning Home Setup
Kindergarten virtual learning home setup ideas and inspiration for a small home with 2 kids featuring my favorite child's desk, iPad and art cart.
This fall our school district is doing virtual learning, which was great because I was already leaning towards keeping my boys home. Since I'm pregnant, I feel much more relaxed playing it on the safe side. Plus, I love my boys so much and look at it as a bonus year that they get to be little and at home with me!
We live in a tiny 700 square foot home, so we don't have a ton of extra space. I wanted to set up a virtual learning area for my almost 4 year old son Josh who started pre-kindergarten. I also have a 2 year old who joins in the fun too!
I found some great solutions that are super affordable, not ugly to look at, are light enough that I can lift them and store them in our garage when not in use, and function great!
Watch A Tour of Our Kindergarten Virtual Learning Setup
Pre-Kindergarten Virtual Learning Items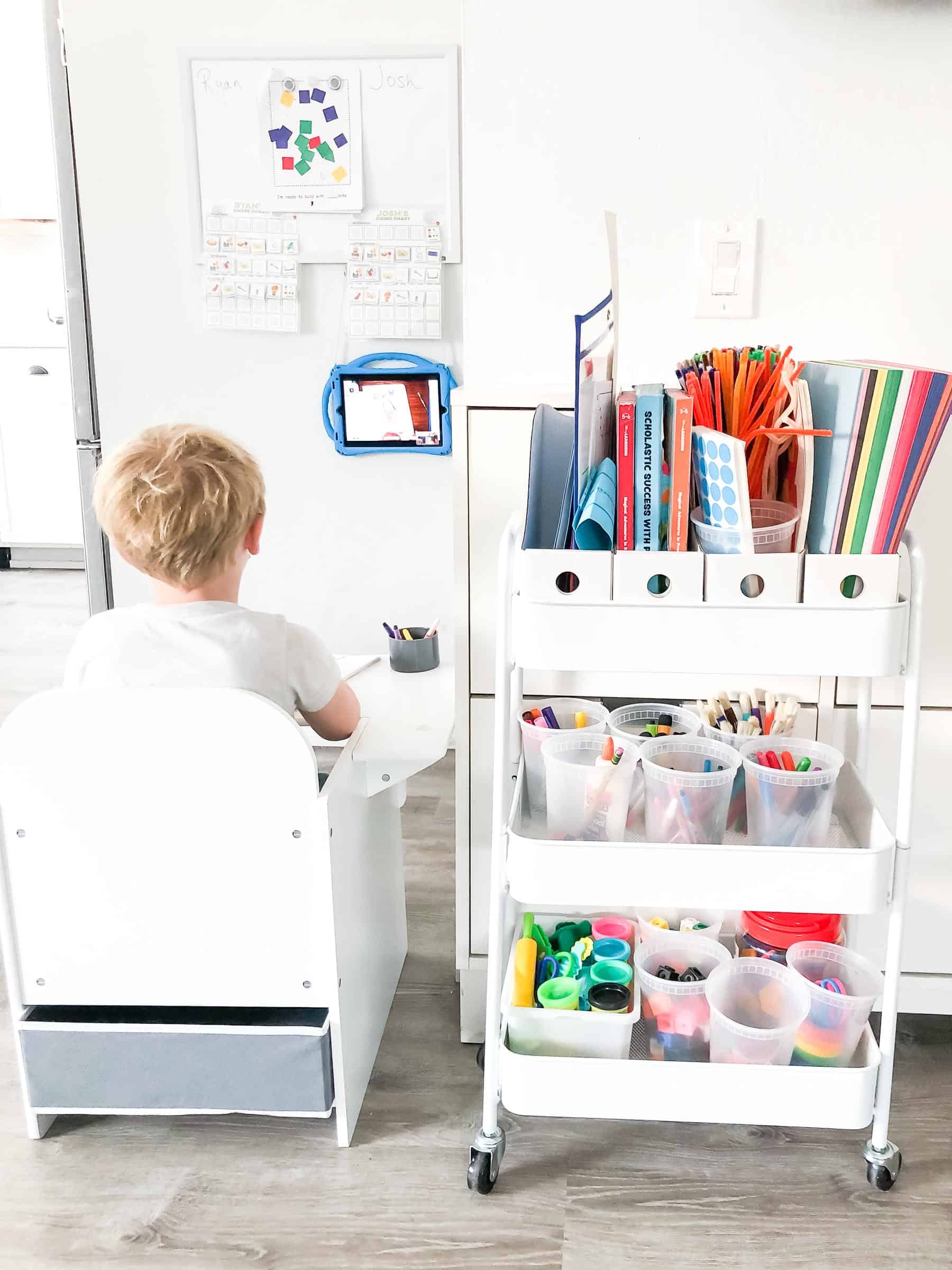 How Is Virtual Learning Going?
We are finishing our 2nd week, and we're still getting in the groove of everything.
Curriculum and workload wise it's been great! Our school sends us home with all the supplies we need. We pick them up every 2 weeks from the school. Every ditto, worksheet, manipulative and art project that the kids will be using and working on. Makes it SO SIMPLE and manageable. I just lay out what he'll need every day before school starts.
When I first heard the school schedule of 8-11:30, I was worried because that felt like a LOT of school for a 4 year old to be doing at home sitting in front of a computer. Turns out he meets for about 20-30 minutes at 8am, 9am and 11am. 8am is attendance, a story and going over the alphabet. He's doing all the hands on work at the 9am meeting in a smaller group with half the class (the other half meets at 9:30). The 11am is to show their work to the whole class, have another story and then sing a song. Easy peasy and so dang cute!
They meet virtually via Zoom. It's really cute seeing all the other kids in his class working from home too. There is also a "virtual classroom" called Seesaw that we go to for his homework assignments (simple things like "find something in your house that's red!) and to upload photos of his completed work. It's been really easy to use and figure out.
In between schooling we're back to playing around the house and in the backyard. I think it's actually been great for the boys to have more structure and a "purpose" during the day. Good practice for when school starts again.
The hardest part has been keeping Josh focused and helping him with his work while also keeping Ryan entertained. I wish I could clone myself and give both my boys all of me!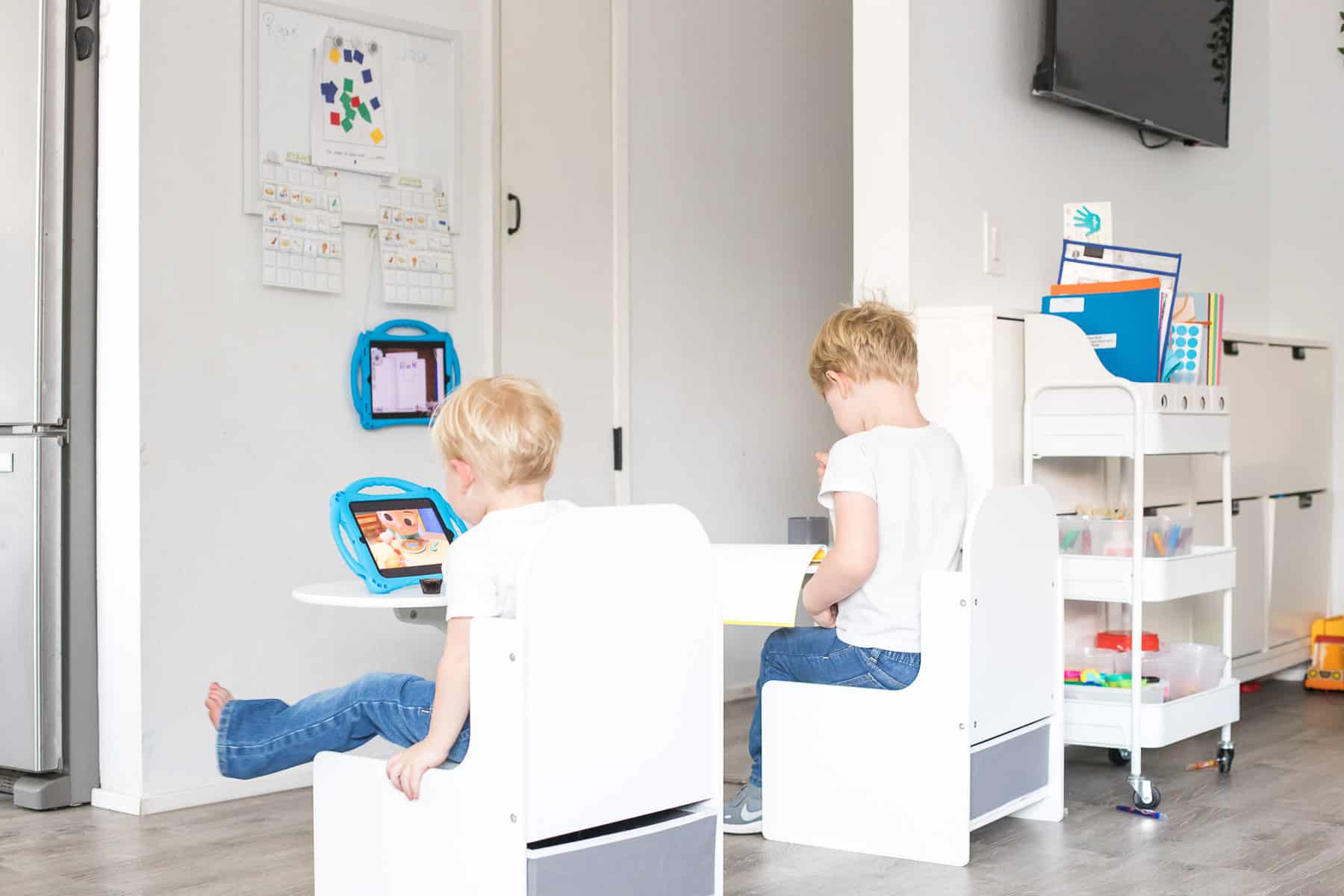 Tips + Tricks That Have Set Us Up For Success
Have A Special Work Area: The 1st day of school I thought we could sit at my husbands desk that's always in our house and use his computer. That didn't work too well. It's not sized right for Josh, he was getting in to my husbands things, and he didn't focus as well. By having everything kid size, and items that are ONLY for school, I think it's sets the tone that when he's in his desk it's time to learn. Not time to play.
Set The Work Area Up In a Distraction Free Spot: I chose to have Josh face a wall when doing school, with our main living room and play area behind him. This way, he can ONLY see his school meeting on Zoom. Even when his little brother is behind him playing with toys. Out of sight, out of mind!
Get Plain Desk + Accessories: I saw a ton of toddler desks that were already decorated with theme characters, but I know how easily Josh is distracted. He would have focused a ton at looking at the cartoon characters on his desk. I chose a plain white desk. I had originally gotten this kids table at Ikea, but Josh was leaning back in his chair and falling constantly, haha! An attached desk ended up working way better for my little wiggle worm boy. And I think it made it feel more like school. Now the Ikea table is in our backyard as an art and picnic table for both boys to use!
Get Ready for School, Even Though You're At Home: Even though the camera can only see Josh's face, I still have him get fully dressed in jeans and shoes and do his hair for school. The routine of getting ready ramps him up that it's time to learn and focus. Even though it would be a heck of a lot easier to plop in his desk still in his pajamas, haha!
Special Toys For Younger Siblings: To keep Ryan entertained while Josh does school, I got him some new toys that he'd never played with before. I *only* bring them out when Josh is doing school, so they toys will hopefully hold Ryan's attention for the 20-30 minutes. I'm also totally fine busting out shows or iPad time for him to keep him entertained if I need to help Josh with something. All about survival at this point.
Be A Part Of The Schooling With Your Kid: For Josh's young age, I've noticed he does WAY better if I sit with him and do all of the schooling with him. If I leave him to himself, he's not in to it. I'll even go out of my way to duplicate all the projects Josh is doing so Ryan can try and do them too at his little level. We all do it together as a family and approach it like a game. I see a couple of the little 4 year olds in his class sitting in a room alone with no parents there, and those kids are rarely paying attention or able to keep up with the art projects. (No judgement on those parents, I have the time to sit and be a part of all of it and it's been working way better for our family!)
Have A Relaxed Attitude: I have extremely low expectations for virtual learning. I'm more seeing it as entertainment, with the bonus of preparing him for school. I'm not putting a ton of pressure on Josh and overly pushing him if he's resisting. This is definitely not the ideal learning situation. I don't want it to ruin our home life or give Josh a bad association with school. I try and make it all seem really fun and a game! It's just pre-kindergarten after all! Again, this doesn't necessarily feel like the time to push and thrive, more just attempt and "survive".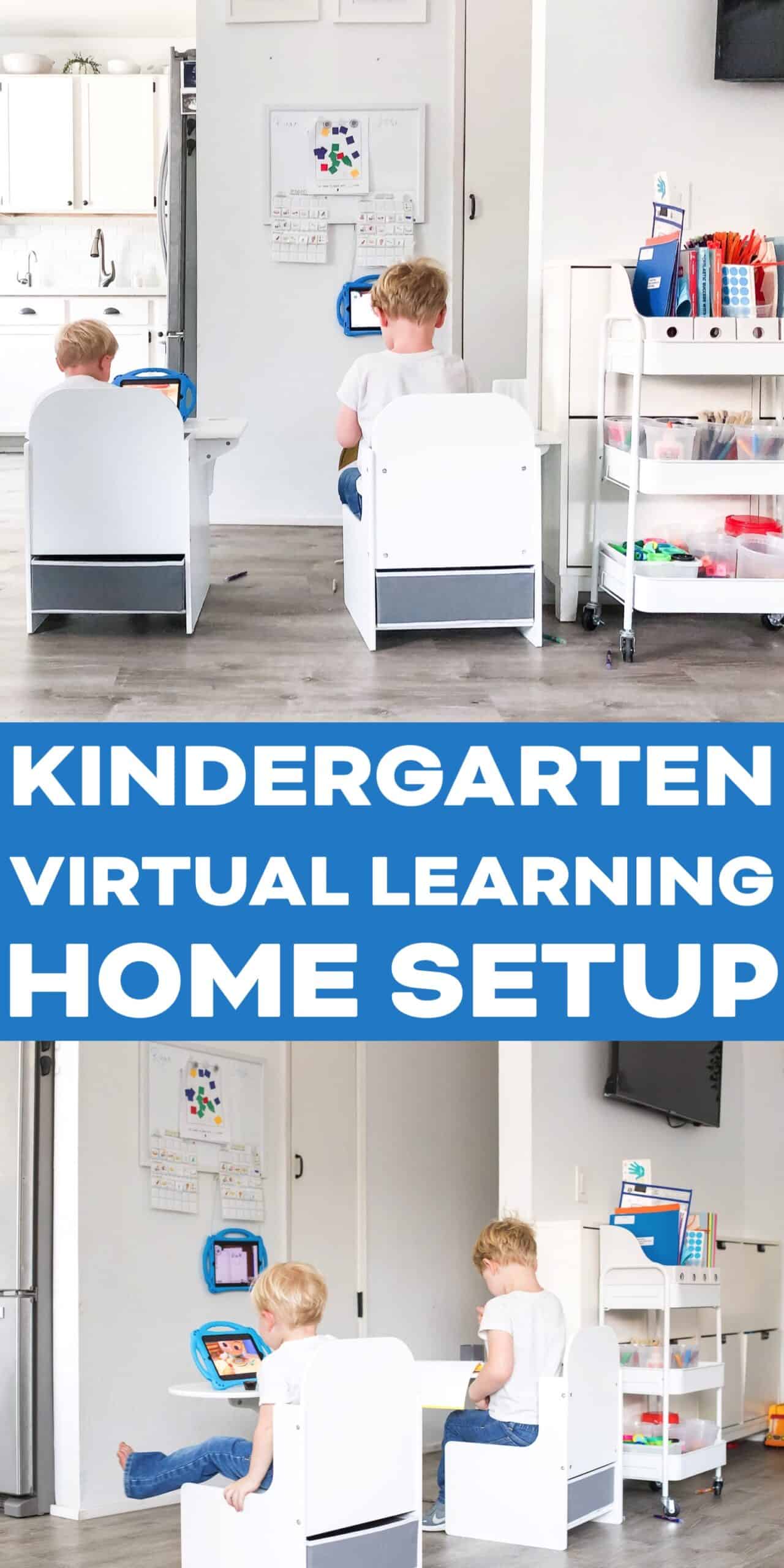 This post contains affiliate links, thanks for the love!