What I Ate Wednesday
What I Ate Wednesday – The keto meals I'm eating in my real life for breakfast, lunch, dinner and snacks! Includes keto macro counts. Great reference for a FREE sample keto menu that's less than 25g net carbs!
Here are all the keto meals and snacks I had on August 19, 2020. The image above includes the total macro counts for the day. After each meal I'll include the individual meal macro counts. At the end of the post I include a screenshot of all the nutritional information for the day.
My macro goals are 25g net carbs (5%), 124g protein (25%), 155g fat (70%). I do my best to stay close to those percentages, give or take a bit. Here is how I calculate the macros for these posts, and tons of information on keto macros.
I am currently 18 pregnant, so not focusing on intermittent fasting.
If you're new to my site or to the keto diet, here is where I answer all the FAQ's on how I lost 50 pounds in 6 months eating clean keto. Here are all my What I Ate Posts for my daily keto menu food journal log inspiration!
Keto Meals I Eat In A Day
Morning Drink (6:30am): Hot tea (this is Trader Joe's Organic Earl Grey) with a splash of organic heavy cream and 2 scoops of Collagen Peptides……0g net carbs, 5g fat, 18g protein
Breakfast (7:30am): 4 medium size eggs from my chickens scrambled in ghee, fresh dill, garden tomatoes, 2 slices of bacon……4g net carbs, 37g fat, 29g protein
Snack #1 (10:00am): 2 Original Beef Chomps sticks (Chomps is currently having a 20% off site wide sale with free shipping! When the sale is over, you can use code TASTESLOVELY20 for 20% off your first order!)……0g net carbs, 4g fat, 20g protein
Lunch (12:00pm): My keto asian beef stir fry over cauliflower rice that I cooked in ghee (I made a double batch so I'll have lunches for the rest of the week!)…….8g net carbs, 34g fat, 24g protein
Snack #2 (3:00pm): Keto "trail mix" made with 3 tablespoons roasted almonds, 2 tablespoons pecans 3 tablespoons unsweetened roasted coconut chips + 1 tablespoon Lily's dark chocolate chips……6g net carbs, 32g fat, 8g protein
Dinner (6:00pm): Keto mahi mahi with orange fennel butter (this same recipe but I used mahi mahi instead of salmon and used fennel fronds instead of dill), roasted fennel and cauliflower rice I cooked in ghee……6g net carbs, 40g fat, 23g protein
Full Nutritional Information
Here is the full nutritional breakdown of my day of meals. (Click to view the full PDF report). Below are a few screenshots of the breakdown.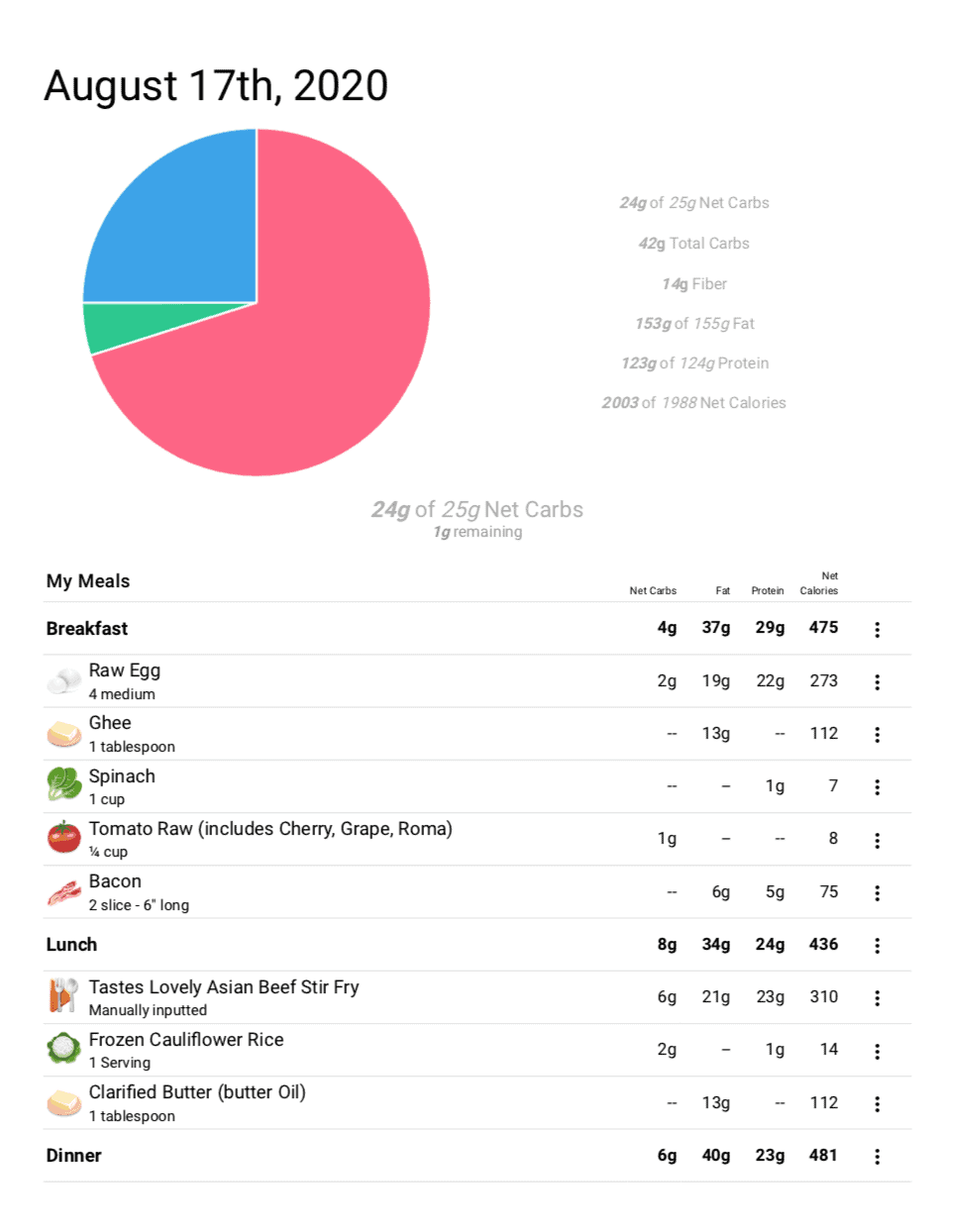 Nutritional information is provided as a courtesy only and should be construed as an estimate rather than a guarantee. Ingredients can vary and Tastes Lovely makes no guarantees to the accuracy of this information. Always best to go off your own calculations based on ingredients and quantities actually used.