Perfect Banana Nut Muffins
I've made a decision. All weekends should be 3 day weekends. Agreed?
Having Monday off yesterday was the BEST! We got to sleep in, ate breakfast together, then Shawn had to slip off to work for a few hours. I had the house to myself. I felt like a stay-at-home housewife. How do I get that job? Because sign me up! I cleaned, did laundry, got to go to the grocery store during the golden hour.
Do you know about the grocery store golden hour? It's at 10am, and you will feel like you have the store to yourself. Freshly stocked produce, no lines at the register, and you can get a parking spot right up front. I usually grocery shop around 4pm after I'm off work, and it's bedlam. I'm trying to maneuver the crowded Trader Joe's aisles along with every mom and their kids straight from the "after school pickup", and all the working adults trying to grab stuff for dinner on their way home.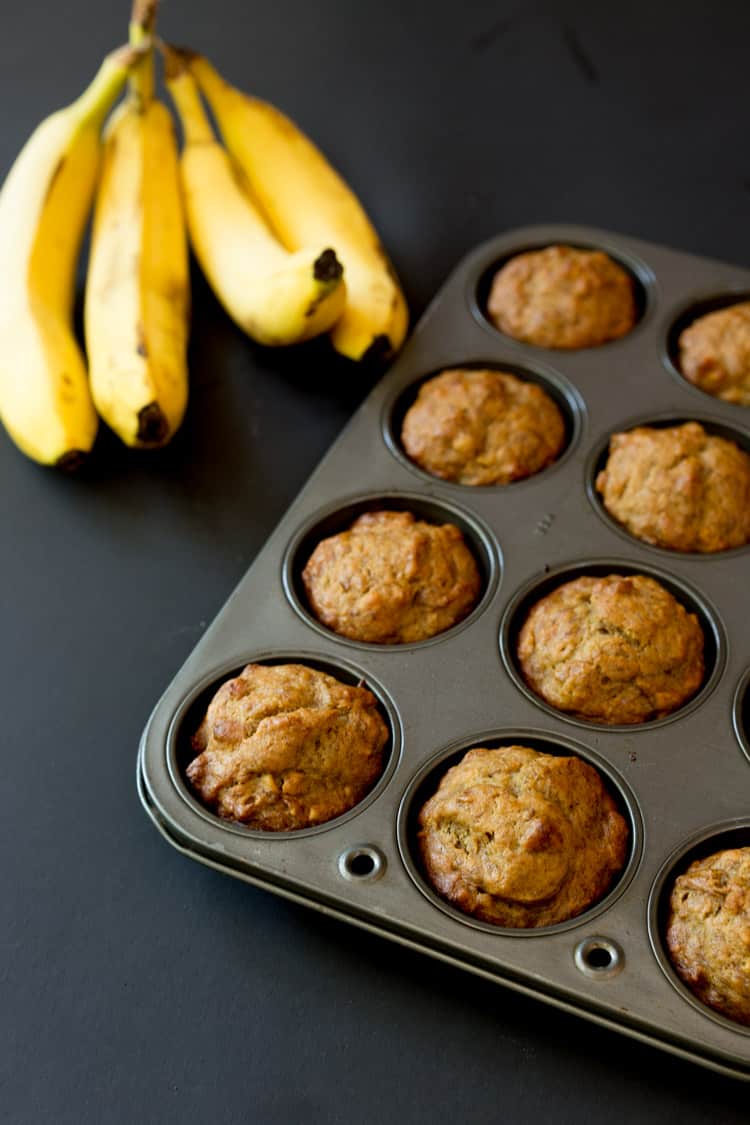 It was during this golden hour, as I was taking my sweet time and perusing all the produce, that I noticed they had 4 pound bags of overly ripe banana's on sale for just $2. I used to feel bad for poor, neglected bananas when they turned brown. That is, until, I perfected banana nut muffins. Seeing all those perfectly brown and speckled bananas on sale for so cheap, I just knew I had to whip up a batch of banana nut muffins.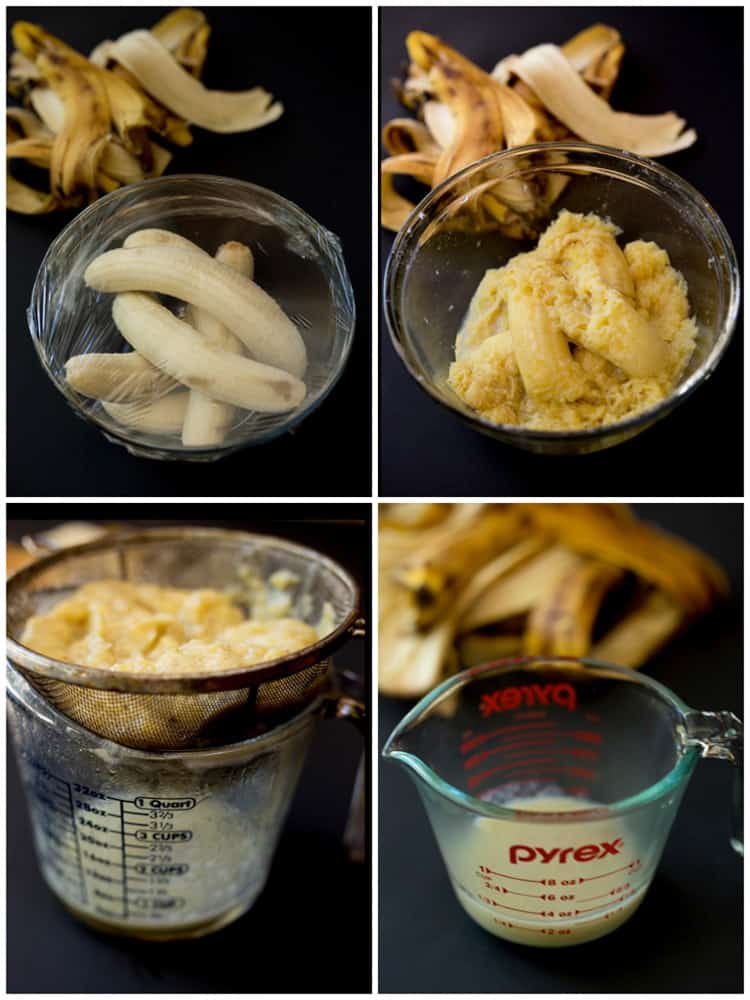 These banana nut muffins are based off of my favorite banana bread recipe ever by America's Test Kitchen. They have a genius technique of using 5 whole bananas, microwaving them, then straining off the extra moisture the cooked bananas release. They then cook down the "banana juice" until it's reduced by half. This removes a ton of extra moisture so the banana muffins don't get heavy or weighed down, but are still packed with banana flavor.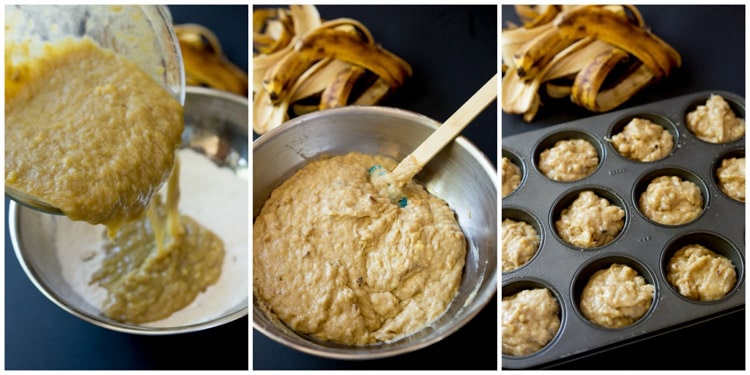 The end result is light, fluffy muffins with a crispy and crunchy exterior and soft crumb interior.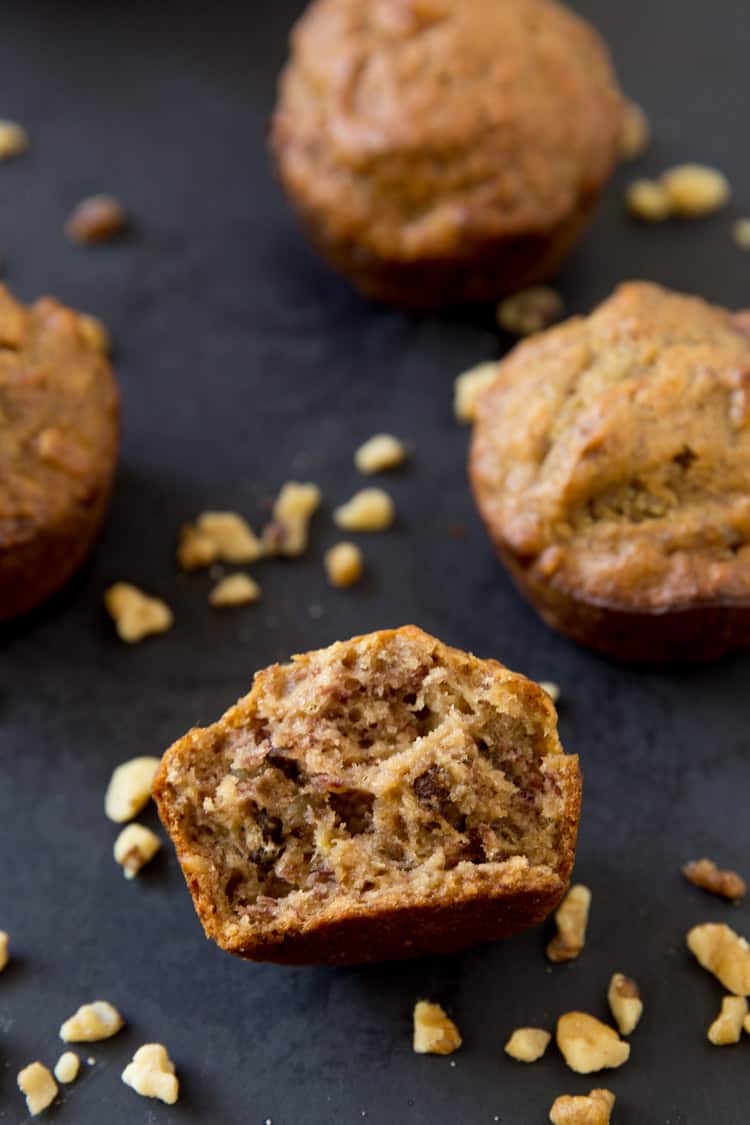 The next time you find yourself with 5 extra ripe bananas, you must make these banana nut muffins!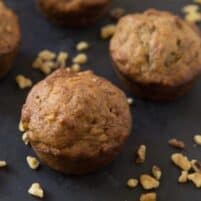 Perfect Banana Nut Muffins
This banana nut muffin recipe is perfect for baking light, fluffy muffins with a crispy and crunchy exterior and soft crumb interior.
Ingredients
1 3/4

cups

all-purpose flour

1

teaspoon

baking soda

1/2

teaspoon

table salt

5

large very ripe bananas

,

peeled

1

stick

,

8 tablespoons unsalted butter, melted and cooled slightly

2

large eggs

3/4

cup

packed light brown sugar

1

teaspoon

vanilla extract

3/4

cup

walnuts

,

toasted and coarsely chopped
Instructions
Preheat oven to 350 degrees with the rack in the top third. Spray 1 muffin tray with non stick cooking spray, set aside.

In a large mixing bowl, whisk together flour, baking soda and salt. Set aside.

In a microwave safe medium size mixing bowl, add the 5 peeled bananas, cover with plastic wrap and poke a few holes to ventilate. Microwave on high for 5 minutes. Bananas will be soft and have released about 1/2 cup to 3/4 cup of liquid. Transfer bananas to fine-mesh strainer placed over medium bowl and allow to drain, stirring occasionally, 15 minutes.

In a small sauce pan, cook the banana liquid over medium heat until it has reduced to 1/4 cup, about 5 minutes. Combine the bananas, banana liquid, butter, eggs, light brown sugar and vanilla extract. Stir until most lumps are removed.

Pour the wet ingredients into the dry ingredients and stir until just combined. Add in walnuts and gently fold into the batter. Fill each muffin cup 3/4 full. Will make exactly 12 muffins. Bake for 40 minutes, rotating the tray half way thru. Cool muffins in tray for 10 minutes, then remove from tray and allow to cool for another 5 minutes.

Will keep in an airtight container for 5 days.
Calories:
286
,
Total Carbs:
38.5
g
,
Protein:
4.7
g
,
Fat:
13.5
g
,
Fiber:
2.3
g
,
Net Carbs:
36
g
Did you make this recipe?
Please Leave a comment and give this recipe a rating!