Refrigerator Organization Containers
The containers I used to organize my fridge, maximize space, and make it even more beautiful and inviting to see. It brings me so much joy!
I love cooking. I love organizing. I love tidiness. I love nourishing produce.
So you can imagine the amount of joy my newly organized fridge brings me. I got a few organization containers to make our counter depth Bosch refrigerator (<- link to the exact one we have) even more accessible. I love it more than I can say.
If you're new here, I have tons of other kitchen organization favorites, I share them all here!
Divided Fruit Drawers
I got a case of 8 of these divided drawers and I am obsessed with them. They hold all my fruit (organized in rainbow color of course!), and really maximize the space. The drawers easily and securely stack on top of each other, and perfectly fill 1 row of my fridge. My fridge is counter depth, as are these drawers.
The best part is the drawers pull completely out, making it so easy to access the fruit (and not having everything topple over like Jenga)
The drawers have a center divide if you want to do 2 separate fruits. Or, you can pull the center divide out and have it be 1 big drawer.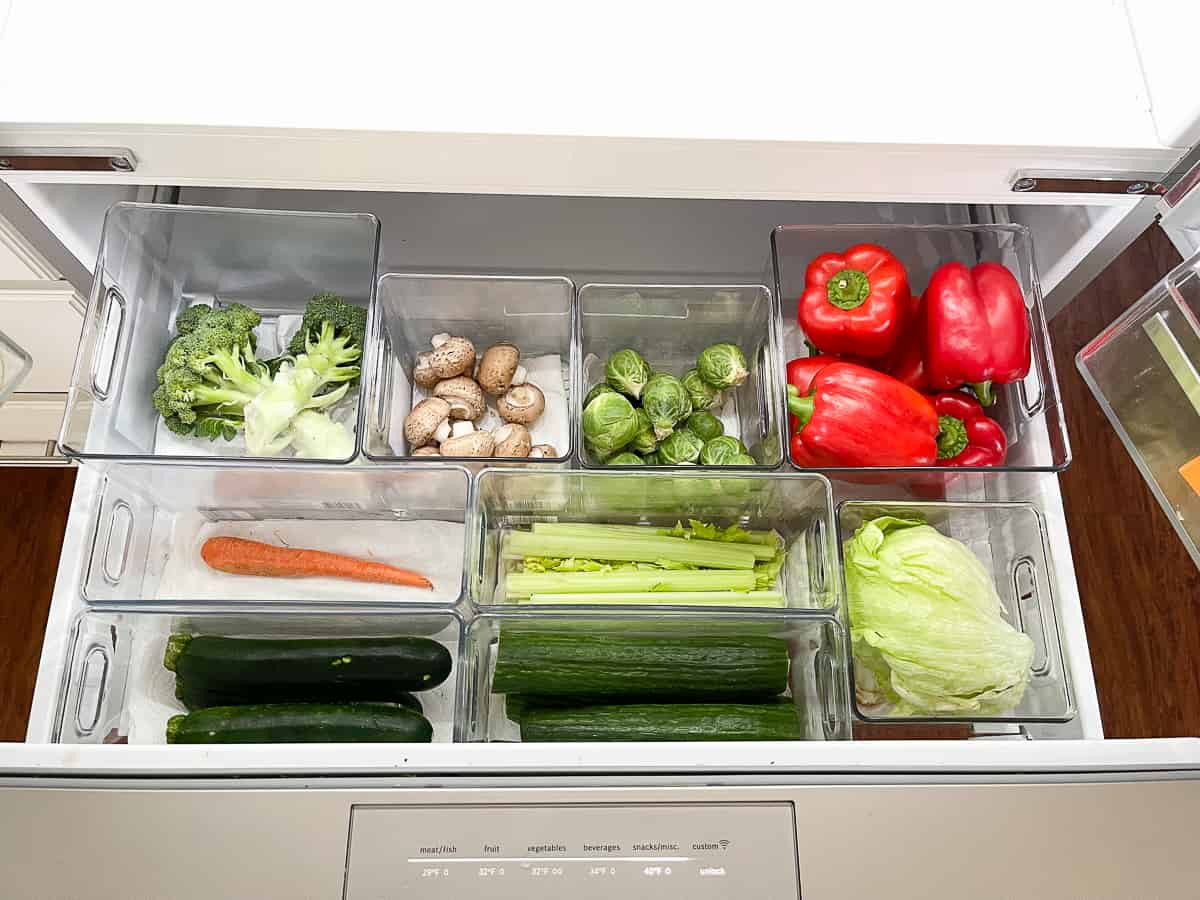 Containers for Pull Out Produce Drawer
I love the pull out produce drawer that our Bosch refrigerator has. It came with just 2 big dividers, but I wanted a way to make it even MORE organized.
I found these amazing containers that are meant for the pantry, but have been working just great for produce!
(Reminder: these are what worked best for my exact refrigerator, be sure to measure for yours!)
Pro Tip
I highly recommend lining the bottom of the containers with dry paper towels. This will absorb any excess moisture (the paper towels are always slightly damp by the end of the week from all the moisture they absorb). It will also allow your produce to stay fresh longer.
Bonus, it makes it so simple to clean out the containers each week, just swap out the paper towel for a new one!
This post contains affiliate links, thanks for the love!