Whole30 + Keto Seared Scallops
Whole30 + Keto Seared Scallops Recipe + Video – how to get that perfect golden brown scallop crust! Basted in garlic ghee. Paleo, low carb, gluten free, grain free, dairy free, sugar free, clean eating, real food.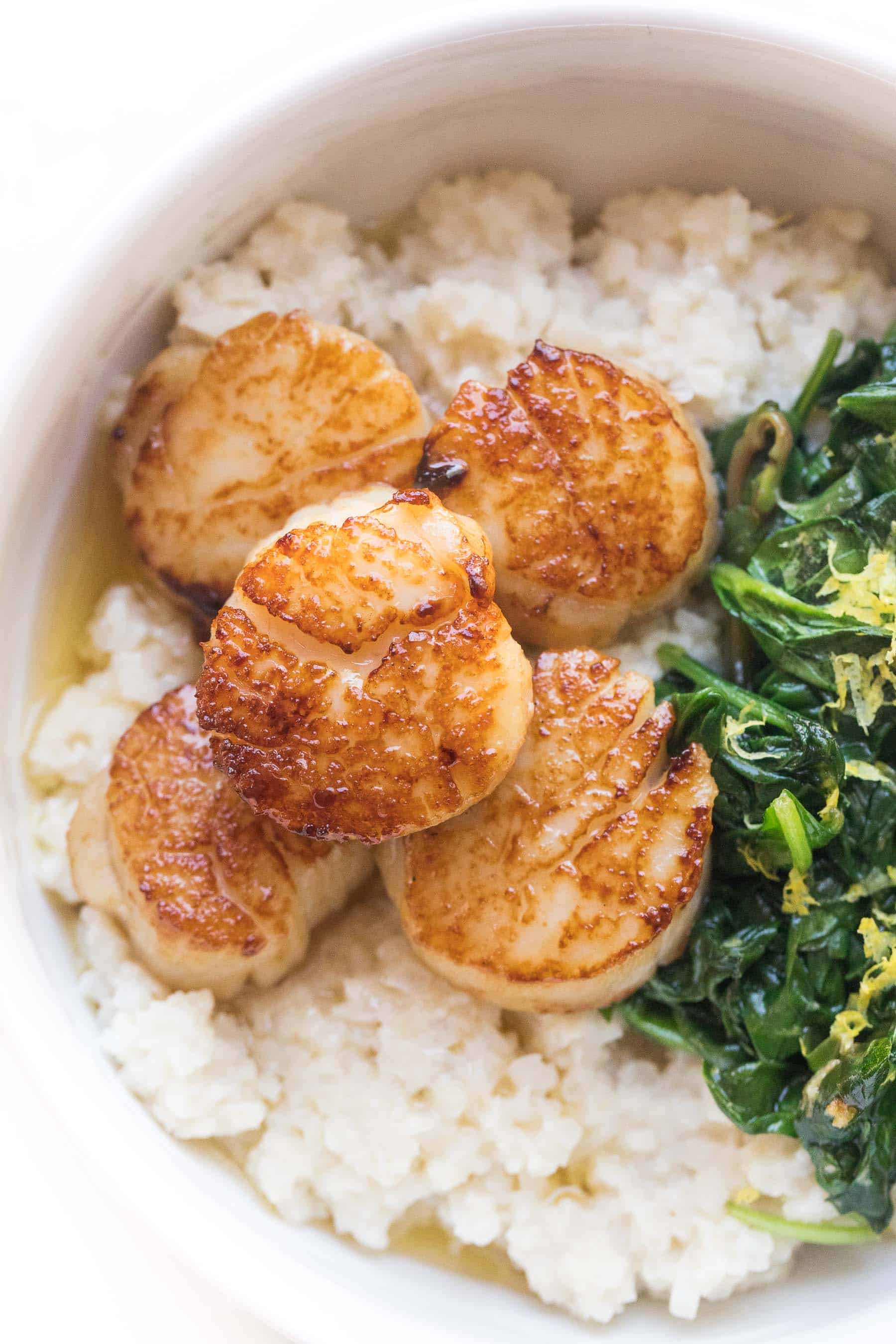 Allllll the love for this super romantic, speedy, healthy and flavorful dinner that is perfect for a date night in.
These scallops are seared to perfection, and drizzled with a garlic ghee that you will want to drink.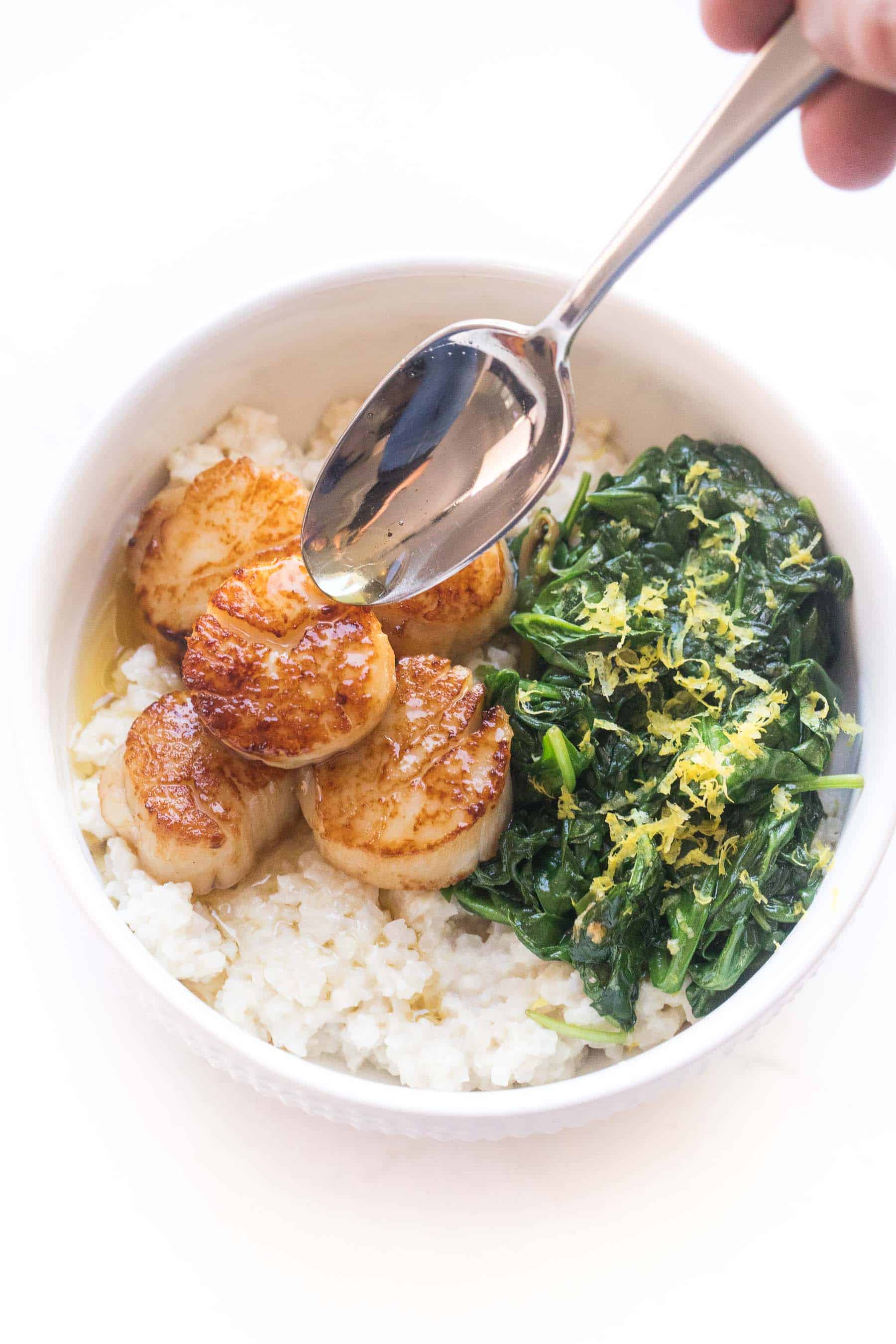 Date Night In Whole30 + Keto Seared Scallops
One of the trickiest parts about eating clean keto + whole30 is missing out on date nights to restaurants. Instead, have date night at home and make these scallops, stick to your clean diet, and save a ton of money!
Once a month my mom will take the boys to her house for dinner + bath time so Shawn and I can have a date at home. These scallops are perfect to make because they come together SO fast, which leaves more time for us to talk and spend time together.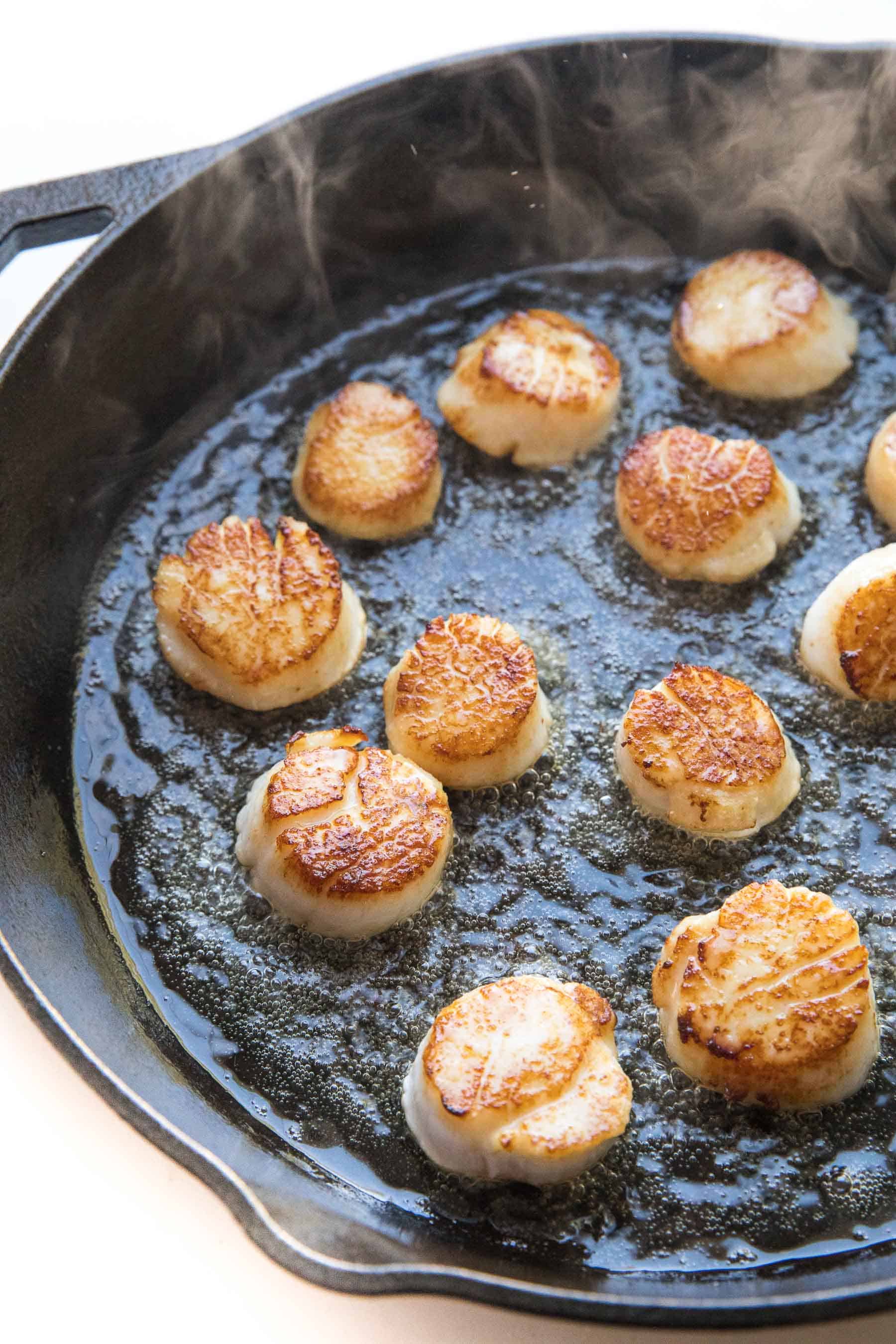 How To Sear Scallops
The best part of scallops is the crusty golden sear they get. It gives it a slight crunch and nutty flavor that balances with the sweetness of the scallops.
There are 2 secrets to getting a good crust to your scallops:
Make sure you are getting "dry scallops" that don't have any added chemicals or solutions. This causes soggy scallops that won't get a good crust. I get my wild caught dry scallops from Butcherbox, which I highly recommend!
Cook them in a hot cast iron skillet that has been heating up for 5 minutes over medium heat. You want to cook them for just 2 minutes per side. Then you're left with golden brown crusted scallops with a sweet and delicate interior.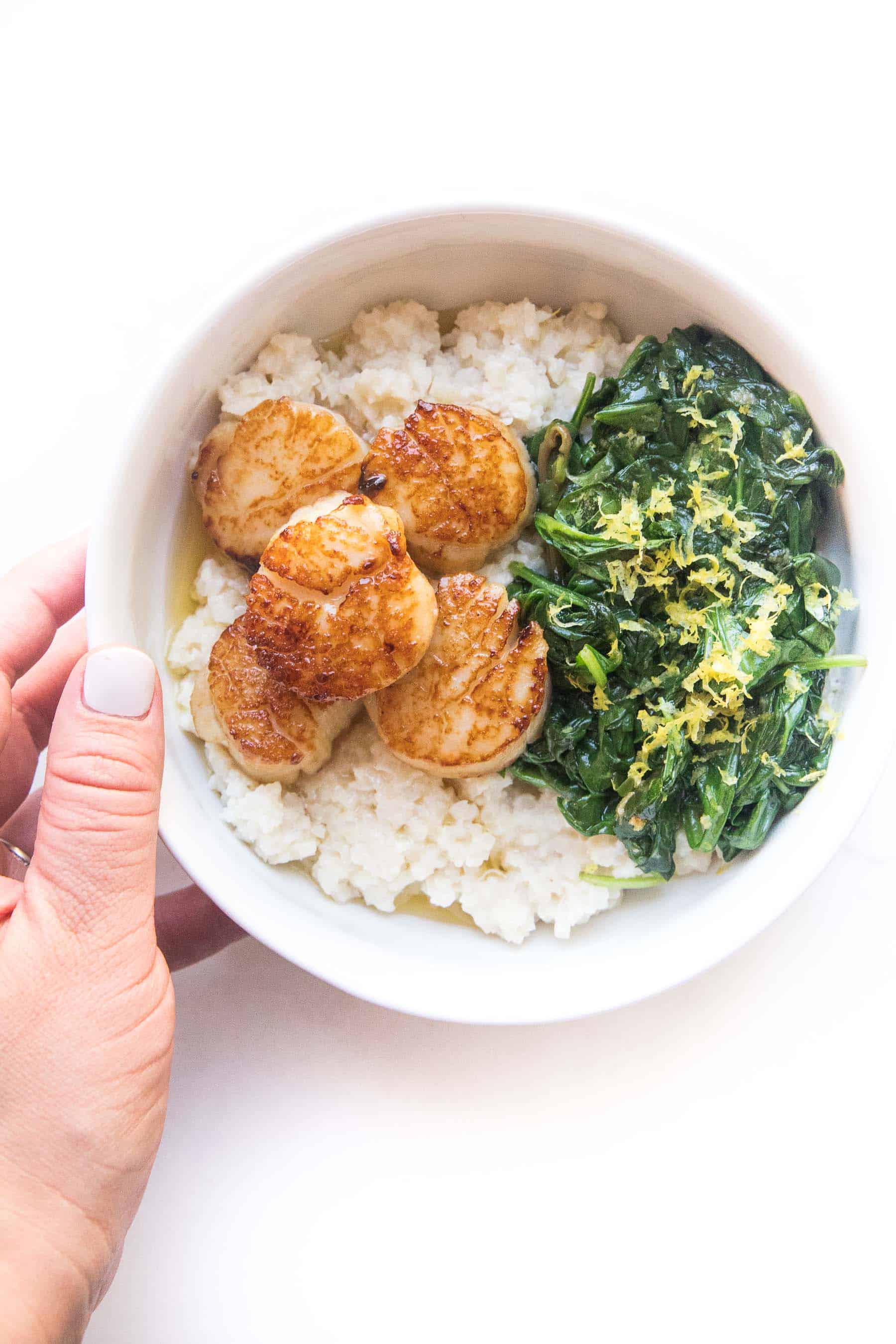 "Can I Eat Scallops on Keto + Whole30?"
Yes! Scallops are keto friendly and whole30 approved! 4 scallops only have 1 carb, so perfect for the keto diet.
To add in more healthy fats, I love cooking the scallops in lots of ghee that I infuse with garlic and baste the scallops in. Makes the most amazing sauce!
I also highly recommend serving these scallops with my whole30 + keto cauliflower rice risotto, some sauteed spinach and fresh lemon.
Watch Scallops Recipe Demo Video (3:14 mins)
Print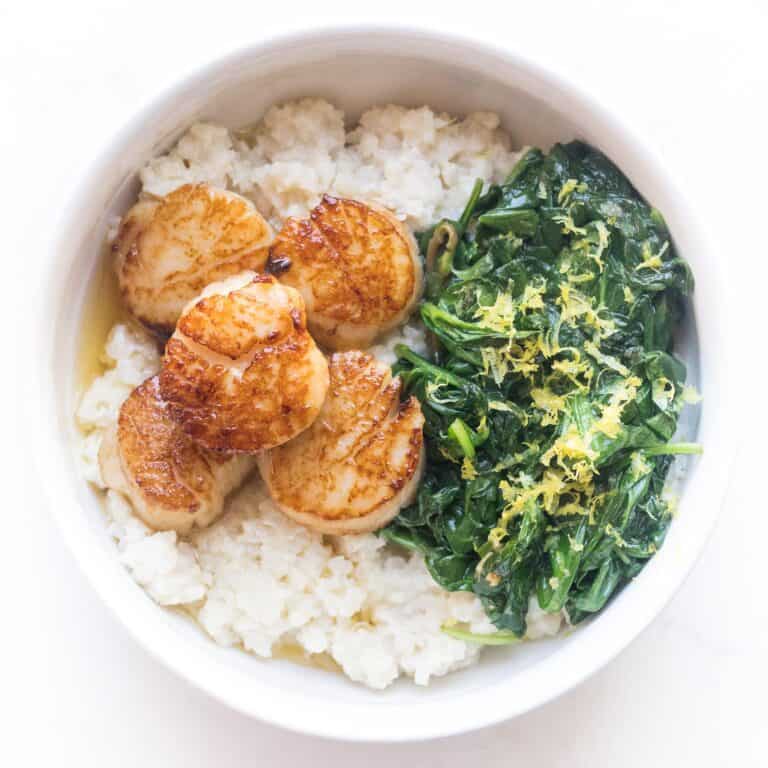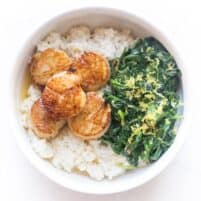 Whole30 + Keto Seared Scallops
---
Author:

Prep Time:

10 minutes

Cook Time:

5 minutes

Total Time:

15 minutes

Yield:

3

-

4

1

x
Scale
Ingredients
Scallops
Serving
---
Instructions
Scallops
Pat your thawed scallops completely dry with a paper towel, and let rest on a paper towel lined plate to draw out all the moisture.
Heat your cast iron skillet over medium heat for 5 minutes.
Season the scallops with salt.
Add the ghee to the cast iron skillet. Sear each scallop for 2 minutes on the first side without touching them. This will give you that great golden crust.
After 2 minutes, flip and cook an additional 90 seconds on the 2nd side.
Push all the scallops to 1 side of the pan. Add in a smashed clove of garlic, and tilt the pan so you can spoon all the garlicy ghee on top of the scallops for another 30 seconds.
Remove from the pan.
Serving
Serving
Serve warm drizzled with the garlic ghee pan drippings.
I love serving mine with cauliflower rice risotto and sauteed spinach with some lemon zest and fresh squeezed lemon.
---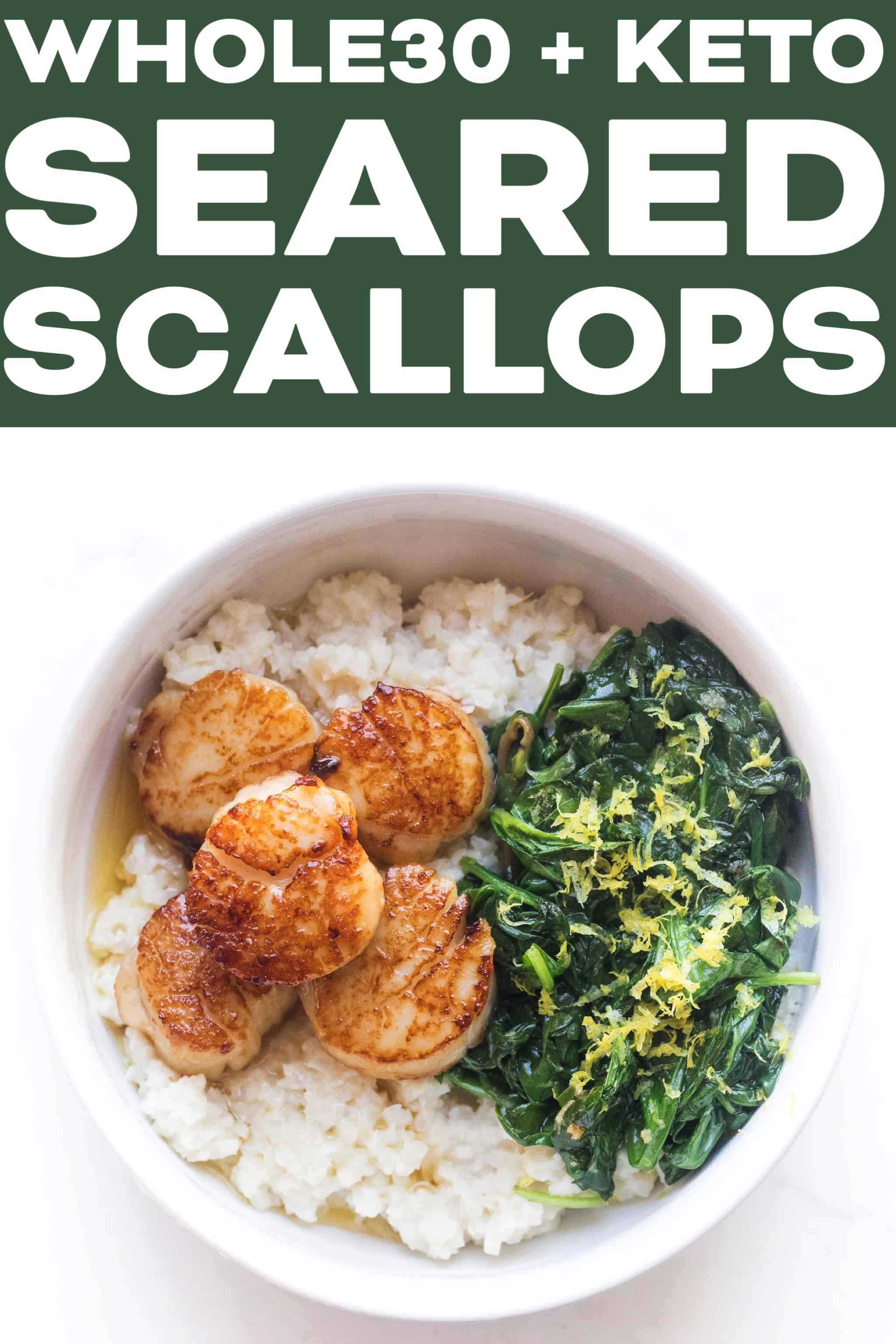 This post contains affiliate links, thanks for the love!