Beef Dip Sandwich with Gruyere & Grilled Onions
Oh ya, get all nice and drippy you yummy beef dip sandwich you.
This a-maz-ing beef sandwich is all thanks to the new gourmet pizzeria that opened in town.
Wait, let me back up…
A new fancy, schmancy pizza restaurant opened up in our town. I get so excited when a new restaurant opens up. I drive by and think, "Mmm, wonder what good things I can order from there." And this place boasted a huge brick oven that makes amazing thin crust pizzas. I was sold.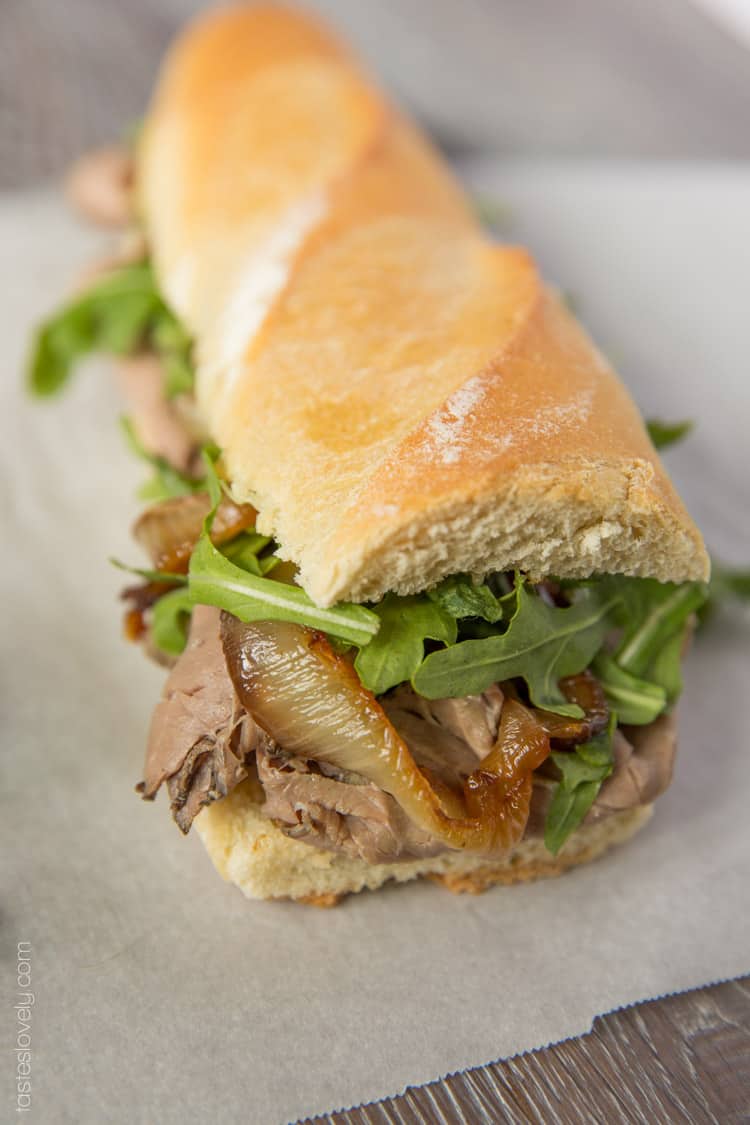 The Friday night came when we were going to go on a date and try out this new pizza restaurant. We sit down, and the silence starts where we both start looking over the menu.
//cue 2 minutes of no one talking while we look over the menu//
//my inner monologue as I look over the menu// [So many yummy pizzas to choose from. Wait, they have sandwiches here? Hold up! A beef dip sandwich? Oooh, it has melted gruyere cheese, and grilled onions, and it's topped with arugula? That sounds super good. But this is a pizza place…I should probably order a pizza…]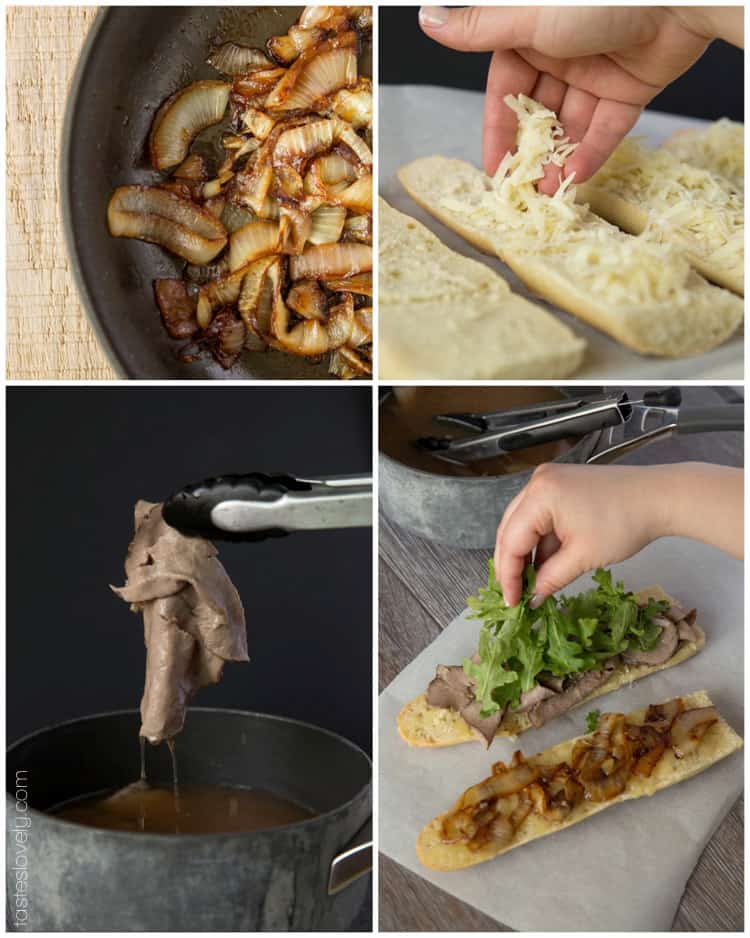 Me: "So, what do you want to get?"
Shawn: "This sausage pizza sounds really good."
Me: "Ya, it does sound good."
Shawn: "Did you see this beef dip sand…"
Me: [before he can even finish] "Thebeefdipsandwich?! I was looking at that too! Doesn't that sound good? Let's get it!"
Shawn: "Ok! But let's get a pizza too and we'll split it."
Because we order beef dip sandwiches at the pizza restaurant. We're restaurant rebels like that.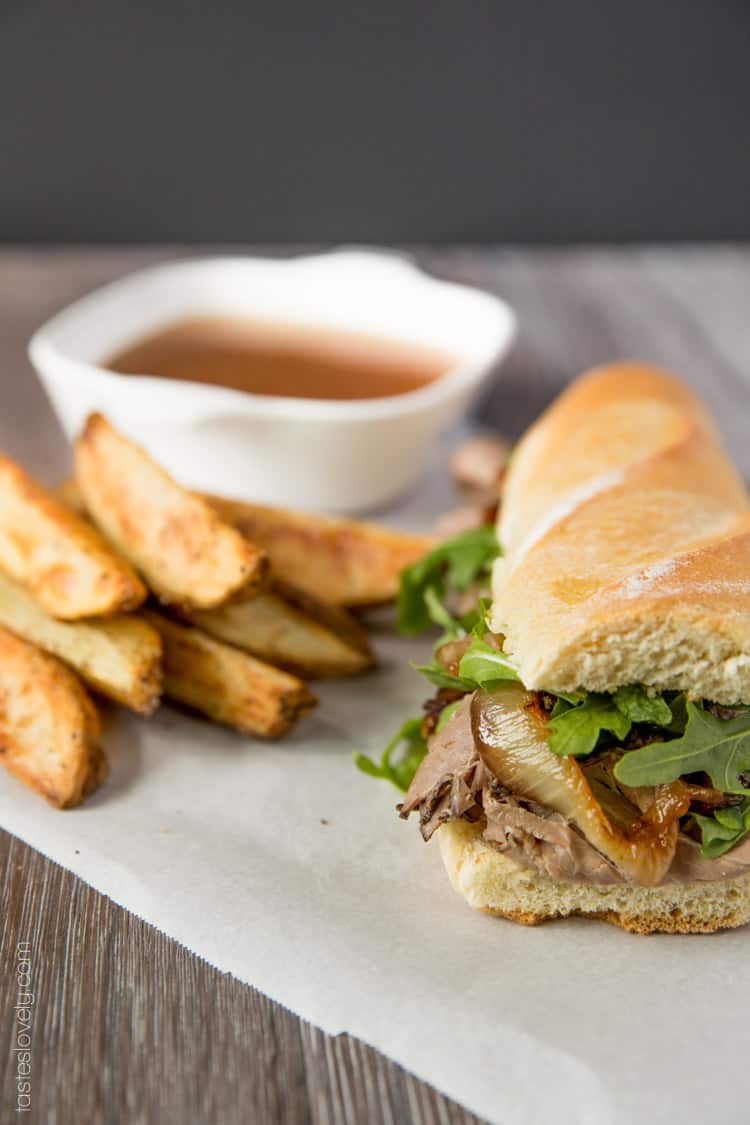 You guys, it was so good. I couldn't stop thinking about it. My mind was consumed with this amazing beef dip sandwich for the rest of the weekend. The seasoned roast beef. The melted, nutty gruyere cheese. The sweet grilled onions. The crunchy, peppery arugula. Oh how I love arugula. I had to have it.
So for Monday's dinner I headed out to the store and bought all the ingredients I needed. I made the sandwich, called Shawn in for dinner, and his eyes lit up like a Christmas tree.
Shawn: "Is that the sandwich?"
Natalie: "Oh ya! I just hope it's as good."
It was better.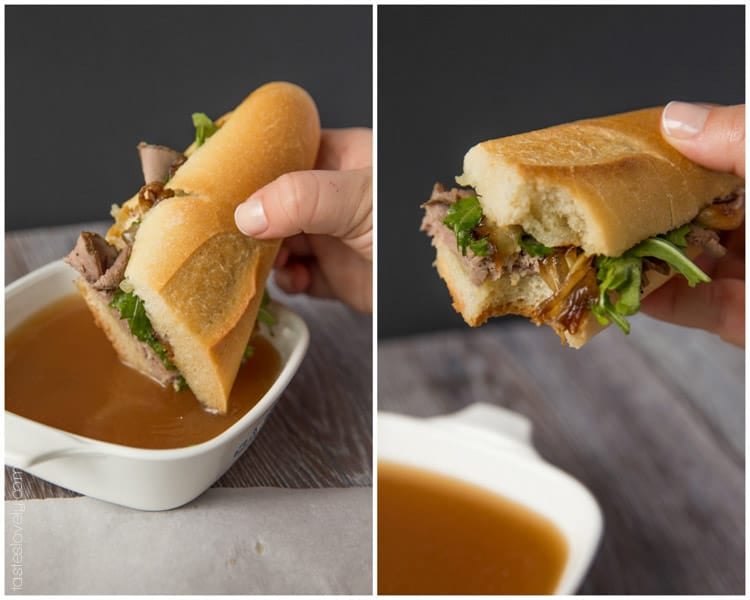 I've now made this sandwich almost once a week for the past month. You must make this immediately. And you must serve it with potato wedges. But I'm warning you, you will become obsessed.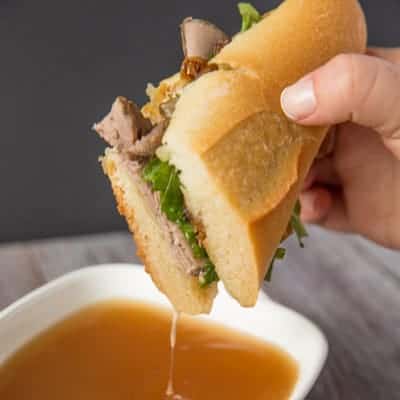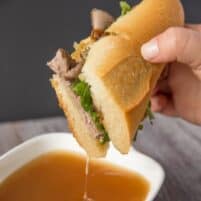 Beef Dip Sandwiches with Gruyere & Grilled Onions
This beef dip sandwich is so savory and delicious! Gruyere cheese and grilled onions melt in your mouth after a quick dunk in the au jus!
Ingredients
8

ounces

seasoned roast beef deli meat

6

ounces

gruyere cheese

,

shredded

1

yellow onion

, caramelized

2

handfuls arugula

1

baguette

32

oz

of beef broth
Instructions
In a medium size sauce pot, heat the beef broth over medium heat. Cook the whole baguette in the oven for about 5 minutes, just to warm it up and start to crisp the outside. Remove the baguette from the oven, slice in half vertically, then slice each half horizontally. Place the slices cut side up on a parchment lined baking sheet, and evenly divide the shredded gruyere cheese on the sliced baguette. Return to the oven for another 5 minutes until the cheese is melted.

While the cheese is melting, add the roast beef to the beef broth. When the cheese is melted, assemble the sandwich by spreading the grilled onions on one half, and laying the beef broth soaked roast beef on the other half. Top the roast beef with arugula. Cut the sandwiches in half again so you now have 4 servings. Pour the remaining beef broth into bowls and serve with sandwich as an "au jus".
Calories:
416
,
Total Carbs:
41.1
g
,
Protein:
26.9
g
,
Fat:
15.9
g
,
Fiber:
2.5
g
,
Net Carbs:
39
g
Did you make this recipe?
Please Leave a comment and give this recipe a rating!