Coconut Banana Steel Cut Oatmeal
Delicious coconut banana steel cut oatmeal, made with coconut milk and sweetened with coconut sugar. Topped with toasted coconut flakes and pecans. A healthy and flavorful vegan and gluten free breakfast that is refined sugar free. Make a big batch and reheat throughout the week!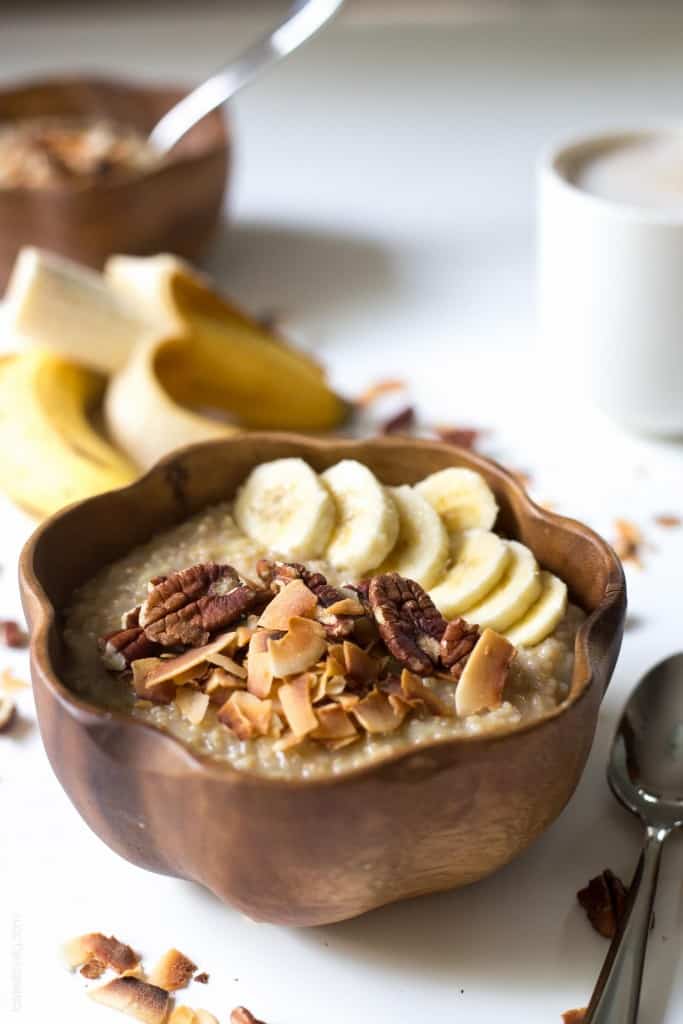 Shawn works at his job Tuesday-Saturday, rather than the normal Monday-Friday. When he first found this out after getting hired, I was the tiniest bit bummed. We would only have 1 day off together, and it would make it tricky for all the weddings we film on Saturdays.
But it's actually turned out to be great! He is home by 3:00 (that boy leaves for work early!), and on Saturday mornings I can get so many chores done undistracted. I clean the house, do all of our laundry, grocery shop, work on my blog while watching my cooking shows, and usually take a nap. By the time I wake up, he's home and we have the whole rest of Saturday.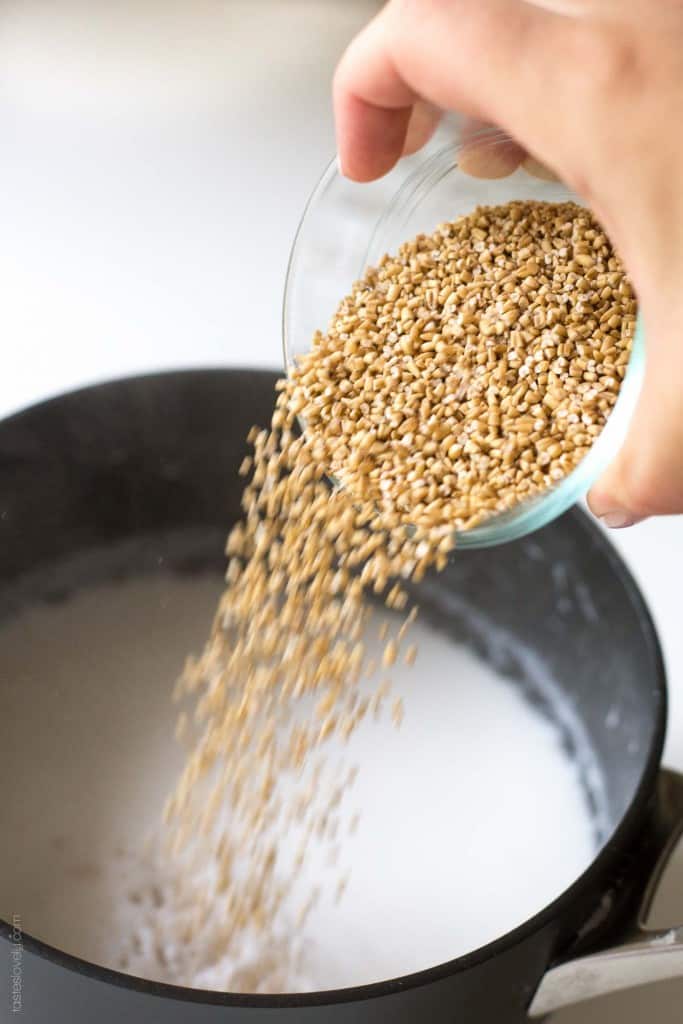 Then, on Sunday's I can enjoy our whole day together in our perfectly clean house, without any "to do" list items haning over my head. Plus on Monday's when I'm at work, Shawn can wire in and get a ton of video editing done. It's works out great!
I do miss all the weekend trips we used to take, but not paying for gas, hotels and food is definitely letting our savings account get higher. More money for baby stuff!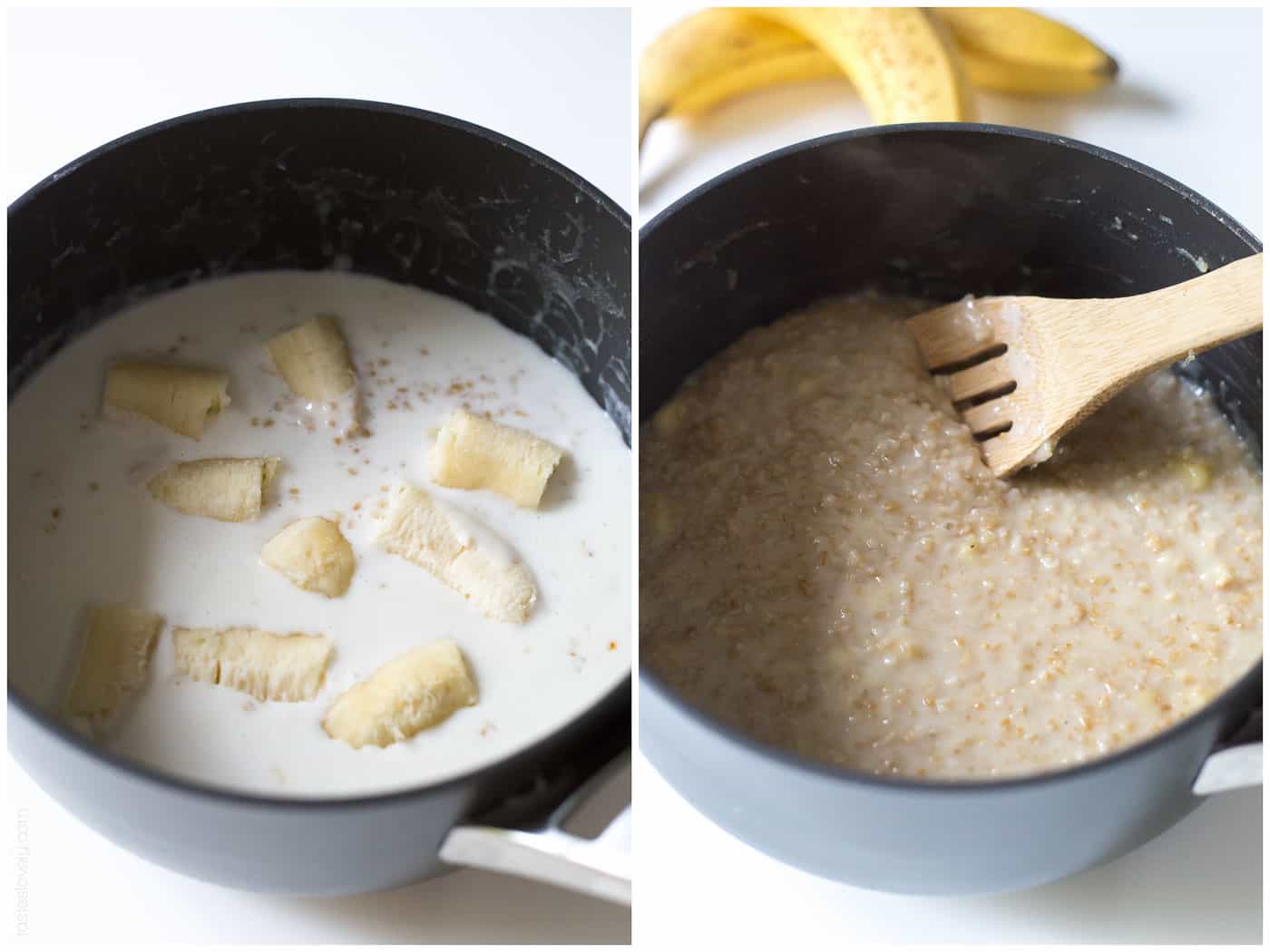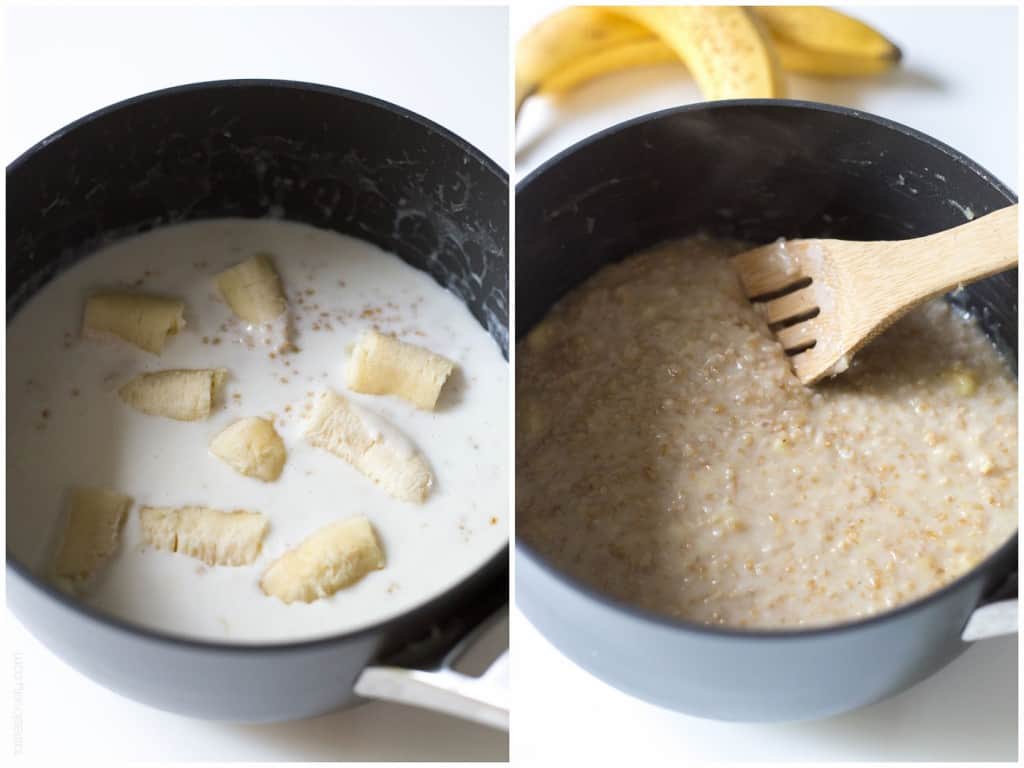 When it comes to breakfast, Shawn loves what we call "big boy breakfasts". Eggs, potatoes, bacon, toast. He doesn't get too excited about some of the girlier breakfasts I like to have, like granola with fruit and yogurt, smoothies, or oatmeal. So on Saturdays, when I'm making breakfast for just myself, it's light and healthy girly breakfast galore!
Lately, I have been obsessed with this coconut banana steel cut oatmeal. It's my new favorite way to use up over-ripe bananas.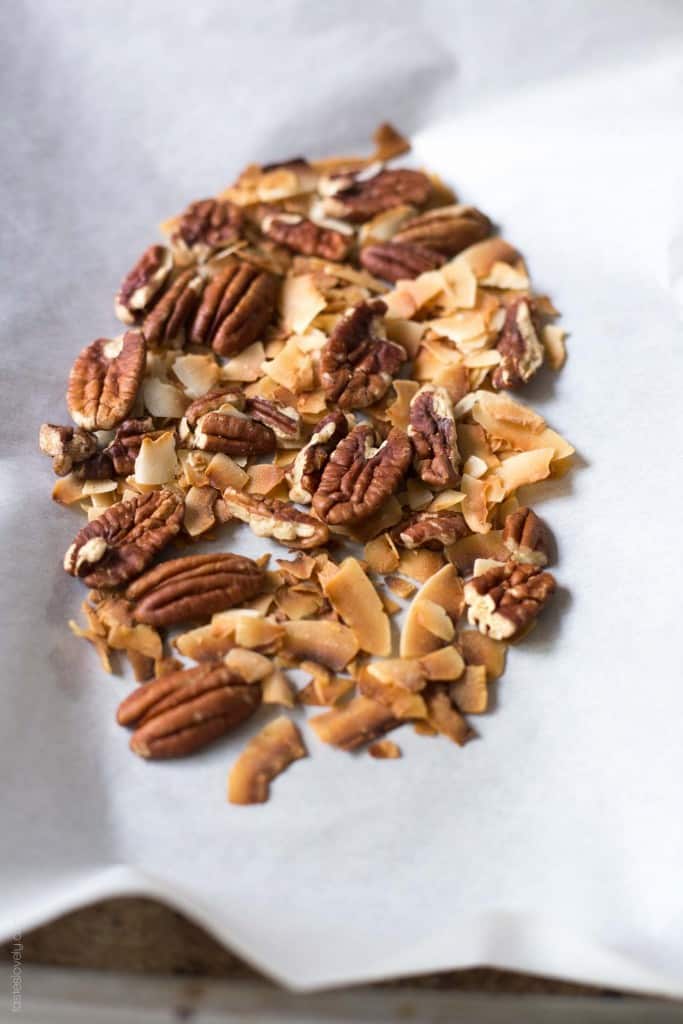 I am a huge fan of steel cut oatmeal. It takes a bit longer to cook than regular oatmeal, but I love the flavor and texture so much more. And you can't beat all the added health benefits.
I cook the steel cut oatmeal in light coconut milk, and then 10 minutes before it's done cooking I mash in a banana and stir in some coconut sugar. Top it with some toasted coconut flakes and pecans, and you have got the most delicious and healthy vegan and gluten free breakfast that is refined sugar free!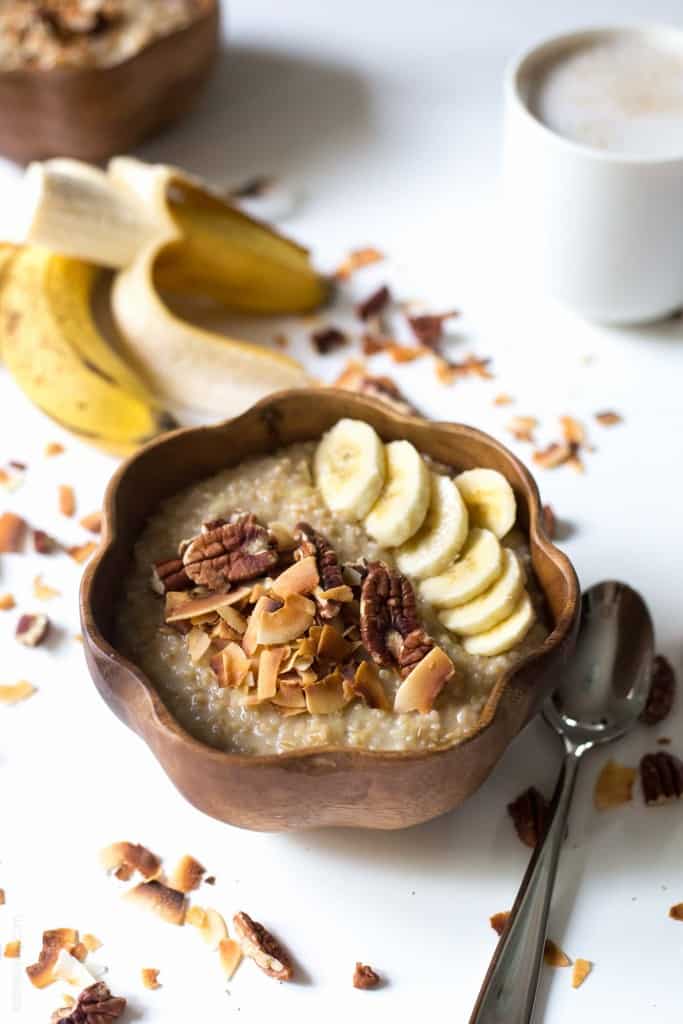 To make this a speedy weekday breakfast, I'll make a big batch on the weekend, then reheat it in the microwave each morning. It does tend to get a little thicker after it cools, so I thin it out with a little water and it tastes just as delicious as the day I made it.
Print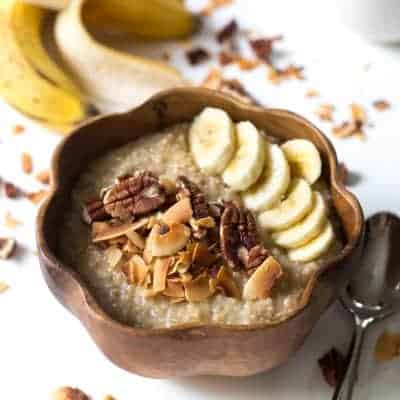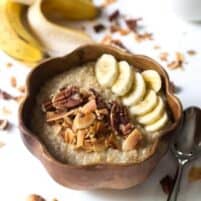 Coconut Banana Steel Cut Oatmeal
---
Author:

Total Time:

30 mins

Yield:

4

servings

1

x
---
Instructions
Preheat oven to 350 degrees.
In a medium size pot, bring the coconut milk to a boil. As soon as it starts to bubble, add the steel cut oatmeal and salt. Reduce heat to medium low, and cook uncovered for 20 minutes, stirring occasionally.
Add in the 2 bananas, and "mash" the banana into the oatmeal with a wooden spoon or potato masher, kind of like how you would break up ground meat. Add the coconut sugar, start with 2 tablespoons, and add more if you like it sweeter. Continue cooking for 10 more minutes uncovered.
Toast the pecans and coconut flakes in the oven for about 5-7 minutes, until just turning golden brown.
Serve the oatmeal warm, and topped with slices of fresh banana, and the toasted pecans and coconut flakes.
Leftovers will keep in an airtight container refrigerated for 1 week. Reheat in the microwave, thin with a little water if necessary.
Notes
*double check your manufacturers recommended cook time for the steel cut oatmeal. Mine was 30 minutes, but adjust cook time accordingly if necessary.
*I like unsweetened coconut flakes, but you could use sweetened if you like it sweeter.
*You could also use this for old fashioned rolled oats. Just substitute coconut milk for water, and cook according to manufacturers instructions.
*If gluten free, make sure you buy steel cut oats that are labeled Gluten Free.

More Breakfast Recipes