Perfect Roasted Potatoes
The past few days have been spent doing taxes and it's making me feel poor. Thank goodness potatoes only cost about $1.
Because after seeing how much money we have paid the government this year, it feels like all I should be buying is a cheap 'ole bag of potatoes and serving them for breakfast, lunch and dinner.
15-year-old me was very excited to receive my first real paycheck after 2 weeks of working after school as a receptionist at the hair salon in town. I answered the phones, scheduled appointments, helped ladies decide on which hair spray to buy, but mostly I was constantly sweeping up hair and taking out the trash. So. Much. Trash. Not quite as glamorous as I thought when I was applying there, but at least I had a job where I could wear cute outfits.
After getting my first paycheck there were all these crazy deductions. I asked my dad, "Who the heck is this FICA and how come they get 18 of MY dollars!?" Oh how I wish my deductions were still only $18.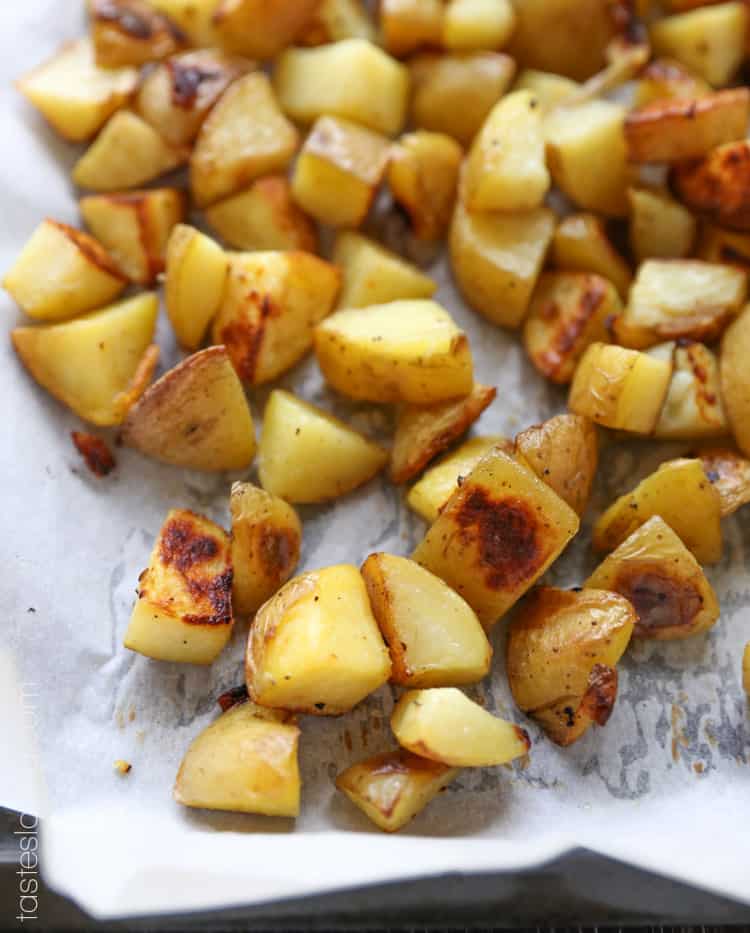 It's just odd owing money come tax time. I used to get refunds! And then use that refund money to treat myself to a cute new outfit. But ever since getting married and buying a house, we're writing checks instead of cashing checks come April 15. Guess it's all part of becoming a grown up.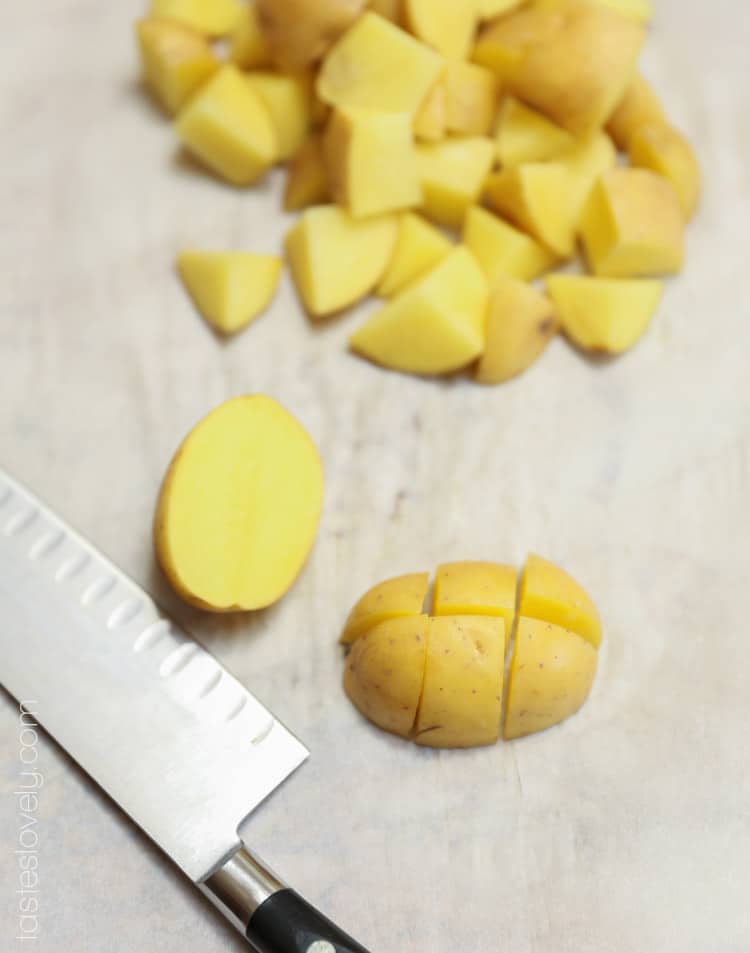 When I was at the grocery store and couldn't fathom spending $14 on 2 artichokes after crunching numbers all day, I settled on a nice affordable bag of potatoes instead. These oven roasted potatoes are one of my favorite side dishes to make. These are my roasted breakfast potatoes and my dinner side dish potatoes. Aren't potatoes great like that? So versatile.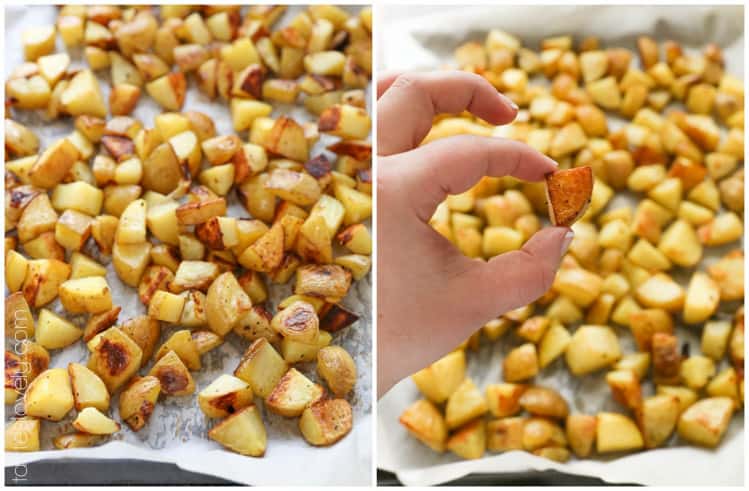 After many, many, many attempts to create the perfect roast potatoes, I've discovered the 4 secrets to perfect oven roasted potatoes:
Preheat your baking sheet in the oven so the sheet is already super hot when you put the potatoes on. This will get them cooking right away and get you a nice crunchy brown skin on the bottom.
Use a lot of oil, and I mean a lot of oil, which will essentially oven fry them and get them ultra crispy while baking
Cook them at a high heat, 425 degrees. This will crisp the outer skin and draw out the excess moisture.
Most importantly, is to bake them on top of parchment paper. This will guarantee that your potatoes won't stick, and you won't lose that crispy skin as you're scraping them up off the pan.
This method works with any type of potato: russet, yukon gold, red. I personally prefer to use yukon gold because they are so silky and smooth, but use whatever potatoes you have on hand.'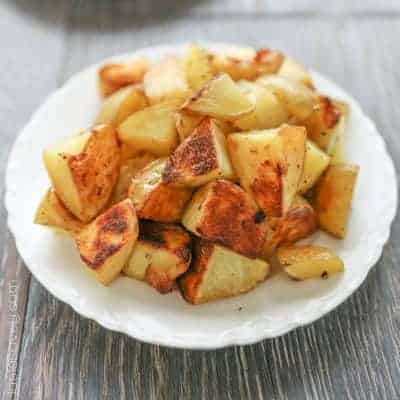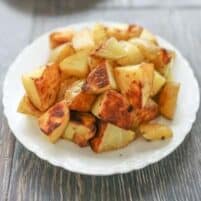 Perfect Roasted Potatoes
These roasted potatoes are so delicious and easy to prepare!
Ingredients
1

pound

potatoes scrubbed, dried and cut into 1 inch cubes with the skin on

1/4

cup

avocado oil

,

divided

2

teaspoons

kosher salt
Instructions
Preheat your oven to 425 degrees with your baking sheet inside as at preheats to get the baking sheet nice and hot. Preheat the baking sheet for at least 10 minutes.

Toss the potatoes in 3 tablespoons olive oil. Remove the hot baking sheet from the oven, line with parchment paper, drizzle on the remaining 1 tablespoon olive oil on top of the parchment paper, and spread the potatoes in an even layer. Season with kosher salt. You should hear them sizzling right away.

Roast your potatoes in the top third of your oven for 35-45 minutes, tossing halfway thru.

Serve immediately while warm. Will keep in an airtight container for 1 week in your fridge.

See the Recipe Notes below for more tips, FAQ's and ingredient substitutions.
Notes
Potatoes: This works with any potato; russet, yukon gold, red, sweet potatoes, fingerling, etc. My personal favorite to use is yukon gold. Oil: I prefer to use avocado oil since it has the most neutral flavor and a high smoke point (500ºF). You could use olive oil also. Air Fryer: You can make these in the air fryer even faster! Toss the cut potatoes in avocado oil, season with salt then air fry at 360ºF for about 15 minutes. Reheating: To reheat leftover potatoes, roast again at 425ºF for about 10 minutes until warmed through and crispy again. Seasoning: Feel free to mix up the flavor by using garlic powder or adding in woodsy herbs such as rosemary or thyme.
Serving:
4
g
,
Calories:
198
,
Total Carbs:
17.7
g
,
Protein:
1.9
g
,
Fat:
14.1
g
,
Fiber:
2.7
g
,
Net Carbs:
15
g
Did you make this recipe?
Please Leave a comment and give this recipe a rating!