Crispy Oven Baked French Fries
Crispy Oven Baked French Fries Recipe – one of my kids favorite side dishes! Whole30, paleo, gluten free, grain free, dairy free, sugar free, clean eating, real food.
These are not keto at ALL! But one of my kids favorite side dishes. I share how I adapt my keto meals to serve them to my kids every day. I always give them a starch that I know they'll love. Either rice or a potato. I slice the potato into fry size and oven bake them. They love them!
One of my tips to getting kids to eat healthy is to always serve a side dish that you know they love to eat. That way, the healthier food doesn't seem as intimidating on their plate. Once my kids finish their fries, they can't have seconds until they finish the rest of their plate. It's a great motivator to get them to eat the healthy veggies and protein I serve them!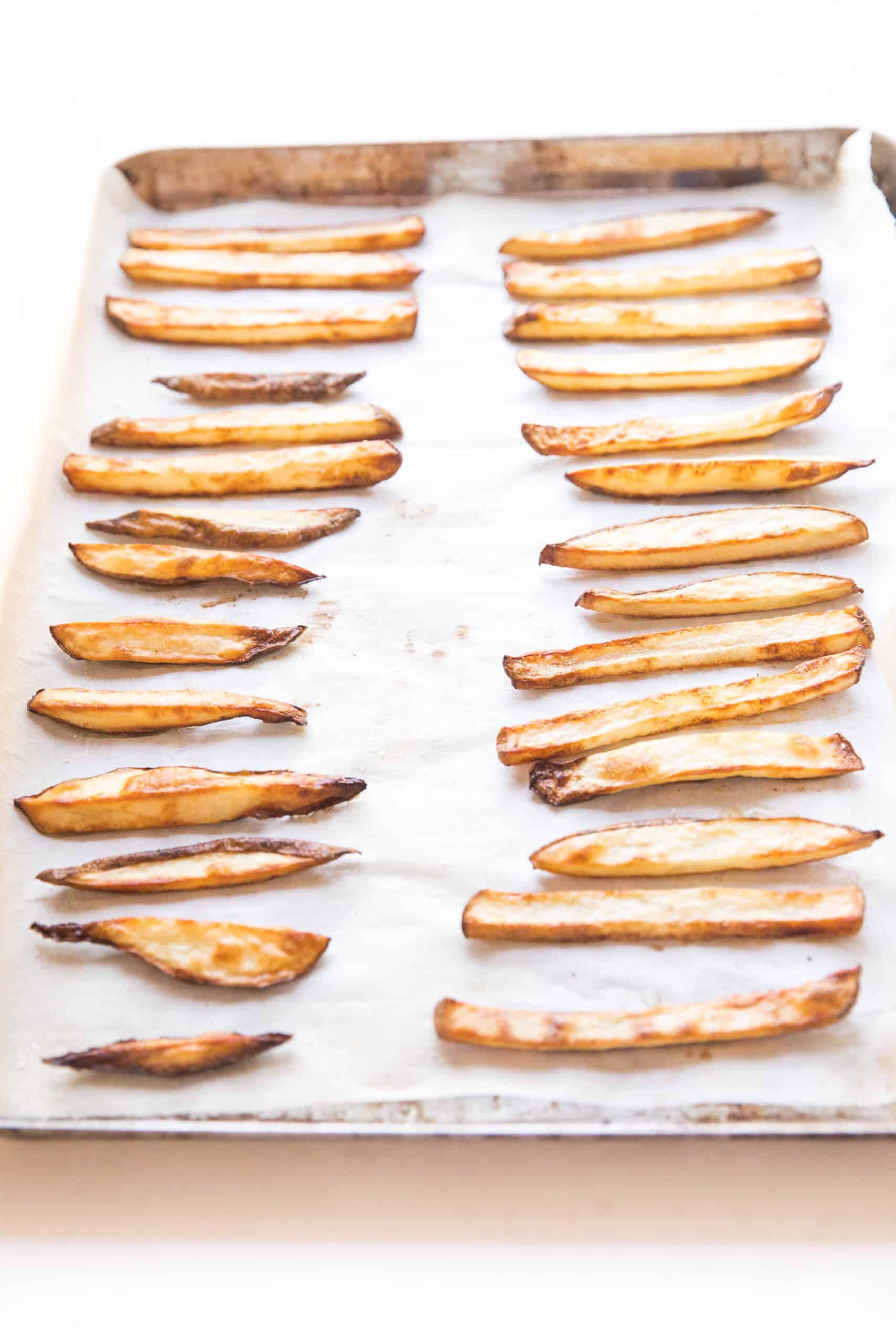 These french fries are so healthy. It's just organic potato, olive oil and salt. That's it! I roast them in the oven until they're crispy. You don't even have to flip them on the baking sheet. Just let the oven do all the work for you.
My favorite healthy ketchup is True Made Foods No Sugar Ketchup. It is made using all plants, and is sweetened naturally with vegetables. Tastes EXACTLY like regular ketchup, but is sugar free. My kids are obsessed with it. Pairs perfectly with these fries. They also love to dip them in my homemade ranch dressing.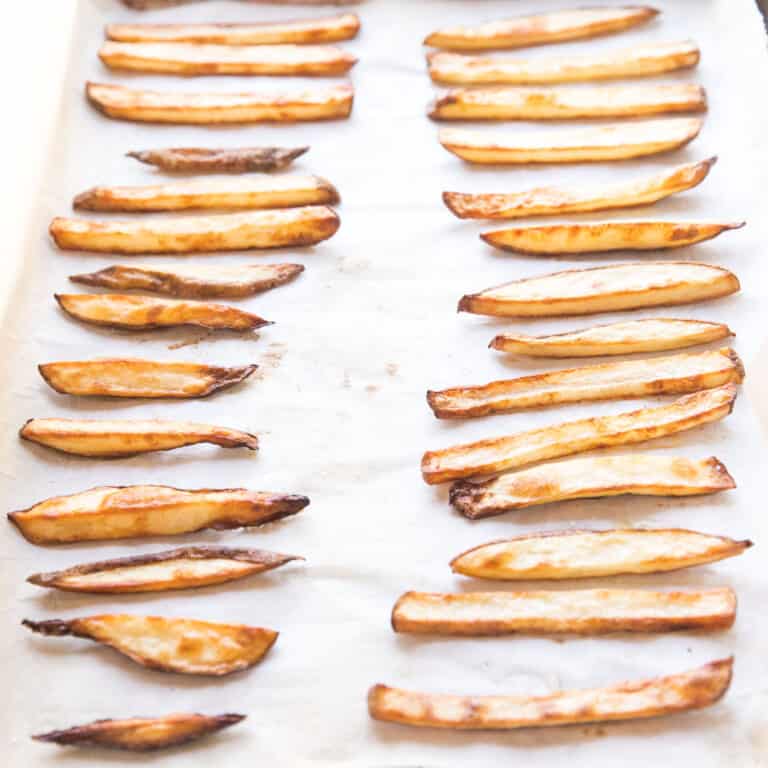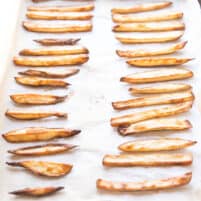 Crispy Oven Baked French Fries
Crispy Oven Baked French Fries Recipe – one of my kids favorite side dishes! 
Ingredients
1

large organic russet potato

2

tablespoons

olive oil

1

teaspoon

kosher salt
Instructions
Preheat your oven to 425ºF. Line a rimmed baking sheet with parchment paper.

Slice the potatoes in french fry size. I usually cut the potato into fourths width wise, and then fifths length wise.

Toss the french fries in olive oil so they are well coated. Lay in an even layer on the rimmed baking sheet. Season with salt.

Roast for 30-40 minutes, until desired crispiness. No need to flip the fries while roasting, the oven does all the work for you.
Notes
I've also made these with large yukon gold potatoes or sweet potatoes!
Can use avocado oil in place of olive oil.
I've never tried freezing these. It's easier for me to make them from a fresh potato each time.
Have fun with the seasonings!
Calories:
266
,
Total Carbs:
33.3
g
,
Protein:
3.9
g
,
Fat:
14.1
g
,
Fiber:
2.4
g
,
Net Carbs:
31
g
Did you make this recipe?
Please Leave a comment and give this recipe a rating!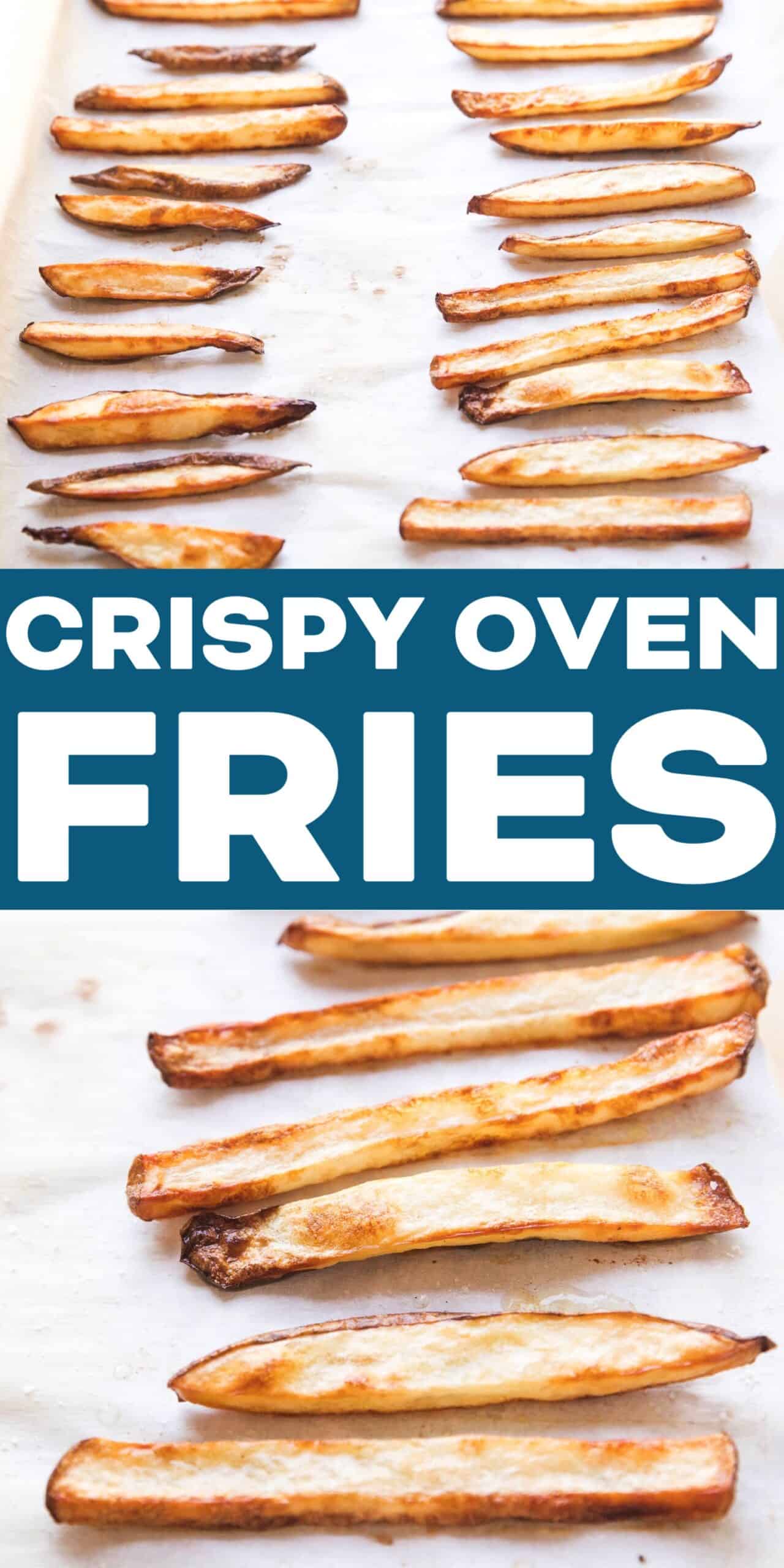 This post contains affiliate links, thanks for the love!