Dairy Free Mashed Potatoes
Creamy, velvety dairy free mashed potatoes with no butter! The best potatoes to use, and one very important secret ingredient. Dairy free, paleo, Whole30, gluten free.
I could not be more excited that fall is here. We had a cozy weekend at home, and it even rained! As soon as the weather cools like this, I start craving comforting fall dinners. And the best accompaniment to fall dinners is mashed potatoes.
My prior go-to mashed potato recipe was not the healthiest. It was packed with butter AND cream cheese. Delicious, but not very figure friendly.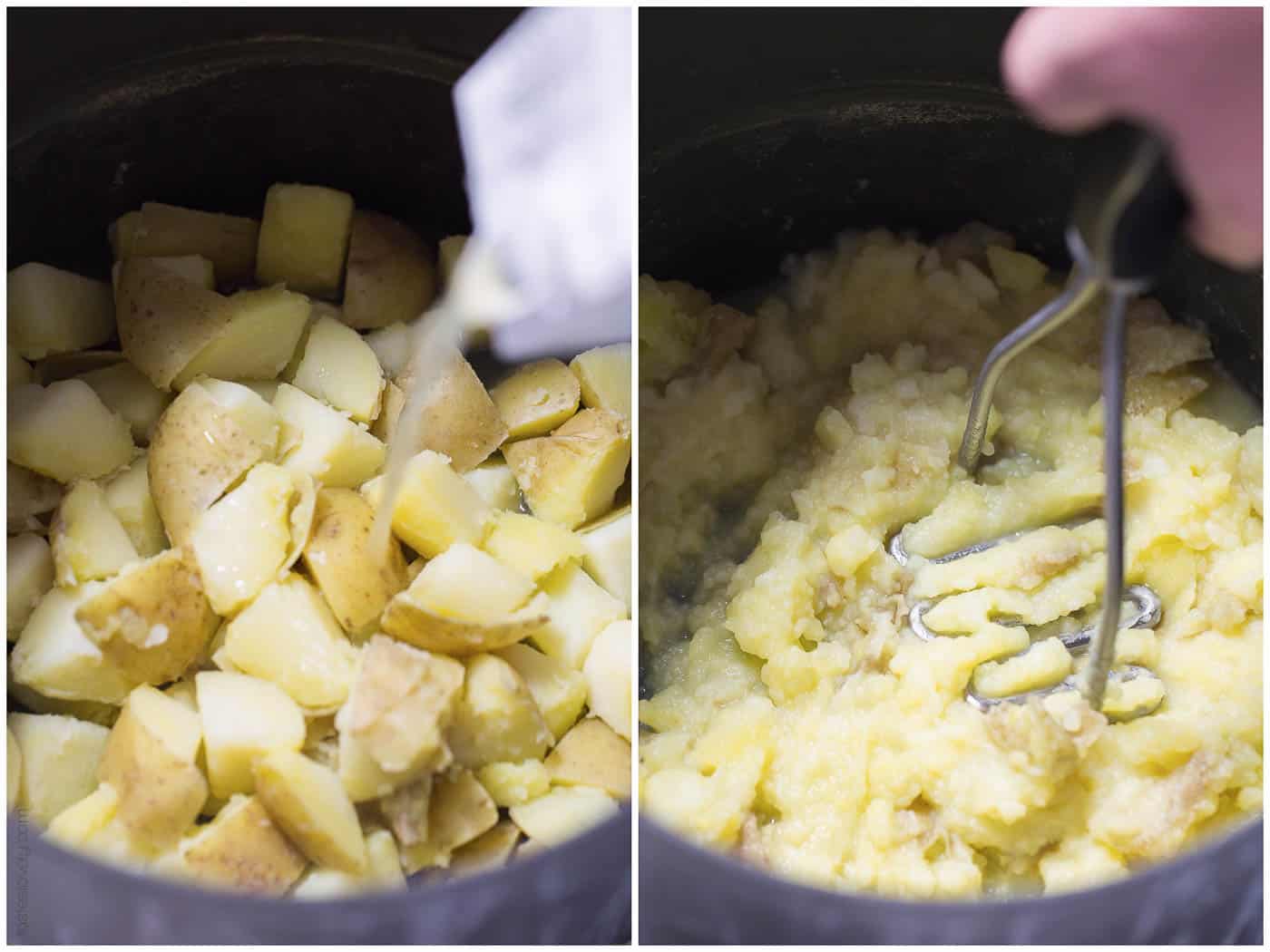 We're still trying to avoid dairy as much as possible in our house, and have never felt better. But no dairy ruled out mashed potatoes…until I created this mind blowingly delicious dairy free mashed potato recipe. It uses no butter or dairy of any kind. But is still just as delicious as traditional mashed potatoes. And it is also paleo, gluten free and Whole30!
I will be making these dairy free mashed potatoes all fall and winter long, especially on Thanksgiving and Christmas. And I know my guests won't know any different. They'll assume these creamy and fluffy mashed potatoes are packed with butter when really they are healthy as can be.
There are a few essential ingredients to making these perfect dairy free mashed potatoes.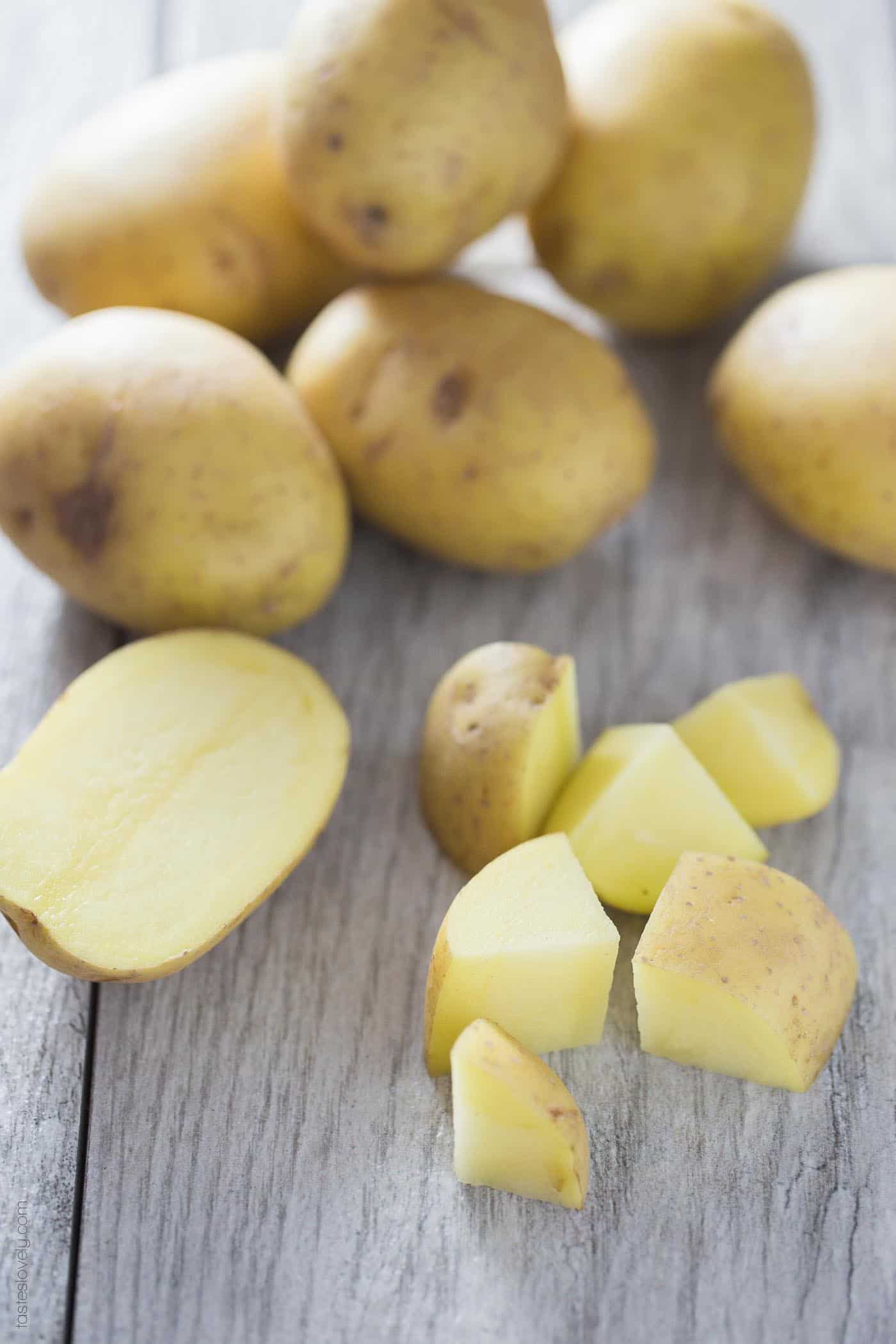 The first is the potatoes. You must use organic yukon gold potatoes. Yukon gold potatoes don't have as much starch, so they get creamy and velvety when you mash them, plus they have more of a buttery flavor on their own than other potatoes.
The skin on yukon gold potatoes is very thin, and where all the vitamins are, so I don't even peel them. I leave the skins on. It gives the finished mashed potatoes great texture and chew.
I boil them in water as usual, drain them, and add good quality organic chicken stock. This gives the potatoes tons of flavor, and gets them light and fluffy.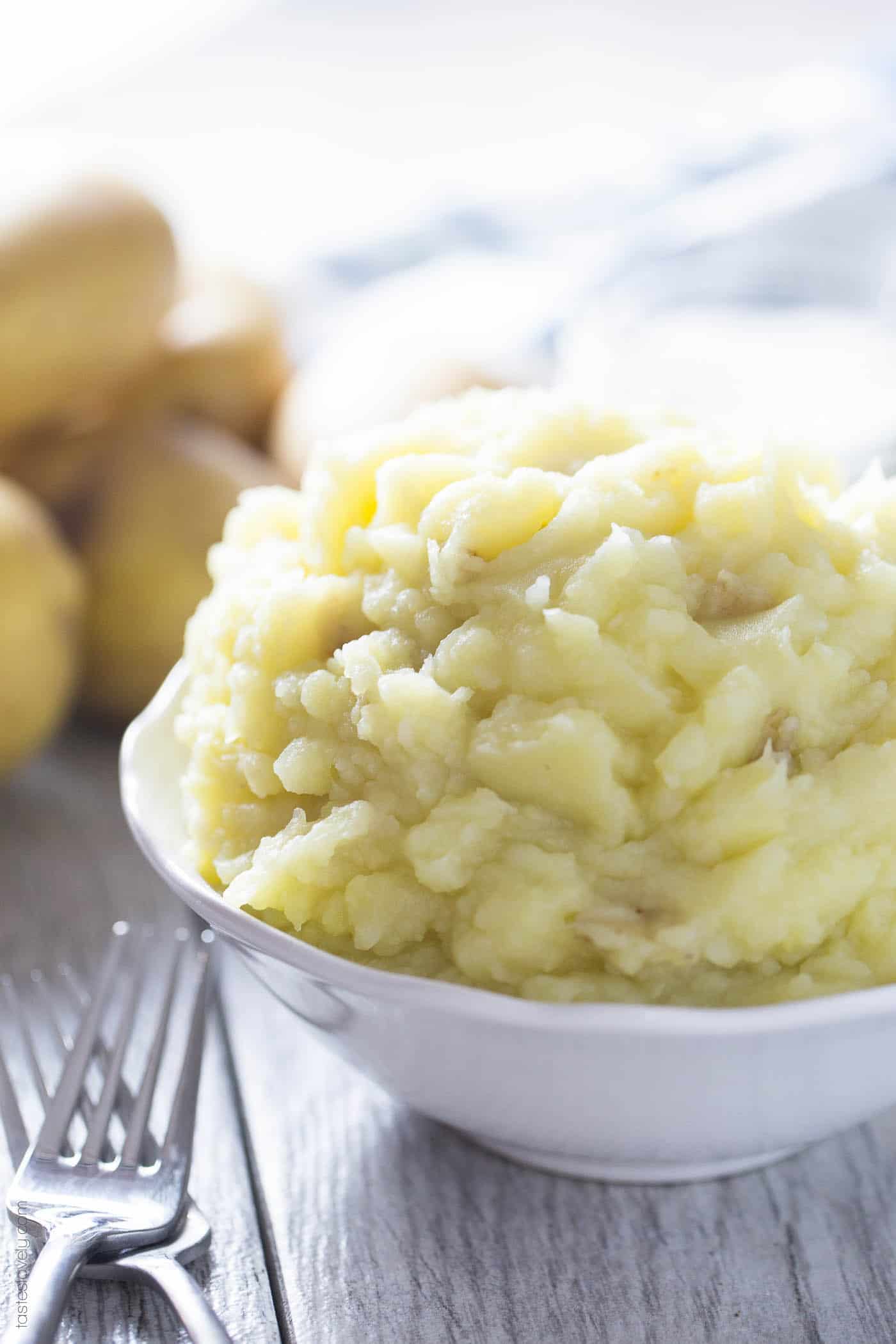 Since we don't have the butter to add extra flavor, I add in 2 other essential ingredients. The one is garlic powder. Just 1 a teaspoon. I've tried fresh garlic and roasted garlic, and it is too overpowering. (Plus, I don't really want to go to the extra work to roast the garlic, let's be honest.) Garlic powder is perfect, and gives it a nice little kick of flavor.
And the last secret essential ingredient is black truffle oil! Have you used black truffle oil yet? The most intense, delicious, umami flavor. Exactly what these dairy free mashed potatoes need. A little goes a long way.
Any leftover mashed potatoes keep in an airtight container for 5 days, so I'll often double the recipe, and save the other half for dinner later in the week.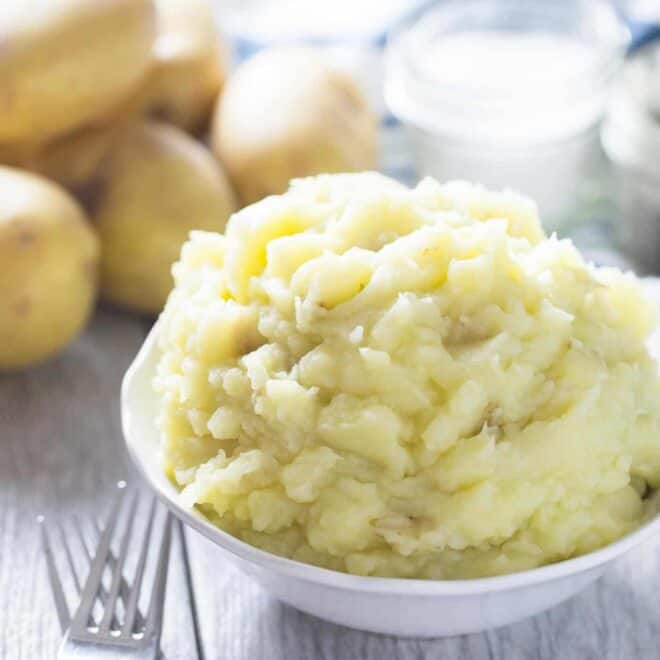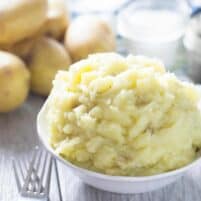 Dairy Free Mashed Potatoes
Creamy, velvety dairy free mashed potatoes with no butter! The best potatoes to use, and one very important secret ingredient.
Instructions
Fill a large pot with water, and heat over high until boiling.

While the water is coming to a boil, chop the potatoes into 1" cubes. I like to leave the skins on, but feel free to peel the potatoes if you prefer no skins.

When the water is boiling, add the potatoes to the water and continue to boil for 15-20 minutes, until the potatoes are tender and a fork is easily inserted and removed from the potato.

Drain the potatoes in a colander, then return the potatoes back to the pot. Turn off the heat. Add 1.5 cups chicken stock, and start mashing with a potato masher. You want the potatoes to become smooth and velvety. Continue adding chicken stock until the potatoes are smooth with no lumps. It usually takes me the whole 2 cups chicken stock, but it will depend on your potatoes.

Add in the truffle oil, garlic powder, then salt and pepper to taste.

Serve warm. Leftovers will keep in an airtight container in the fridge for 5 days.
Calories:
199
,
Total Carbs:
42.4
g
,
Protein:
6.3
g
,
Fat:
0.9
g
,
Fiber:
4.9
g
,
Net Carbs:
38
g
Did you make this recipe?
Please Leave a comment and give this recipe a rating!
More Potato Recipes: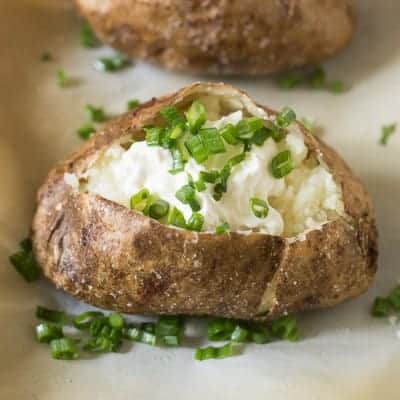 Crispy Oven Baked Potato Wedges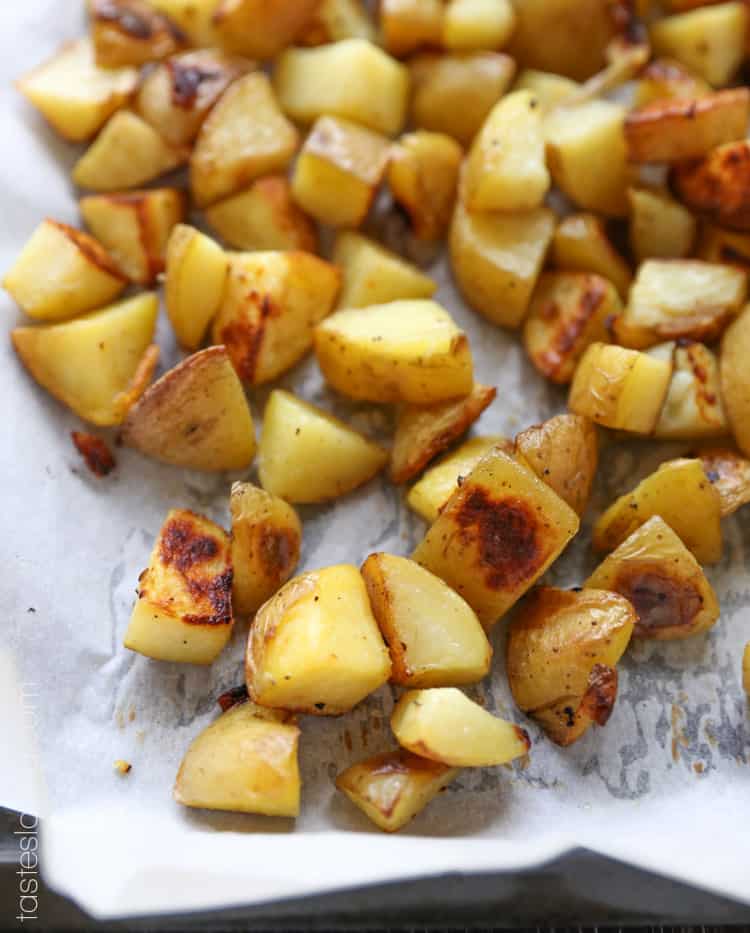 This post contains affiliate links, thanks for the love!