Favorite Toys for Little Toddler Boys
My favorite toys for little toddler boys! Best toys for imaginative play, art supplies, electronics, outdoor play and bath time. All would make great gifts for boys ages 18 months – 5+ years old.
We're about to have 3 boys (5 yrs, 2.5 yrs and due in January with boy #3). I have gone through a LOT of toys. We live in a very small 700 sq ft house, so any toy we have and bring into our tiny home has to be one that the boys love and use constantly.
Here is my criteria for a very good little toddler boy toy:
not overly loud (my house is loud enough)
uses their imagination
not a ton of little parts that can get lost or swallowed (I'm looking at your marbles)
doesn't easily turn in to a weapon that they'll hit each other with (I'm looking at your fishing rod bath toy)
isn't gigantic so can easily fit in our toy storage dressers
doesn't require a ton of help from momma so they can play with it by themselves
won't create too big of a mess (I'm looking at you most art supplies)
reasonably priced
doesn't break instantly
Every single toy I am sharing is one that we have, the boys use constantly, and has survived any toy purging trips to the Goodwill. I went through all our toy drawers and compiled a list of everything that we have and I whole heartedly love for my boys to play with. All great for little boys and toddler boys.
Favorite Imaginative Play Toys for Little Toddler Boys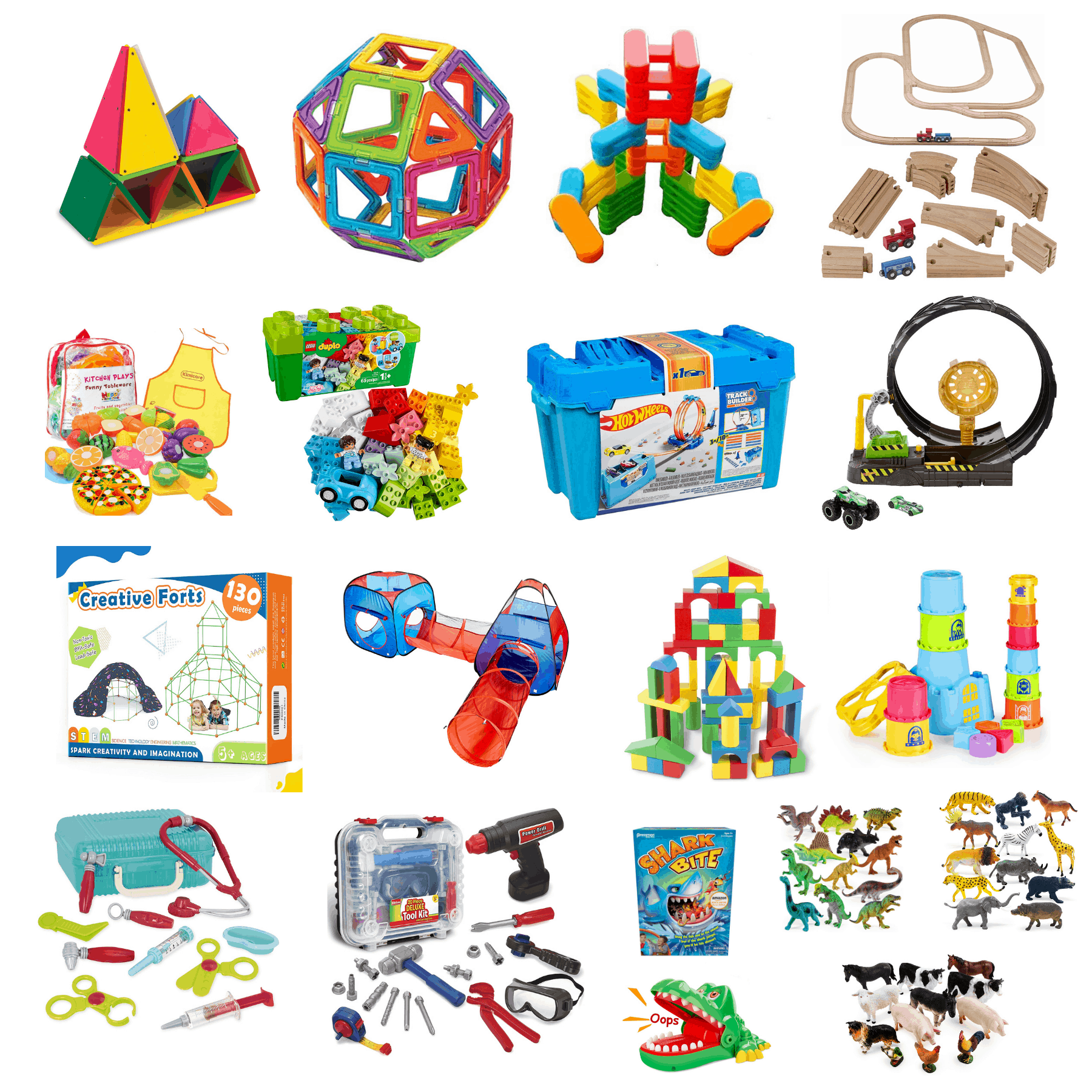 Favorite Art Supplies for Little Toddler Boys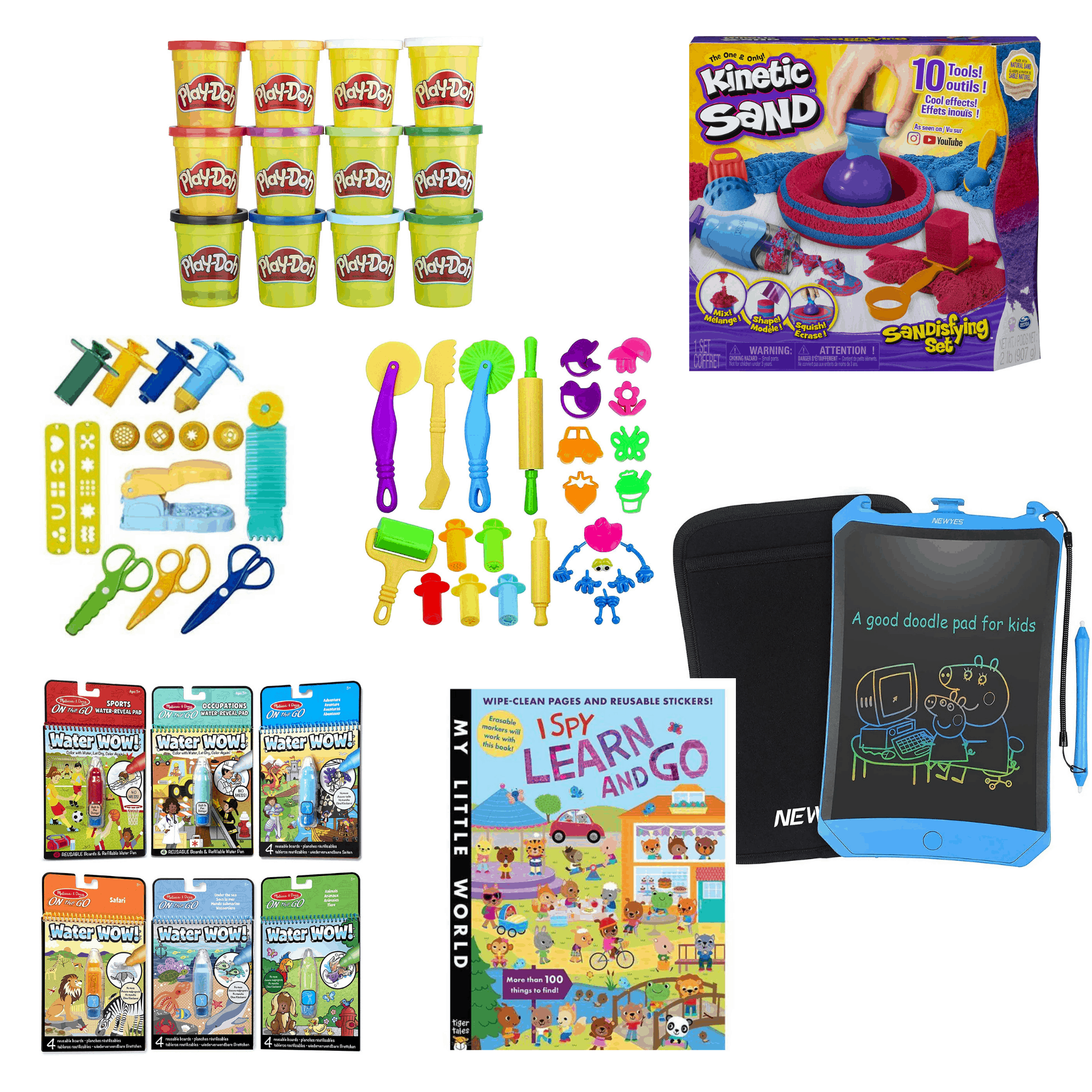 Playdoh Tools – We have this set and this set for the boys to use to play with playdoh.
Kinetic Sand Set – I refuse to do any slime (way too messy), but for a fun changeup from playdoh the boys love kinetic sand too!
Water WOW Books – These are amazing! The pages turn color when you put on water. No mess! And when they dry, you can "paint" them again. The pages are super thick like cardboard so lasts and lasts.
I Spy Learn And Go activity book – This book is so cute, has tons of stickers, and keeps my boys entertained over and over whenever they come back to it.
Doodle Pad – You draw on it with the attached pen, and then click a button to erase it. No mess! Kids love it!
Favorite Electronic Toys for Little Toddler Boys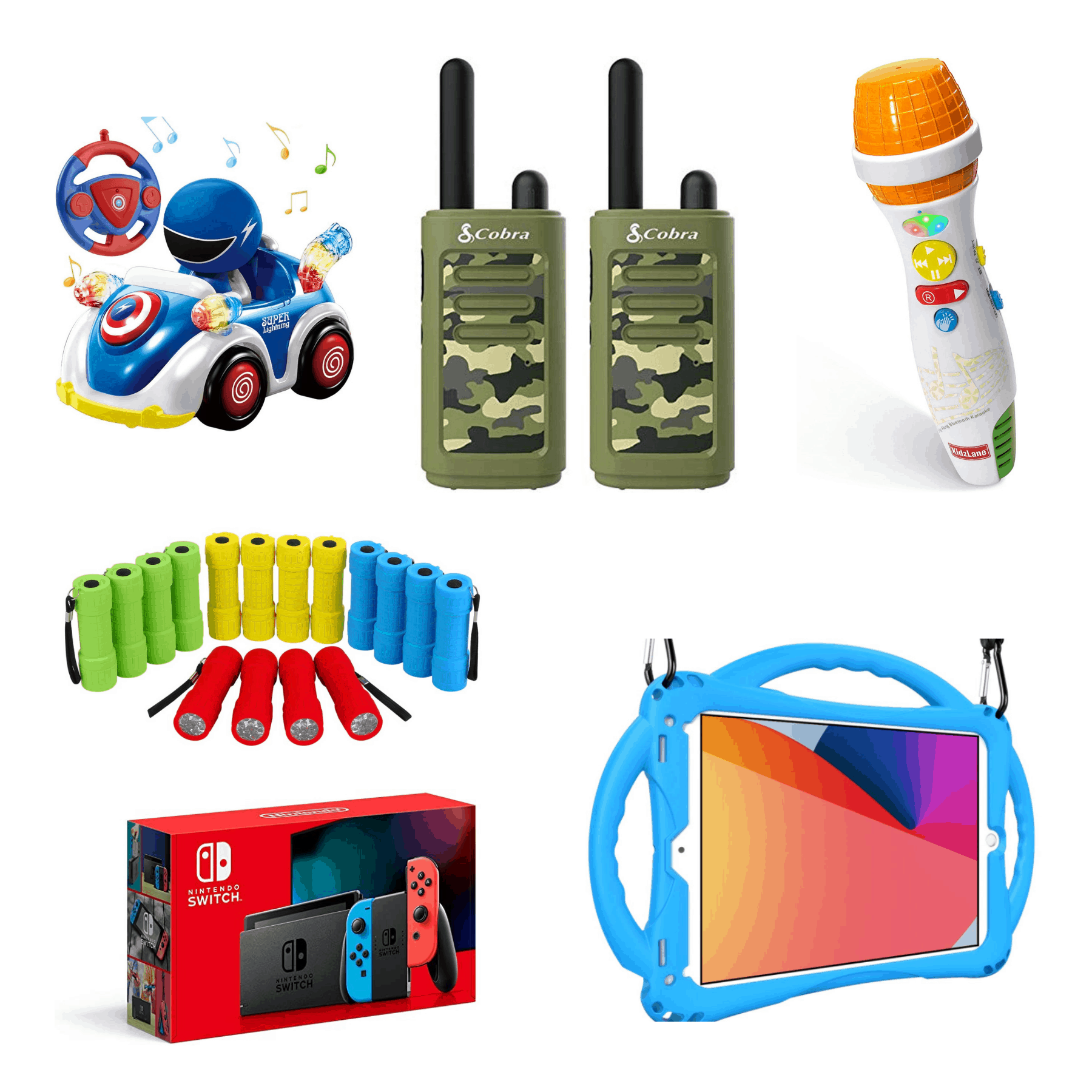 Remote Control Car – Any remote control car is always a hit! This one is relatively small, only has a "forward" and "turn" button so simple enough for an 18 month old to use, but my 5 year old still loves it too!
Walkie Talkies – My boys have endless fun with these. Really simple for them to use. There's only 2 buttons on the side (the ones on the front don't do anything.) 1 button is to push and talk, the other is to change the channel. There's only 2 channels. A red and a green. So SUPER simple for them to stay on the same channel. Easy on-off knob on the top too. We've done a lot of walkie talkies. These have been my fav. And actually work! Have a 16 mile range!
Microphone – This microphone plays music, but mostly my kids love it because it records their voice and they can play it back. Cracks them up!
Mini Flashlights – Never underestimate the fun of a flashlight! These make a great stocking stuffer too!
Nintendo Switch – I was hesitant to get a Nintendo for the boys so young, but when Josh had his surgery in January and was in full leg casts for 3 weeks, this was a lifesaver! He was just barely 4, and I was shocked at how quickly he was able to learn it and use it. His favorite game to start off with was Mario Odyssey. He also loves Links Awakening, Breath of the Wild, Untitled Goose Game, Luigis Haunted Mansion and Mario Kart. We used it a lot during 2020 because we were home a LOT with playgrounds closed. Now we just save it for special occasions, usually when Ryan is napping and Josh has been a very good boy that day. Or road trips.
iPad with Child's Case – We rarely use iPads, I save them for roadtrips or extremely cooped up days. But I love a good old iPad over the kindle fire kids edition. I can't figure those out myself. I feel like apple is way more intuitive, and easier to download and use app games. I look for open box iPad deals on amazon, way cheaper.
Favorite Outdoor Play Toys for Little Toddler Boys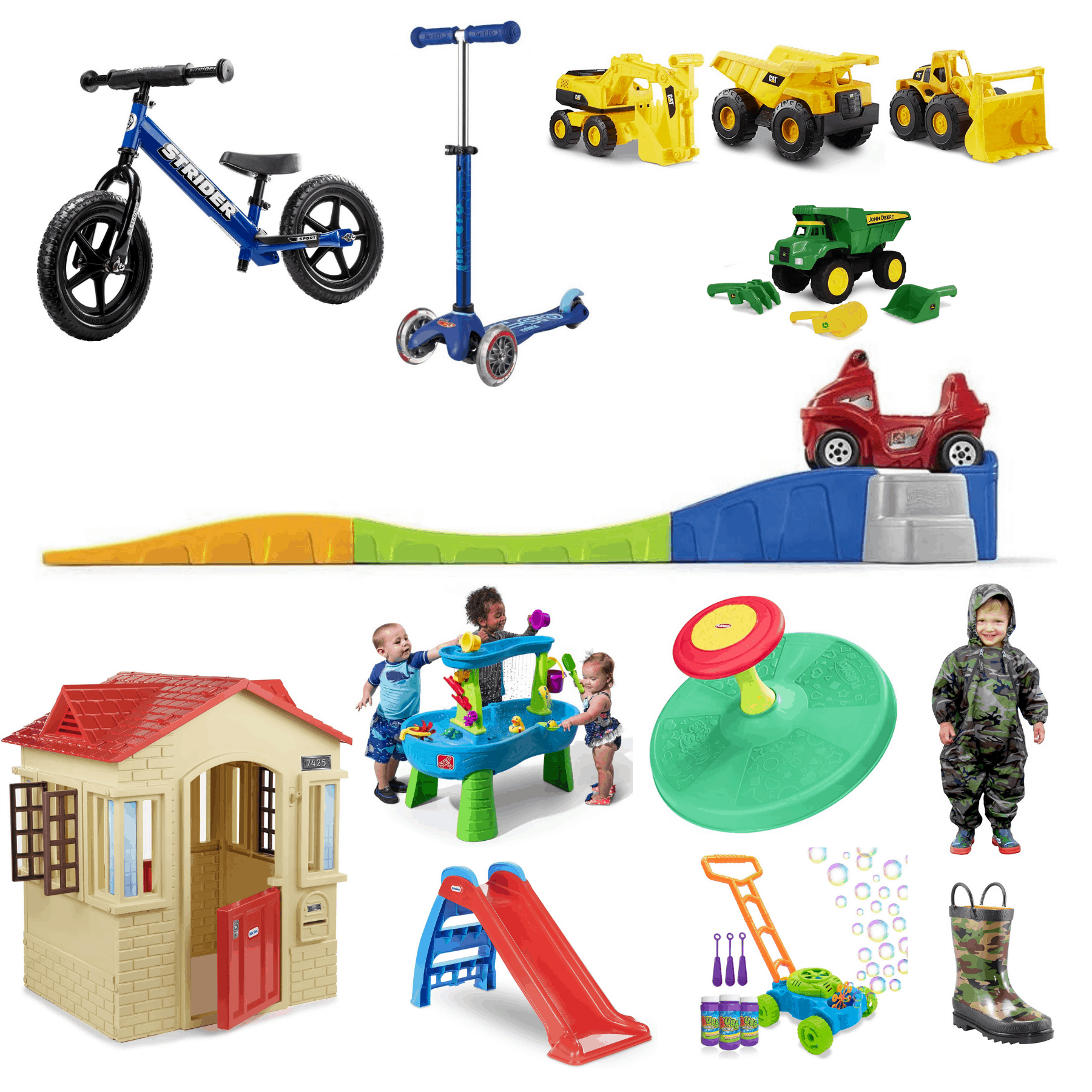 Favorite Bath Toys for Little Toddler Boys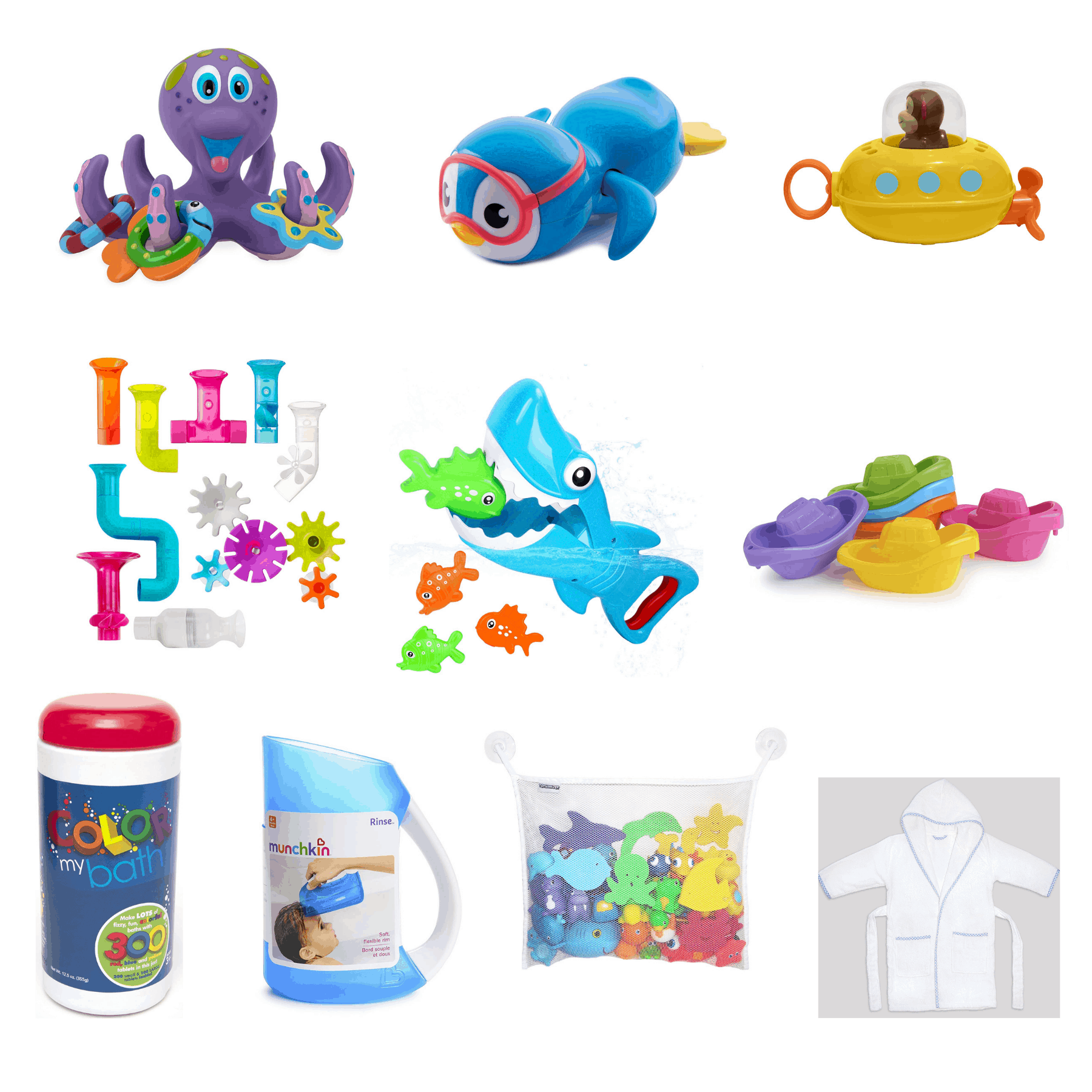 Floating Octopus Ring Toss – They love throwing the rings and trying to make it on the arms!
Swimming Penguin – We've had this one for years, and they still love winding up the arms and watching it swim.
Curious George Submarine – This one is easy enough for even a 1 year old. Just pull the string and it zooms around.
Bath Building Pipes and Cogs – They love building elaborate water flow systems that turn the cogs when the water comes out.
Shark Grabber – The love opening and closing the mouth to watch the shark chomp the little fish. Great for fine motor skills. I have 2 of these so they never fight over sharing, haha!
Boat Train – You can connect all these boats together and pull them around like a big boat train.
Color Fizzing Bath Tablets – The boys LOVE when I bust these out. They're mini tablets, about the size of a Tums. They fizz when you put them in the bath and change the bath water color. Non-toxic. Also a fun way to teach them about secondary colors when mixing 2 primary colors and seeing what color it changes the water. Doesn't stain your bathtub at all, and if it gets on your towels it washes right out. Also doesn't stain your kids, haha!
Bath Rinsing Cup – This is the big cup we use to rinse off soap and shampoo. Love that it holds a lot of water so I can do a big pour. Soft and flexible too.
Bath Toy Holder Mesh Bag – These is what we store all of our bath toys in. I'll unsuction it and scoop all the floating toys right off the top of the bath, then suction it right back to the wall. Never had mold issues.
Hooded Bathrobe – Both boys have this bathrobe. They call it their "fuzzy coat". Easiest way to get them out of the bath is telling them it's fuzzy coat time. It's one-size, Josh just turned 5 and he is just about grow out of it. So perfect for about 18 months-5 years.
This post contains affiliate links, thanks for the love!