Grab-and-Go Keto Snacks at Sprouts
A few of my favorite grab-and-go keto snacks from Sprouts. Most don't need to be refrigerated!
THIS POST IS SPONSORED BY SPROUTS
While we're social distancing, we're still finding ways to get out of the house and enjoy nature. We love our fresh air and getting Vitamin D from the sunshine! My kids and I love going for nature walks and playing in the creek by our house. I pack all their sand toys, their swimsuits, and love to have some healthy snacks on hand for me and the boys to enjoy.
Here are a few of my go-to grab-and-go snacks. All of these snacks are available at Sprouts! Sprouts is my favorite store for fresh, organic produce, organic meat and keto friendly ingredients and snacks. They have everything I need and at great prices!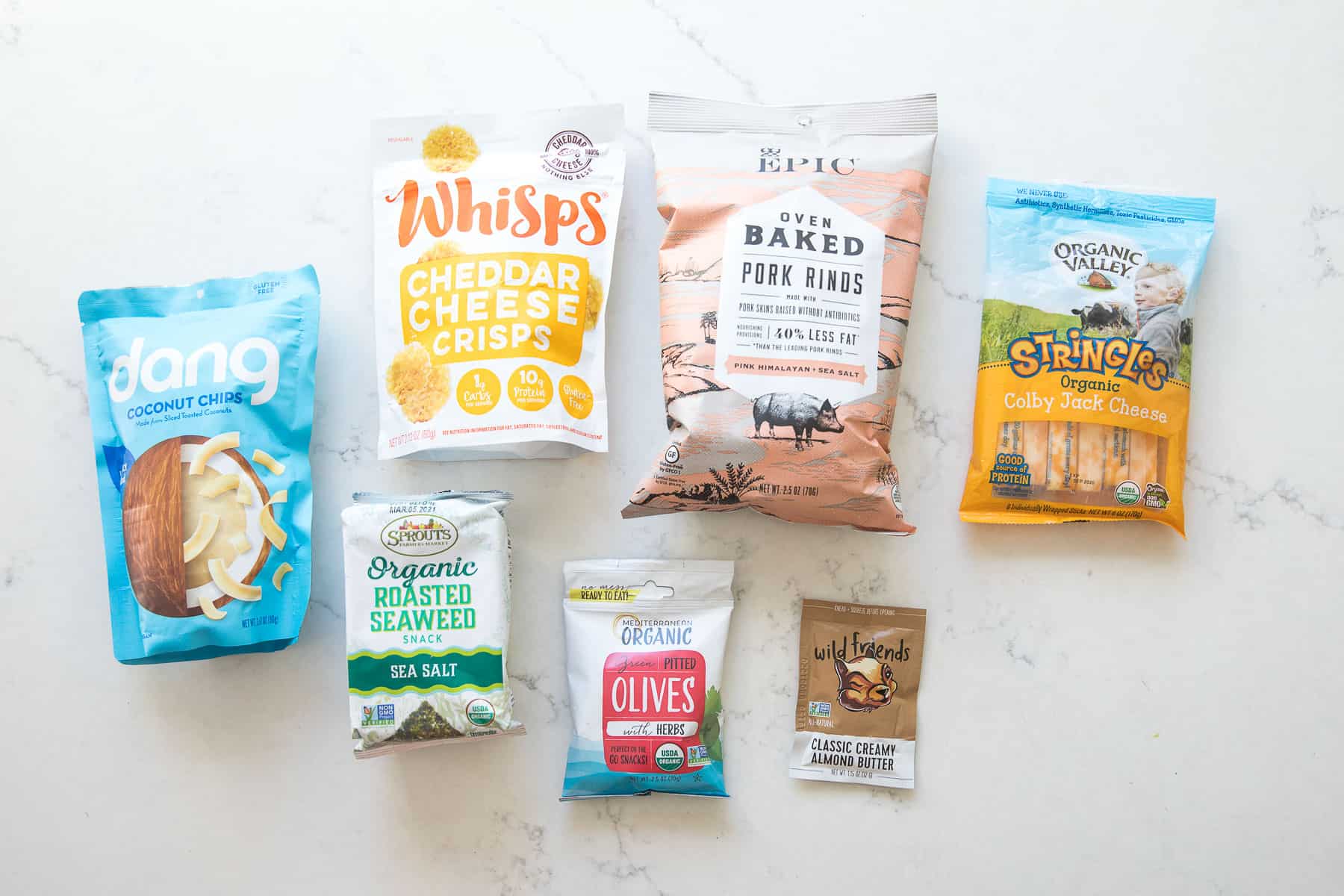 Favorite Keto Snacks At Sprouts
Epic Oven Baked Pork Rinds – Gives you all the satisfaction of a crunchy chip, but with 0 carbs! I love Epic brand since they use pork skin that is hormone + antibiotic free.
Dang Lightly Salted Coconut Chips – My kids and I love snacking on roasted coconut chips. The lightly salted is my favorite since it doesn't have any added sweeteners. Sometimes I'll make us a keto trail mix using roasted nuts and these coconut chips. Yum!
Whisps Cheddar Cheese Crisps – These are crunchy baked cheese crisps that are only 1 carb! And the only ingredient is cheese. This is a great option for a crunchy snack that has lots of protein, low carb and doesn't need to be refrigerated. So delicious!
Organic Valley Stringles – This is my one snack that requires refrigeration at home, but I find does fine in a backpack for a few hours without being refrigerated. My kids and I love these cheese sticks. They're already individually sealed, so perfect for travel. I love that they are organic and non-GMO. The colby jack is our favorite flavor.
Mediterranean Organic Pitted Olives with Herbs – These are little packets of olives that are perfect for your car or backpack! You just tear off the top and enjoy! Olives are a great source of fat and really low carb. I love their Herbs flavor. It's the perfect amount of olives to fill you up until your next meal.
Sprouts Organic Roasted Seaweed Snack – These little seaweed snacks are perfect for on the go! They are in a container with a sturdy plastic insert, so you don't need to worry about the seaweed getting too crushed in your backpack. Seaweed is packed with so many amazing minerals, and it's delicious dried and crispy like this! Very keto friendly. Love that the Sprouts brand is organic and non-gmo!
Wild Friends Classic Cream Almond Butter Pouch – A pouch of almond butter is such a perfect keto snack that is packed with tons of fat and really low carb. I love ripping the top off and squeezing the nut butter onto some celery sticks, or even enjoying it straight from the pouch! Travels so well too!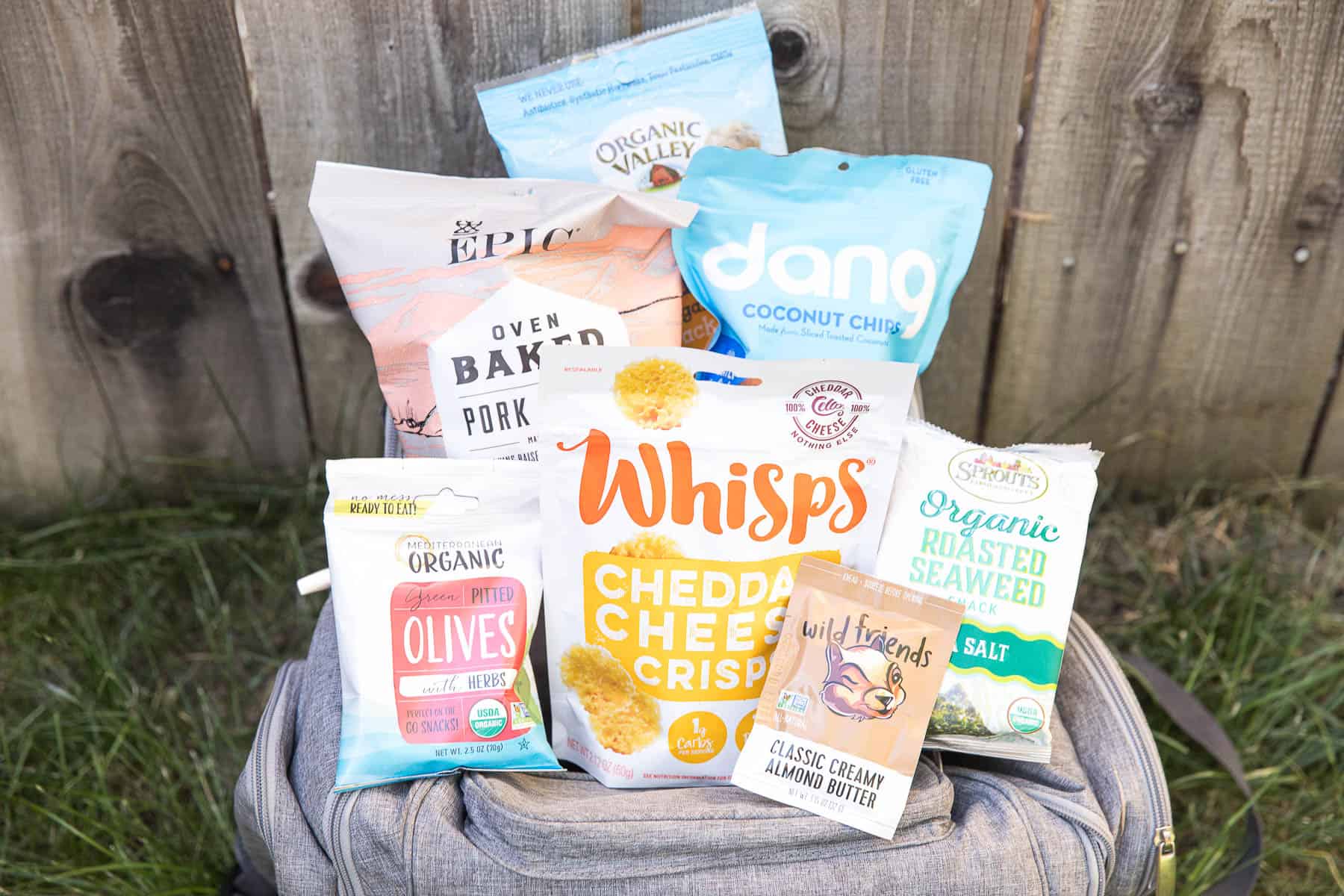 Thank you Sprouts for sponsoring this post! This post contains affiliate links, thanks for the love!