Healthy Chicken Parmesan
Healthy Chicken Parmesan made with no breading, served over zucchini noodles. A light and healthy dinner that is ready in less than 30 minutes. Gluten free, low carb.
This healthier chicken parmesan made with Prego Farmers' Market® Sauce served on zucchini noodles is just what I need for dinner right now. Because I have been eating far too much sugar.
Is anyone else still picking away at their Halloween candy 2 weeks later? And all that is left is all the reject candy?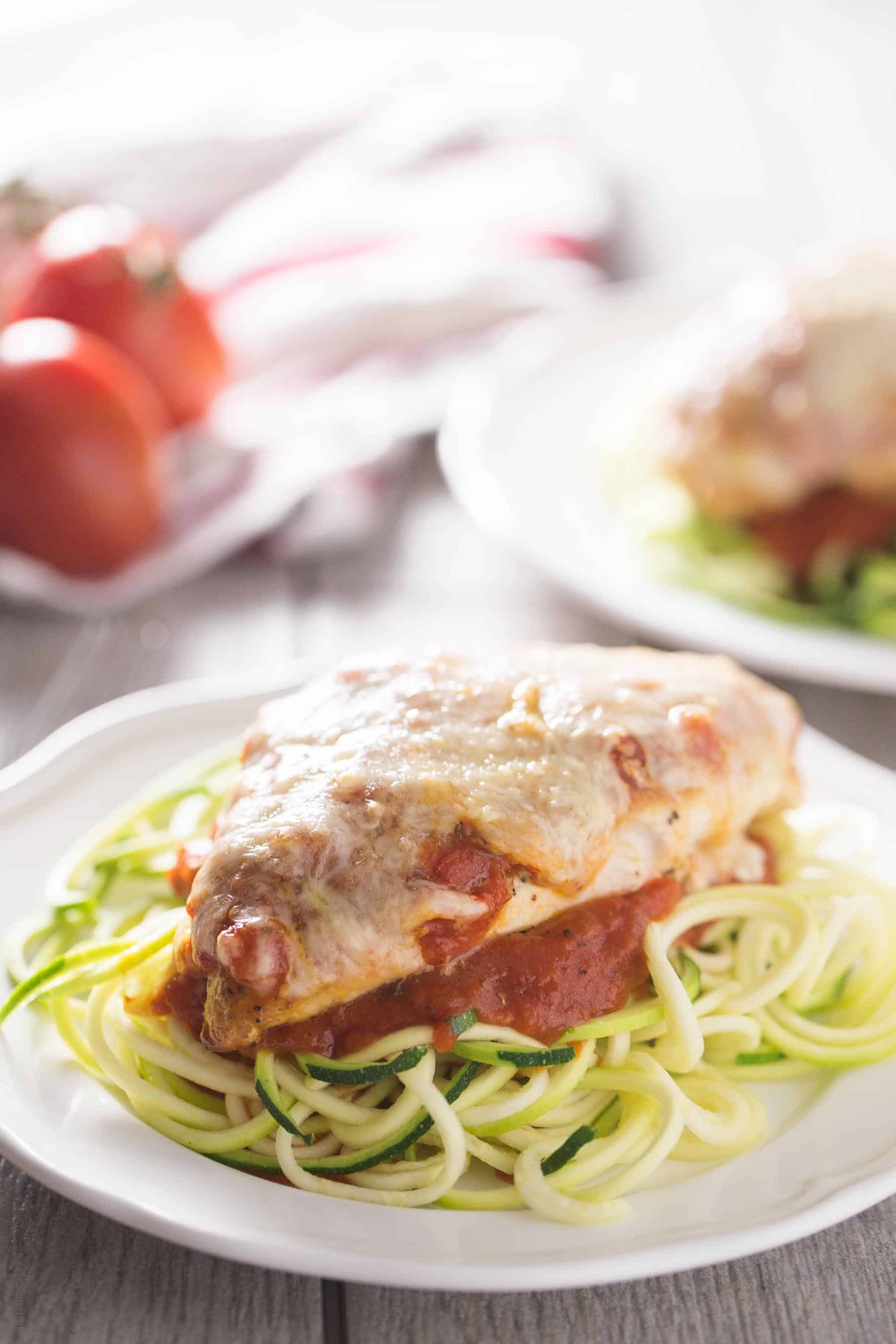 Shawn and I took Josh trick-or-treating. But I found out that taking an 11 month old trick-or-treating really means Shawn and I went trick-or-treating while taking turns holding him.
We knocked on the door. We said, "trick-or-treat". And we were the ones to reach in to the candy bowl.
Josh was one cute owl, so the neighbors didn't seem to mind giving grown adults candy.

Shawn and I have also been the ones to eat all the candy. Whenever I walk by the candy bowl I find myself reaching for one. Bad!
If I make a really healthy dinner, it all evens out, right?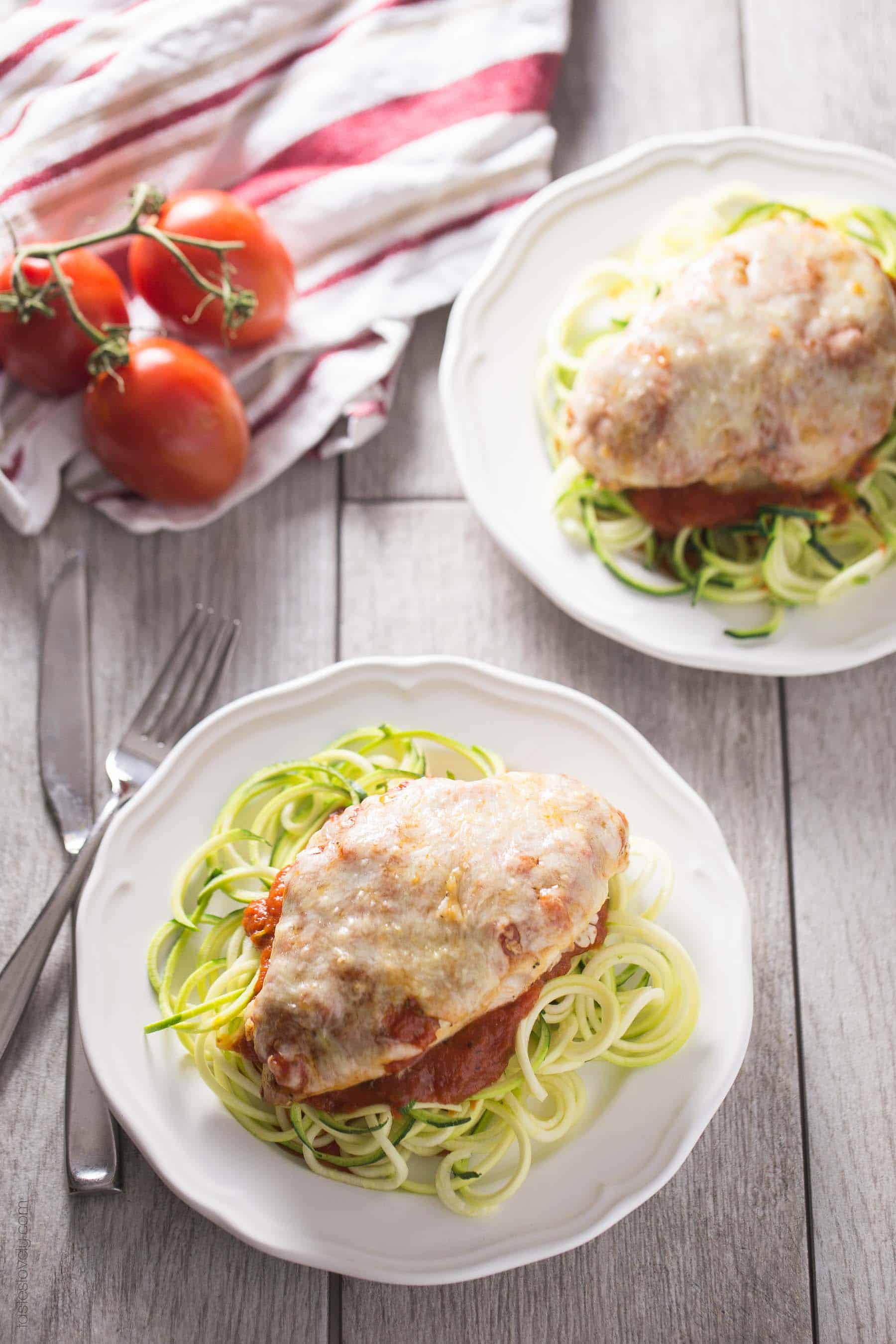 I love chicken parmesan, but I don't love how many calories and carbs it has. All that breading and frying really takes a toll. Plus, the breading usually ends up getting soggy and squishy as soon as you add the sauce anyway. So I skipped it!
I sear boneless, skinless chicken breasts in a pan to get it golden brown and a little crispy, top it with marinara sauce, mozzarella cheese and parmesan cheese, then finish baking it in the oven until the chicken is cooked through and the cheese is melted. Delicious! And so much healthier!
I also serve it on top of zucchini noodles instead of pasta. No carbs, and barely any calories.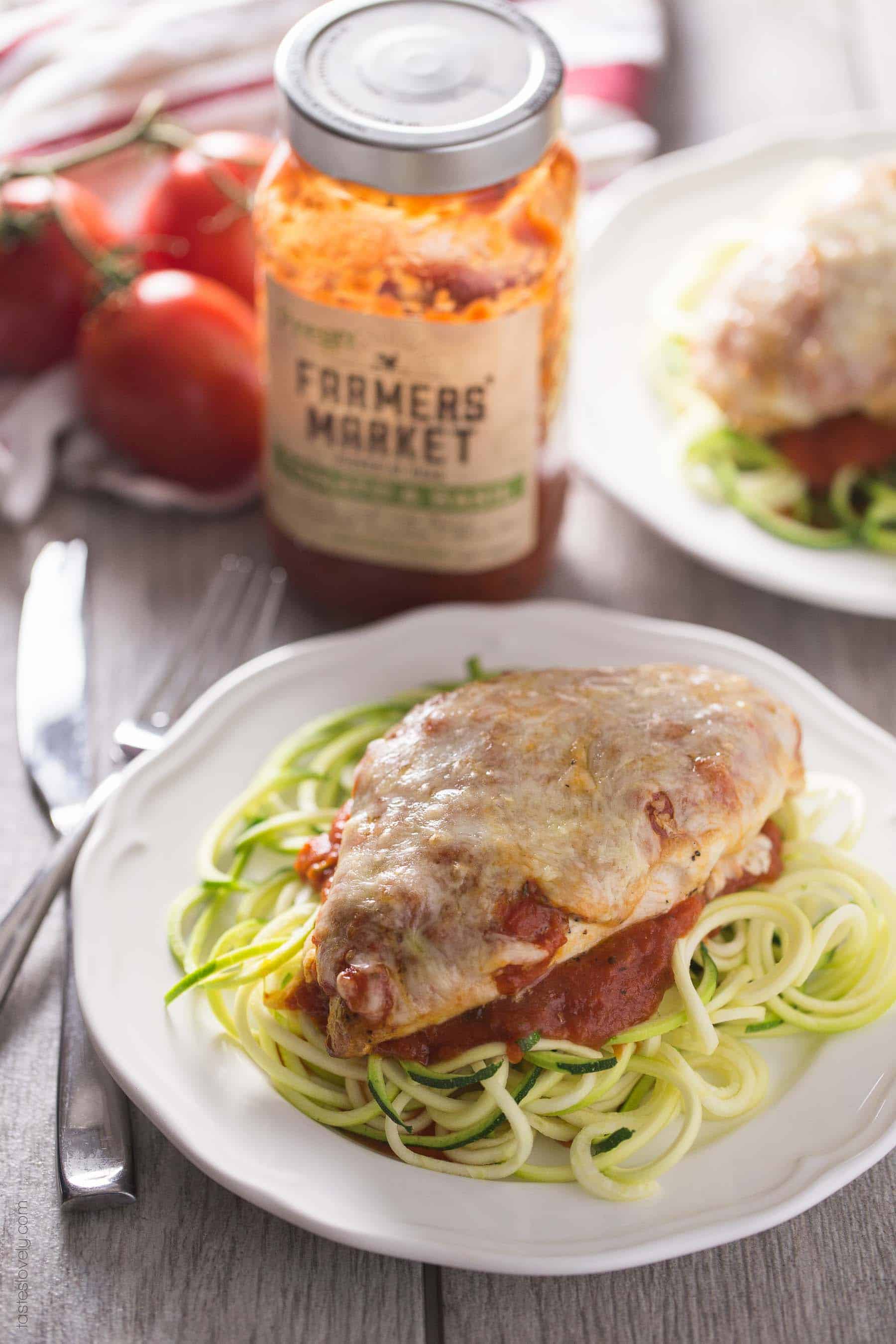 The real star of this healthy chicken parmesan is the Prego Farmers' Market® Sauce, my go to jarred tomato sauce that I get at Walmart, along with the fresh zucchini to make the zucchini noodles. They have 3 flavors to choose from: Marinara, Tomato & Basil, and Roasted Garlic. They're all great! Tomato & Basil might be my favorite. It brings delicious flavor from simple, farm fresh ingredients. An irresistible taste, and made with ingredients you would find at the farmers market, like vine-ripened tomatoes, garlic and basil – all picked at the peak and made the way you would with olive oil, black pepper and oregano. Enjoy with your favorite Italian dishes. I couldn't make the sauce better myself.
Plus, by using a jarred tomato sauce, this dinner is ready in a snap. A 30 minute dinner that is perfect for busy weeknights.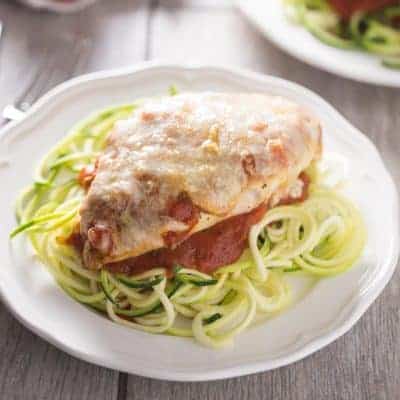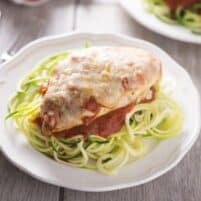 Healthy Chicken Parmesan
Healthy Chicken Parmesan made with no breading, served over zucchini noodles. A light and healthy dinner that is ready in less than 30 minutes.
Ingredients
4

boneless

, skinless chicken breasts, pounded to an even thickness (I get my chicken from ButcherBox, which I highly recommend)

2

tablespoon

olive oil

,

divided

salt and pepper

23.5

ounce

jar of Prego Farmers' Market® Sauce

,

Marinara, Tomato & Basil, or Roasted Garlic

4

ounces

shredded mozzarella cheese

2

ounces

grated parmesan cheese

4

zucchini's

,

spiralized in to zucchini noodles using a spiralizer or mandoline (I like my zucchini noodles raw!)
Instructions
Preheat oven to 425 degrees with the oven rack in the middle.

Heat an oven safe skillet over medium high heat. Season the chicken breasts with salt and pepper. When the pan is warm, add 1 tablespoon olive oil, and sear the chicken breasts until golden brown, about 2-3 minutes.

Flip the chicken breasts, and top with each with 1/4 cup Prego Farmers' Market® Sauce, 1 ounce shredded mozzarella cheese, 1/2 ounce grated parmesan cheese, and drizzle with 1 teaspoon olive oil.

Bake until the chicken has an internal temperature of 165 degrees, about 10 minutes.

Remove from the oven. Top the zucchini noodles with additional sauce, and top with the warm chicken.
Calories:
395
,
Total Carbs:
16.4
g
,
Protein:
47.2
g
,
Fat:
15
g
,
Fiber:
4.5
g
,
Net Carbs:
12
g
Did you make this recipe?
Please Leave a comment and give this recipe a rating!
More Healthy Chicken Recipes: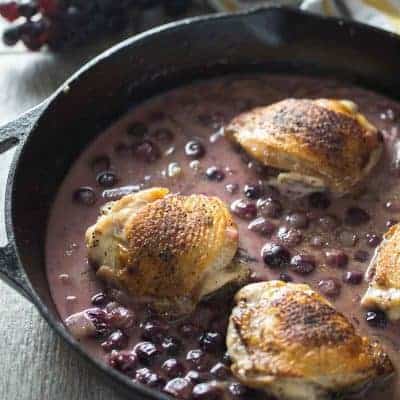 Chicken Thighs Braised in Mustard Grape Sauce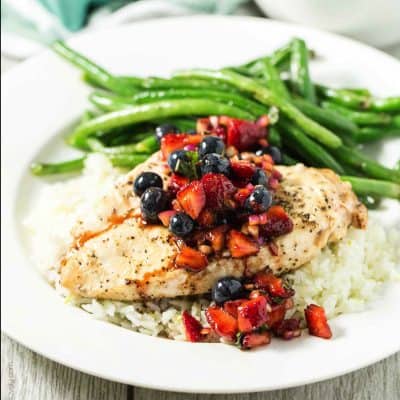 Grilled Chicken with Berry Balsamic Salsa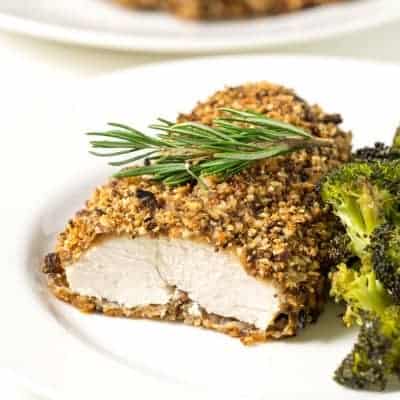 Rosemary Almond Crusted Chicken
This post is sponsored by Prego Farmers' Market®. All opinions are my own. Thanks for supporting the brands that support me!