Homemade Fudgy Chewy Brownies
These fudgy chewy brownies taste exactly like a box mix, but better because they are homemade! An easy cleanup 1 bowl recipe, no stand mixer needed.
Shawn and I spent 3 of our college years separated. Well, technically 3 years and 1 quarter. Shawn went to school at UC Santa Barbara, and it was so hard being apart he took WAY more classes than a full load and graduated 2 quarters early. He moved home a week before Christmas in 2008, and it was one of the best weeks of my life.
While he was down south, I was here at home going to San Francisco State full time while waitressing. I would take the train (yes, old school Amtrak train) from San Jose to Santa Barbara to visit him about once a month. It would take about 8 hours, but it only cost $32 round trip and I could get lots of studying done.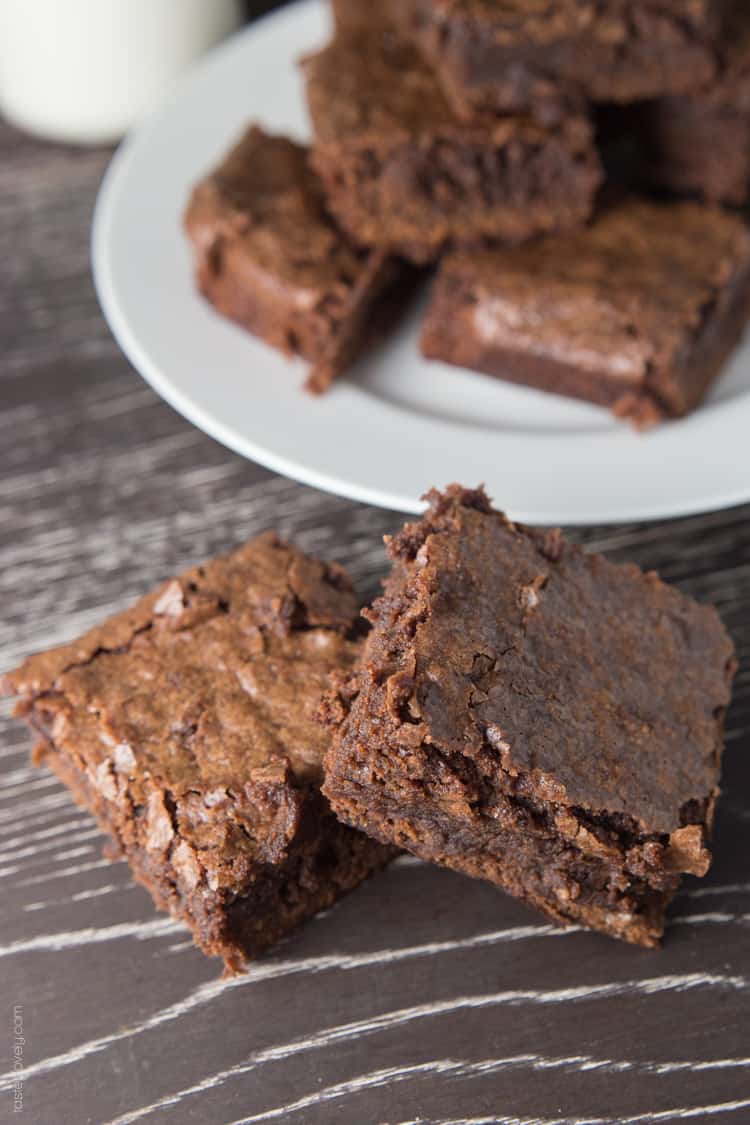 On the weekends when I couldn't visit him, I would mail him little care packages. Sometimes they would include a mix CD full of my favorite songs that I would illegally download off Kazaa or Limewire (remember those?). Sometimes I would send him a new movie since the poor guy didn't have cable. But one thing these care packages would always include were brownies. I would stack them up in a big tupperware container and write him a note on the lid with a Sharpie. He still has those lids. Every. Single. One.
And I wouldn't send him just any brownies, but these homemade fudgy chewy brownies. A box mix just wouldn't show how much I care. Anyone could buy a box mix and add eggs and oil. No no no. It was only the best, homemade brownies for my guy.
I actually like box mix brownies. Until I made this recipe, box mix brownies were the best I had eaten. Mostly because of their dense chewy texture. Previous homemade brownie recipes I had made were too cakey, which is not what I want when I am craving brownies. This homemade brownie recipe gives you everything you love about box mix brownies, plus the unbelievable flavor that comes with homemade.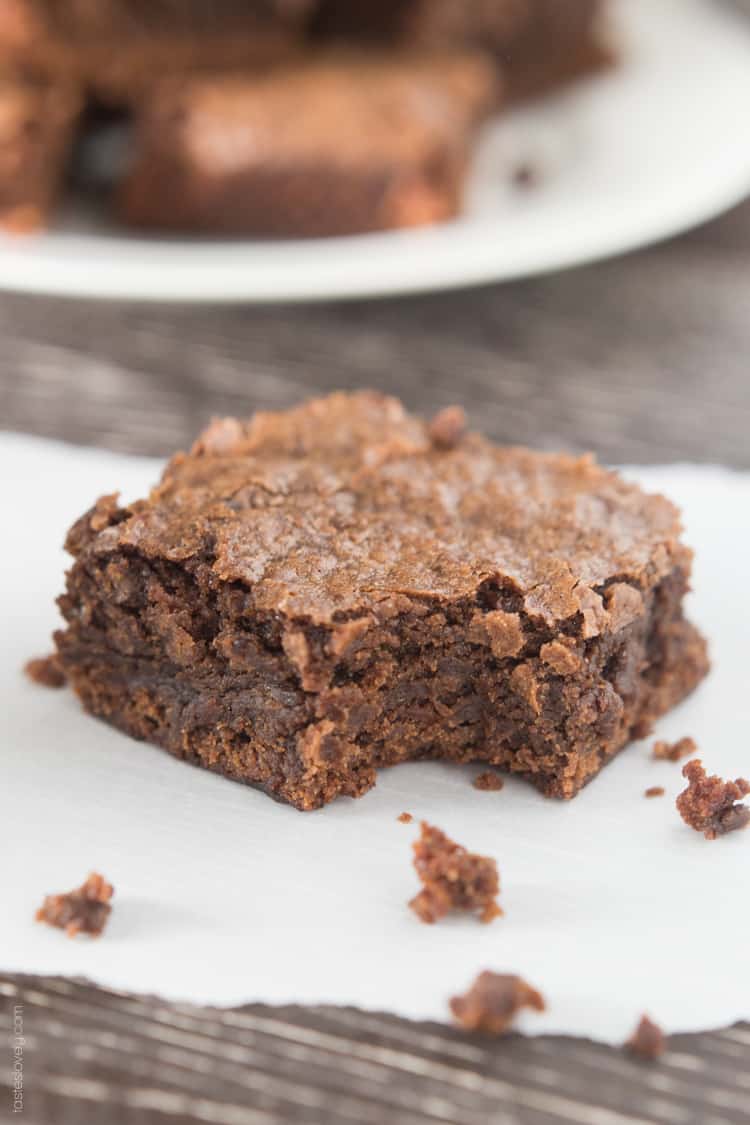 Plus, these brownies are embarrassingly easy to make. Just 1 bowl, 1 spoon, and 1 baking pan. No need to break out the mixer, or melt chocolate using a double boiler. It takes just a few more minutes to make than a box mix, but tastes oh so much better. You can taste the love.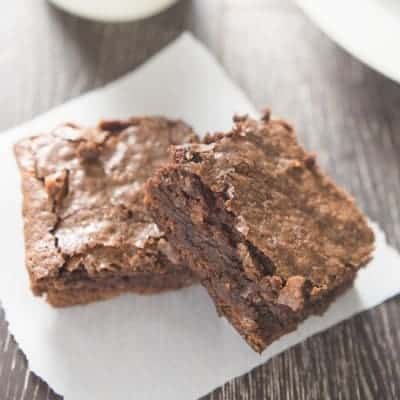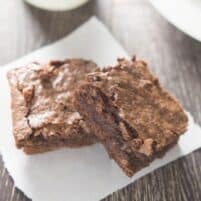 Homemade Fudgy Chewy Brownies
These fudgy chewy brownies taste exactly like a box mix, but better because they are homemade! An easy cleanup 1 bowl recipe, no stand mixer needed.
Ingredients
1/3

cup

unsweetened cocoa powder

10

tablespoons

boiling water

2

ounces

high quality unsweetened chocolate,

finely chopped

4

tablespoons

unsalted butter

,

melted

10 tablespoons

cup

avocado oil

2

large eggs

2

large egg yolks

2

teaspoons

vanilla extract

3/4

teaspoon

table salt

2 1/2

cups

granulated sugar

1 3/4

cups

all-purpose flour
Instructions
Preheat oven to 350 degrees with the tray in the bottom rack. Cut 2 pieces of parchement paper to fit inside a 9x13 baking dish, 1 piece to fit vertically and the other piece to fit horizontally. Spray with non-stick spray, and I like to clap 2 of the edges down with large paper clips. Makes it easier when pouring in the brownie batter.

In a large mixing bowl, add cocoa powder, then boiling water. Whisk to combine. Then add finely chopped unsweetened chocolate. Whisk until melted. Add in melted butter and vegetable oil. Whisk to combine. Mixture may look "broken" or "curdled" at this point, that's ok. Add in the eggs and egg yolks. Whisk to combine. Add in vanilla and salt, whisk to combine. Add in sugar, whisk to combine. Last, add in all purpose flour and gently fold the flour using a spatula until just combined.

Pour brownie batter into baking dish, making sure to spread it to be an even layer. Bake in the oven for 30-35 minutes, or until an inserted toothpick comes out with a few fine crumbs. Remove from oven, and allow to cool in baking dish for 10 minutes. Then remove the brownies from the baking dish by lifting the parchement paper out, this will avoid overcooking the brownies. Allow to cool for at least 1 hour before cutting in to brownies.
Calories:
201
,
Total Carbs:
29.3
g
,
Protein:
2.6
g
,
Fat:
8.9
g
,
Fiber:
1
g
,
Net Carbs:
28
g
Did you make this recipe?
Please Leave a comment and give this recipe a rating!