How To Make Cold Brew Coffee In A Mason Jar
How to make cold brew coffee in a mason jar recipe + video – my favorite way to make cold brew concentrate! Paleo, low carb, gluten free, grain free, dairy free, sugar free, clean eating, real food.
If you've never had cold brew coffee, I am about to change your life with a wonderful new discovery!
Rather than making coffee by pouring over boiling water, you let it slowly steep for 24 hours. The resulting coffee is smooth and has not bitter or acidic taste. Especially great if coffee tends to give your heartburn. Bonus, it's always ready and waiting in the fridge.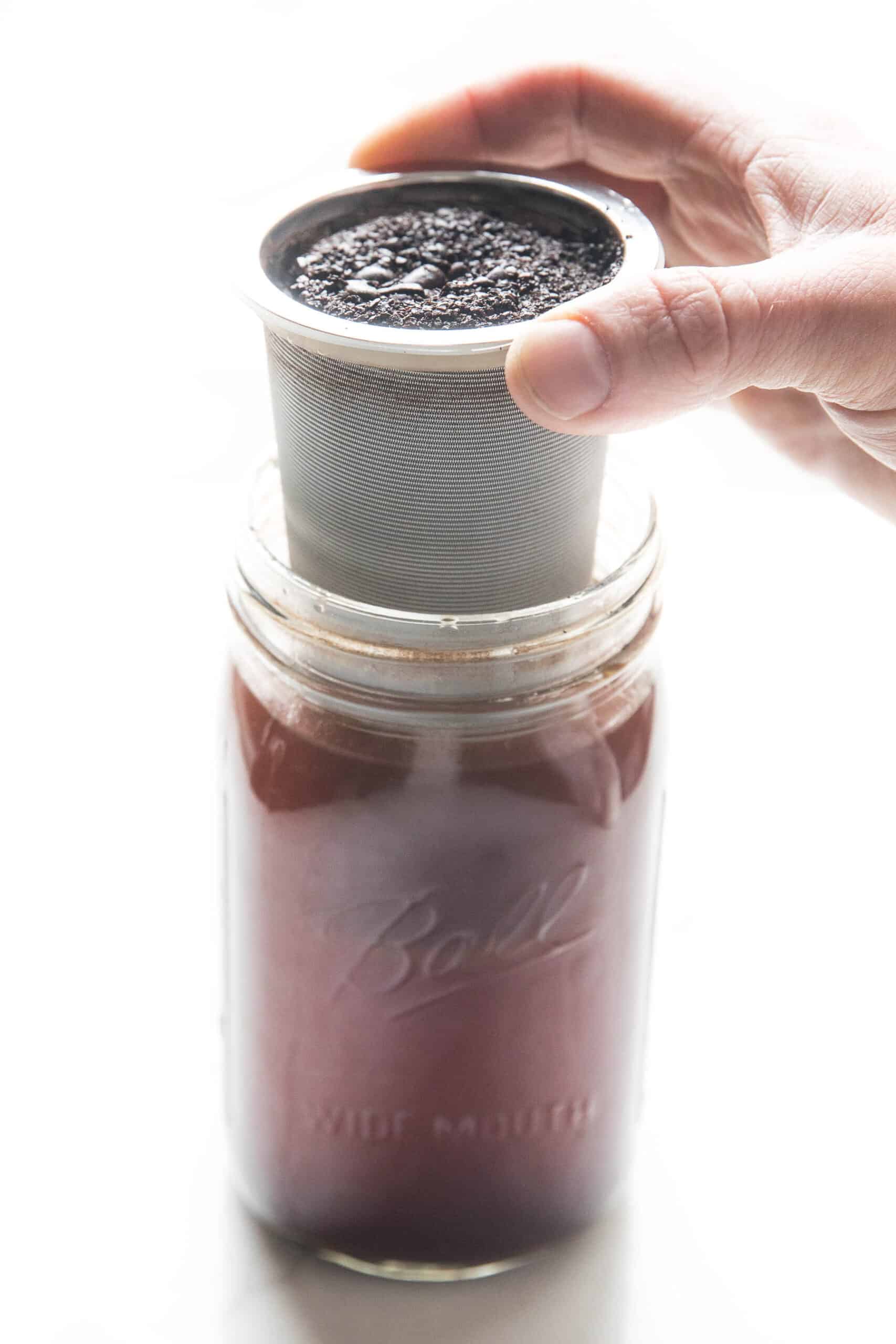 Mason Jar Cold Brew Equipment
There are tons of ways to make cold brew coffee, but my favorite is in a mason jar. We live in a very small house, with an even smaller kitchen. I love that all I need is this one little filter and I can turn all my mason jars into a cold brew maker!
Here is the coffee gear that I have and love to make cold brew: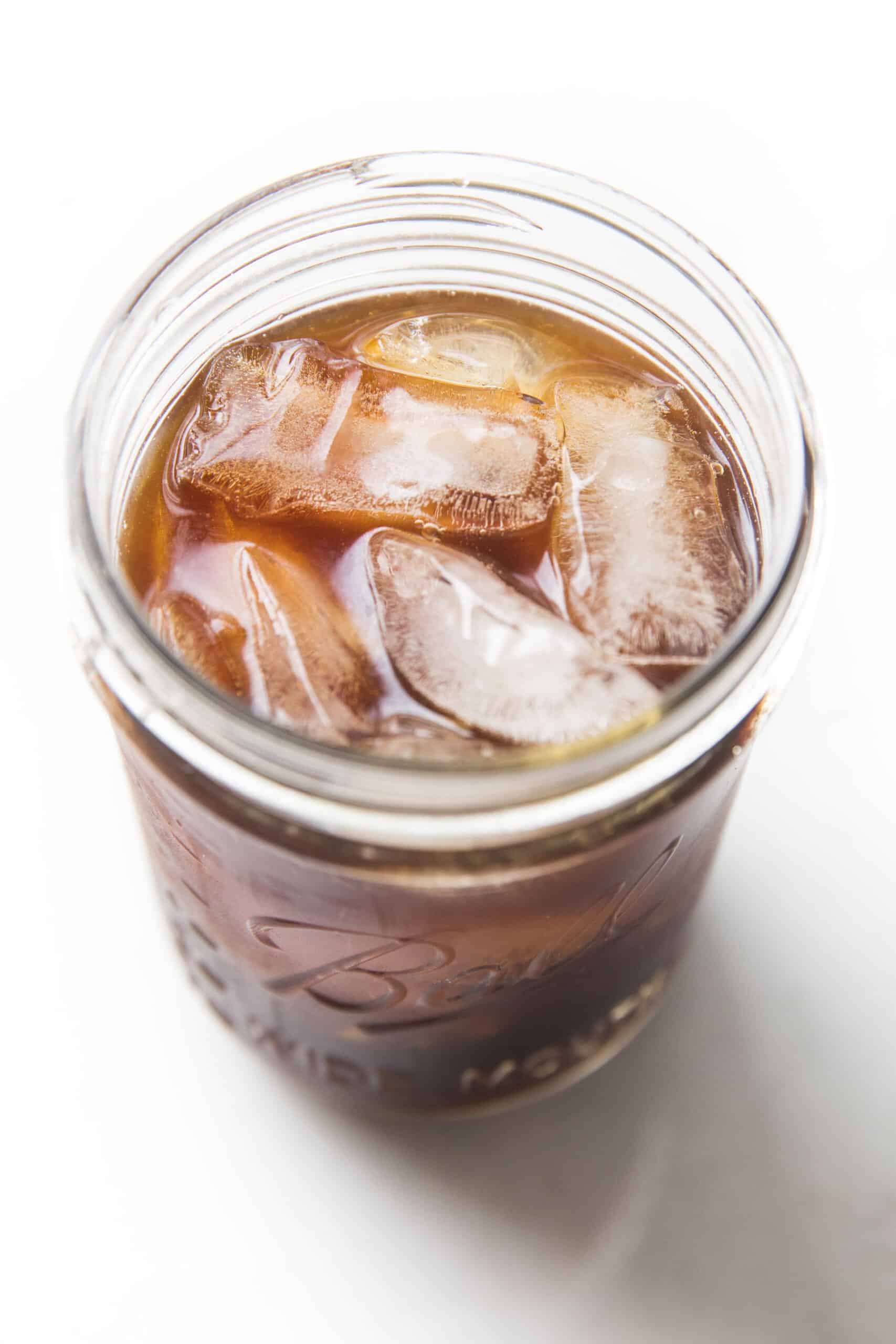 Serving Cold Brew
When your cold brew is done steeping, you strain it, dilute it to your desired potency, then enjoy! You can serve it over ice, or heat it up and enjoy cold.
And I must insist you also make my homemade dairy free heavy cream creamer. The 2 are going to give you the best afternoon pick-me-up!
Watch How To Make Cold Brew Coffee In A Mason Jar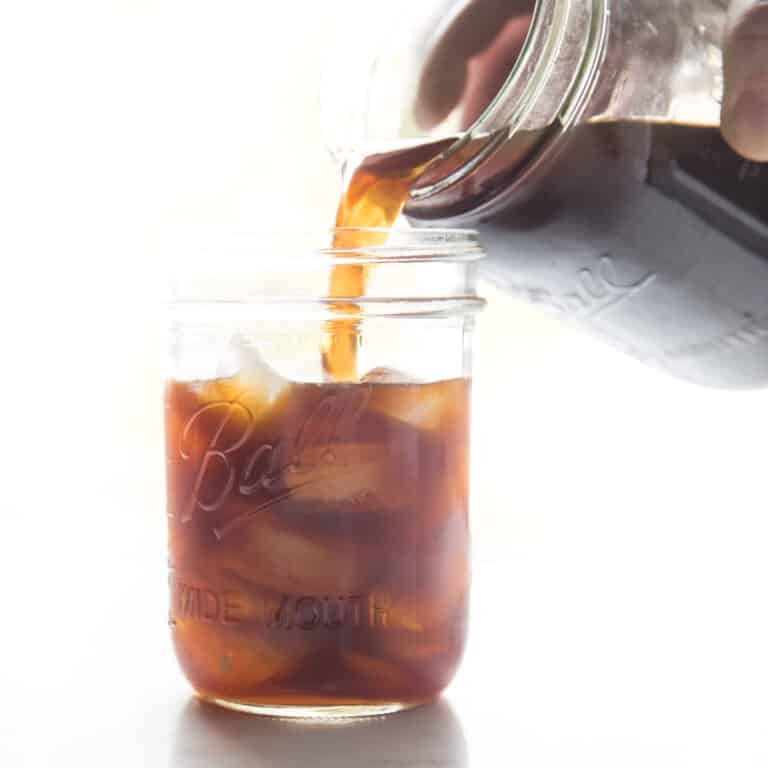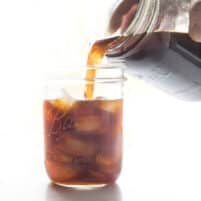 How To Make Cold Brew Coffee In A Mason Jar
Using a mason jar is my favorite way to make cold brew coffee!
Ingredients
Cold Brew
1

cup

coarse ground coffee grinds

3

cups

water

Another 1-2 cups of water to dilute the ratio after the coffee has steeped overnight
Instructions
Place the

coffee filter

inside your wide mouth quart mason jar, making sure the rubber gasket is between the filter and the

mason jar

(this will prevent leaks). Add in the coarse ground coffee grinds.

Pour 3 cups of water over the coffee grinds, or enough to fill the mason jar up to the top with water.

Cover with the mason jar lid, and give it a shake.

Steep the coffee for at least 24 hours. You can leave on the counter or the refrigerator.

After the coffee has steeped, lift out the

coffee filter

and let all the water drain out. I like to transfer it to another quart mason jar and let it slowly drip out.

The resulting coffee concentrate is strong. I like to add another cup of water to the concentrate, which fills the quart mason jar perfectly to the top. This will make a very strong cold brew. You may not like it this strong, and want to dilute it with 2 cups of water or more. You may need to divide among 2 quart mason jars to dilute to your liking.

Will keep refrigerated for at least 7 days.
Notes
You can use regular or decaf coffee. I drink decaf every day. It still has the tiniest bit of caffeine in it, closer to the amount tea has. Makes me less jittery.
I prefer buying whole beans and grinding them myself in my coffee grinder, gives you a fresher tasting cold brew. Use pre-ground coffee works too!
You want to let the coffee steep for at least 24 hours, but it can steep longer! I usually start steeping my next batch as soon as I filter out my current batch. That way I never run out!
Calories:
5
,
Total Carbs:
0
g
,
Protein:
0
g
,
Fat:
0
g
,
Fiber:
0
g
,
Net Carbs:
0
g
Did you make this recipe?
Please Leave a comment and give this recipe a rating!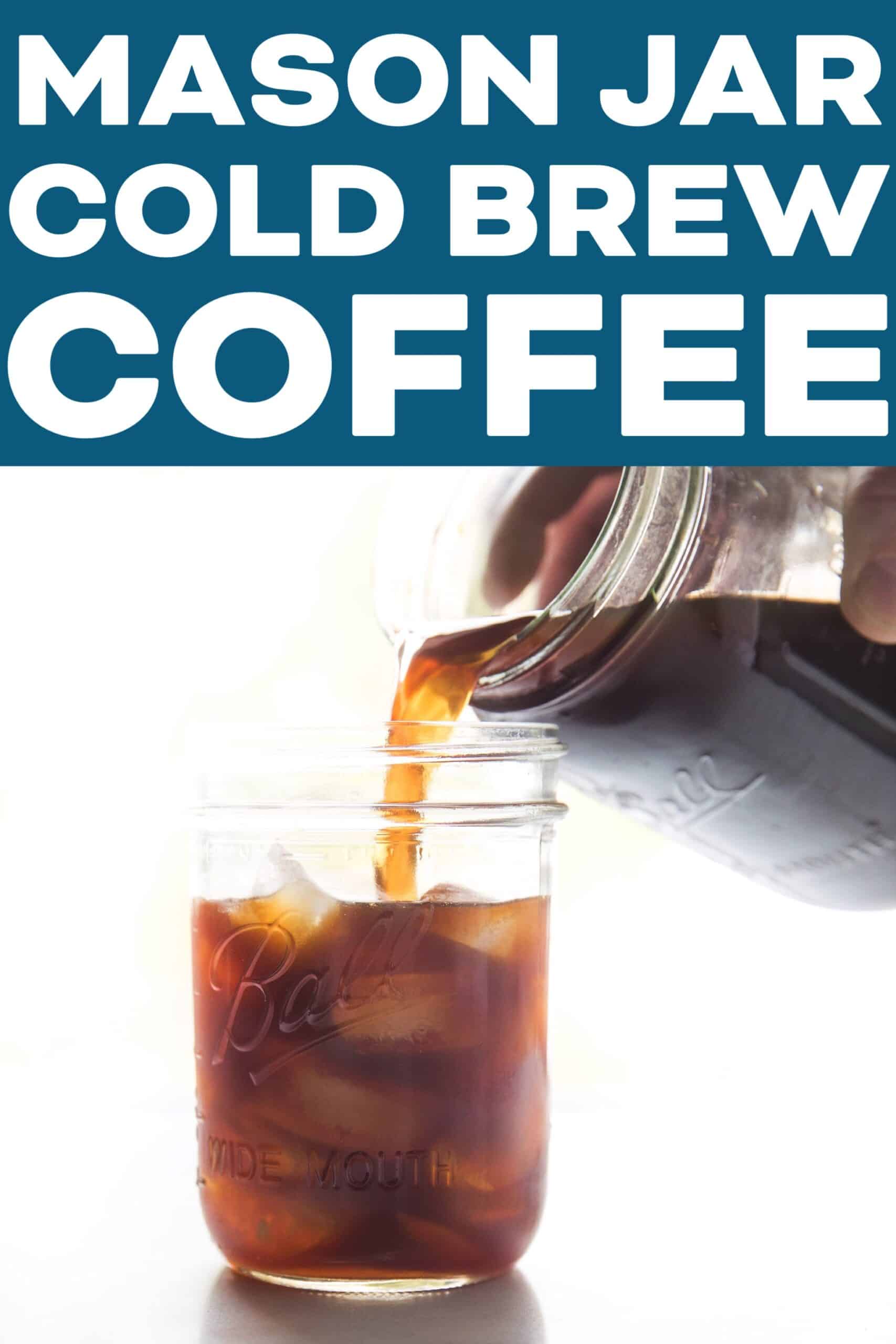 This post contains affiliate links, thanks for the love!