Keto Instant Pot Coq Au Vin
Keto Instant Pot Coq Au Vin Recipe – Low carb chicken braised in red wine sauce with carrots, mushrooms and onions. Slow cooker and dutch oven directions too! Paleo, gluten free, grain free, dairy free, sugar free, clean eating, real food.
Keto Instant Pot Coq Au Vin
If you're looking for cozy, decadent, luscious, fancy and EASY, this keto instant pot coq au vin is the dinner of your dreams.
Chicken thighs, mushrooms, carrots, onions, garlic and herbs are braised in the instant pot in a red wine sauce that you will want to drink it's so tasty. Don't forget the crispy bacon added back in after it's done cooking for crispy, salty texture flavor explosions!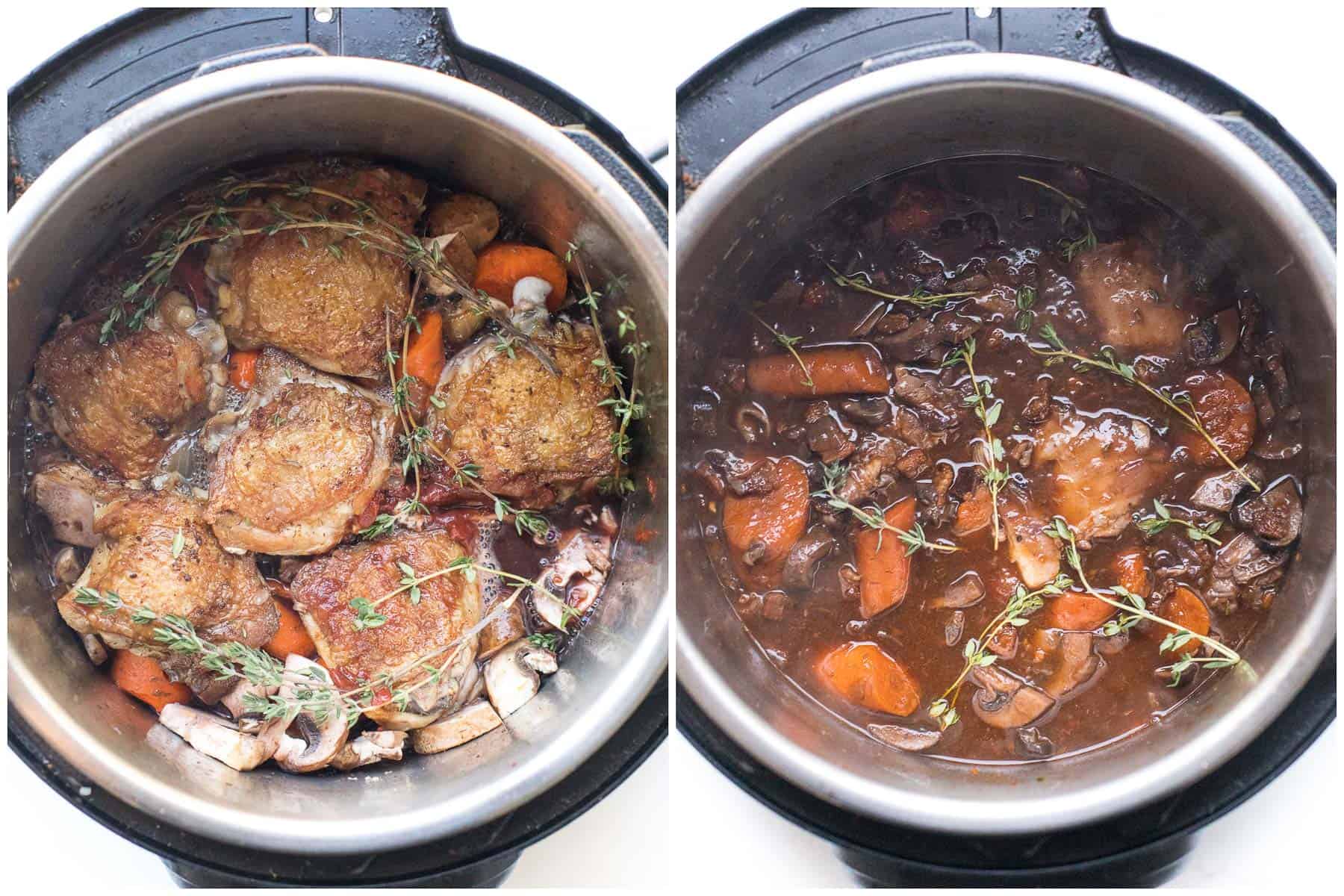 Instant Pot
The best part of using an instant pot is the steam cannot escape, so it's impossible to have dried out coq au vin! (Which has sadly happened to me when slow braising it in the oven). The chicken turns out so tender and fall of the bone juicy every time. Packed with flavor!
While cooking it in the instant pot is my preferred method, I also have instructions for the slow cooker and dutch oven in the recipe notes if that's what you prefer!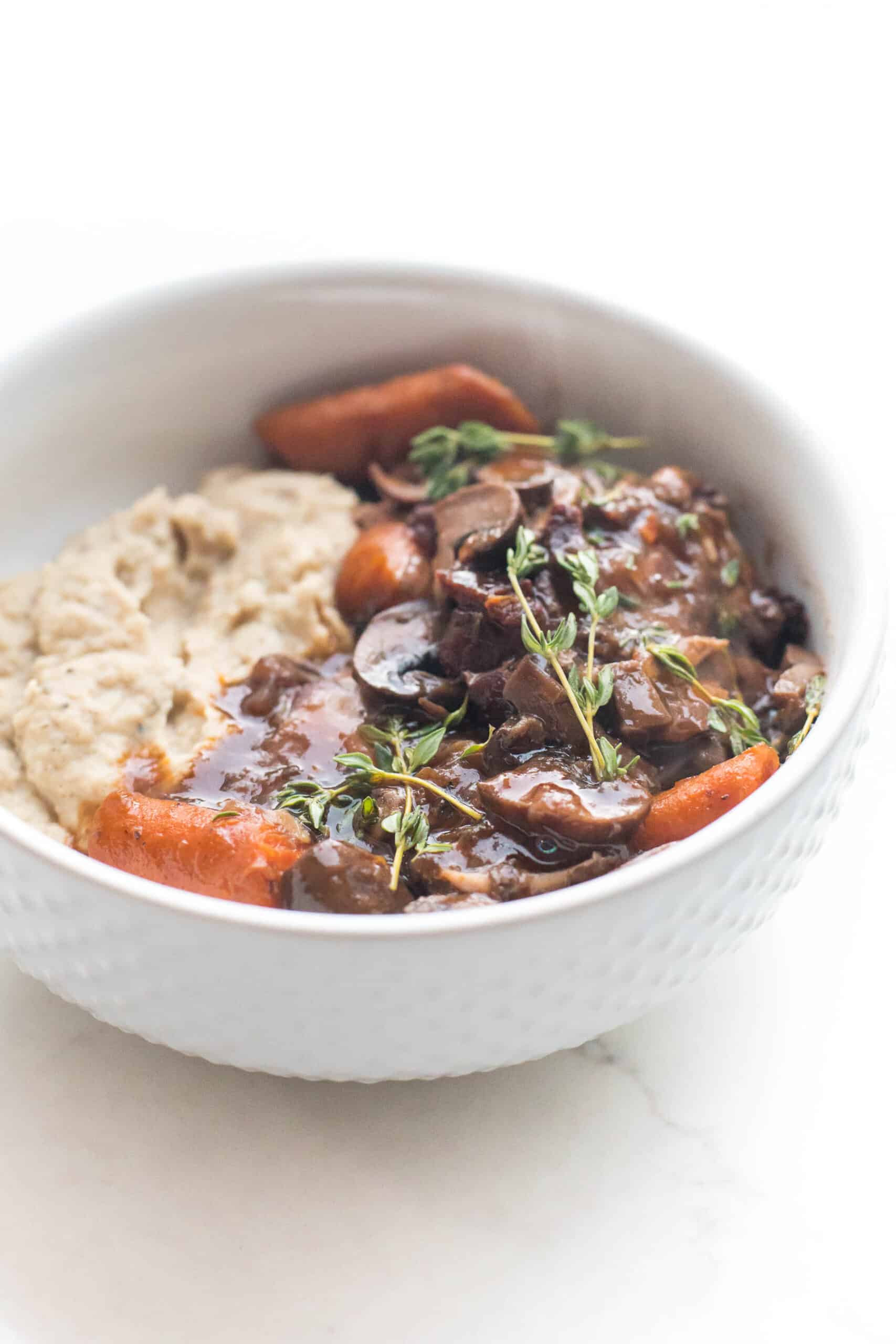 Chicken To Use
My favorite cut of chicken to use is skin-on, bone-in chicken thighs. They have the most flavor, and best fat macros for keto. You can get these by asking your butcher. They get so tender after cooking you don't even need a knife!
Boneless skinless thighs, skinless chicken breasts, drumsticks, or even a whole cut up chicken would work as well!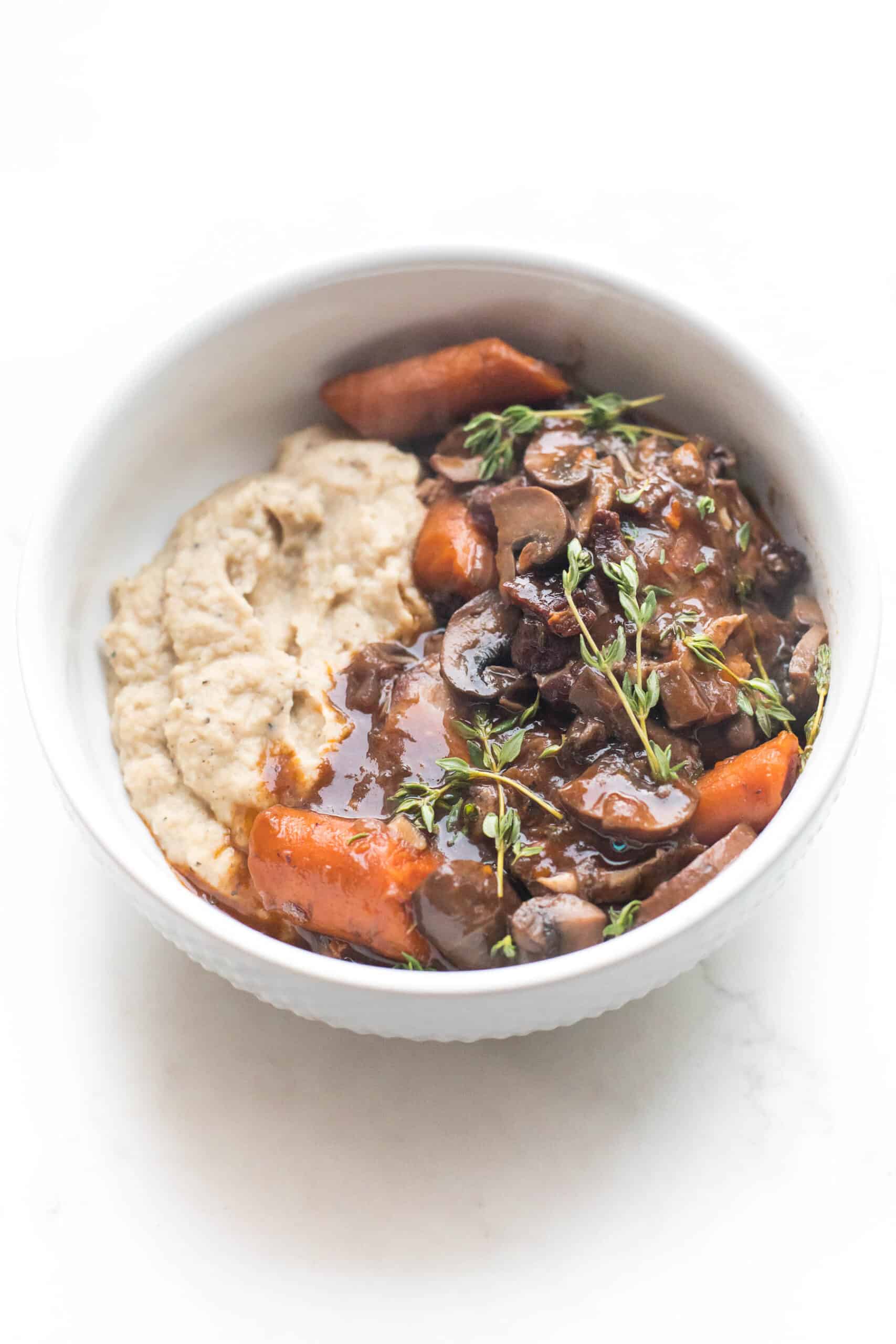 Thickening The Sauce
The best part of this whole meal is the red wine sauce. Since the steam can't escape from the instant pot while cooking, the sauce doesn't naturally thicken as it cooks down.
Instead, I thicken it manually by adding in a slurry of tapioca starch after it's done cooking. Thickens it *just enough* to be able to coat a spoon. So simple and worth the extra step.
Watch Coq Au Vin Recipe Demo Video
If you make this instant pot coq au vin recipe be sure to leave a comment and give this recipe a rating! I love to hear from you all and always do my best to respond to each and every comment. And of course, if you do make this recipe, don't forget to share and tag me on Instagram! Looking through the photos of recipes you all have made is my favorite!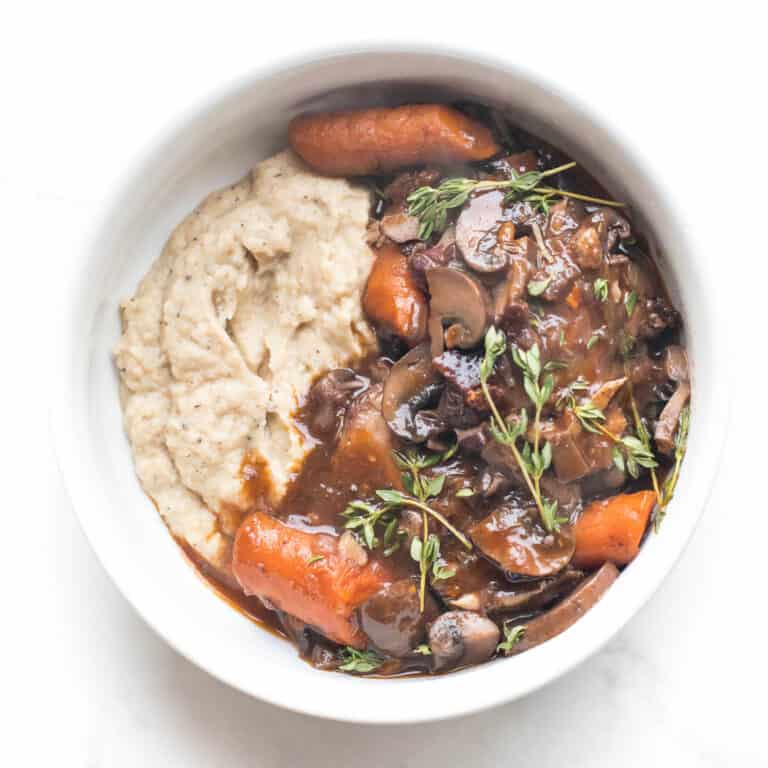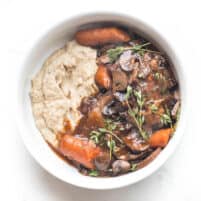 Keto Instant Pot Coq Au Vin
Low carb chicken braised in red wine sauce with carrots, mushrooms and onions. Slow cooker and dutch oven directions too!
Ingredients
4

slices

of thick cut bacon

,

chopped

2

pounds

skin-on bone-in chicken thighs

1

yellow onion

,

chopped

3

cloves

of garlic

,

grated or finely minced

1

cup

red wine

3/4

cup

chicken stock

2

tablespoons

tomato paste

12

ounces

mushrooms

,

sliced (about 4 cups)

4

carrots

,

chopped into 1" pieces (about 2 cups)

4

sprigs of fresh thyme

2

tablespoons

tapioca starch

kosher salt + pepper
Instructions
Press the SAUTEE button on your instant pot. Add in the chopped bacon and cook until crispy, stirring occasionally, about 5 minutes. Transfer the cooked bacon to a paper towel lined plate. Set aside.

Season the chicken with kosher salt + pepper. In the bacon drippings, brown the chicken thighs in batches so you don't overcrowd the instant pot. Cook them skin side down for 5 minutes until golden brown. (You only need to cook the skin side. The rest of the chicken will cook in the instant pot, just developing flavor from the skin!) Transfer the cooked chicken to a plate.

Pour off all but 2 tablespoons of the cooking fat from the instant pot. Add in the chopped onion and garlic. Season with kosher salt. Cook for 5 minutes until soft, scraping up all the brown bits from the bottom of the instant pot. Add the garlic and cook for 30 seconds until fragrant.

To the instant pot on top of the cooking onions, add in the carrots, mushrooms, red wine, chicken stock, tomato paste, browned chicken and thyme. Stir to combine.

Close with the lid, and make sure the vent is at SEALING. Hit CANCEL, then cook on HIGH PRESSURE for 10 minutes. Will take about 10-15 minutes to reach pressure, then it will start counting down from 10. After the 10 minutes is up, do a QUICK RELEASE, where you move the valve to VENTING to release all the steam. Once all the steam is gone and the float valve has dropped, you can safely open the instant pot.

Remove the lid, and press SAUTEE to bring to a boil.

Make a slurry by scooping out 1 cup of the cooking liquid to a bowl and whisk with the 2 tablespoons tapioca starch. Try and remove all the lumps. Pour this back into the instant pot and stir to combine to thicken the sauce slightly.

Hit cancel, and let the coq au vin cool for a few minutes before serving, since it will be very hot. Stir in the cooked bacon bits, stir to combine. Taste for salt and pepper and adjust if needed.

Leftovers will keep in an airtight container refrigerated for at least 5 days, or frozen for at least 6 months.
Notes
Chicken: My favorite chicken to use for this is bone-in, skin-on chicken thighs. I get my organic chicken from ButcherBox, which I highly recommend! You could use boneless, skinless thighs, chicken breasts, drumsticks or a combination of all 3. If the cut of chicken you are using doesn't have a skin, you can skip the browning in Step 2, and just add the chicken in raw in Step 4. No need to adjust the cooking time. All the cuts of chicken will cook for 8 minutes. Thyme: I prefer using fresh thyme, but you could use dried thyme. I would add in 2 teaspoons dried thyme as a substitution. Wine: Cooking down the wine gets rid of all the alcohol! (Common question I get asked a lot, ha!) I don't have a specific wine preference, not much of a wine snob. I usually get something in the $10-$15 price range. Often Josh Cellars, mostly because my sons name is Josh, haha! If for some reason you don't drink wine, you could just use all chicken stock (2.5 cups) or a combo of chicken stock and balsamic vinegar (2-1/4 cup chicken stock and 1/4 cup balsamic vinegar) to give it more depth of flavor. Mushroom Substitute: If you don't like mushrooms, you can just substitute some chopped celery. Will add depth of flavor and great texture. Same amount. You can also optionally add in maybe 1-2 tablespoons of soy sauce/coconut aminos/balsamic vinegar to give it that "umami" flavor the mushrooms add. Taste your sauce once it's done cooking and decide if it needs it! Carrot Substitute: Poor carrots get such a bad rap in Keto. They are a little on the higher carb side, but so healthy for you! And delicious! I'm fine enjoying them in these smaller quantities. If you want this even more keto friendly, you could leave out the carrots and use celery instead. Same amount. Thickener: I prefer tapioca starch, but you could also use arrowroot powder. If you don't need this to be gluten free/keto friendly you could use flour or corn starch. Same quantities for all substitutions. Slow Cooker: Cook the bacon, chicken thighs and onions in your cast iron skillet over medium heat as directed above. Add to your slow cooker, and cook on LOW for 6-8 hours or HIGH for 3-4 hours. Then, cook uncovered for 30 minutes to reduce the sauce, and make the slurry. Dutch Oven: Use your dutch oven over medium heat and follow steps 1-4. Cover your dutch oven with a lid, and transfer to a 250ºF oven for 45 minutes. Transfer the dutch oven to your stove top. Skip step 6. Then continue with step 7-10. Freezing Instructions: Freeze in a freezer safe airtight container for at least 6 months. Thaw in the fridge overnight. Reheat either in the microwave until warm, about 3-5 minutes. Or reheat on the stove in a pot over medium heat for 5-10 minutes until warm.
Calories:
401
,
Total Carbs:
9.7
g
,
Protein:
23.6
g
,
Fat:
26.6
g
,
Fiber:
1.9
g
,
Net Carbs:
8
g
Did you make this recipe?
Please Leave a comment and give this recipe a rating!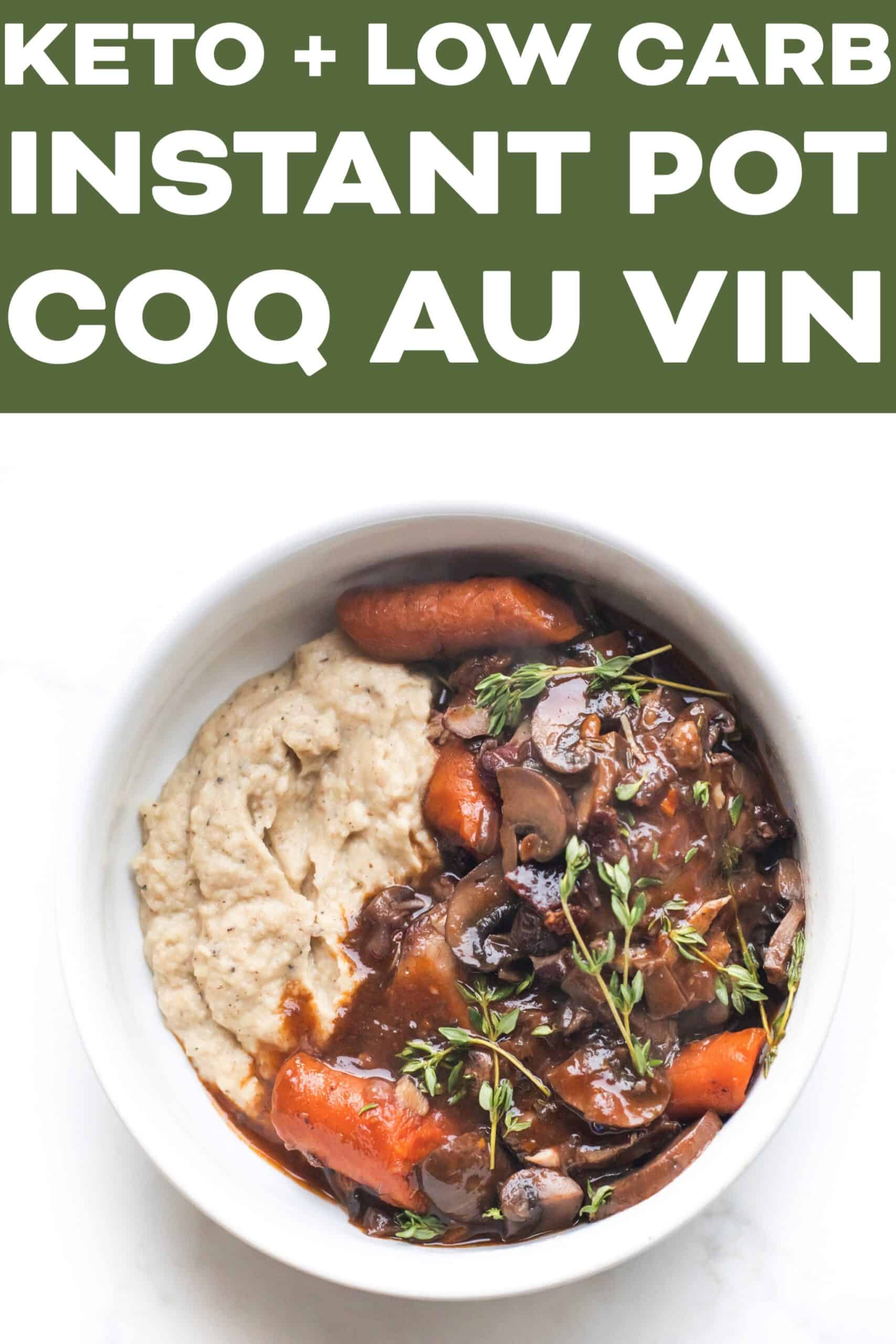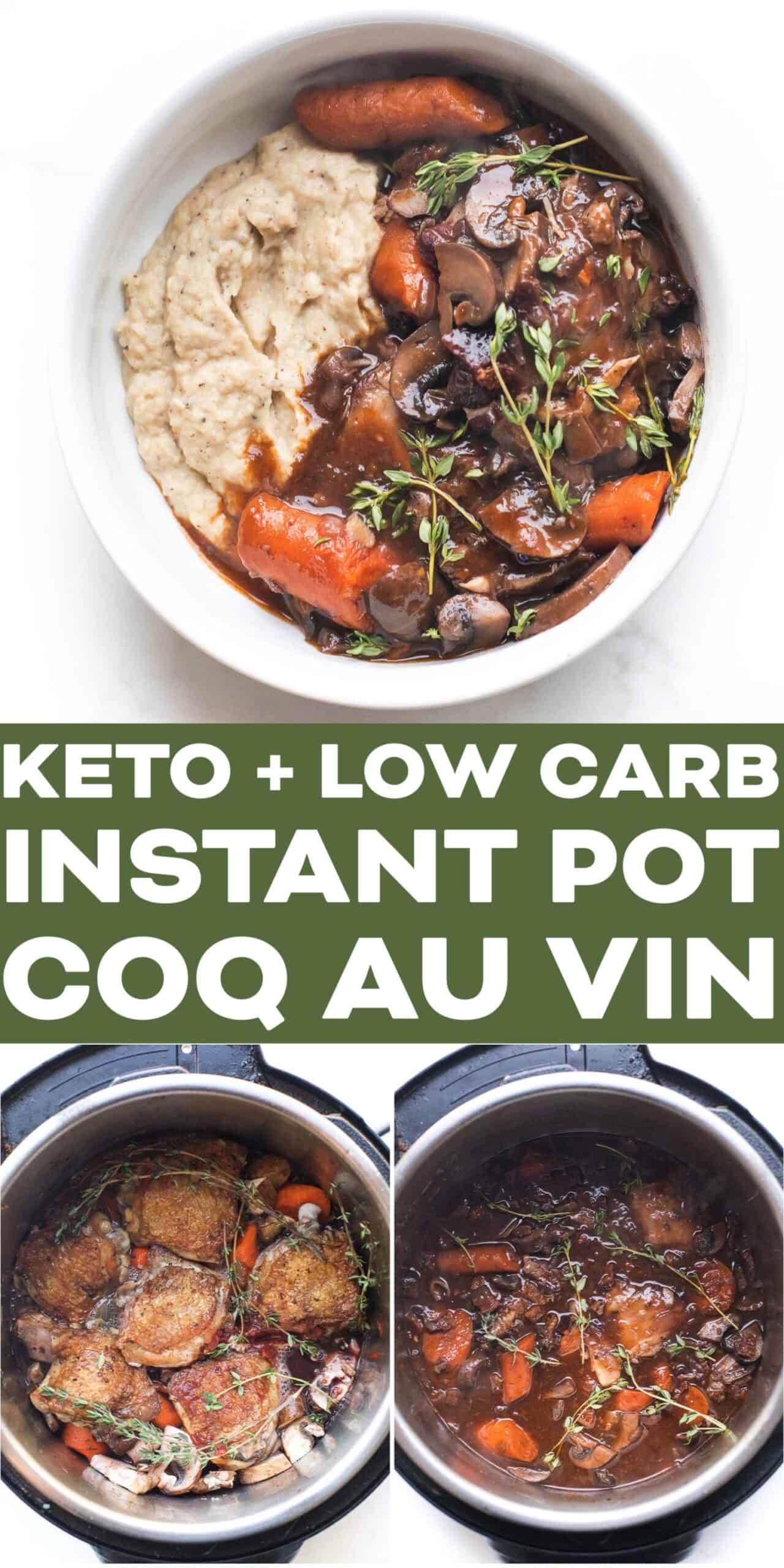 This post contains affiliate links, thanks for the love!