Paleo & Whole30 Pumpkin Turkey Chili – a no bean chili recipe you can make on the stove or in your slow cooker! Dairy free, gluten free, sugar free, clean eating.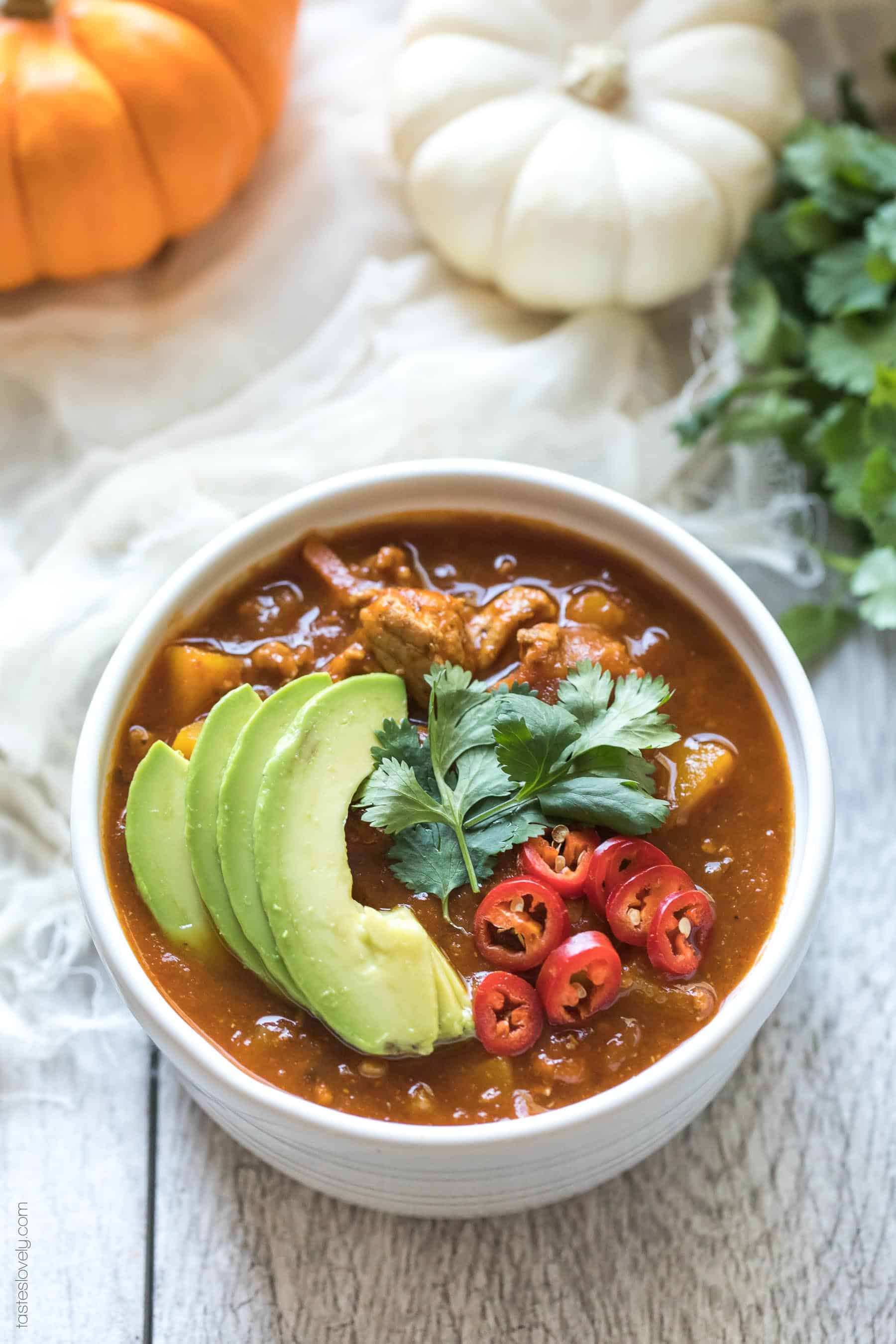 I wish you could all smell and taste how phenomenal this paleo & whole30 pumpkin turkey chili is.
Warm and fragrant, slightly sweet from the pumpkin and barely spicy from the spices, cozy and hearty. It is packed with vegetables and lean ground turkey. I have a feeling I am going to be making this chili all October long.
This is a very special chili because it is a no bean chili, making it paleo and whole30 compliant. You don't even miss the beans! Instead, I added in lots of good-for-you vegetables. I actually like this more than chili that has beans in it!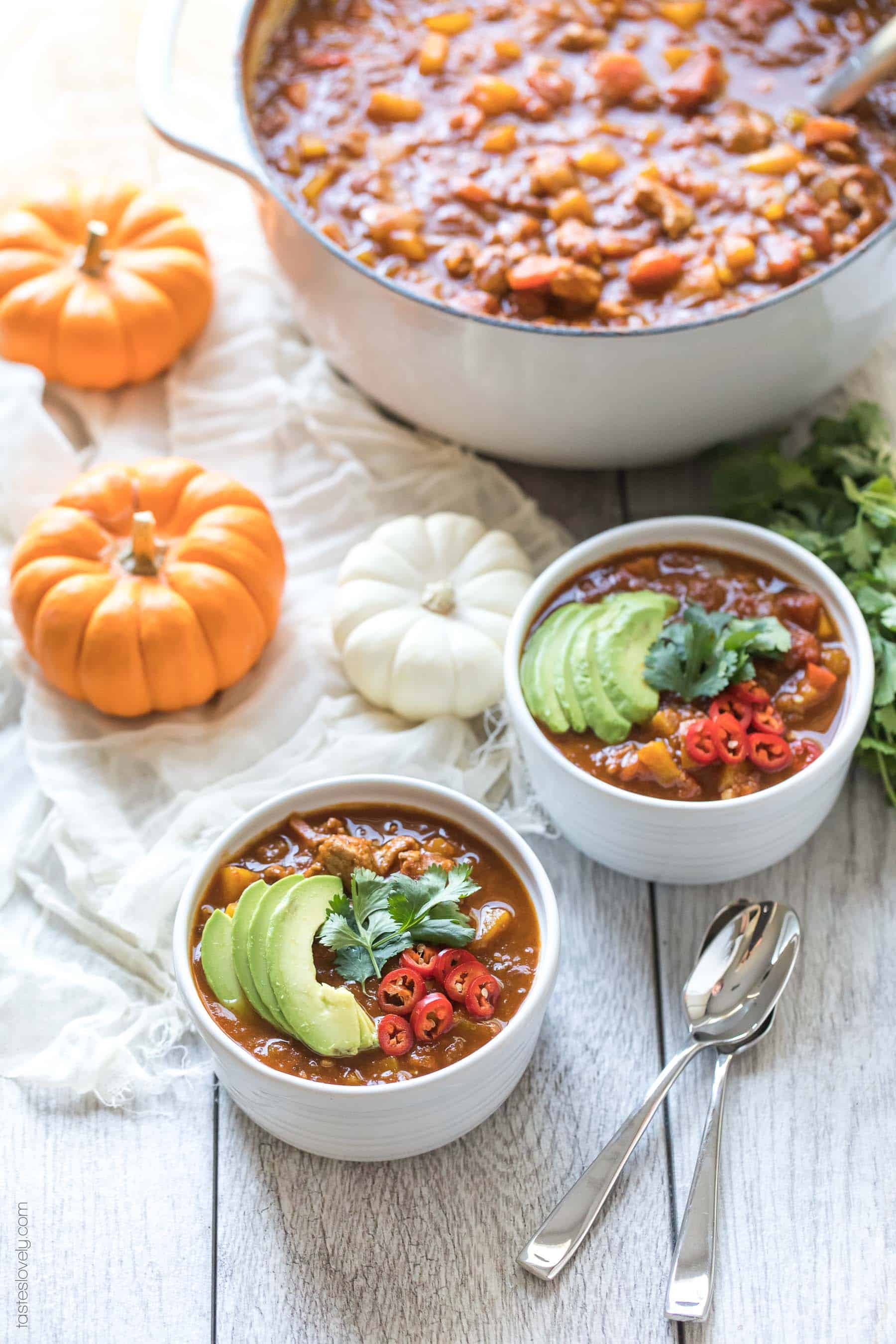 I developed this recipe because I wanted to come up with a signature Halloween dinner that I can make every year. My mom made us BBQ pulled chicken sandwiches, and I always associate those with Halloween growing up. Our toddler will almost be 2 this Halloween, and it is fun coming up with traditions that will carry on with our family through the years.
I wanted something that I can make ahead of time, since Halloween is usually a day of running around and fun. A dinner that was packed with vegetables to combat all the candy that will be consumed. And a recipe that has pumpkin in it. This pumpkin turkey chili marked all those boxes, and it is going to be our official family Halloween night dinner!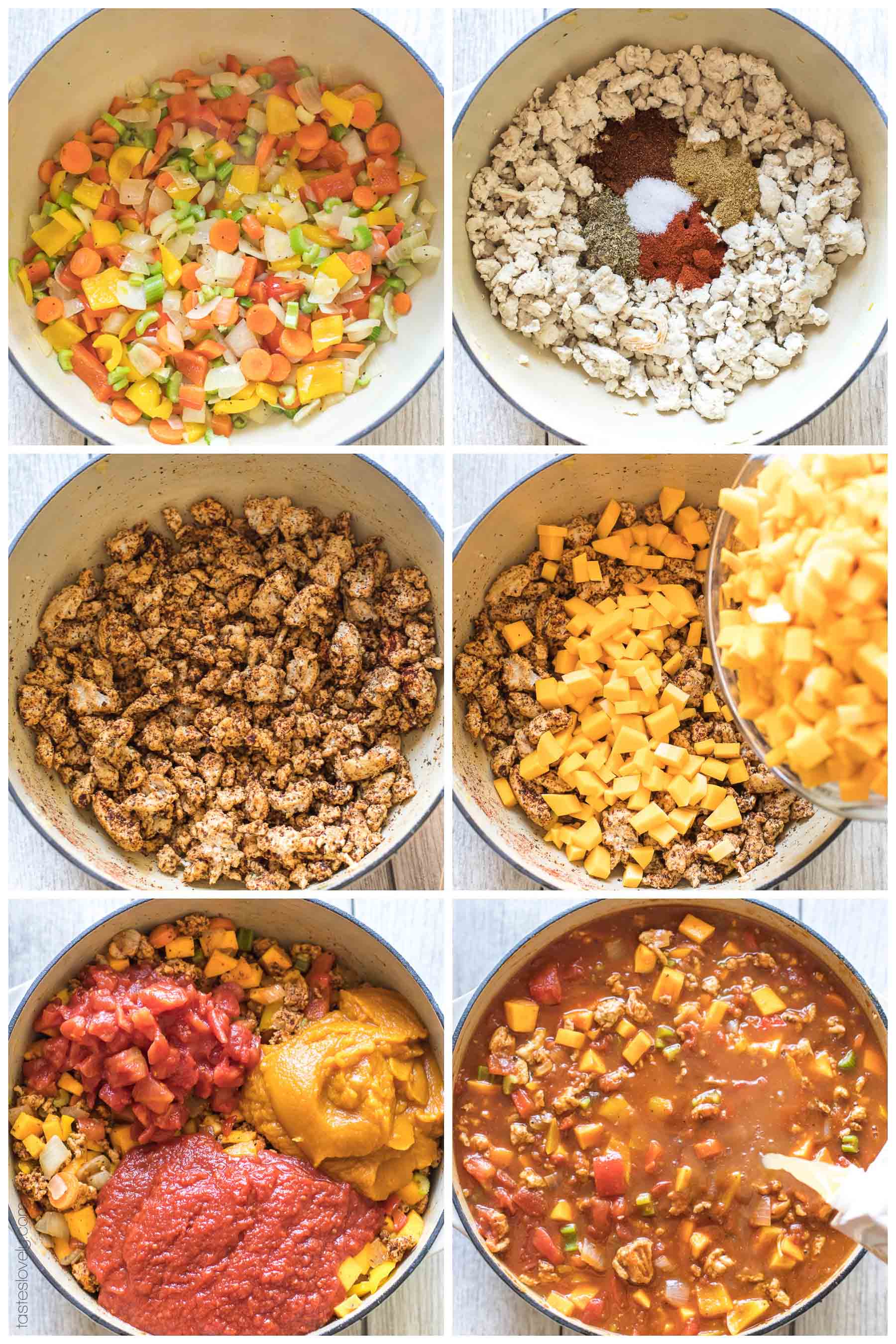 This pumpkin turkey chili is packed with vegetables. Bell pepper, carrots, celery, onions, butternut squash, pumpkin puree and tomatoes. It gets a lot of protein from the ground turkey. I prefer a 93% lean ground turkey in this chili recipe. And it is flavored with tons of delicious, warm spices. Chili powder, cumin, smoked paprika and oregano.
I kept this chili very mild so it will be kid friendly. It has tons of flavor and spices, but is barely spicy. My toddler eats it no problem. But if you like your chili spicier, add more chili powder, some cayenne pepper and top it with lots of sliced jalapenos. My husband likes his chili spicy, and tops his chili with almost 2 entire jalapenos, ha!
I serve it with all the great toppings. Sliced avocado, chopped cilantro, diced onions, wedges of lime, sliced jalapenos, whatever your favorites are.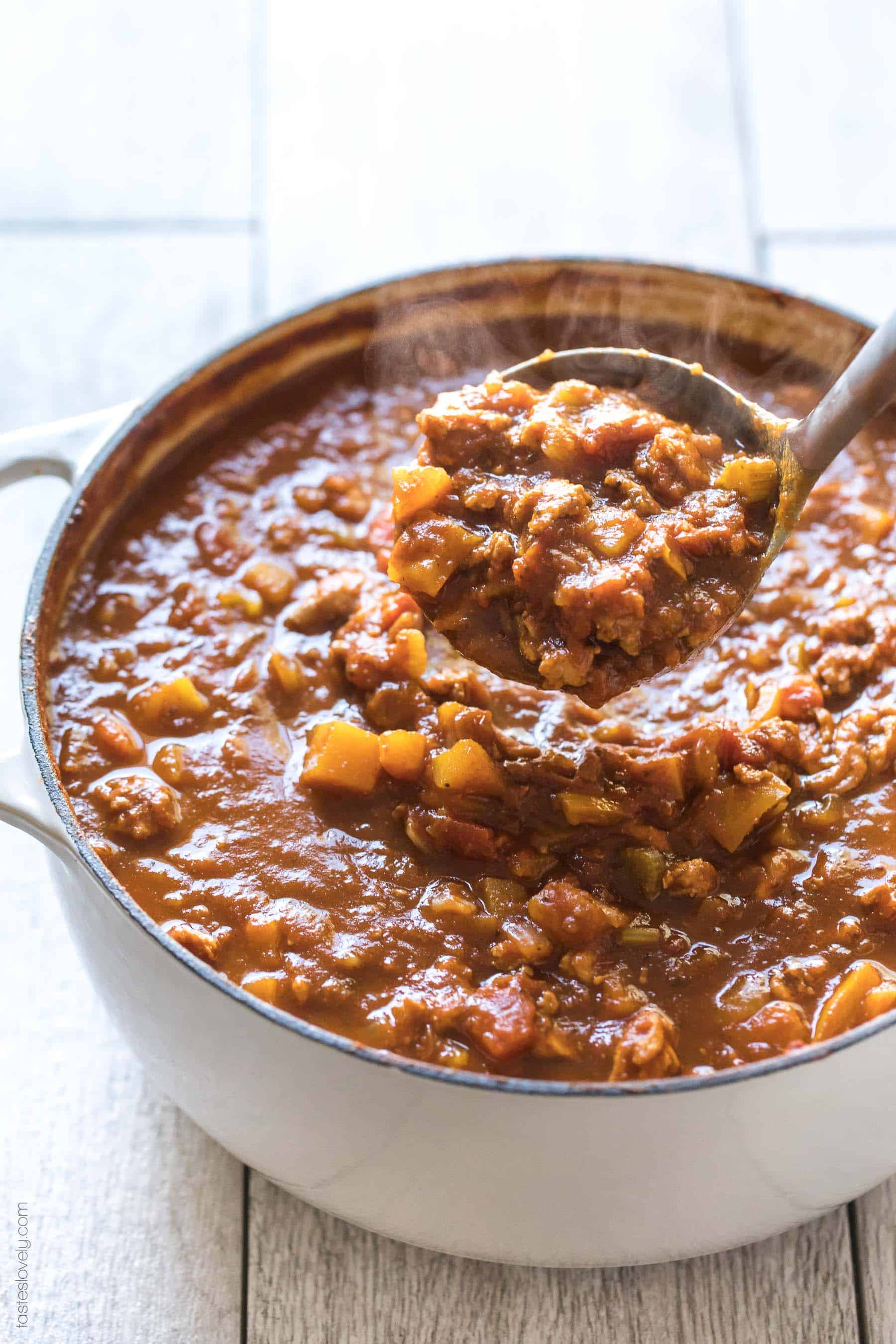 I love this paleo & whole30 pumpkin chili because I can make it ahead of time. I have directions for cooking it on the stove top or in the Notes section if you want to cook it in the slow cooker. Or you can be extra organized and make it far in advance. It freezes beautifully. And keeps in the fridge for 5 days.
Since it does freeze so beautifully, I almost always make a double batch when I'm cooking it. Half we have for dinner and leftovers, and the other half I freeze.
Best of all, this pumpkin turkey chili is so healthy! Paleo, whole30 approved, gluten free, grain free, dairy free, sugar free and clean eating.
Print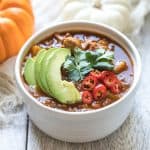 Paleo & Whole30 Pumpkin Turkey Chili
---
Author:

Prep Time:

30 mins

Cook Time:

1 hour

Total Time:

1 hour 30 mins

Yield:

6-8 people
Ingredients
1 large yellow onion, chopped
1 red bell pepper, chopped
1 yellow bell pepper, chopped
2 medium carrots, chopped
4 medium celery stalks, chopped
2 cloves of garlic, grated or finely minced
2 tablespoons olive oil
2 pounds 93% lean ground turkey
3 tablespoons chili powder
1 tablespoon cumin
1 tablespoon smoked paprika
2 teaspoons dried oregano
2 teaspoons salt
2 teaspoons pepper
1/2 of a medium butternut squash, chopped (about 2 cups)
15 ounce can pumpkin puree
14.5 ounce can diced tomatoes
15 ounce can marinara sauce
2 cups chicken stock
toppings of choice: sliced jalapeno, scallions, avocado, diced red onion, cilantro, limes, etc.
---
Instructions
Heat a dutch oven or large soup pot over medium high heat. Add 1 tablespoon olive oil and cook the onions, bell peppers, carrots, celery, garlic 1 teaspoon salt and pepper for 10 minutes until softened. Transfer to a bowl.
In the same dutch oven over medium low heat, add 1 tablespoon olive oil and cook the turkey for 10 minutes.
Add the spices and remaining 1 teaspoon salt and pepper. Stir to combine with the turkey.
Add the cooked vegetables back to the dutch oven, along with the butternut squash, pumpkin, diced tomatoes, marinara sauce and chicken stock. Stir to combine.
Cook over medium low heat for 1-2 hours, until the vegetables are tender. Taste and add more seasonings/salt if desired.
Serve warm with desired toppings.
Leftovers will keep in an airtight container refrigerated for 5 days, or frozen for up to 1 year.
Notes
This can also be made in the slow cooker. After the turkey is cooked, transfer the cooked turkey to the slow cooker. Then add the spices, all vegetables, canned pumpkin, diced tomatoes, marinara sauce and chicken stock to the slow cooker. Cook on high for 4 hours, or low for 8 hours.
This is a very mild chili, so kid friendly. My 1 year old loves it! Feel free to add more chili powder, jalapenos and/or cayenne pepper if you like it spicy.
I usually double the recipe when I cook it, and serve the leftovers for lunch for the week, or freeze the rest. If you double it there is just enough room to fit in a dutch oven or slow cooker.

More Paleo & Whole30 Soup Recipes: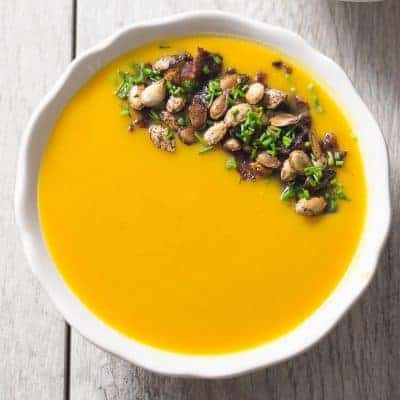 Paleo & Whole30 Roasted Butternut Squash Soup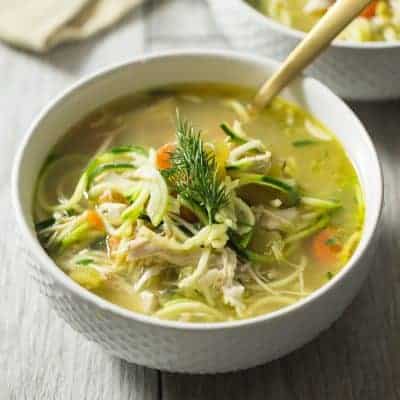 Paleo & Whole30 Chicken Zoodle Soup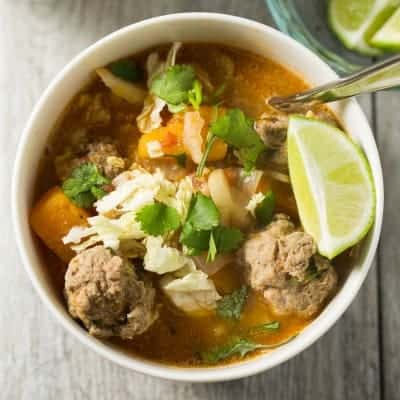 Paleo & Whole30 Winter Albondigas Soup
This post contains affiliate links, thanks for the love!
Never Miss a Recipe!
Get new posts delivered straight to your inbox! For free!