The PERFECT Paleo, Whole30 and Keto Roast Chicken with root vegetables and gravy recipe – how to get crispy skin and juicy chicken every single time. Dairy free, gluten free, grain free, clean eating.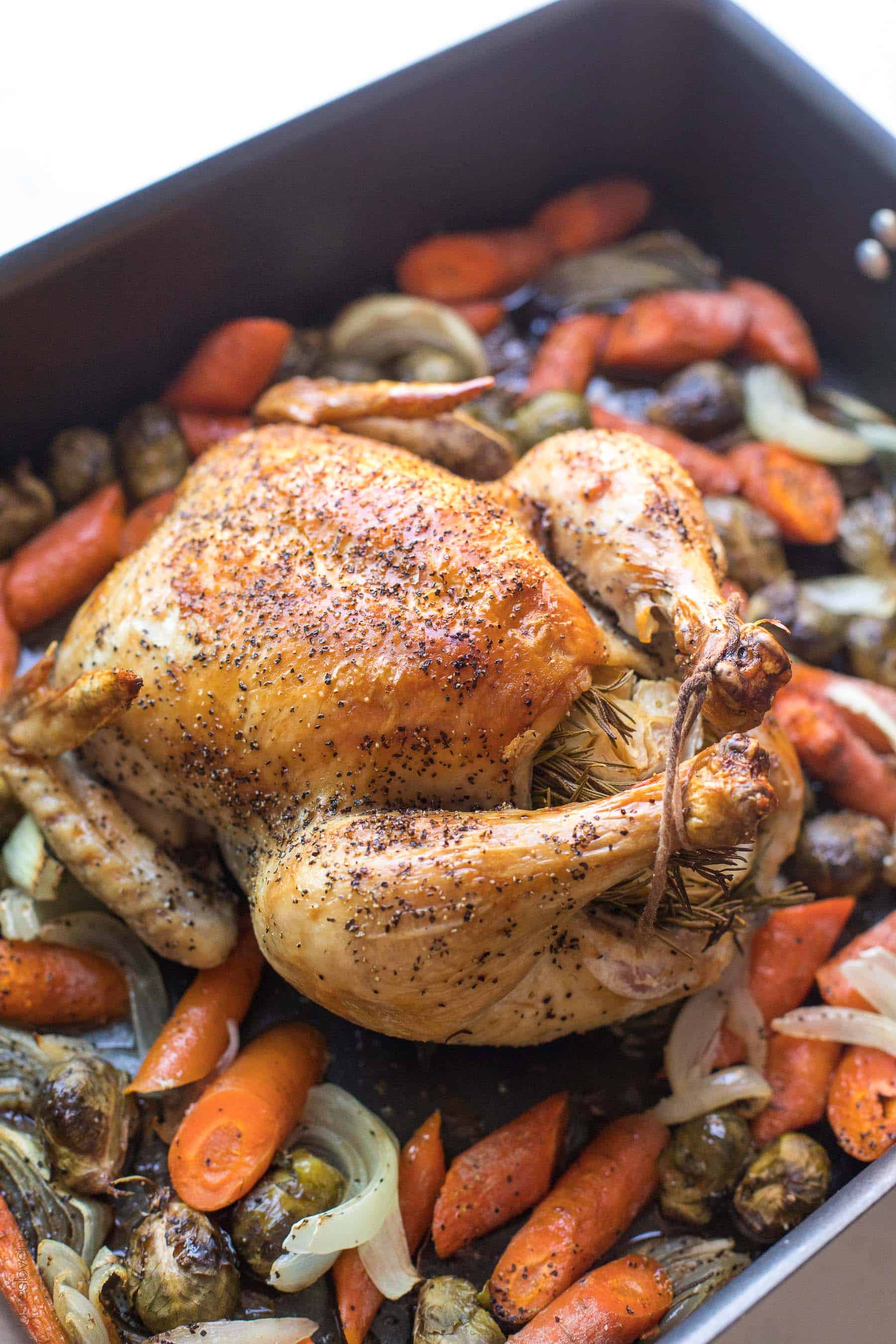 If I had to pick a favorite dinner, one that I love and is the epitome of everything I love about cooking, it would be this roast chicken.
This dinner is absolute perfection. Roasted chicken with crispy skin, flavored with herbs and lemon and garlic. Roasted over root vegetables that soften and caramelize in the flavorful drippings. Served warm with a paleo + whole30 gravy.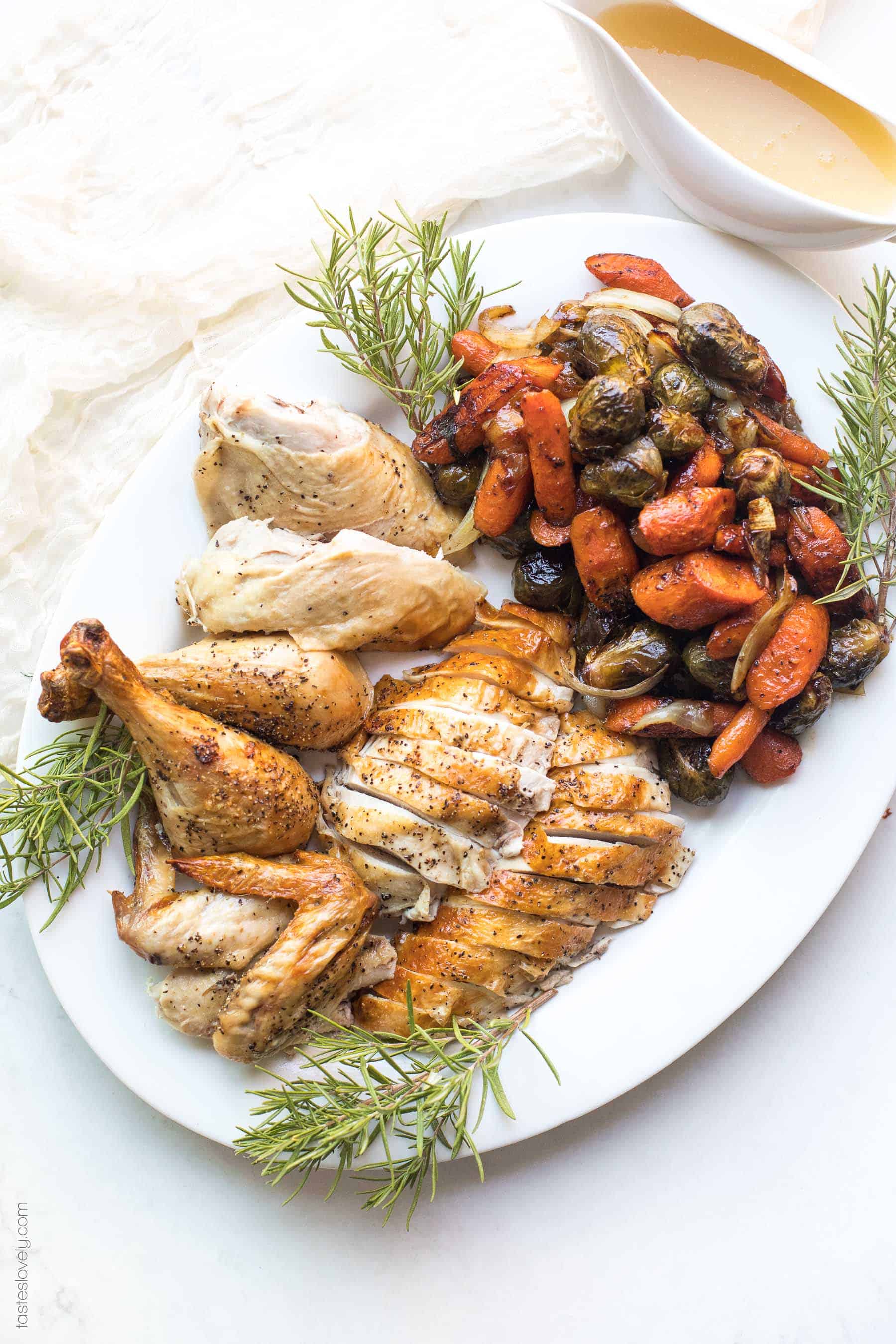 I adore this dinner because the oven does all the work for me. I just prep the chicken and vegetables, put them all in my roasting pan, and a little more than an hour later dinner is ready.
I often make this dinner on Sunday's, which means I get even more time to spend with my boys and less time in the kitchen. Then I use the leftover chicken in lunches the rest of the week.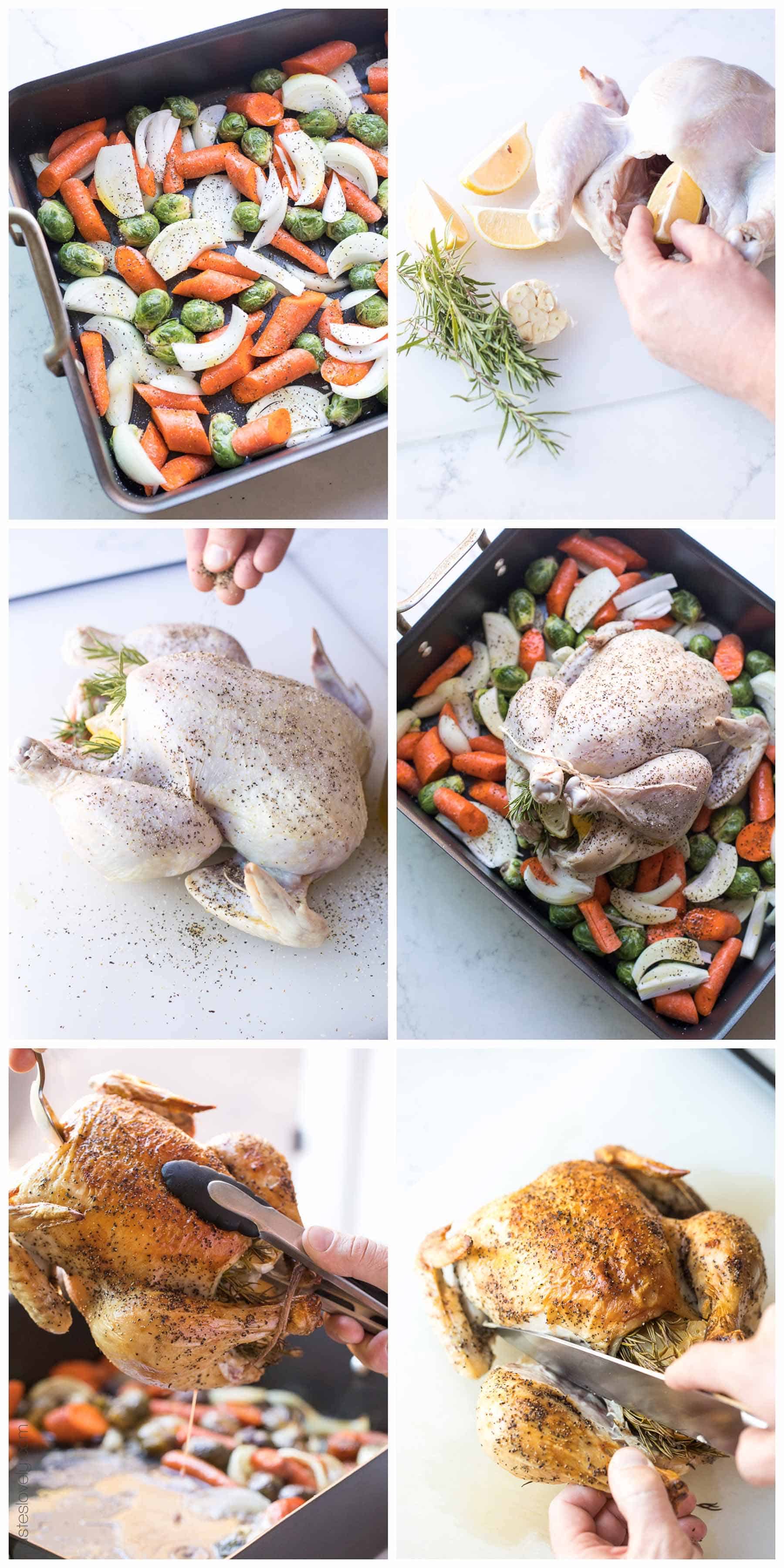 Flavoring the Simple Roast Chicken
I stuff the carcass of the chicken with rosemary, lemon, a head of garlic, and season it simply with salt and pepper.
To help the skin crisp up a bit, I use a pastry brush to spread on a thin layer of olive oil. As it roasts, the skin will get ultra crispy and golden brown. I don't even baste it, because it will prevent the skin of crisping up. I prefer all the juices get absorbed by the vegetables.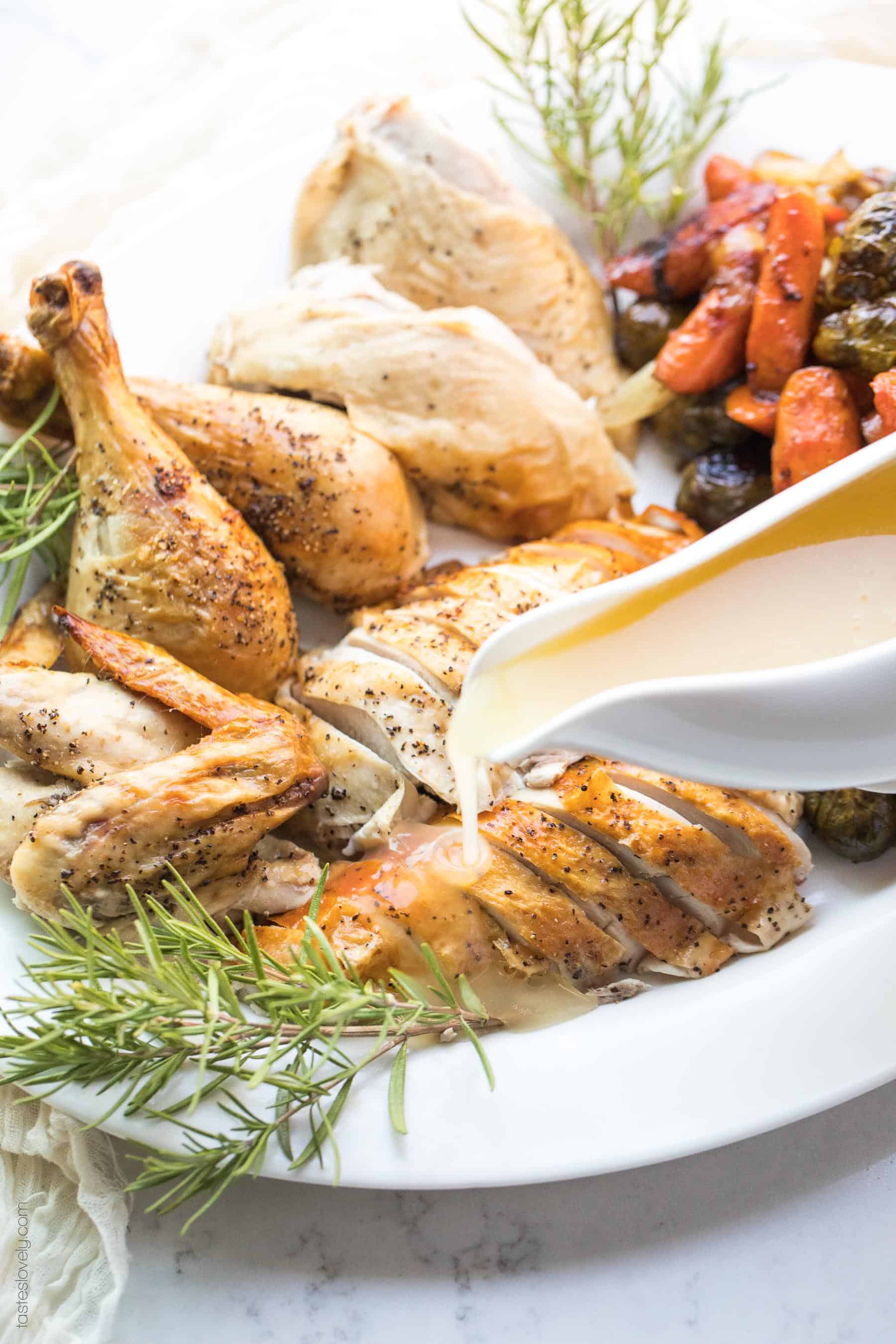 Roast Chicken with Gravy
After it's done roasting, I let it rest while I make my amazing paleo + whole30 gravy. I use homemade chicken stock (recipe coming soon!) since the vegetables absorbed must of the chicken drippings.
Then my husband carves up the chicken while we both sneak bites because OMG IT IS SO GOOD!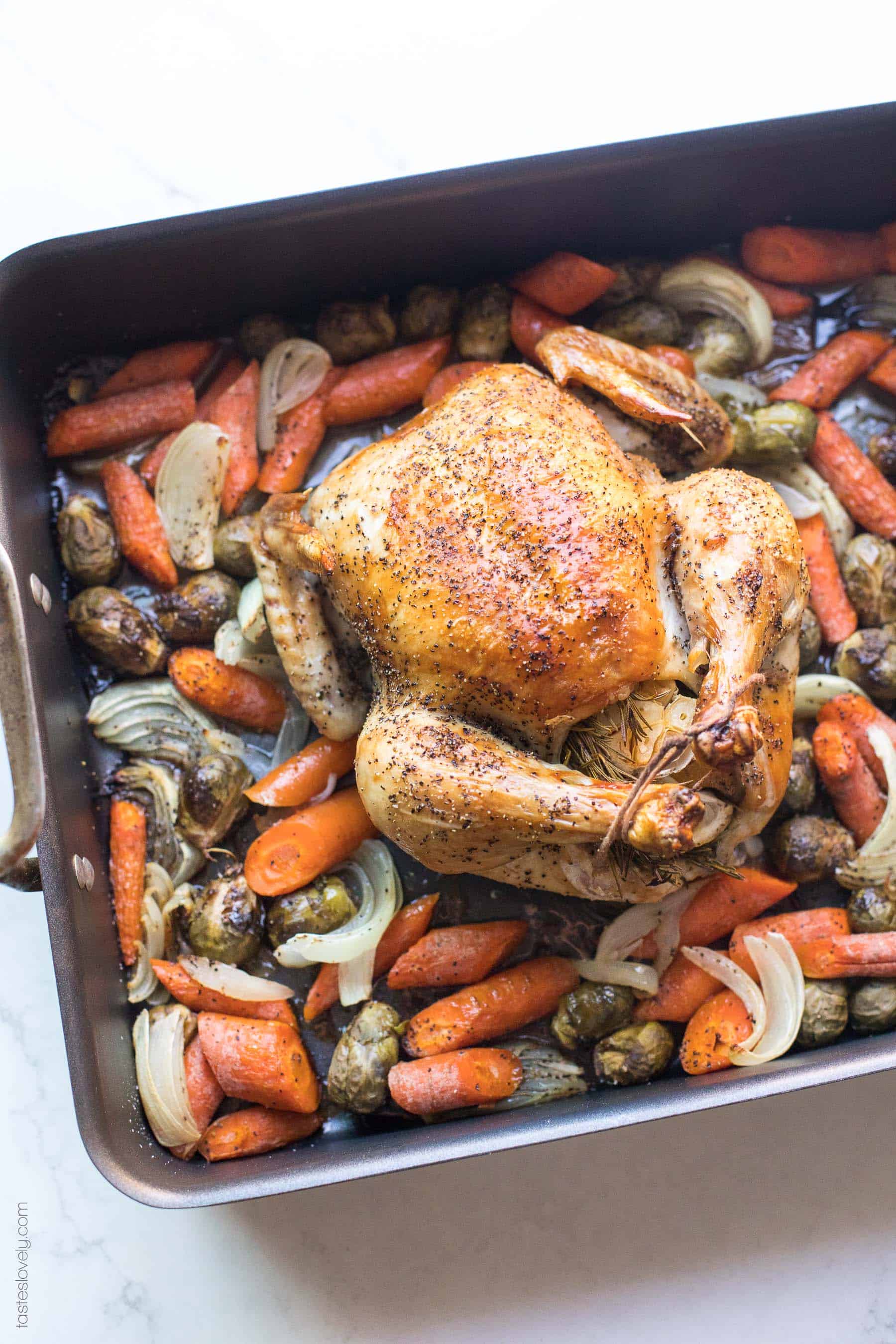 I use whatever vegetables I have on hand. Always carrots and onions. Then I switch between using either brussels sprouts, broccoli, cauliflower, potatoes, parsnips or turnips. You just want to be sure to use a sturdy vegetable.
Your whole family will be singing your praises after making them this perfect roast chicken. And you're going to be thrilled with how healthy it is! Paleo, whole30, keto, gluten free, grain free, dairy free, sugar free, soy free, clean eating, real food.
Print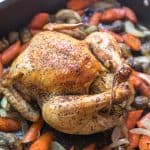 Perfect Roast Chicken (Paleo, Whole30, Keto)
---
Author:

Prep Time:

10 minutes

Cook Time:

70 minutes

Total Time:

1 hour 20 minutes

Yield:

4

1

x
Ingredients
Chicken
(1) 5 to 6 pound whole chicken (I get my chicken from ButcherBox, which I highly recommend)
1 lemon, cut into quarters
1 head of garlic, cut in half
6 sprigs of fresh rosemary
1 tablespoon kosher salt
1 tablespoon pepper
1 tablespoon olive oil
Vegetables
8 medium carrots, cut into 1.5" chunks
1 pound of brussels sprouts, whole
2 yellow onions, sliced
2 teaspoons olive oil
2 teaspoons salt
2 teaspoons pepper
Kitchen Equipment Needed
---
Instructions
Preheat oven to 425ºF with the oven rack in the lower third.
Remove the gizzards from the chicken, rinse the inside and outside under water, and pat dry until it is completely dry. Any moisture will create steam and the skin won't get crispy. Leave on a cutting board at room temperature while you prepare the vegetables.
In the bottom of the roasting pan, place the vegetables in an even layer. Drizzle with 2 teaspoons olive oil, salt and pepper.
Stuff the inside of the chicken with the lemon, garlic and rosemary. Drizzle the outside of the chicken with 1 tablespoon olive oil. Use a pastry brush to brush the olive oil in an even layer. Sprinkle with 1 tablespoon salt and pepper. Place the chicken in the middle of the roasting pan on top of the vegetables.
Roast for 60-90 minutes, until the skin is golden and crispy and the thickest part of the breast has in internal temperature of 165ºF using a meat thermometer. Mine usually takes about 70 minutes.
Remove the roasting pan from oven. Lift the chicken out of the roasting pan, and tilt the chicken so all the internal juices drip on top of the vegetables. Put the chicken on a cutting board to rest for 10 minutes uncovered. (If you cover it, it creates steam and the chicken skin will get soggy!) Toss the vegetables in all the chicken juices, and return to the oven for another 10 minutes to caramelize.
Carve the chicken, and serve warm with the vegetables. This is great with my Whole30, Paleo and Keto Gravy and my Dairy Free Whole30 and Paleo Mashed Potatoes!
Leftovers will keep refrigerated for 5 days in an airtight container.
Notes
Feel free to use any root vegetables you have on hand! I've used parsnips, turnips, potatoes, etc.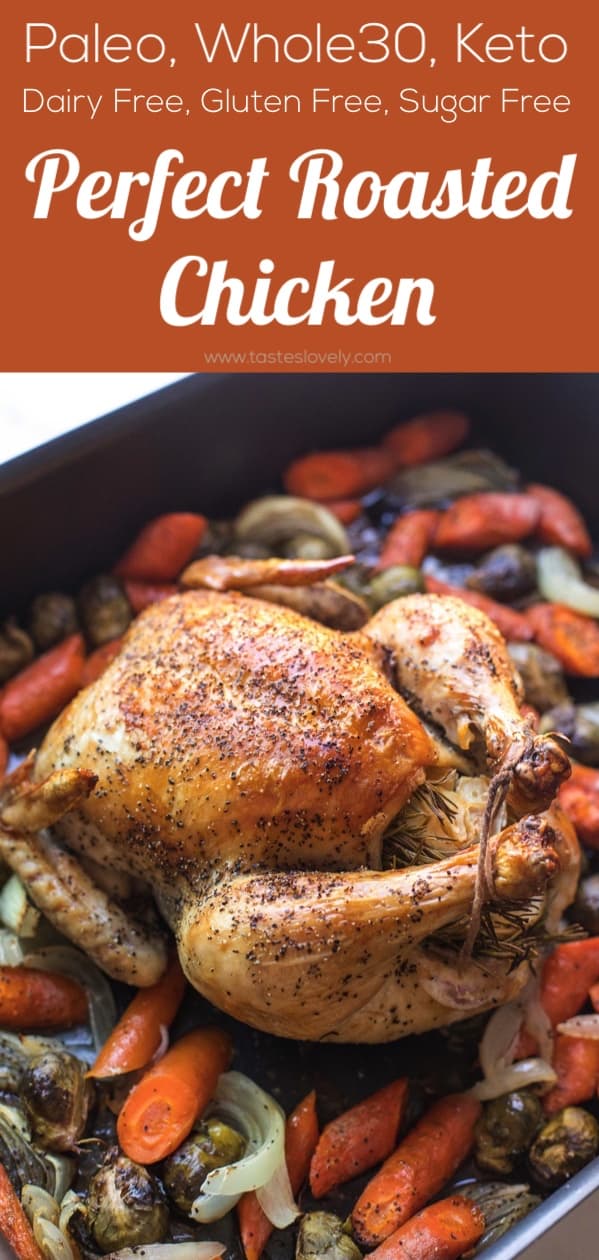 This post contains affiliate links, thanks for the love!
Never Miss a Recipe!
Get new posts delivered straight to your inbox! For free!