The BEST Paleo & Whole30 Gravy – you would never guess this was flour free, butter free, gluten free, grain free, dairy free! Just 3 ingredients and 5 minutes.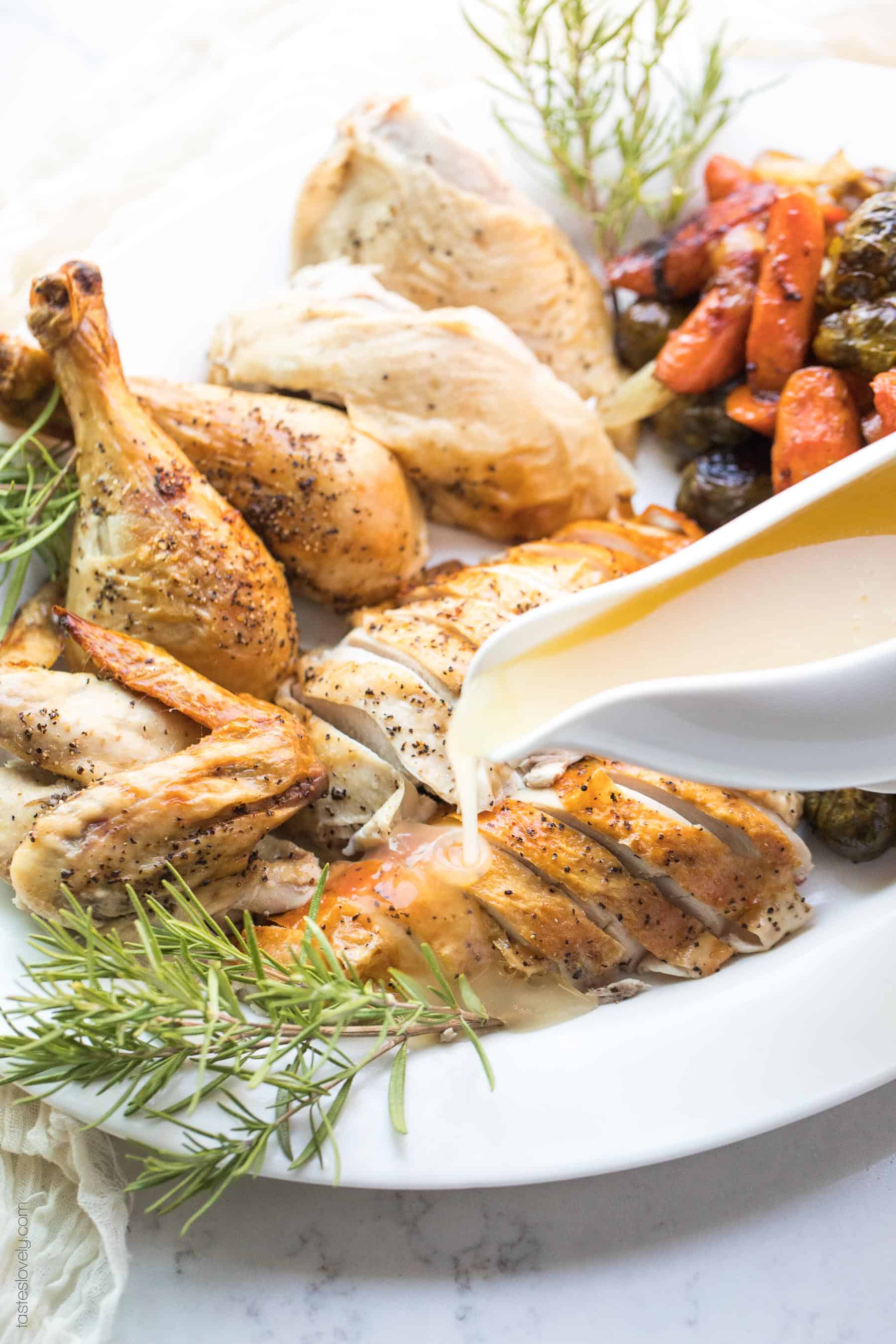 I am SO excited to be sharing this recipe with you!
I have gotten a TON of comments and emails from readers who are doing Whole30 or eating paleo asking for more Whole30 recipes and paleo recipes. Well, this one is an absolute winner!
Whole30 and paleo G R A V Y !!!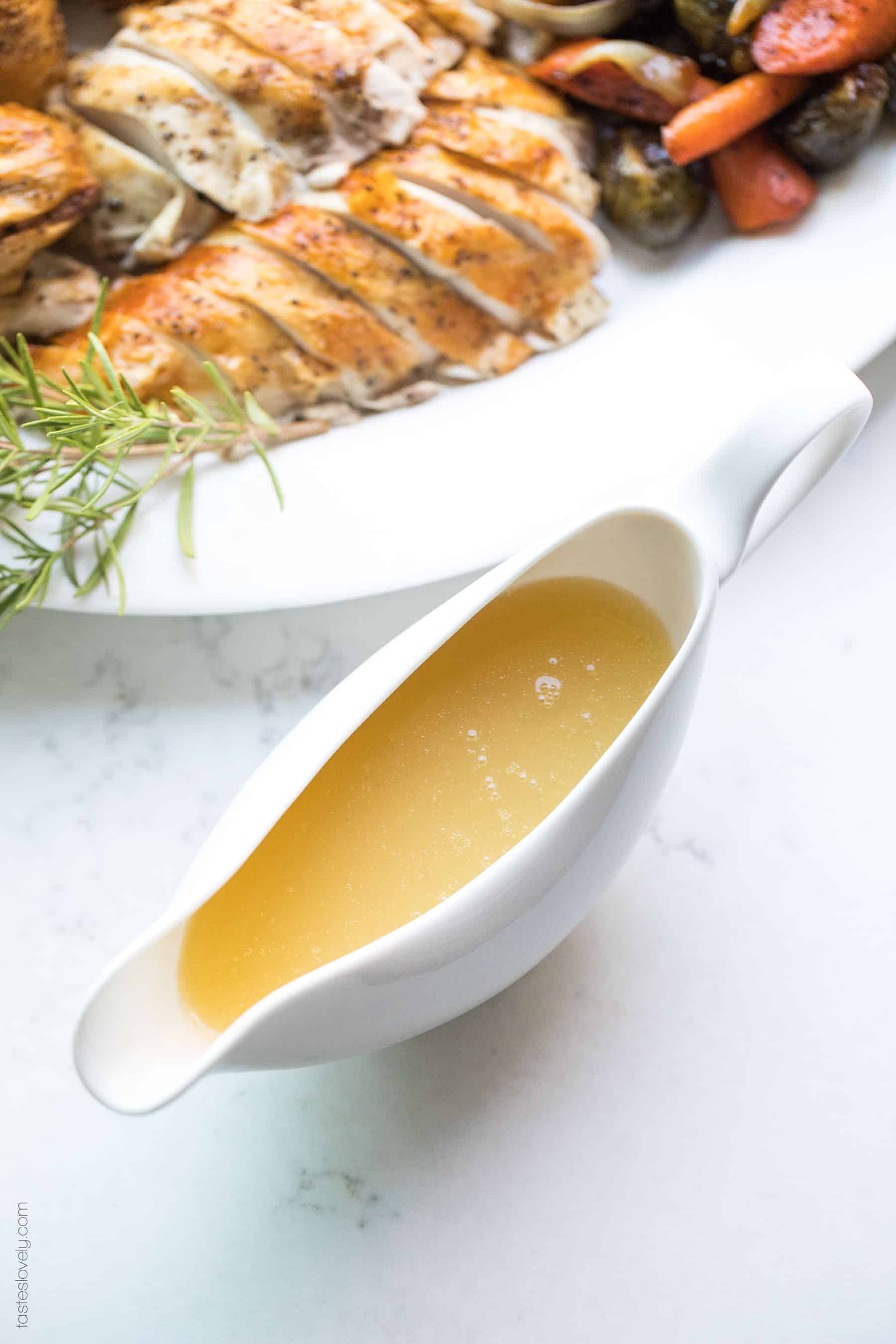 When I do Whole30 and eat paleo, I do a ton of roasted meat and vegetables for dinner. Whenever I roasted chicken or beef, I really missed gravy. It made the dinner even more comforting and delicious.
I knew to my usual gravy recipe wouldn't work, since it used butter and flour. But I got to thinking, I bet I could adjust it and make it  Whole30 and paleo friendly. After many, many trials, and quite a few errors, I've finally perfected the perfect gravy that is dairy free, gluten free, grain free, paleo and Whole30 friendly!
It is perfect to make a chicken gravy (perfect on a roast chicken, as seen in the above images) or a beef gravy (perfect on my paleo and whole30 pot roast, as seen in the below images).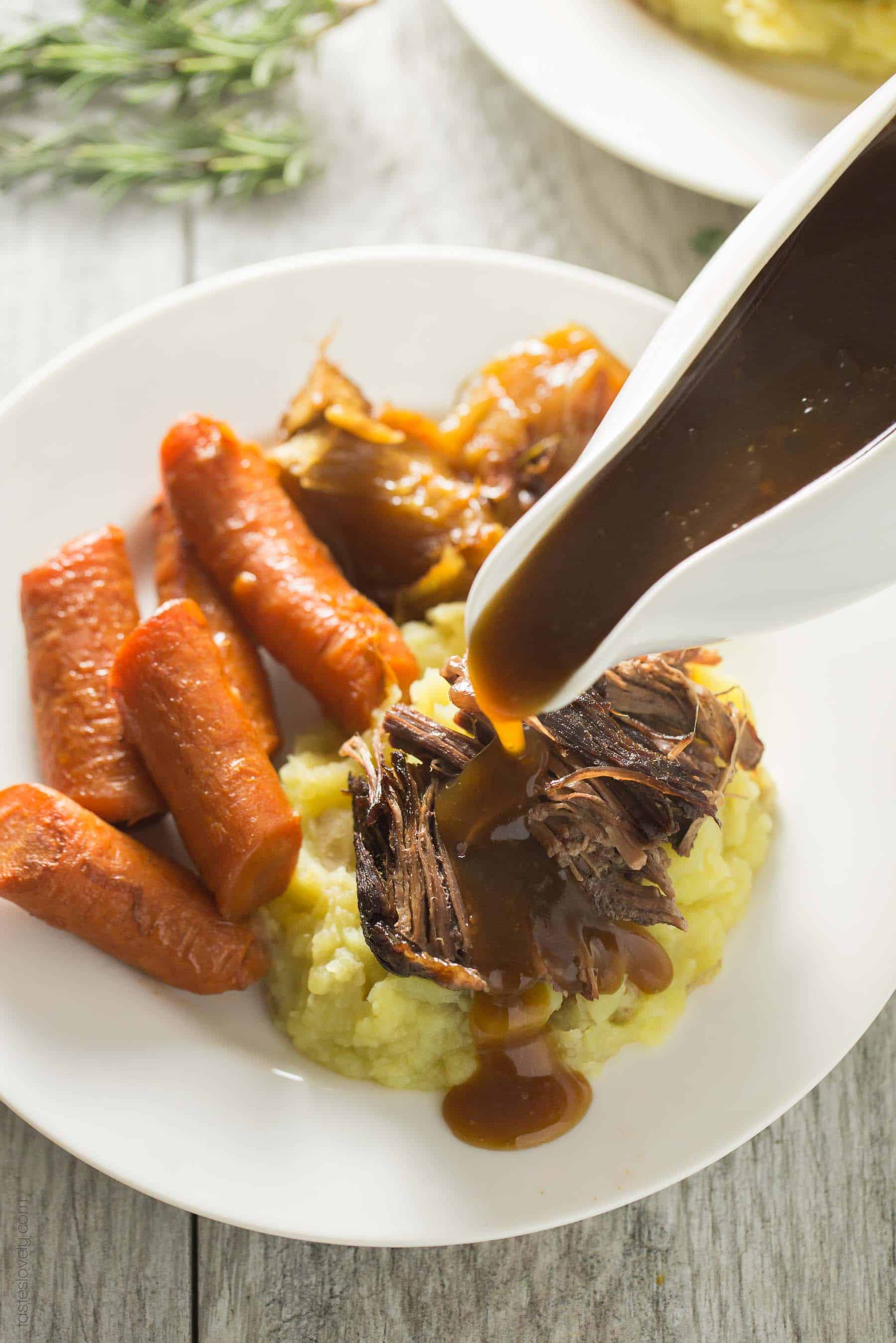 Rather than using butter, I used ghee.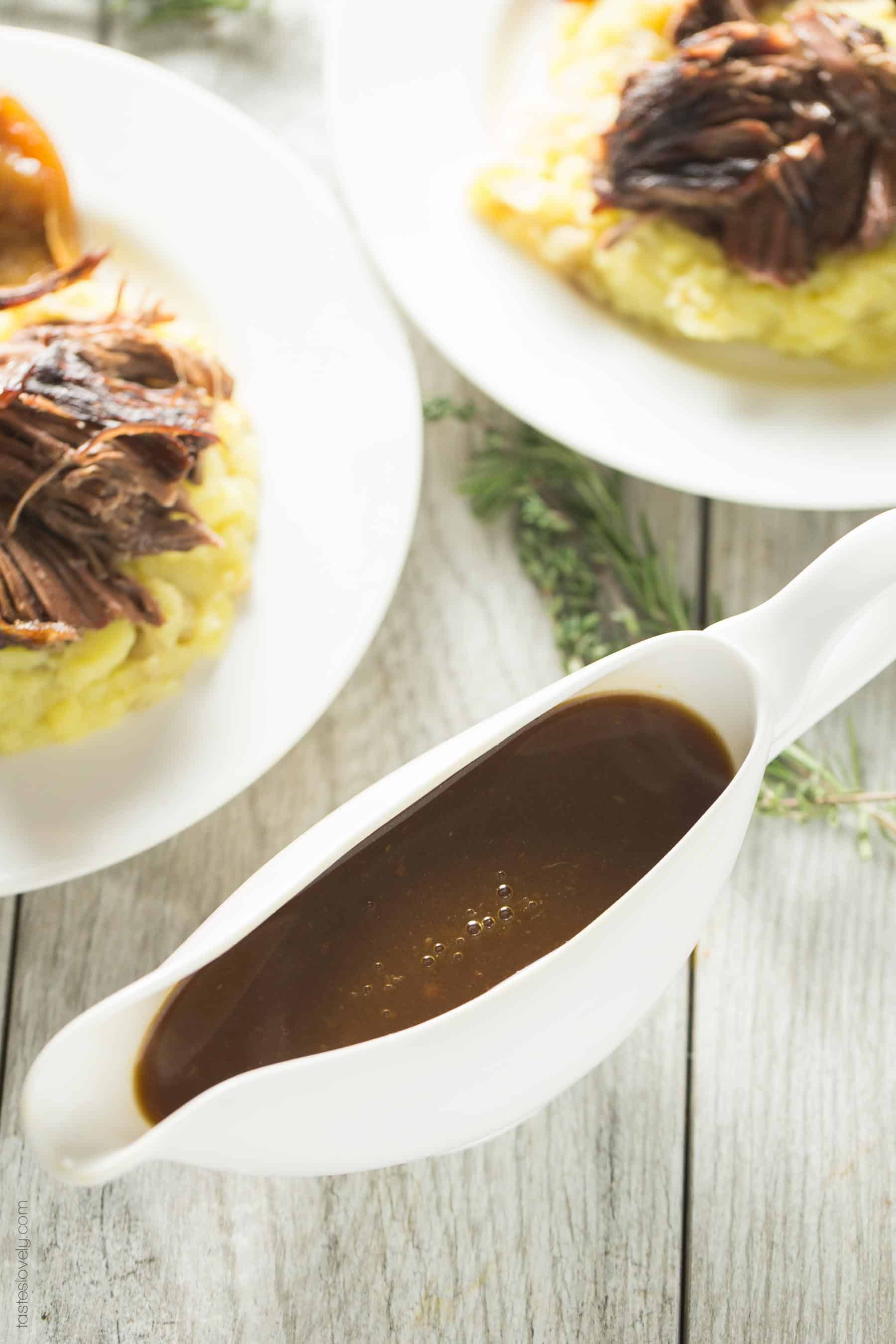 For the thickener, rather than using flour the best substitute I found was tapioca flour, also sometimes called tapioca starch, same thing. This is the tapioca flour I use and love. It is made from the starch extracted from the cassava plant, so 100% paleo and Whole30 friendly.
Arrowroot starch also works, but I don't love using it for gravies since it loses it's thickening abilities if it gets too hot or stays over heat for too long. But in a pinch, you can definitely use arrowroot starch, just cook the gravy over medium heat and try to prevent it from boiling.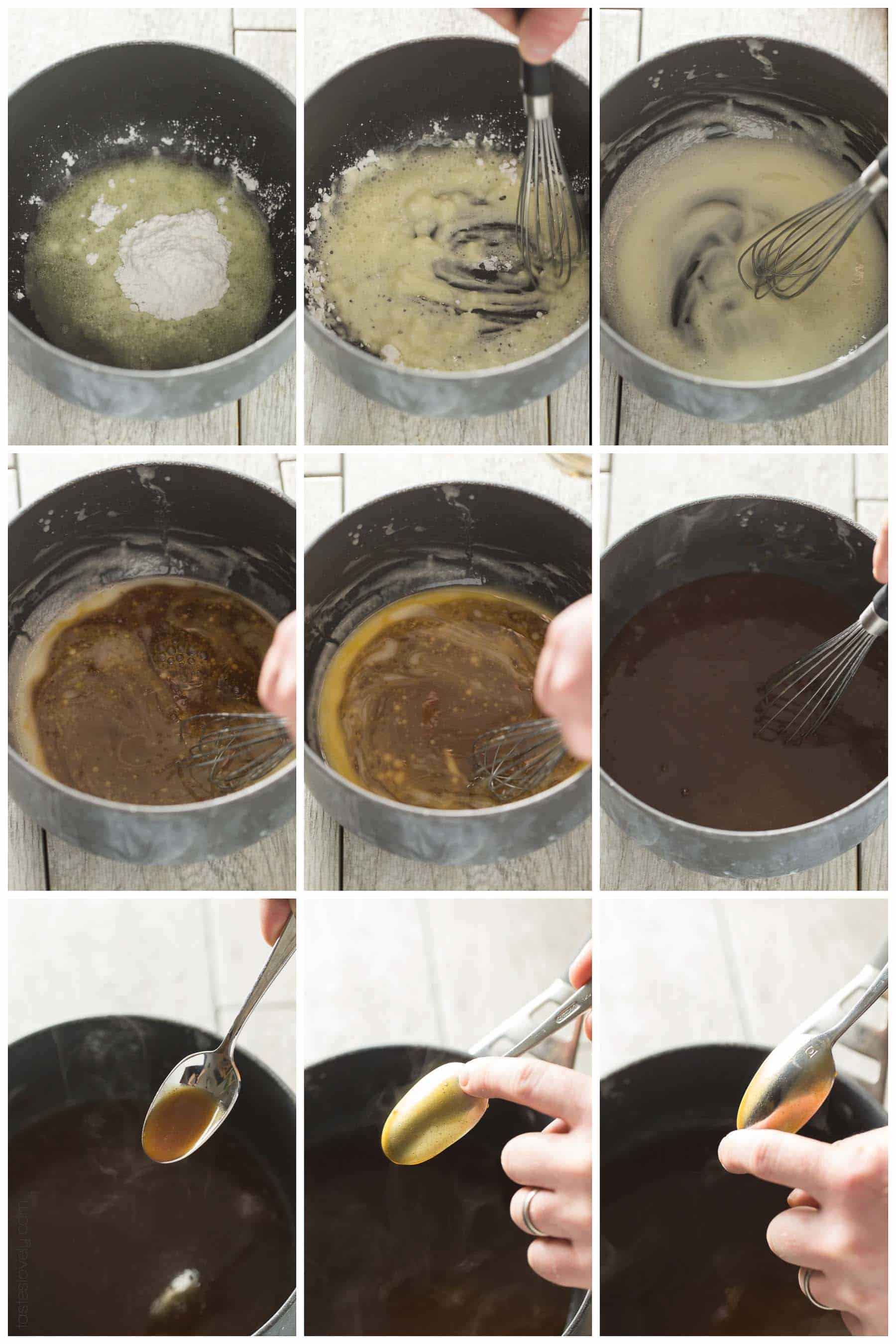 Then, I add in whatever stock that compliments the dinner I am making, chicken or beef (or even vegetable stock). Broth works too! If I can, I try to add in any natural meat drippings from what I'm making, like from roasted chicken or beef. It adds even more depth of flavor. I'll supplement with organic boxed stock to reach the full amount I need.
Then I serve it warm over my meat and vegetables. The gravy is delicious! It tastes exactly like the regular gravy I used to make. I can barely tell the difference. Even Shawn loves it, the meat and potatoes king. And I love it oh so much because it is so healthy and guilt free!
Watch How To Make Paleo + Whole30 Gravy
Print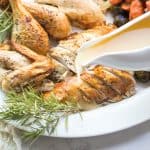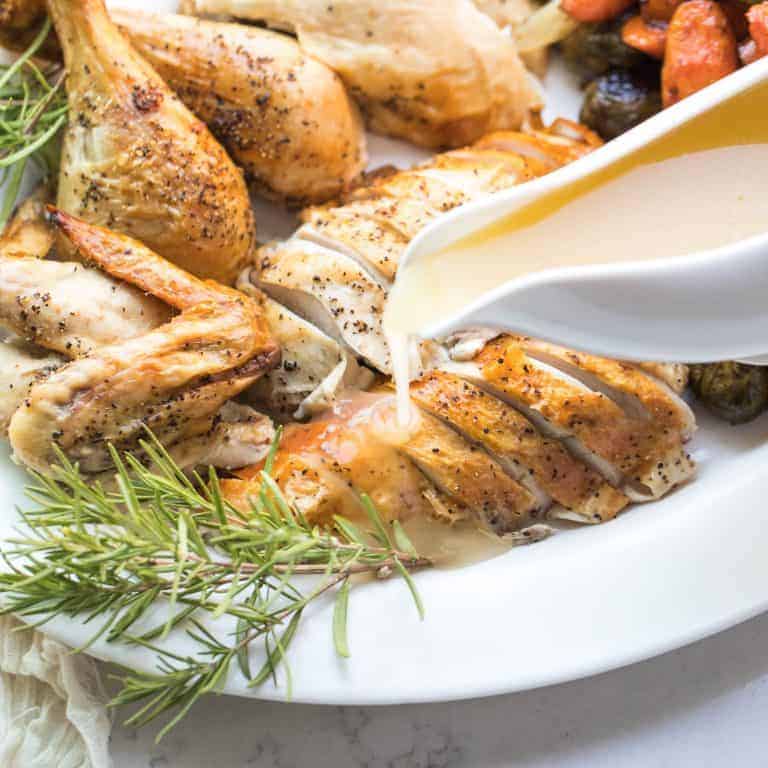 The BEST Paleo & Whole30 Gravy
---
Author:

Cook Time:

5 mins

Total Time:

5 mins

Yield:

2 cup

s

1

x
---
Instructions
Heat a medium size sauce pan over medium heat.
Melt the ghee. Once the ghee is completely melted, add in the tapioca flour and whisk vigorously until combined and there are no lumps. Cook for 30 seconds.
While whisking constantly, slowly pour in the stock. Cook for 1-2 minutes until thickened, whisking every few seconds.
Serve warm on top of meat and vegetables.
Leftovers will keep in an airtight container for 5 days.
Notes
I like my gravy to be a similar thickness consistency as tomato soup. Feel free to add less stock to make it thicker, or more stock to make it thinner to suit your personal preference!
Try this Paleo Gravy on these Paleo Dinners: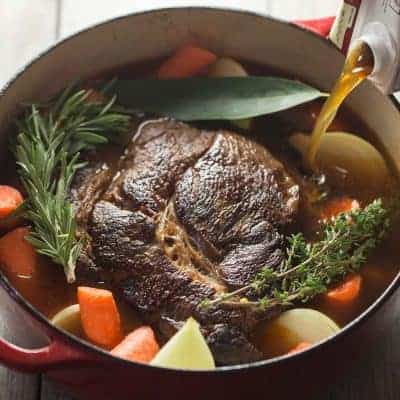 Paleo Pot Roast (the meat and vegetables featured in this post!)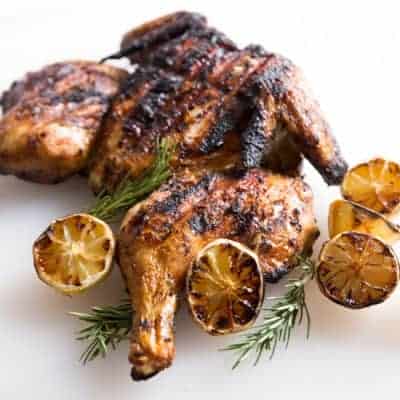 Grilled Lemon and Rosemary Flattened Chicken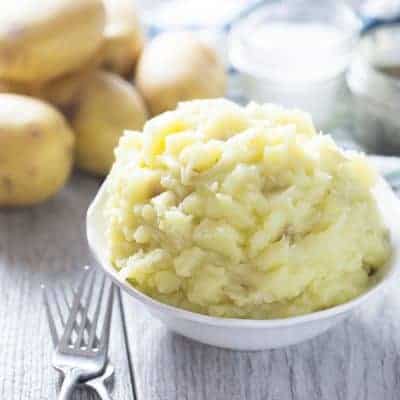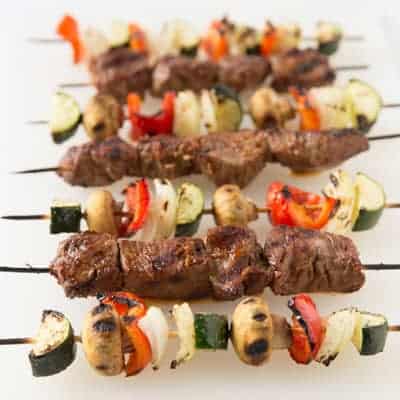 Grilled Steak and Vegetable Kabobs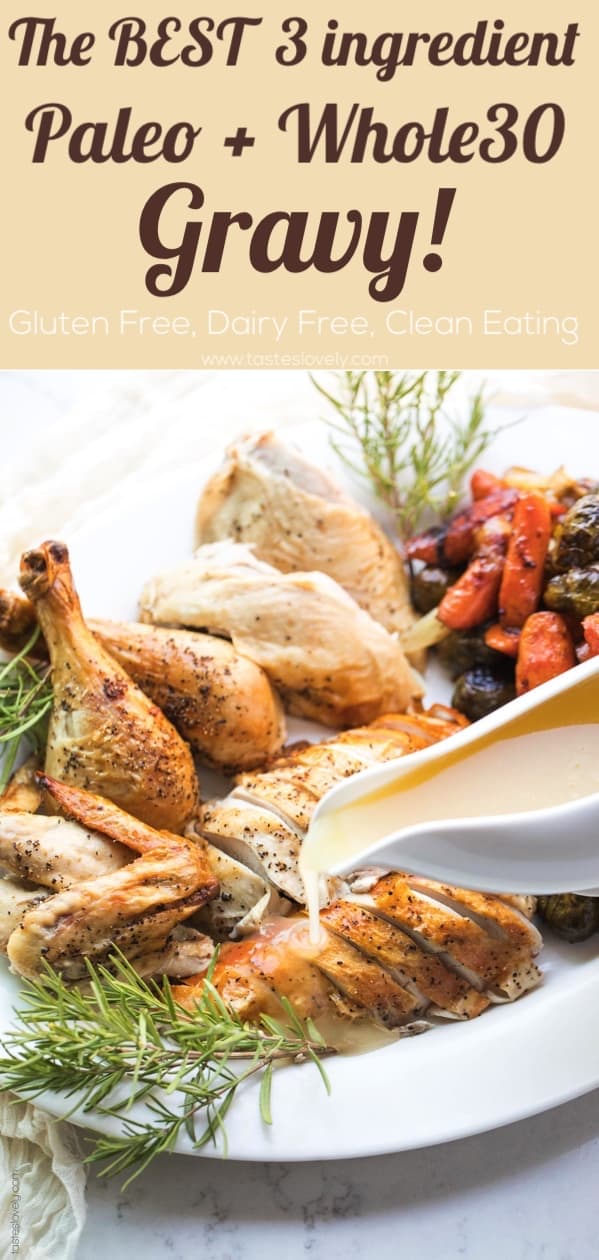 This post contains affiliate links, thanks for the love!
Never Miss a Recipe!
Get new posts delivered straight to your inbox! For free!