Pork Chops with Chunky Red Pepper Sauce
Pork chops with a fresh and flavorful roasted red pepper, parsley and almond sauce – an easy and healthy 30 minute dinner that is paleo, gluten free, dairy free, low carb and Whole30.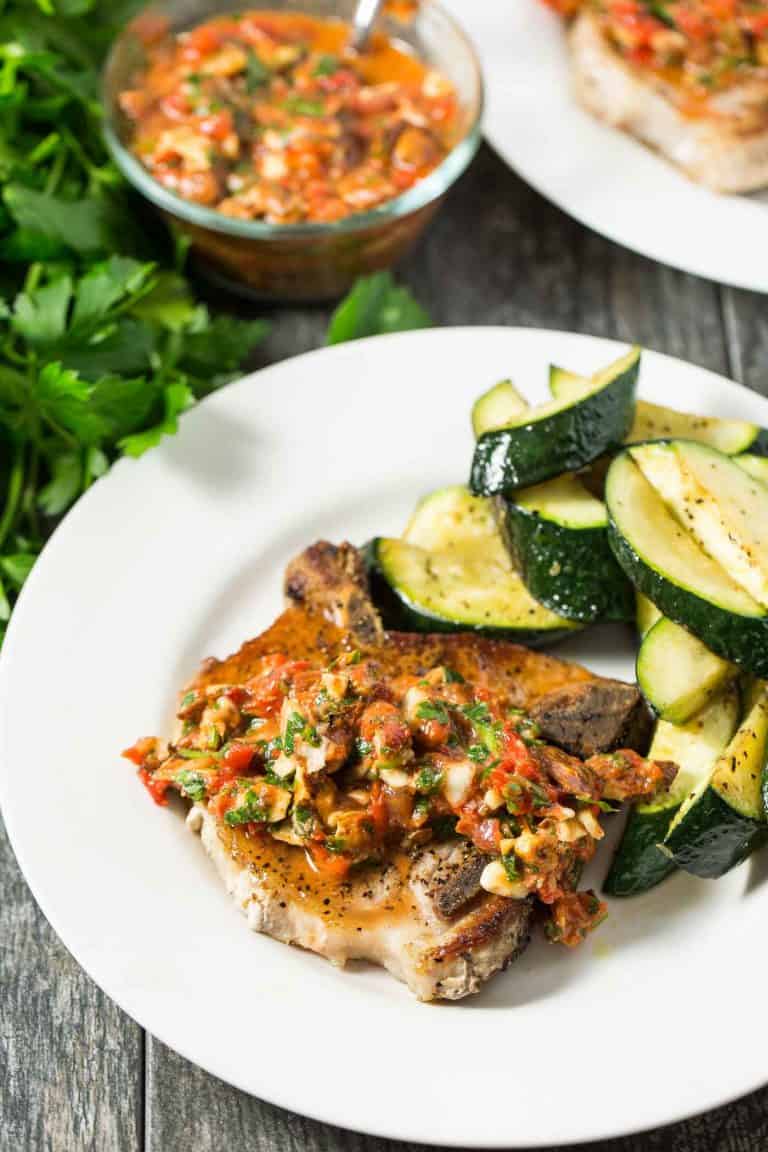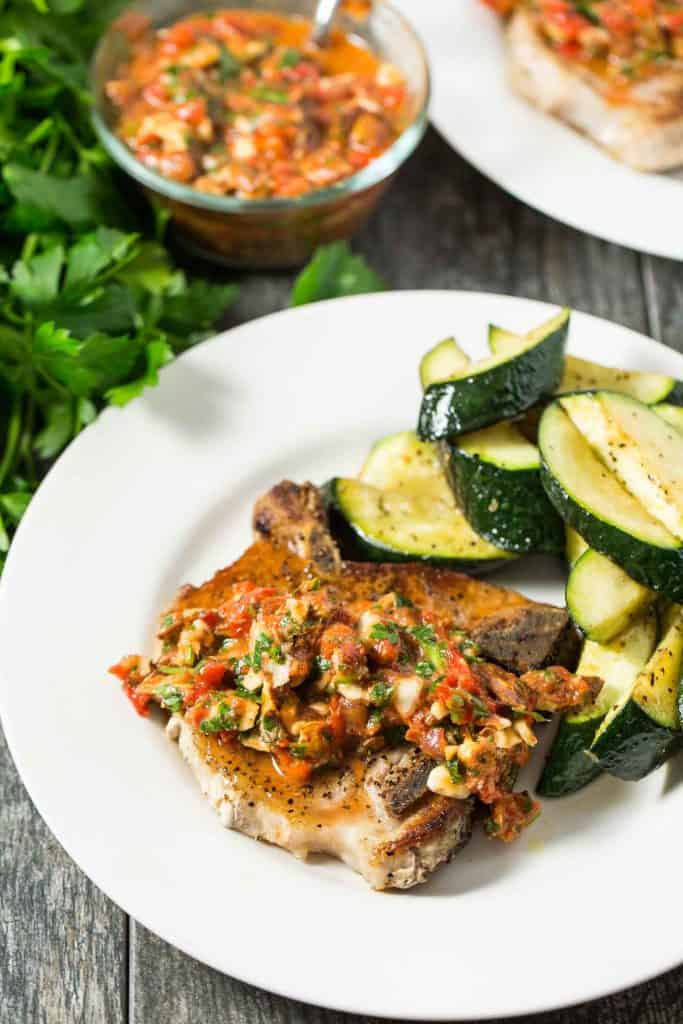 I am officially the finder of all things in our house. If you need to know where something is, just ask me. If I don't know where it is, it is most definitely lost.
Or at least that's what Shawn thinks. He must assume I have a running catalog system in my brain of every item in our house. I can't tell you how many times a day he asks me where something is.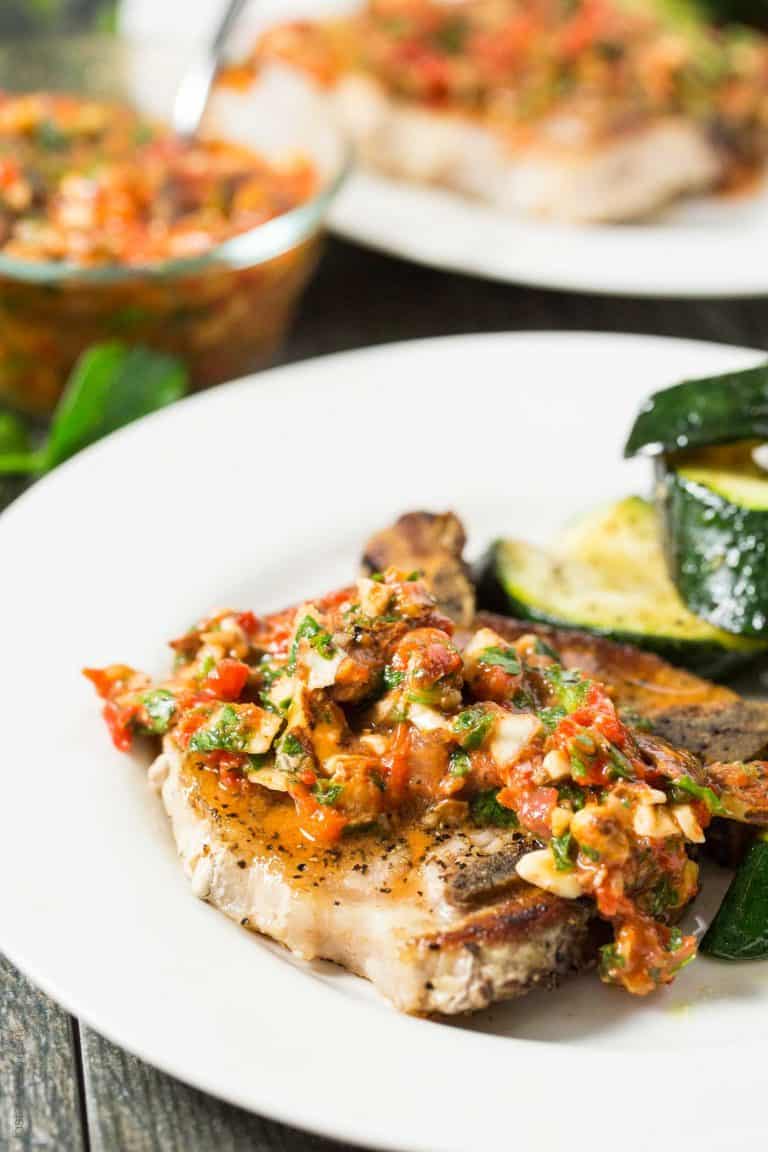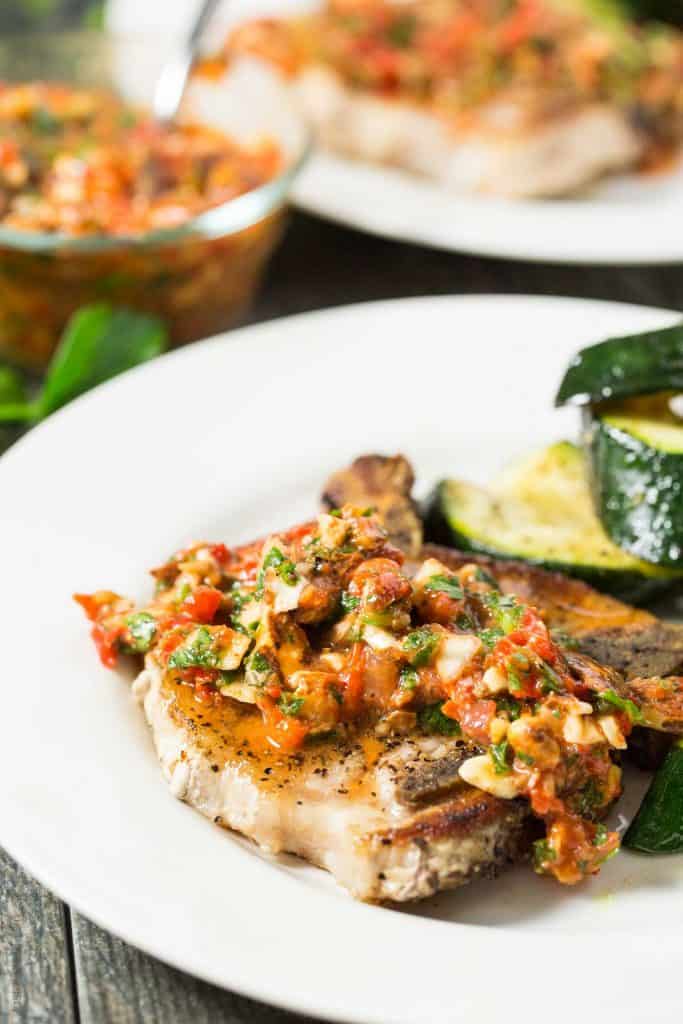 Shawn: Hey Nat, do we have cayenne pepper?
Me: Yes, it's in the spice cabinet.
Shawn: I can't find it.
Me: Did you move the jars around and look?
Shawn: …….oh, here it is.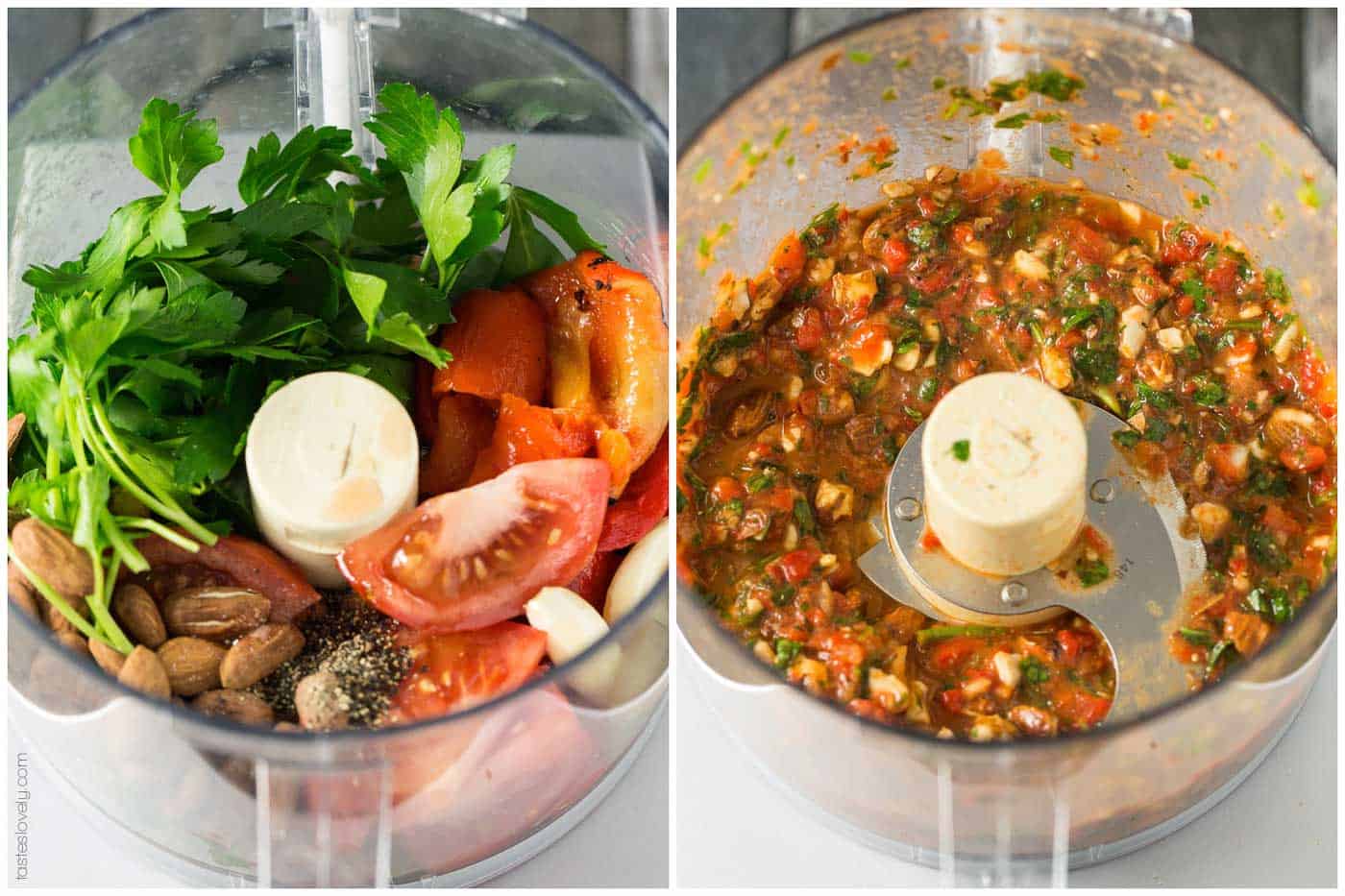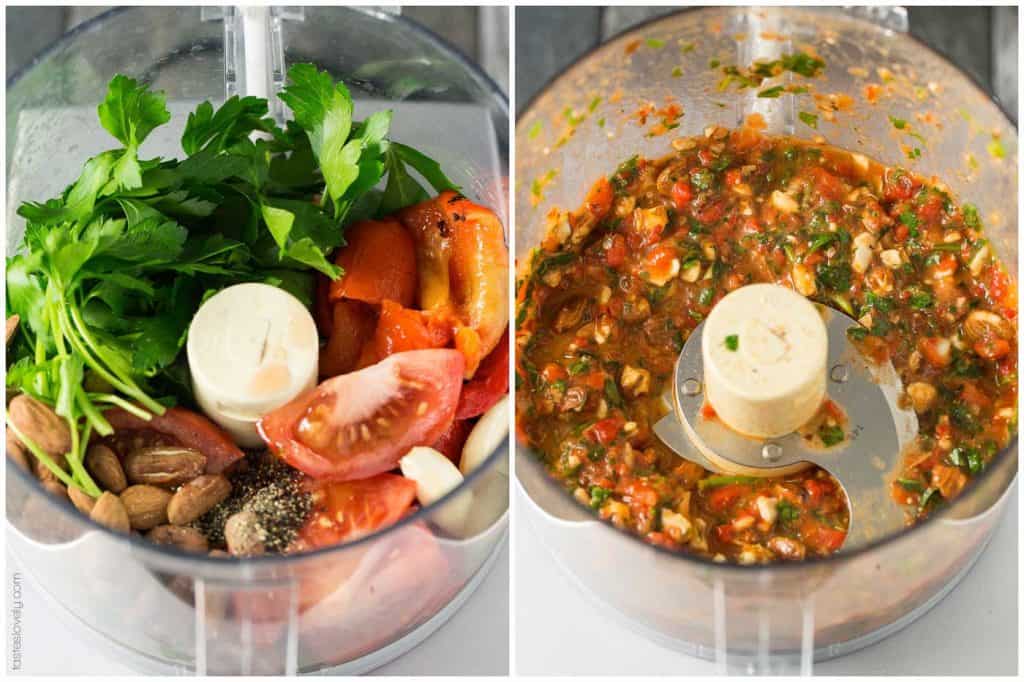 Take that conversation, and multiply it by at least 10.
Have you seen my hat? (Yes, it's on the door knob of you closet.) Where are my headphones? (They're rolled up and hanging on the coat rack.) I can't find my shoes anywhere! (One is by the headboard, the other is kicked under the baby's changing table.) Did you clean my work shirts? (Yesterday, they're folded in your drawer.)
The guys not completely helpless. I'm certain he could find all these things on his own. I just tell myself he is very efficient, and doesn't want to waste time looking when he knows I know exactly where it all is.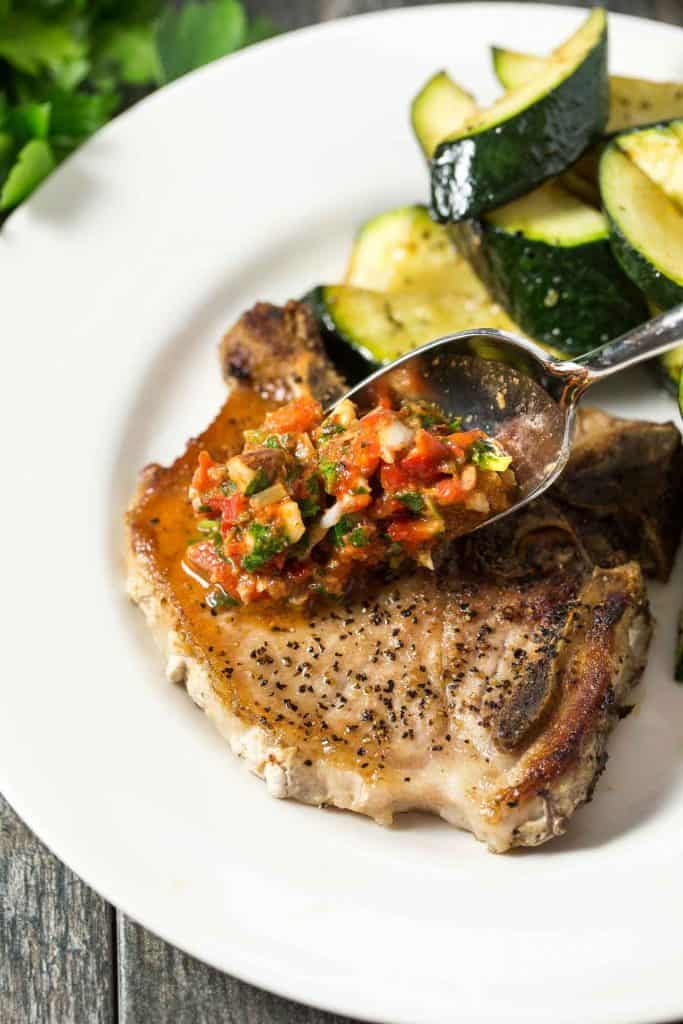 My favorite question he asks me is "What's for dinner?" He gets so excited, because he knows I'm always cooking up new, delicious recipes. He got a big smile on his face when I told him these pork chops with chunky red pepper sauce were on the menu. This recipe is a big favorite in our house.
I love cooking pork for dinner.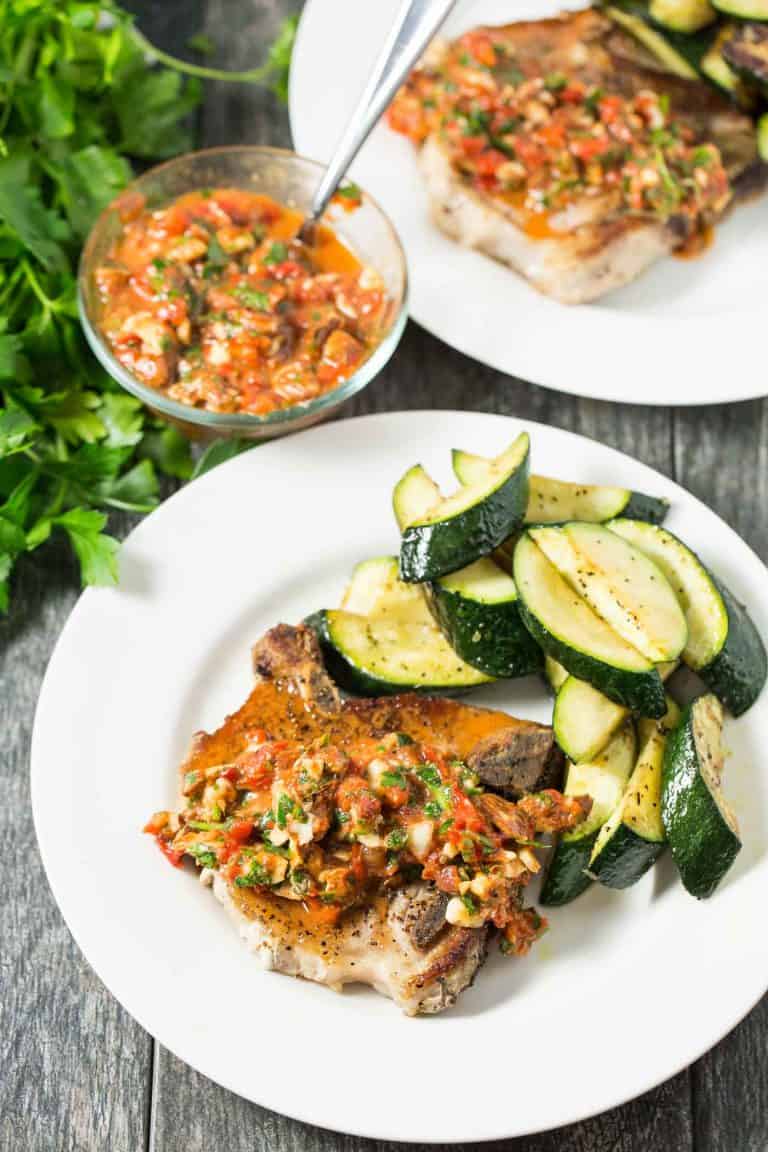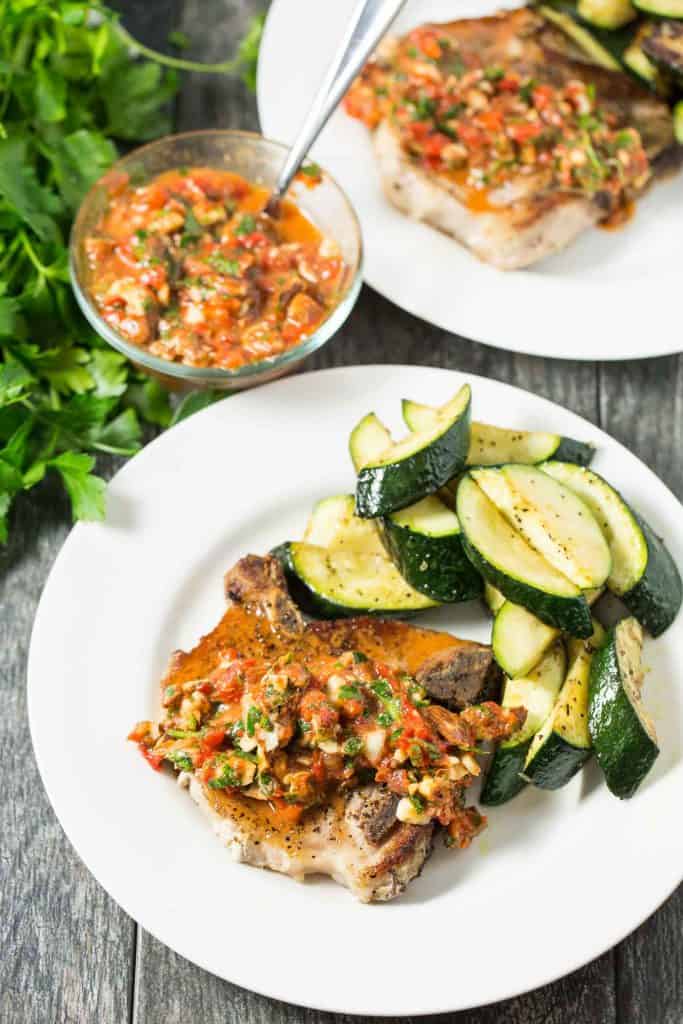 This dinner is so quick and easy to throw together. It's done in less than 30 minutes, so it's perfect for busy weeknights.
I sear the pork chops in my cast iron skillet to give them a gorgeous golden crust, then finish cooking them in the oven. While they're cooking in the oven, I make the chunky red pepper sauce in my food processor. The sauce is the real star of the recipe. So bright and flavorful. It's made with roasted red peppers (I use the jarred kind from the grocery store), fresh parsley, almonds, garlic, tomato, red wine vinegar and olive oil. A few pulses, and it's done!
Print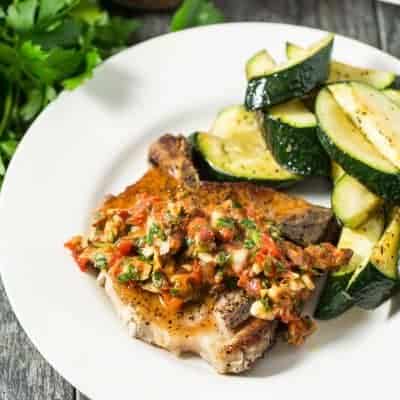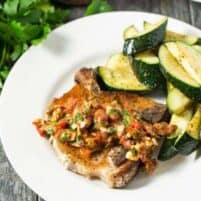 Pork Chops with Chunky Red Pepper Sauce
---
Author:

Prep Time:

5 mins

Cook Time:

20 mins

Total Time:

25 mins

Yield:

4

1

x
Scale
Ingredients
Pork Chops
Red Pepper Almond Sauce
1/2 cup

roasted red peppers

1/2 cup

packed parsley, leaves and stems

1/2 cup

roasted, unsalted almonds

2

cloves of garlic

1/2

a medium tomato, about

1/2 cup

1 tablespoon

olive oil

1 tablespoon

red wine vinegar

1/4 teaspoon

salt

1/4 teaspoon

pepper
---
Instructions
Pork Chops
Preheat oven to 425 degrees with the oven rack in the middle. Preheat a cast iron skillet (or heavy bottomed skillet) over medium high heat.
Add the vegetable oil to the skillet. Cook about 3-5 minutes on the first side. Flip when golden brown. Transfer the cast iron skillet to the oven to finish cooking. I like my pork chops cooked medium well. Cook the pork chops until they reach an internal temperature of 165 degrees. Depending on how thick your pork chops are, they'll cook in the oven anywhere from 5-15 more minutes.
Remove the pork chops from the oven, and transfer to a plate to rest for 5 minutes.
Red Pepper Almond Sauce
While the pork chops are in the oven, combine all the ingredients in a food processor. Pulse about 20 times until the mixture is combined but still chunky. You want it to look like a chunky salsa. Set aside.
Serving
Serve the pork chops warm, topped with the red pepper almond sauce.
---

More Pork Chop Recipes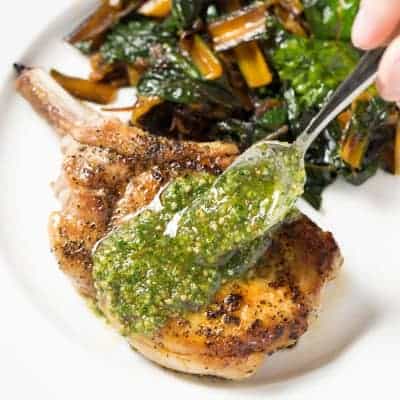 Pork Chops with Orange Pecan Pesto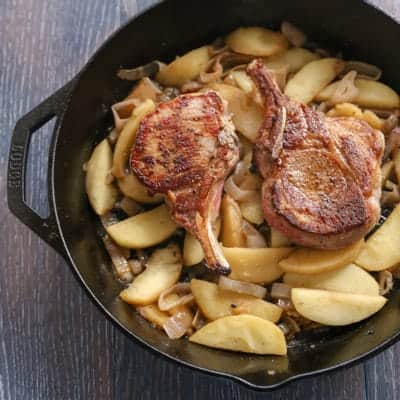 Pork Chops with Vanilla Apples and Shallots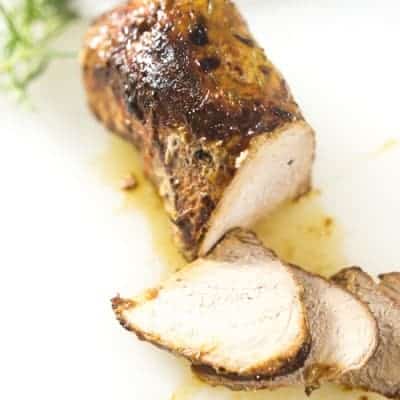 Rosemary Honey Mustard Pork Tenderloin
This post contains affiliate links, thanks for the love!