Rosemary Honey Mustard Pork Tenderloin
Pan seared pork tenderloin covered in a sweet and savory rosemary honey mustard glaze and roasted to perfection. Served with a wine pan sauce. Paleo and gluten free!
Whenever we go on a walk around our neighborhood, we make fun of this really tacky looking car. It is a Mini Cooper that has those huge fake eyelashes on the headlights. We try to imagine what type of person drives this car. Is it a girl in her 20's who is reallllly into makeup, so she wants it to look like her car is wearing makeup? Is it a super fabulous gay man who I need to be best friends with right away?
This car is parked in the same spot on the street at any given time of day. I swear it has never moved! It's there in the middle of the day, and late at night. Which made me think this is a rich, spoiled girl who has no responsibilities. We have yet to spot the owner of this car.
Until Shawn did and called me right away and left me the funniest voicemail I have ever received!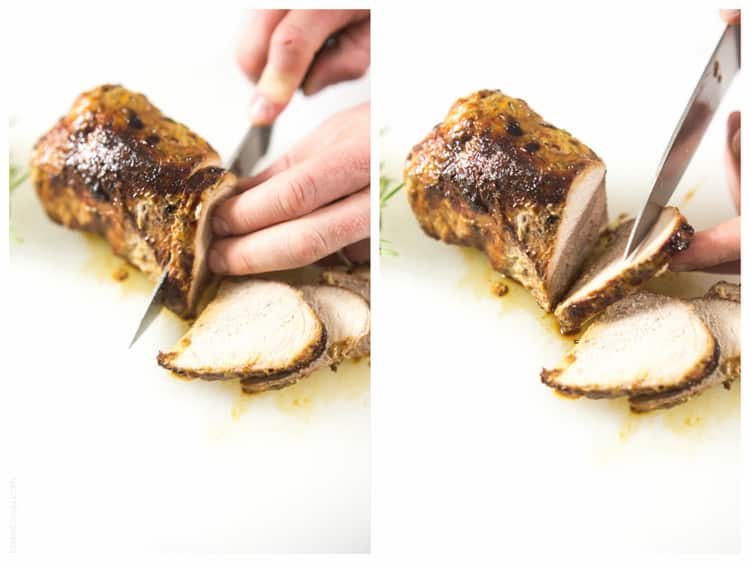 Here is the exact transcript of the voicemail:
"Hey, it's me. You know that Mini Cooper that is parked on the street that never moves? It's always parked there and it's really annoying because it has the eyelashes? The obnoxious eyelashes on the headlights? JUST SPOTTED IT. Driving down the road. With the DRIVER driving it. She's a 60 year old lady who looks like she works at the DMV. Had to call you. Anyway, call me back. We've gotta talk this over."
After hearing that voicemail at work, I was cracking up! I am never deleting that voicemail. So Shawn. He sounded like he had just seen a unicorn. Finally, the identity of the driver is solved.
Another thing that is as rare as spotting a unicorn is me cooking a meat for dinner that isn't chicken or fish. If you take a look thru my recipe archives, you'll see a lot of chicken recipes, and a lot of fish recipes.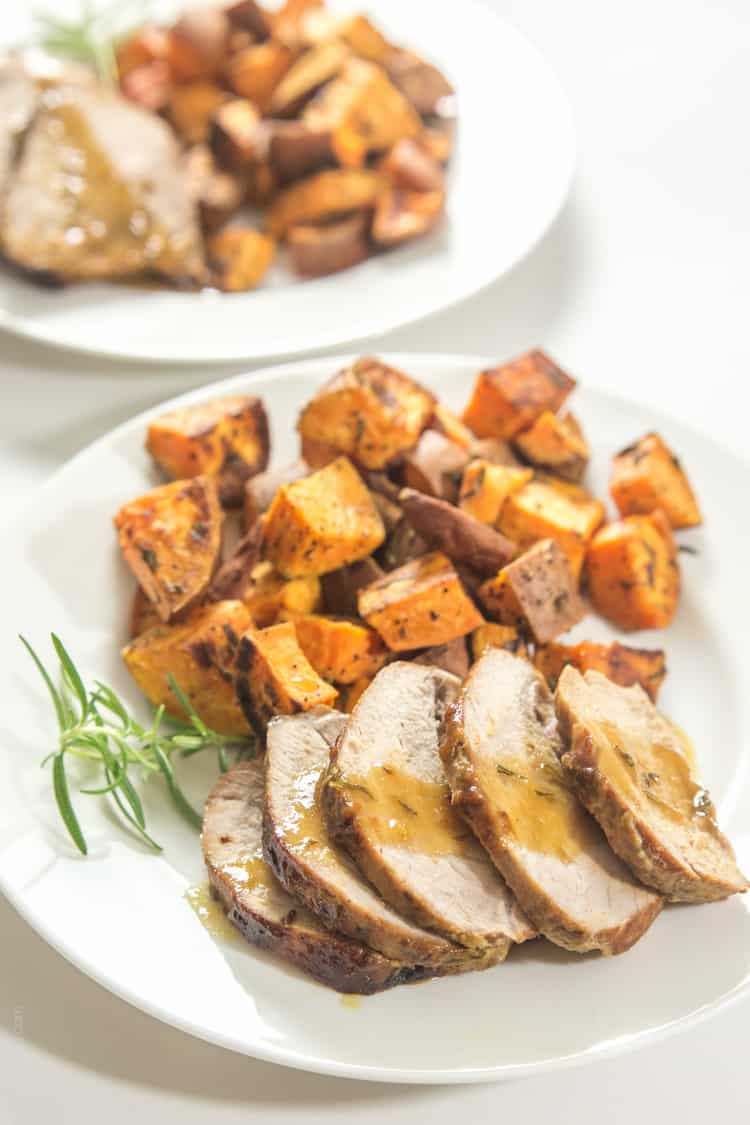 In an attempt to mix up our meal proteins more, I've started cooking pork. For the first time ever, I cooked a pork tenderloin for dinner a couple of weeks ago. So delicious! Like glazed ham, pork tenderloin is all about the glaze crust. I created this rosemary honey mustard glaze that tastes delicious on the pork. After searing it in the pan to get a nice golden crust, I smother the pork tenderloin in the rosemary honey mustard sauce and finish it by roasting in the oven. It comes out perfectly cooked with a flavorful crust on the outside.
To keep it extra moist, I make a quick pan sauce with white wine and the rosemary honey mustard glaze, with a splash of apple cider vinegar for tang. And of course you must serve this rosemary honey mustard pork tenderloin with my rosemary roasted sweet potatoes! It is a match made in flavor heaven.
Print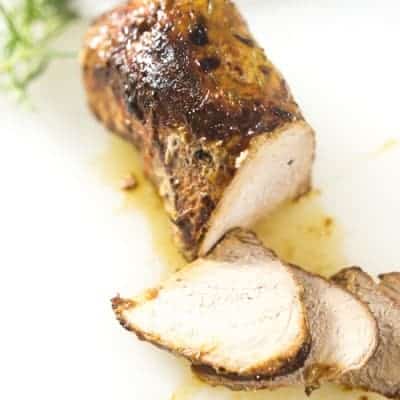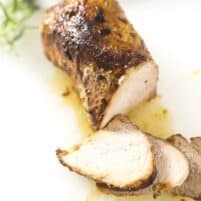 Rosemary Honey Mustard Pork Tenderloin
---
Author:

Total Time:

30 mins

Yield:

4

people

1

x
1

pound

pork tenderloin (I get my pork from ButcherBox, which I highly recommend)
Salt and pepper

1 tablespoon

olive oil

3 tablespoons

dijon mustard

3 tablespoons

honey

1 tablespoon

rosemary, chopped
Pan sauce
1

cup

white wine (I use Chardonnay)

2 tablespoons

apple cider vinegar

1 tablespoon

of the rosemary honey mustard mixture

1 tablespoon

honey (optional)
---
Instructions
Preheat oven to 425 degrees with the rack in the middle. In a small bowl, combine the dijon mustard, honey and rosemary. Stir to combine, set aside.
Preheat an oven safe skillet over high heat. While it is heating up, pat pork loin dry with a paper towel and season generously with salt and pepper on all sides. When the skillet is hot, sear the pork loin on all sides until golden brown, about 3 minutes per side. Top with the rosemary honey mustard mixture and spread evenly to coat the pork loin, but reserve 1 tablespoon of the mixture for the pan sauce.
Transfer the pork loin in the oven safe skillet to the oven to finish cooking. Cook until the meat is 145 degrees, about 15 minutes. Remove from the oven and allow to rest for a few minutes.
While the meat is resting, make the pan sauce in a skillet over high heat. Combine the wine, apple cider vinegar, 1 tablespoon of the rosemary honey mustard mixture. Stir to combine and cook until it has reduced by half. Give it a taste, and add more honey to the sauce if desired.
Slice the pork loin into 1/2″ thick slices, and top with the pan sauce.
Prep Time:

15 mins

Cook Time:

15 mins

More 1 Pan Meals: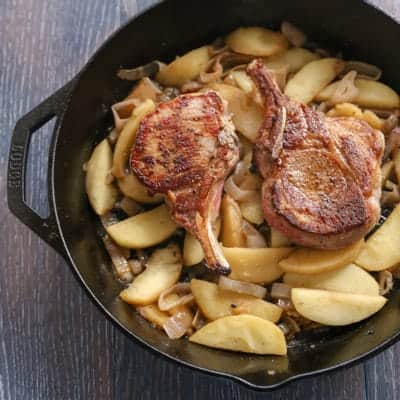 Pork Chops with Vanilla Apples & Shallots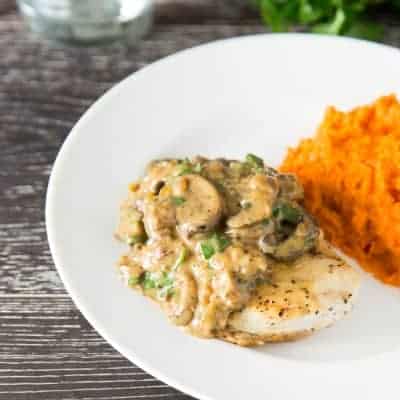 Chicken and Mushroom Fricassee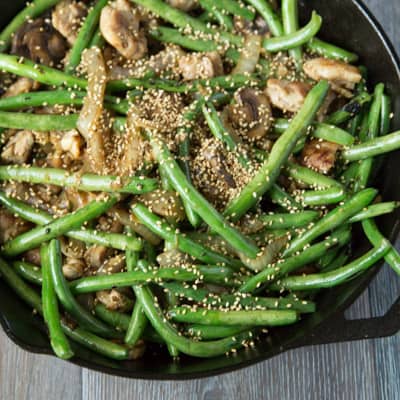 Green Bean Stir Fry with Chicken and Sesame Seeds
This post contains affiliate links, thanks for the love!