Roasted Spicy Seasoned Pumpkin Seeds
Last night I had a dream that was SO boring, I was actually mad at my imagination.
I won't bore you with all the details, but a majority of the dream was me on the phone with an airlines customer service rep trying to change a flight. I'm not kidding. Just me, sitting on my couch, trying to change a flight to a later time. Huh? That might be the most boring thing I can think of. These are supposed to be dreams! Why can't my imagination take me somewhere tropical like Hawaii for a day on the beach? Or have me win the lottery and going on a major spending spree? Or flying?
If I have one more boring dream, I am going to punish my brain by watching hours of Real Housewives. Wait, that actually doesn't sound too bad…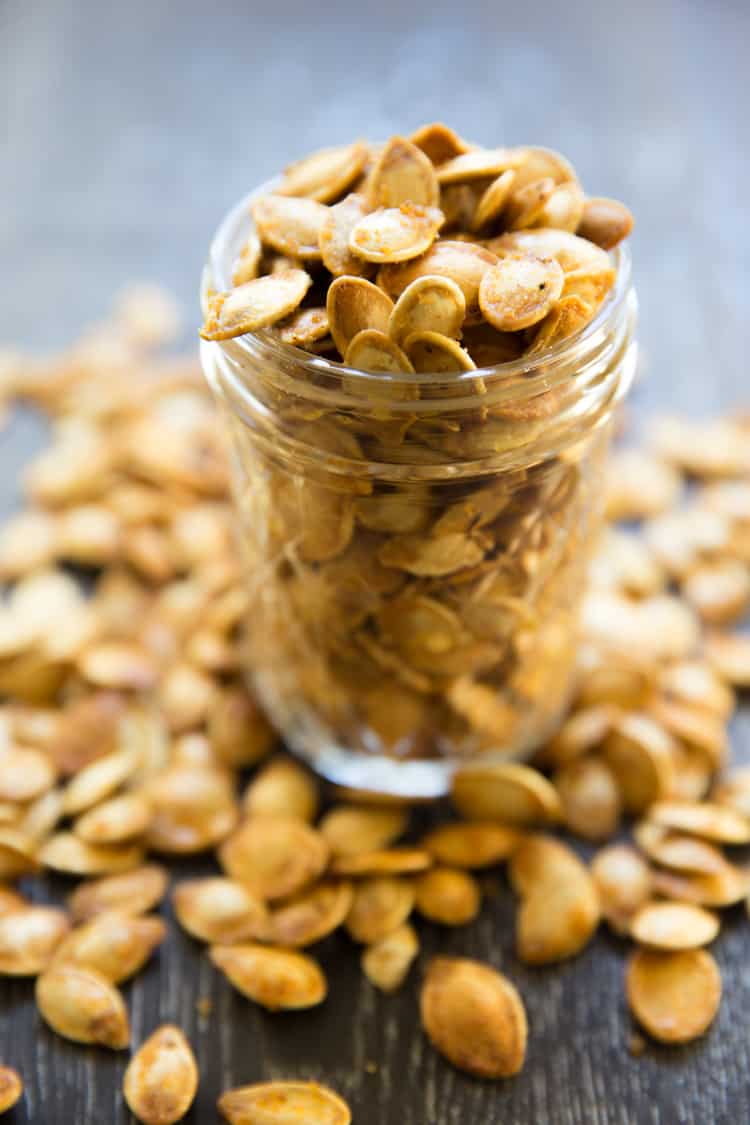 One thing that isn't boring are these roasted spicy seasoned pumpkin seeds.
Shawn gets so very excited when pumpkins start showing up at the market. Not because he can't wait to carve them, but because he can't wait to hack in to them and pull out all the seeds for me to roast. He will gladly sit there for over an hour scooping out pumpkin after pumpkin, and separating all the membranes from the seeds so I can roast them up for him.
I used to do just a plain salted roasted pumpkin seed, but one day after making these spicy seasoned pretzels (which is actually one of the top viewed recipes on my blog), I thought the same seasoning mix would be delicious on pumpkin seeds. That October, when I bought about 8 pumpkins after Halloween when they went on sale, I experimented and made my first batch of spicy seasoned pumpkin seeds. Shawn FLIPPED out! They made basic roasted pumpkin seeds seem, dare I say it, boring.
These roasted spicy seasoned pumpkin seeds get all their flavor the perfect mix of lemon pepper, garlic powder, salt and cayenne pepper. The flavors are really similar to Chex Mix Party Mix, so if you love that you'll love this.
Be sure to hang on to all your pumpkin seeds this year and whip these up!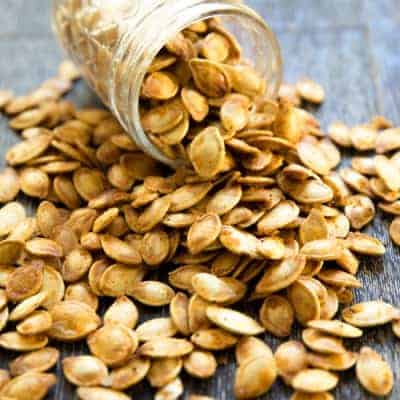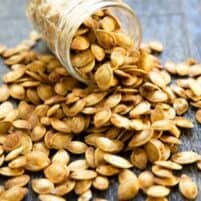 Roasted Spicy Seasoned Pumpkin Seeds
How to make spicy seasoned pumpkin seeds from carved pumpkins
Ingredients
2

cups

raw pumpkin seeds

,

if from a pumpkin, all pumpkin membrane removed and rinsed

2

tablespoons

salted butter

1/2

teaspoon

lemon pepper

1/2

teaspoon

garlic powder

1/4

teaspoon

salt

1/8

teaspoon

cayenne pepper

,

for medium spicy use 1/4 teaspoon, for hot spicy use 3/4 teaspoon
Instructions
Preheat oven to 250 degrees. Line a baking sheet with parchment paper.

In a microwave safe medium size bowl, melt the butter for 30 seconds in the microwave. Add in the lemon pepper, garlic powder, salt and cayenne pepper. Stir to combine. Add in the pumpkin seeds and toss so all the seeds are evenly coated. Spread the seeds out in an even layer on the baking sheet and roast for 1 hour, stirring the seeds halfway thru. Allow to cool for a few minutes before eating.

Will keep in an airtight container for 10 days.
Notes
After you rinse the pumpkin seeds, they will be a little wet. That's ok, they're fine to add to the butter when they're still a little wet. Don't worry about drying them.
Calories:
104
,
Total Carbs:
1.9
g
,
Protein:
4.9
g
,
Fat:
9.4
g
,
Fiber:
1
g
,
Net Carbs:
1
g
Did you make this recipe?
Please Leave a comment and give this recipe a rating!