Rosemary Roasted Sweet Potatoes
Rosemary Roasted Sweet Potatoes – a healthy and delicious side dish that is full of flavor and takes just minutes to prepare. Paleo, Whole30, gluten free and vegan.
When I was a kid and teenager, it seemed like I was constantly doing things that are "scary". Learning to ride a bike, jumping off the high dive, starting high school, giving a speech in class, taking the SAT's, moving to college. Tons of big events that gave me butterflies in my stomach.
But now, life seems much more comfortable. With age comes confidence, and I rarely have to do things that make me nervous.
Until we started our own wedding videography business, and I decided to offer photography…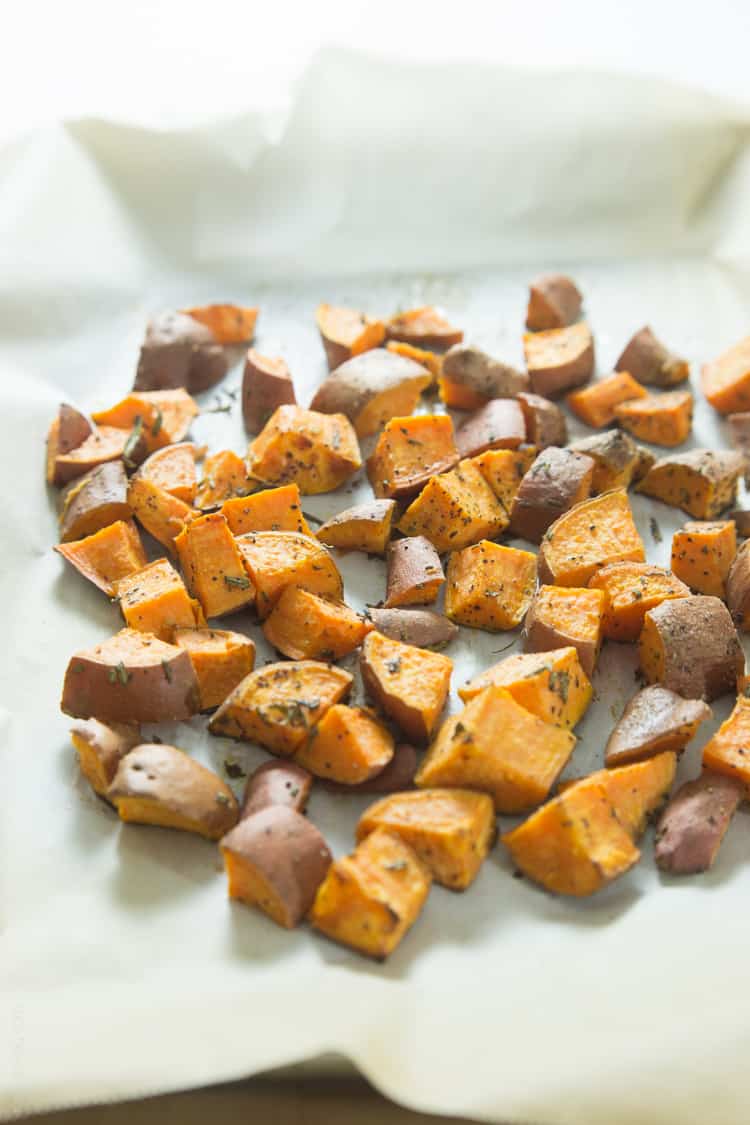 I cannot TELL you how nervous I get before photographing a wedding. Filming weddings is easy peasy. Shawn's the main boss and directs everything, and I'm just back up. Plus, we have a lot of camera's filming that are on tripods, so there is the safety of backup footage. But photography? That is all me. Shawn is still filming the wedding, and we aren't really able to help each other. It feels like we're both walking 2 tight ropes next to each other without a safety net below. Sometimes I question our sanity!
The nerves set in in about 1 week before. I continually go over the timeline, and read thru my shot list over and over and over. The night before the wedding I am in a haze. It feels like I am floating thru the day. I keep looking at the clock and thinking, "Ok, I bet in 23 hours from now we'll be done and driving home. I just have to make it thru 23 hours." Please tell me you all do that too.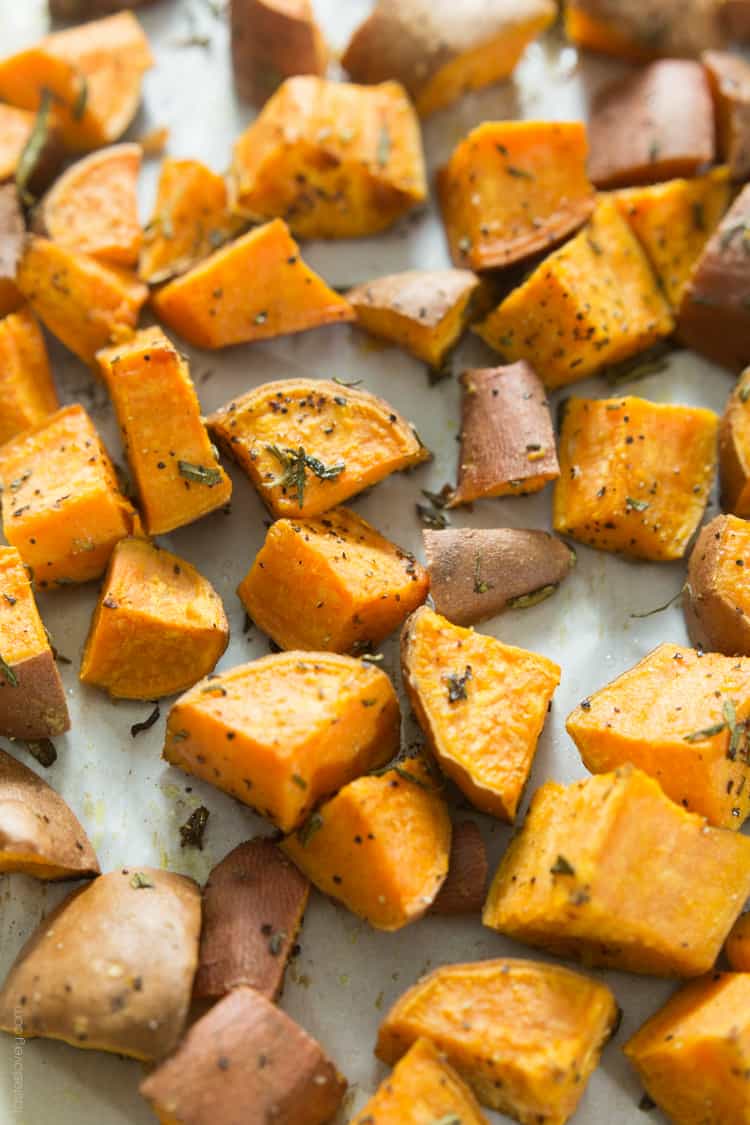 On Saturday we filmed and photographed a wedding, so this past week I have been a bundle of nerves. But guess what? It all went great! We did it, and we did an amazing job. I've already started editing the pictures, and I am so proud of them. I guess I work myself up for nothing.
So last week with all of my nerves, I stuck with tried and true simple recipes that I know will turn out great every time. One of my go to vegetable side dishes lately are these rosemary roasted sweet potatoes. I'm trying to avoid white potatoes, and using sweet potatoes instead has been a great substitute. Not only do they have more flavor than a white potato, but they are packed with vitamins and minerals!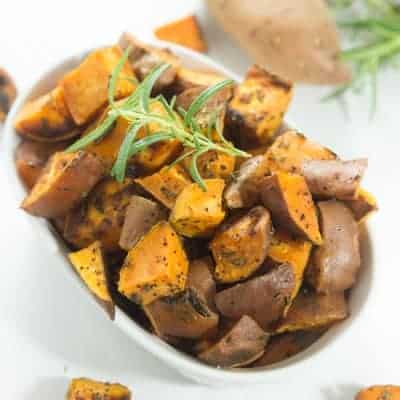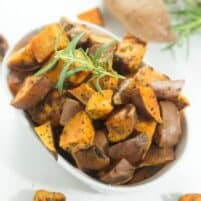 Rosemary Roasted Sweet Potatoes
A healthy and delicious side dish that is full of flavor and takes just minutes to prepare.
Ingredients
2

medium size sweet potatoes

,

cut into 1" cubes

2

sprigs of fresh rosemary

,

chopped (or 1 tablespoon dried rosemary)

1-2

tablespoons

olive oil

1

teaspoon

salt

1

teaspoon

pepper
Instructions
Preheat oven to 425 degrees with the rack in the upper third. Line a baking sheet with parchment paper.

In a medium size mixing bowl, combine all ingredients and toss to coat the sweet potatoes evenly. Spread in an even layer on the baking sheet. Roast in the oven for 30 minutes, until the sweet potatoes are golden brown. You don't need to toss the sweet potatoes while they're roasting.

Serve warm.
Calories:
178
,
Total Carbs:
27.6
g
,
Protein:
2.2
g
,
Fat:
7.1
g
,
Fiber:
4.4
g
,
Net Carbs:
23
g
Did you make this recipe?
Please Leave a comment and give this recipe a rating!

More of my Delicious Vegetable Side Dishes: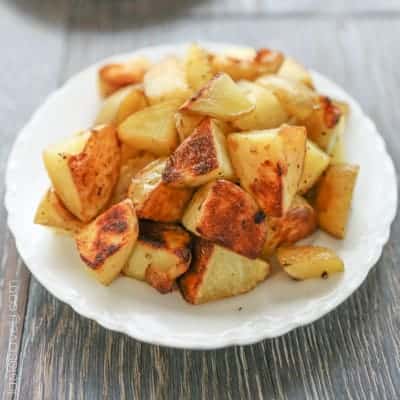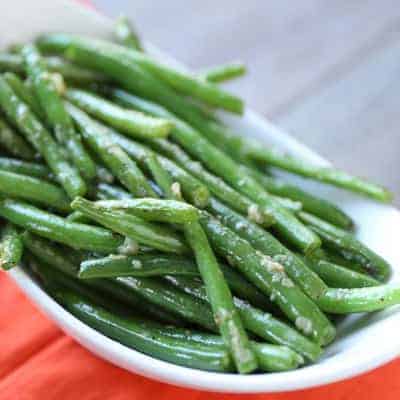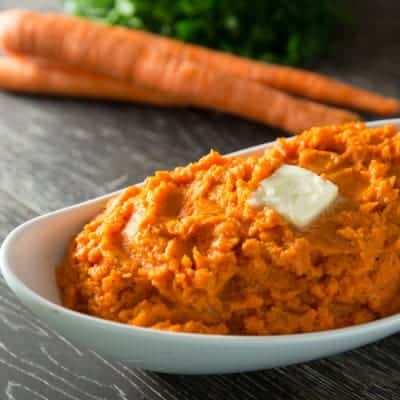 More Sweet Potato Recipes from my Blogging Friends:
Sweet Potato Tuna Patties by Primavera Kitchen
Smoky Sweet Potato Hummus by Sweet Peas and Saffron
Quinoa and Sweet Potato Enchilada Casserole by Kristine's Kitchen