Strawberry & Banana Green Smoothie
Made a super healthy green smoothie for ya.
I'm not Irish, and I'm not a fan of corned beef and cabbage, so St. Patrick's Day can get a bit lost on me. Probably because I worked at a British Pub through college, and since there were no Irish Pub's in town a British one was the next best thing. Every year on that night we would be PACKED! Serving up plate fulls of corned beef and boiled cabbage and pitchers of green beer. Soon everyone's mouth was dyed green from all the beer they were drinking, and a few of the more tipsy customers would spill this dyed green beer all over me. I was sure to wear my least favorite jeans that night.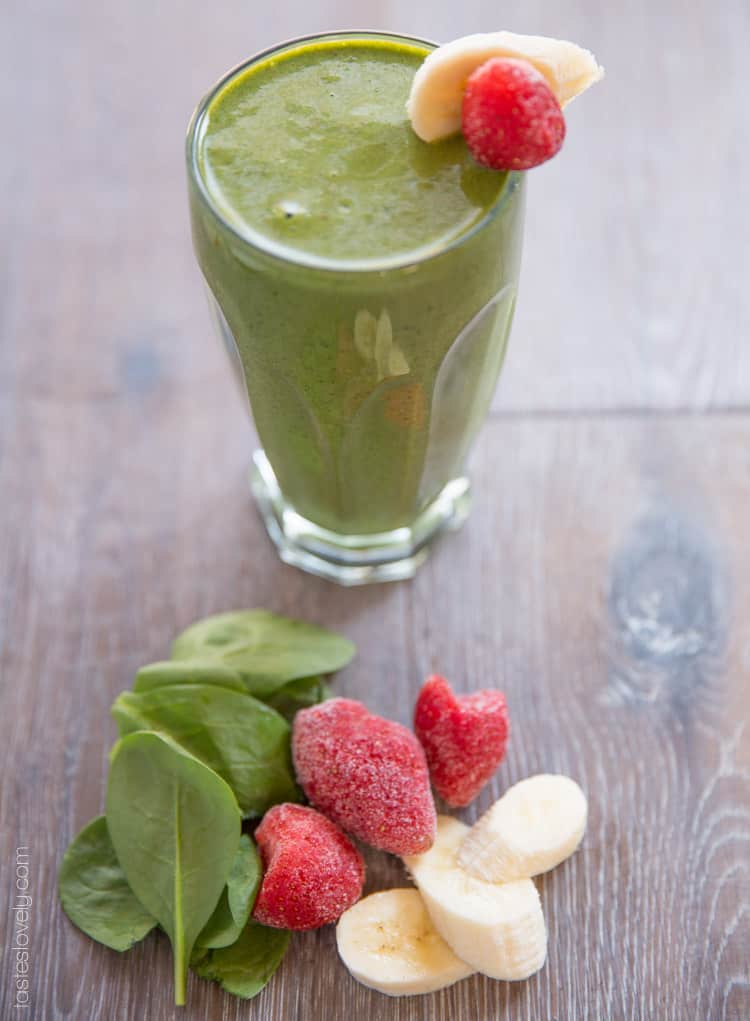 So while I won't be drinking green beer this year, but I will definitely be drinking this green smoothie. No dye necessary!  This is my favorite, go to smoothie that I make every weekend along with a piece of peanut butter toast. It's just 4 ingredients, banana, frozen strawberries, OJ and as much spinach as you can possibly cram in your blender.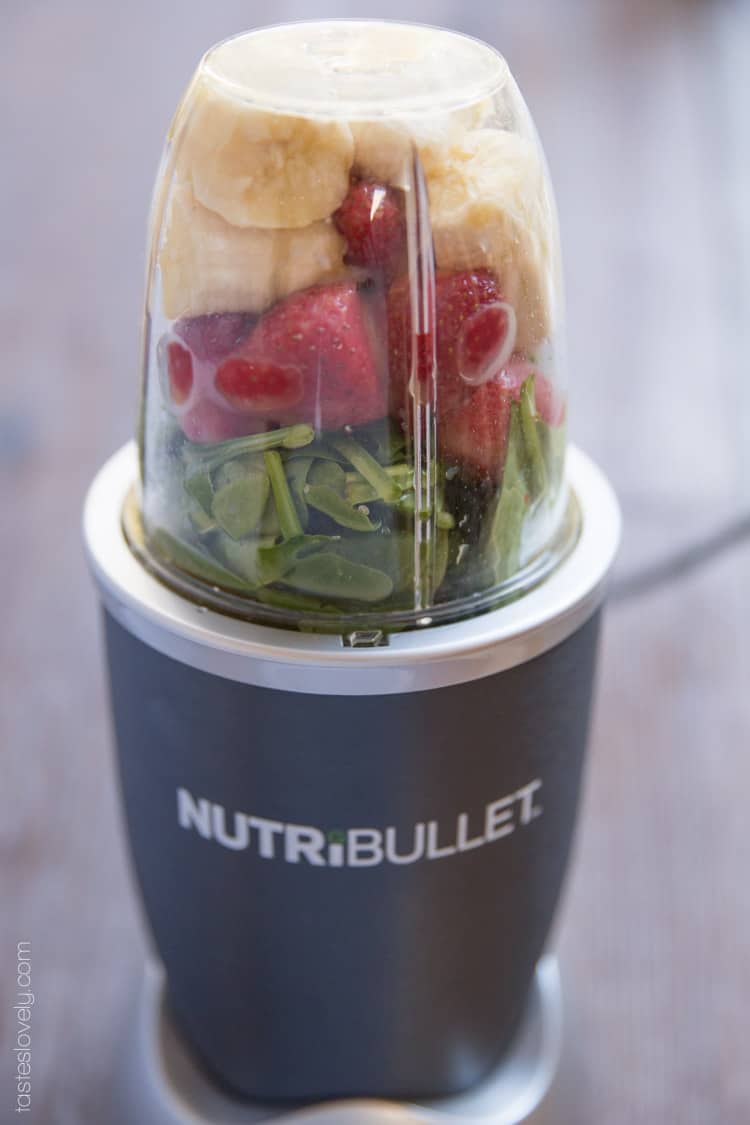 Speaking of blenders, I got a NutriBullet for my birthday, and ohmygosh do I love it! It is a-mazing. This isn't even a paid sponsorship, I am just obsessed with it and thought I would share. It takes up hardly any space on the kitchen counter, and comes with different sized cups for you to make your smoothie, juice or shake in. Then you just screw on the blades, let it blend, and drink it right out of the same cup. Easy clean up, and it blends everything evenly and easily. I use it to make salad dressings too. My regular blender is now permanently stored in the cabinet, and this little blender has been used almost everyday. Love love love.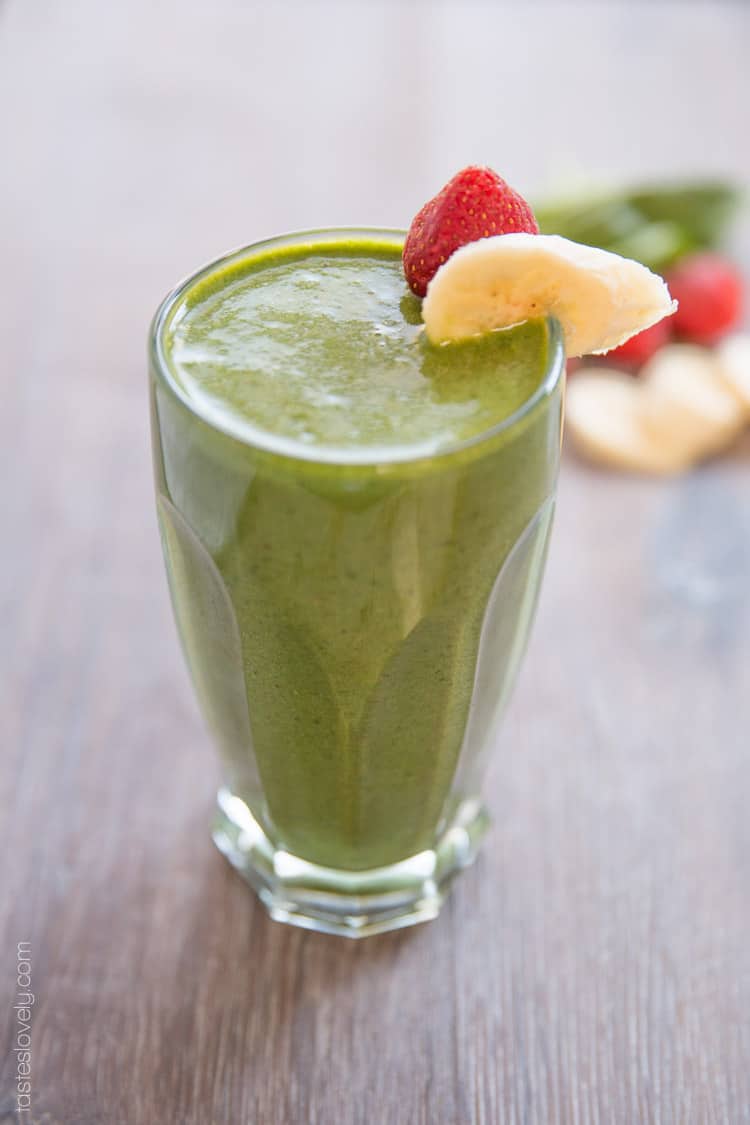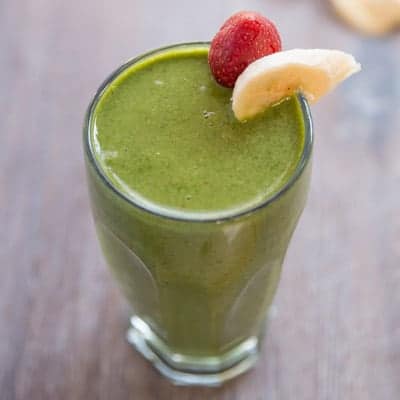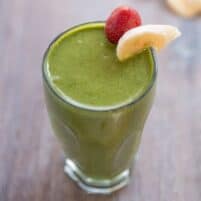 Strawberry & Banana Green Smoothie
This strawberry and banana green smoothie is so easy to make using your NutriBullet or blender. A healthy and delicious way to start the day!
Ingredients
1

banana

,

peeled

1/2

cup

frozen strawberries

1/2

cup

orange juice

2-3

handfuls of fresh spinach
Instructions
Combine all ingredients in a blender, and blend to combine. Drink immediately.
Calories:
206
,
Total Carbs:
51
g
,
Protein:
3.5
g
,
Fat:
0.9
g
,
Fiber:
6.3
g
,
Net Carbs:
45
g
Did you make this recipe?
Please Leave a comment and give this recipe a rating!