Street Style Crispy Carnitas Tacos
Street Style Crispy Carnitas Tacos. Tender and juicy pork that is slow cooked in the crockpot with Mexican flavors of cumin and orange, then broiled in the oven for just 15 minutes before serving to get them crispy.
It was Christmas in our mailbox the other day.
We got a coupon from Chipotle for 1 free burrito, burrito bowl or tacos. Free! No strings attached.
Even better? No one is living in the house next to ours, but the mailman still delivers all the "junk" mail to the mailbox. So of course I went in that mailbox and took their Chipotle coupon for myself. Dinner for Shawn and I for free!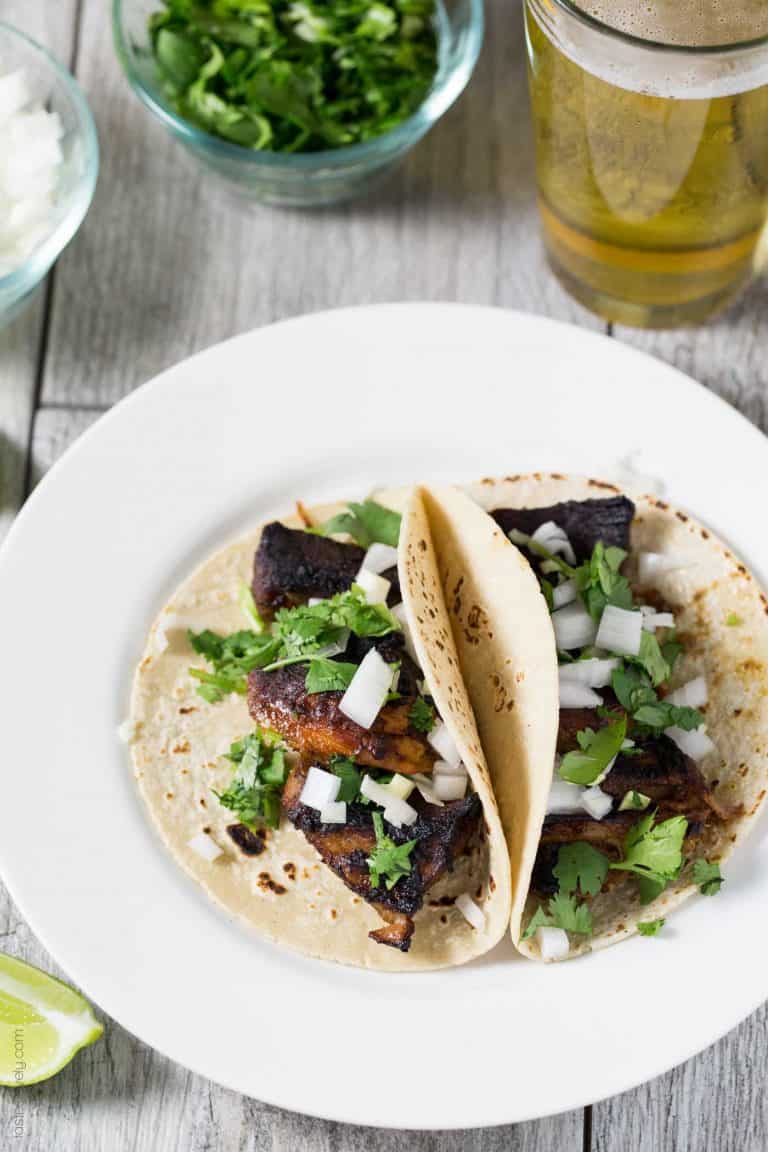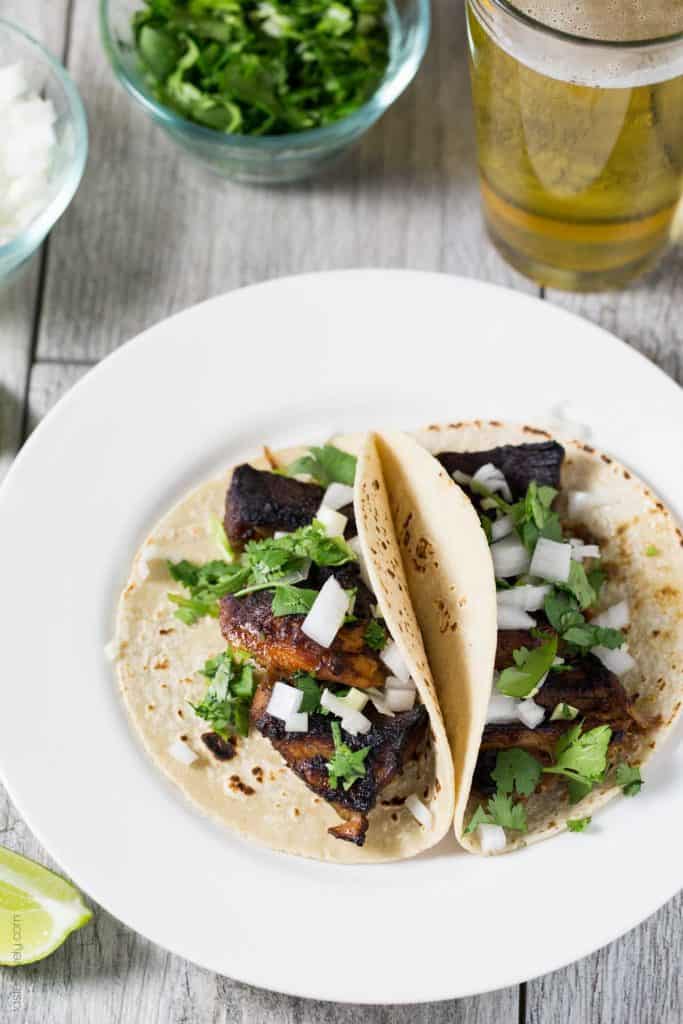 We headed down to Chipotle with our 2 free coupons. Along with EVERY OTHER PERSON IN TOWN! The line was out the door. But when you get that Chiptole craving, no line is too long.
To keep Josh entertained in the stroller, I handed him the 2 coupons to hold. It was so cute. About 20 minutes later, we're almost to the front of the line. I go to grab the coupons from Josh, and there is only 1. Gah!
I said out loud, "Oh no Josh, where did the other coupon go?" Silly me for giving our precious coupons to a 5 month old. I turned around to check the floor, hoping I dropped it. The guy behind us looked a little guilty, then held it up.
"I saw it on the floor. I didn't know who it belonged to. Here you go…"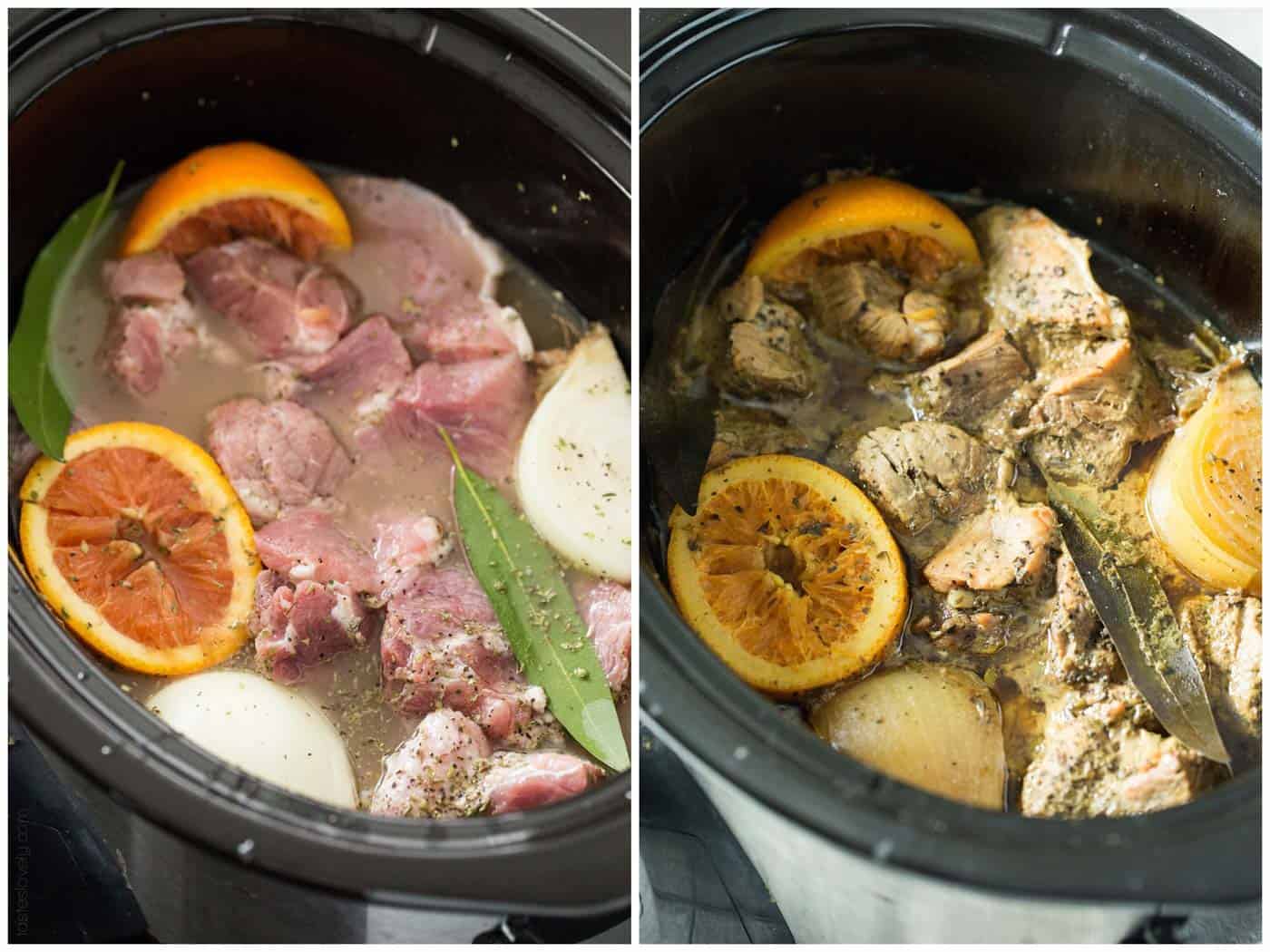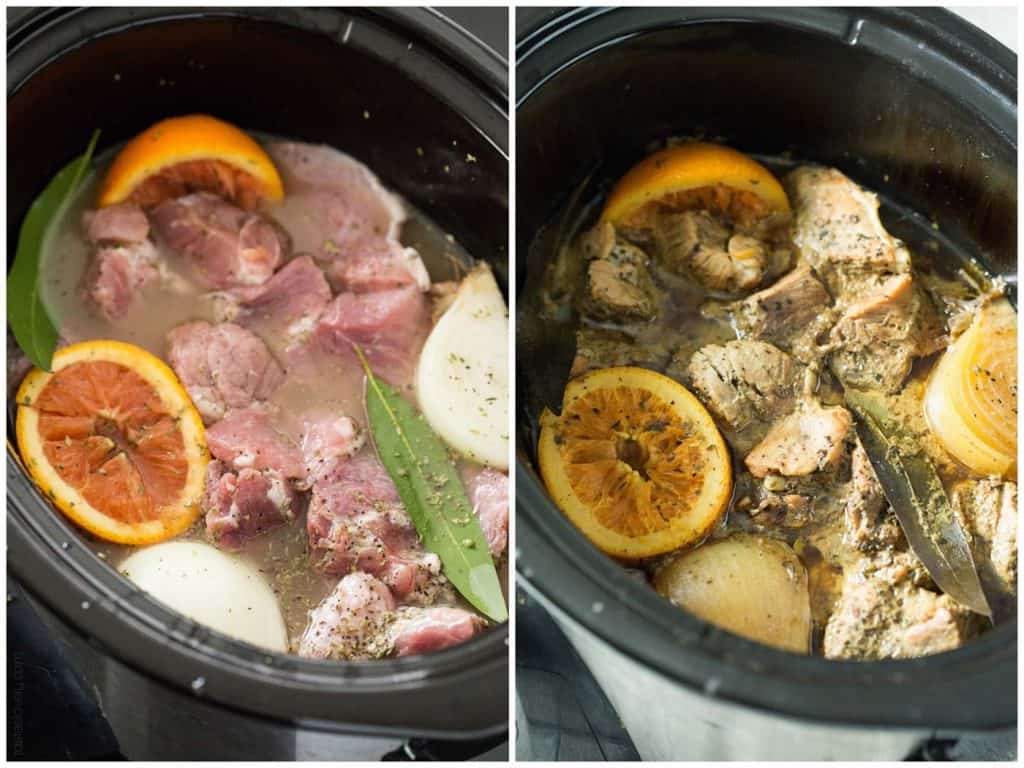 So nice of him! Our free dinner was back on. That carnitas burrito bowl tasted extra good since it cost $0.
But to be honest, Chipotle's carnitas having nothing on my homemade crispy carnitas. They taste way better. And I'm a carnitas snob.
This recipe seems like it should be complicated, but it is really simple. The slow cooker and the oven do all the work for you.
I start the carnitas out in the slow cooker along with chicken broth, fresh orange, lime juice, cumin and oregano. It slow cooks all day to get tender, juicy and flavorful.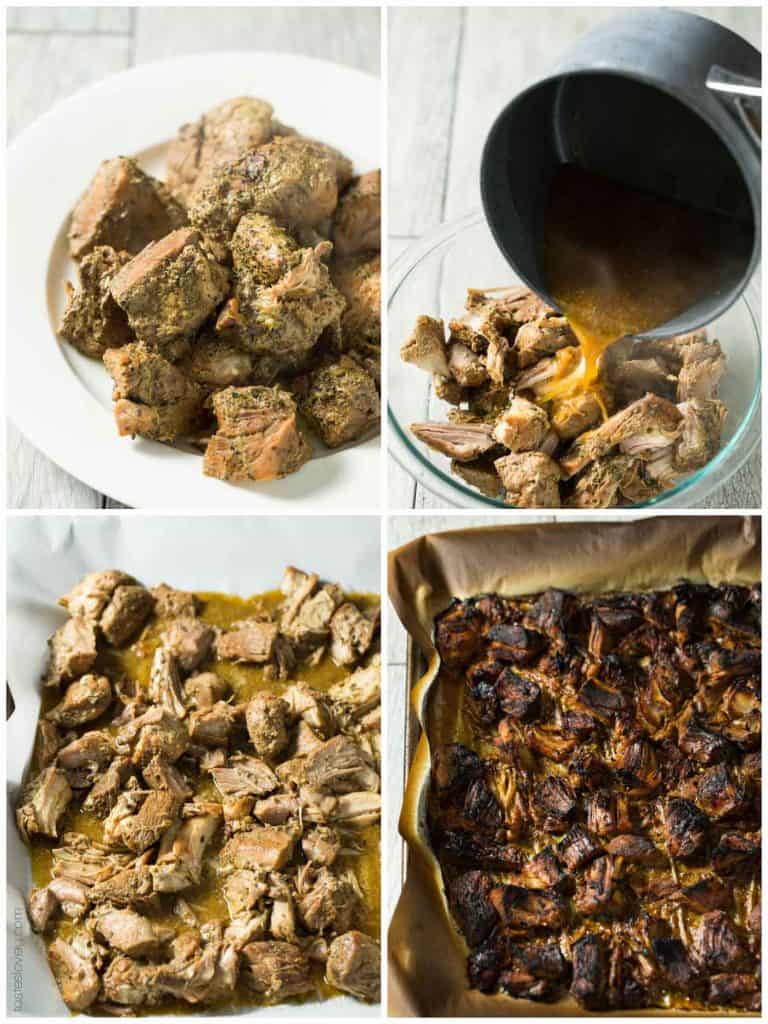 You could actually stop right there.
But don't.
Carnitas taste even better crisped up. Crispy is always better.
I reduce the cooking liquid so the flavor is ultra concentrated, add it back to the meat, spread it on a baking sheet, and broil it for about 15 minutes. I don't turn the carnitas so the meat doesn't get too dried out. It stays juicy and flavorful, with a satisfying crispy top.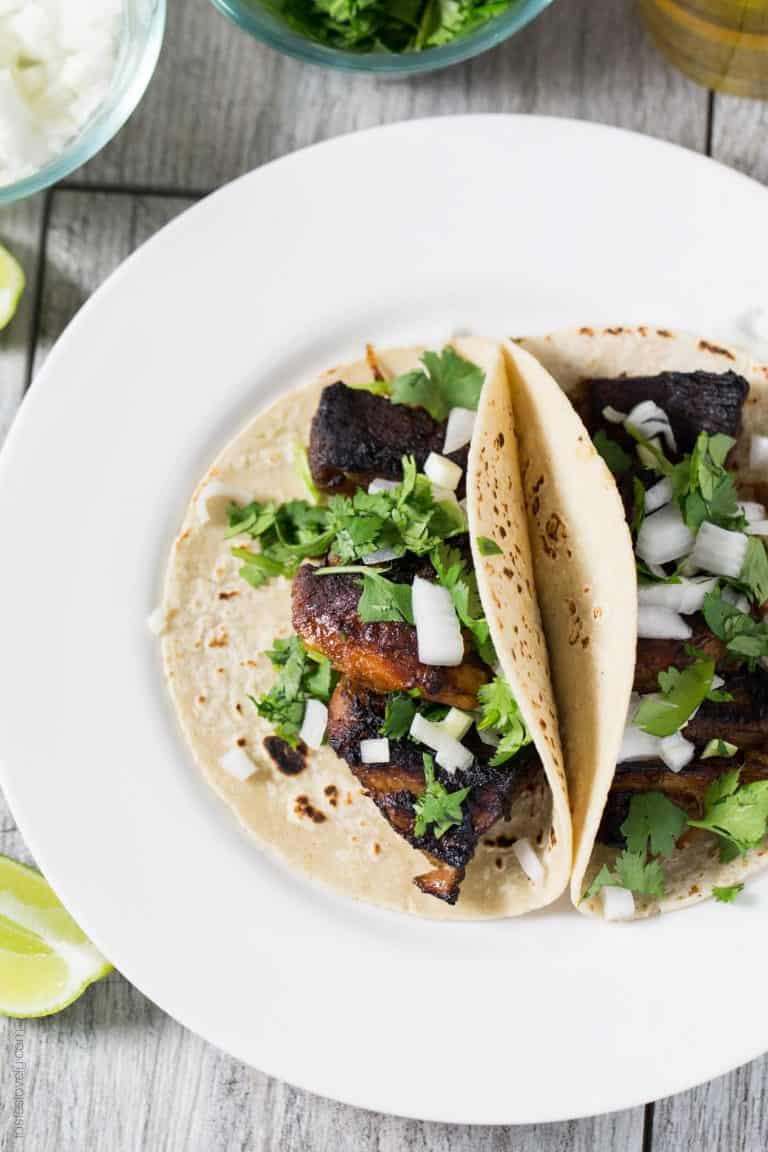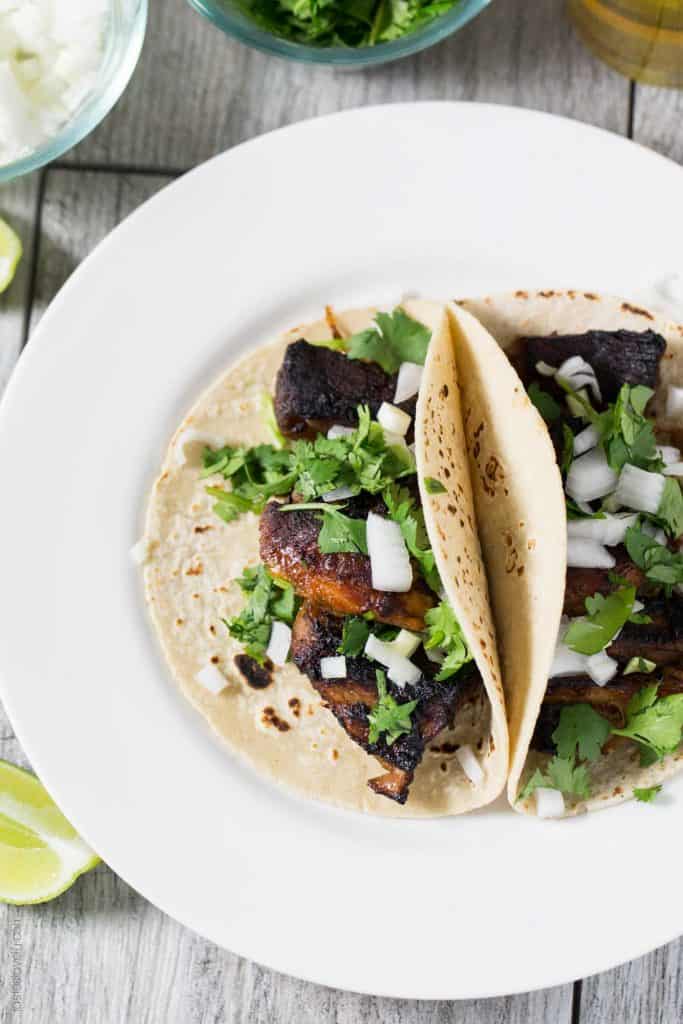 I love these carnitas served in tacos. These street style ones are exactly how I had them the last time we were in Mexico. Really simple with chopped white onion, fresh cilantro and a squeeze of lime juice.
When the carnitas are this tasty, you don't need to add much to the tacos.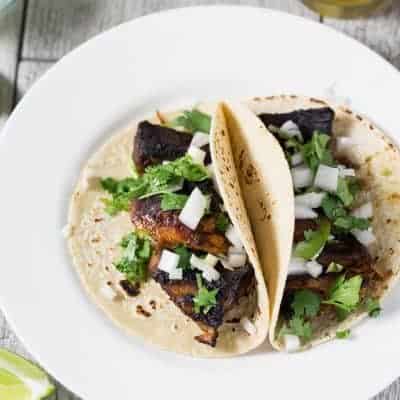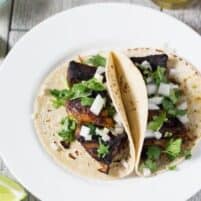 Street Style Crispy Carnitas Tacos
These Street Style Crispy Carnitas Tacos use tender and juicy pork that is slow cooked in the crockpot with Mexican flavors of cumin and orange, then broiled in the oven for just 15 minutes before serving to get them crispy.
Ingredients
4-

pound

boneless pork butt

, also called pork shoulder, huge fat caps cut away, cut into 2" chunks (I get my chicken from ButcherBox, which I highly recommend)

1/2

yellow onion

,

skin removed, cut into 2 equal halves

1

orange

,

cut in half

2

cups

chicken stock

2

tablespoons

lime juice

,

from 1 or 2 limes

2

teaspoons

ground cumin

1

teaspoon

dried oregano

1

teaspoon

salt

1

teaspoon

pepper

2

bay leaves

warmed tortillas

,

chopped white onion, chopped cilantro and lime wedges for serving
Instructions
In your slow cooker, combine the cut up pork butt, onion, orange, chicken stock, lime juice, cumin, oregano, salt and pepper. Stir to combine and cover. Cook over low for 6-8 hours, or high for 4-6 hours.

Gently remove the cooked pork butt from the slow cooker, it is going to be very tender. Transfer it to a plate, and break each chunk in half with a fork.

Strain the cooking liquid from the slow cooker. Discard the solids. Allow the cooking liquid to sit for 5 minutes, then spoon the fat off the top. Boil the cooking liquid over high heat until it is reduced by half to 1 cup.

While the cooking liquid is reducing, turn your broiler on High with the oven rack in the middle. Line a rimmed baking sheet with parchment paper.

In a medium size mixing bowl, add the carnita meat and toss with the reduced cooking liquid. Transfer the meat to the parchment lined baking sheet.

Broil for 10-15 minutes until the meat is crispy. No need to turn it. Remove it from the oven and allow it to cool a minute or two.

Serve the carnita meat in the taco tortillas topped with chopped onion and cilantro and a squeeze of lime juice.
Calories:
470
,
Total Carbs:
34.6
g
,
Protein:
57.2
g
,
Fat:
11
g
,
Fiber:
4.7
g
,
Net Carbs:
30
g
Did you make this recipe?
Please Leave a comment and give this recipe a rating!

More Taco Recipes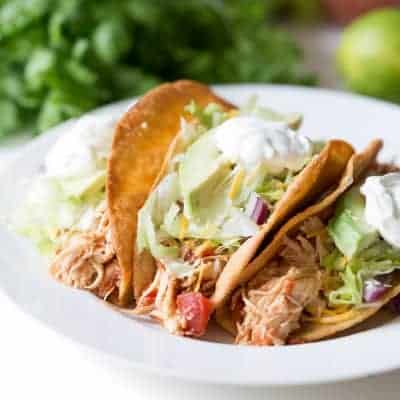 Slow Cooker Shredded Chicken Tacos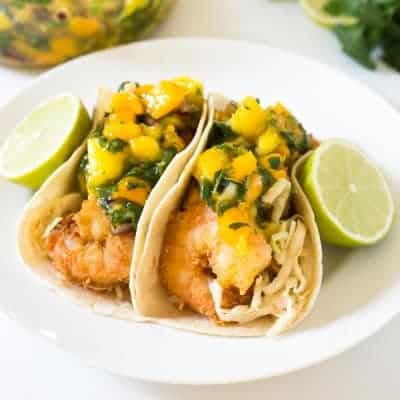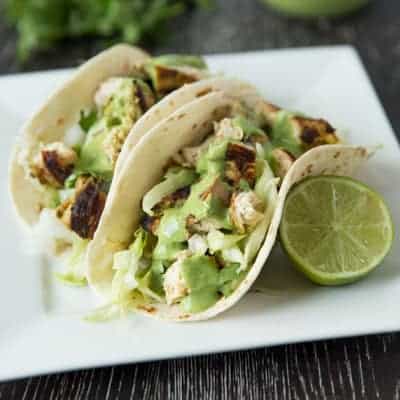 Chicken Tacos with Cilantro Lime Ranch Dressing
This post contains affiliate links, thanks for the love!