Whole30 + Keto Instant Pot Carnitas
Whole30 + Keto Instant Pot Carnitas Recipe – instant pot Mexican pulled pork made in the instant pot, then broiled to get crispy and caramelized. Paleo, gluten free, grain free, dairy free, sugar free, clean eating, real food.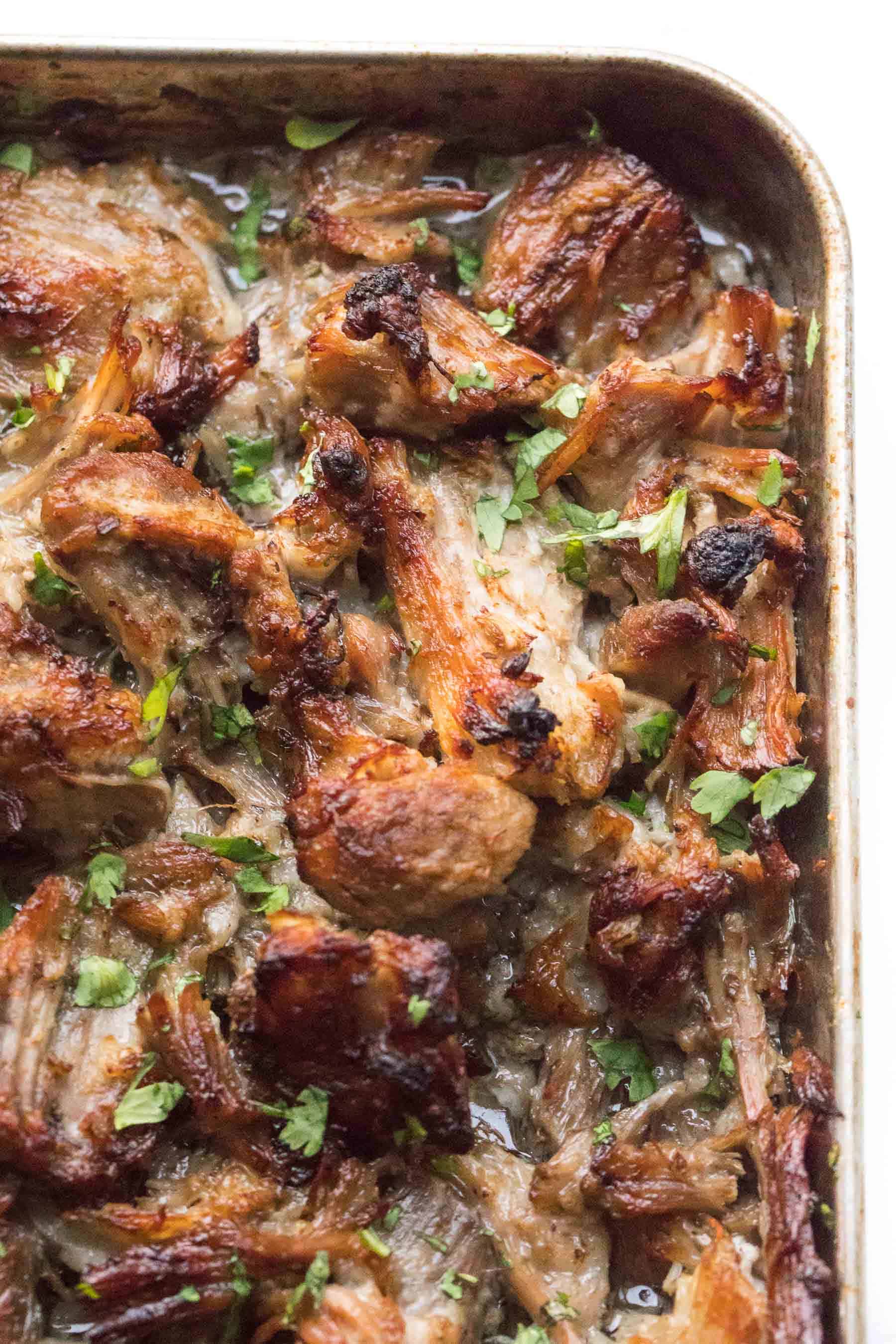 I must insist you stop everything you're doing and add this whole30 + keto instant pot carnitas to your dinner menu ASAP. It is SO GOOD!
Even better? It makes a ton so you'll have leftovers you can use for meal prep lunches!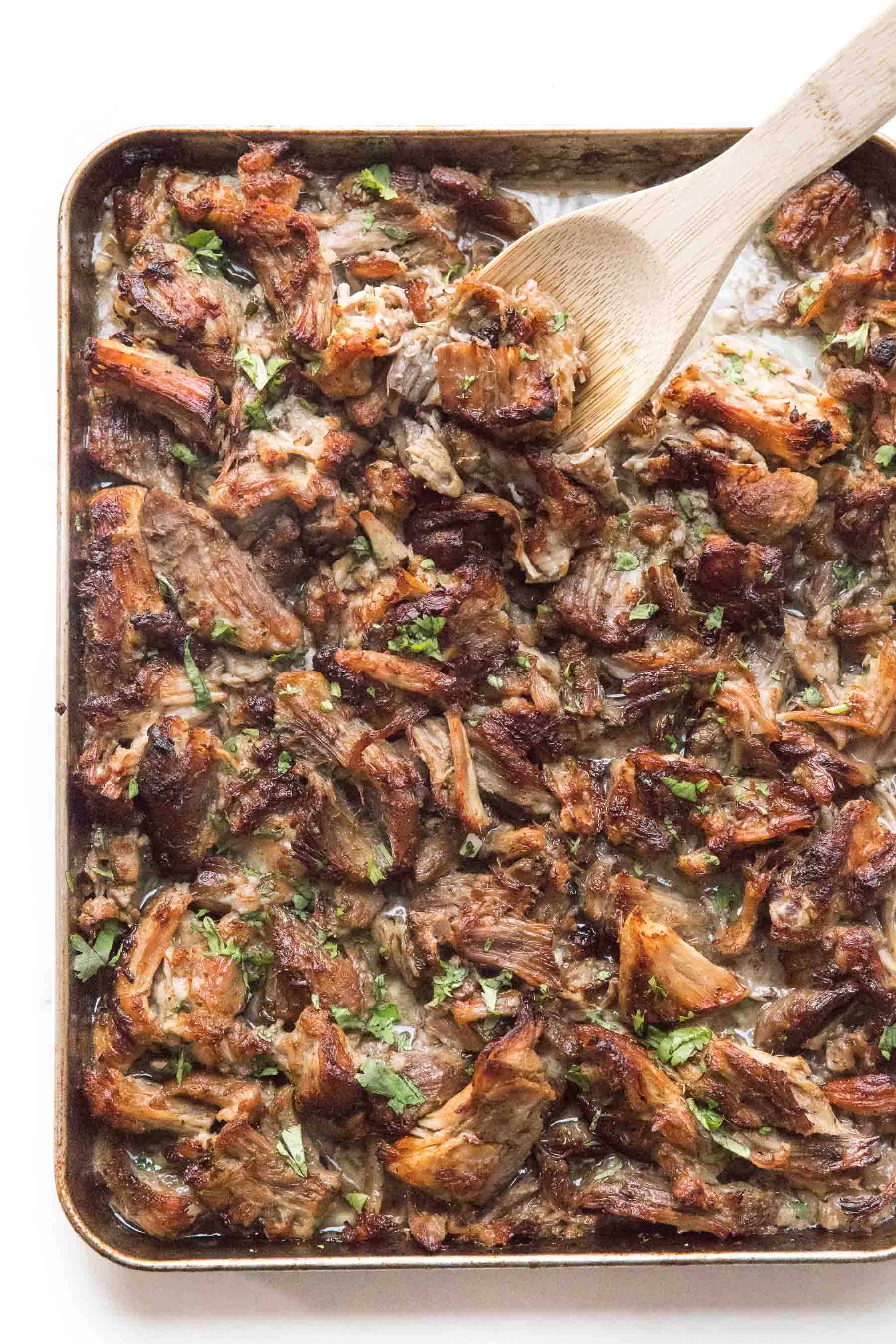 Crispy Whole30 + Keto Instant Pot Carnitas
I've updated my slow cooker carnitas to work in the instant pot, and I love them even more!
The secret to these amazing carnitas is to broil them after they're done cooking in the instant pot. This will get them crispy, and help caramelize the fat. The flavor is out of this world!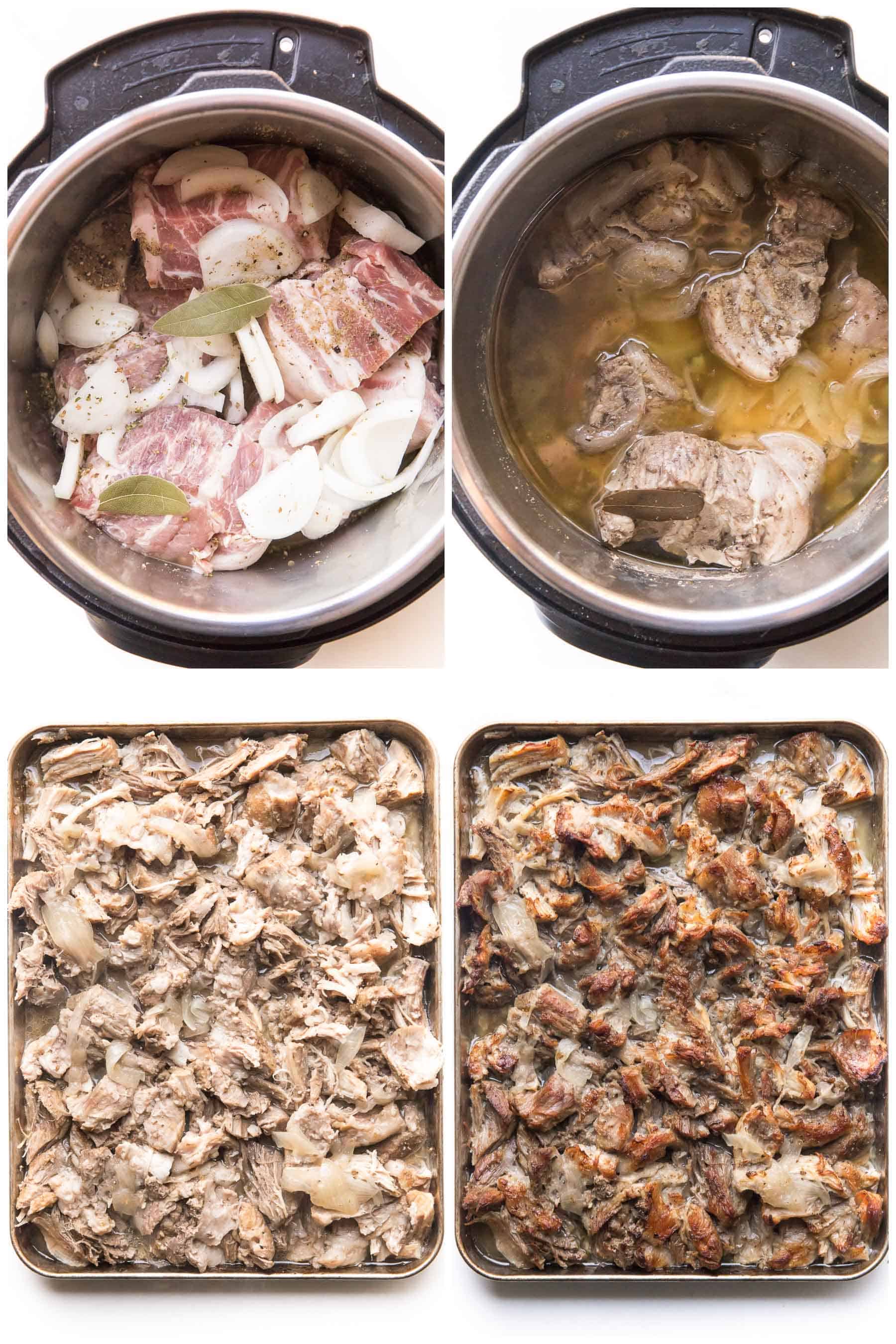 Whole30 + Keto Instant Pot Carnitas Ingredients
The amazing flavor is thanks to high quality pork butt. I get my humanely raised hormone + antibiotic free pork butt from ButcherBox (which I highly recommend!). An animal stores any toxins in it's fat. Pork butt has a high amount of fat, so it's important to get the highest quality pork.
To add even more flavor, I cook the pork butt with a mojo sauce of onions, orange juice, lime juice, chicken stock, cumin + oregano. After it's done cooking in the instant pot, I boil down the cooking liquid and spoon it over the shredded carnitas before broiling. Keeps the meat juicy and flavorful.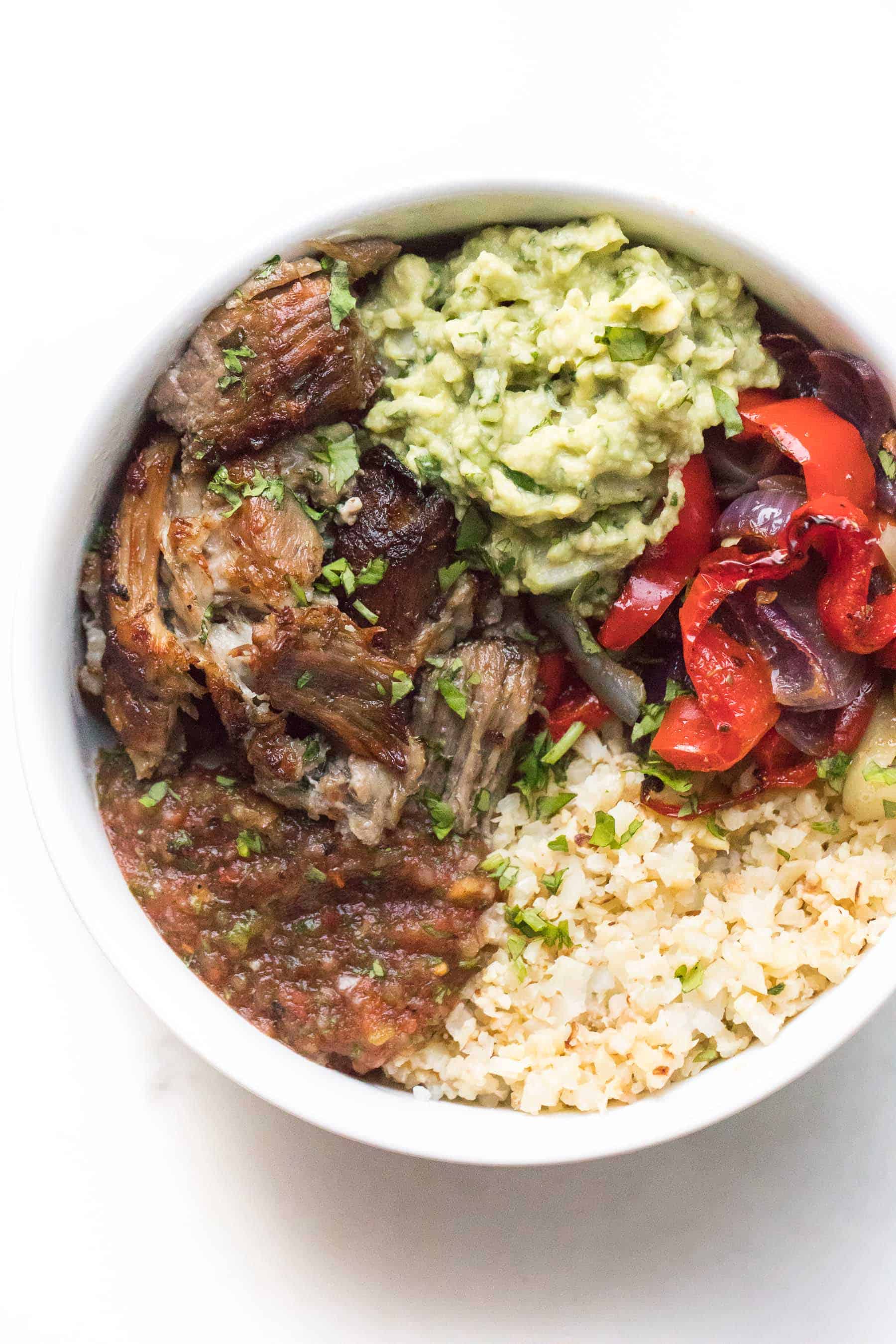 Whole30 + Keto Instant Pot Carnitas Bowl
To serve, I love a delicious carnitas bowl with fajita veggies, cauliflower rice, salsa, guacamole and fresh cilantro.
This makes enough for 8 servings, so you can meal prep your leftover carnitas for lunches for the week!
Watch Carnitas Recipe Video (0:59 minutes)
Watch Carnitas Recipe Video Demo (4:16)
Print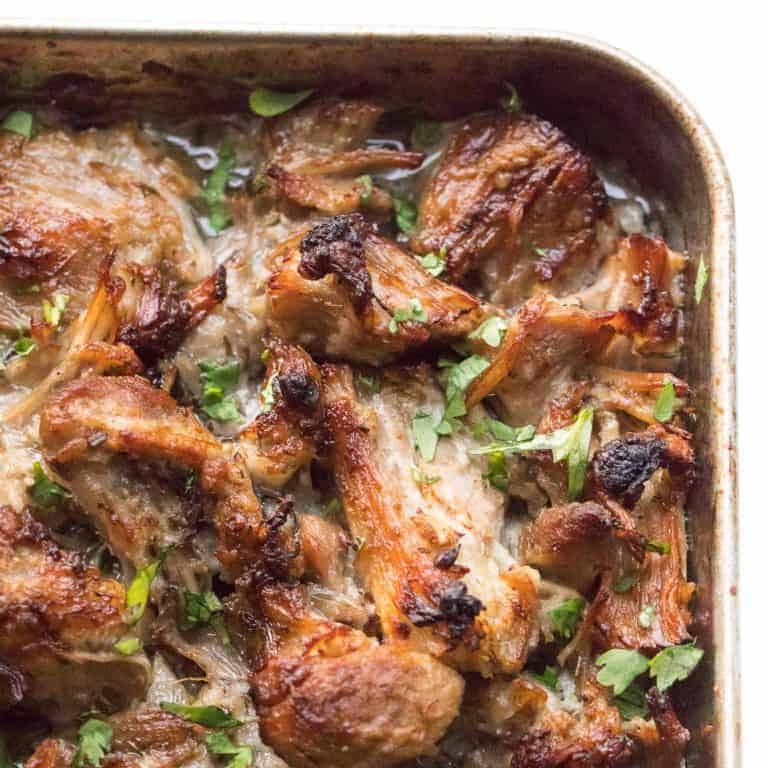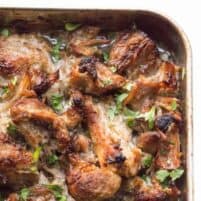 Whole30 + Keto Instant Pot Carnitas
---
Author:

Prep Time:

5 mins

Cook Time:

30 mins

Total Time:

35 minutes

Yield:

8

1

x
4-pound boneless pork butt, cut into 2″ chunks (I get my hormone + antibiotic free pork butt from ButcherBox, which I highly recommend!)
1 yellow onion, sliced
2 cups chicken stock
juice from 1 orange
juice from 2 or 3 limes
2 teaspoons cumin
1 teaspoon oregano
1 teaspoon salt
1 teaspoon pepper
2 bay leaves
---
Instructions
In a large measuring cup, combine the chicken stock, orange juice, lime juice, cumin, oregano, salt + pepper. Stir to combine.
In your instant pot, add all the pork butt + raw onion. Pour over the chicken stock mixture and add in the bay leaves. Close with the lid, and make sure the vent is at SEALING.
Cook on HIGH PRESSURE for 30 minutes. Will take about 10-15 minutes to reach pressure, then it will start counting down from 30. After the 30 minutes is up, do a NATURAL RELEASE for 15 minutes. It will start counting up to 15. Then do a QUICK RELEASE, where you move the valve to VENTING to release any more steam. Once all the steam is gone, you can safely open the instant pot.
Set your oven to BROIL.
Gently remove all the carnitas and transfer to a rimmed baking quarter sheet. Discard the bay leaves. Shred the carnitas into bite size pieces using 2 forks. Pour 1/2 a cup of the sauce and onions over the carnitas.
BROIL the carnitas for 5 minutes, until crispy. If I have time, I like to turn the carnitas a few times and keep broiling in 5 minute increments. This really caramelizes the fat and gives it the most amazing texture and flavor.
Serve warm topped with chopped cilantro. Delicious in burrito/taco bowls with fajita veggies, cauliflower rice, guacamole + salsa. Can also serve in lettuce leaf tacos or as a salad.
Will keep in an airtight container for 5 days, or frozen for 6 months.
Notes
Meal Prep Instructions: Store in an airtight container for up to 5 days in the refrigerator. I love these plastic ramekins to hold salsa or guacamole. HEATING: These are delicious cold served as a salad! Or, to heat, remove the salsa and/or guacamole ramekins, and either microwave until warm, about 3-5 minutes (I like to sprinkle in a little water to help it steam and prevent it from drying out). Or reheat in a 350ºF oven until warm, 10-15 minutes. Can also reheat in a skillet over medium heat until warm, about 5-10 minutes.
Slow Cooker: You can also make these in the slow cooker. Here is my slow cooker carnitas recipe.
I prefer pork butt, but you could also use pork shoulder. If you have bone in pork butt, just cut around the bone, then throw it in to the instant pot. The bone will add even more flavor!
I use yellow onion, but you could use white or red.
You don't have to crisp them in the oven, but highly recommend you do!
FAQ's about Whole30 + Keto Instant Pot Carnitas
Q. Have you done this in the crockpot/slow cooker?
A. Yes! Here is a link to the slow cooker version of this carnitas recipe!
Q. Which instant pot do you have?
A. I have this instant pot and LOVE it!
Q. Can you do something similar with beef?
A. Yes! That is barbacoa. Use a 4 pound chuck roast.
Q. If you freeze the leftovers, how would you defrost it?
A. Thaw completely in the fridge overnight. When ready to cook, heat on a rimmed quarter baking sheet at 350ºF for 15 minutes, or until warm. Then, broil for 3-5 minutes until crispy. Or, you can reheat it all in a cast iron skillet with some avocado oil. Will end up more shredded that way.
Q. Can you use other cuts of pork besides pork butt?
A. Yes, but pork butt (also called pork shoulder) is really the best since it has so much fat and gets so caramelized and crispy. But! You can use equal weight of pork tenderloin or pork loin and it will shred the same. Won't get as crispy when broiling, but will still be delicious!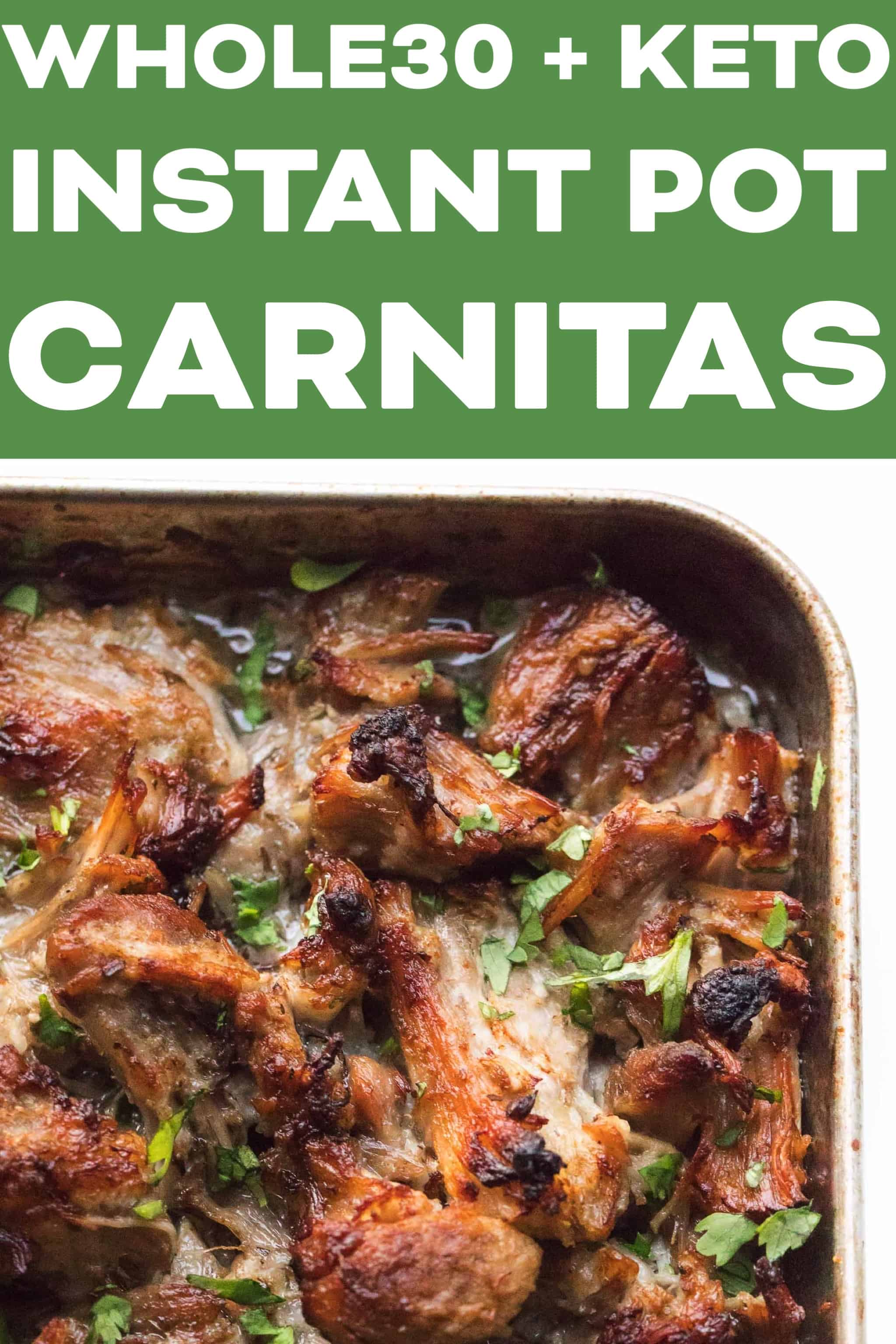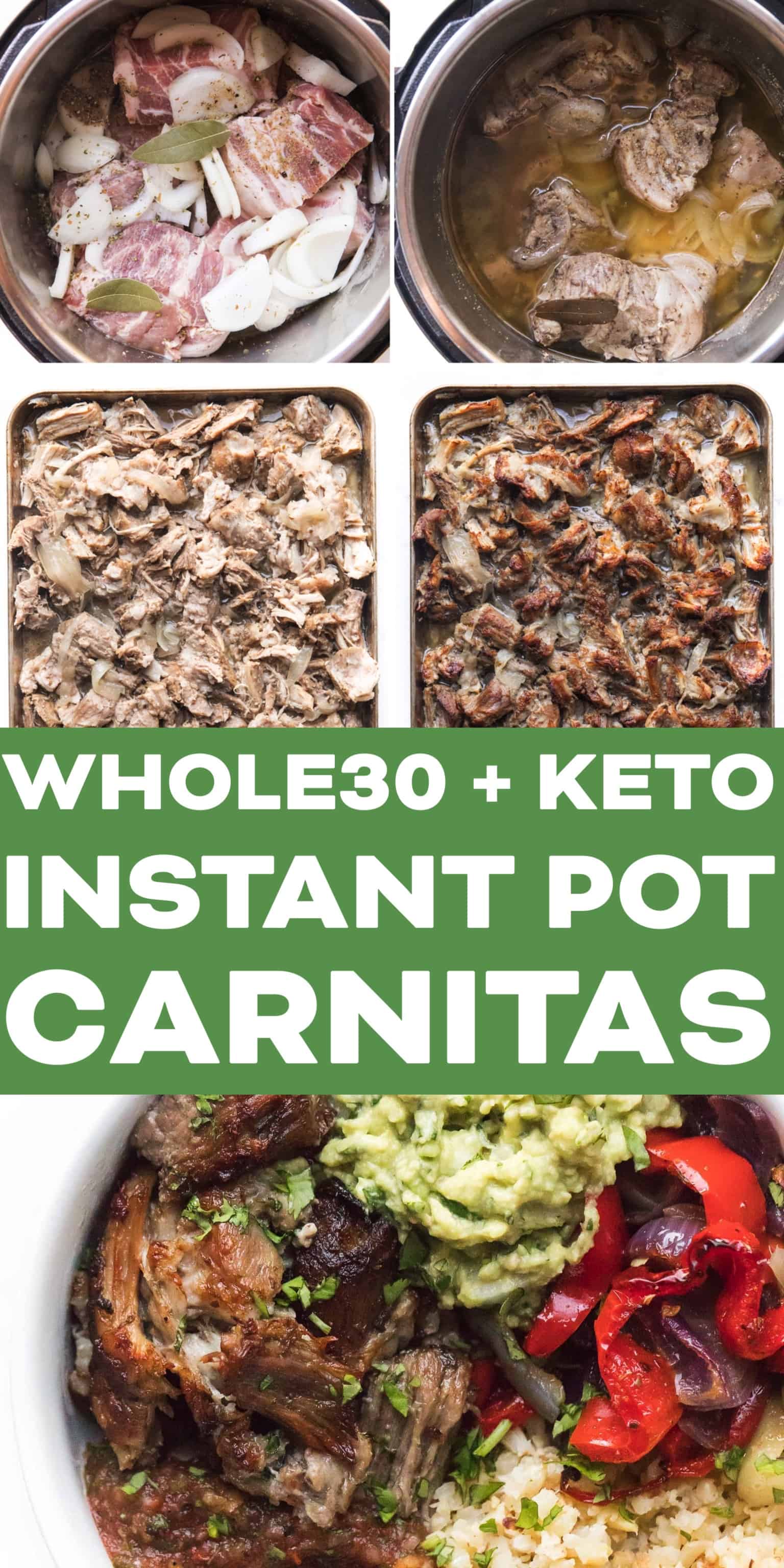 This post contains affiliate links, thanks for the love!
Never Miss a Recipe!
Get new posts delivered straight to your inbox! For free!