Sweet & Spicy Rosemary Roasted Mixed Nuts
Sweet and spicy rosemary roasted mixed nuts. Sweet and crunchy, with a touch of spice and earthy rosemary flavor, these mixed nuts are the perfect holiday appetizer or gift for friends and neighbors.
I now firmly believe in miracles. I was just a part of what I can only call a holiday miracle. You are never going to believe this story.
I was at Costco, along with everyone other person in the entire universe, stocking up on some pantry essentials. I was trying to travel light, so I just brought in my Costco Amex, cell phone, and car keys. My keys have this carabiner clip that I can clip to the loop on my jeans and then tuck in to my pocket if I need to. But I was wearing yoga pants (hello, I just had a baby), so I clipped the keys to my shopping cart.
I went about my shopping. Got everything on my list. Checked out. Then loaded all the groceries in my car. After all that work, I decided I deserved a little treat, so I went back in Costco to get a churro. I sat down to eat it, and daydreamed for a few minutes. I got up to head back to my car, when the scariest realization hit me.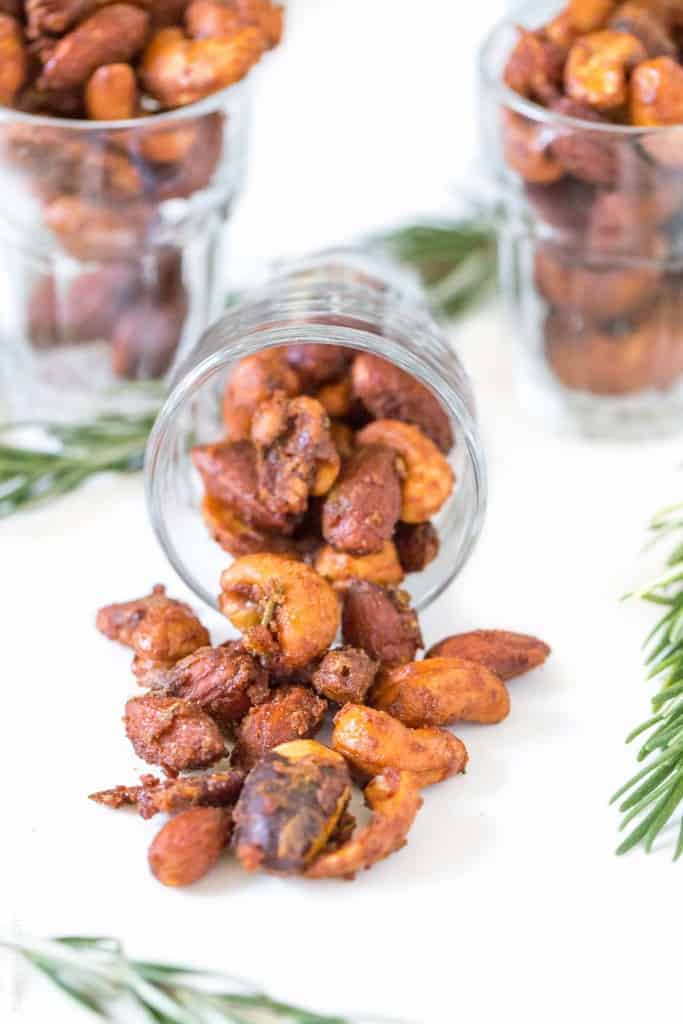 Oh! my! GOD!
I left my car keys clipped on to my grocery cart!!! I put my grocery cart back in the grocery cart line in the front of the store. That was like 10 minutes ago. My keys could be ANYWHERE!
No. no. no. no.
Cue panic sweats. How in the world am I going to find my keys? There were about a 300 people in Costco at that moment. Any one of them could have grabbed my grocery cart. This is going to be a nightmare. I got up, and slowly start walking towards the exit to see if somehow my grocery cart is still sitting outside.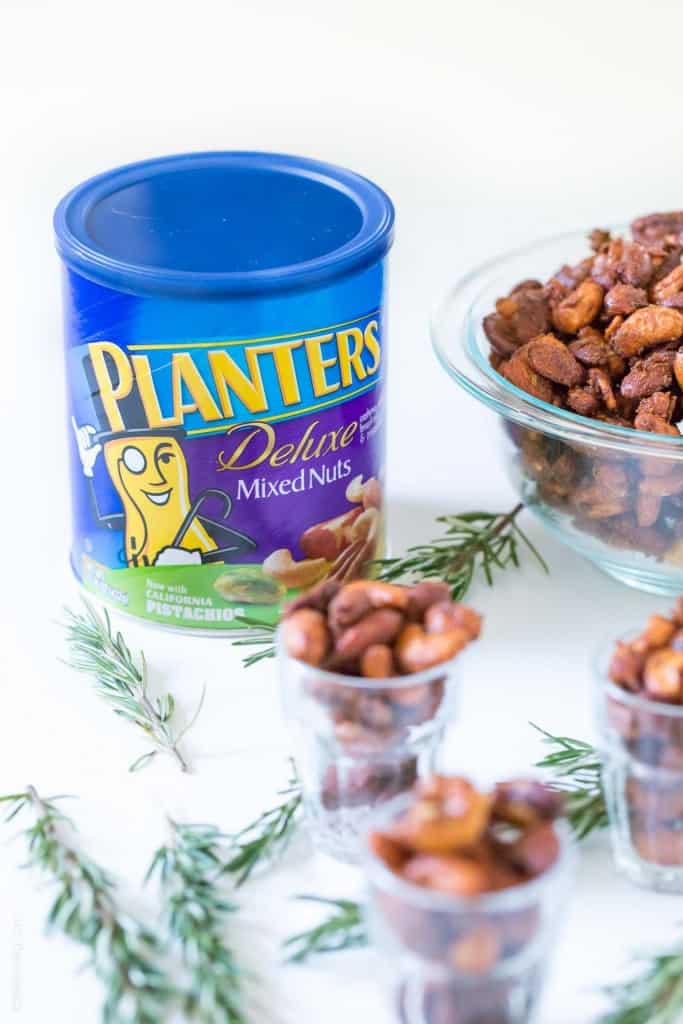 As I am walking towards the exit, I glance to my left, and there is a guy who only got like 3 things headed out to the exit too. And guess what is clipped to his grocery cart? My car keys.
I just reached over, unclipped them, and said, "Oh thank GOD! These are my keys. I thought I had lost them!" Then I was on my merry way.
Please take a minute to take that in.
What are the chances that the one guy who grabbed the cart with my keys was just going in for 3 things? Nobody does that. If you're going to Costco, you're filling that cart up and it is going to take a while. And that he finished his shopping and checked out in the time it took me to eat a churro? And he happened to be walking right by me 30 seconds after I realized my keys were lost?
I don't even want to think about what I would have done if I didn't find them that easily. Walk around the store aimlessly looking at every grocery cart trying to find my keys? Stand by the exit for an hour looking at all the carts that walked by? It would have been miserable.
I told you. Holiday miracle.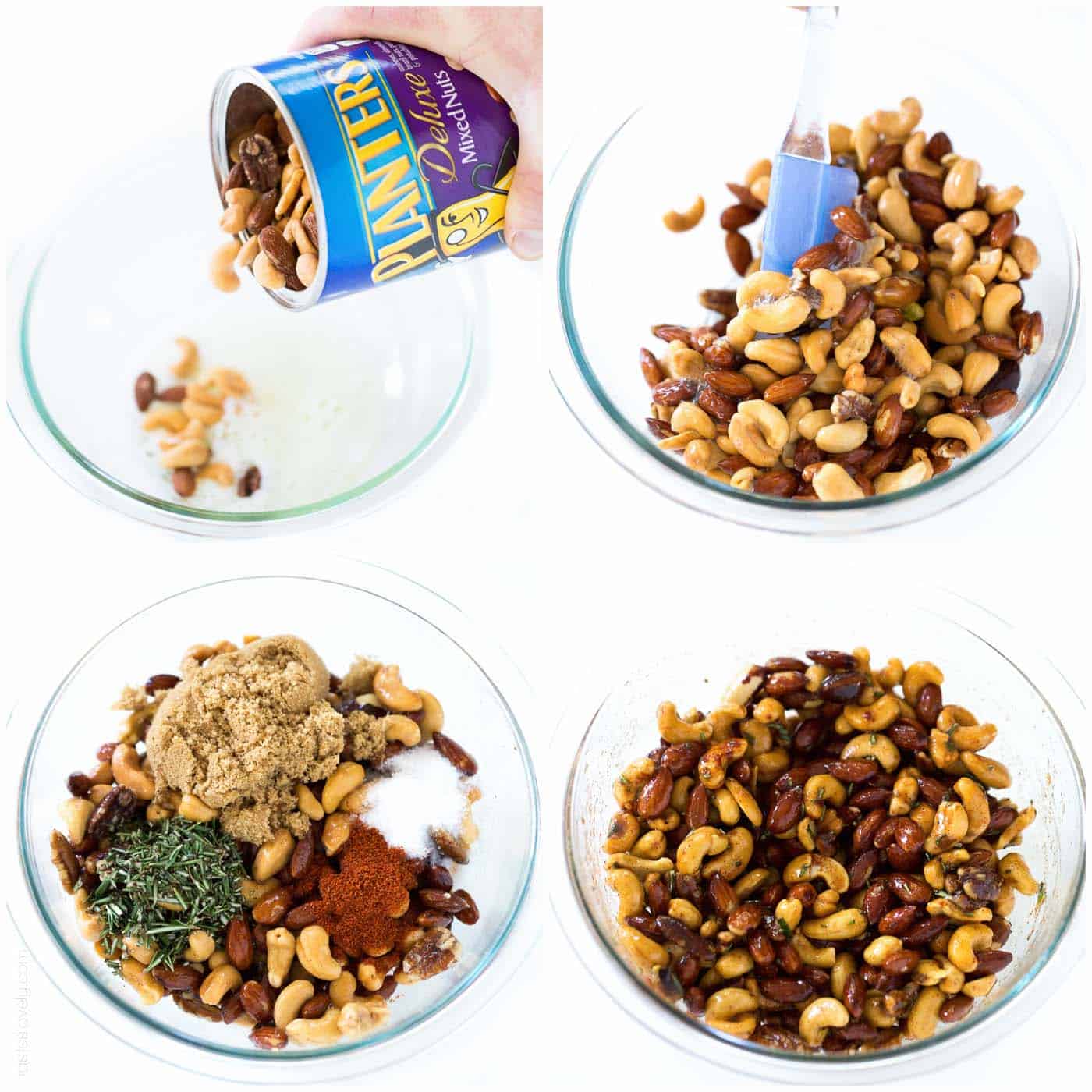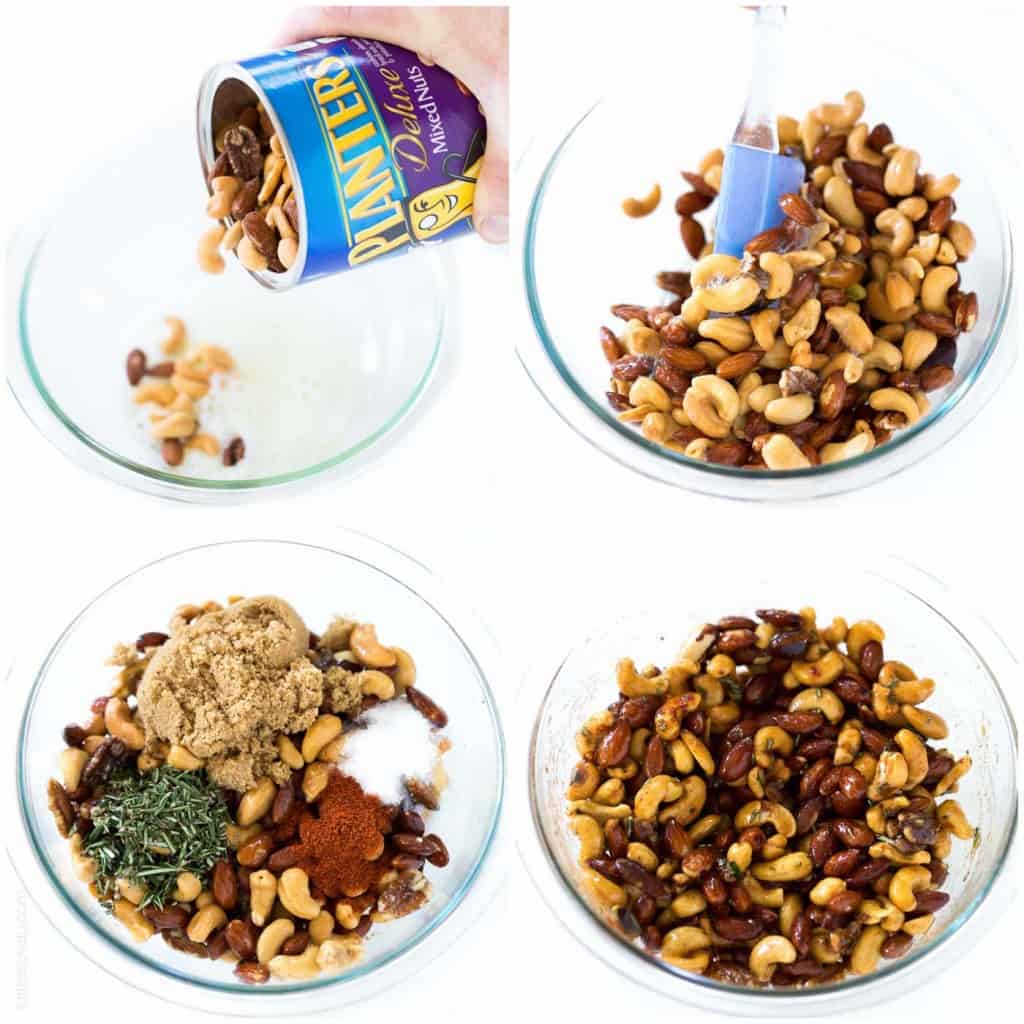 I came home in the happiest mood. Wanting to spread my holiday cheer, I decided to cook up my favorite sweet & spicy rosemary roasted mixed nuts to give out to friends and neighbors. This mixed nuts are absolutely amazing! You are going to love the flavor. They get a crunchy and crackly coating of brown sugar, rosemary, salt and cayenne pepper. I love the way my house smells when these are cooking up in the oven. And they make a great change to the usual cookie or fudge you get during the holidays. Everyone loves mixed nuts!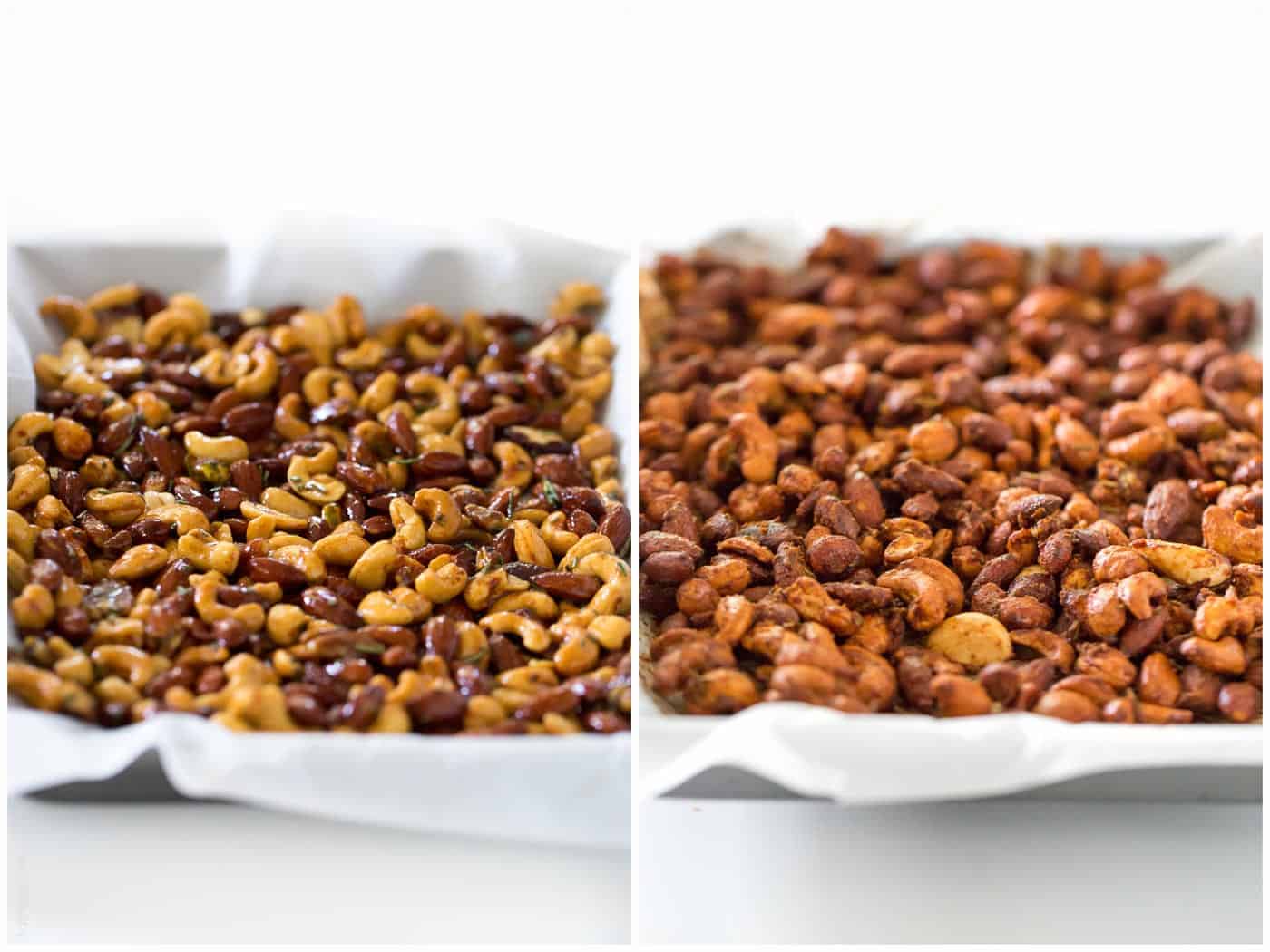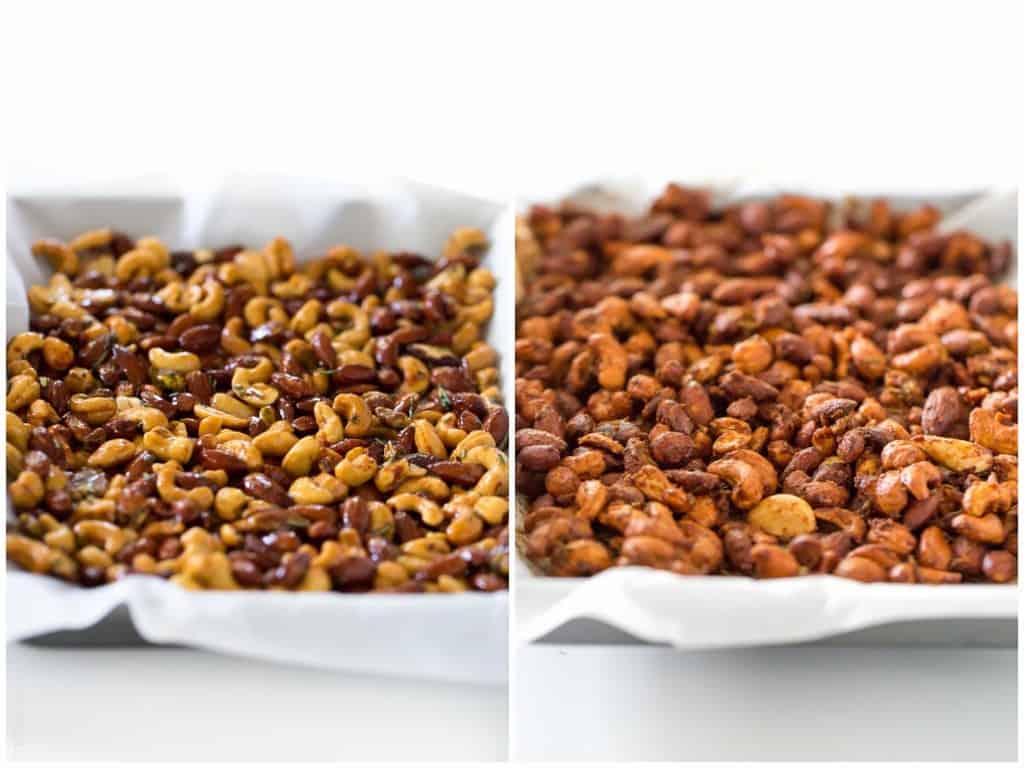 And when it comes to mixed nuts, I always buy Planters. Their Deluxe Mixed Nuts are the very best. Is it just me, or when you're giving a baked treat as a gift do you insist on buying the highest quality ingredients? I want to make sure what I'm giving out is as tasty as can be.
Don't forget to put out the good stuff this holiday season! With their unique combination of good fats, dietary fiber, and vitamins and minerals, nuts make a deliciously powerful addition to any holiday festivity. Planters has been an American favorite for over 100 years. A gathering isn't a party until Planters is served.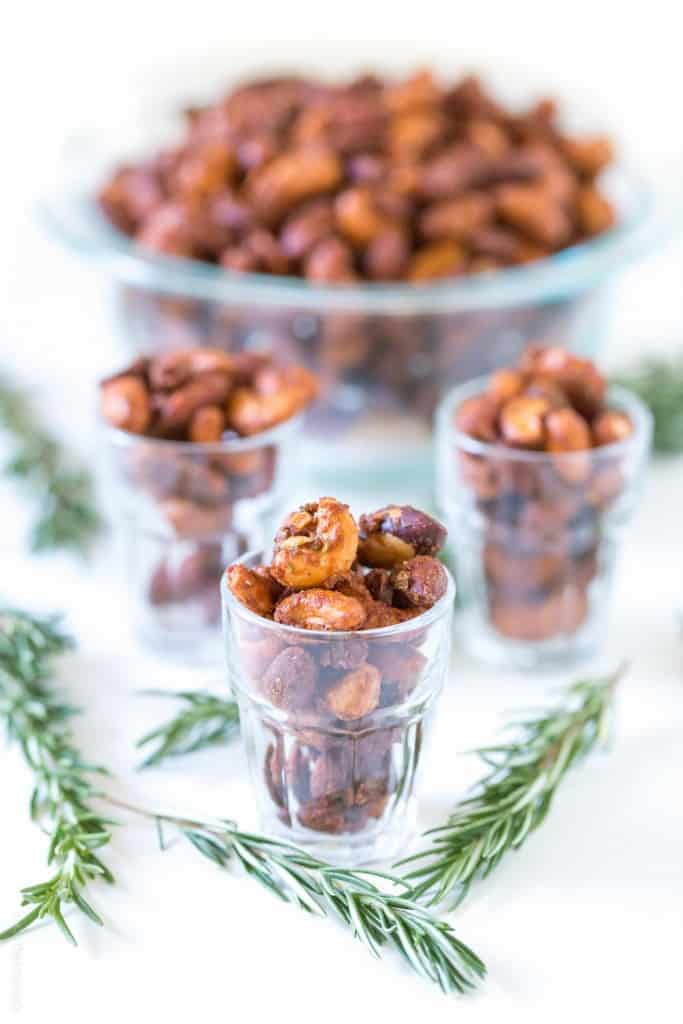 These sweet and spicy rosemary roasted mixed nuts are the perfect holiday appetizer. I only like mildly spicy foods, so I only use 1 teaspoon cayenne pepper in the mix. But if you like it spicier, feel free to add more!
The sweet and spicy combination is particularly delicious when paired with champagne. And since Josh came early, I'll be able to ring in New Year's with a glass of bubbly! And these mixed nuts of course.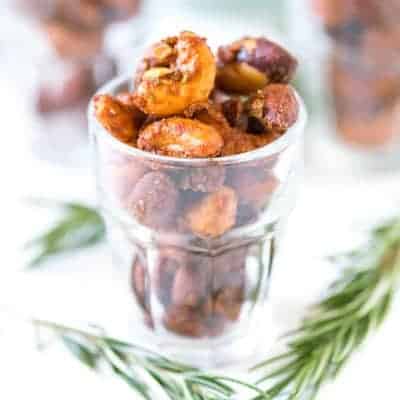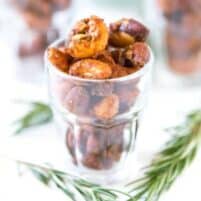 Sweet & Spicy Rosemary Nuts
Sweet and spicy rosemary roasted mixed nuts. Sweet and crunchy, with a touch of spice and earthy rosemary flavor, these mixed nuts are the perfect holiday appetizer or gift for friends and neighbors.
Ingredients
16

ounces

raw

,

unsalted mixed nuts (about 4 cups)

2

egg whites

1

tablespoon

water

1/4

cup

brown sugar

2

tablespoons

chopped fresh rosemary

2

teaspoons

kosher salt

1

teaspoon

cayenne pepper
Instructions
Preheat oven to 350 degrees with the oven rack in the middle position. Line a baking sheet with parchment paper.

In a medium size mixing bowl, whisk the egg whites and water until frothy. Add the mixed nuts and toss to combine. Add the brown sugar, rosemary, cayenne pepper and salt. Toss to combine.

Spread the mixed nut mixture in an even layer on the parchment lined baking sheet. Bake for 1 hour, tossing the nuts half way thru. Remove and allow to cool completely, at least 15 minutes. Break the nuts apart and serve.

Will keep in an airtight container for 2 weeks.
Notes
These nuts are mild spicy. But if you like your nuts spicier, add in another teaspoon cayenne pepper.
Calories:
79
,
Total Carbs:
6.2
g
,
Protein:
2.4
g
,
Fat:
5.4
g
,
Fiber:
1
g
,
Net Carbs:
5
g
Did you make this recipe?
Please Leave a comment and give this recipe a rating!

More Holiday Appetizers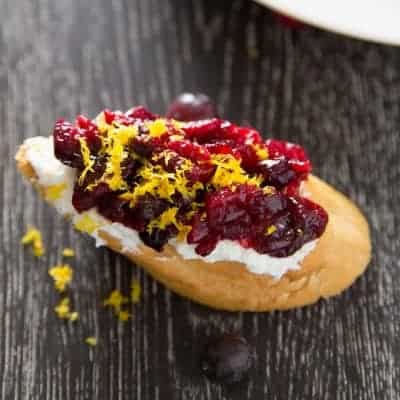 Roasted Cranberry and Orange Crostini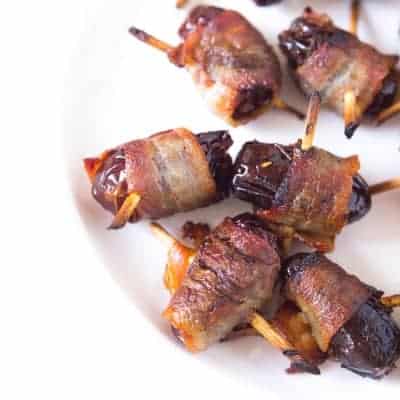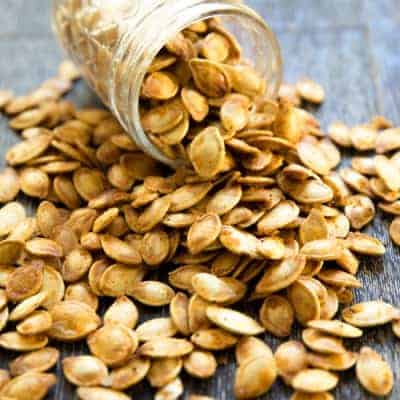 This post is sponsored by Planters. All opinions are my own. Thank you for supporting the brands that support me!