Whole30 + Keto Coconut Tahini Salmon
Whole30 + Keto Coconut Tahini Salmon Recipe + Video – simple + healthy salmon topped with a creamy 3 ingredient sauce. Paleo, gluten free, grain free, dairy free, sugar free, clean eating, real food.
The sauce on this salmon is so good, you're going to want to drink it.
Whole30 + keto coconut tahini salmon is about to be your new favorite dinner. Bonus? It's ready in 25 minutes!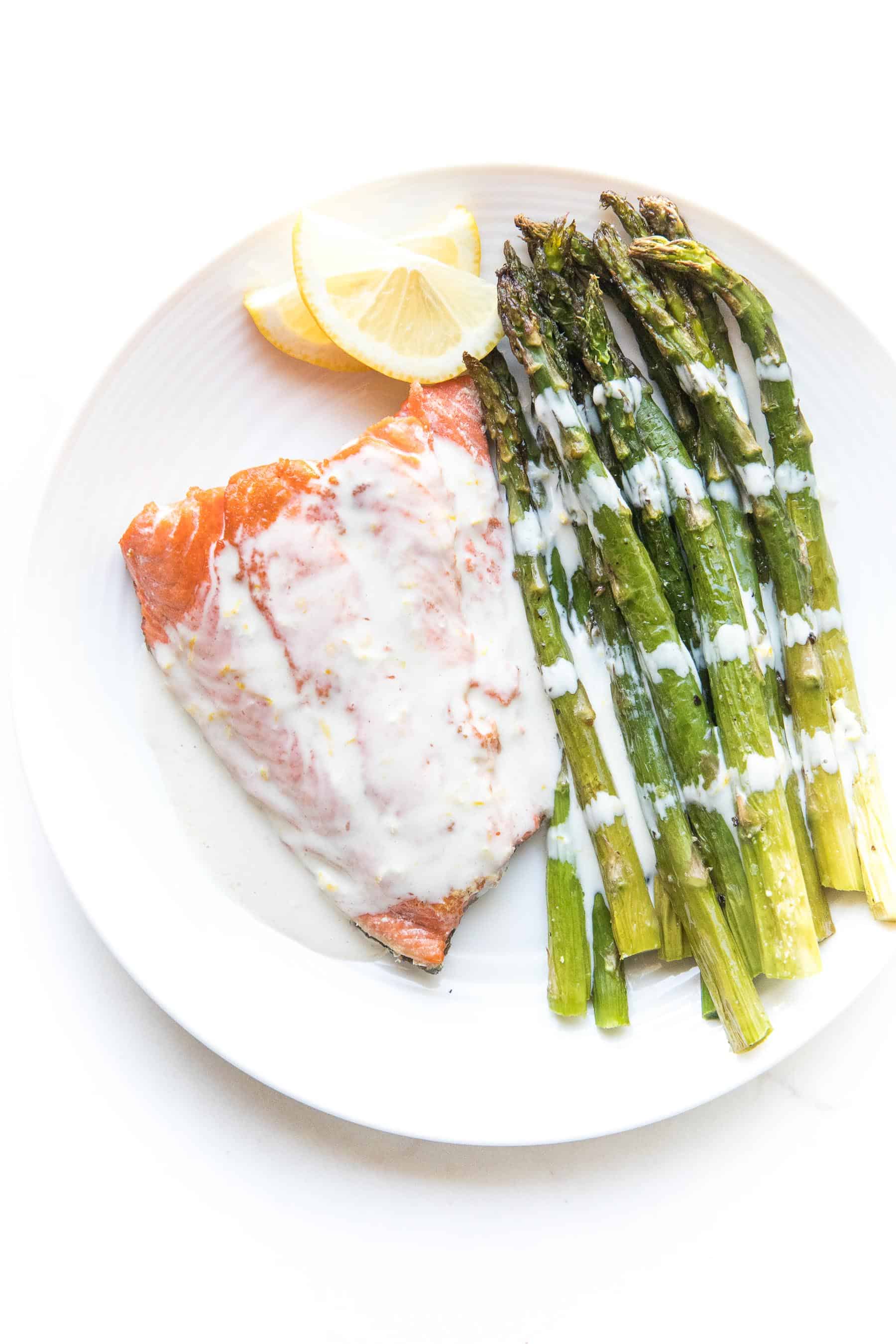 My newest favorite way to cook salmon is to bake it in the oven.
You put the salmon on a baking sheet, put it in a COLD oven. Then you put the oven at 350ºF, set your timer for 25 minutes, and then you have perfectly cooked salmon every time! Works for skin-on or skin-off salmon.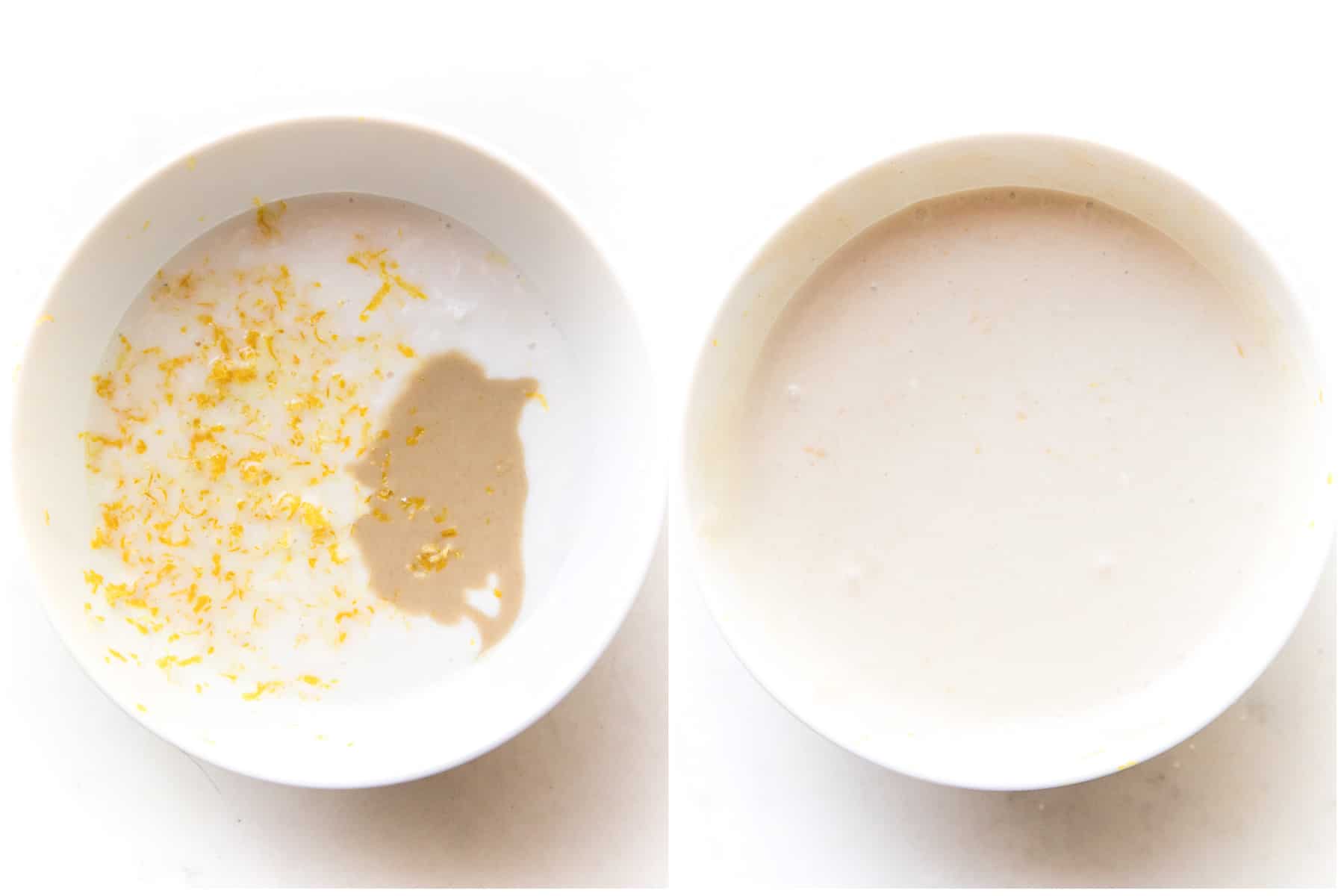 The real star of this dinner is the coconut tahini sauce. I found it one day when I was eating some cold, leftover salmon and wanted a yummy sauce to jazz it up. Grabbed what I had in my fridge: some canned coconut milk, tahini, lemon zest + lemon juice. Added a pinch of salt, and the most lucious, silky, tropical sauce was made.
The best part is you don't even need to heat it up! Just drizzle it room temperature over your warm salmon.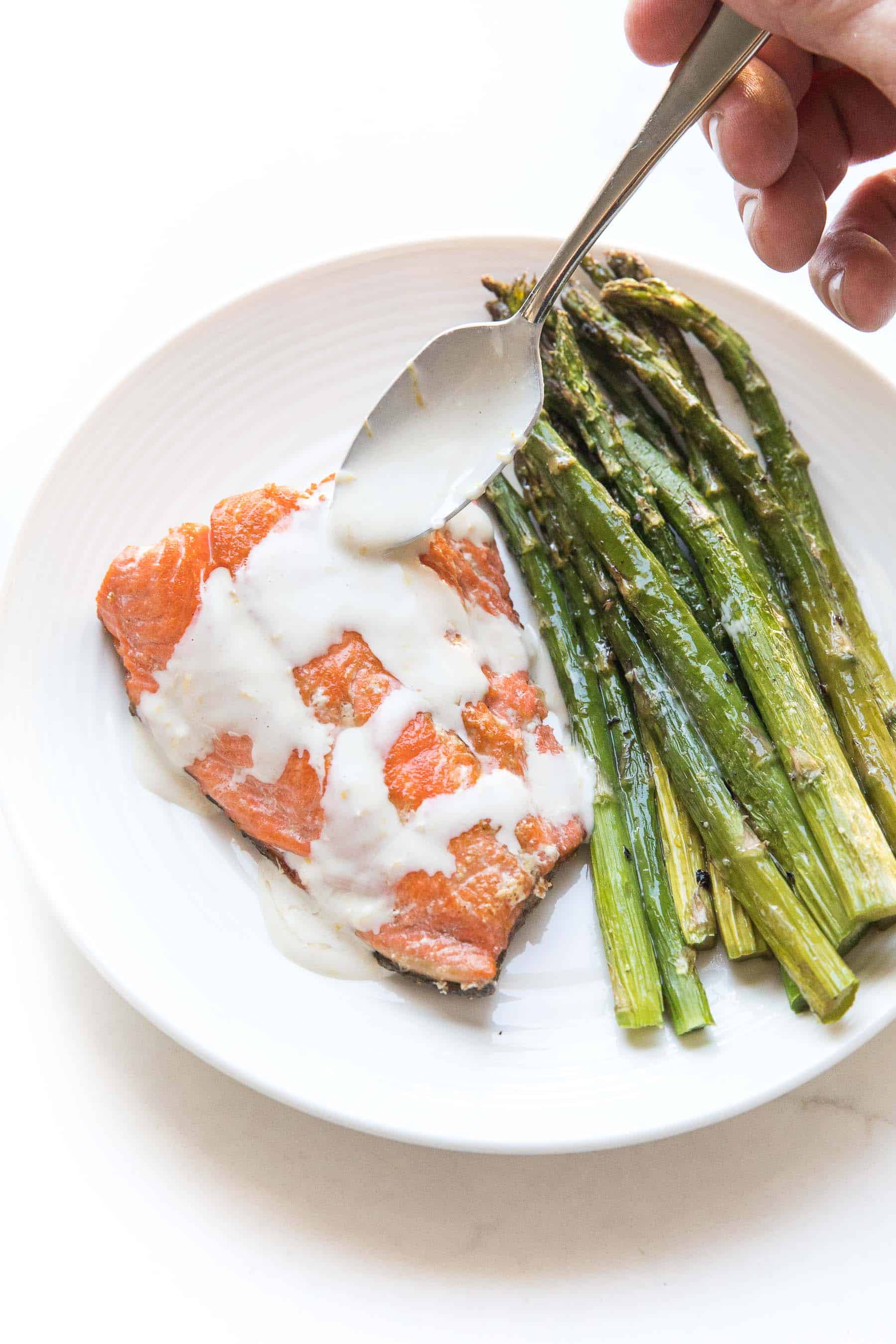 The sauce not only adds tons of flavor, but also a great source of healthy fat. Perfect for keto, and to curb your hunger when doing a whole30.
I love serving this with some roasted asparagus + cauliflower rice.
Watch Coconut Tahini Salmon Recipe Demo (2:11 minutes)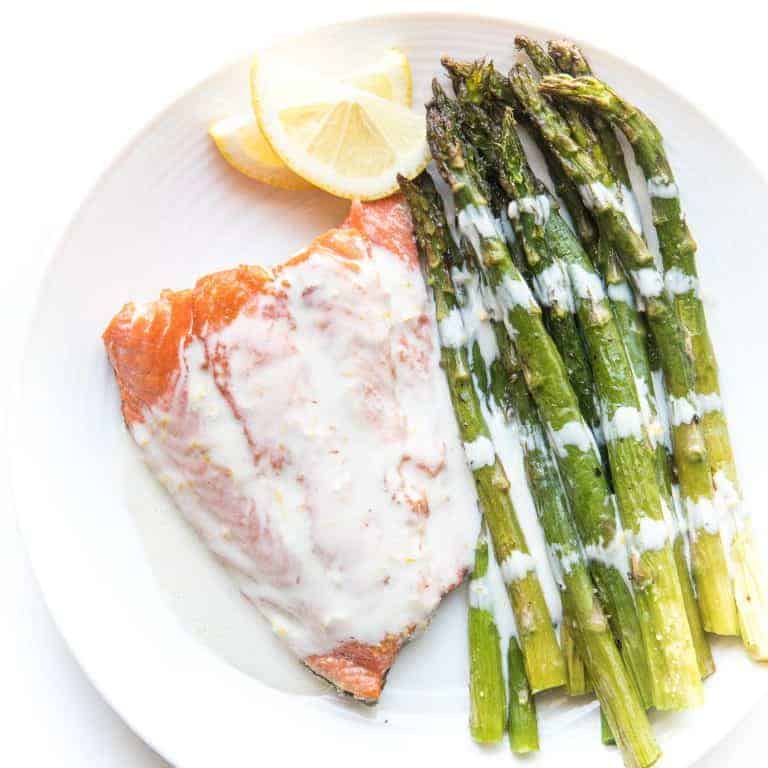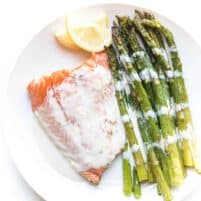 Whole30 + Keto Coconut Tahini Salmon
This Keto Coconut Tahini Salmon Recipe is simple + healthy salmon topped with a creamy 3 ingredient sauce.
Ingredients
Salmon
4

6-ounce

wild salmon filets

1

pound

asparagus

,

ends trimmed off

1

tablespoon

olive oil

1

teaspoon

salt + pepper
Coconut Tahini Sauce
1/4

cup

organic tahini

1/4

cup

organic coconut milk in a can

zest from 1 lemon

juice from half a lemon

,

about 1 tablespoon

1/2

teaspoon

salt
Instructions
Pat the salmon filets dry with a paper towel. Season with salt + pepper.

Line a rimmed baking sheet with parchment paper for easy cleanup. Place the salmon filets + asparagus on the rimmed baking sheet. Drizzle the salmon and asparagus with olive oil, salt and pepper.

Place the rimmed baking sheet in a COLD oven. Close the door. Set your oven to 350ºF, then set your timer to 25 minutes.

In a small bowl, combine the tahini, coconut milk, lemon juice, lemon zest + salt. Stir to combine.

To serve, top each salmon with 2 tablespoons of the coconut tahini sauce. Serve warm. I love it with some cauliflower rice.

Leftovers will keep in an airtight container for at least 5 days.
Notes
Substitutions for salmon: any other cut of seafood would work! Mahi mahi, halibut, ono, cod, etc.
Substitutions for tahini: you could use any other nut butter!
Substitutions for canned coconut milk: any other non-dairy milk would work! Cashew milk, almond milk, oat milk, etc.
Substitutions for lemon: orange, lime, grapefruit
Substitutions for asparagus: any other vegetable would work, could even use frozen vegetables! If frozen vegetables, I would put on their own baking sheet so the moisture won't seep in to the salmon.
Substitutions for olive oil: avocado oil, melted coconut oil, melted ghee
Calories:
529
,
Total Carbs:
4.7
g
,
Protein:
68.5
g
,
Fat:
27.4
g
,
Fiber:
1.9
g
,
Net Carbs:
3
g
Did you make this recipe?
Please Leave a comment and give this recipe a rating!
Whole30 + Keto Coconut Tahini Salmon FAQ's
Q. What does tahini taste like? Can you describe it?
A. Tahini is ground up sesame seeds. So basically a sesame seed version of peanut butter. So delicious! It is what is used in hummus along with garbanzo beans!
Q. Can I cook the salmon on a sheet pan instead of a skillet?
A. Yes! Put the filets on a rimmed baking sheet. Put into a cold oven. Turn the oven on to 400ºF and cook for 20 minutes. Will turn out perfect every time!
Q. Is the sauce heavy on coconut flavor?
A. Yes! If you're a coconut lover, this is the sauce for you!
Q. Can I use almond milk instead of coconut milk?
A. Maybe? It might be too thin. Even better would be my cashew cream!
Q. Can I use this sauce on other types of fish?
A. Of course! Would be delicious on all seafood, and even chicken or pork!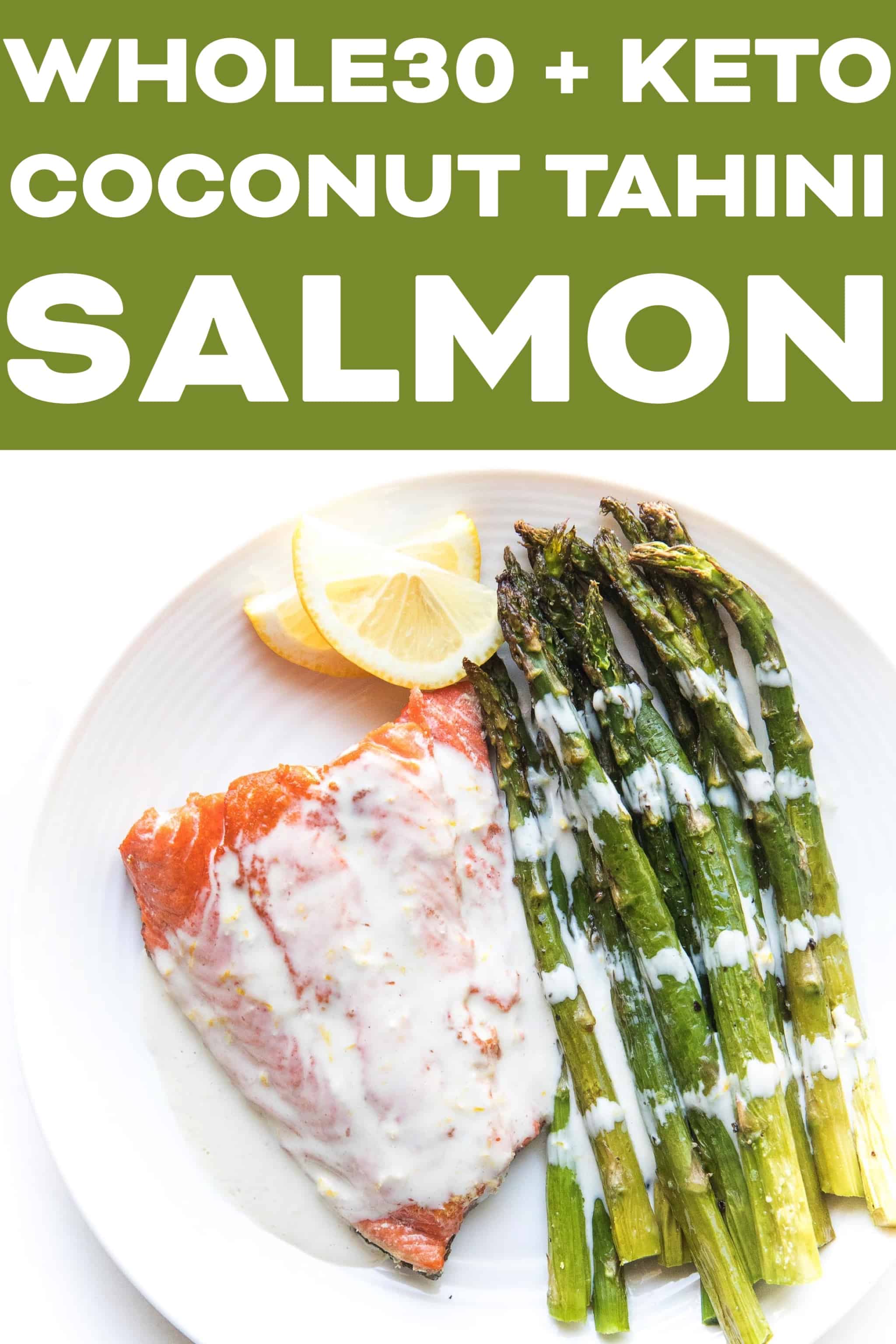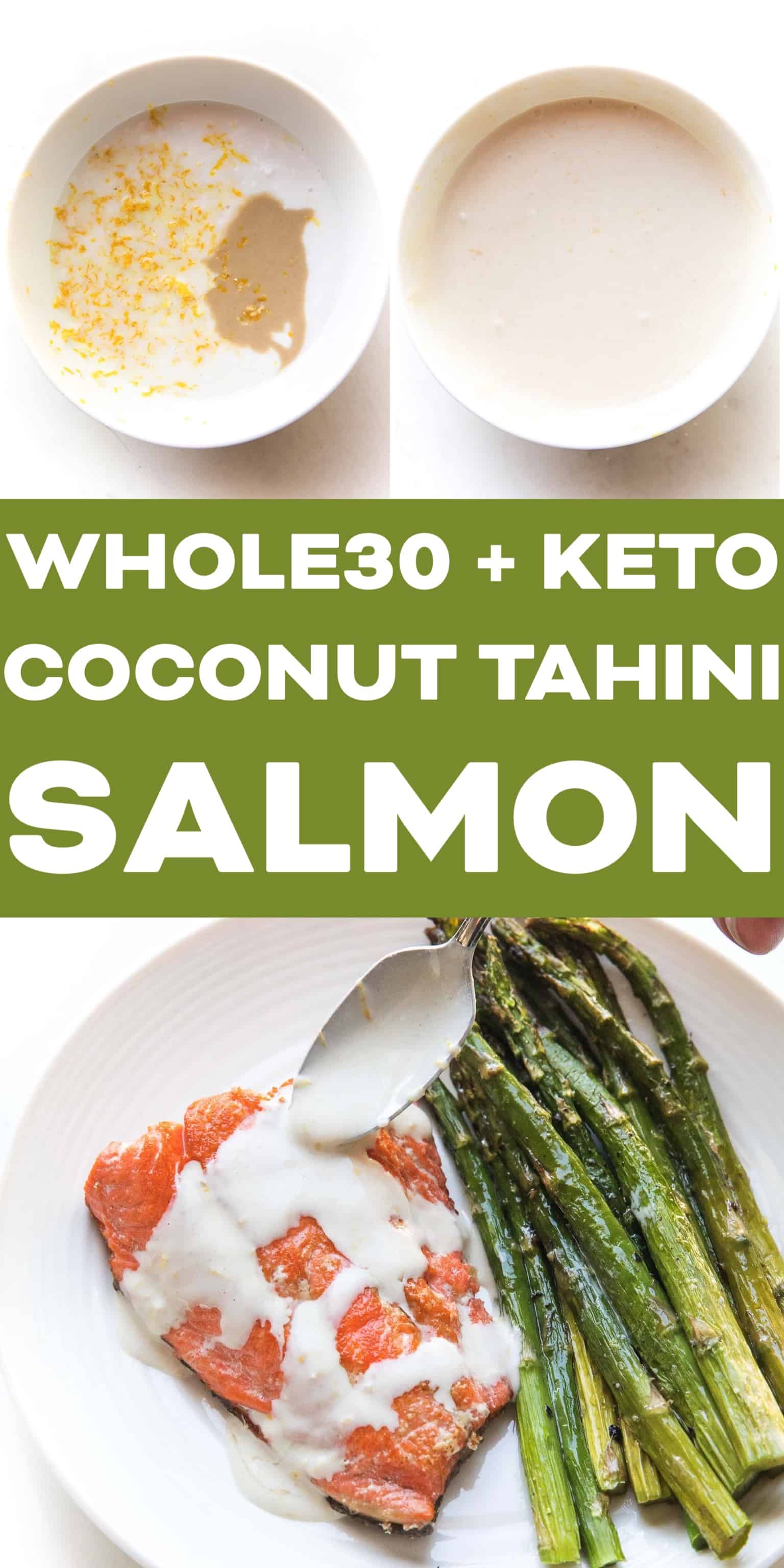 This post contains affiliate links, thanks for the love!