Balsamic Mustard Pork Chops (Paleo, Whole30, Keto)
Paleo, Whole30 + Keto Balsamic Mustard Pork Chops Recipe – pork chops served with a balsamic mustard pan sauce. A 30 minute clean eating dinner! Gluten free, grain free, dairy free, refined sugar free, healthy living.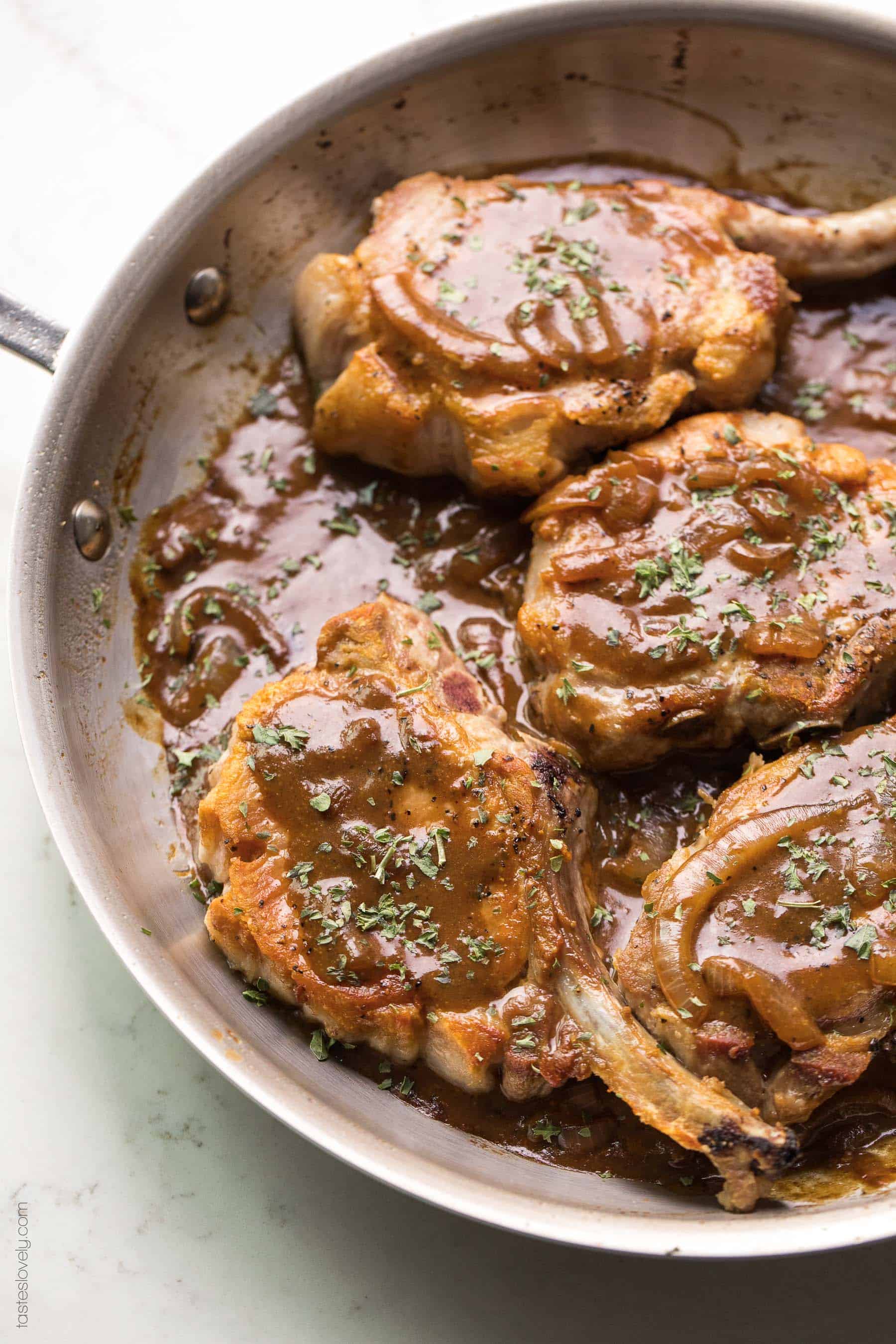 Don't you just love cozy dinners like this Paleo, Whole30 + Keto Balsamic Mustard Pork Chops? It just screams fall, and rainy days, and crisp nights.
It rained for the first time, and I forgot how much I love being cozy on rainy days. My boys and I stayed in and watched a movie with popcorn, and then we busted out the coloring and sticker books. We're outside so often at the parks, it was nice to have a rainy day at home, followed by this delicious dinner.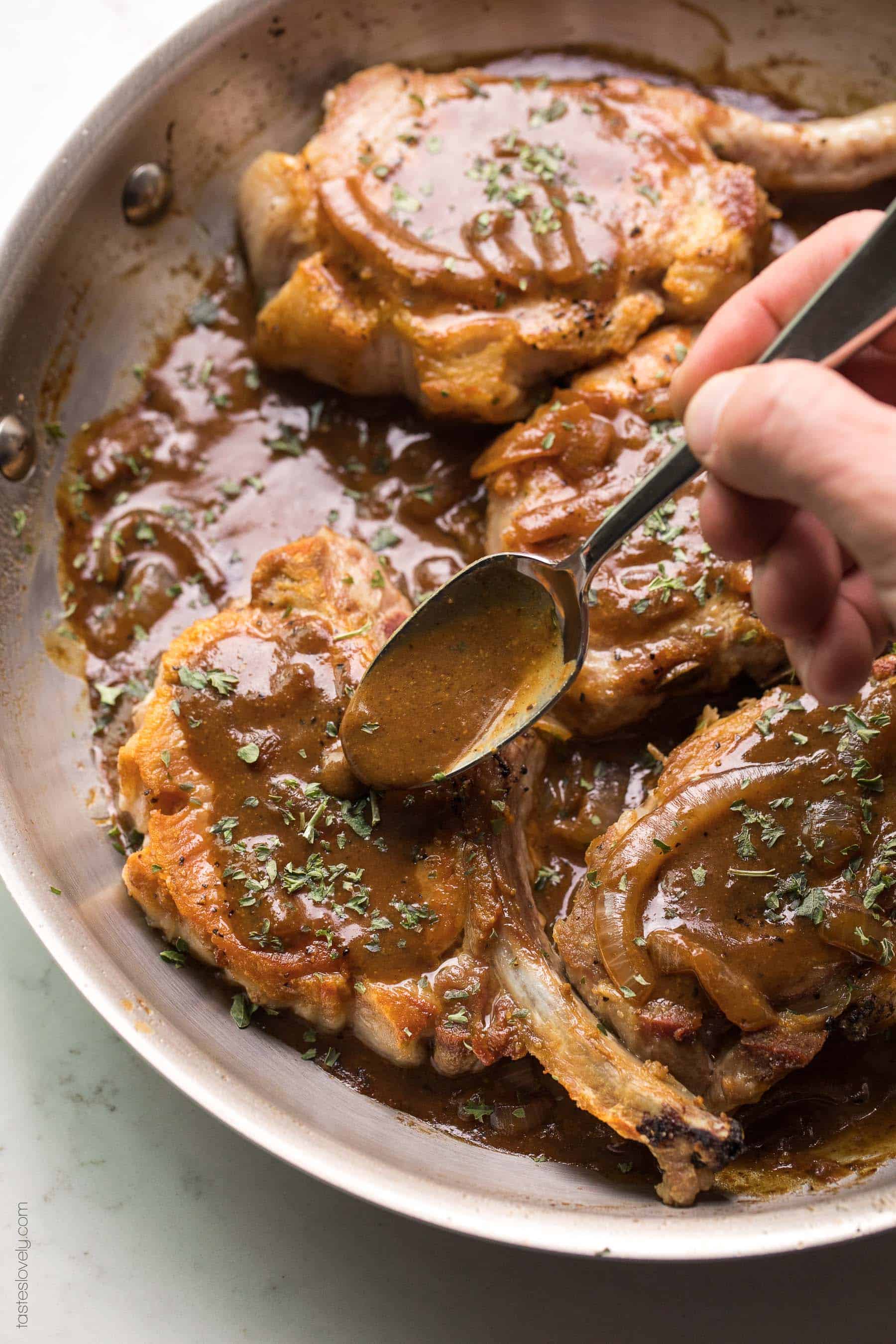 These paleo, whole30 + keto mustard balsamic pork chops are very simple to make.  You sear off bone in pork chops, which I love SO much more than boneless pork chops. The bone adds a ton of flavor to the pork chops, plus, you get to gnaw on it when you're done eating (very lady like of me) and it's just like eating a rib. So good!
I have a great hack for you when cooking pork chops. You know how they tend to curl up in a bowl shape when searing them? That's because of the fat cap. It shrinks when cooking, which causes the bowing. If you take a sharp knife and score the fat cap all the way through to the meat every 3/4″ or so, it will prevent the curling, and allow for even browning.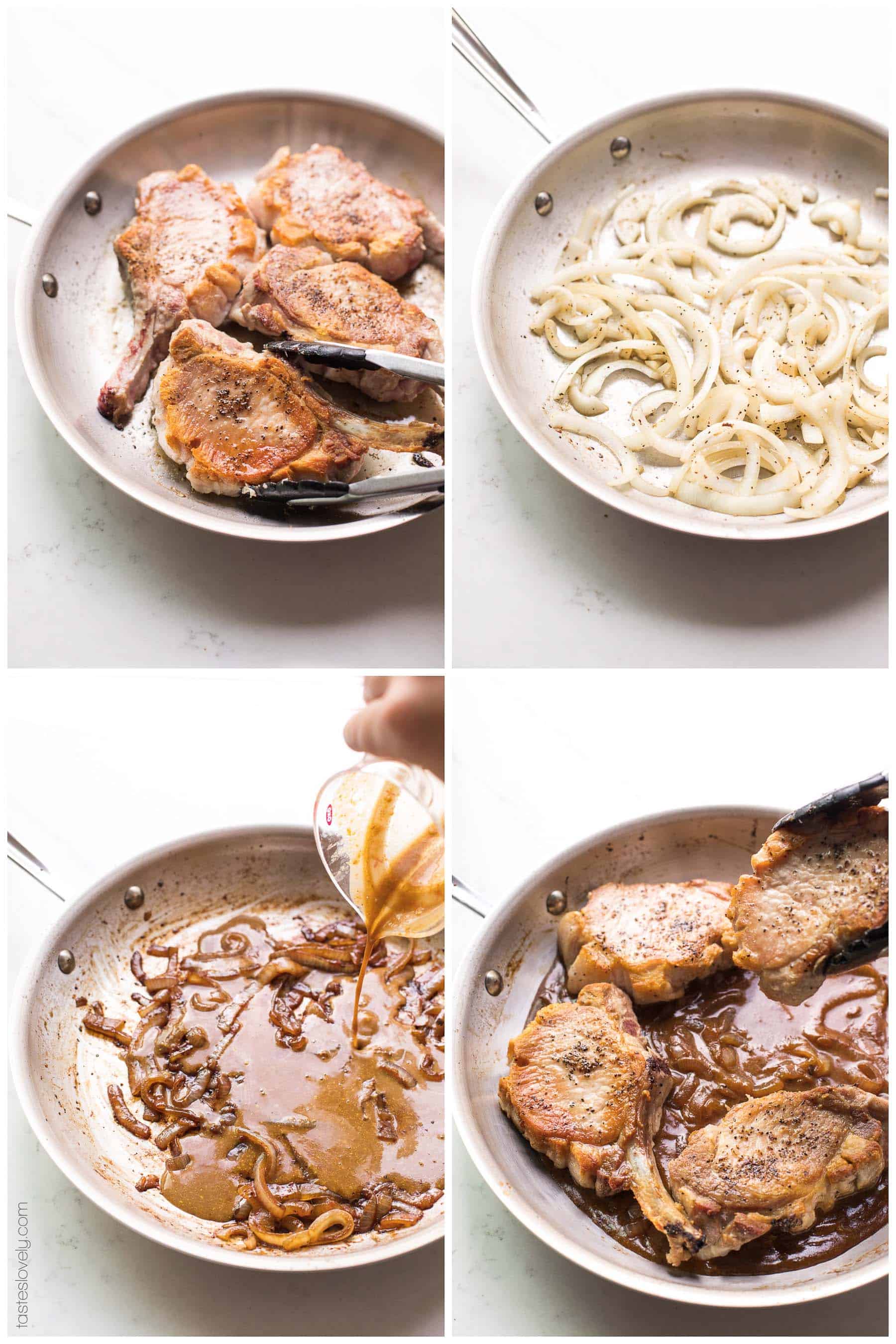 After searing off the pork chops until golden brown, I add onions and garlic to the pan to cook down and soften and brown. Be sure to scrape up all the brown bits from the pork chops, these add a ton of flavor to the sauce.
Then add in the heavenly mustard balsamic sauce. It is made with deli mustard (or really any mustard you like!), balsamic vinegar, chicken stock, maple syrup (or date paste for Whole30, skip for Keto).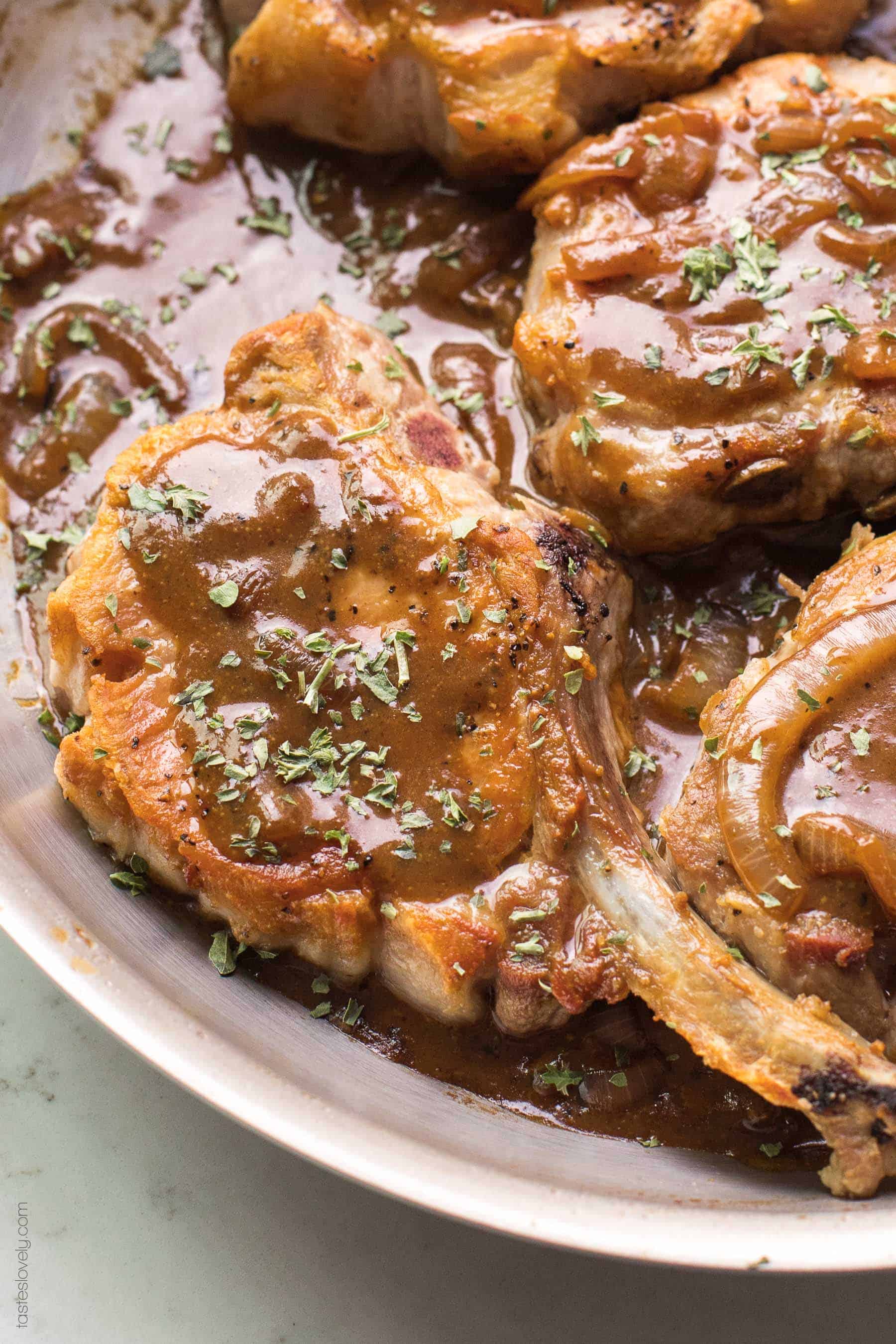 Add the pork chops back in to the pan just before serving to warm them, and top them with the balsamic mustard sauce. I top it with some parsley to add a bit of brightness and color to the dish.
These paleo, whole30 + keto balsamic mustard pork chops are amazing served with a roasted vegetable and my paleo + whole3o mashed potatoes.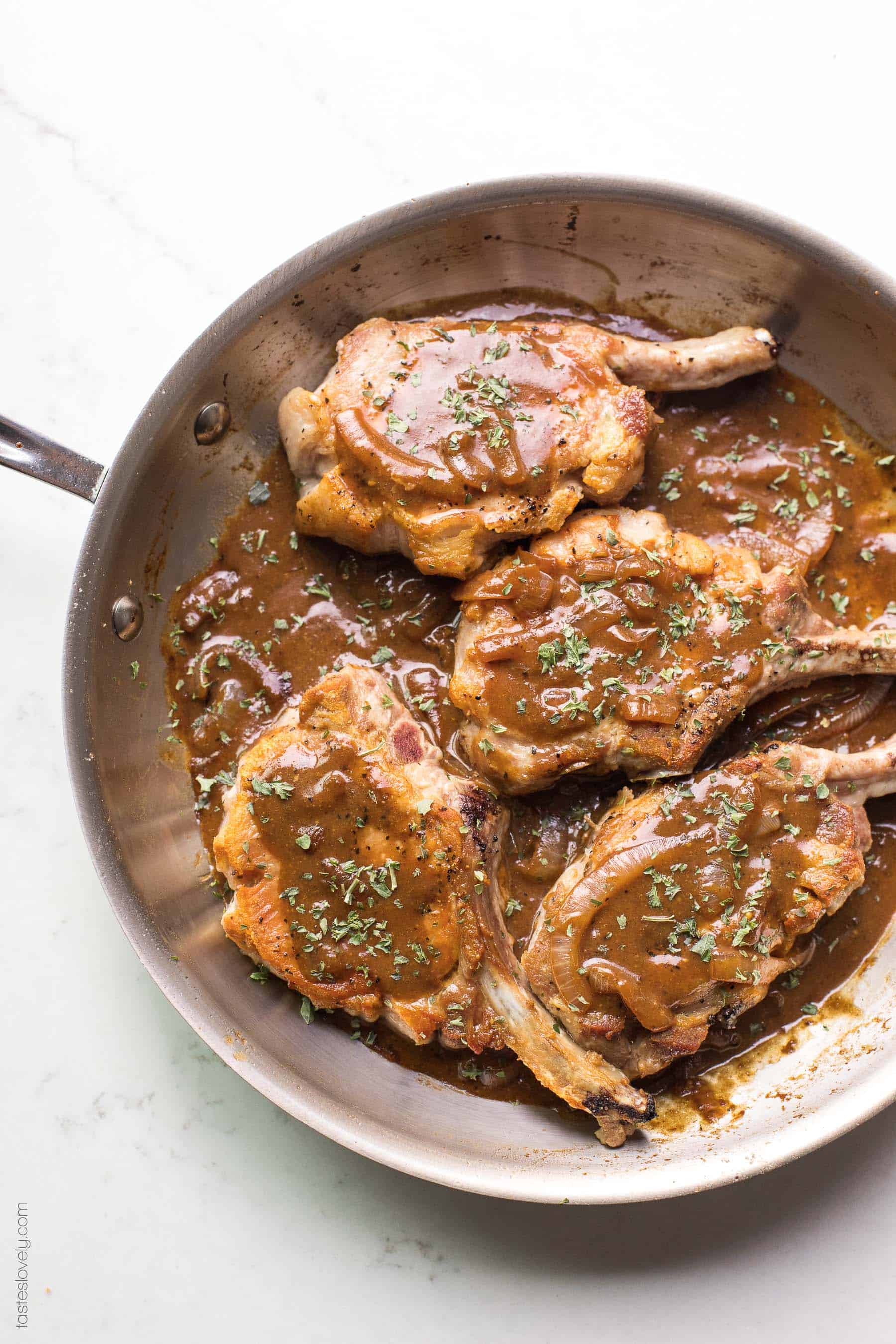 A super simple and healthy living recipe that is ready in 30 minutes!
Full of flavor, and healthy as can be. Paleo, whole30, keto, gluten free, grain free, dairy free, refined sugar free, clean eating, real food.
Print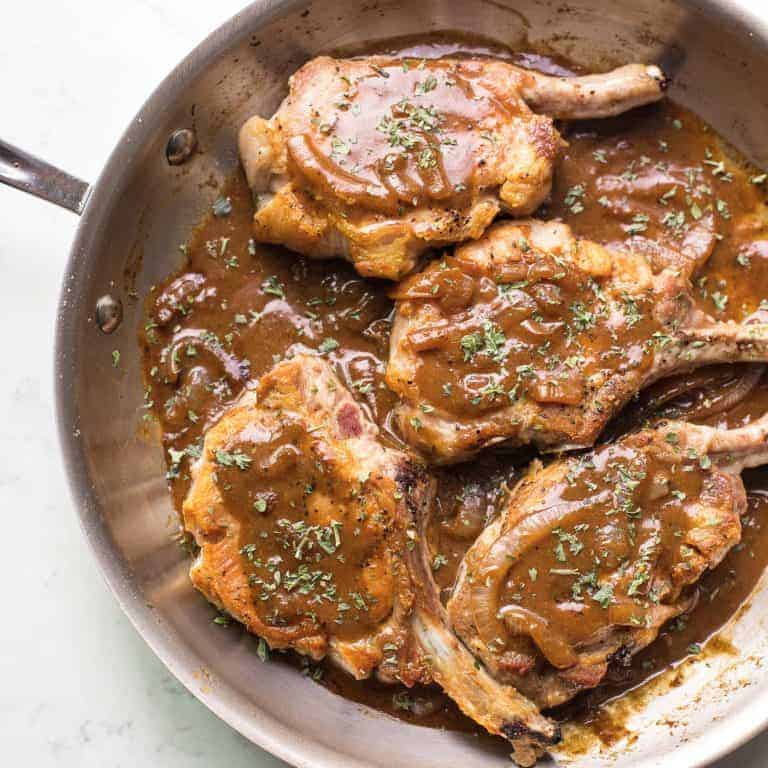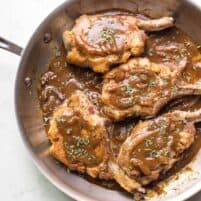 Balsamic Mustard Pork Chops (Paleo, Whole30, Keto)
---
Author:

Prep Time:

5 minutes

Cook Time:

25 minutes

Total Time:

30 minutes

Yield:

4

1

x
Scale
Ingredients
(4) 8-oz bone-in pork chops (I get my pork from ButcherBox, which I highly recommend)
1 tablespoon olive oil
1/4 cup brown deli mustard
2 tablespoons balsamic vinegar
2 tablespoons chicken stock
1 tablespoon pure maple syrup (see notes if Keto or Whole30)
1 yellow onion, sliced
1 clove of garlic, grated or finely minced
Finely chopped parsley for garnish, optional
---
Instructions
Preheat your oven to 350ºF with the oven rack in the middle. Heat a large skillet over medium high heat.
Dry the pork chops completely with paper towels. Use a chefs knife to score the fat cap through to the meat on several times 3/4″ apart, this prevents the pork chops from curling up as they cook. Season the pork chops generously with kosher salt and pepper.
Add the olive oil to the warm skillet, and sear the pork chops for 5-7 minutes, until crispy and golden brown. Flip, and transfer the skillet to the oven to continue cooking until the pork chops have an internal temperature of 145ºF, roughly another 7-10 minutes. Remove the pork chops from the skillet and transfer to a plate to rest.
To the same skillet over medium heat, add the onions and garlic. Season with kosher salt and pepper. Cook until the onions are soft, stirring frequently, about 5-7 minutes.
While the onions are cooking, in a measuring cup combine the mustard, balsamic vinegar and chicken stock. Pour the sauce over the onions once the onions are soft and translucent. Stir to combine, and heat the sauce for just 1 minute over medium heat.
Turn off the heat, and add the pork chops back to the skillet. Spoon the sauce over the pork chops. Serve warm.
Leftovers will keep refrigerated in an airtight container for 5 days.
---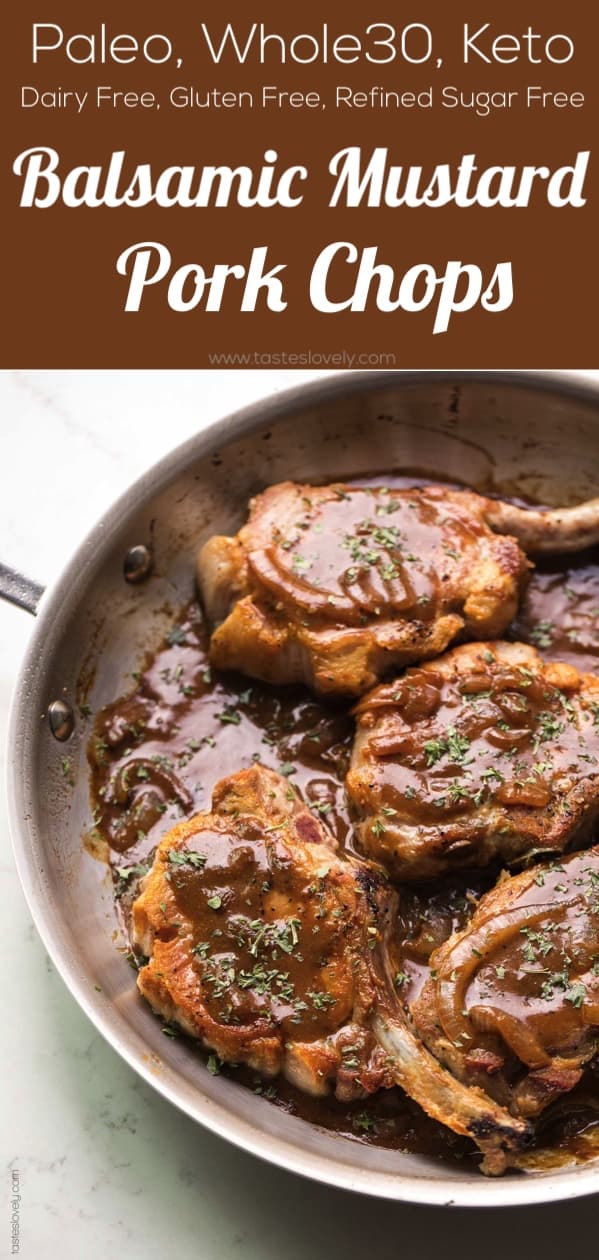 More Clean Eating Pork Recipes: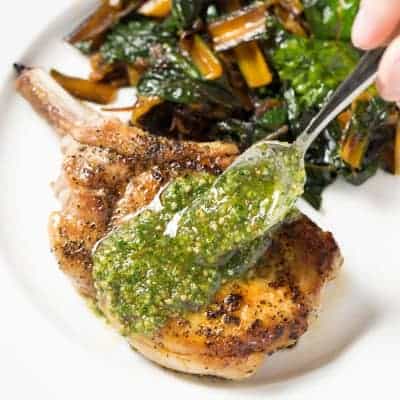 Pork Chops with Orange Pecan Pesto (Paleo, Whole30, Keto)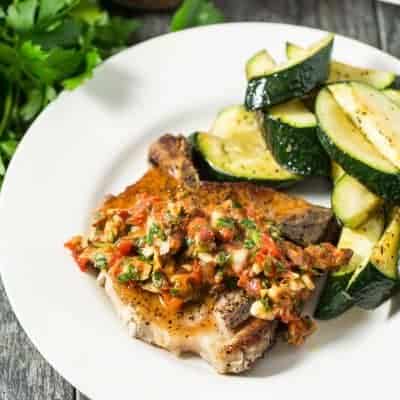 Pork Chops with Chunky Red Pepper Sauce (Paleo, Whole30, Keto)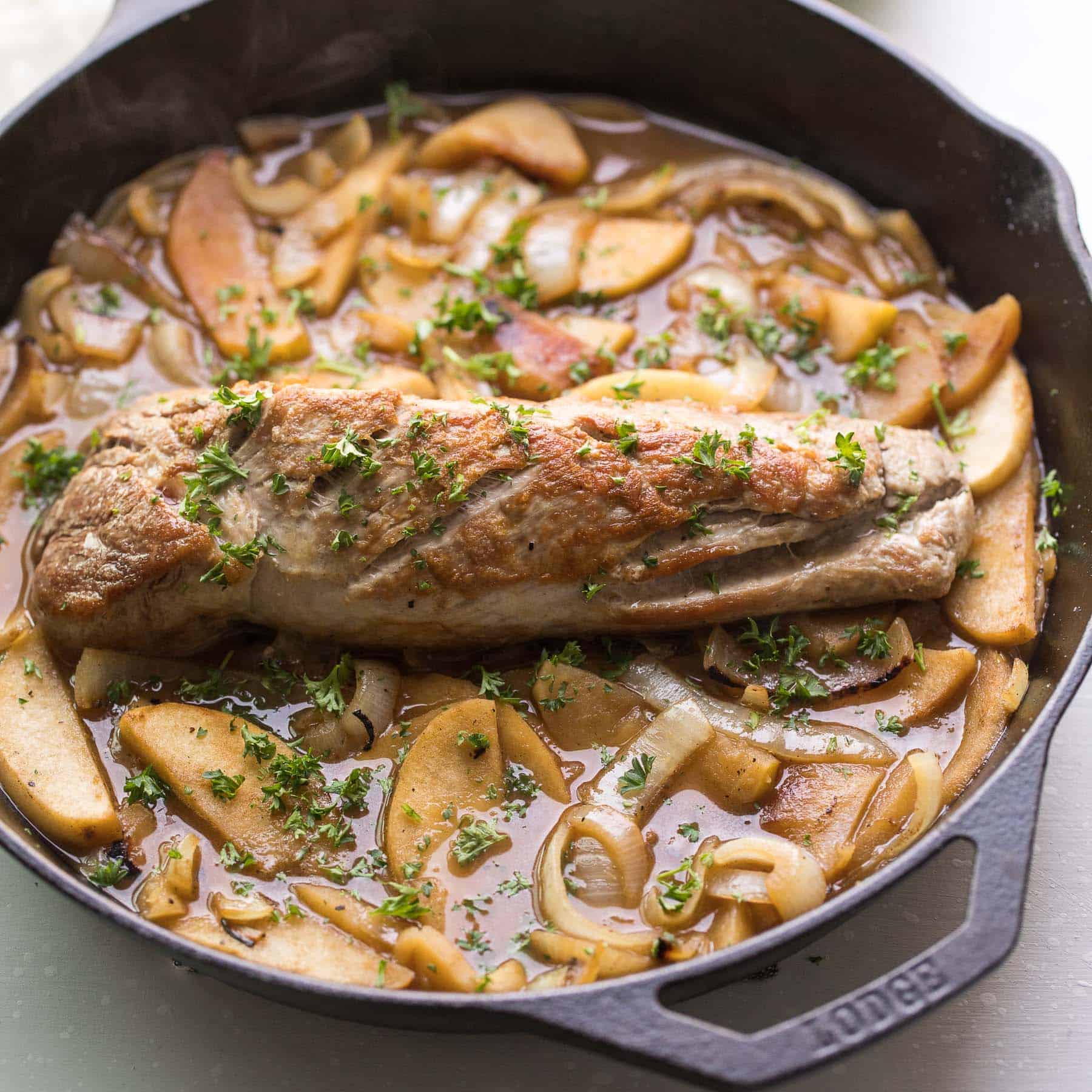 Apple and Onion Braised Pork Tenderloin (Paleo, Whole30, Keto)
This post contains affiliate links, thanks for love!