Broccoli Cheddar Stuffed Baked Potato with Chicken
Broccoli cheddar stuffed baked potatoes with chicken – a cheesy, melty, comforting dinner. Great make ahead and reheat meal too!
Big news! It rained in Northern California last week! So of course I had to cook something comforting and cheesy.
And I do mean BIG news. It was all the news anchors could talk about that morning. They had reporters standing outside in the rain to report live from the scene. I was amazed when I watched one news anchor talk about the fact that it was raining outside for 4 straight minutes without getting stumped. Now that's talent.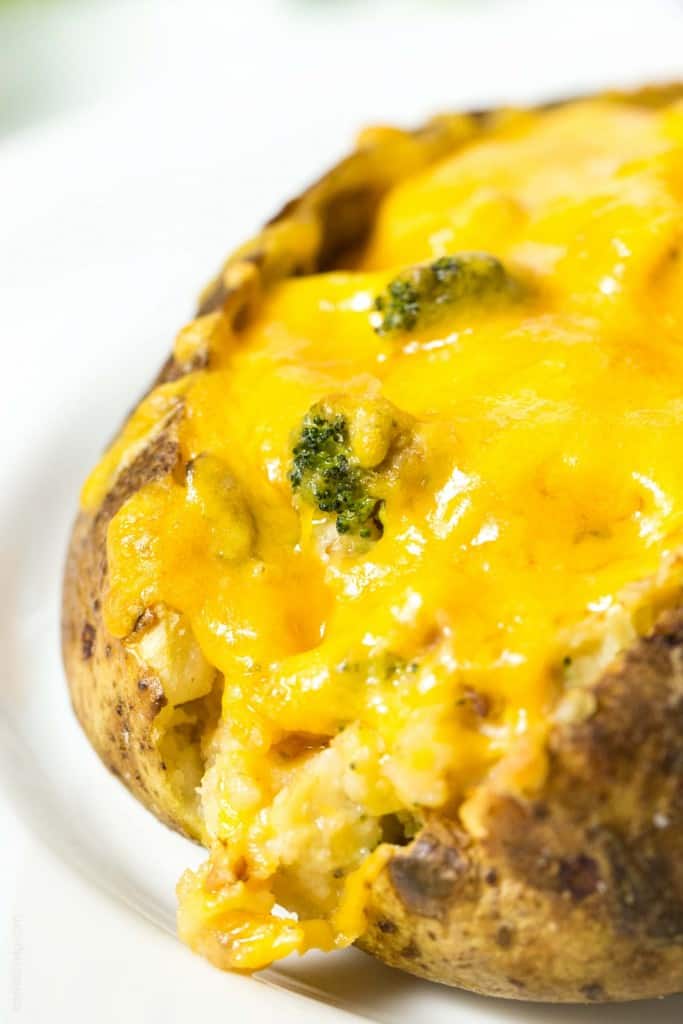 We desperately need the rain here with the drought. They're constantly telling us to cut back on our water use. The front lawns at all the houses are brown and dead looking. Some people are actually spray painting they're dead lawns green so they don't look so bad!
Luckily, Shawn and I are a little exempt from this since we don't get our water from the city. At our old ranch house, we get our water from a natural ground water spring up the hill. Which means our water bill is non-existent.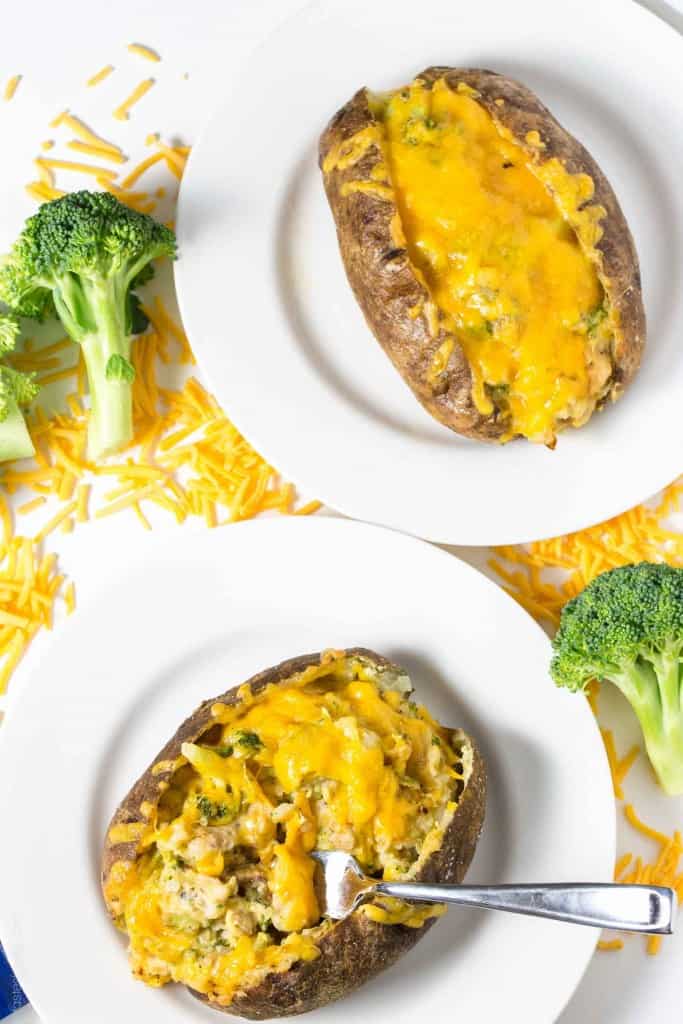 But that doesn't mean we don't have water woes. The pipe that brings the water to our house is very low tech. Just a basic white plastic pipe that brings the water the mile downhill to our house. In most parts the pipe is buried underground, but in some parts where there is a ravine or a creek, the pipe is exposed and sticks out. Which means if a big cow walks by he can step on it or knock it with their head.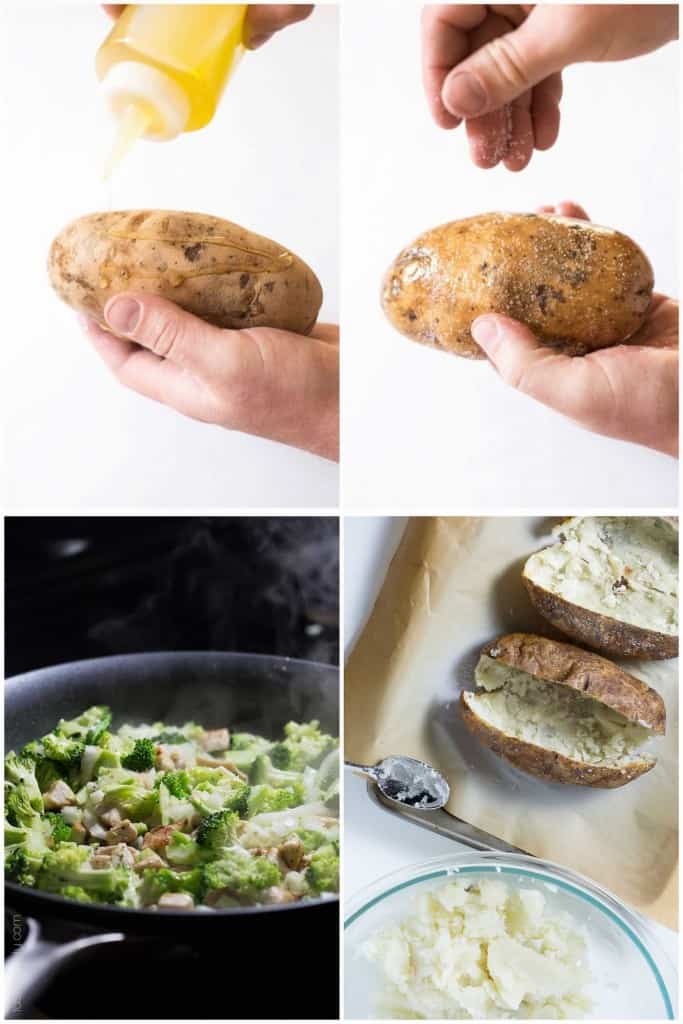 Which the cows have done. Several times since we moved there. And it breaks the pipes. And allll the water spills out.
We find out when this happens the hard way when we go to turn the water on and nothing comes out. So we have to call my dad and have him head out into the hills to find the spot where the pipe burst so he can fix it.
I swear it feels like we live in olden times on our little ranch house. I love it.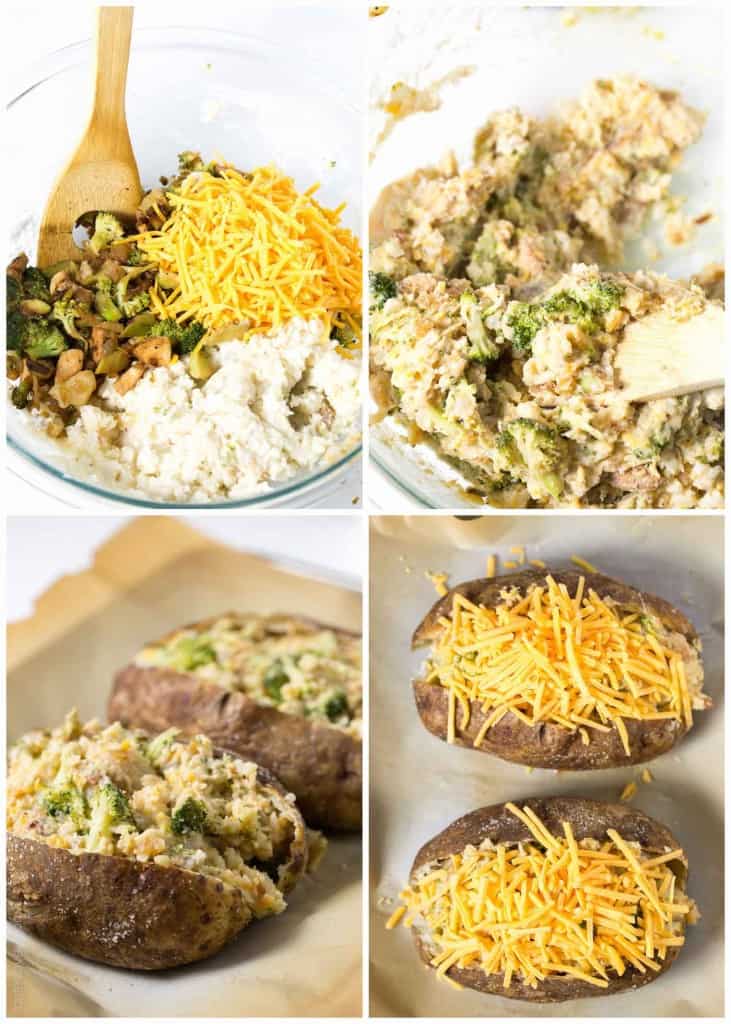 With this glorious cold and rainy weather, I start craving comfort food. And what's more comforting that baked potatoes? Baked potatoes stuffed with broccoli, chicken and cheese! This recipe is based off of my very favorite steakhouse style baked potatoes.
Instead of filling them with the normal butter, sour cream and chives, I stuffed them with sautéed chicken and broccoli with onion and garlic, and topped topped them with lots of cheese. Then popped them back in the oven until they're gooey and melty.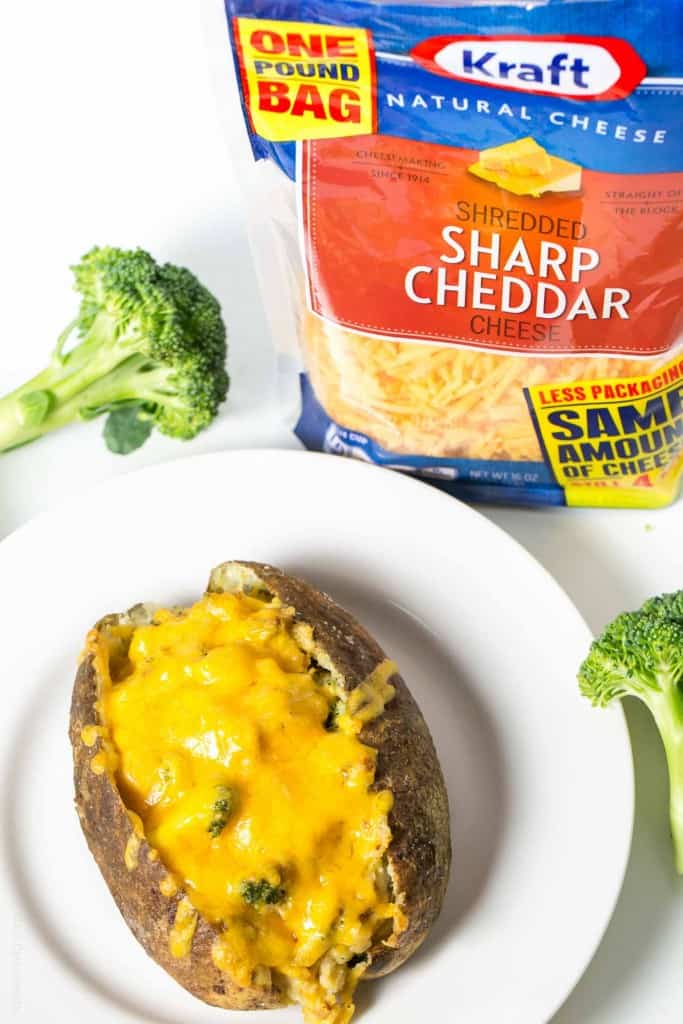 When I need good cheese, I love using Kraft. Kraft's Natural Cheese is always delicious, and since it's pre-shredded it is so convenient!
These broccoli cheddar stuffed baked potatoes with chicken are also a great make ahead meal! Get them all prepped and stuffed, then cover and refrigerate for up to 3 days. Then, when you're ready to eat them, they just need to be reheated in the oven for 20-30 minutes. Making them the easiest and fastest dinner for busy weeknights or when you're hosting a lot of family during the holidays.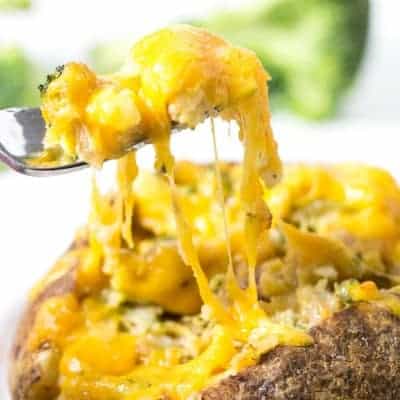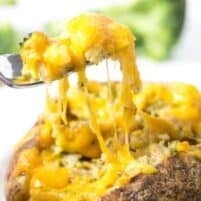 Broccoli Cheddar Stuffed Baked Potato with Chicken
This broccoli cheddar stuffed baked potatoes with chicken is a cheesy, melty, comforting dinner. Great make ahead and reheat meal too!
Ingredients
Baked Potatoes
4

russet potatoes

,

skin scrubbed clean under water and patted completely dry

4

tablespoons

olive oil

4

tablespoons

salt
Broccoli, Cheddar & Chicken Filling
1

tablespoon

olive oil

2

boneless

,

skinless chicken breasts, chopped into 1" chunks

2

heads broccoli

,

chopped into 1" chunks

1

medium yellow onion

,

chopped

2

cloves

of garlic

,

grated

6

tablespoons

butter

,

or more to taste

1

cup

sour cream

,

or more to taste

2

cups

Kraft Natural Shredded Cheddar Cheese

,

divided (or more to taste)

salt and pepper
Instructions
Preheat your oven to 425 degrees with the oven rack in the middle. Line a baking sheet with parchment paper.

Rub the potato with 1 tablespoon olive oil until it is well coated and sprinkle the skin with 1 tablespoon salt. Place the potatoes on the parchment lined baking sheet. Roast the potatoes whole (don't poke any holes in it) until it is soft when you squeeze it with your hand. The baking time will depend on the size of your potato, but usually 45 minutes - 1 hour.

While the baked potatoes are baking, make the broccoli, cheddar and chicken filling. Preheat a large skillet over medium high heat. Add the olive oil, then the chopped chicken breast. Season with salt and pepper. Cook about 4 minutes, flipping half way thru, until starting to turn golden brown. Then add in the broccoli and onion. Season again with salt and pepper. Cook about 8-10 more minutes, until the chicken is cooked thru, and the broccoli and onion are softened. Add in the garlic and cook 30 seconds until fragrant. Remove the pan from heat and set aside.

When you take the baked potatoes out of the oven, drop each one onto the counter or cutting board from 10" up. By dropping it, you loosen the inside of the potato so it is light and fluffy inside when you cut into it.

Cut a slit down the length of the baked potato, pinch the edges together to make the opening bigger, and scoop out the potato from the skin. Transfer the potato to a large bowl. Season with salt and pepper, and add butter and sour cream. Mash with a potato masher. Then fold in the broccoli chicken mixture and 1-1/2 cups of the shredded cheddar cheese. Taste for seasoning, and add more salt/pepper/butter/sour cream/cheese if desired.

Scoop the potato mixture back into the potato skins, then transfer them back to the parchment lined baking sheet. Top the potatoes with the remaining 1/4 cup shredded cheddar cheese, and return to the oven for another 5-10 minutes, until the cheese is melted and bubbling. Serve warm.
Notes
These can be made ahead of time! After refilling the potato skins but BEFORE topping with more cheese in the last step, just cover and refrigerate the potato skins for up to 3 days. When ready to eat, cook the stuffed baked potatoes at 425 degrees for 20-30 minutes until warmed thru. Top with cheddar cheese, and cook another 5-10 minutes until the cheese is melted and bubbly.
Calories:
858
,
Total Carbs:
44
g
,
Protein:
27.9
g
,
Fat:
65.6
g
,
Fiber:
4.1
g
,
Net Carbs:
40
g
Did you make this recipe?
Please Leave a comment and give this recipe a rating!

More Potato Recipes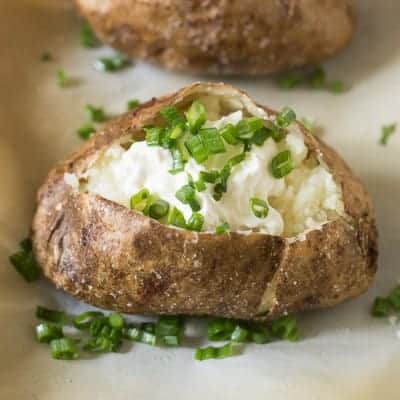 Steakhouse Style Baked Potatoes
Crispy Oven Baked Potato Wedges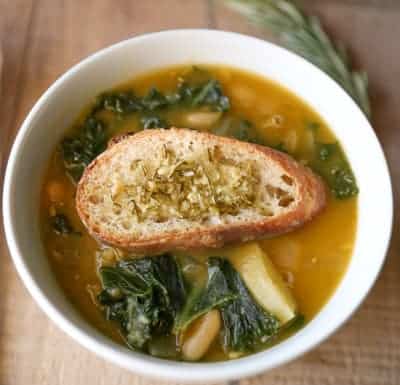 Potato, White Bean & Kale Vegan Soup
This post is sponsored by Kraft Cheese. All opinions are my own. Thank you for supporting the brands that support me!