Fall Chicken Salad with Apples, Cranberries & Pecans
Fall Chicken Salad with tart Granny Smith apples, sweet dried cranberries, and crunchy toasted pecans. Serve it as a sandwich on soft whole wheat bread or in lettuce as a lettuce wrap. Perfect autumn lunch!
You would not believe how many earthquakes we have had here the East Bay Area of California the past 2 weeks. Over 200! I'm serious. Apparently we are in the middle of a quake storm, and they are expecting it to last a few more weeks. And the fault line where they are all happening is in San Ramon, where Shawn and I live. Just a mile from our house. Isn't that just wonderful?
Most of them are tiny. It just feels like a big truck is driving by. But a few of them have been big. The whole house shakes, and you can hear loud banging as the walls move. When they start, I jump up ready to bolt outside. Our house is really old, and I don't know how well it would hold up if the quake ends up being huge. But the quakes have mostly been small, and are over in about 3 seconds.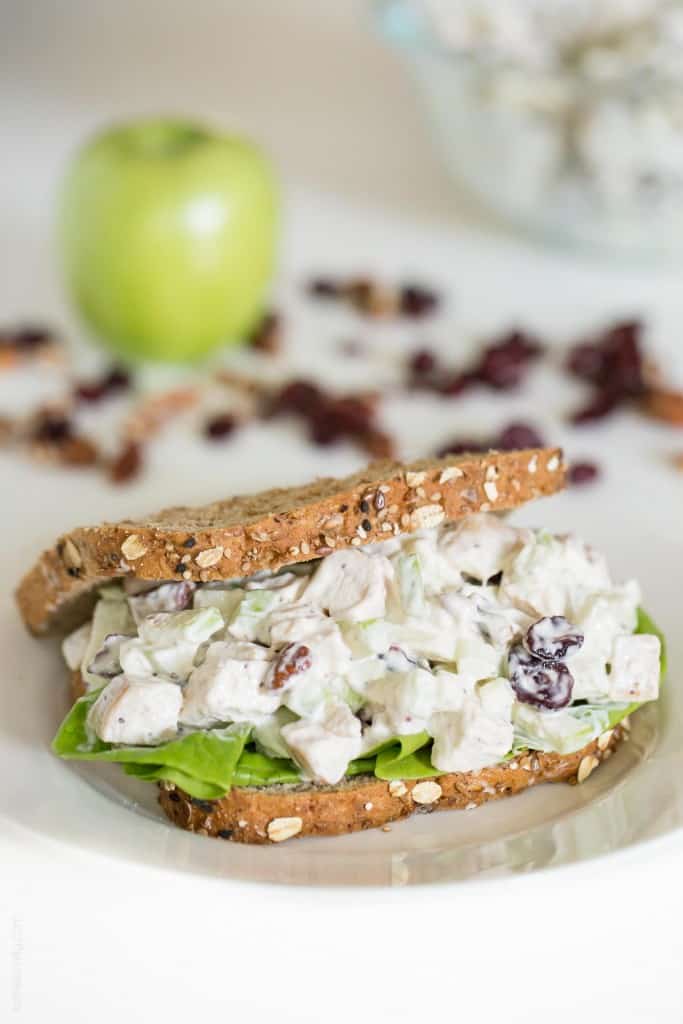 After each earthquake hits, I ask Shawn, "Did you feel that?!" Which is quickly becoming my most uttered phrase in this house, because it's also what I ask Shawn whenever he has his hand on my growing my belly and the baby kicks.
"Did you feel that?!"
"Did you feel that?!"
"Did you feel that?!"
Between earthquakes and baby kicks, that's pretty much all I say now.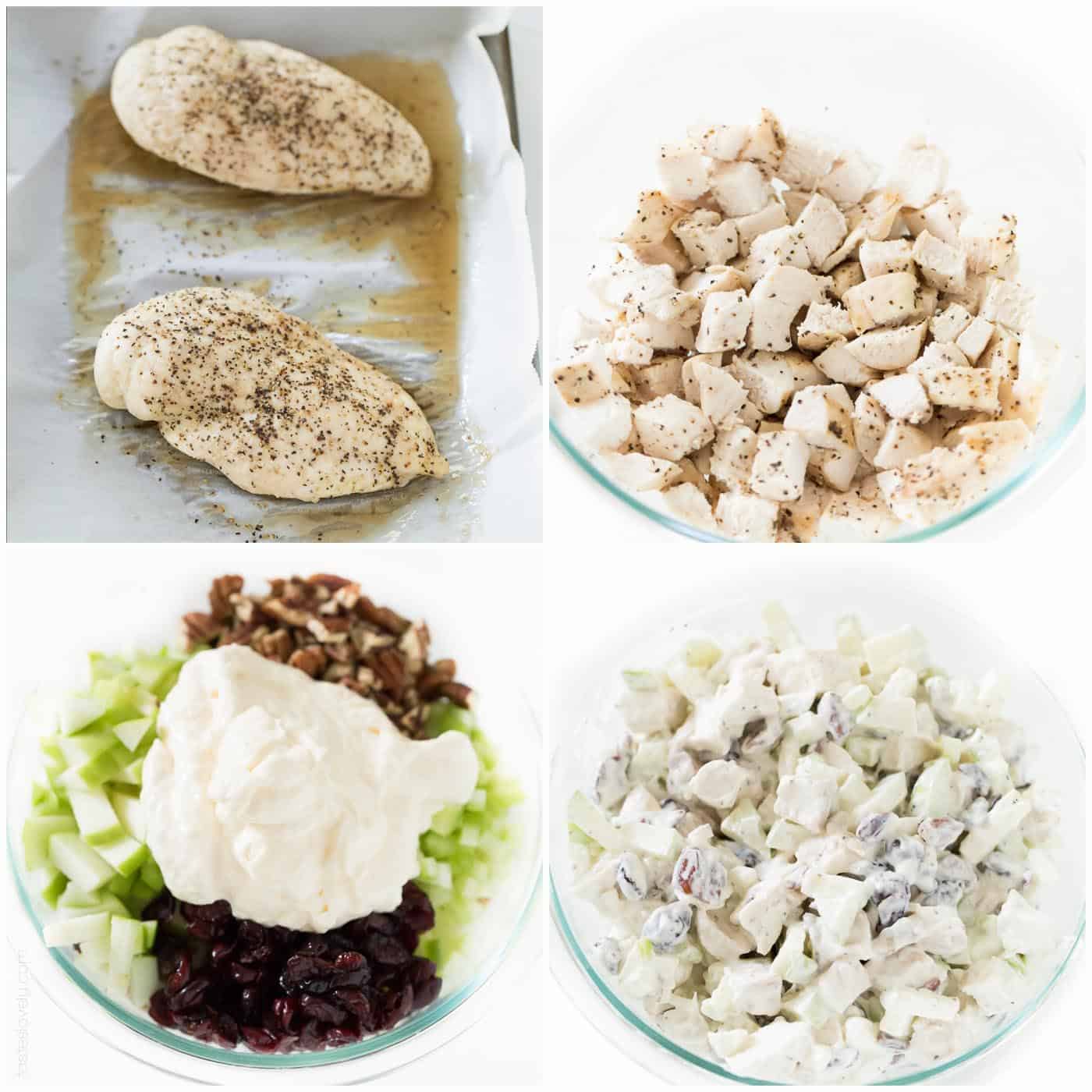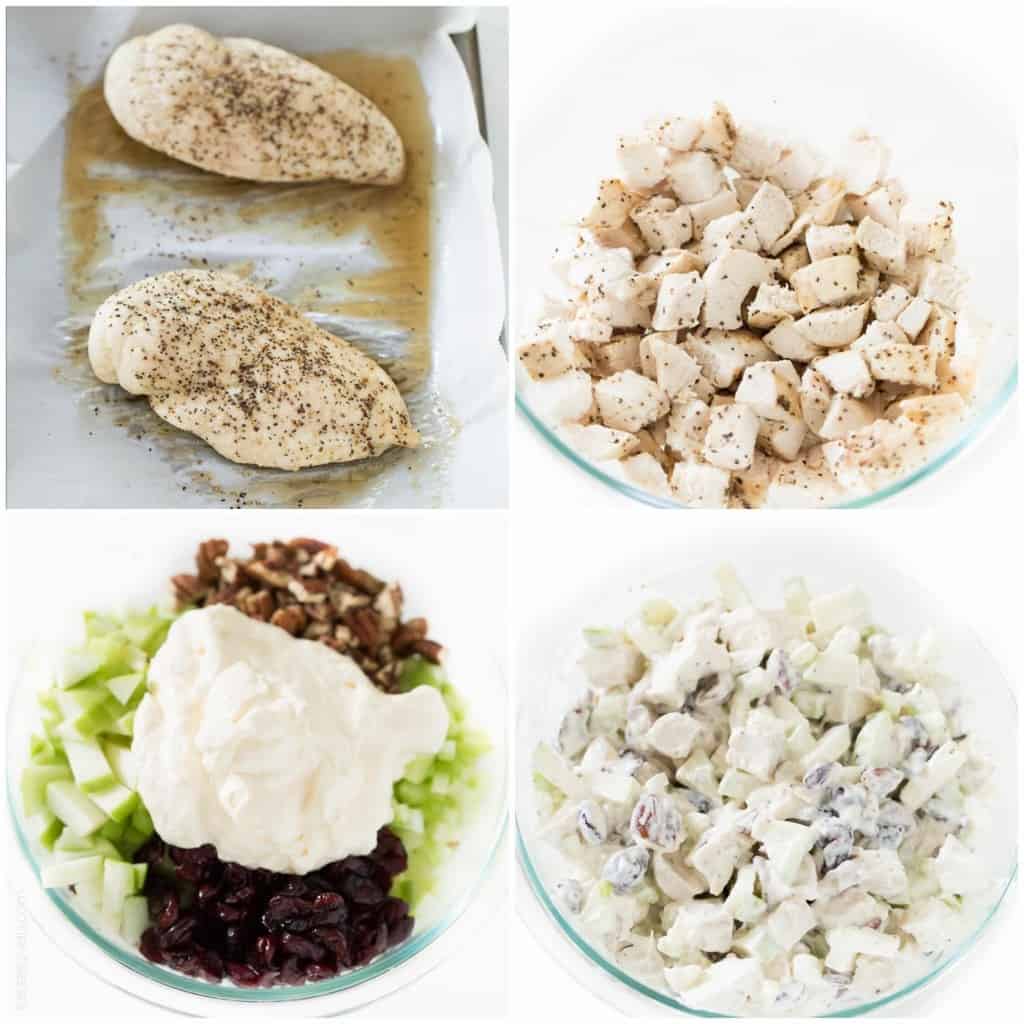 Another phrase you can constantly hear in our house is "What do you want for lunch?". Most days I'm a good wife and make Shawn a lunch to take to work. If I'm lucky, we have enough dinner leftovers for Shawn to eat the next day. But he's a good eater, and I'm eating for 2 now, so it's rare we have leftovers anymore.
Shawn was getting sick of his usual turkey sandwich lunch that he's had for the millionth day in a row, and asked if there is something else he could have for lunch.  I whipped up a big batch of this fall chicken salad, and used it to make him sandwiches for the week. He was one happy fella!
This fall chicken salad is the perfect make ahead lunch for the week. The longer it sits in the fridge, the more the flavors intensify. So the night before, I just spread out a big scoop on some bread, add some lettuce, and done!
The flavors of this fall chicken salad is everything you want for autumn. Juicy chicken breasts, tart Granny Smith Apples, sweet dried cranberries, and crunchy toasted pecans. I'm a big fan of chicken salads with mayonnaise, especially my homemade 3-minute mayo, but if you're not a mayo fan you could definitely swap out greek yogurt instead.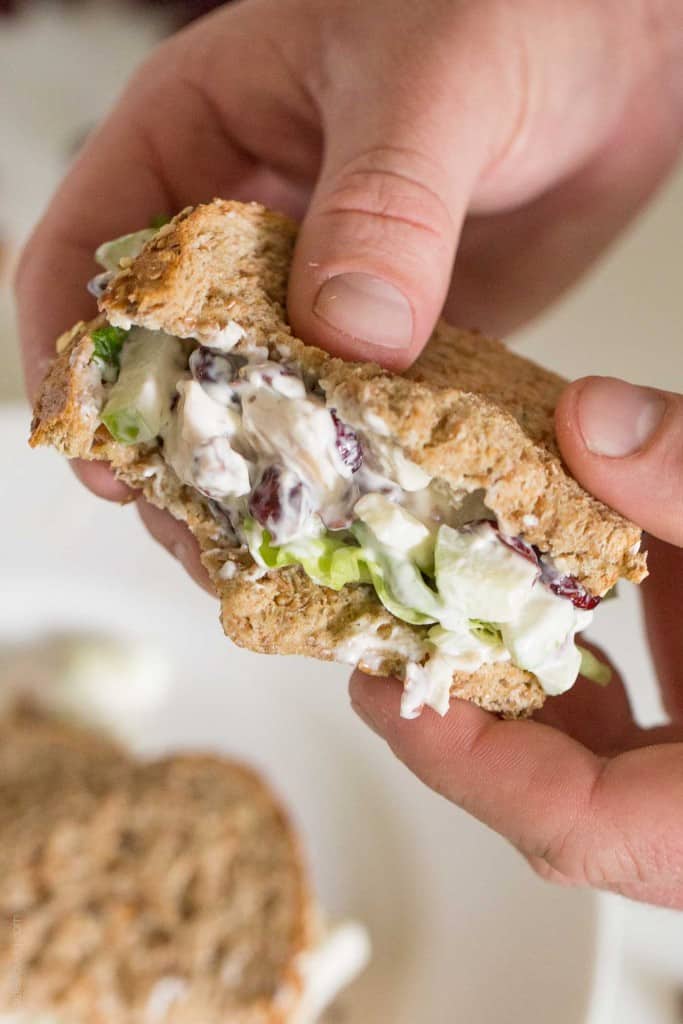 The secret to a great chicken salad is all in the chicken. I always use chicken breasts, I like white meat better than dark meat. A lot of recipes are going to tell you to poach the chicken. Don't! All of the flavor of the chicken are going to go into the poaching water. Think about it, that is how you make flavorful chicken broth after all.
Instead, I like to roast my chicken breasts in the oven with some olive oil, salt and pepper. Roasting the chicken gives it a much more intense chicken flavor. You'll be blown away by how much tastier the chicken salad is!
Print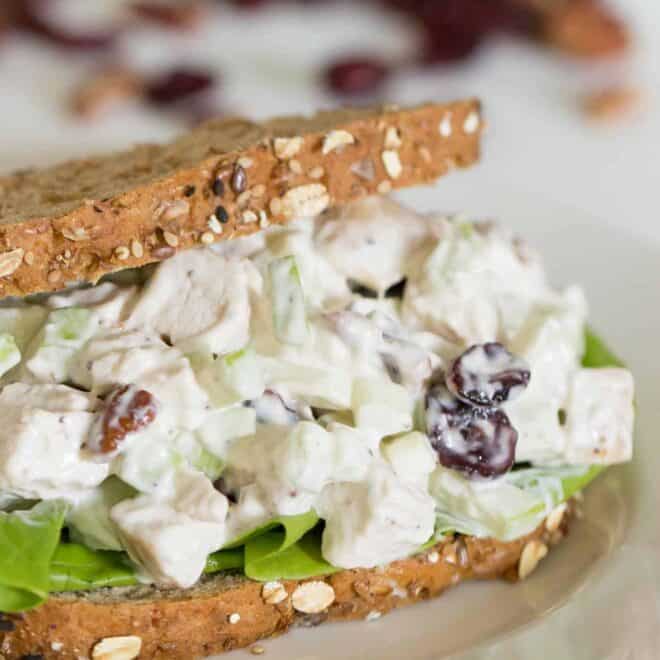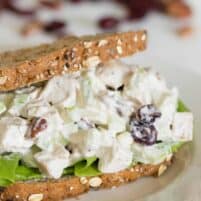 Fall Chicken Salad with Apples, Cranberries and Pecans
---
Author:

Total Time:

45 mins

Yield:

6

1

x
2

boneless, skinless chicken breasts (I get my chicken from ButcherBox, which I highly recommend)

1 tablespoon

olive oil

1 teaspoon

salt

1 teaspoon

pepper

1

Granny Smith apple, skin left on, chopped, about

1

–

1/2

cup

1/2

cup

dried cranberries

1/2

cup

chopped unsalted roasted pecans

2

stalks of celery, chopped, about

1/2 cup

3/4

cup

mayonnaise (or sub greek yogurt)
whole wheat bread
lettuce
---
Instructions
Preheat oven to 400 degrees with the oven rack in the upper 1/3. Drizzle the chicken breasts with olive oil, salt and pepper. Roast on a parchment lined baking sheet until the chicken breasts reach an internal temperature of 165 degrees. About 30 minutes. Remove from the oven and allow to cool to room temperature, about 15 minutes. Chop into 1/2″ cubes. Will be about 2 cups.
In a medium size mixing bowl, combine the chopped chicken breasts, apple, dried cranberries, pecans, celery and mayonnaise. Stir to combine.
Serve the chicken salad on whole wheat bread with lettuce to serve as a sandwich, or in lettuce cups to serve as lettuce wraps.
Will keep in an airtight container refrigerated for 5 days. The longer it sits in the fridge, the better the flavor!
Notes
I love using this meat thermometer to make sure my meat is cooked to the correct temperature!
Prep Time:

15 mins

Cook Time:

30 mins

More Lunch Recipes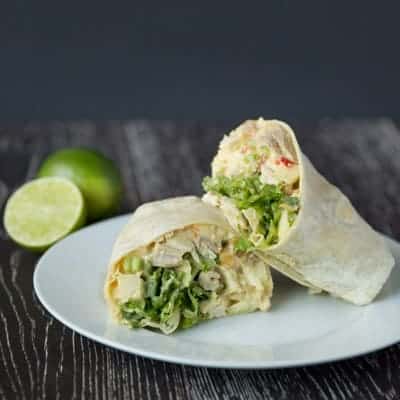 Curried Chicken Salad and Apple Wraps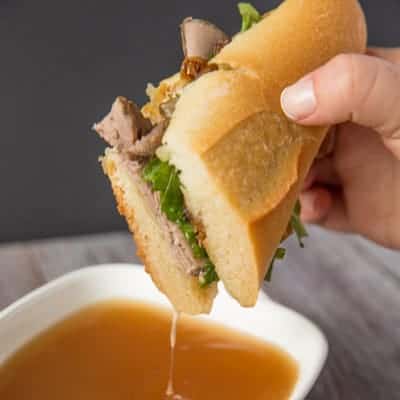 Beef Dip Sandwich with Gruyere and Grilled Onions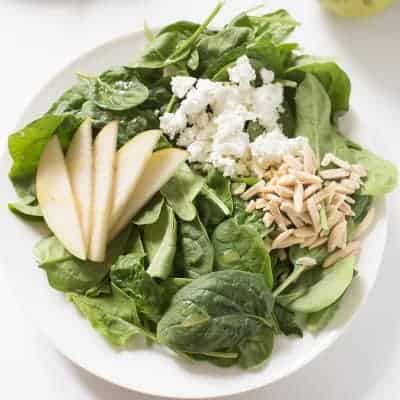 Pear and Goat Cheese Spinach Salad
This post contains affiliate links, thanks for the love!