Clean Keto + Whole30 :: What I Ate in February 2020
Everything I ate in February, month 6 of my clean keto + Whole30 weight loss journey! Includes photos, time stamps + links to recipes.
 Below are photos of everything I ate in February, month 6 of my weight loss journey. Everything I ate followed the high fat, medium protein, low carb keto approach, with many of the meals being Whole30 friendly.
These are all from my Instagram stories. I share what I'm eating daily, so be sure to follow me on Instagram!
If you're new here, this is where you can learn all about my clean eating and weight loss journey! There I share all about my my diet, intermittent fasting, exercise routine, and how I feed my kids.
There are links to most of the recipes of the items I ate below. If there isn't a link, there will be soon when I add the recipe to the blog. So hang tight!
What I Ate in February: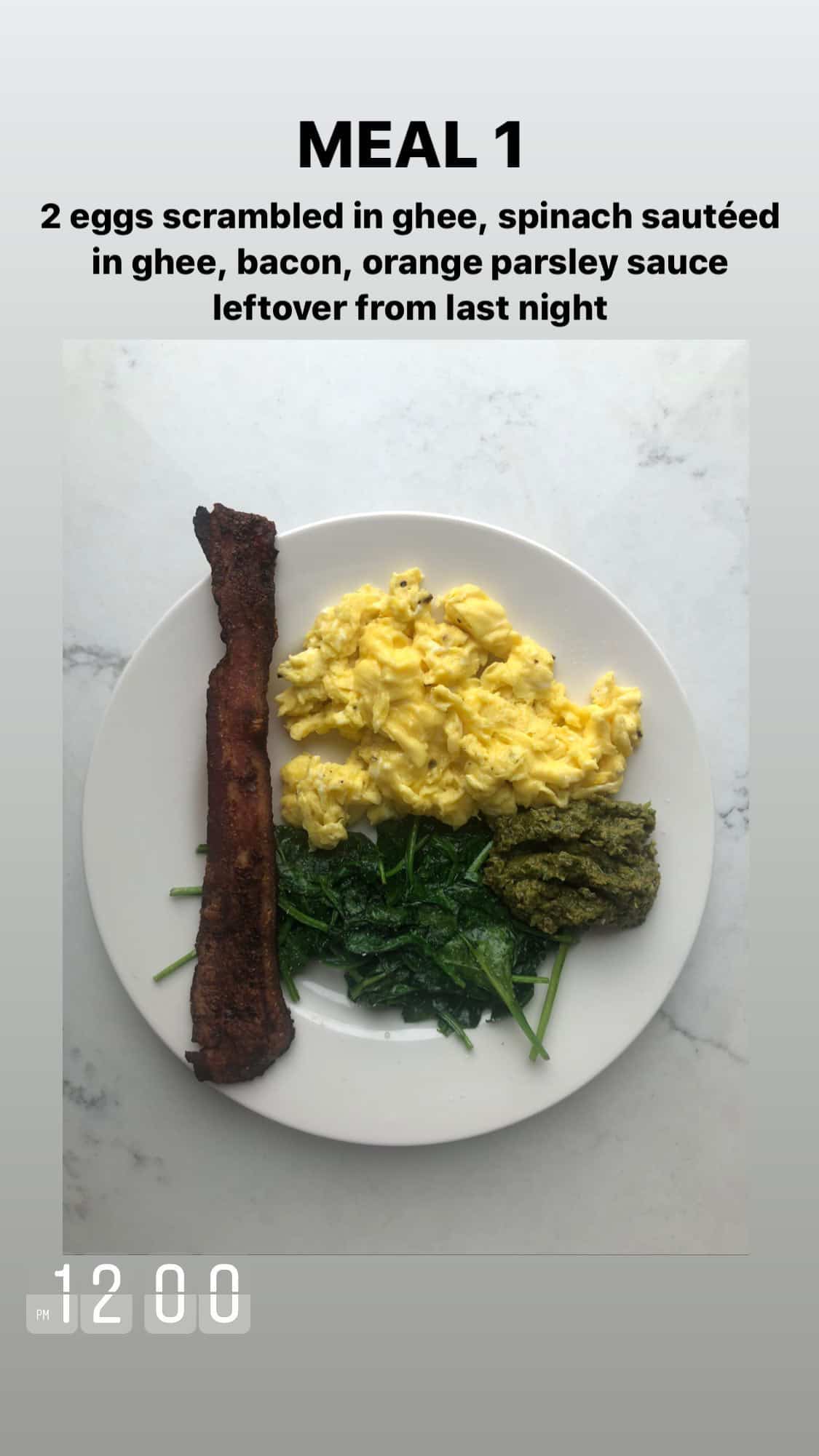 Scrambled eggs in ghee, sauteed spinach, bacon, orange parsley sauce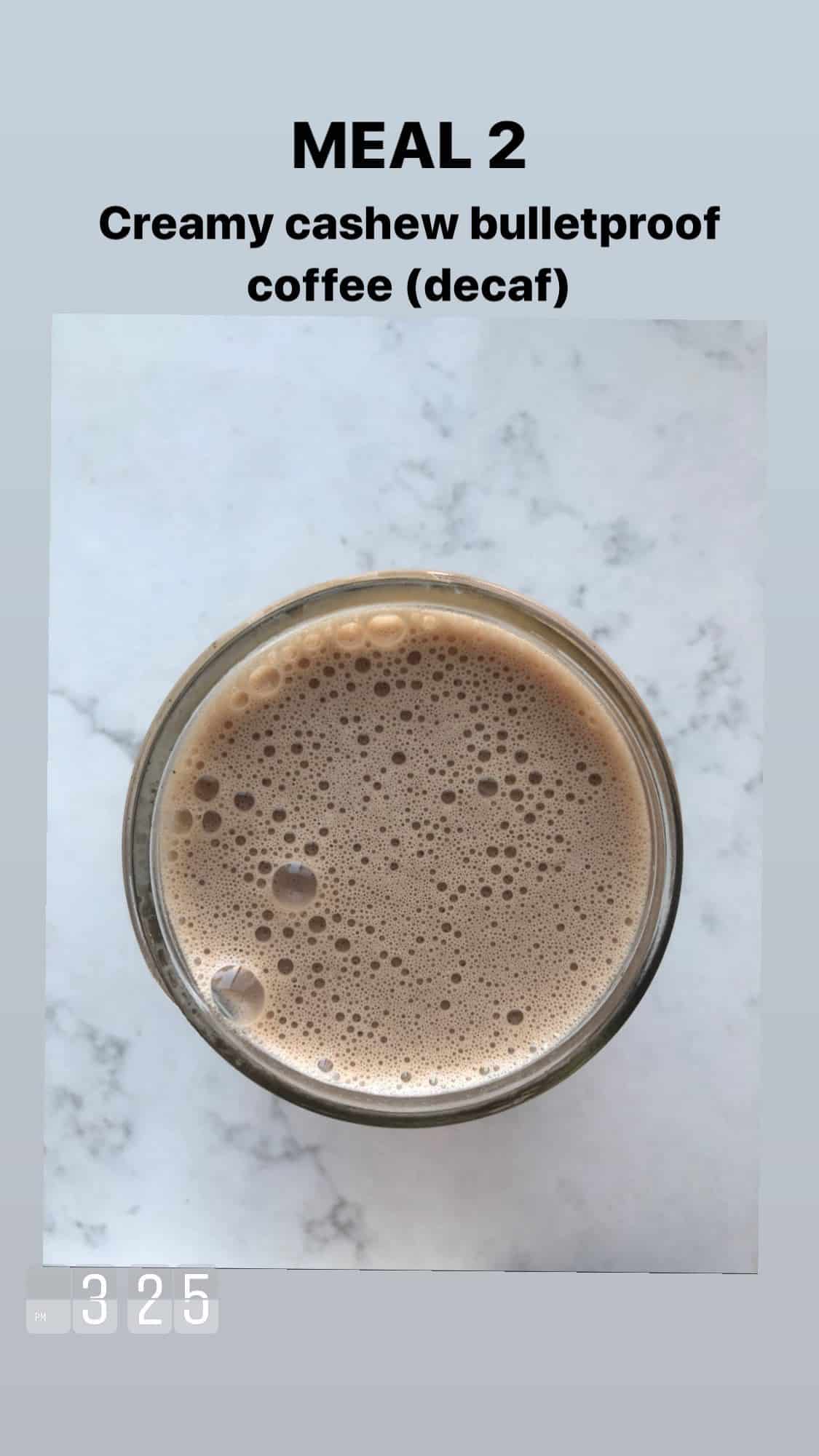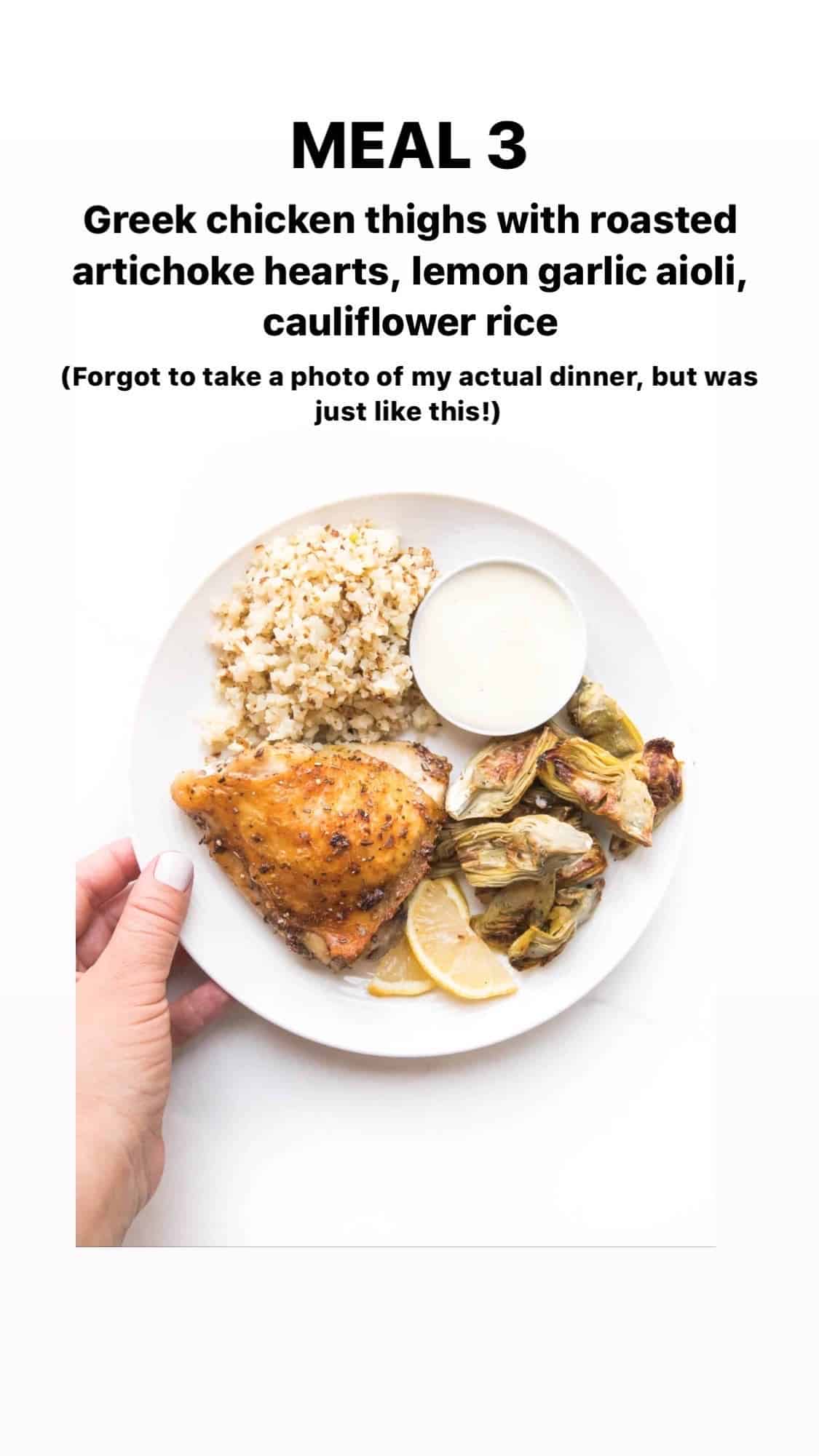 Greek chicken thighs, roasted artichoke hearts, lemon garlic aioli, cauliflower rice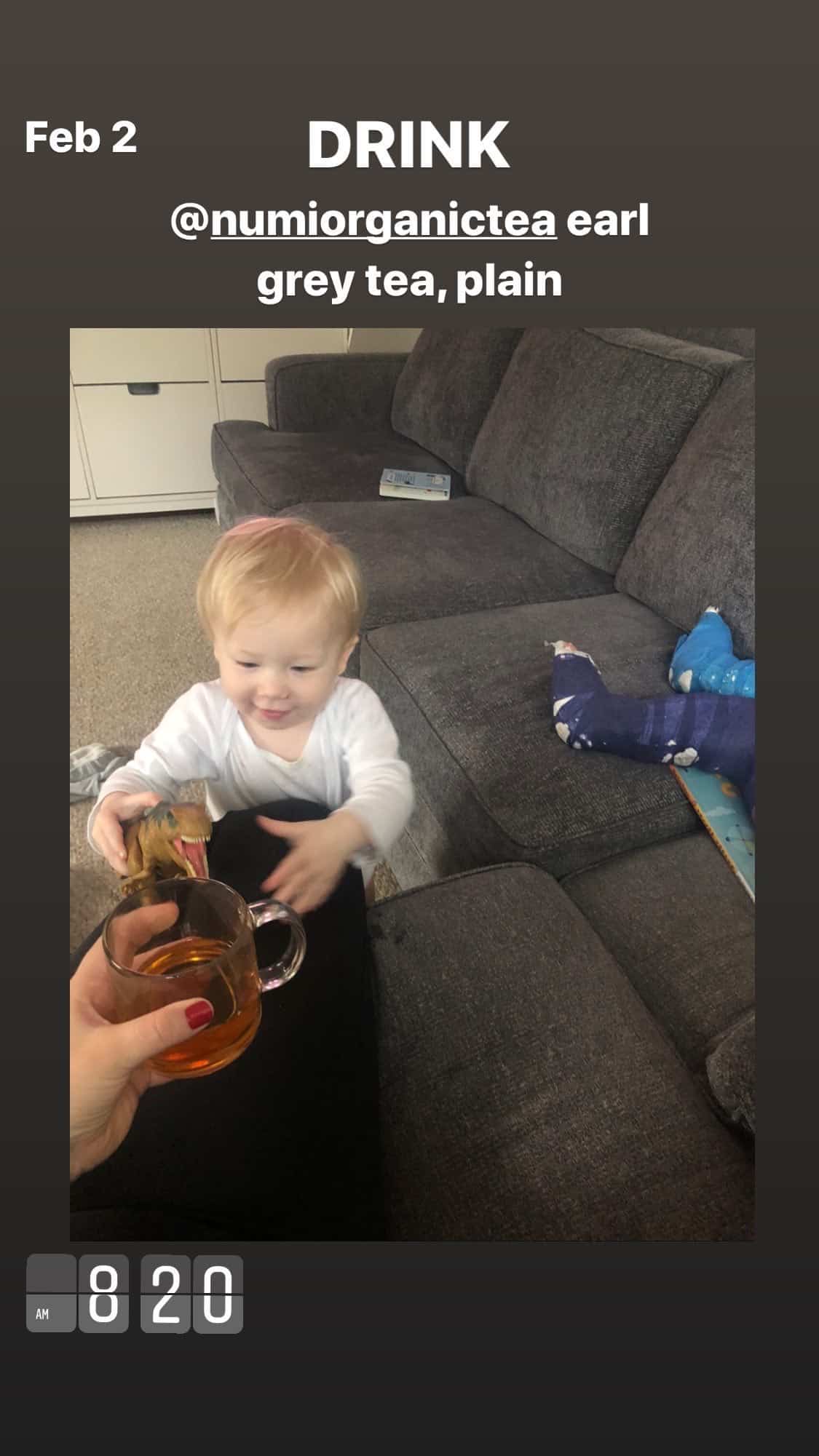 Tea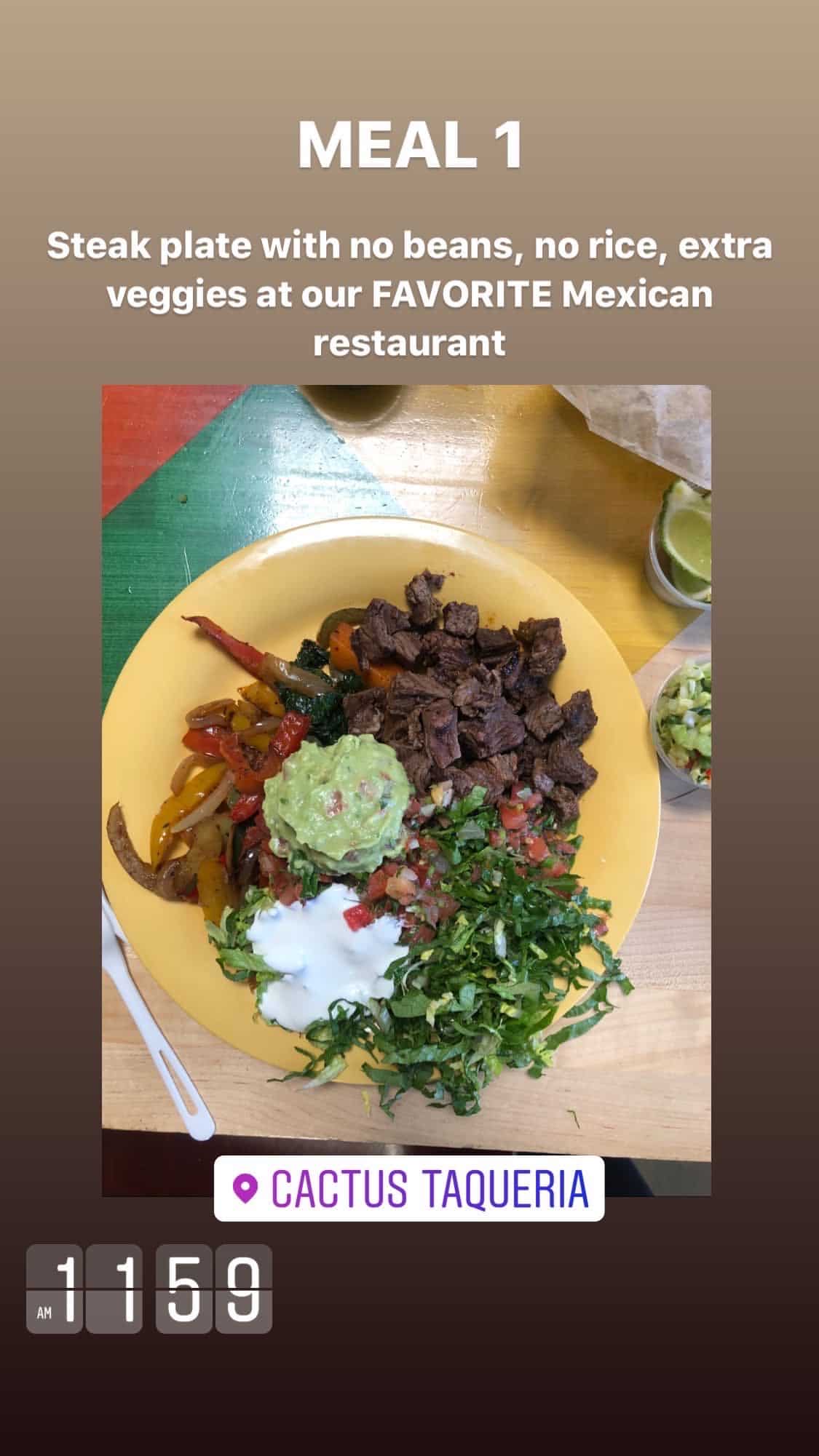 Steak, sauteed veggies, guacamole, sour cream, lettuce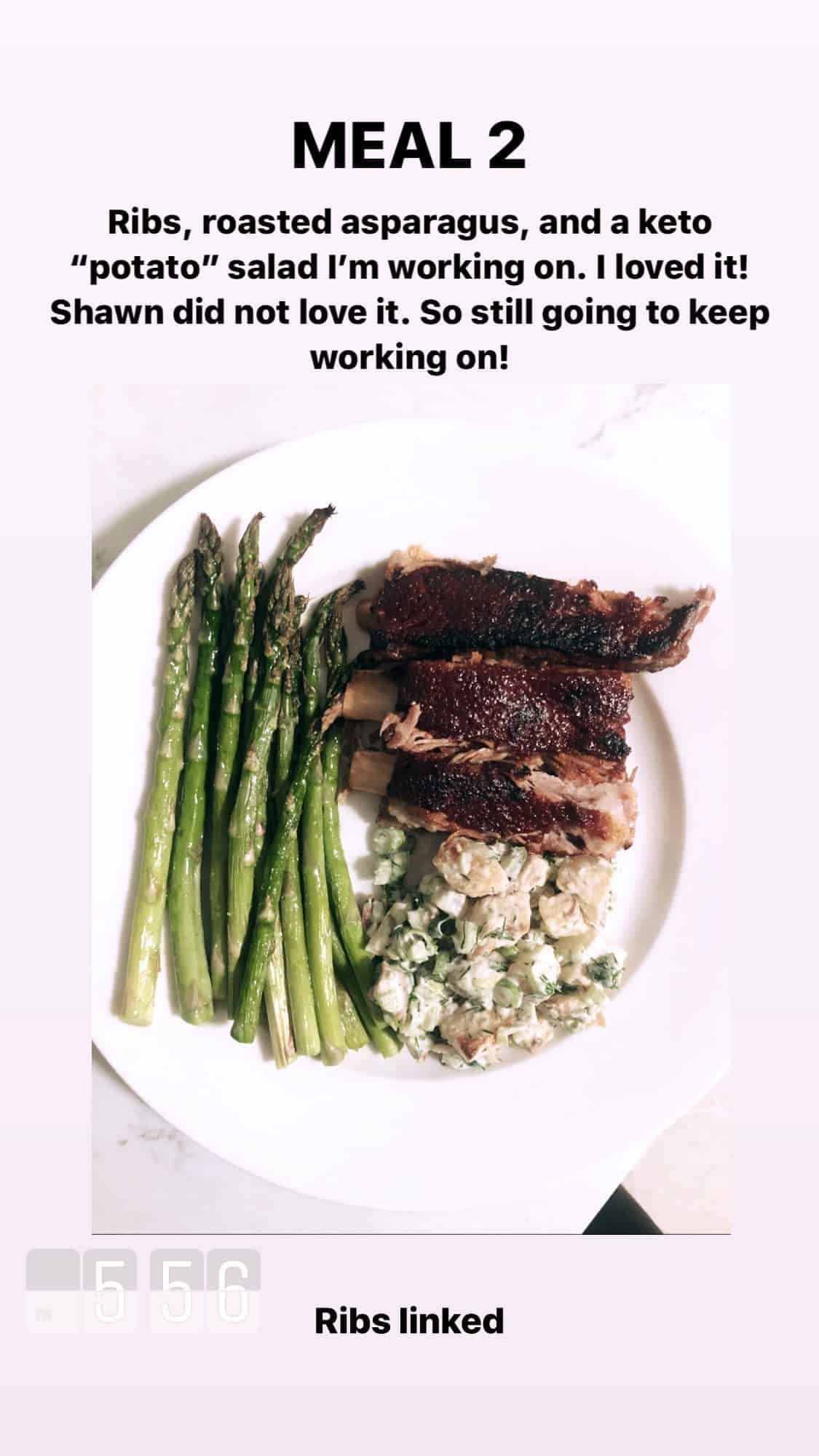 Intant pot ribs, roasted asparagus, potato salad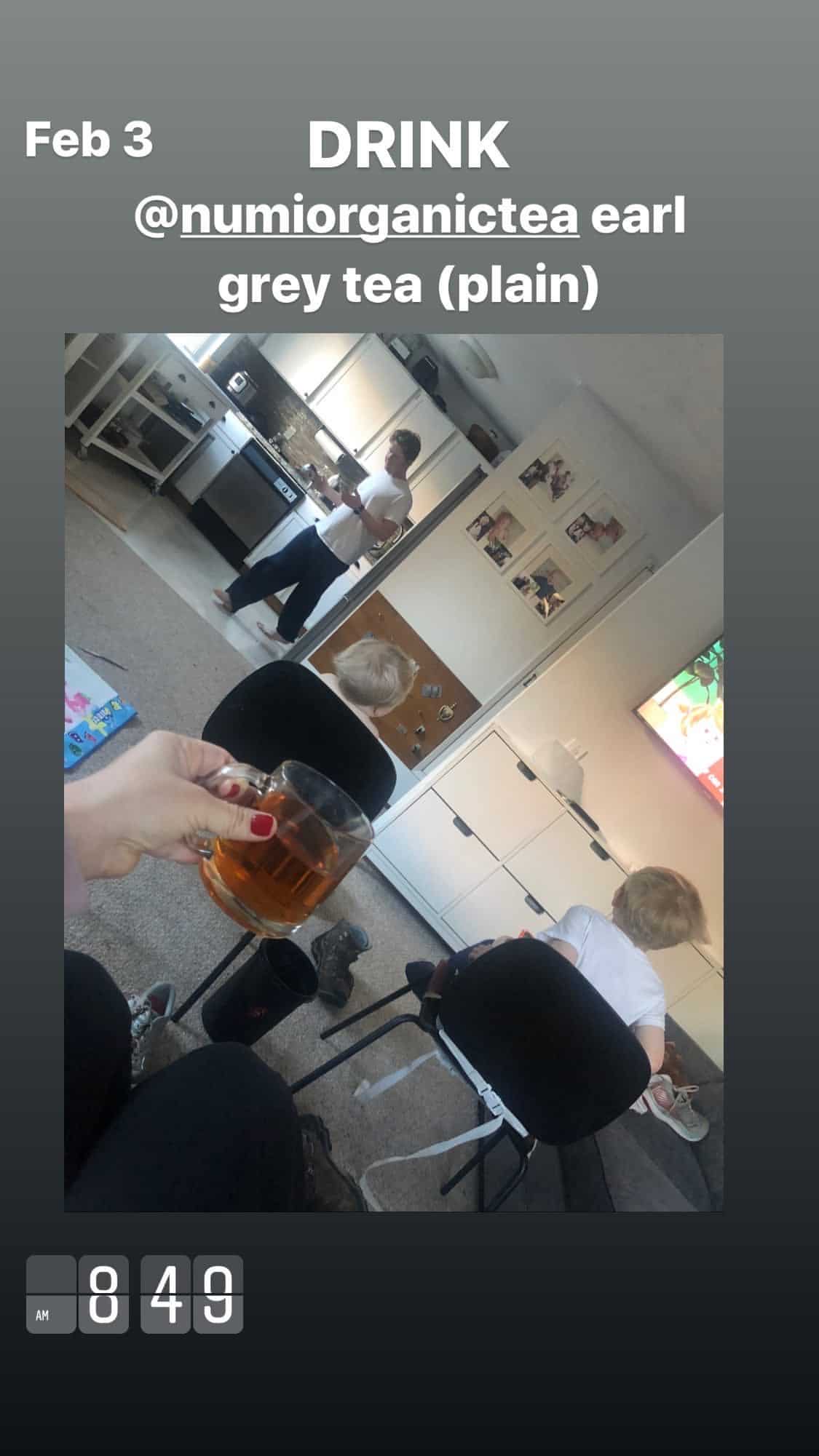 Tea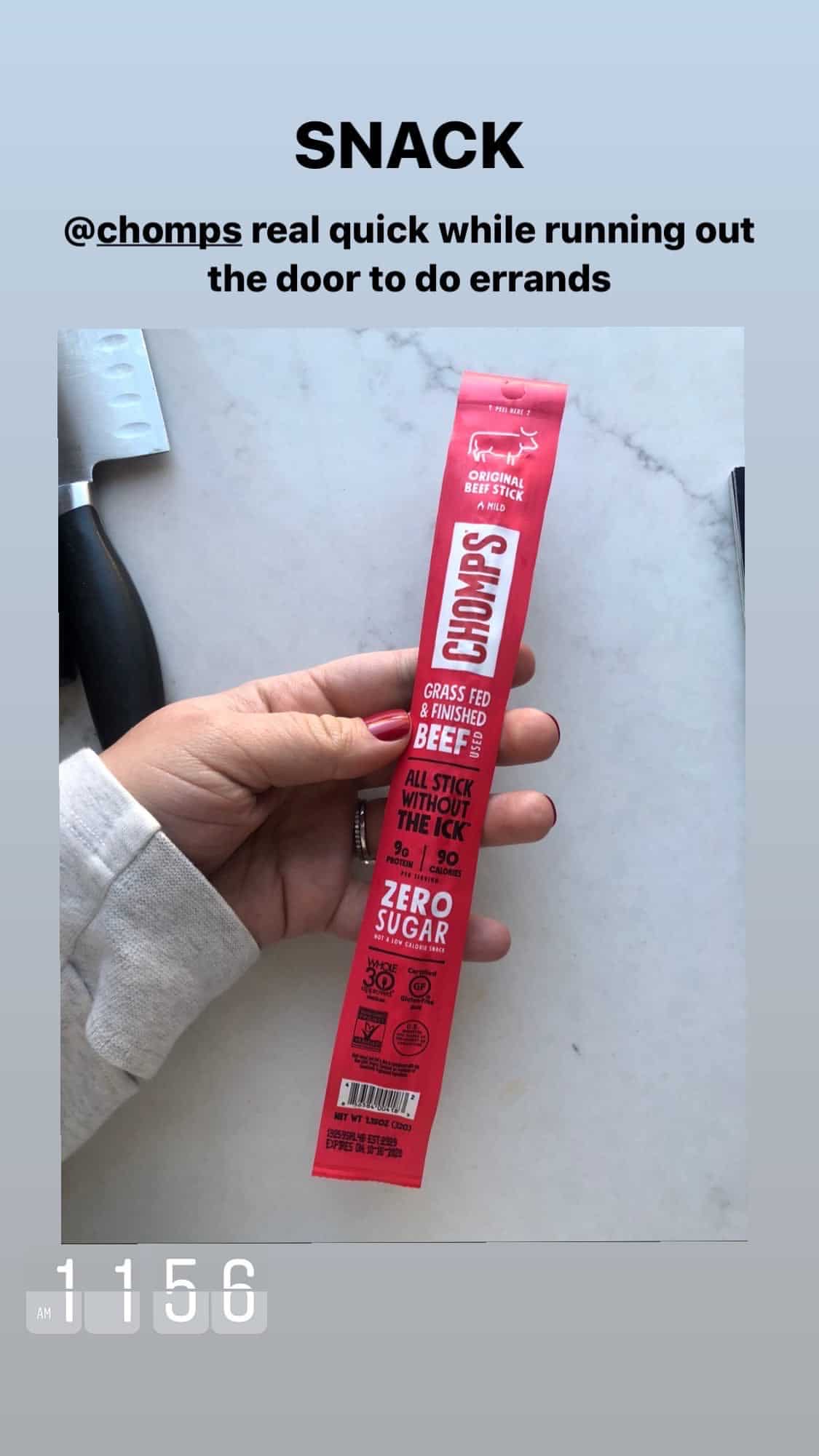 Chomps beef stick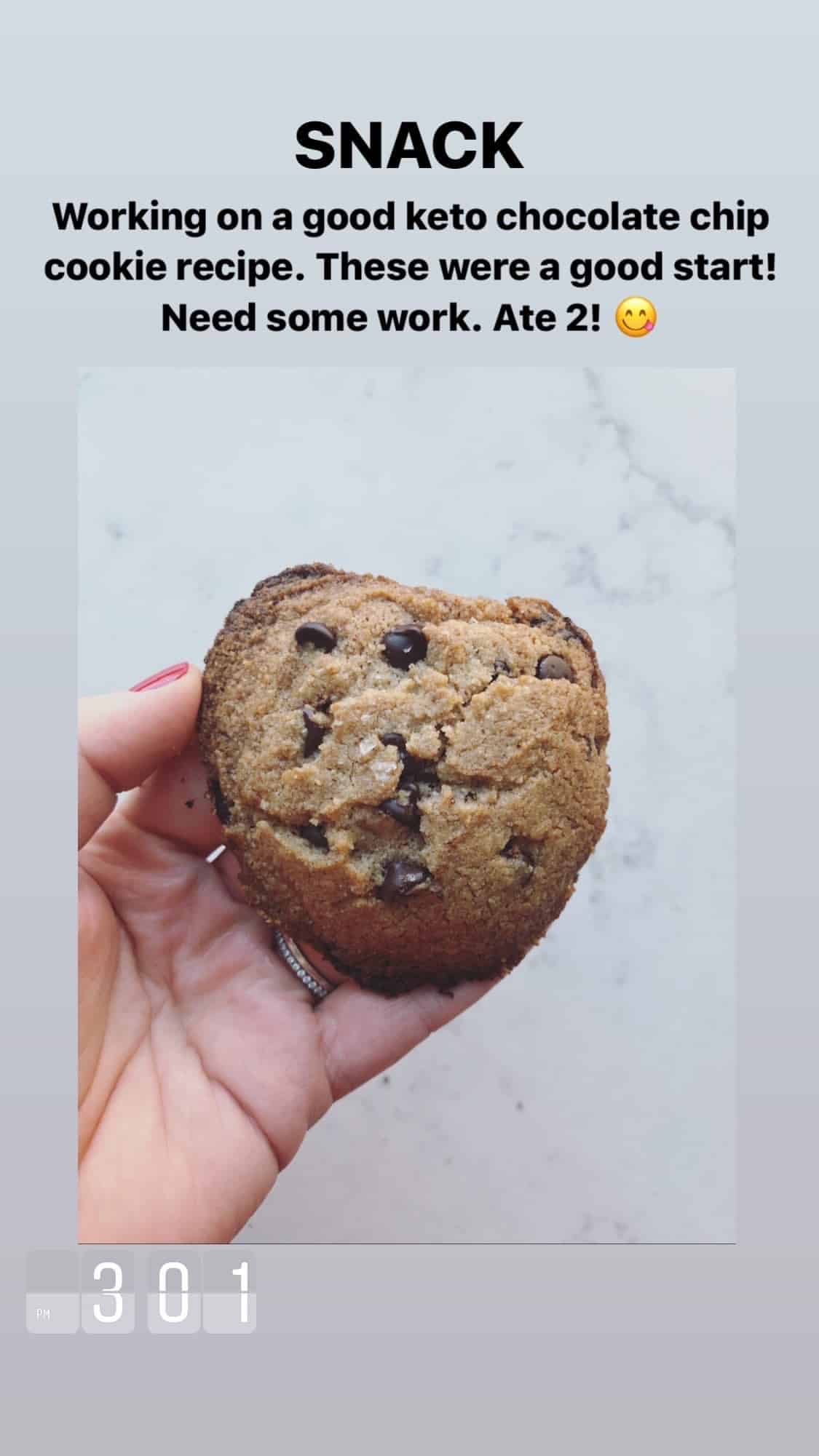 Keto chocolate chip cookies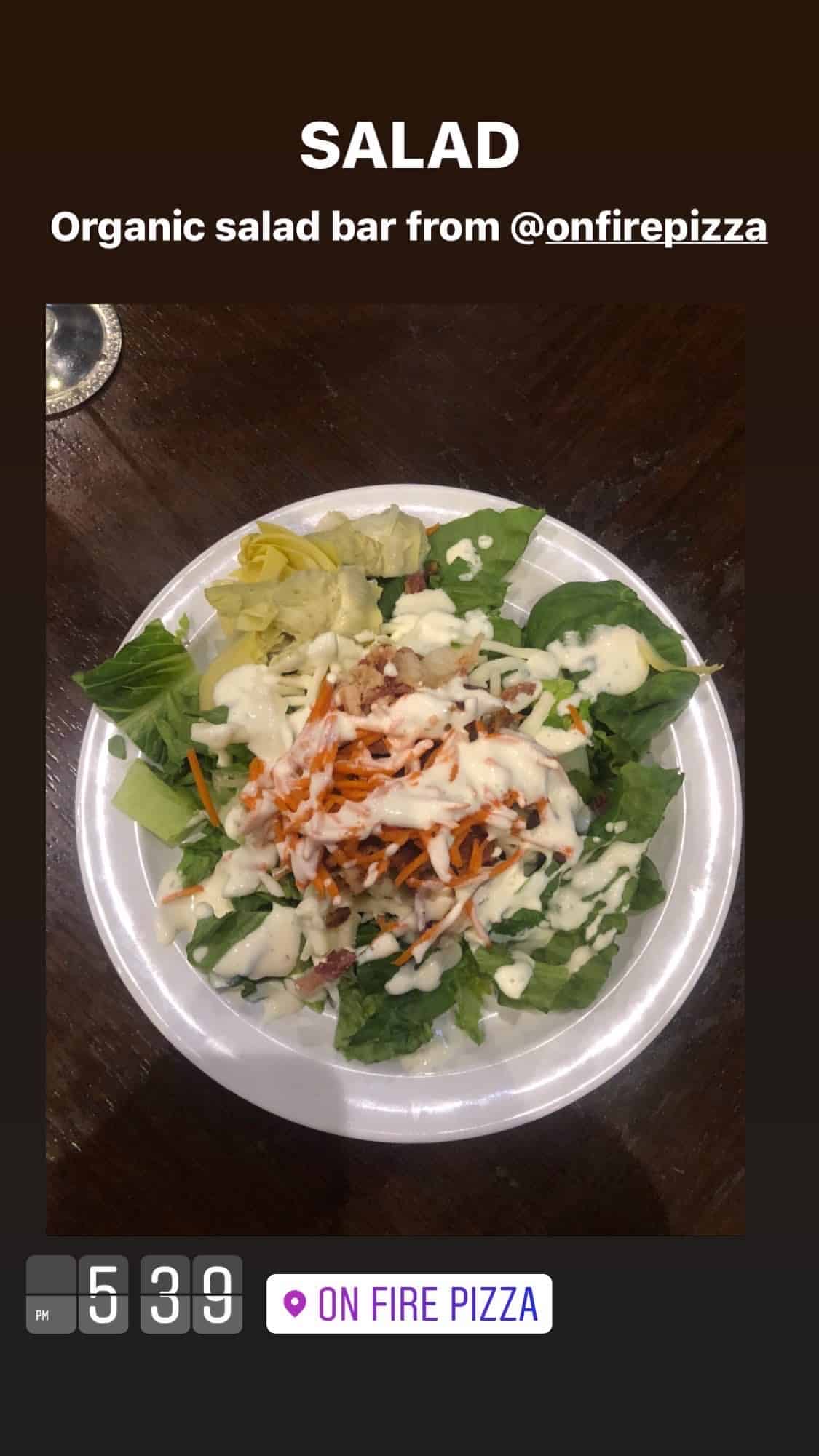 Organic ranch salad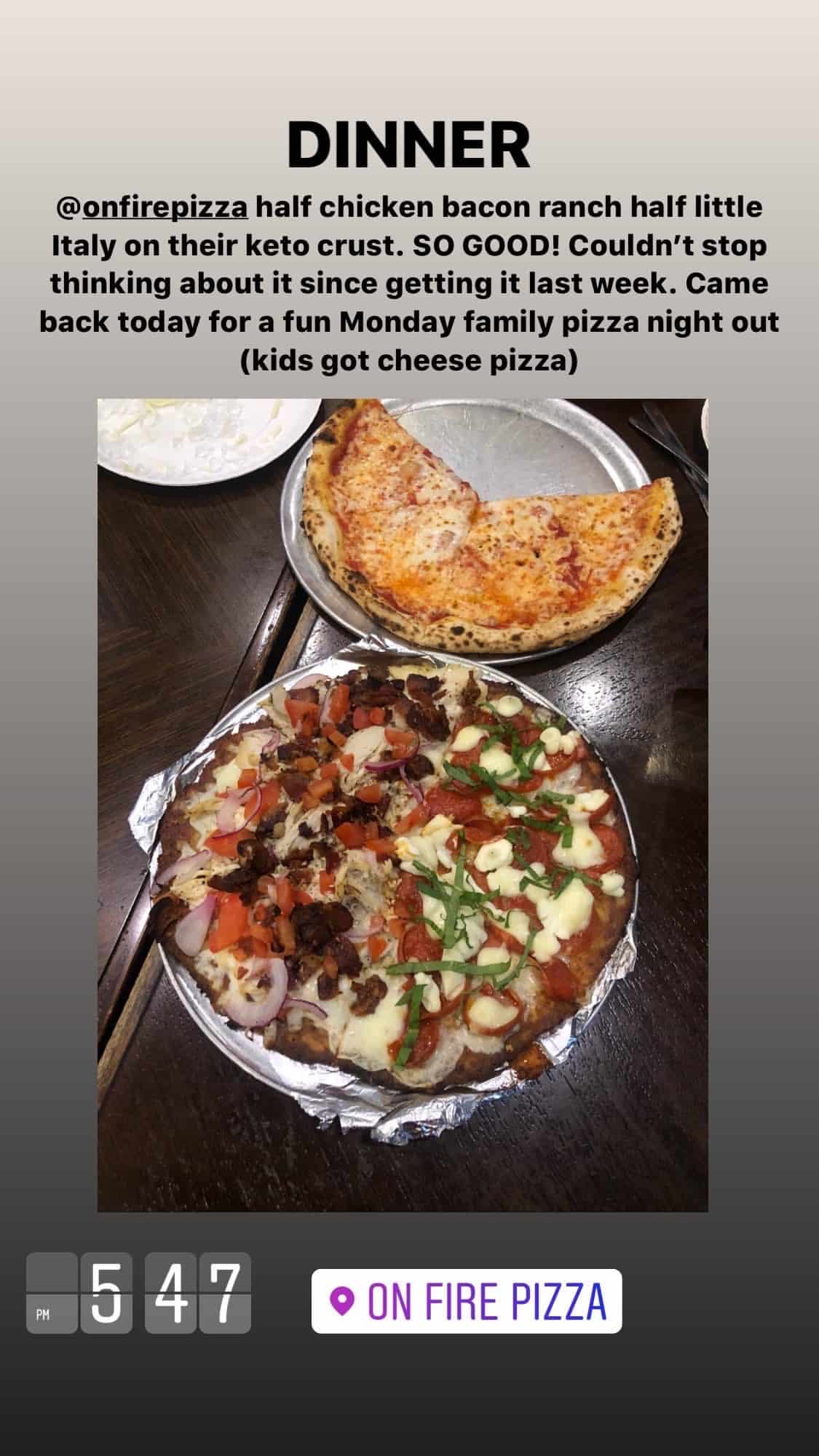 Half chicken bacon ranch half "Little Italy" pizza on keto crust from On Fire Pizza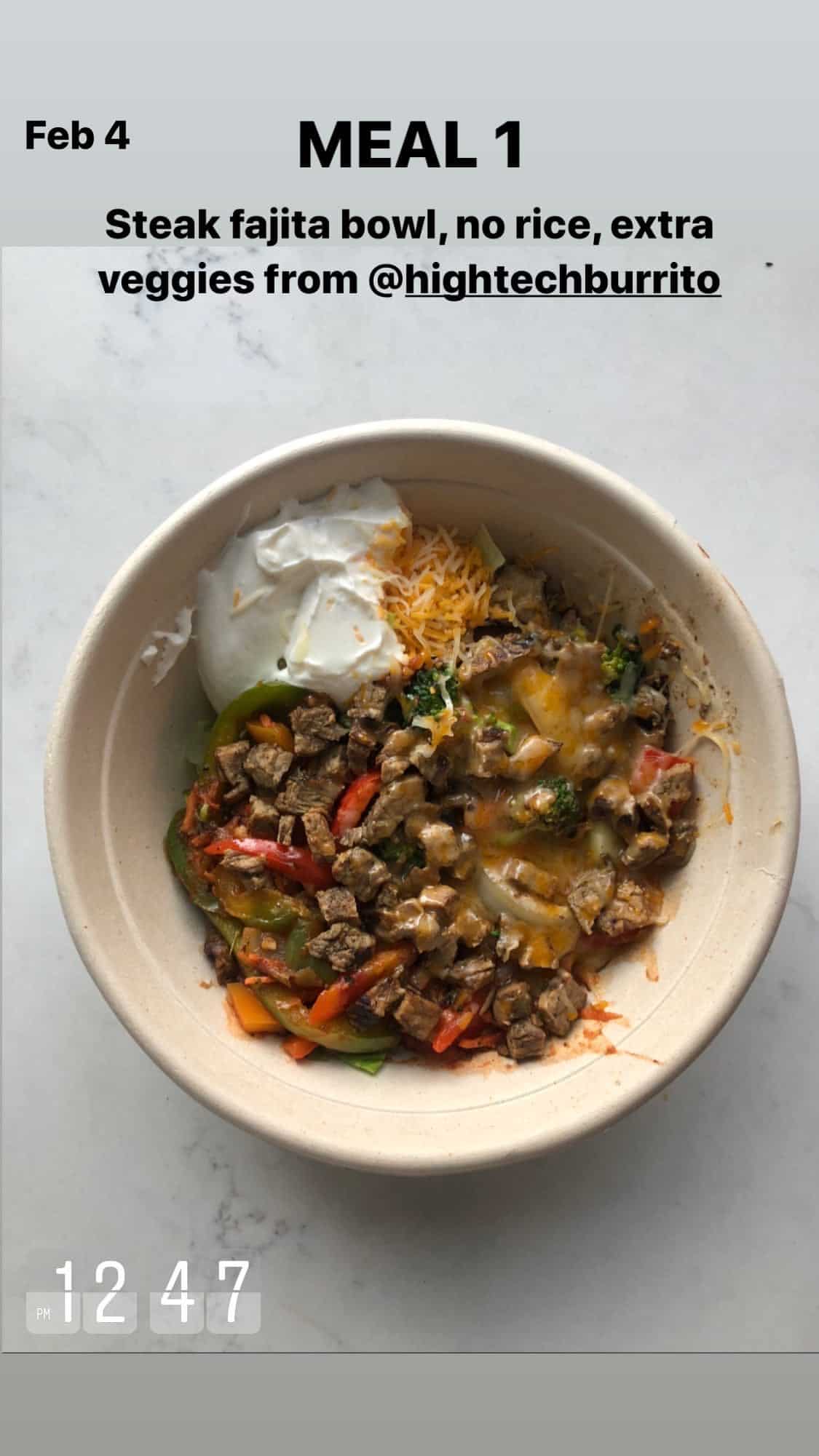 Steak fajita bowl, extra veggies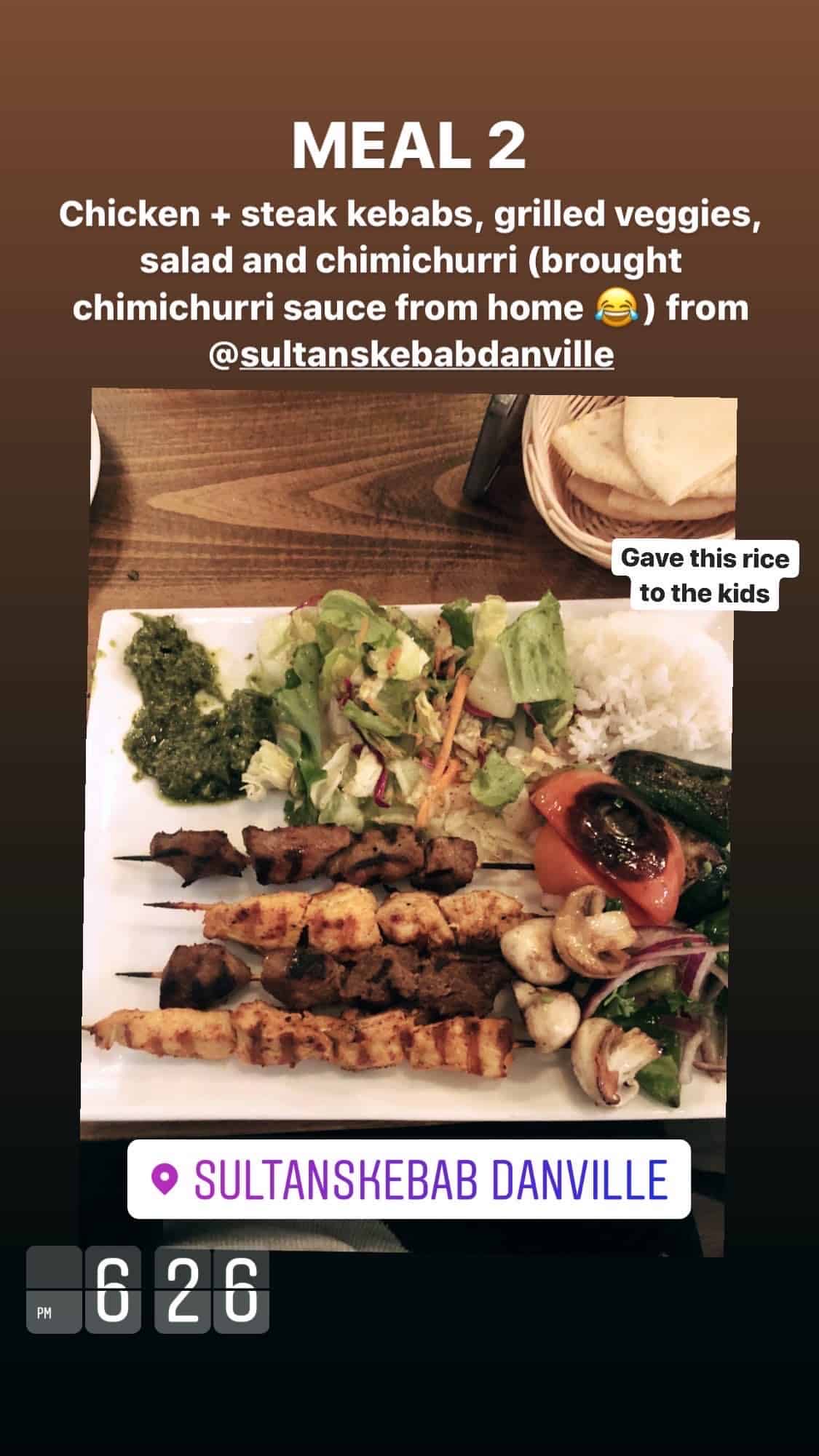 Chicken and steak kebabs, grilled veggies, salad, chimichurri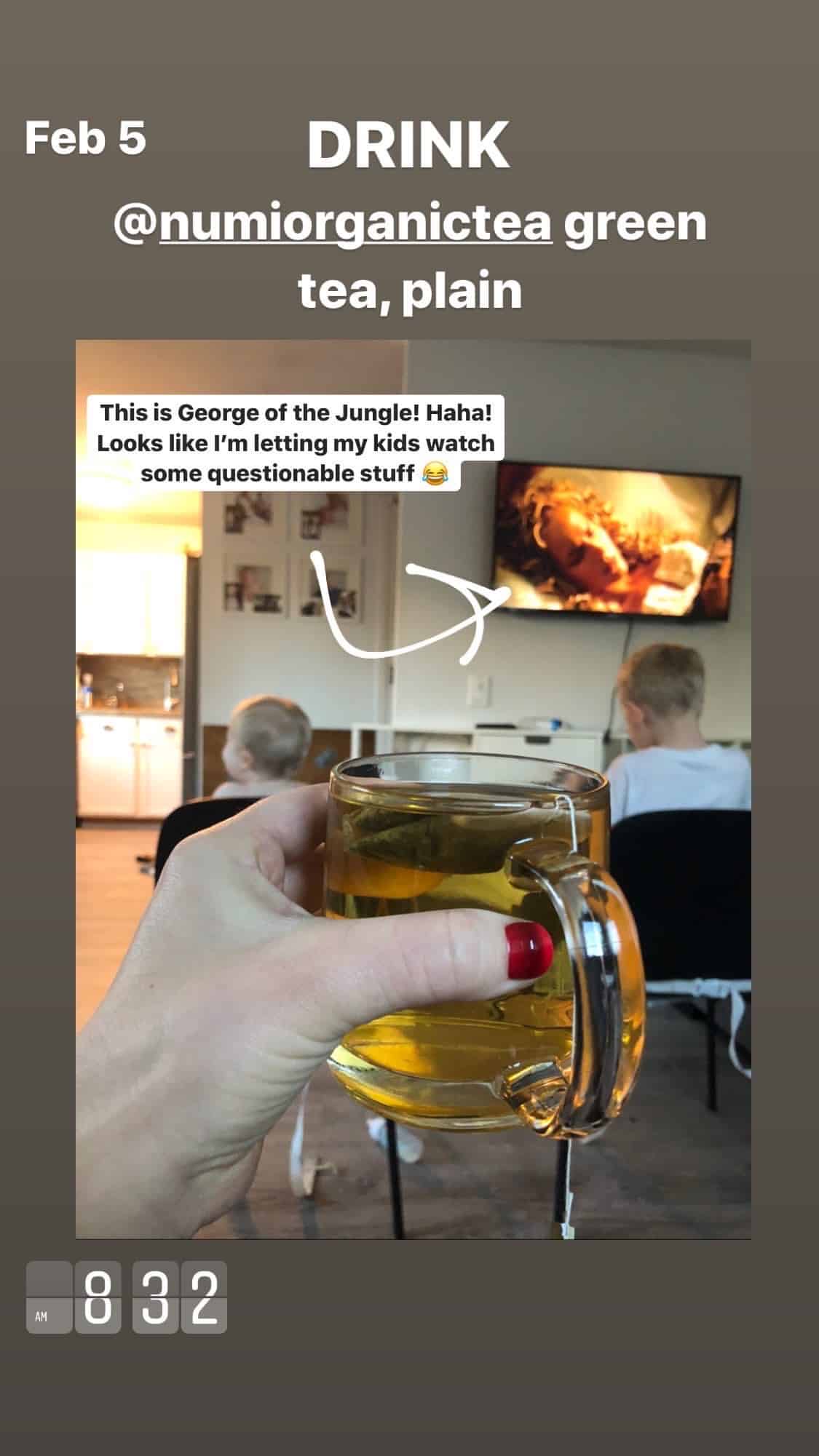 Tea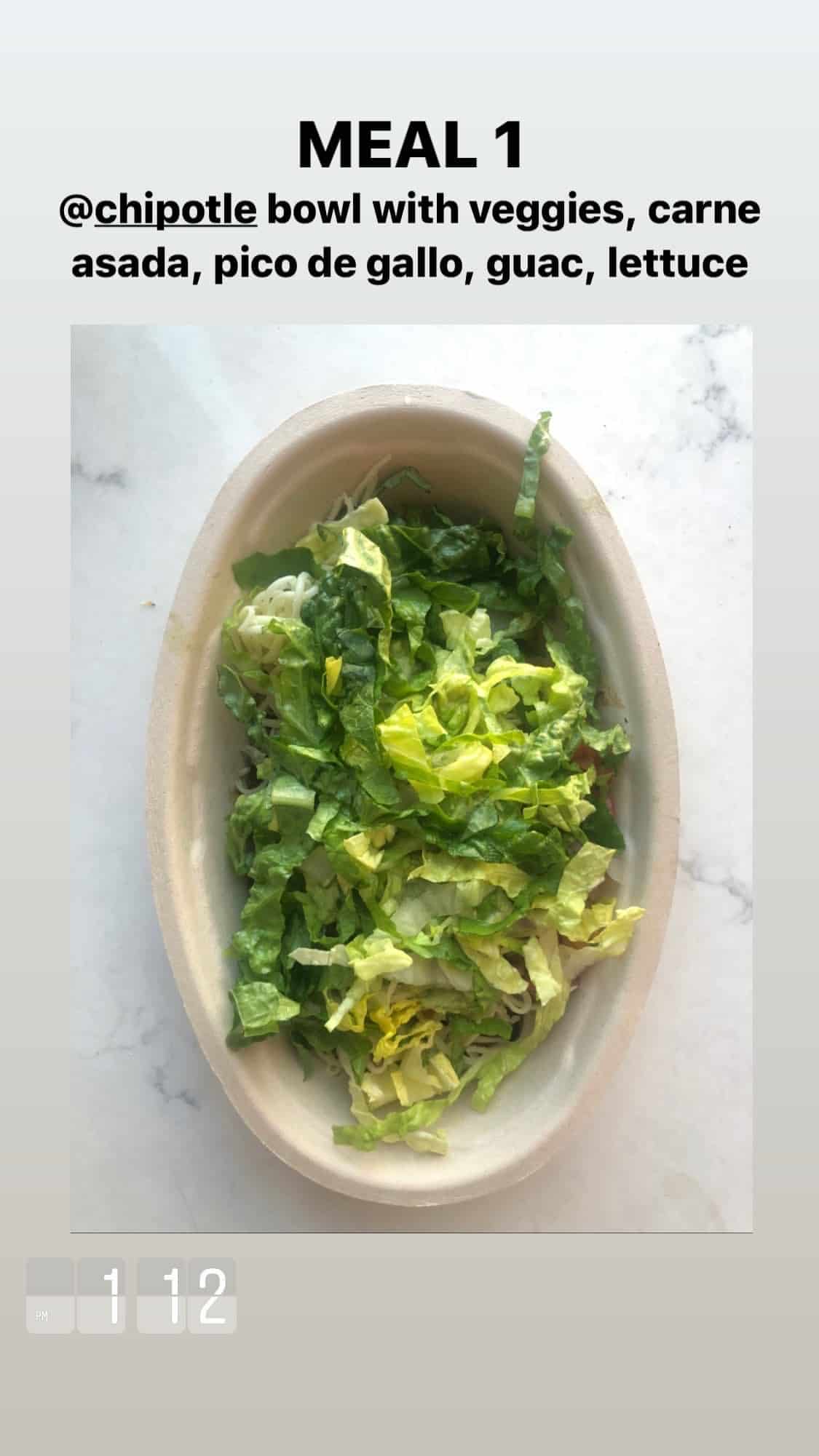 Carne asada Chipotle bowl, veggies, pico de gallo, guacamole, lettuce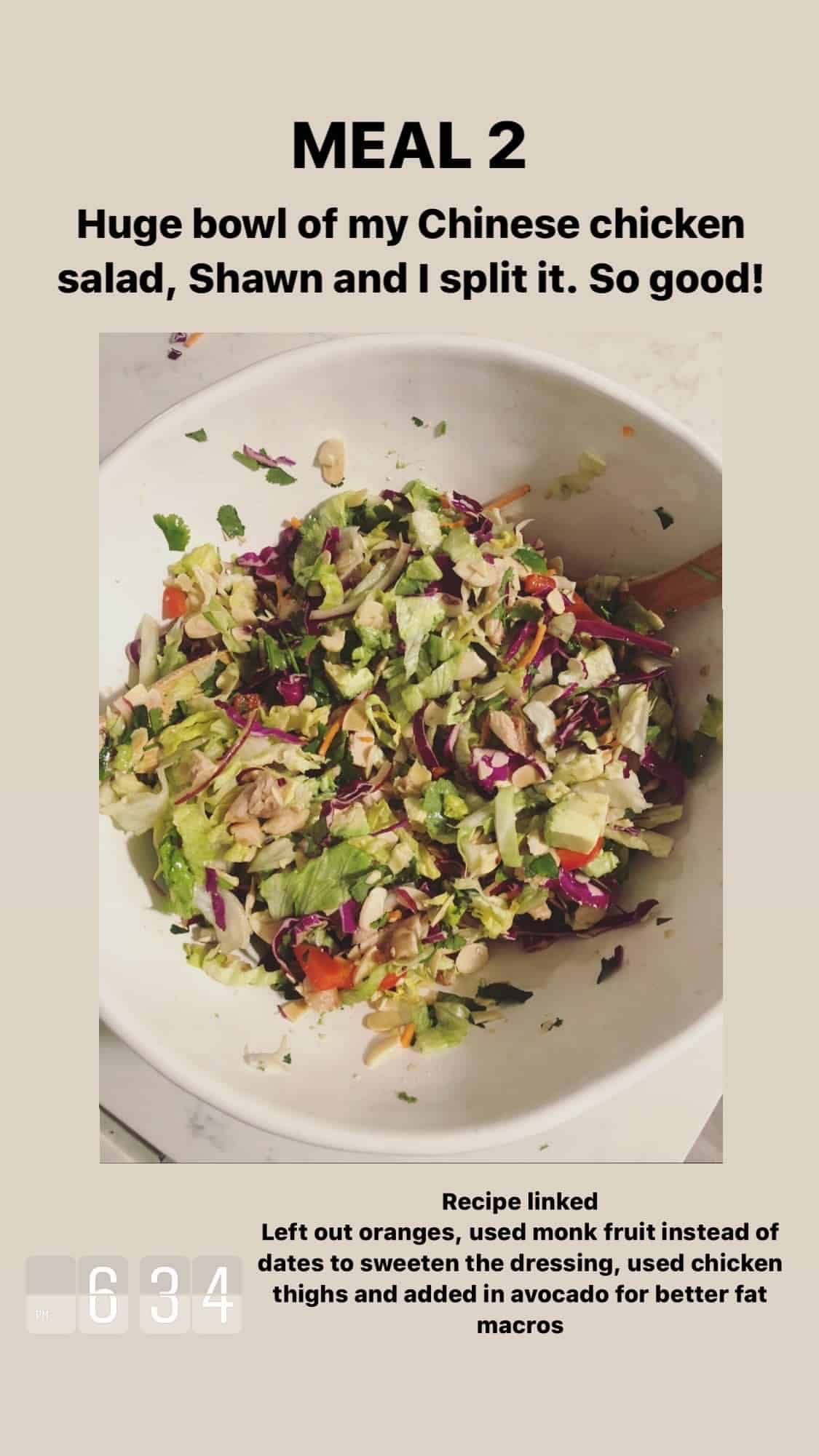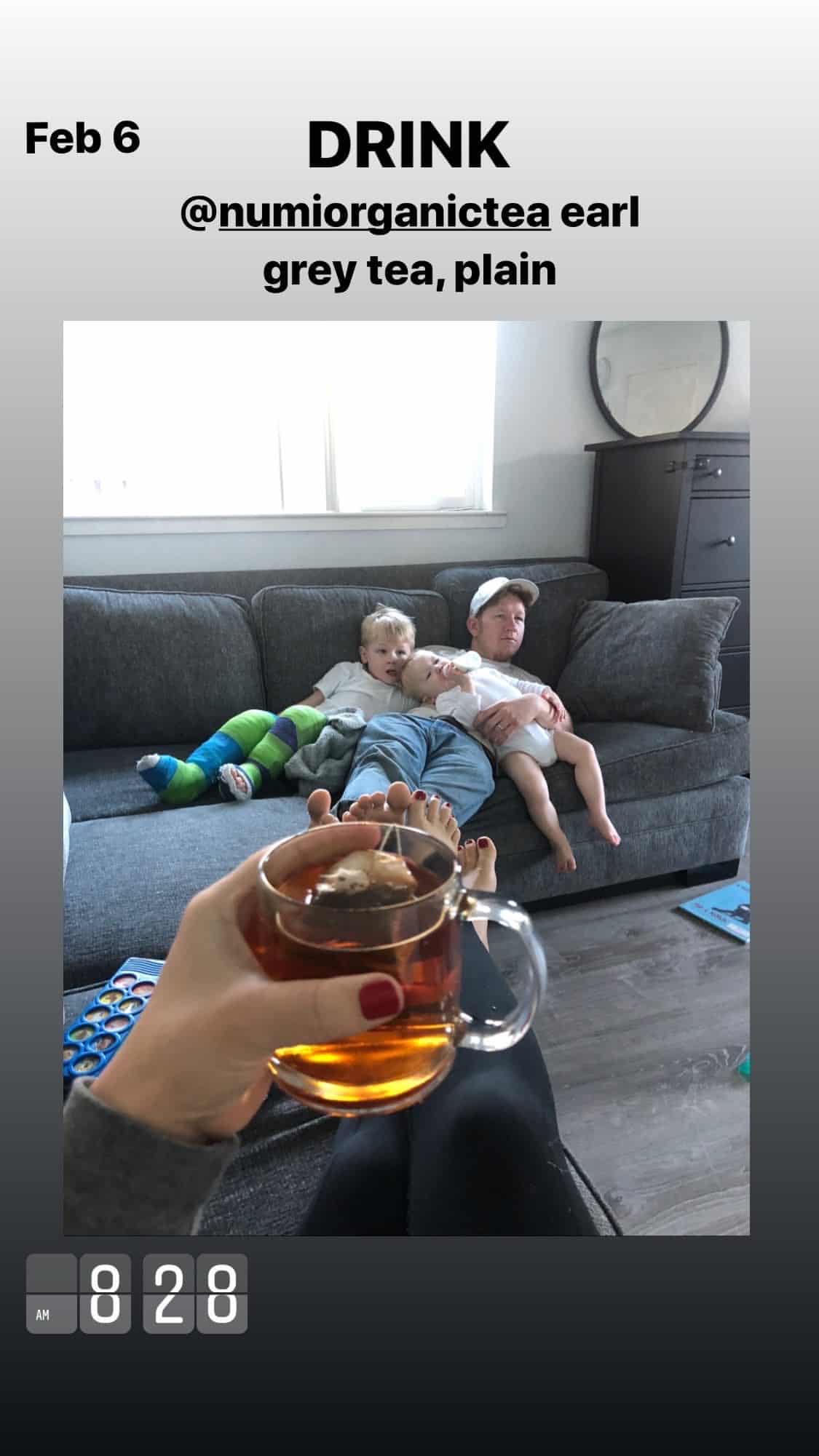 Tea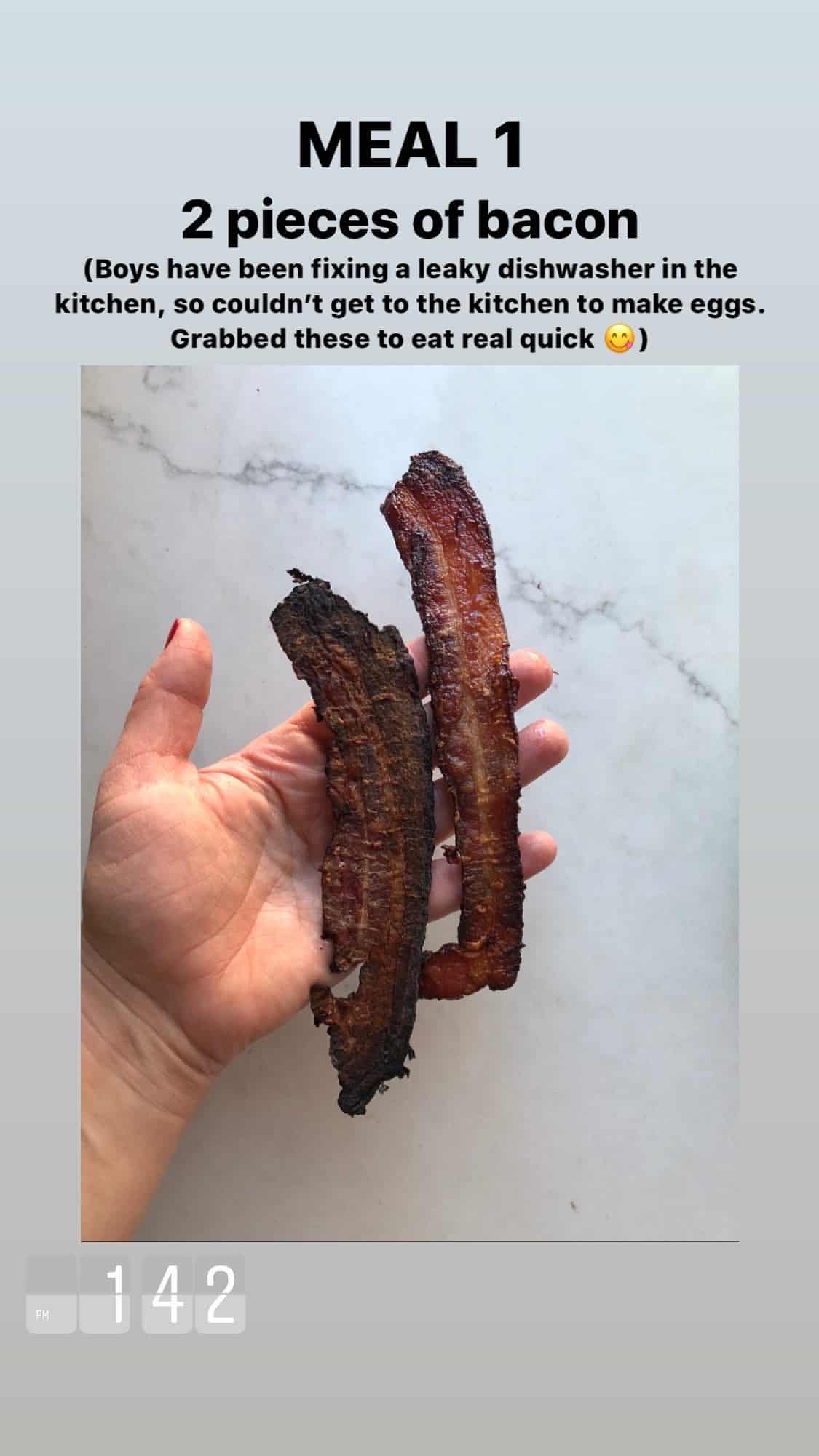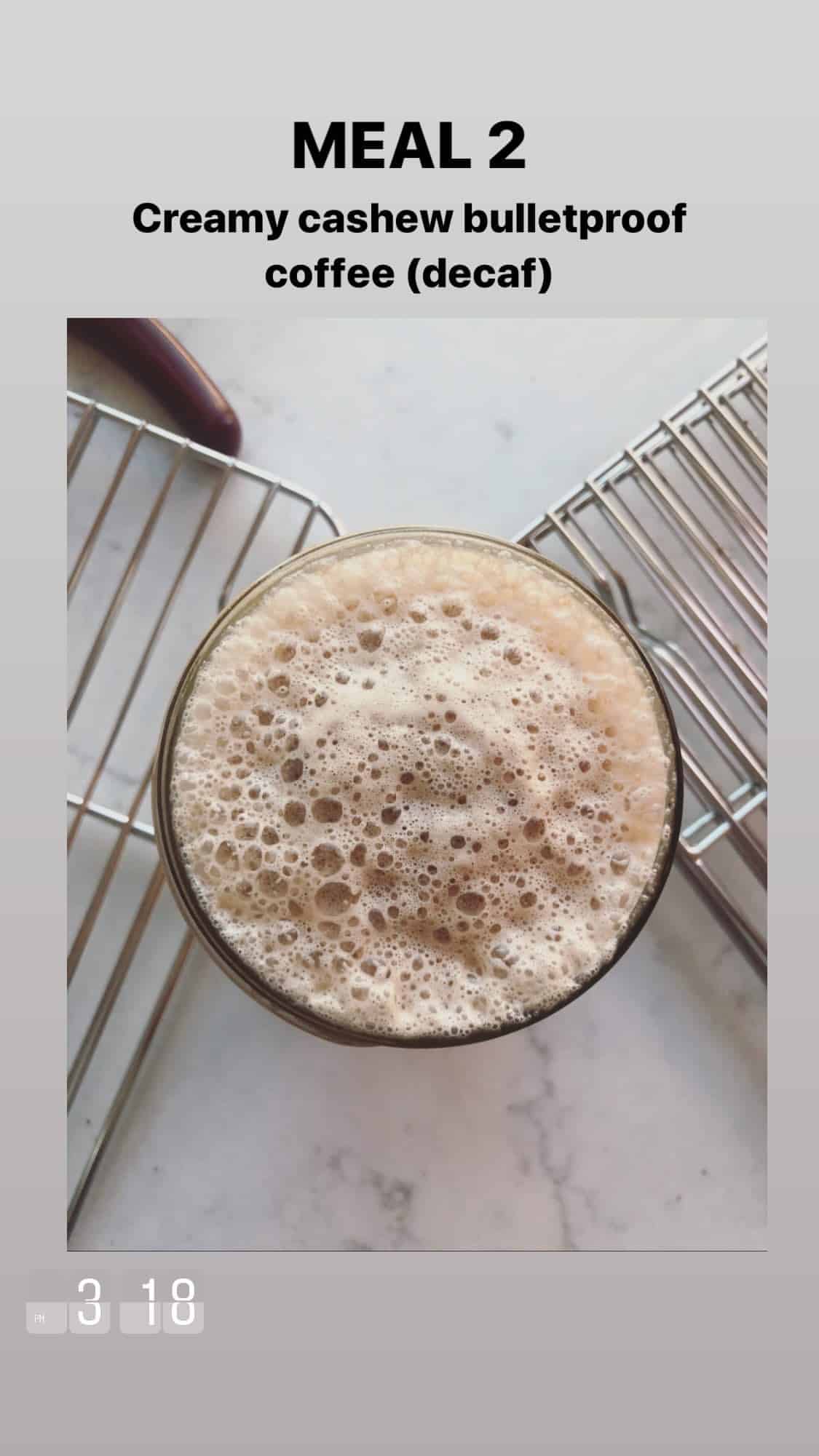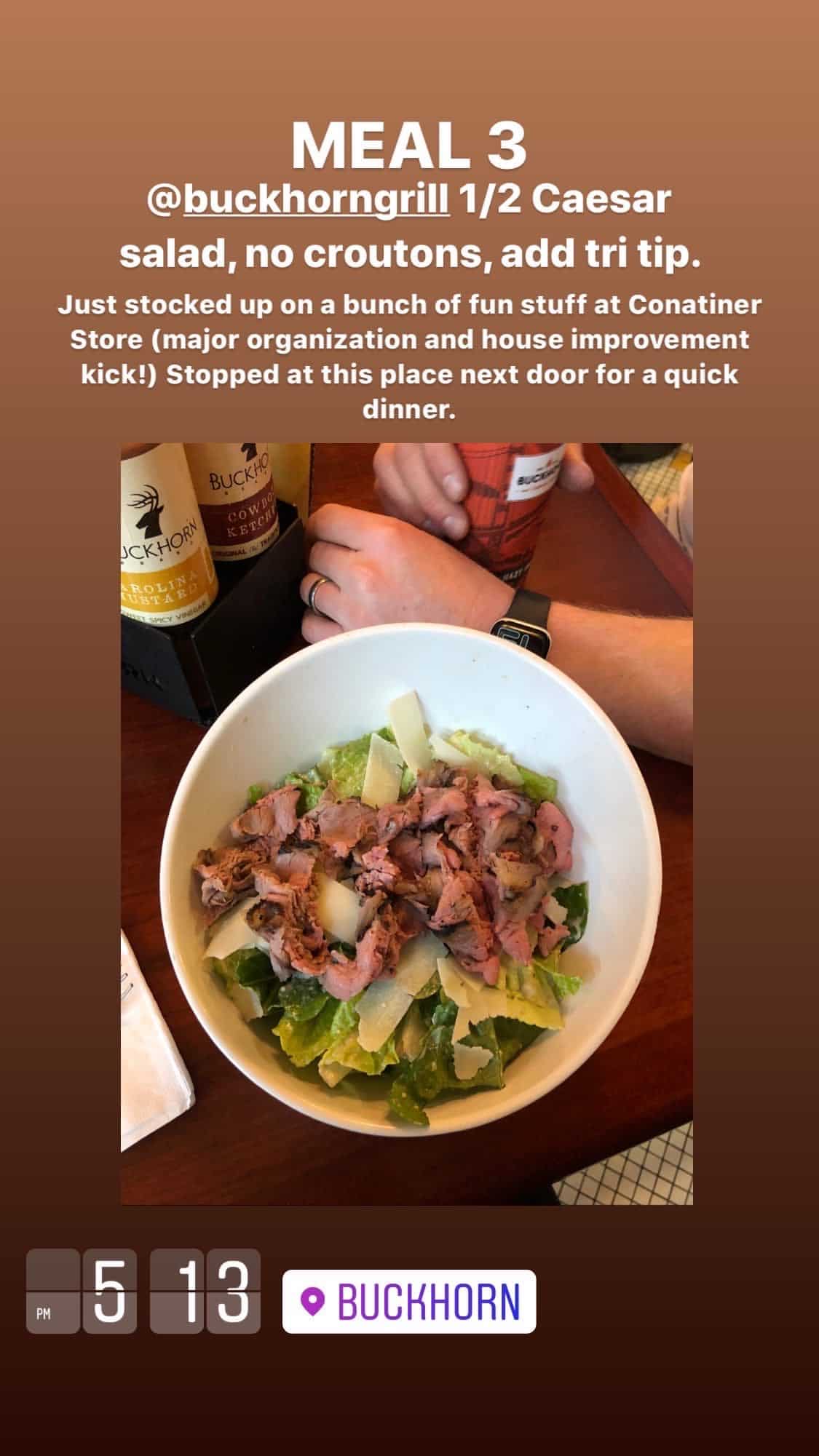 Caesar salad with tri tip from Buckhorn Grill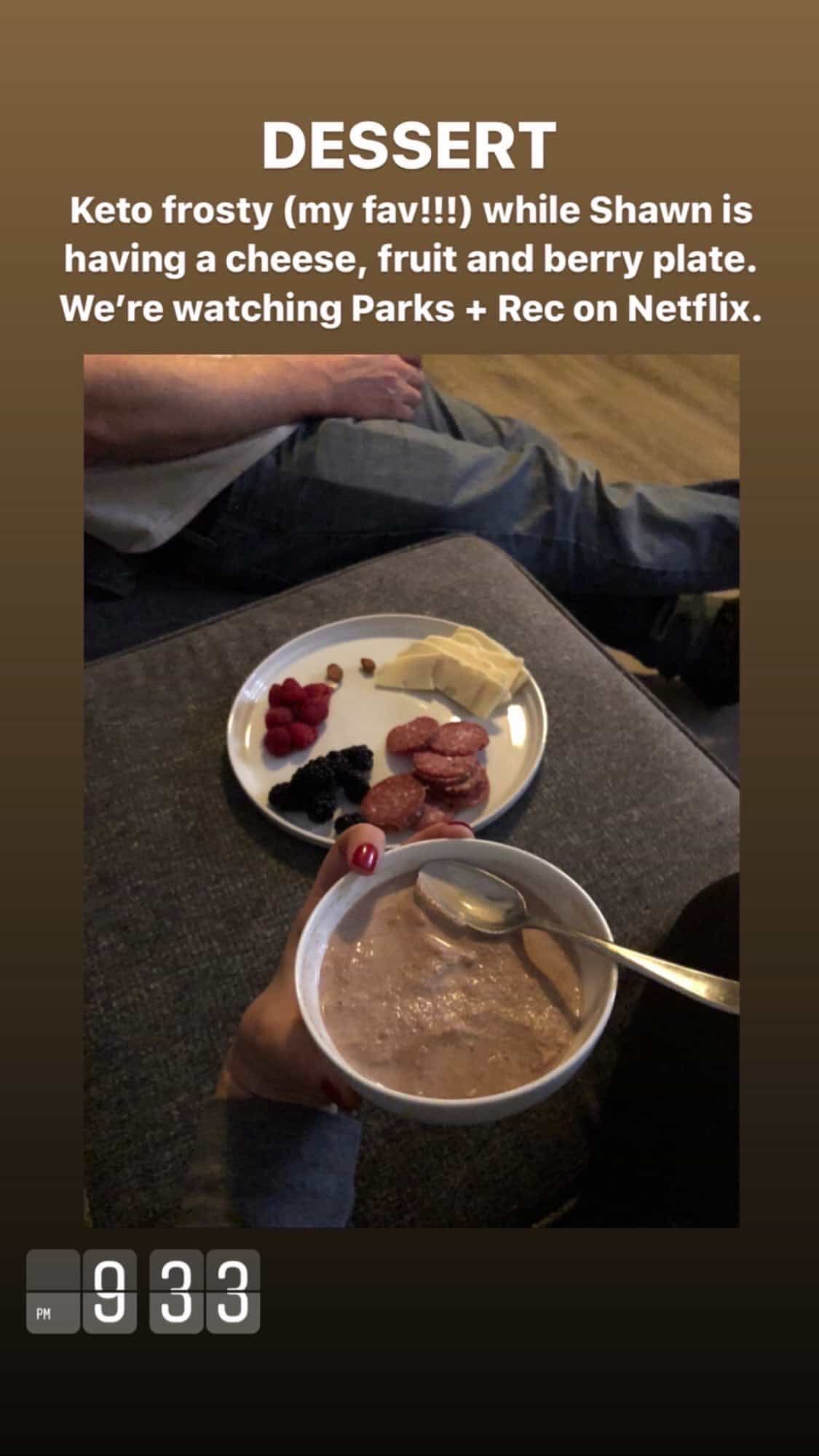 Keto frosty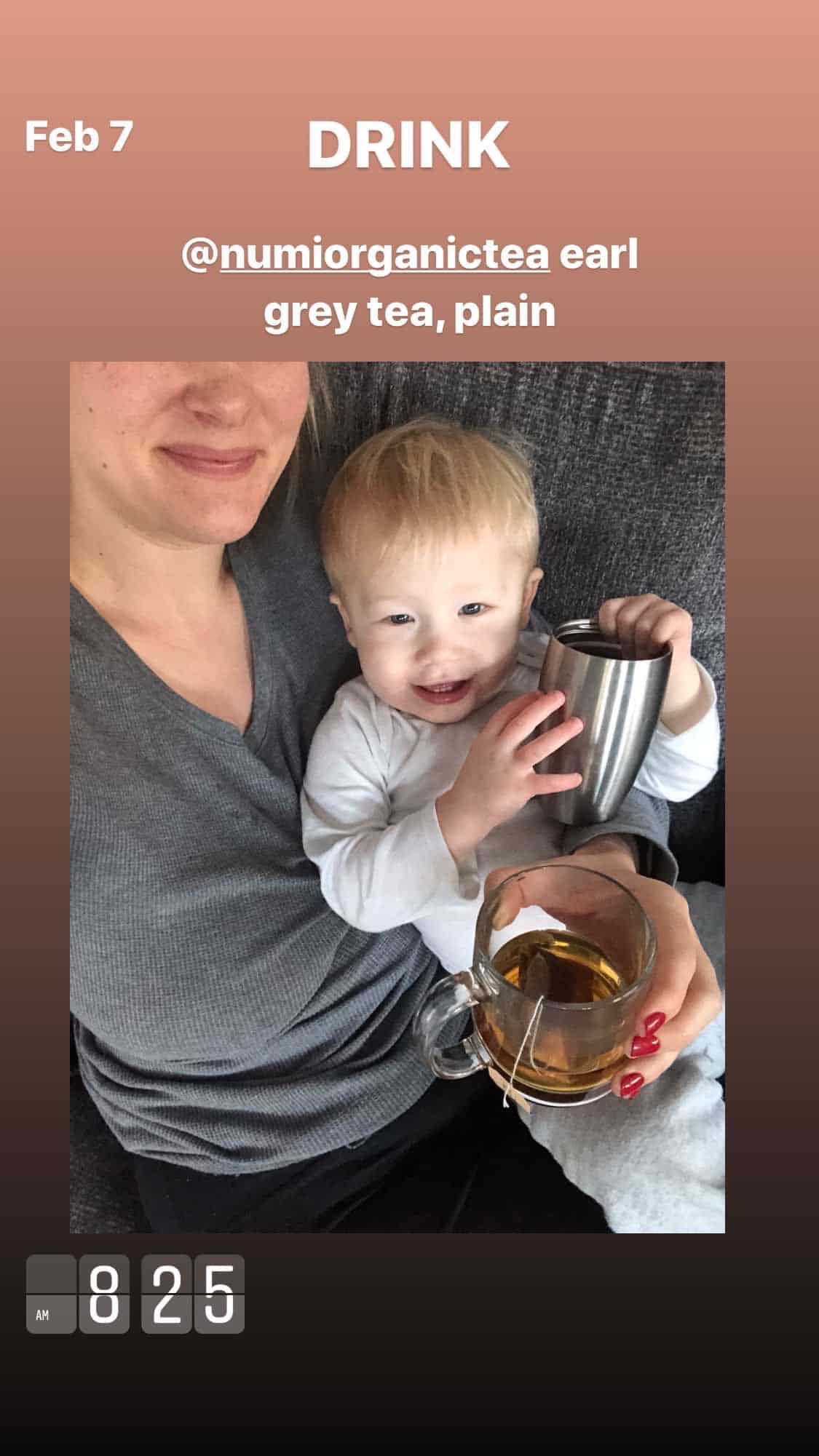 Tea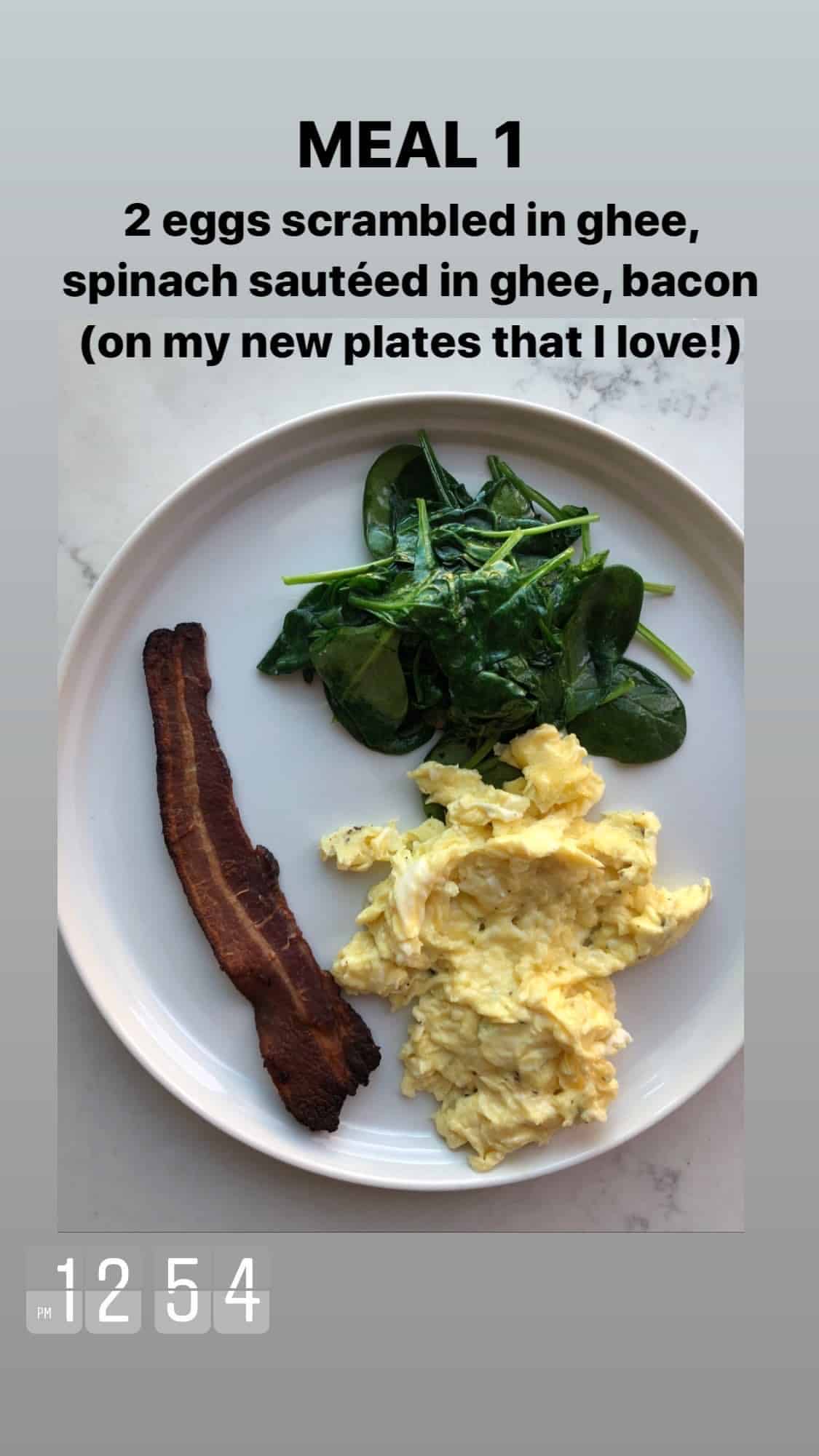 Eggs scrambled in ghee, sauteed spinach, bacon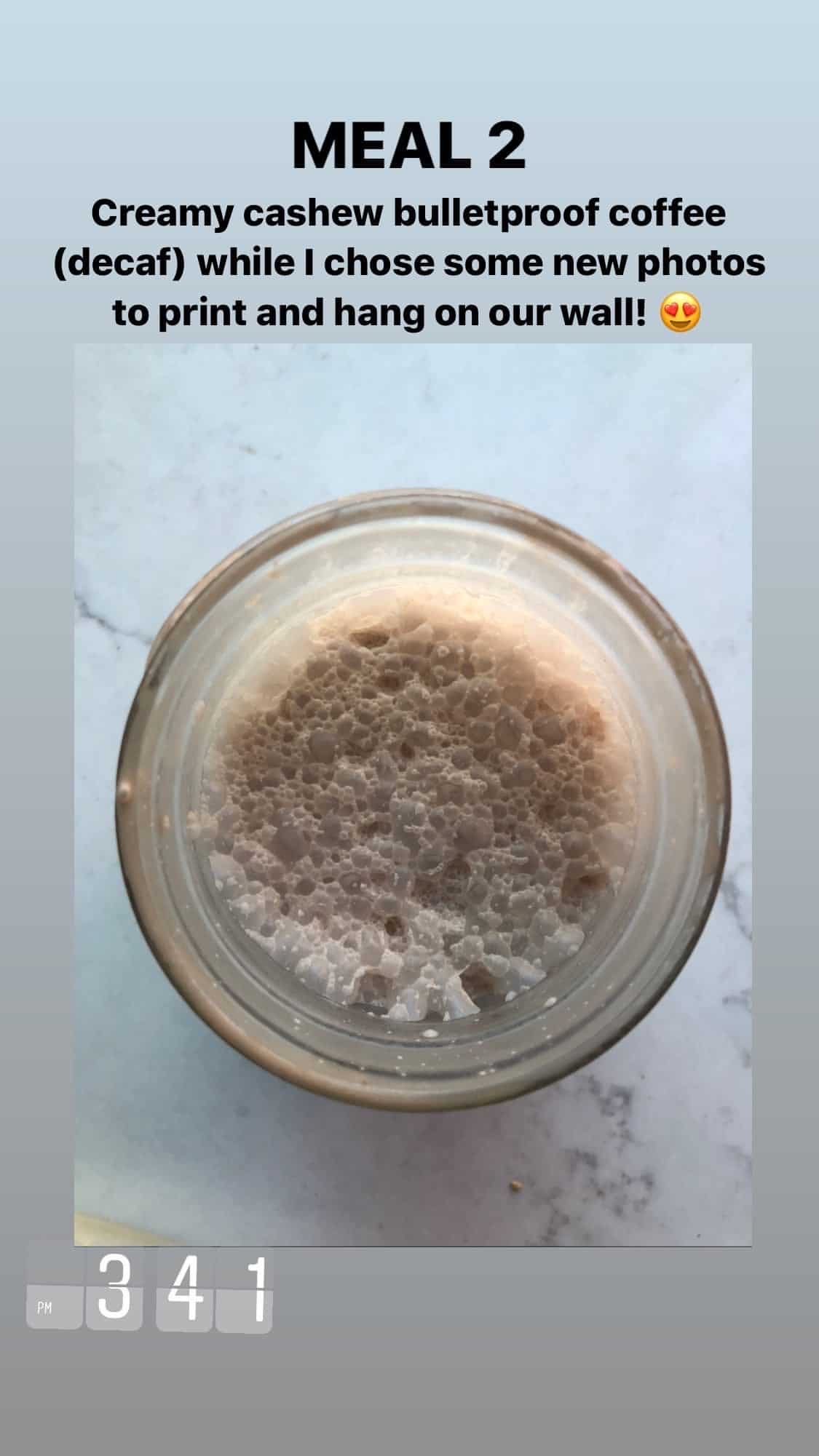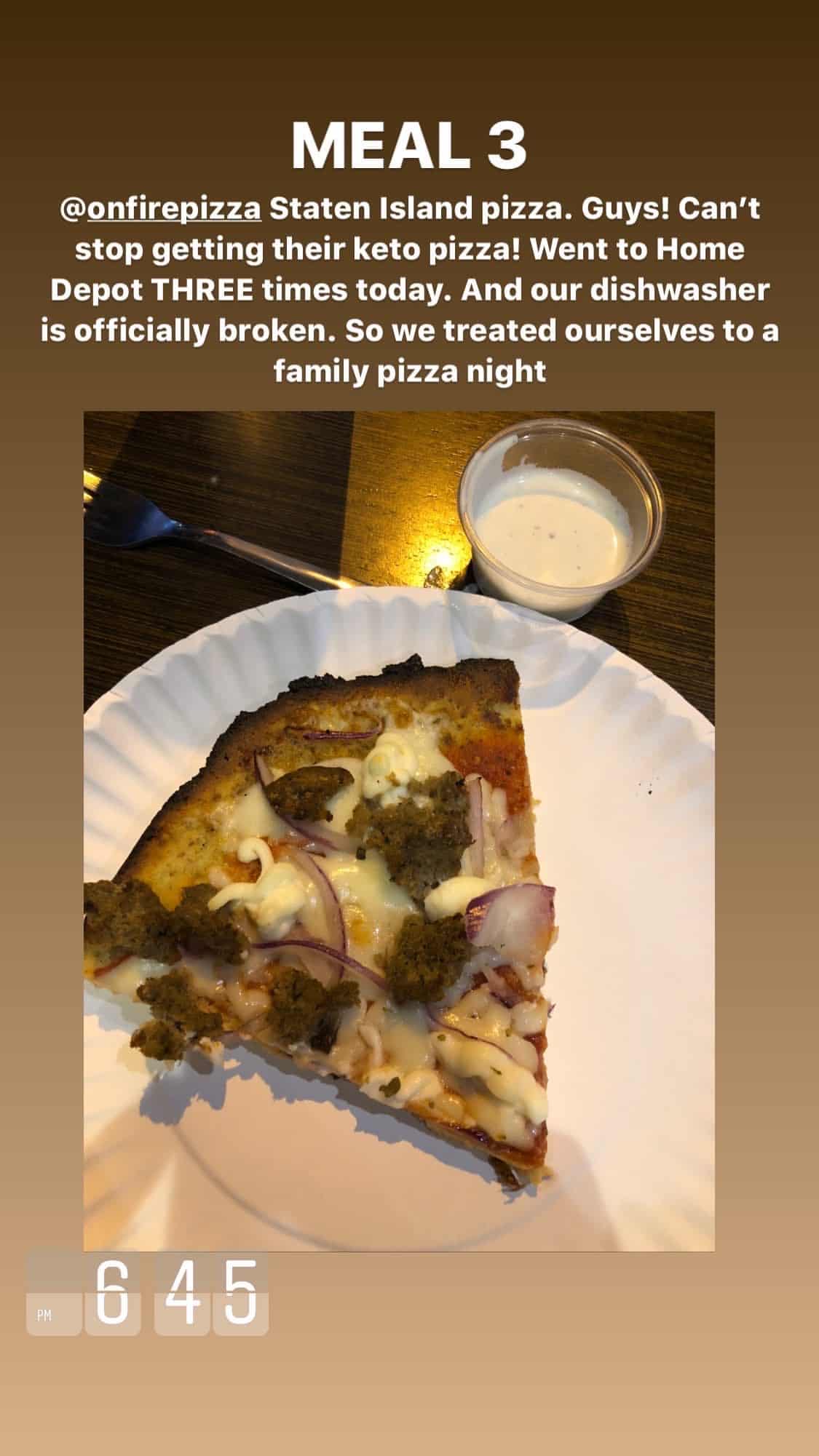 Staten Island pizza on keto crust from On Fire Pizza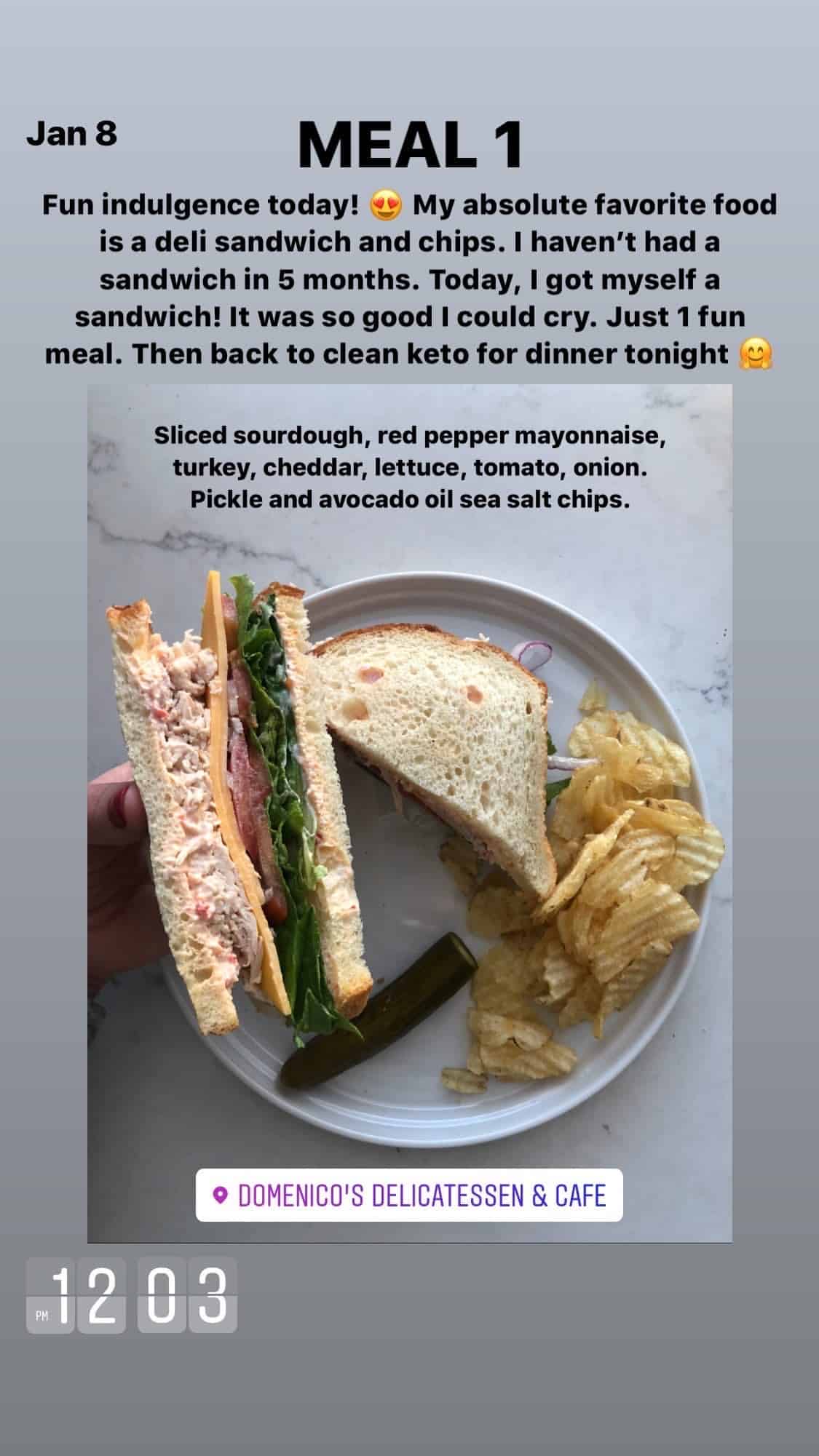 Turkey sandwich on sourdough, red pepper mayonnaise, cheddar, lettuce, tomato, onion, pickle, avocado oil sea salt chips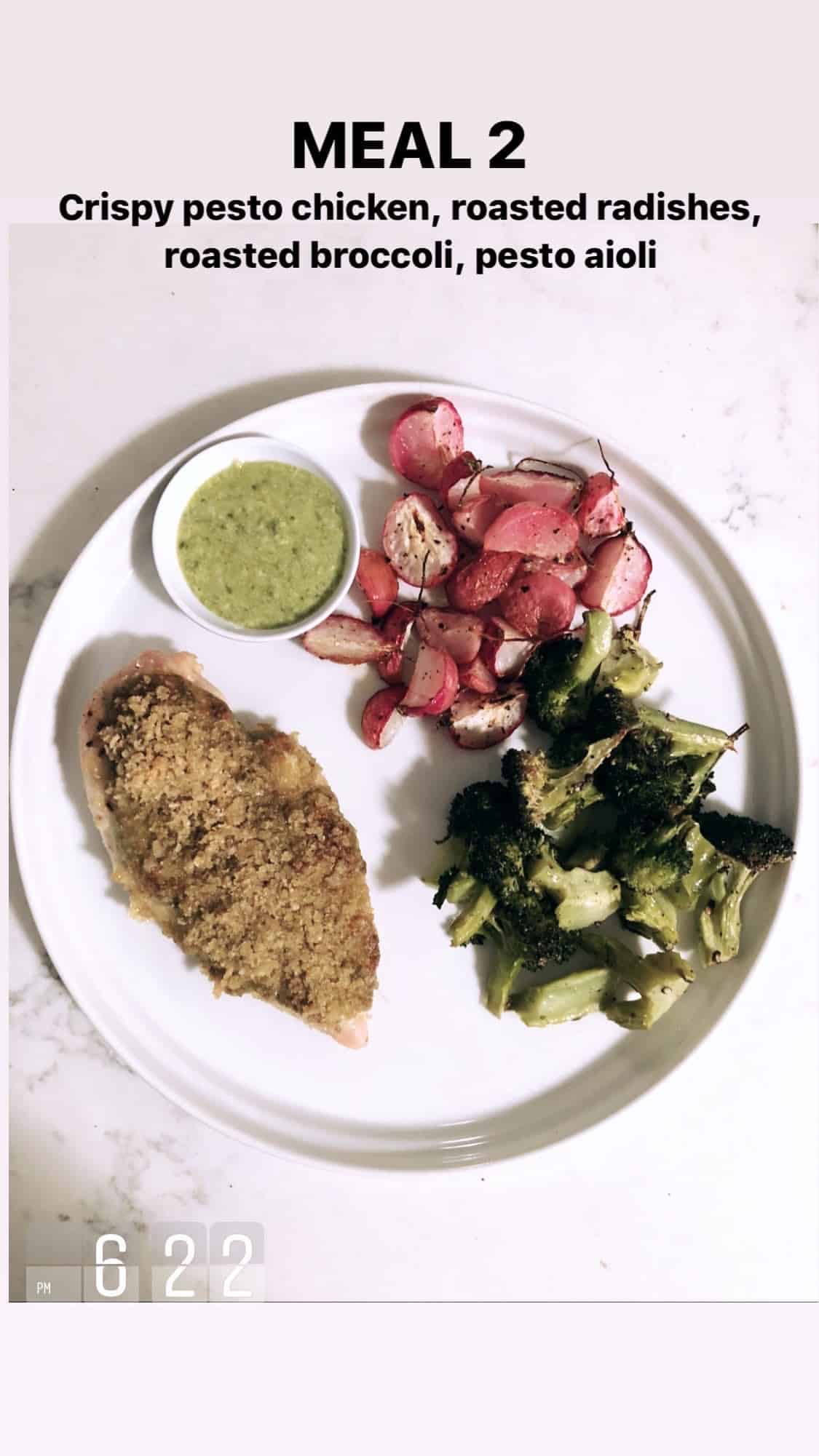 Crispy pesto chicken, roasted radishes, roasted broccoli, pesto aioli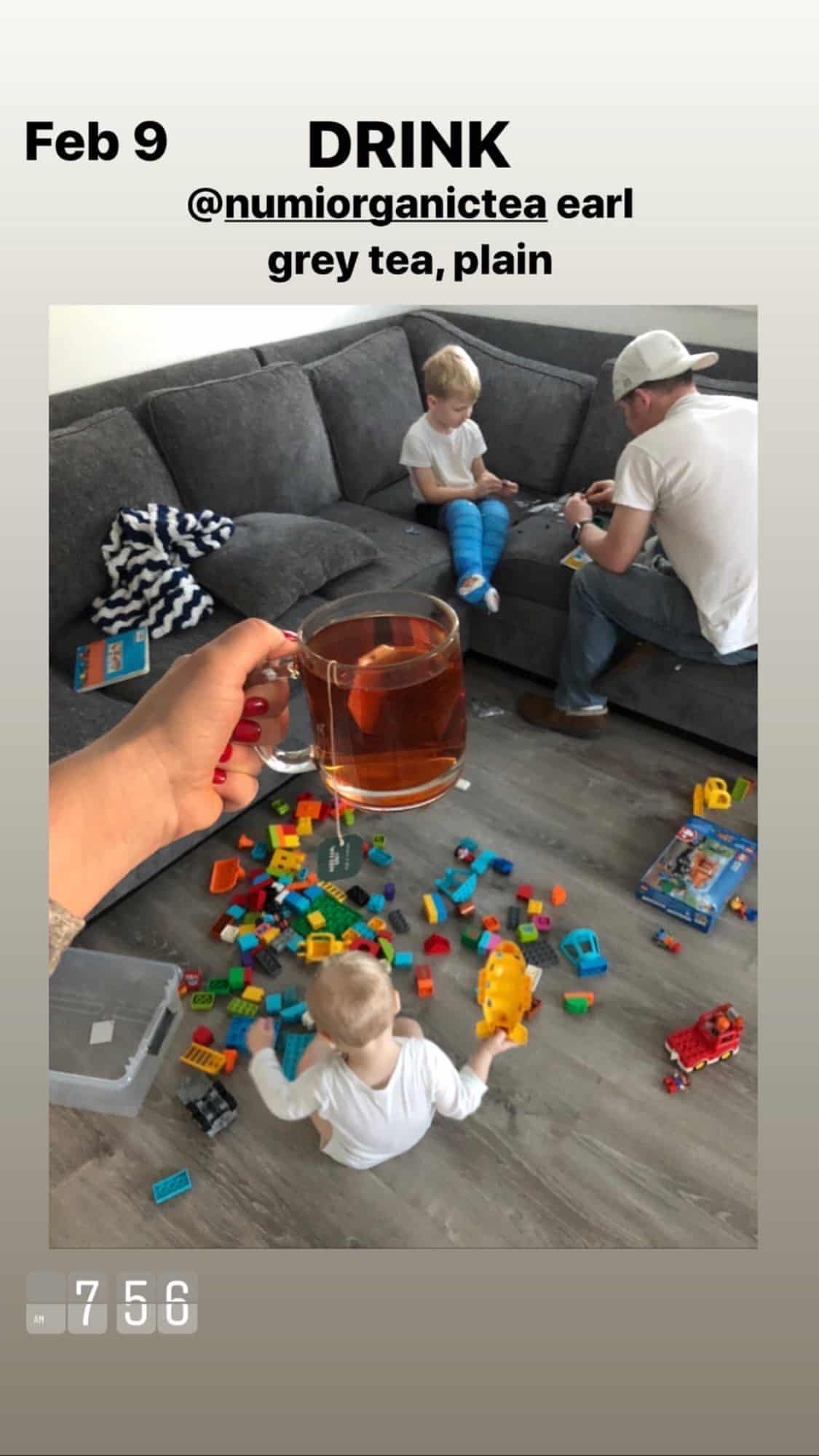 Tea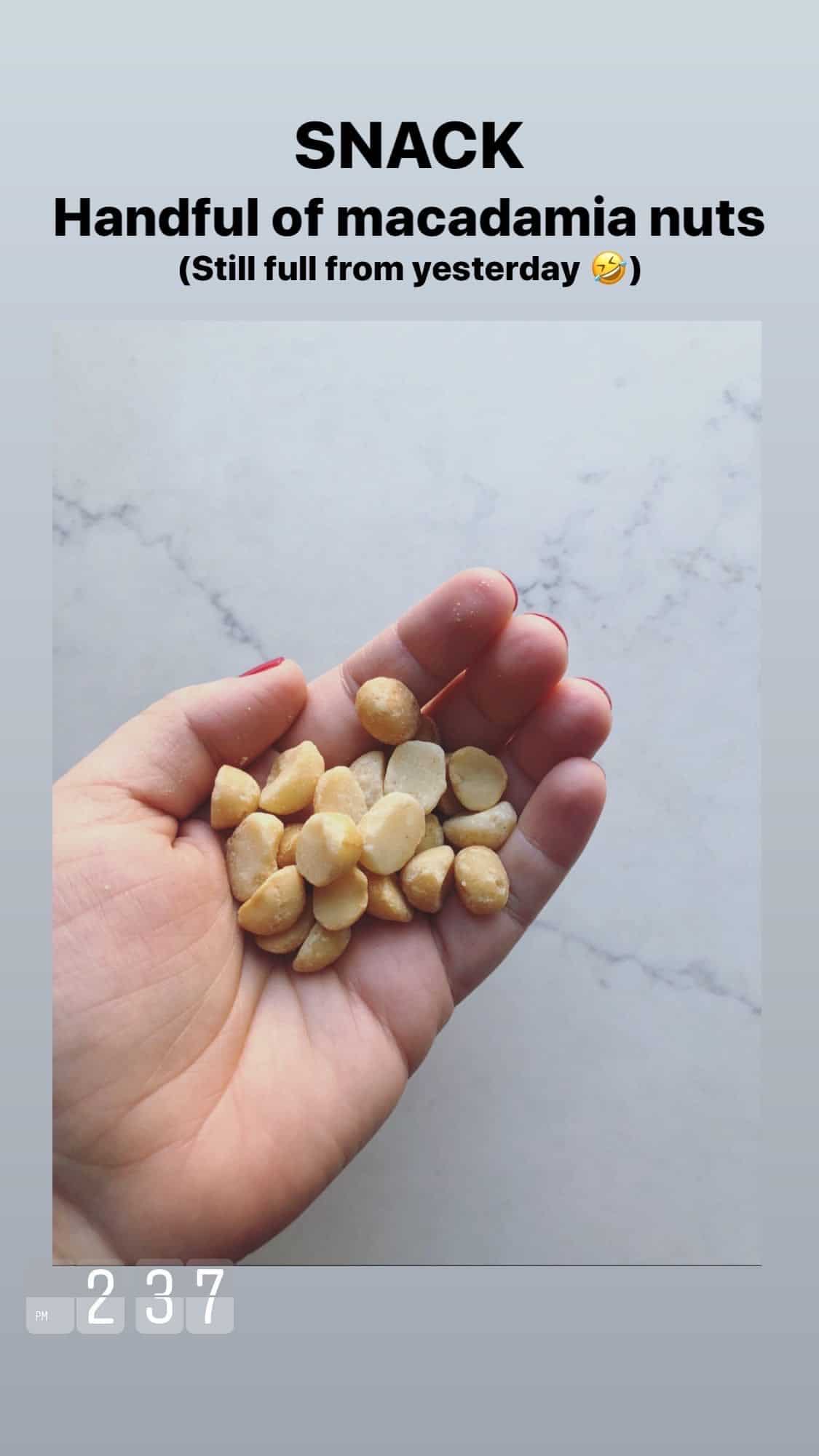 Macadamia nuts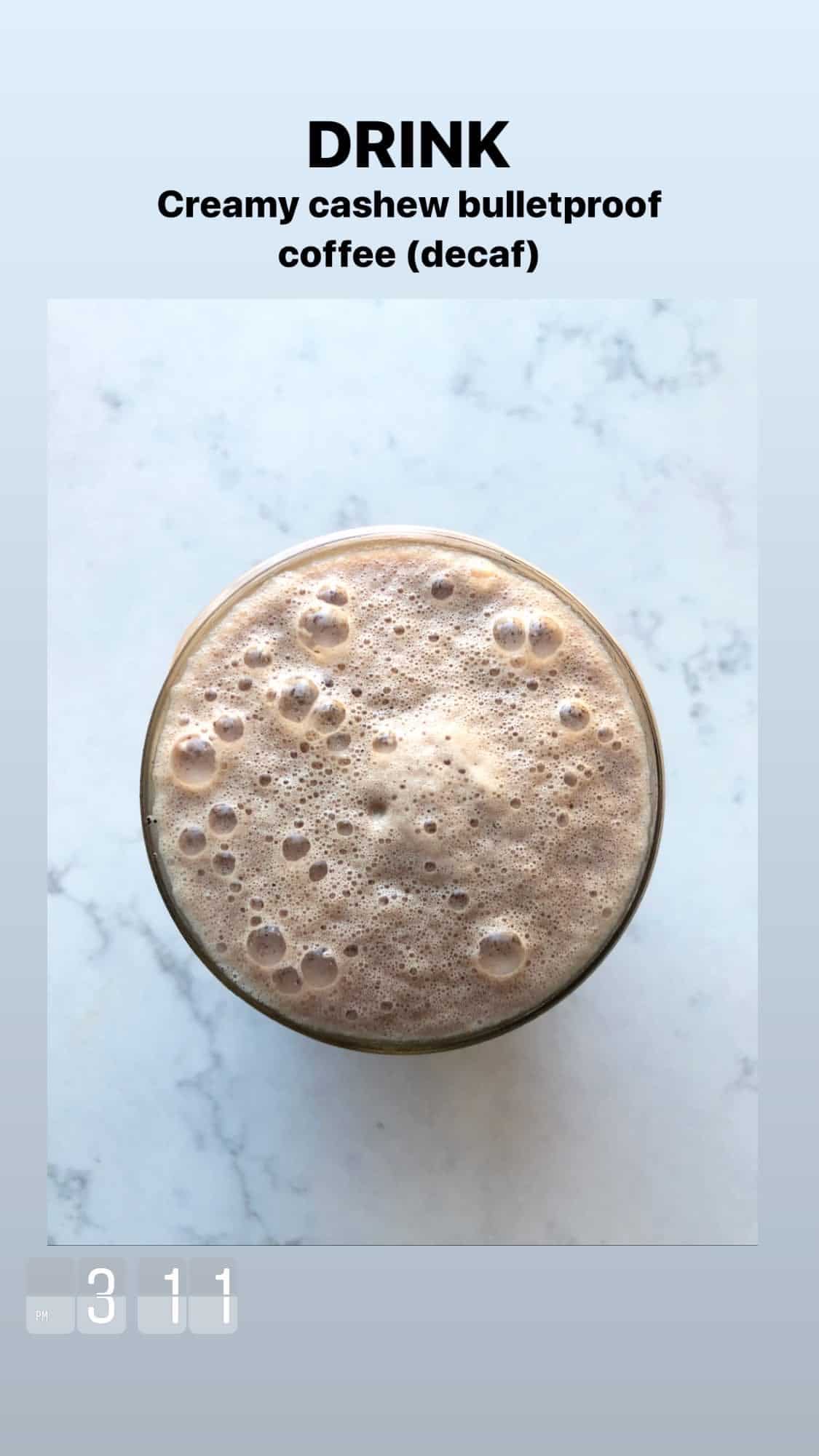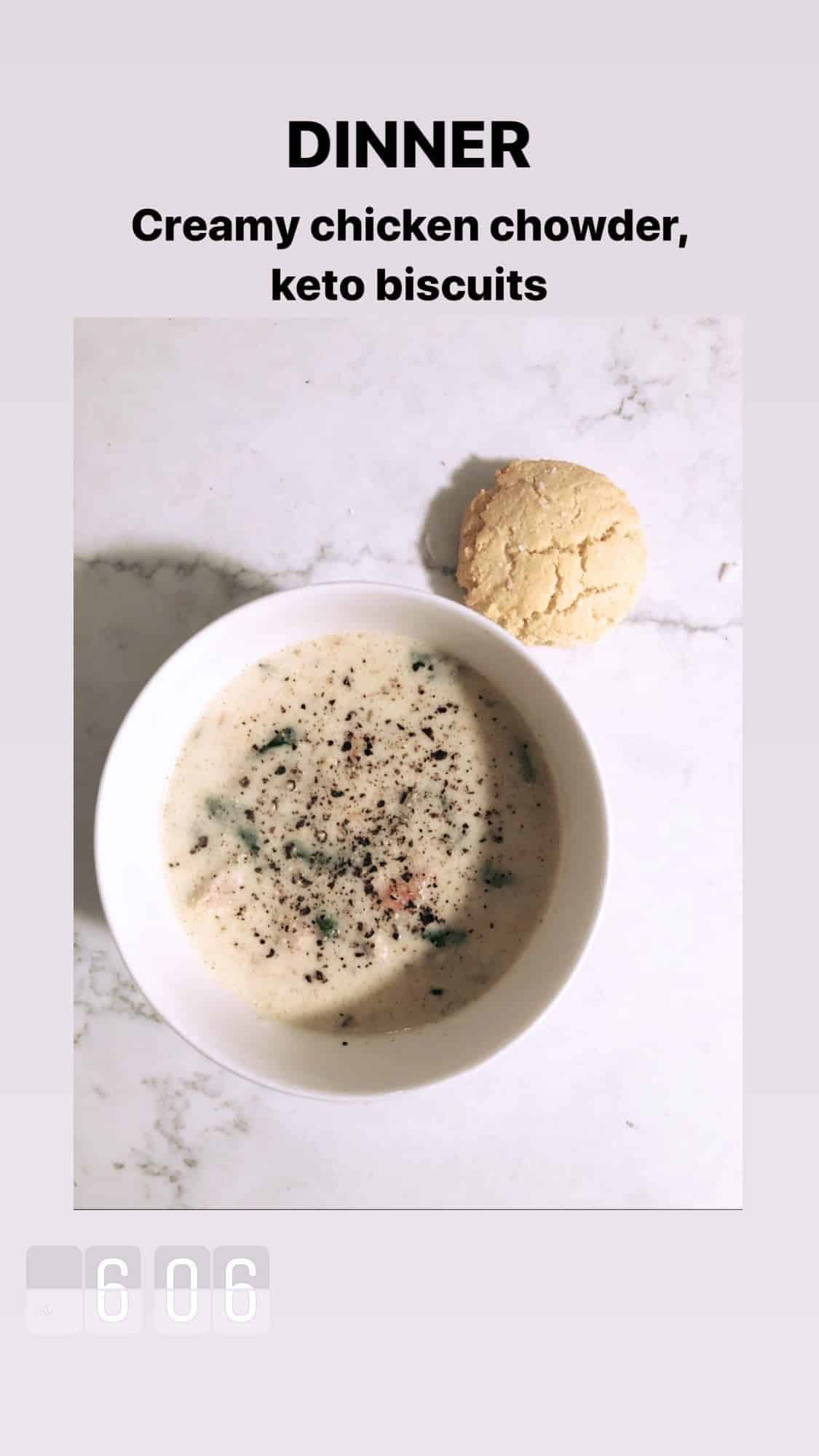 Creamy chicken chowder, keto biscuits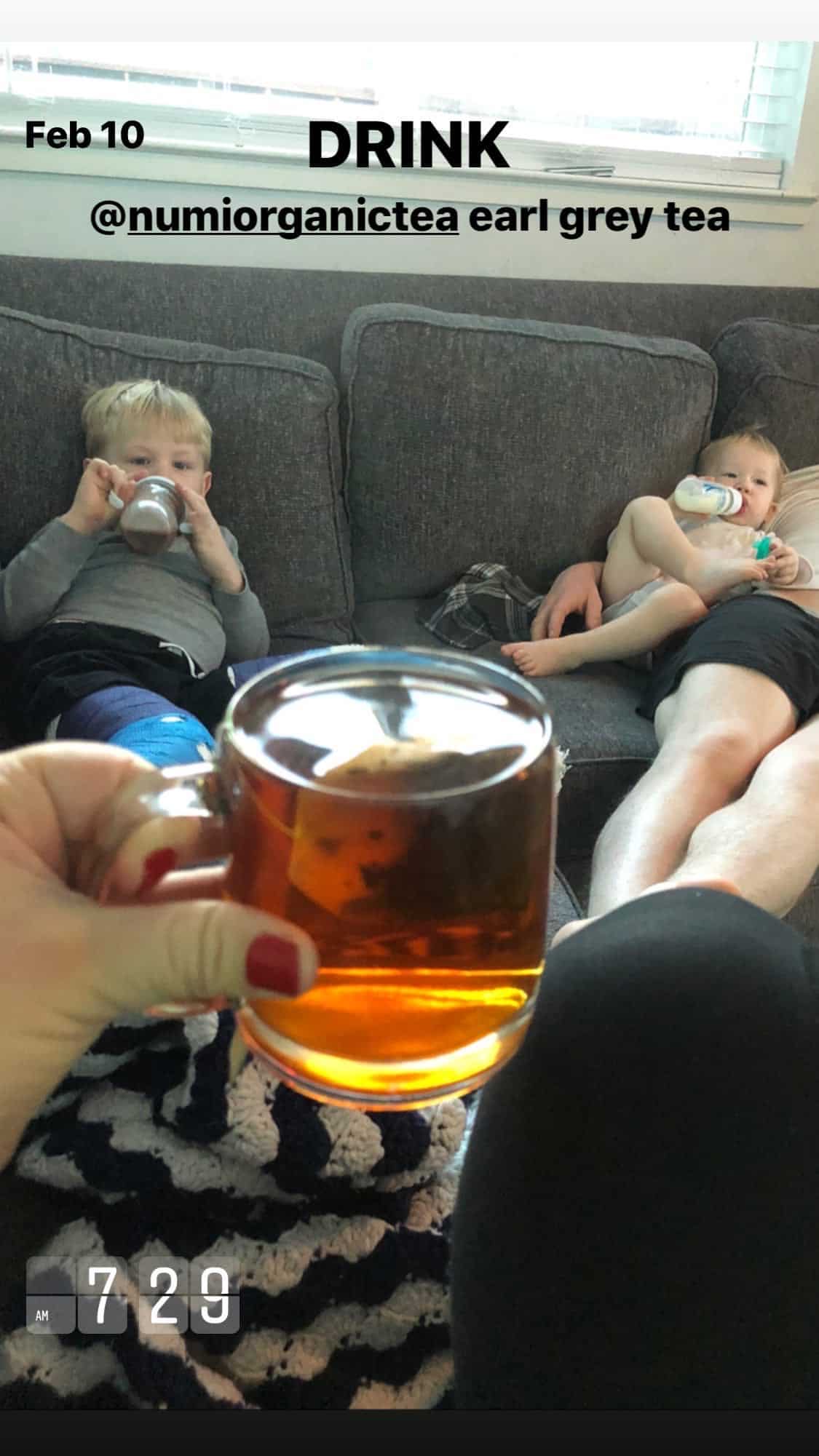 Tea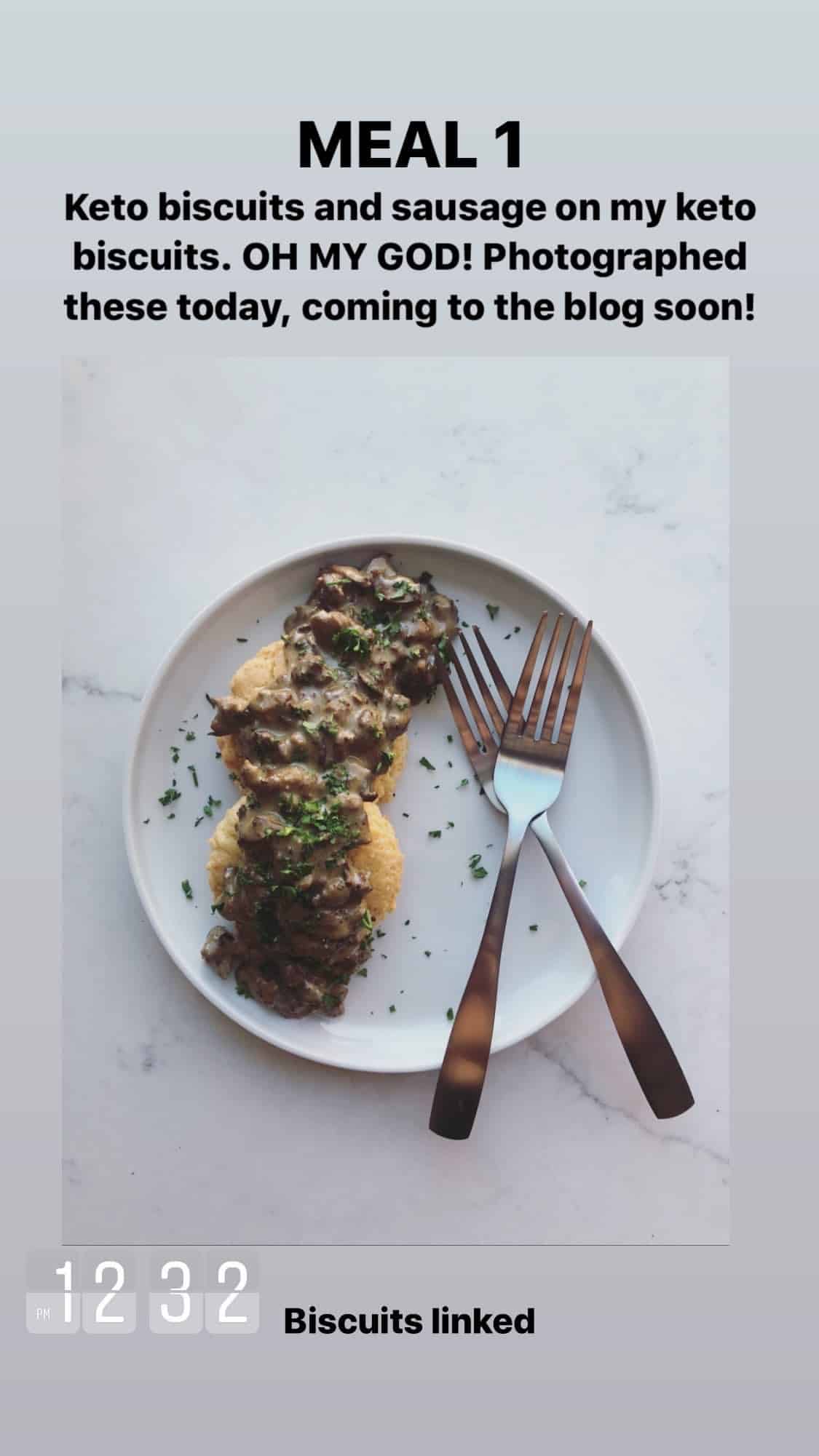 Keto biscuits and sausage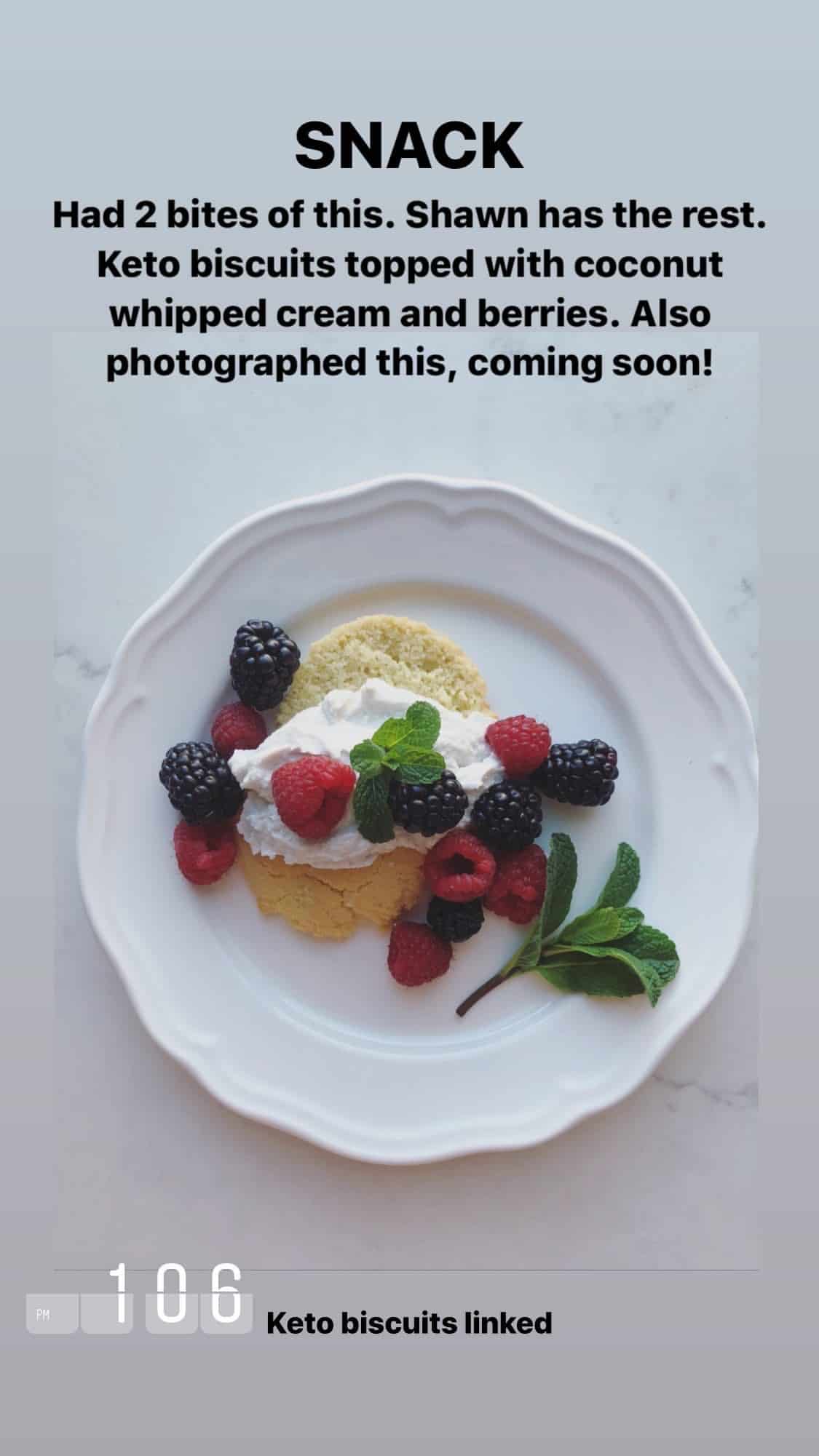 Keto biscuits, coconut whipped cream, berries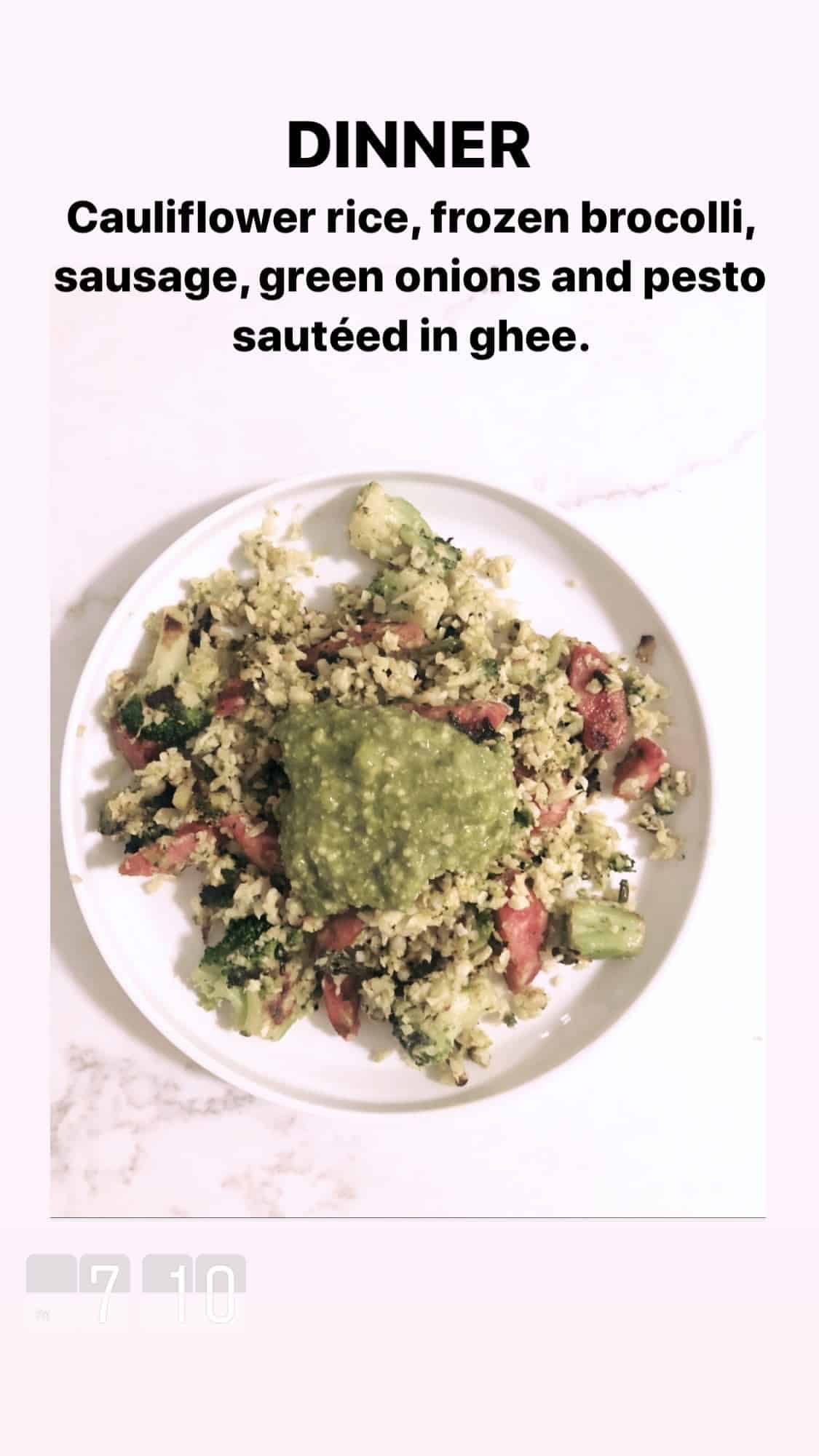 Cauliflower rice, frozen broccoli, sausage, green onions and pesto sauteed in ghee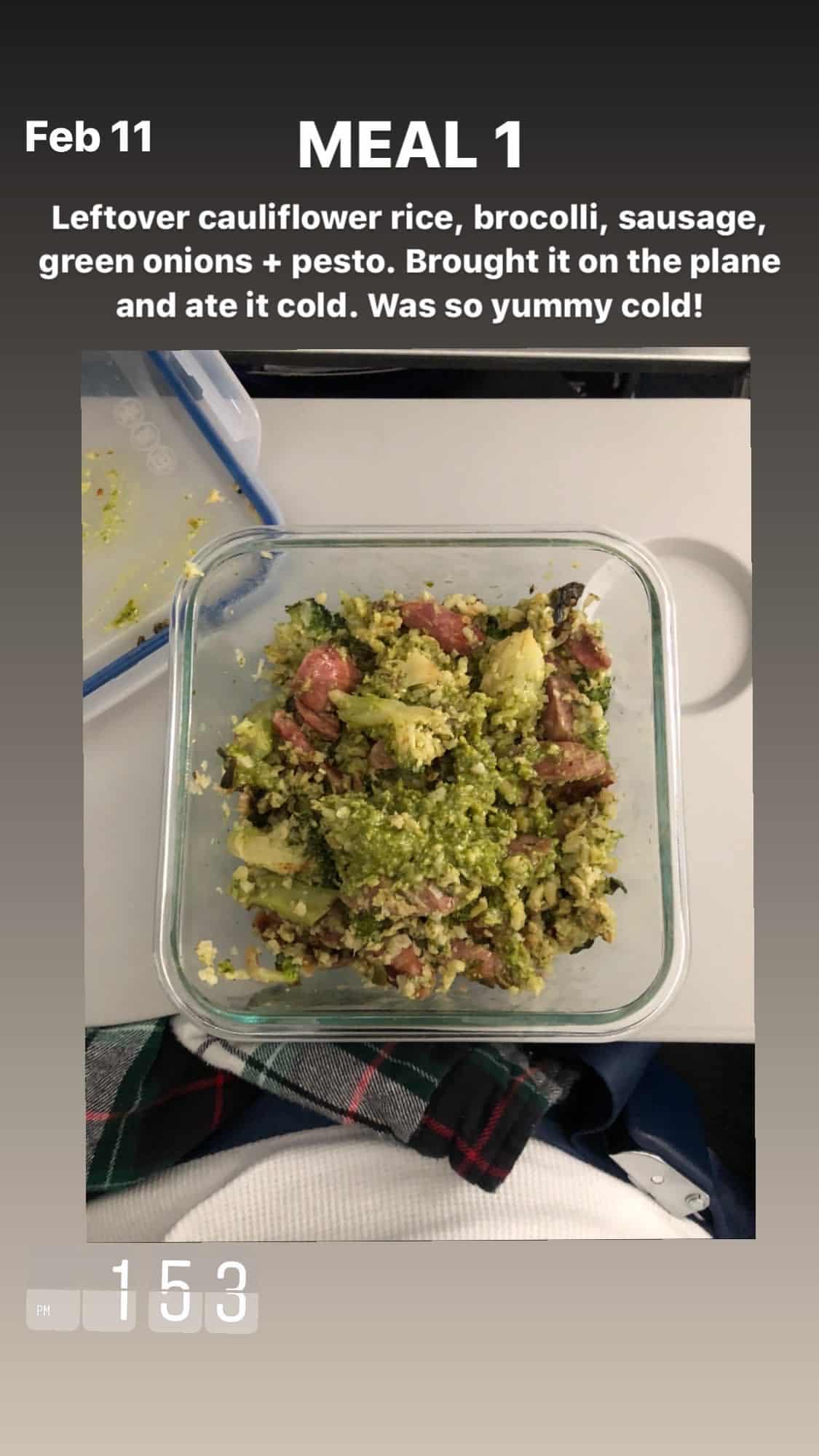 Cauliflower rice, frozen broccoli, sausage, green onions and pesto sauteed in ghee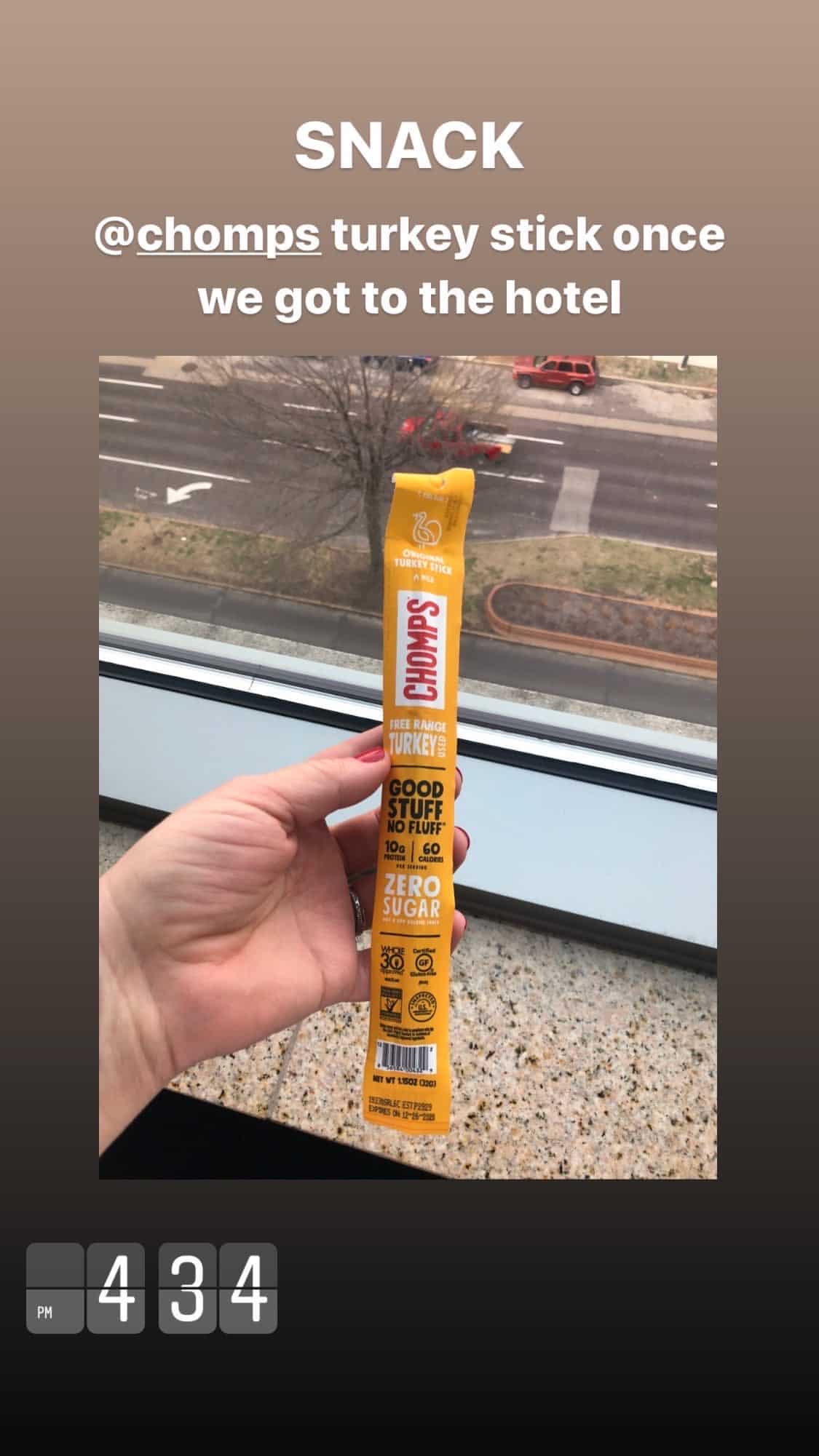 Chomps turkey stick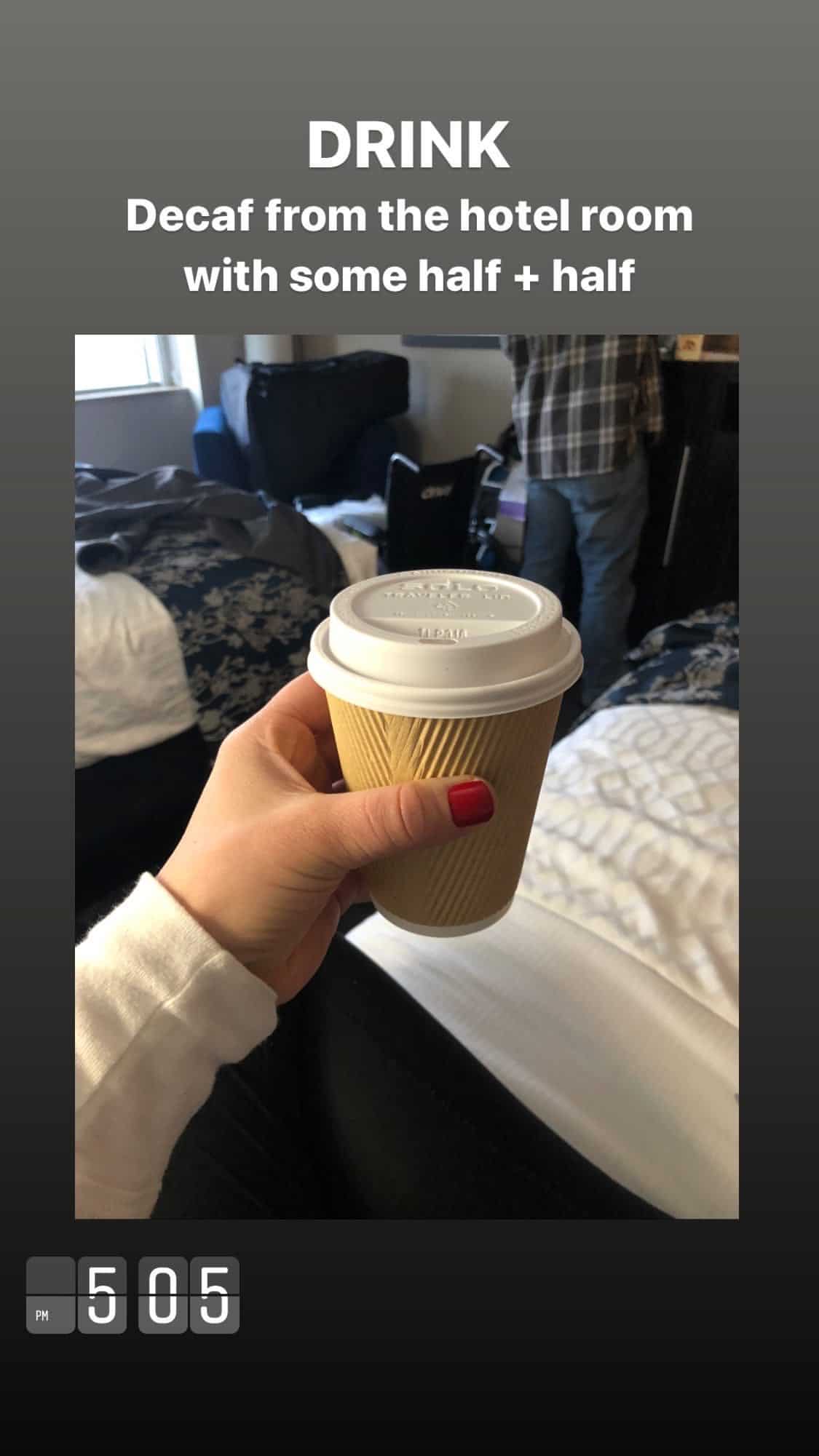 Decaf coffee, half and half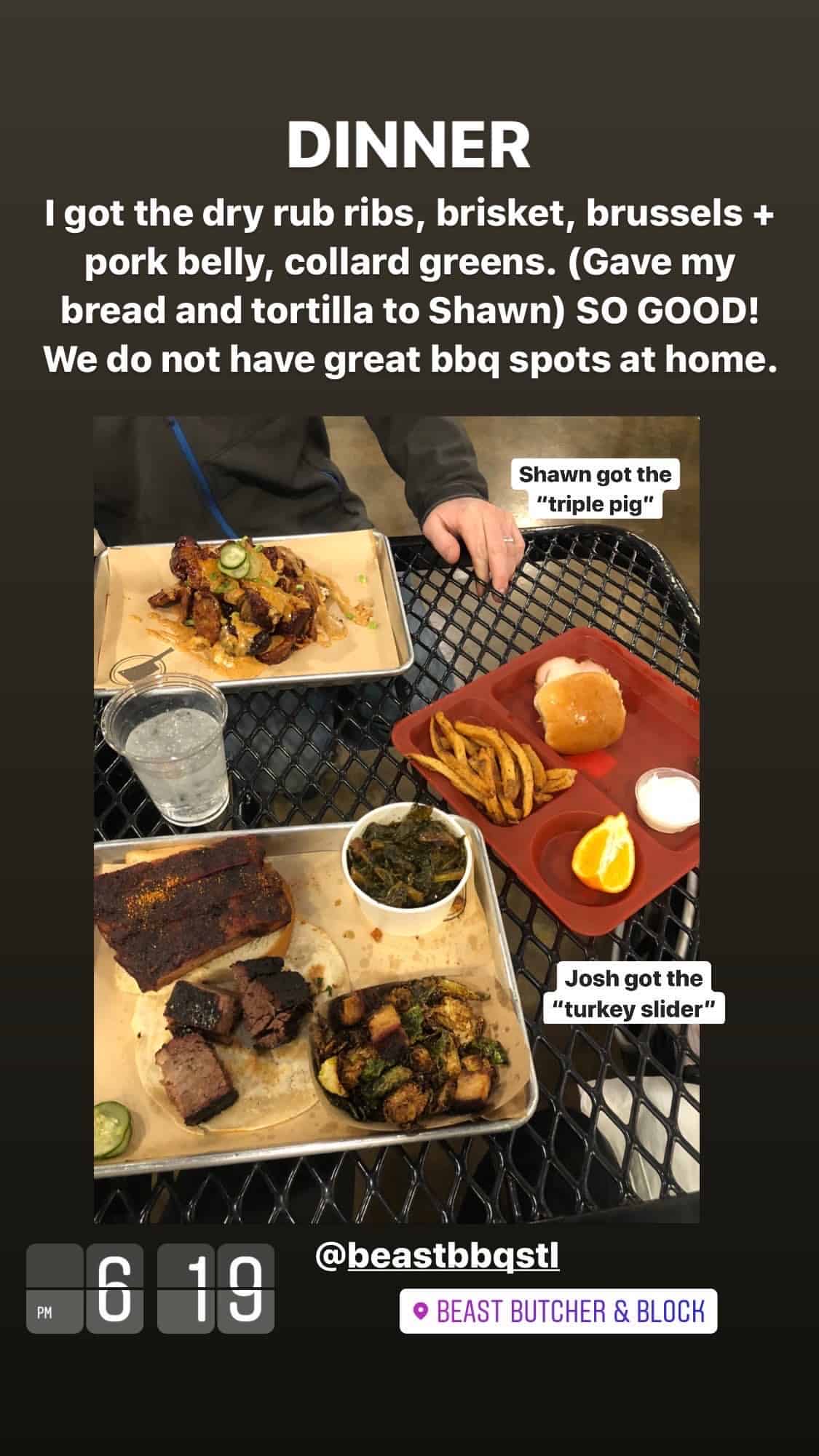 Dry rub ribs, brisket, brussels with pork belly, collard greens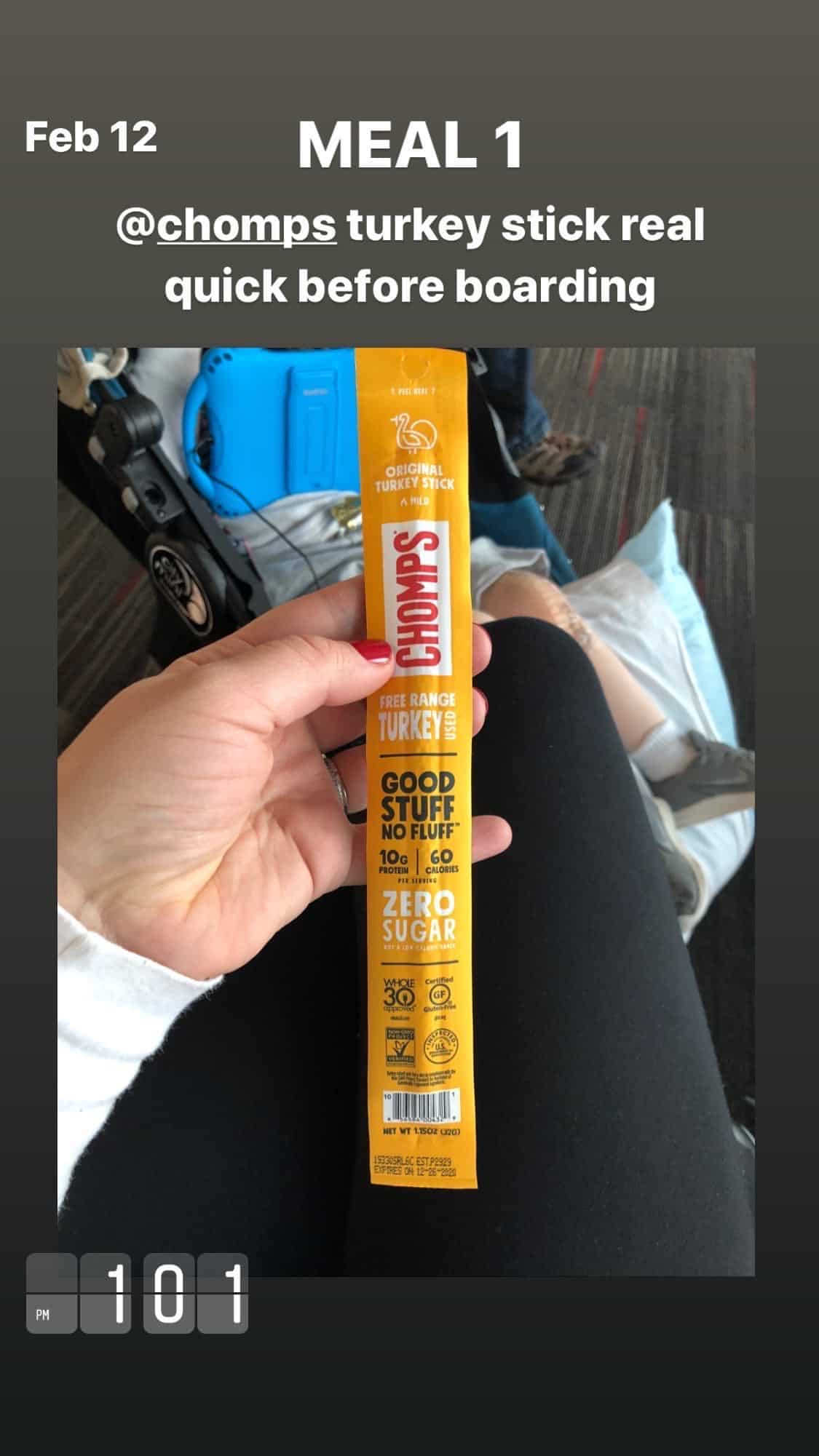 Chomps turkey stick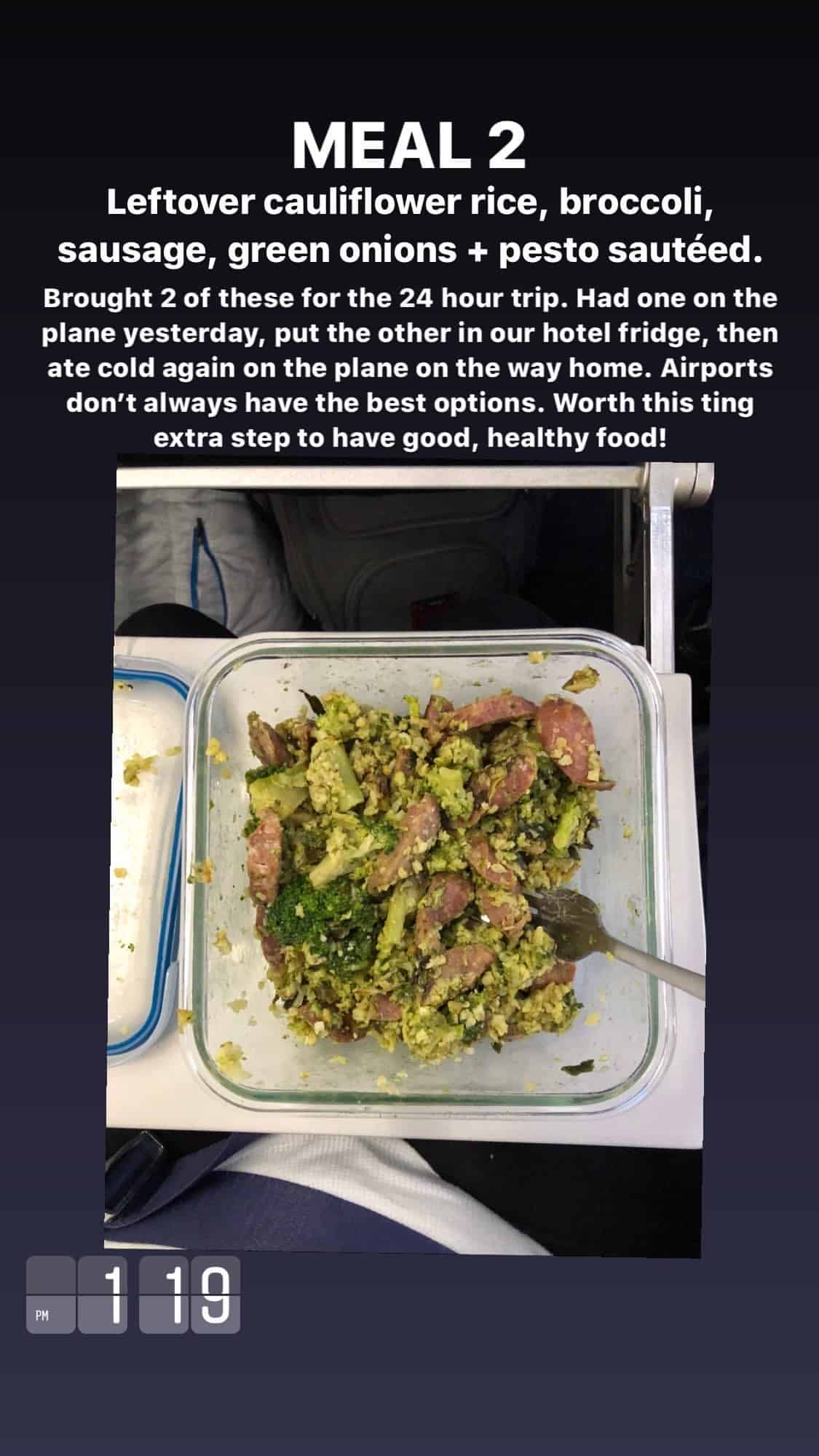 Cauliflower rice, frozen broccoli, sausage, green onions and pesto sauteed in ghee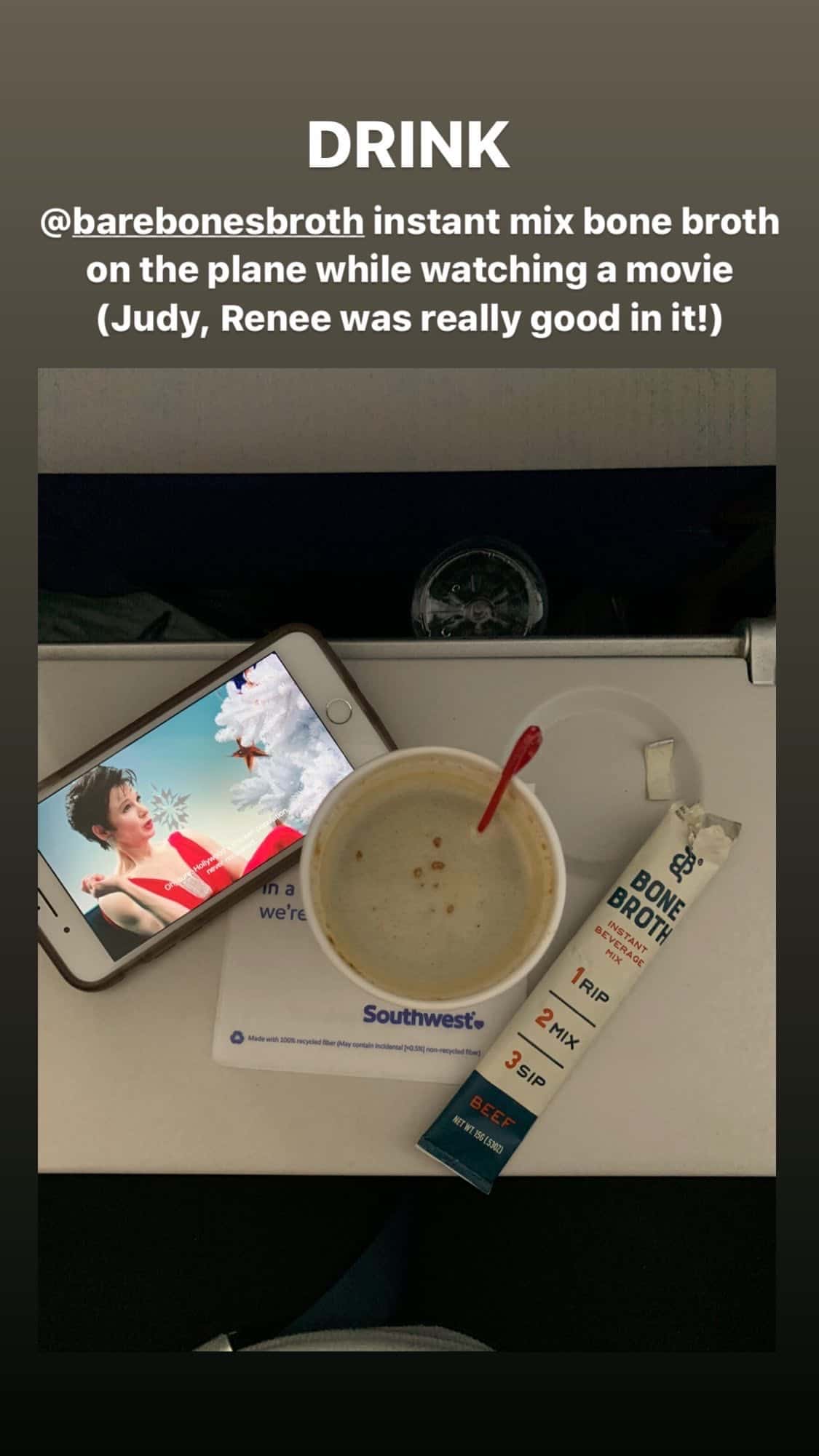 Instant mix bone broth from Bare Bones Broth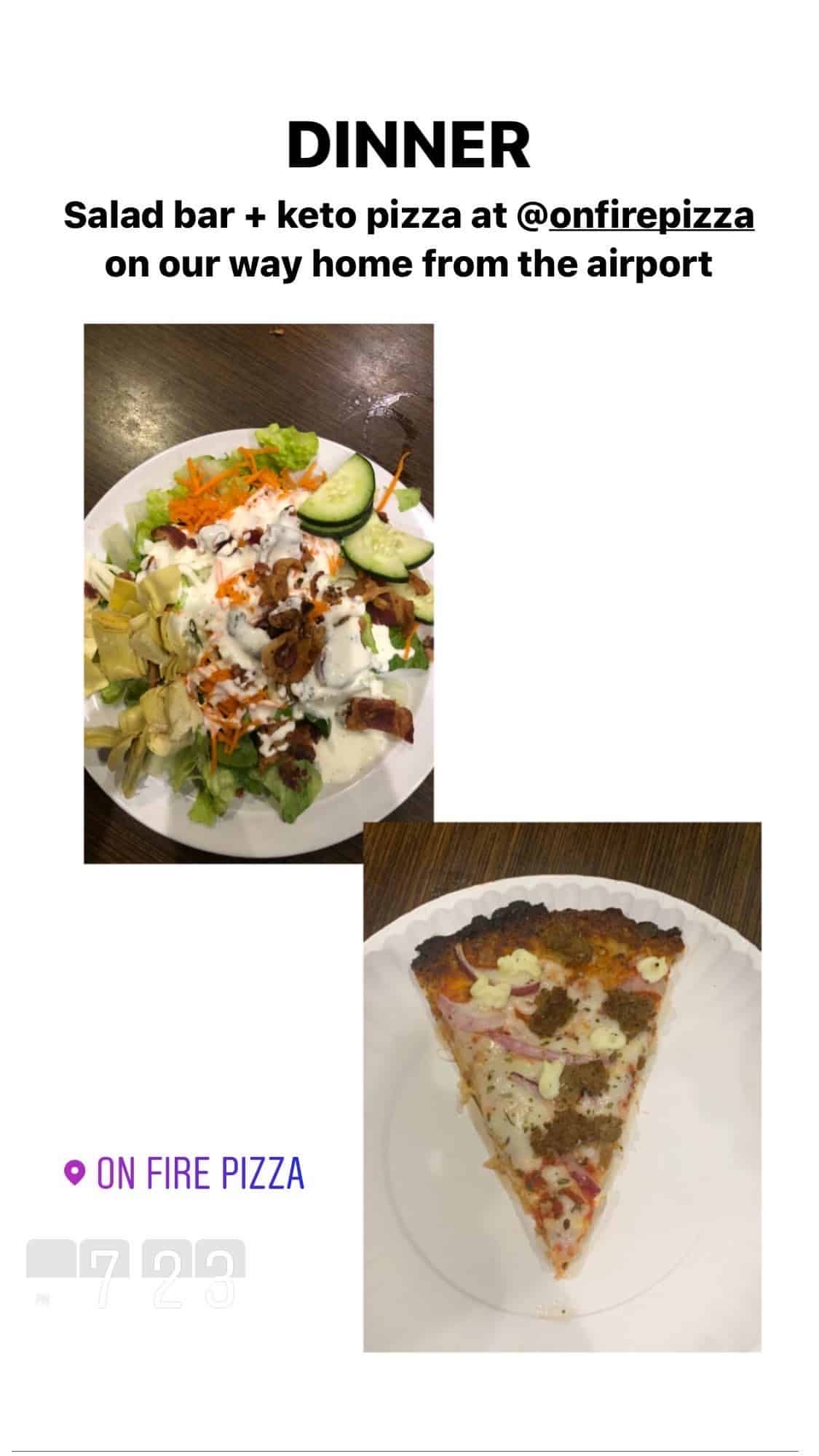 Ranch salad, keto pizza from On Fire Pizza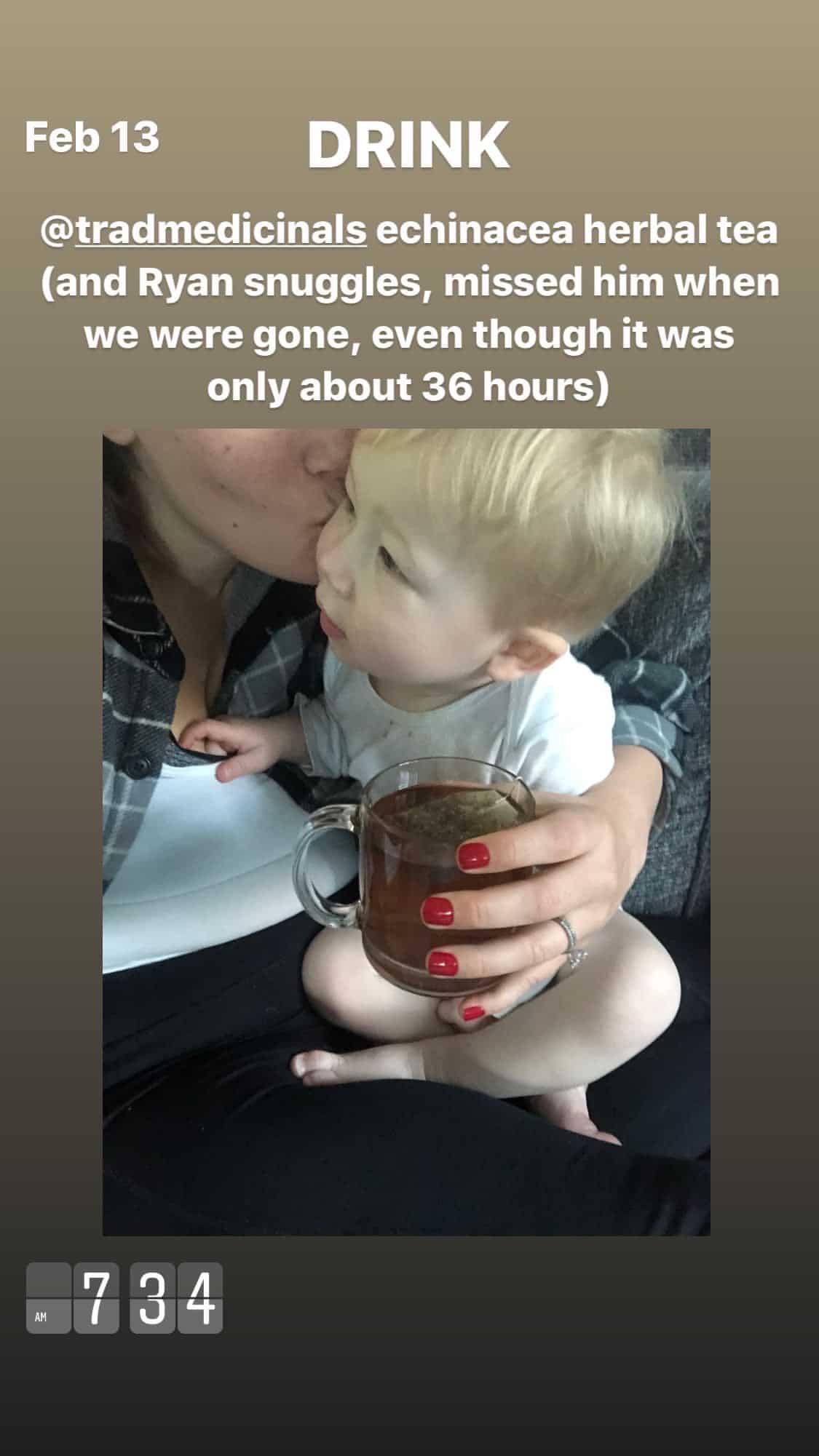 Tea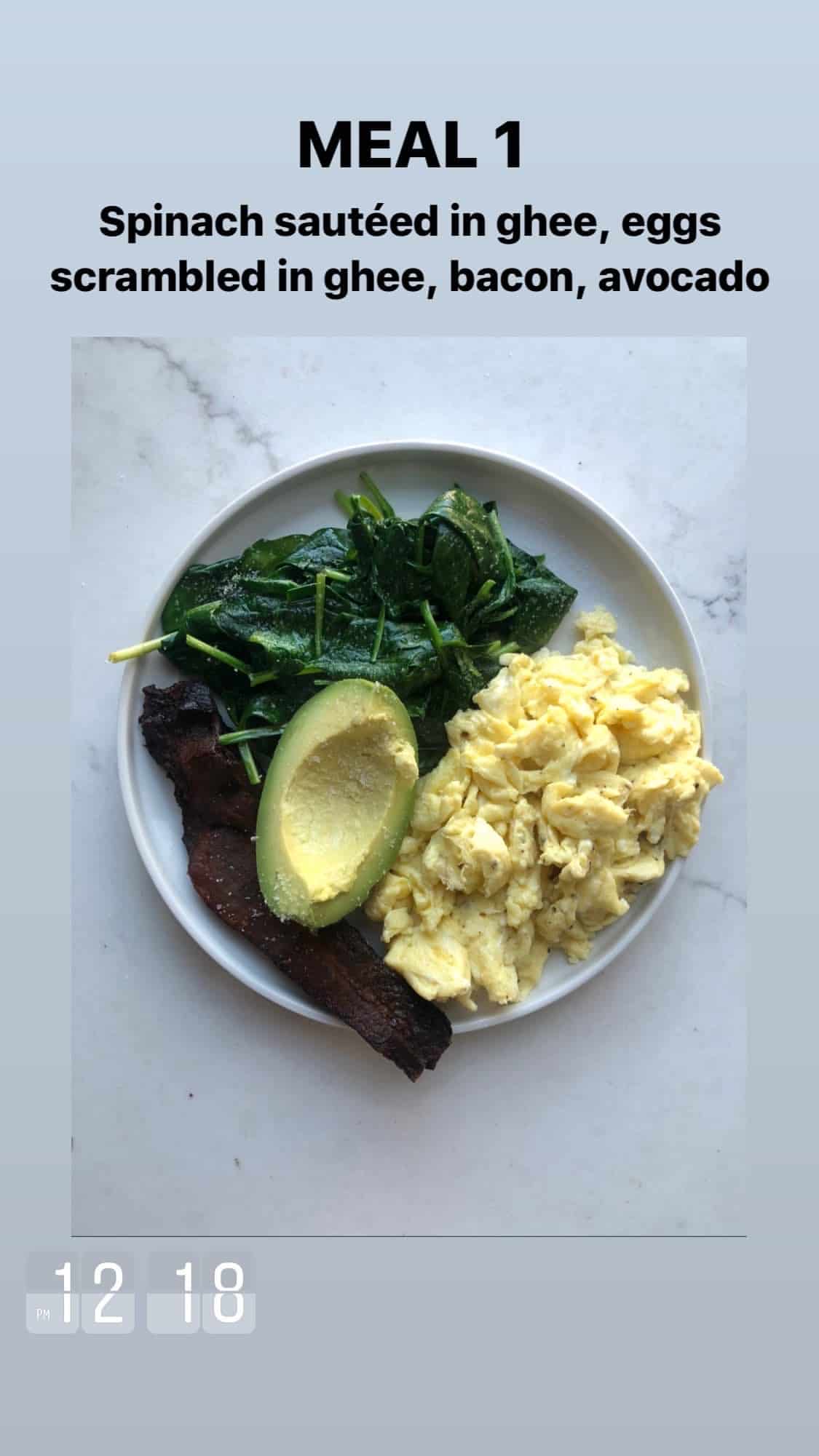 Sauteed spinach, scrambled eggs in ghee, bacon, avocado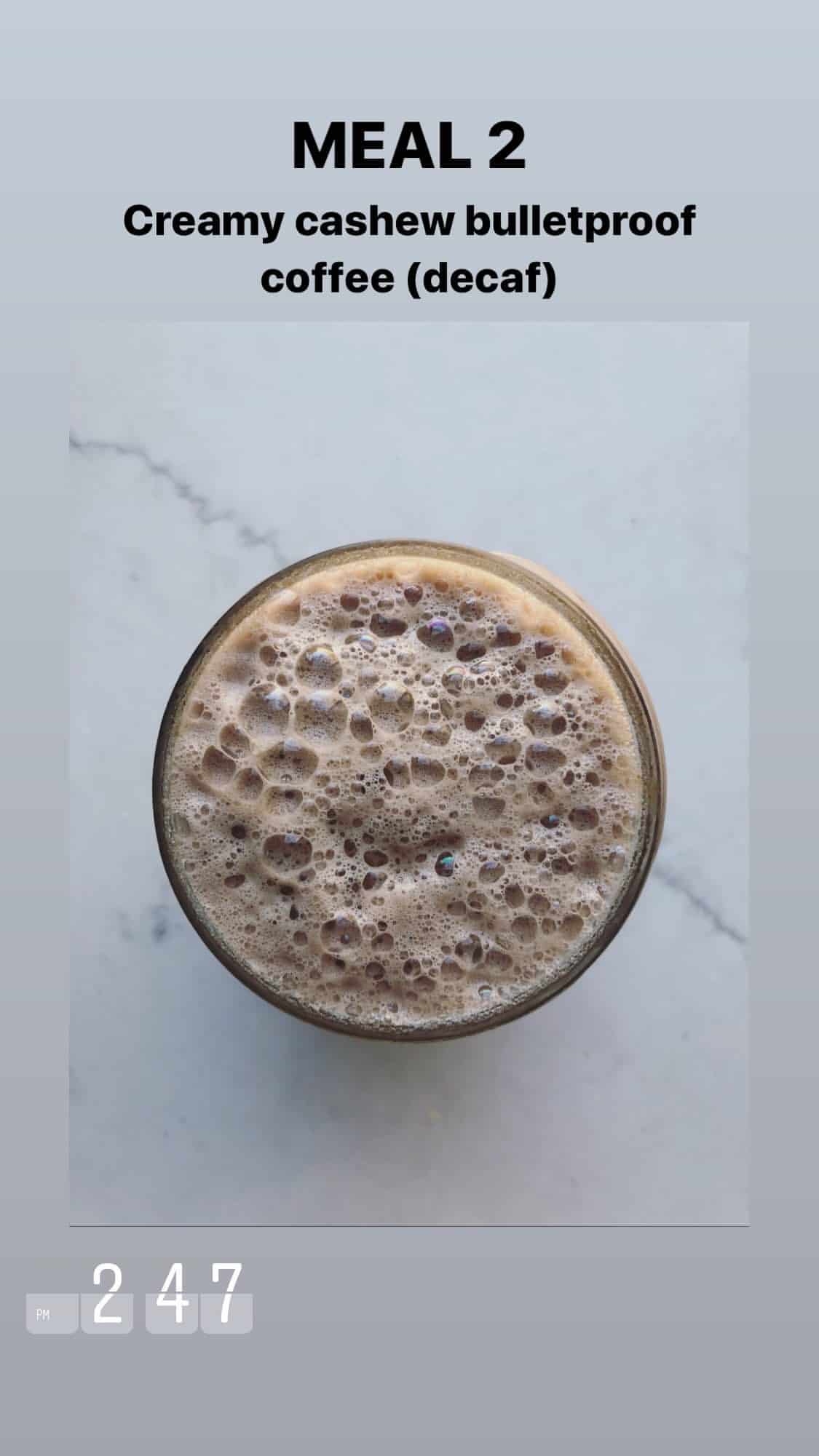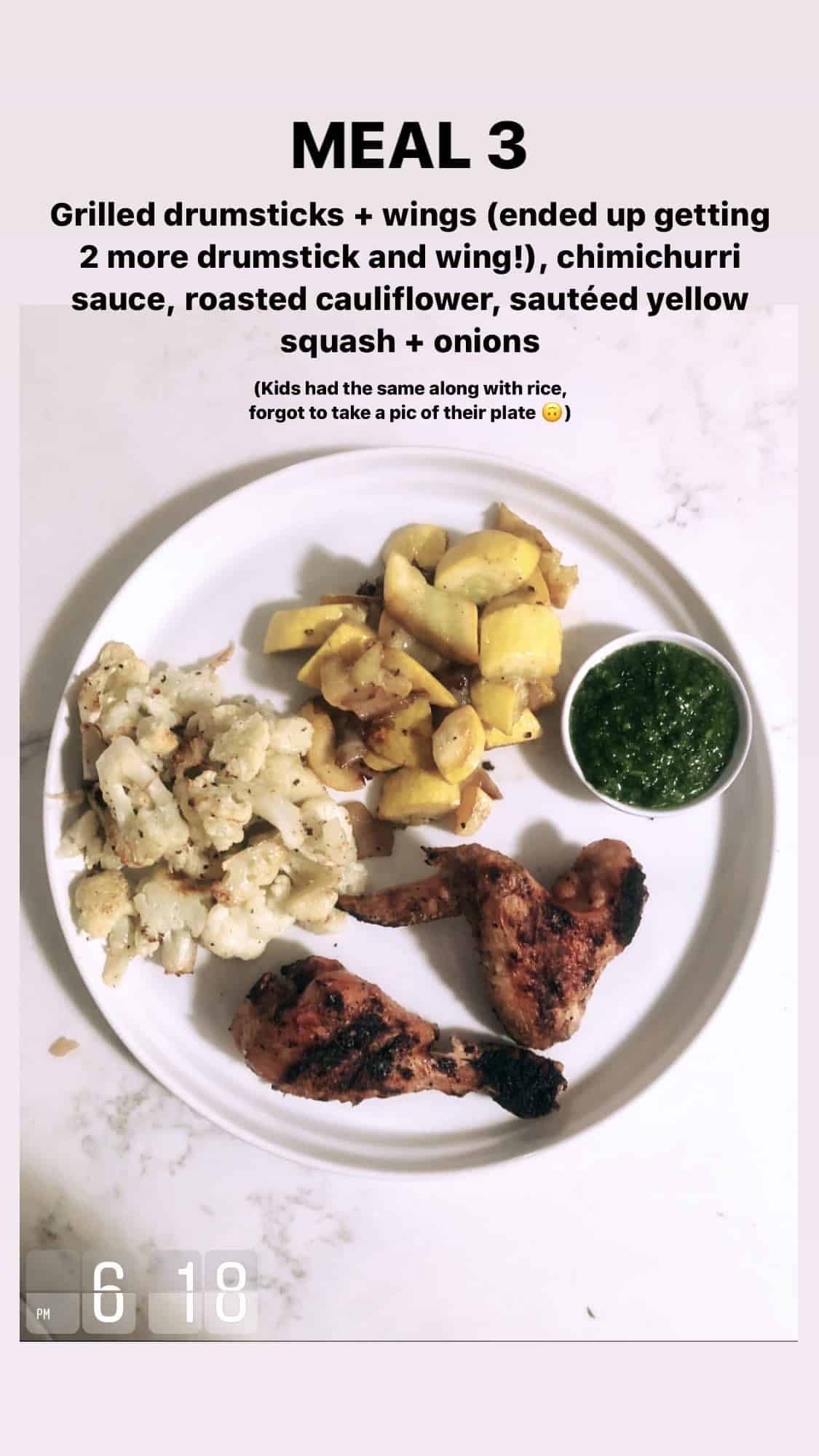 Grilled drumsticks and wings, chimichurri sauce, roasted cauliflower, sauteed yellow squash with onions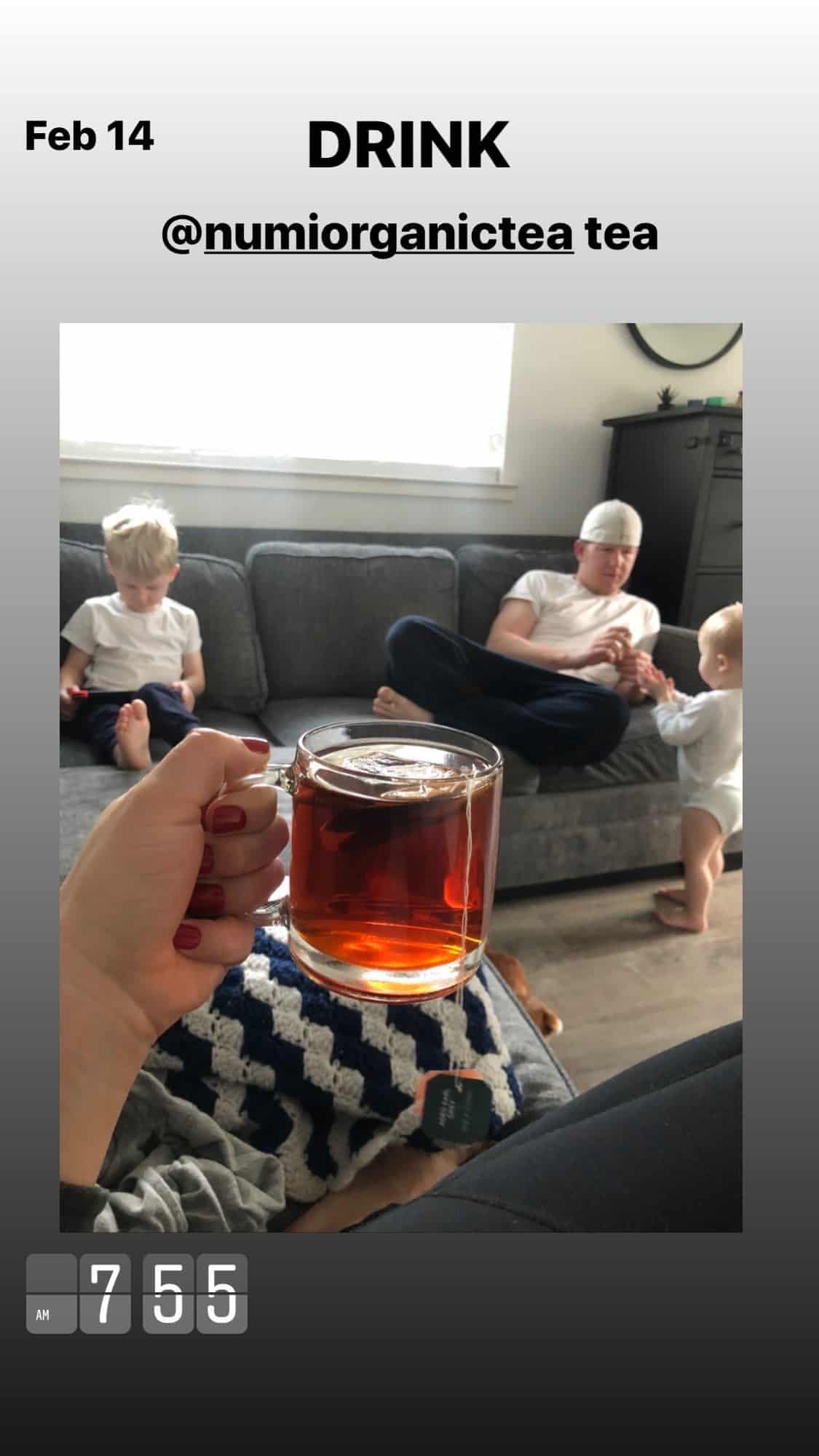 Tea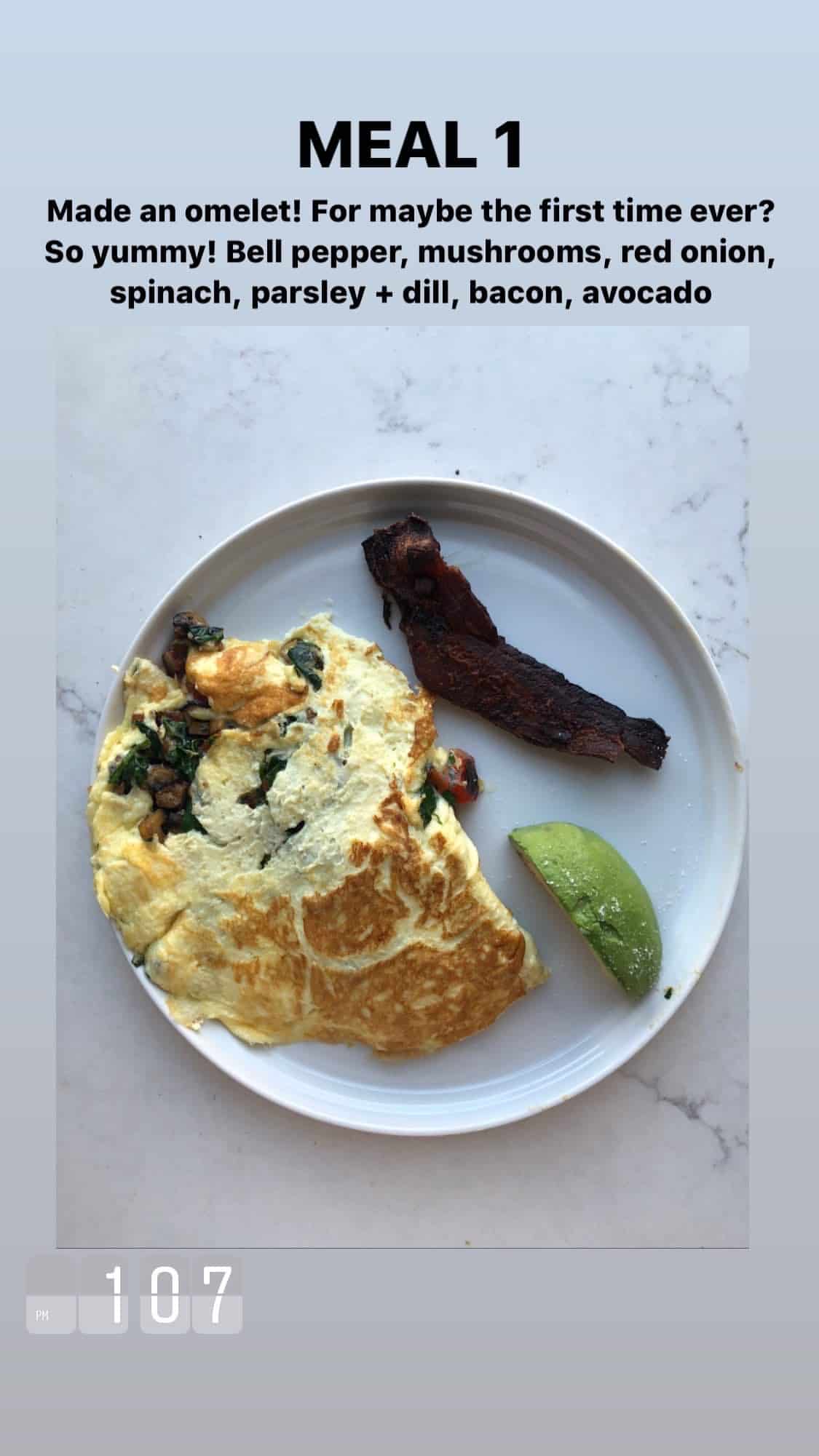 Omelet with bell peppers, mushrooms, red onion, spinach, parsley, dill, bacon, avocado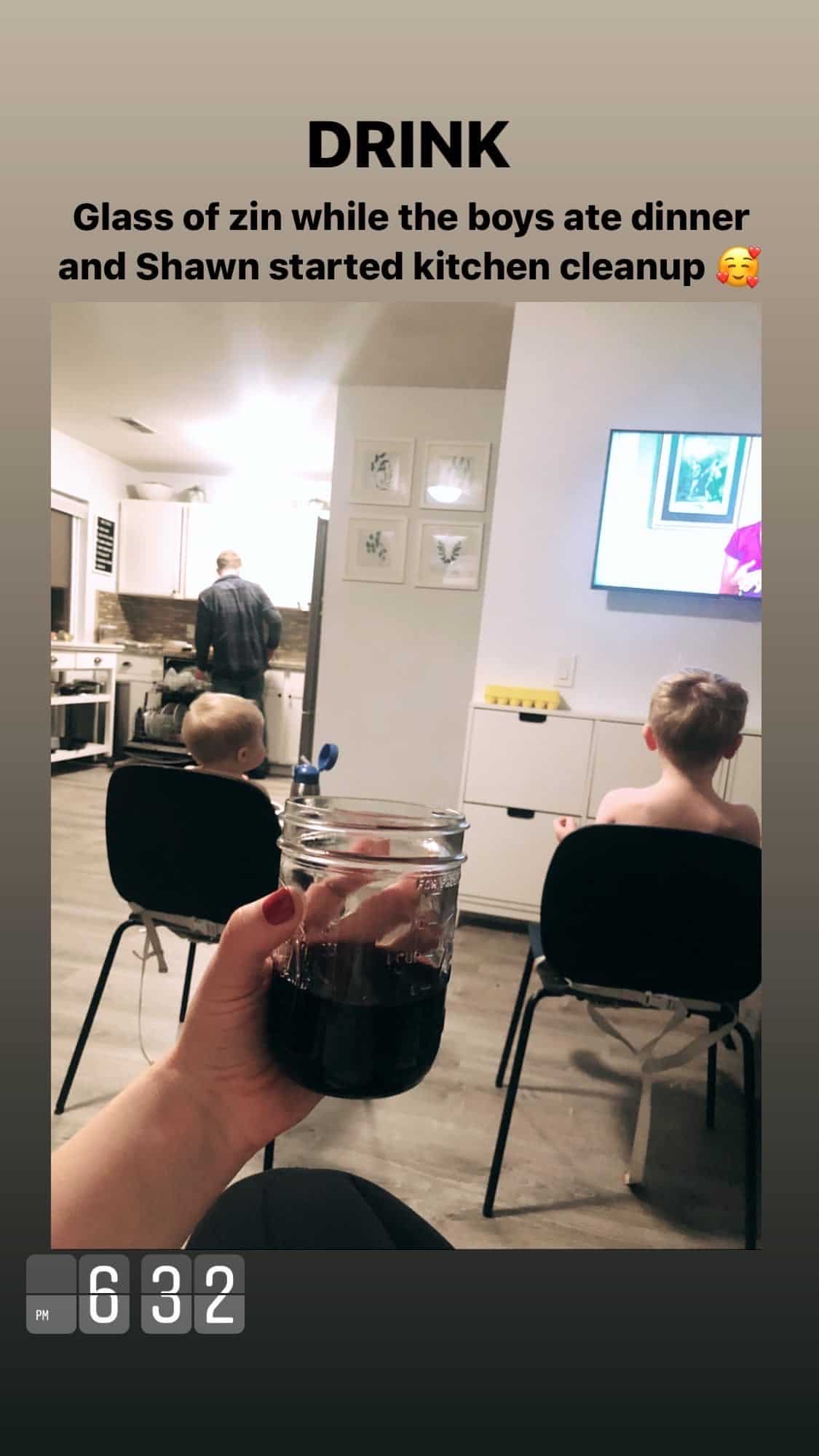 Glass of red wine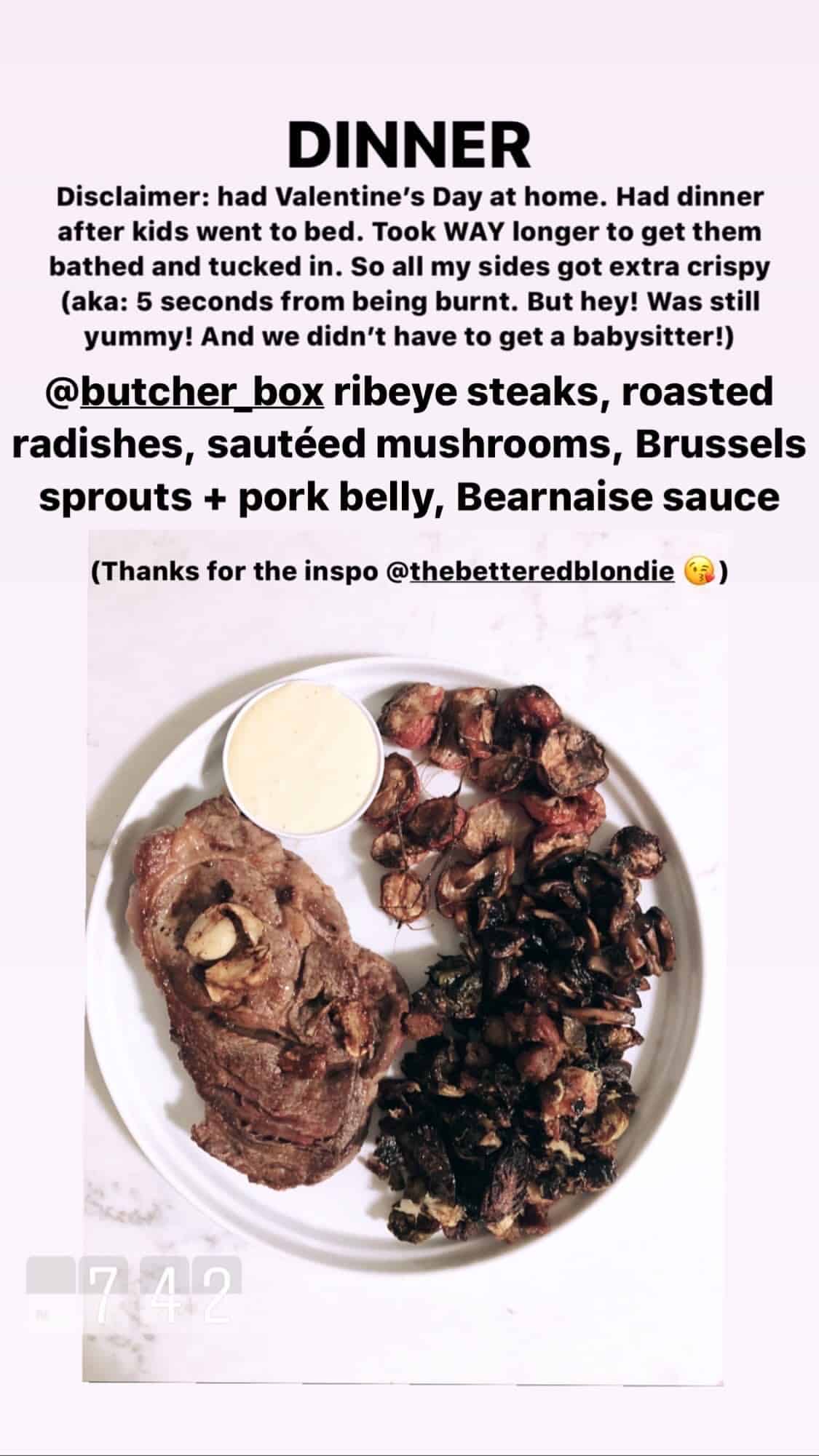 Ribeye steak, roasted radishes, sauteed mushrooms, Brussels sprouts with pork belly, Bearnaise sauce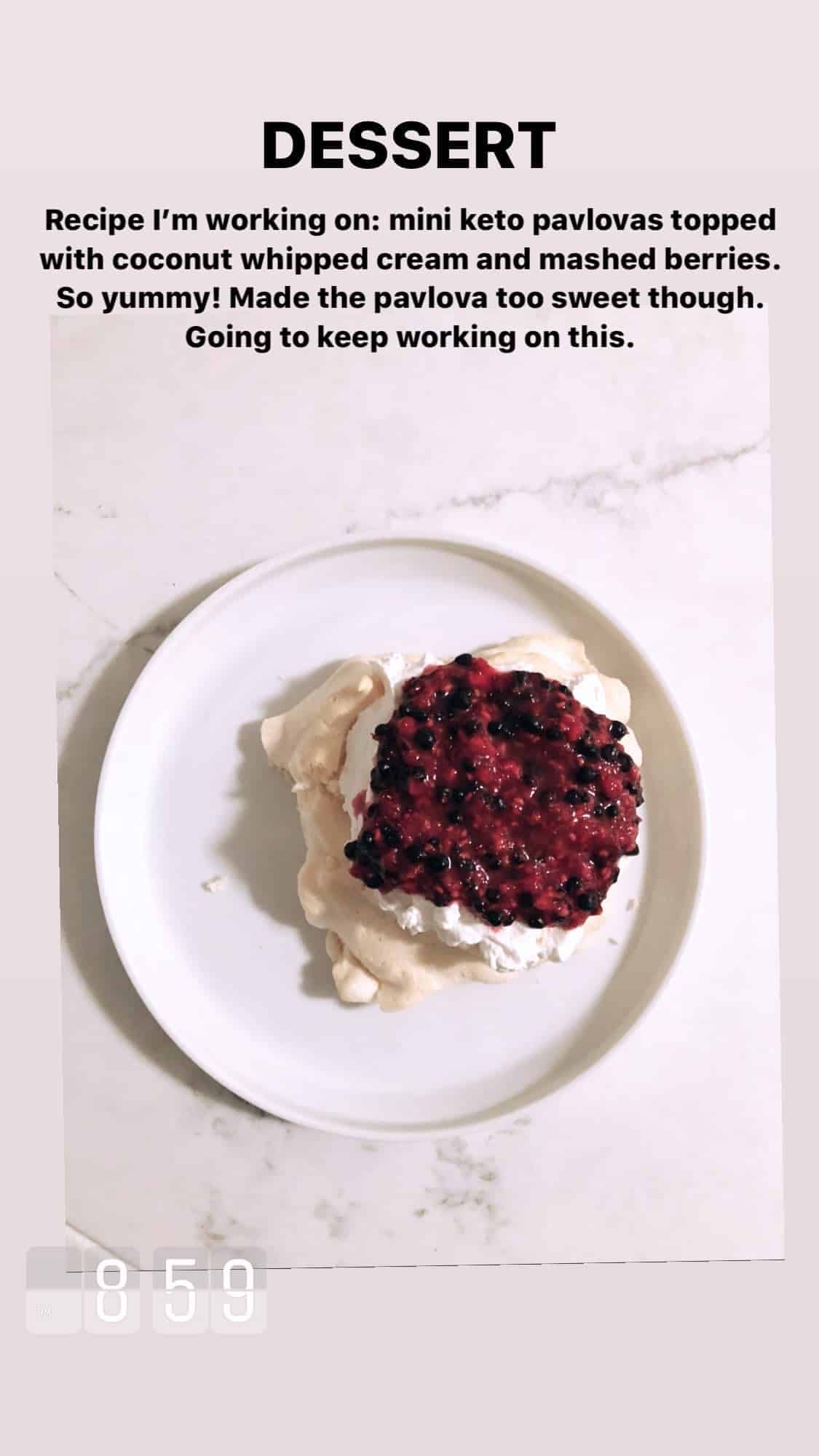 Mini keto pavlova, coconut whipped cream, mashed berries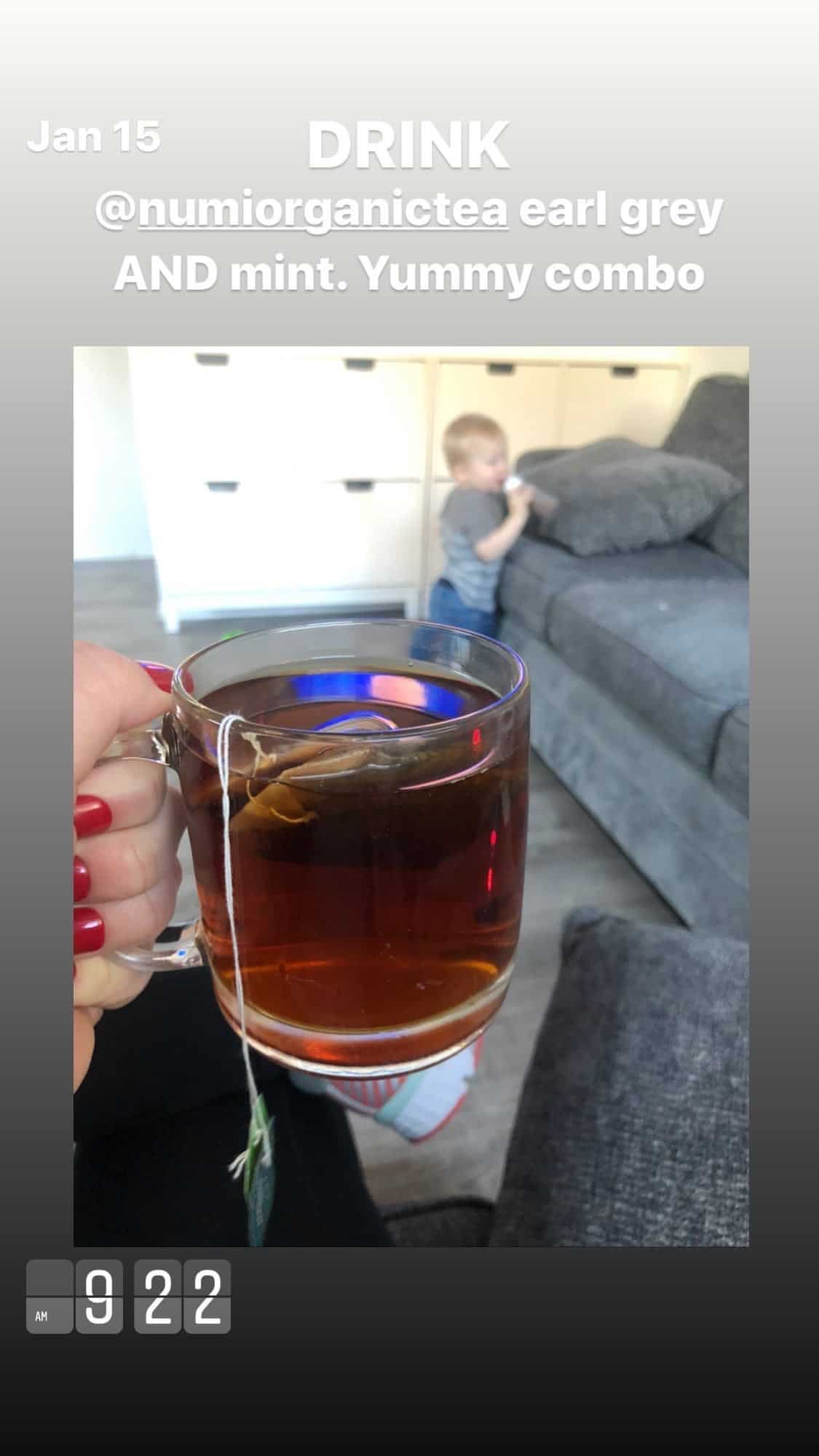 Tea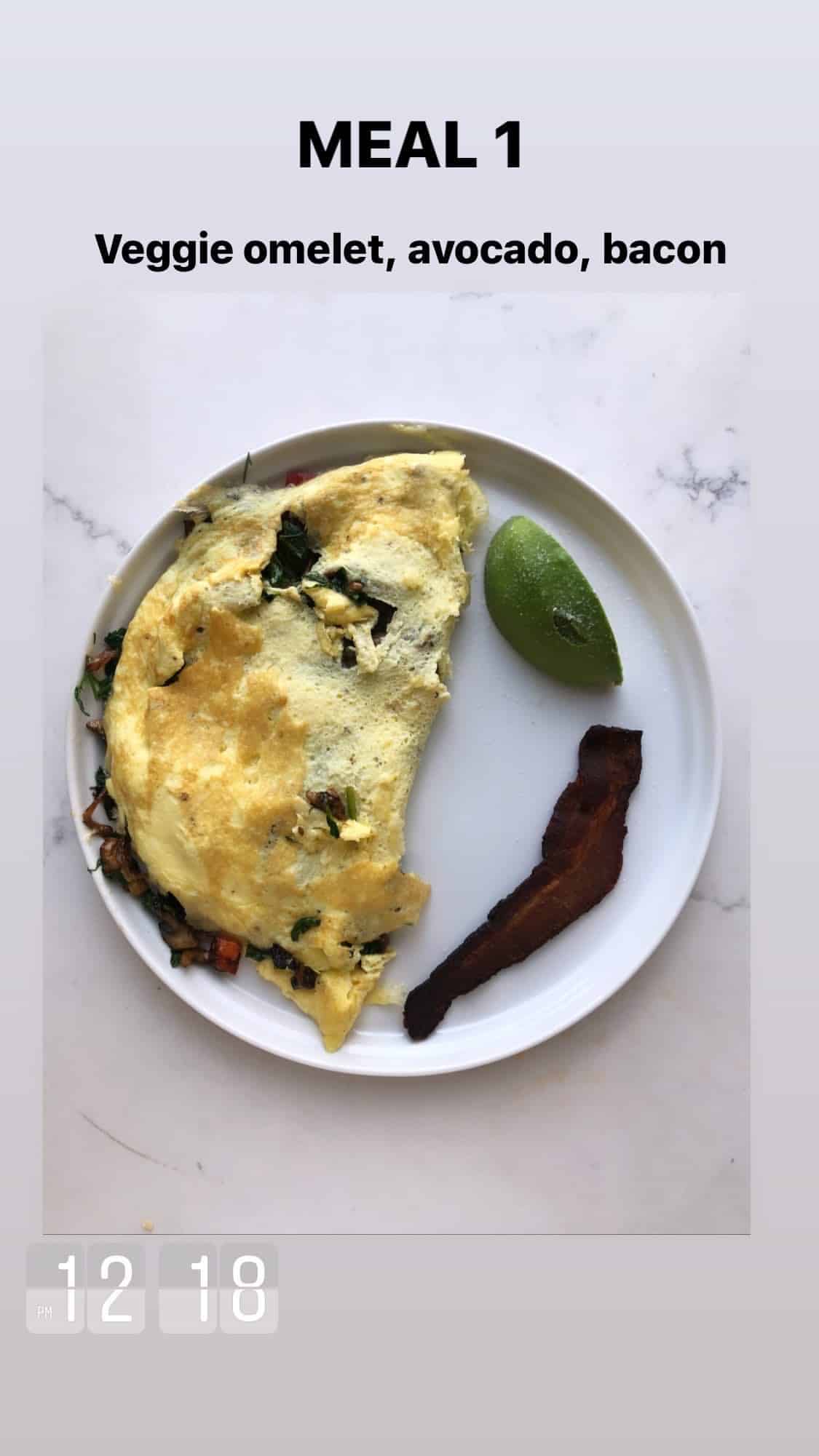 Veggie omelet, avocado, bacon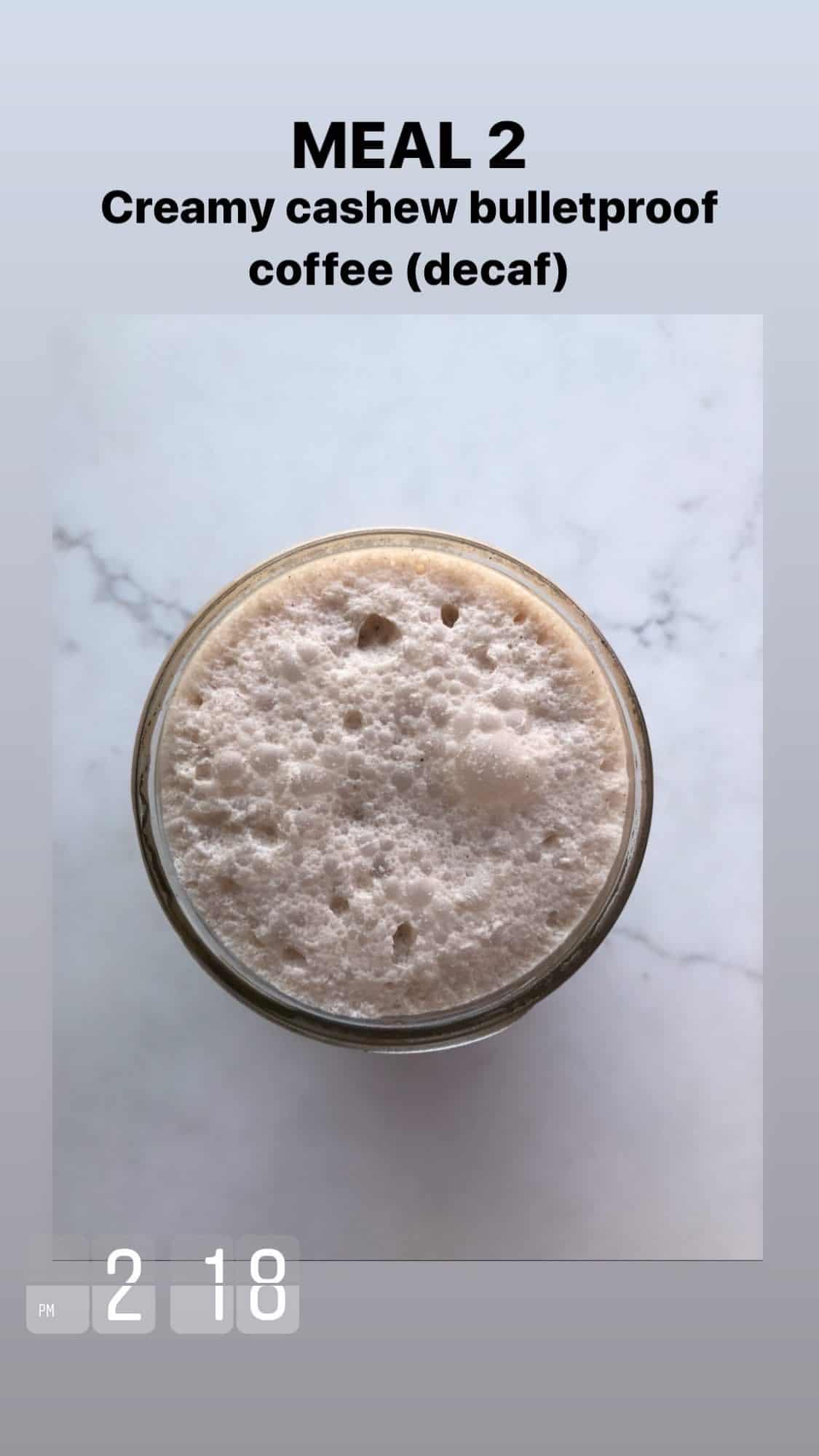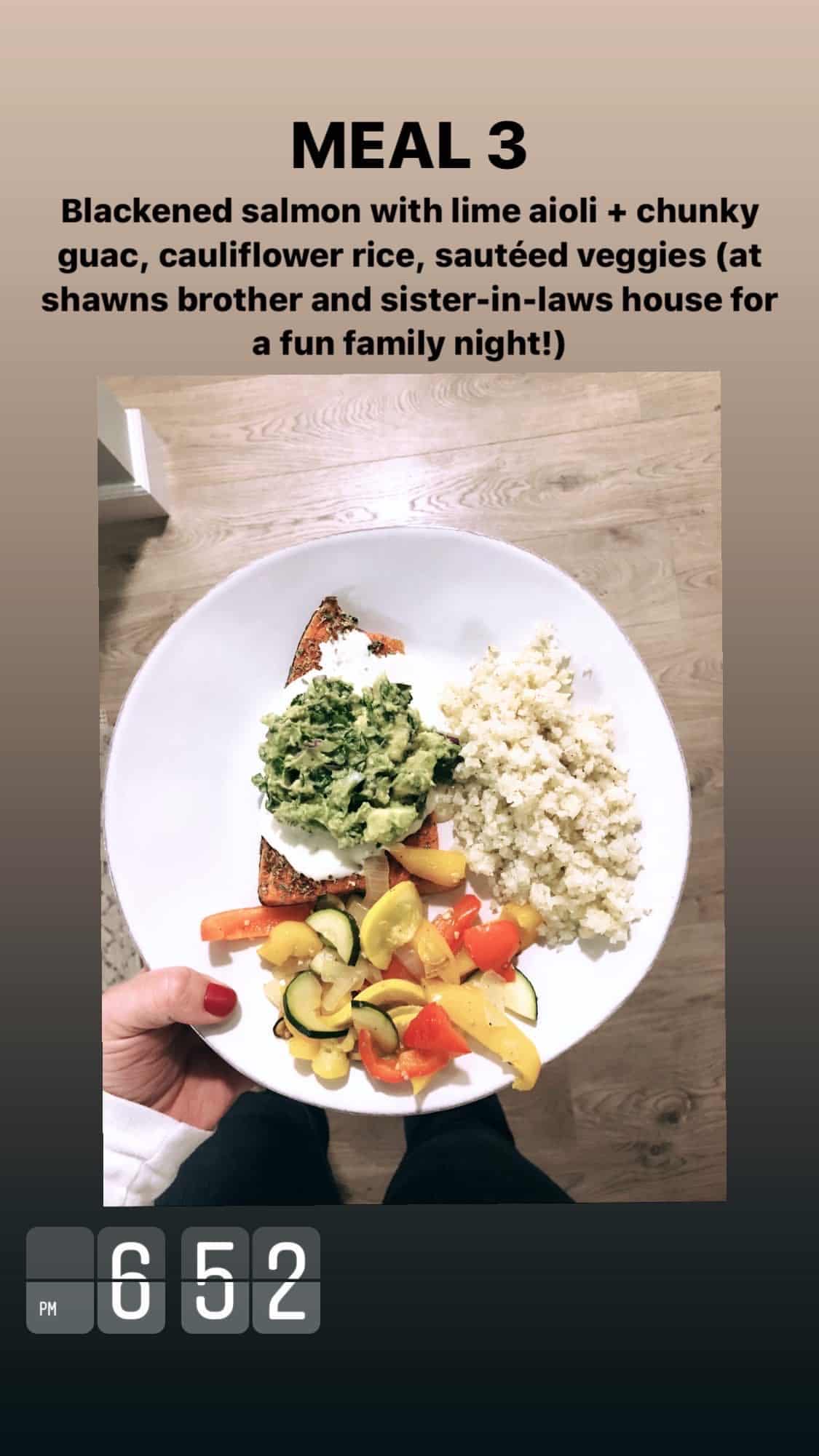 Blackened salmon with lime aioli, guacamole, cauliflower rice, sauteed veggies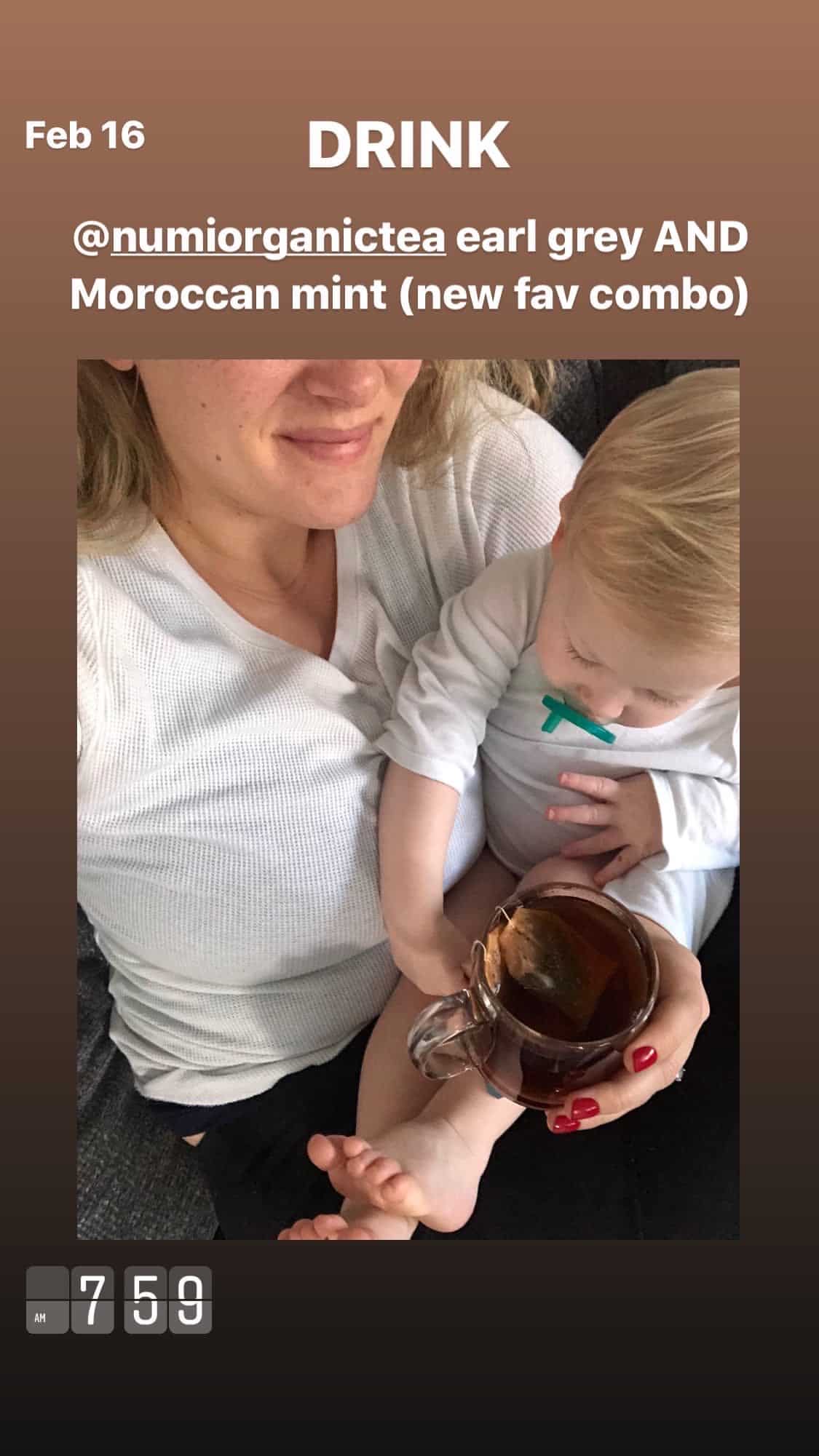 Tea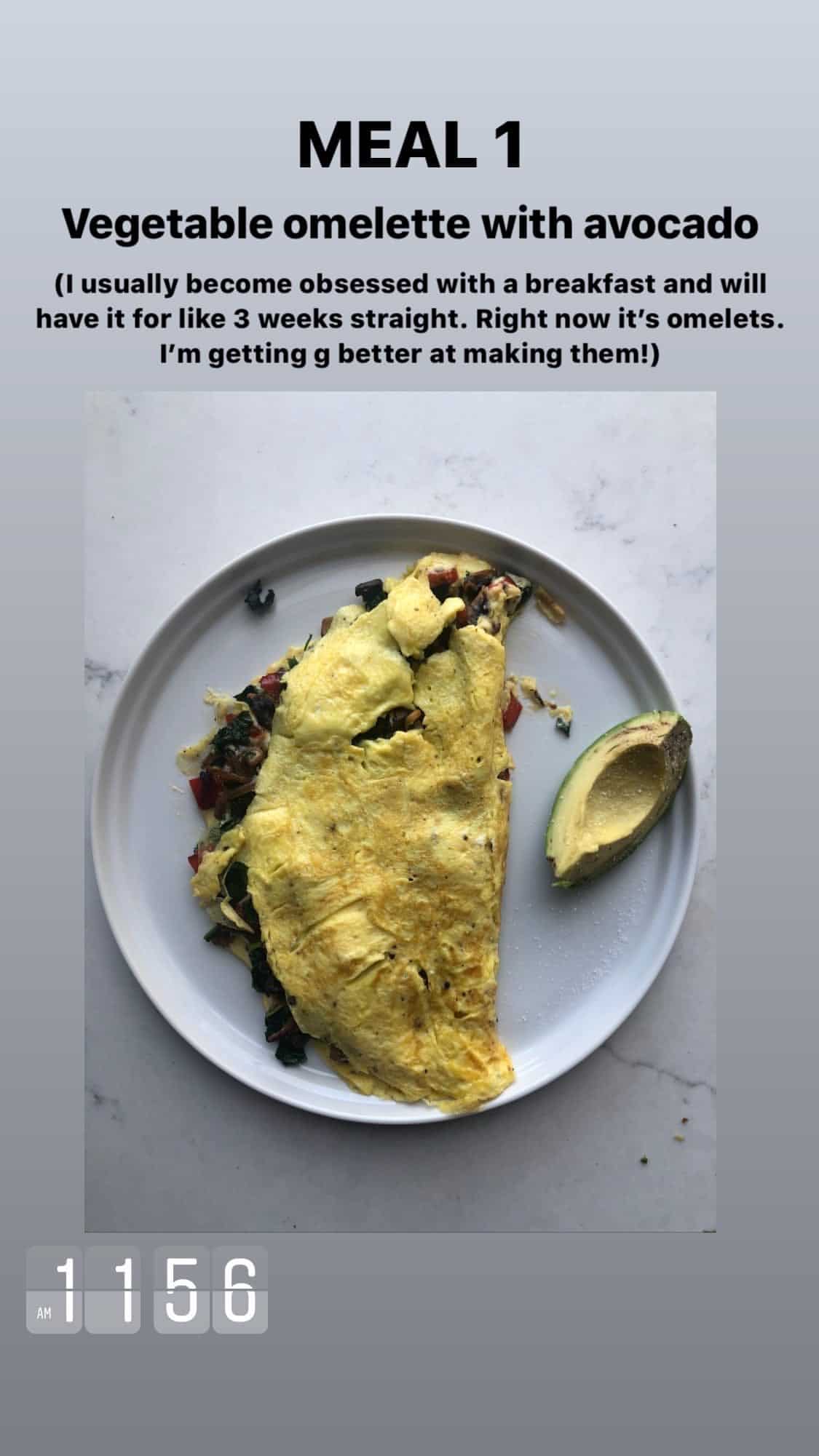 Veggie omelet with avocado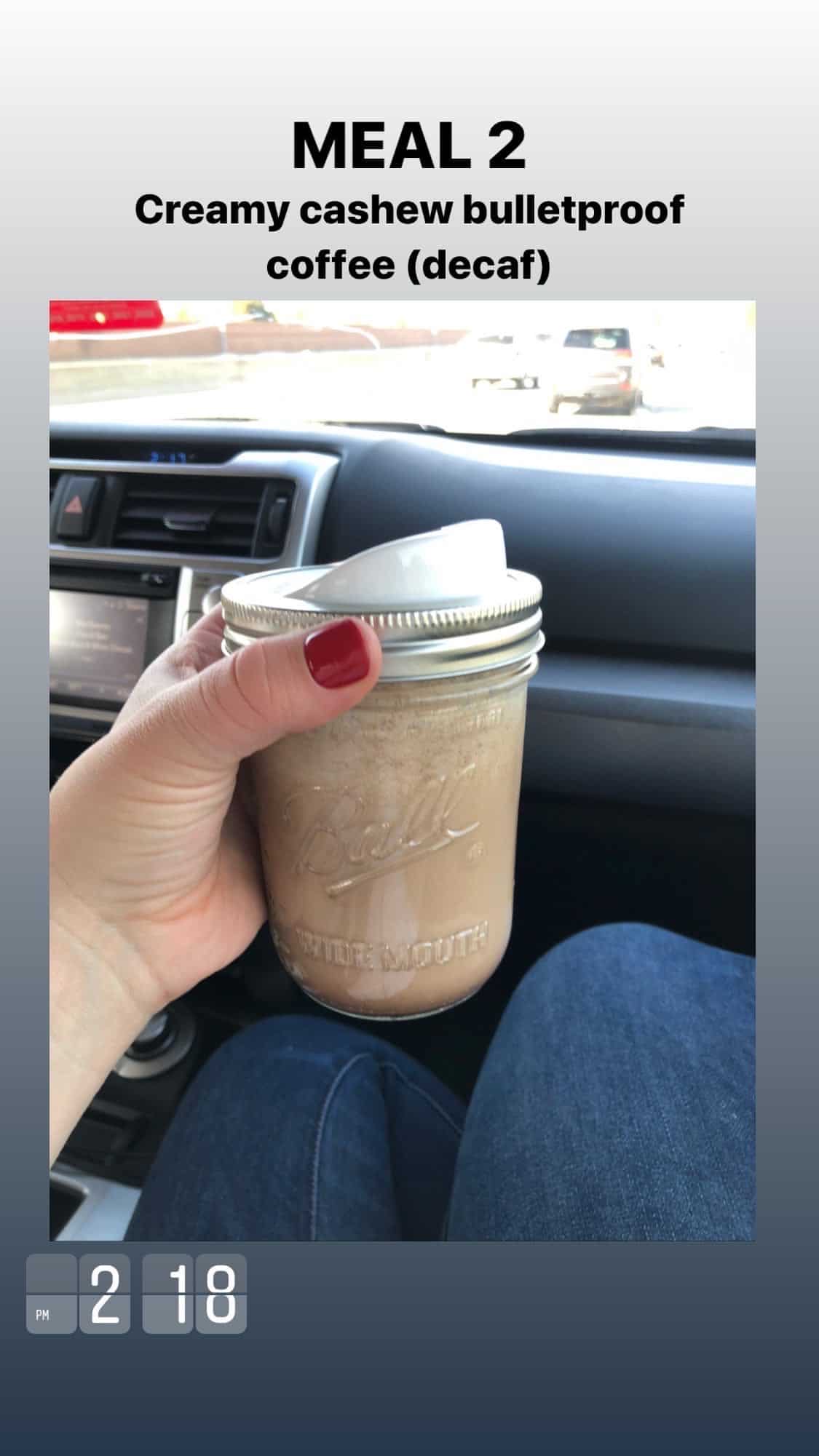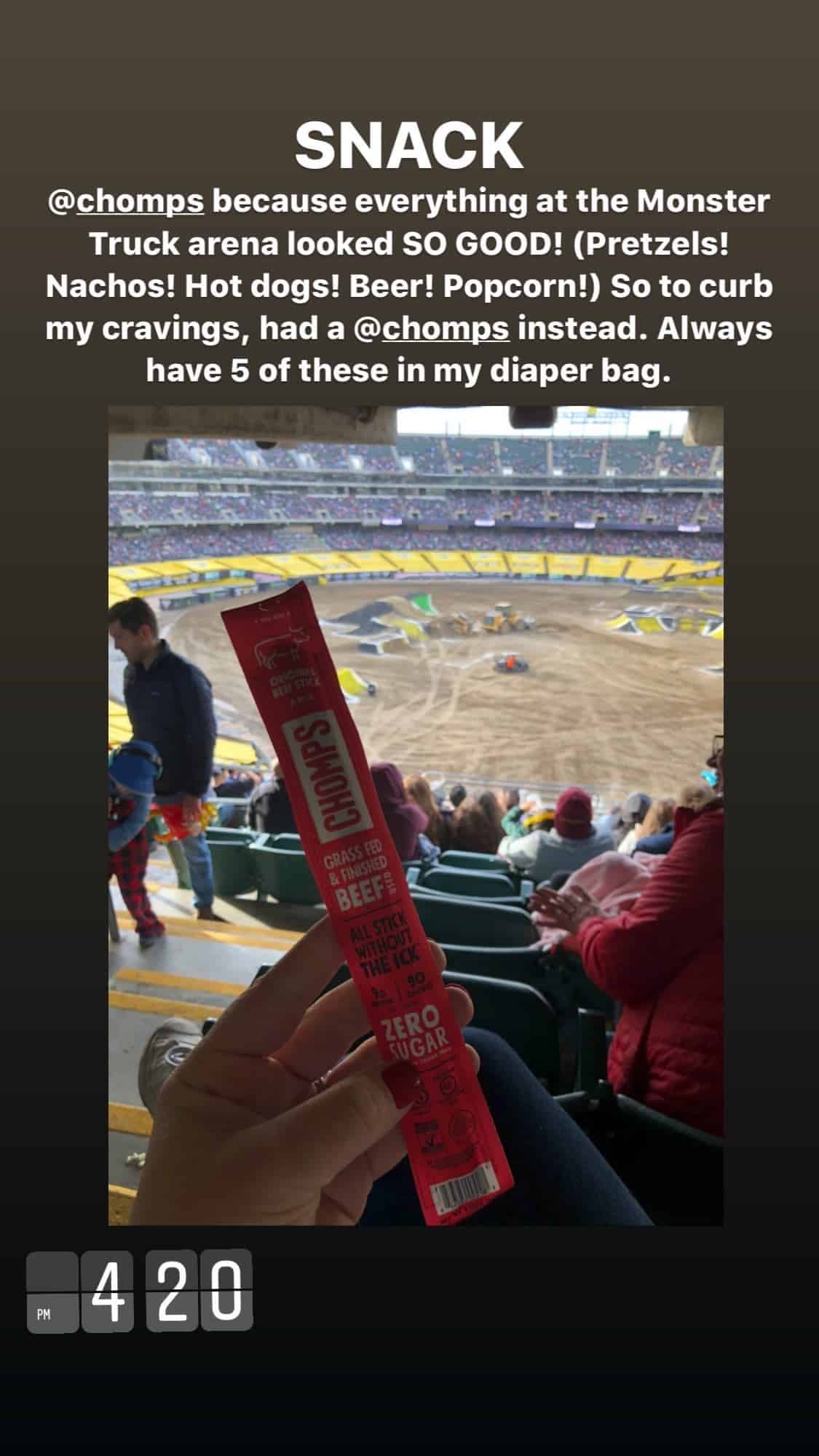 Chomps beef stick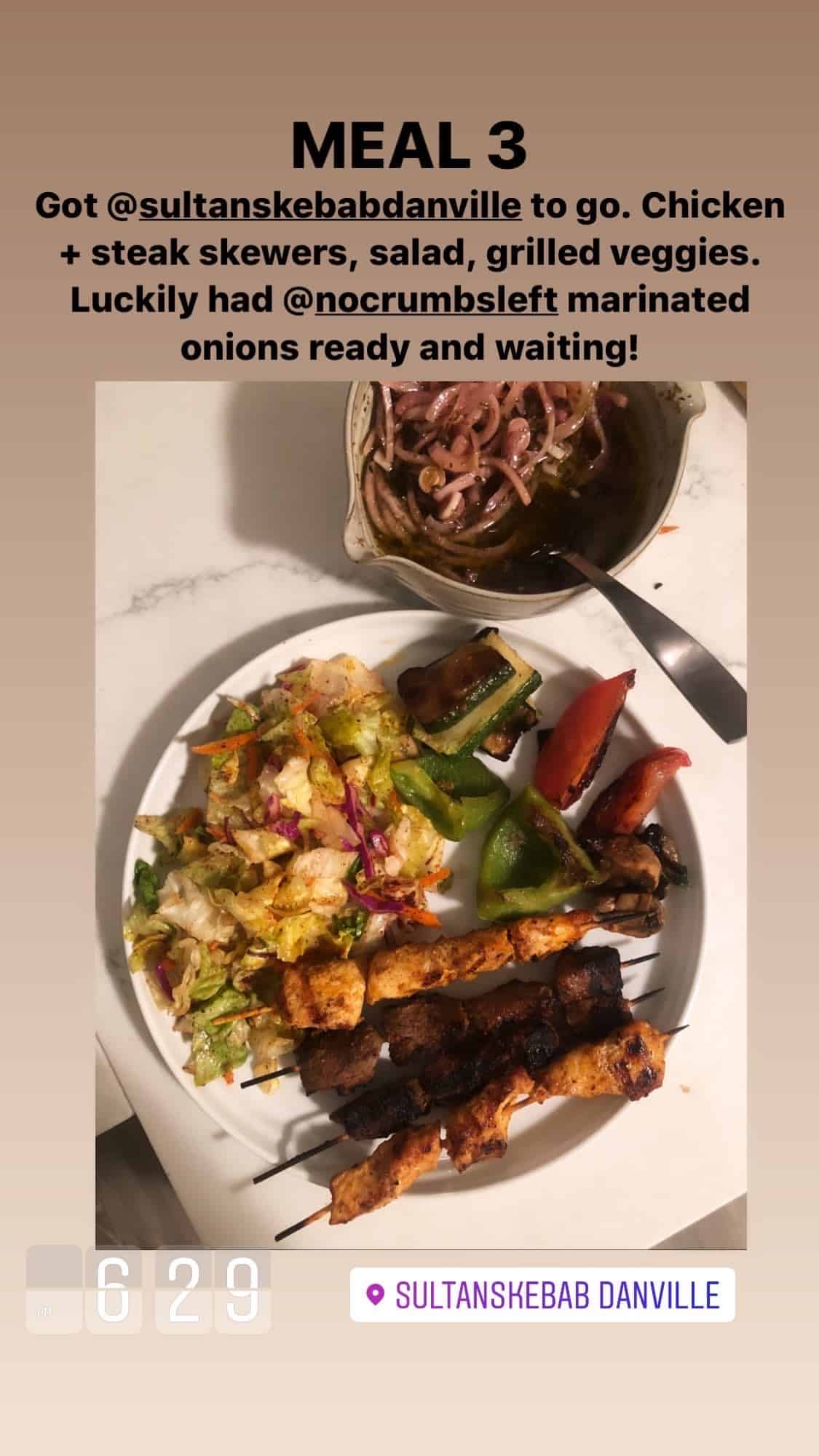 chicken and steak skewers, salad, grilled veggies, No Crumbs Left marinated onions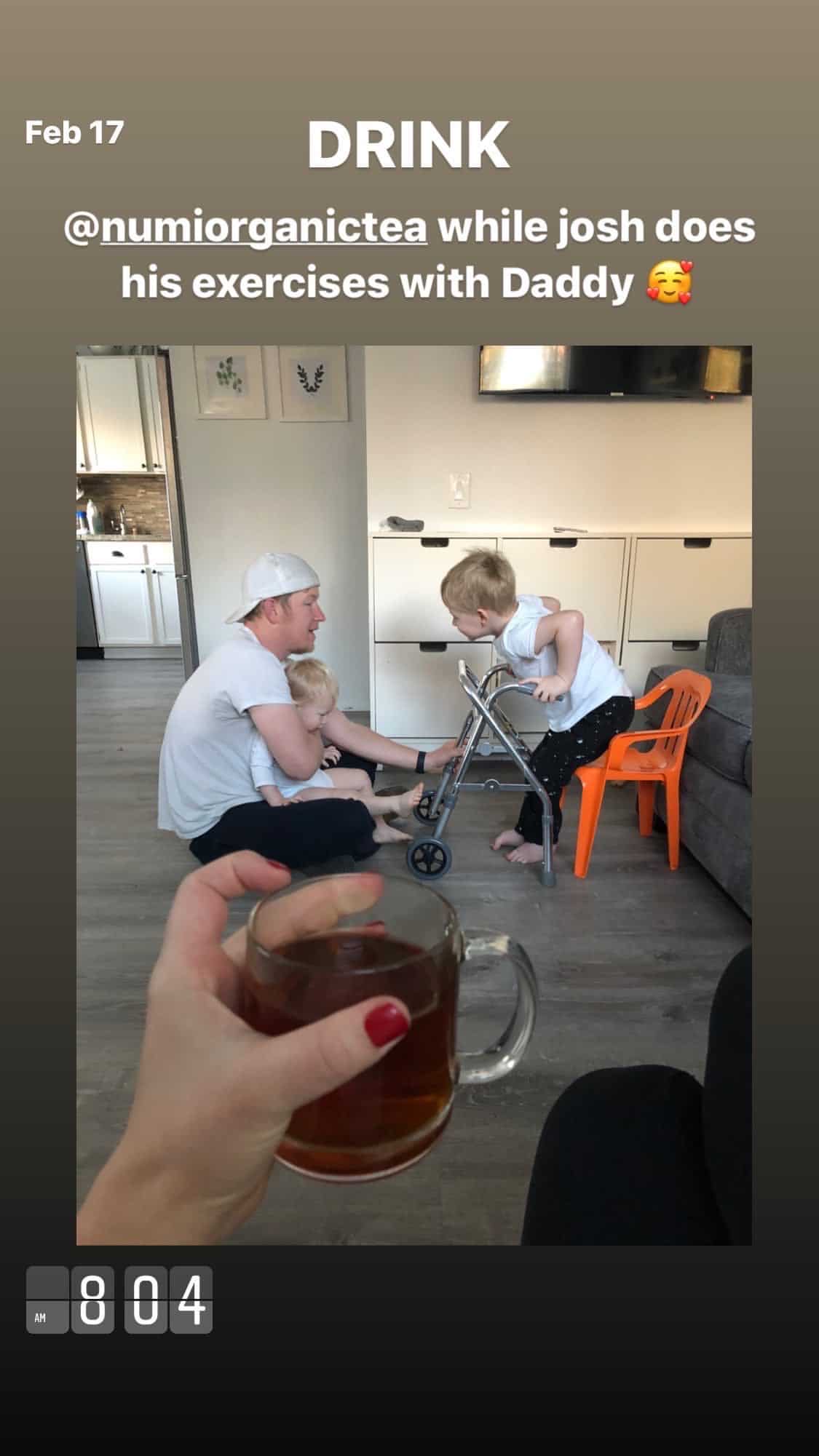 Tea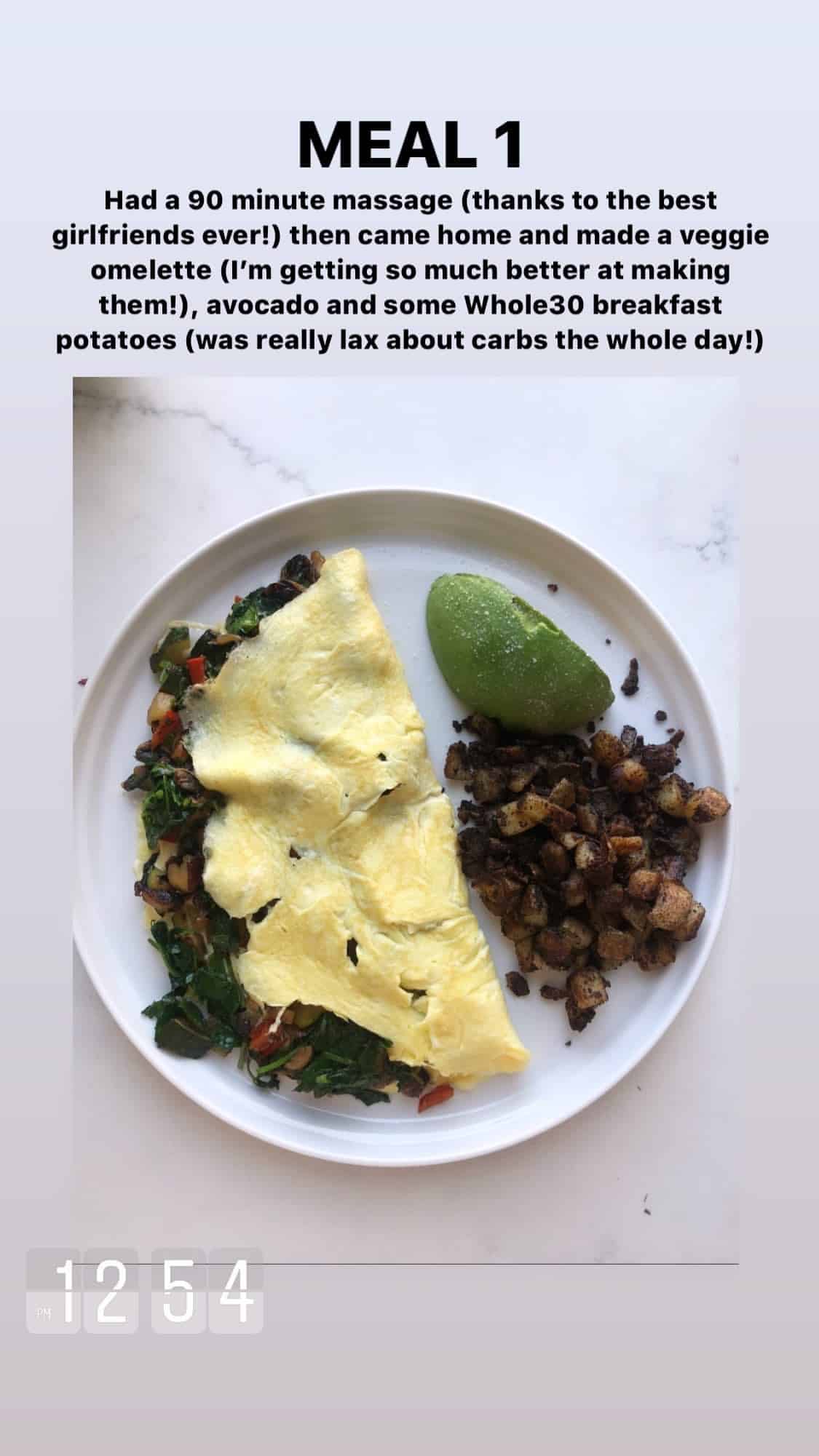 Veggie omelet, avocado, breakfast potatoes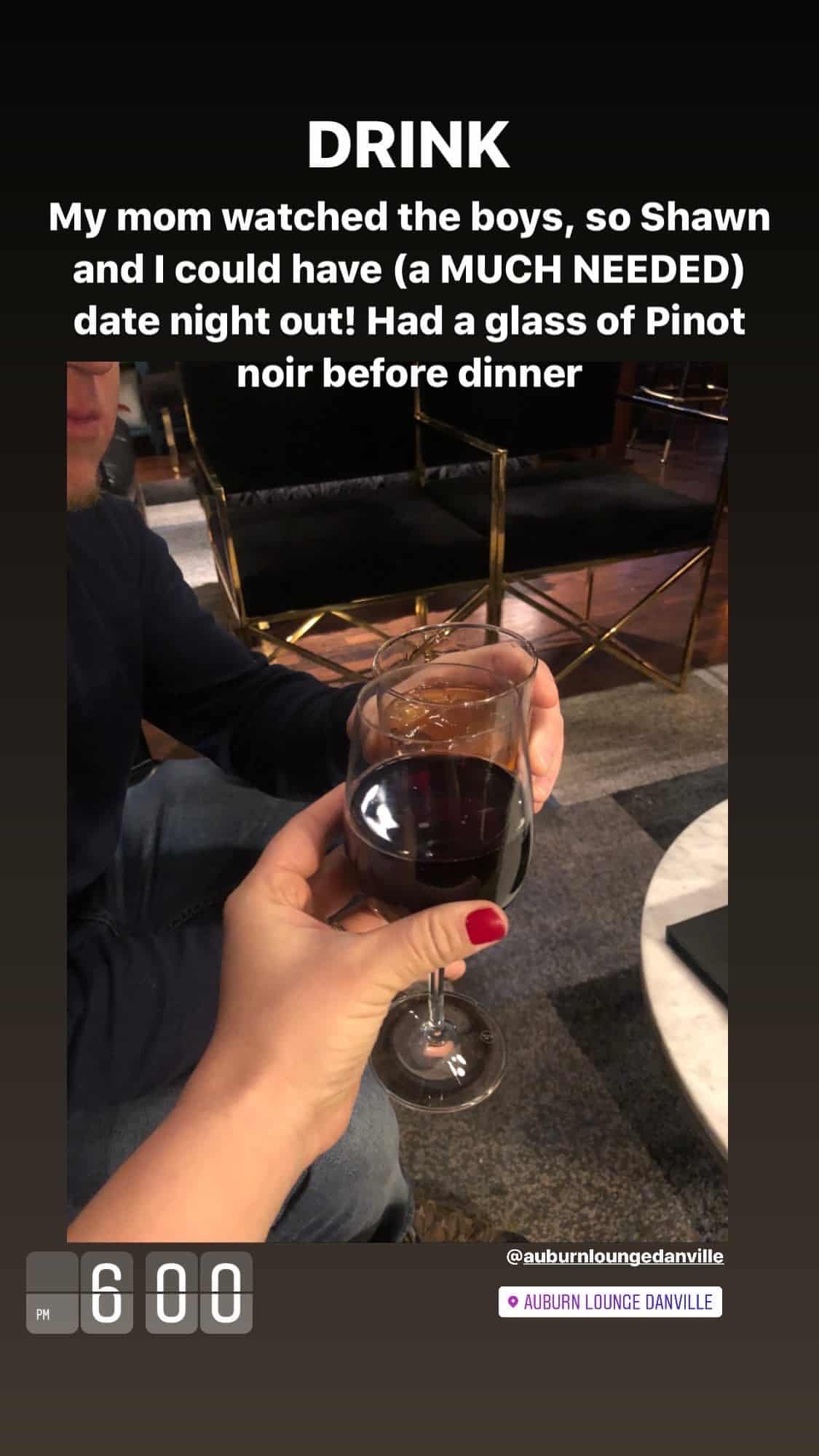 Glass of red wine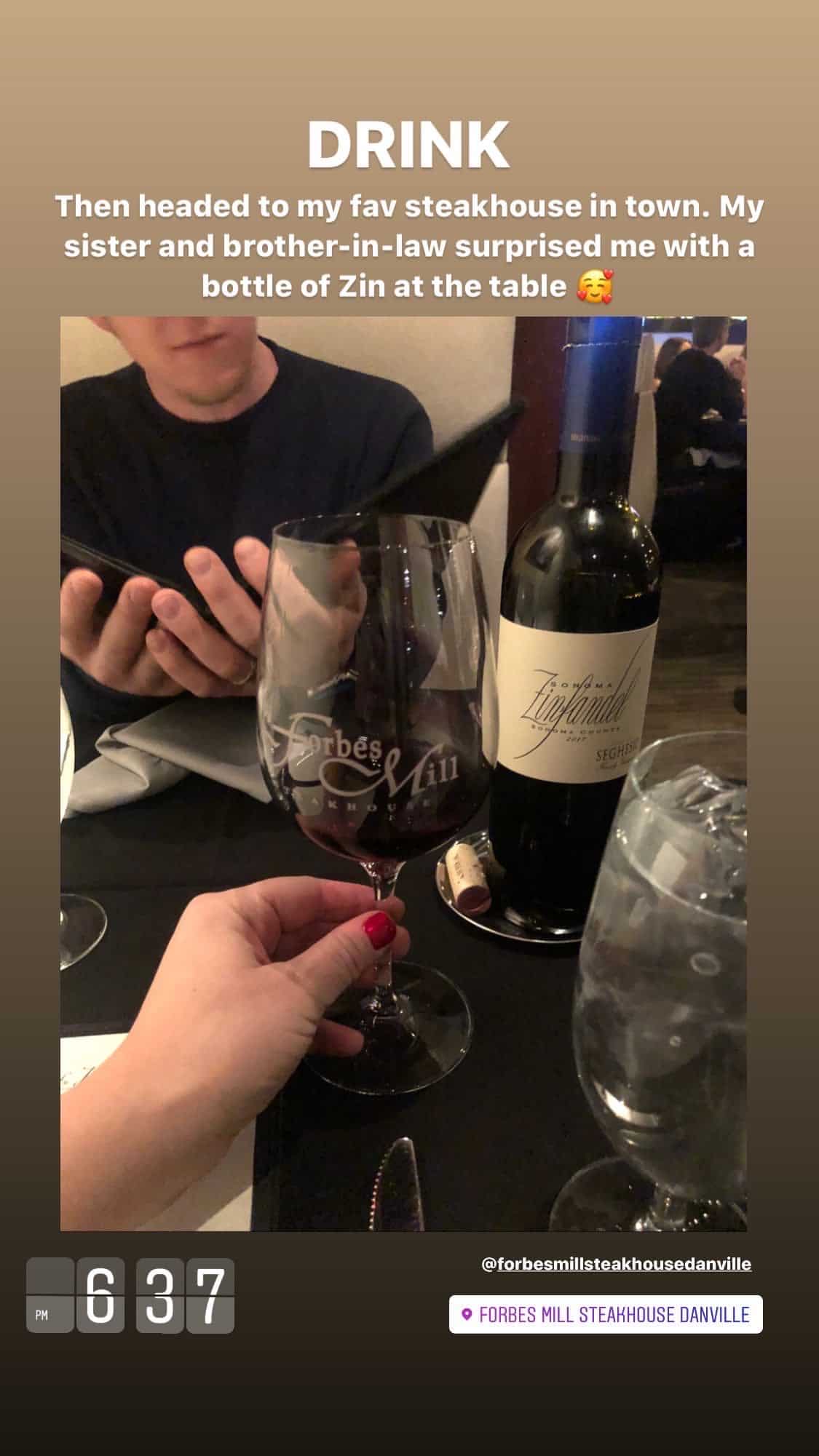 Glass of red wine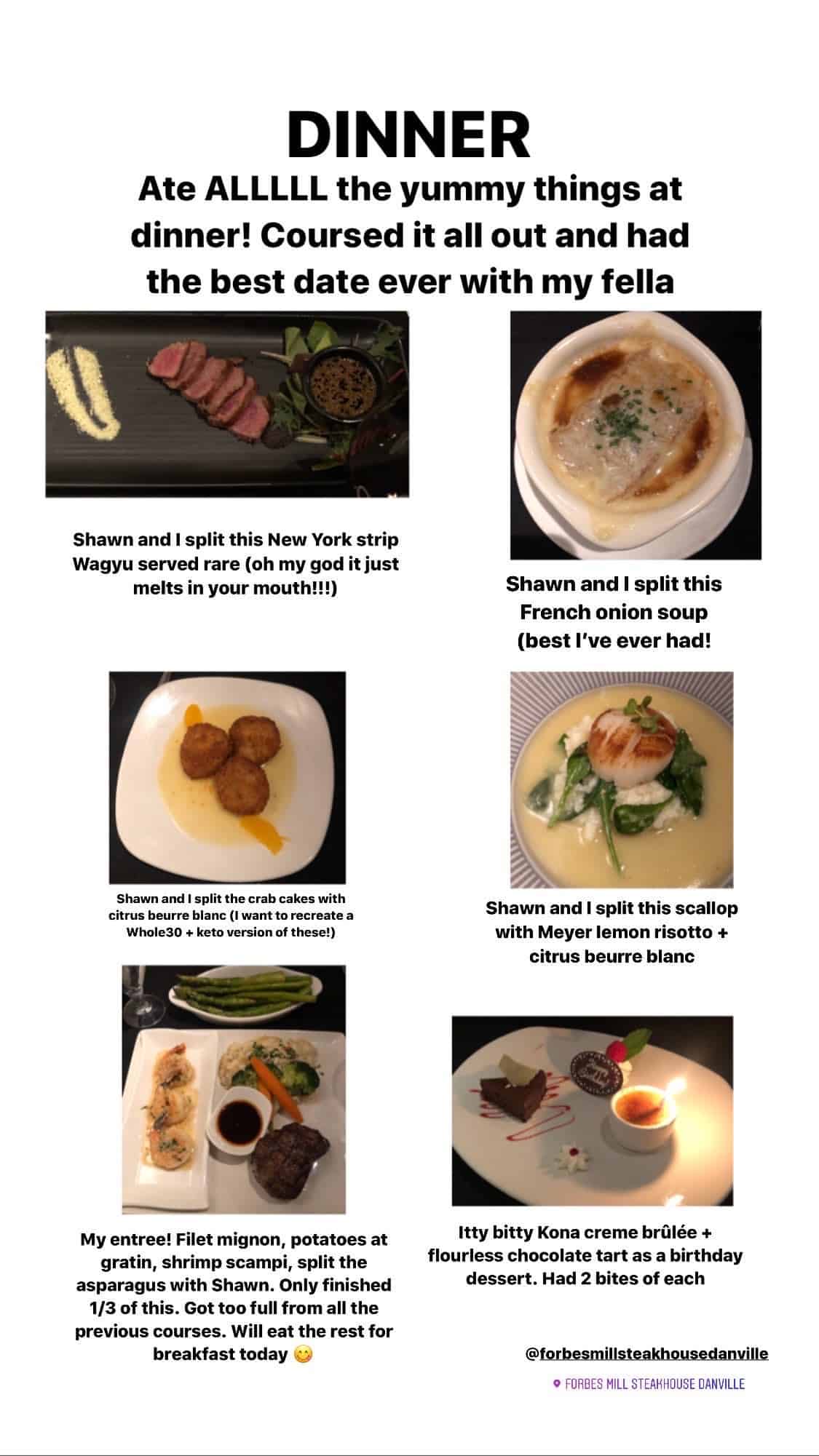 New York Strip Wagyu steak, French onion soup, crab cakes, scallop, filet mignon, potatoes au gratin, shrimp scampi, asparagus, creme brulee, flourless chocolate tart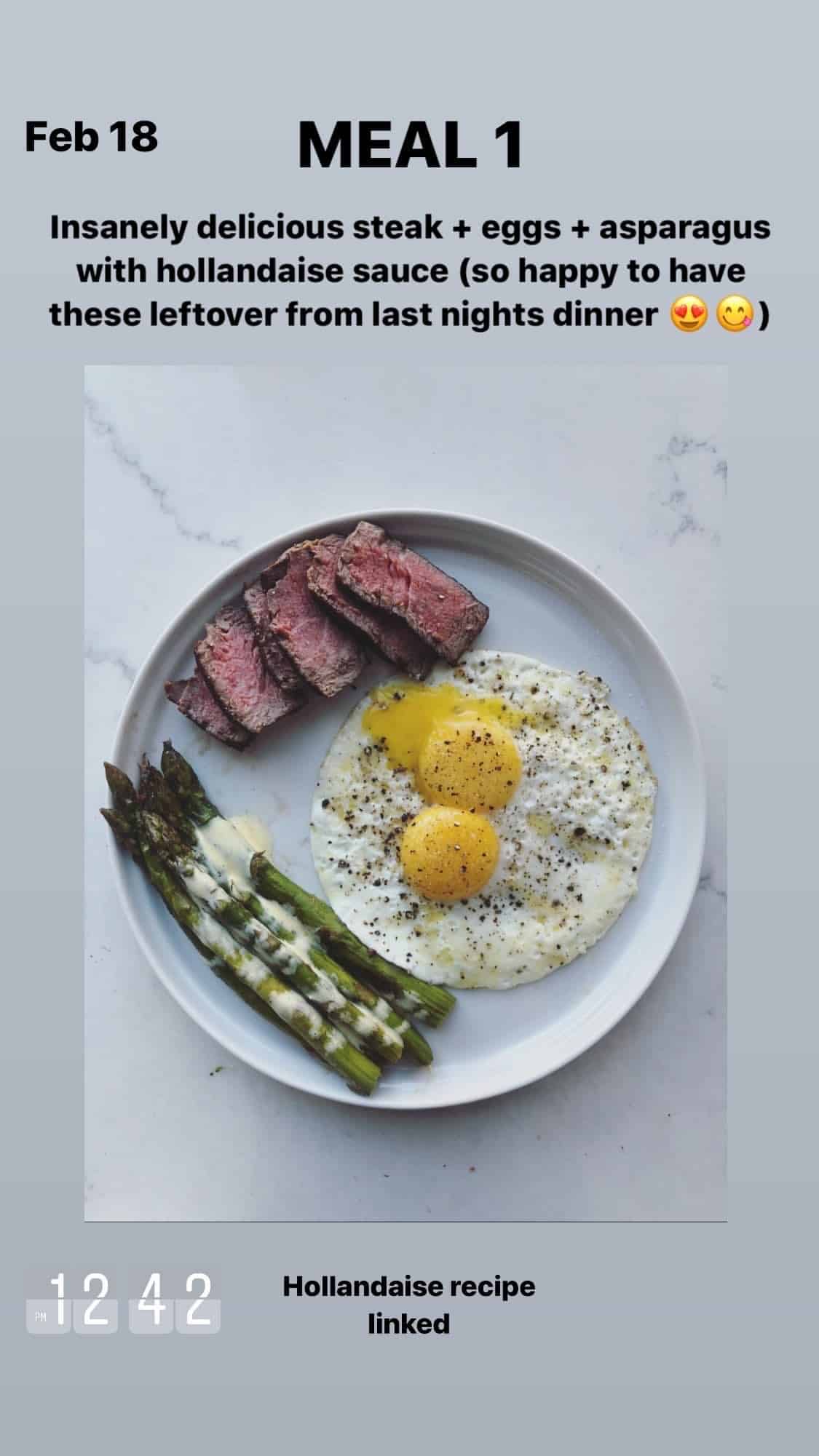 Steak, sunny side up eggs, asparagus, hollandaise sauce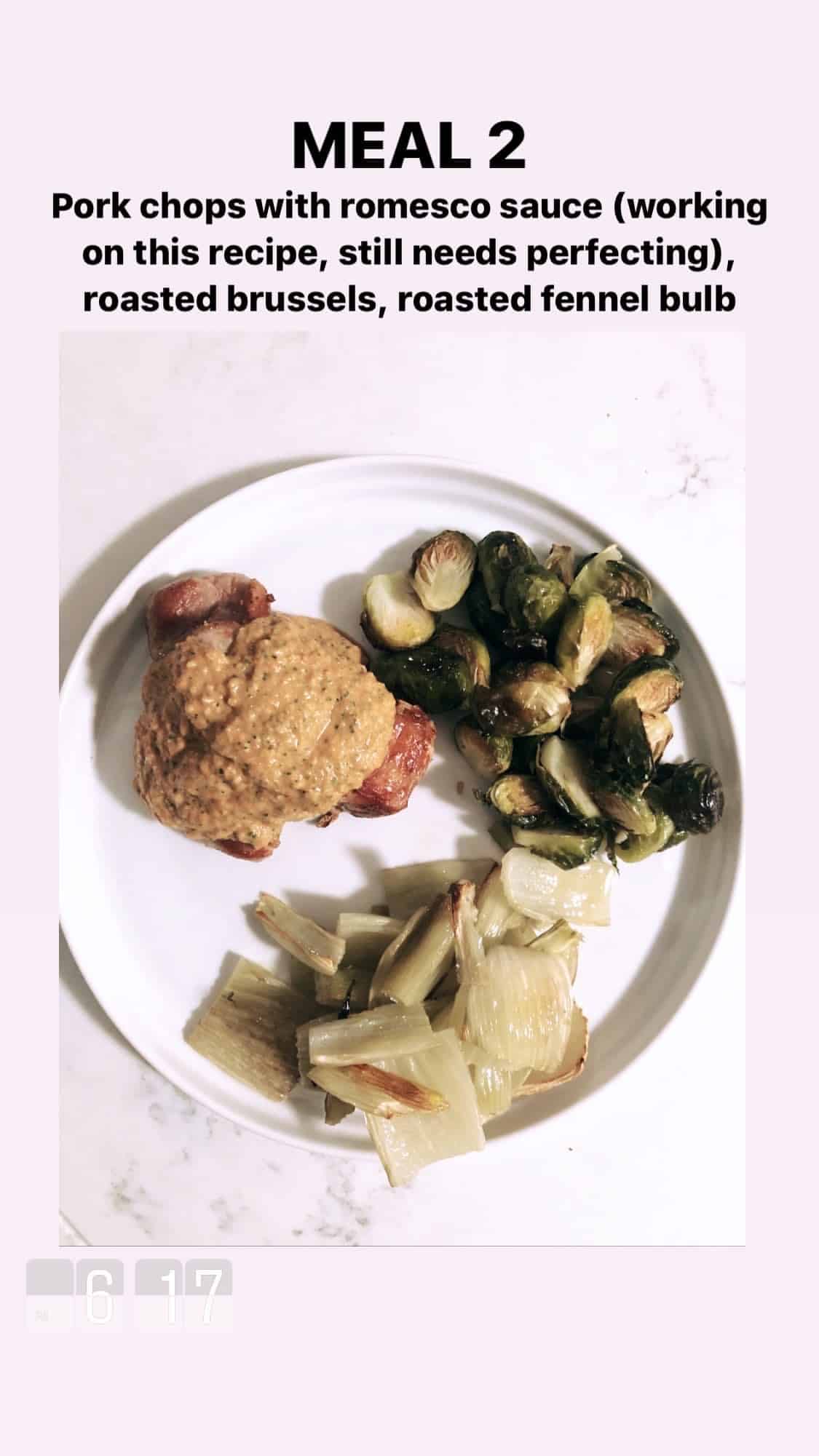 Pork chops, romesco sauce, roasted Brussels, roasted fennel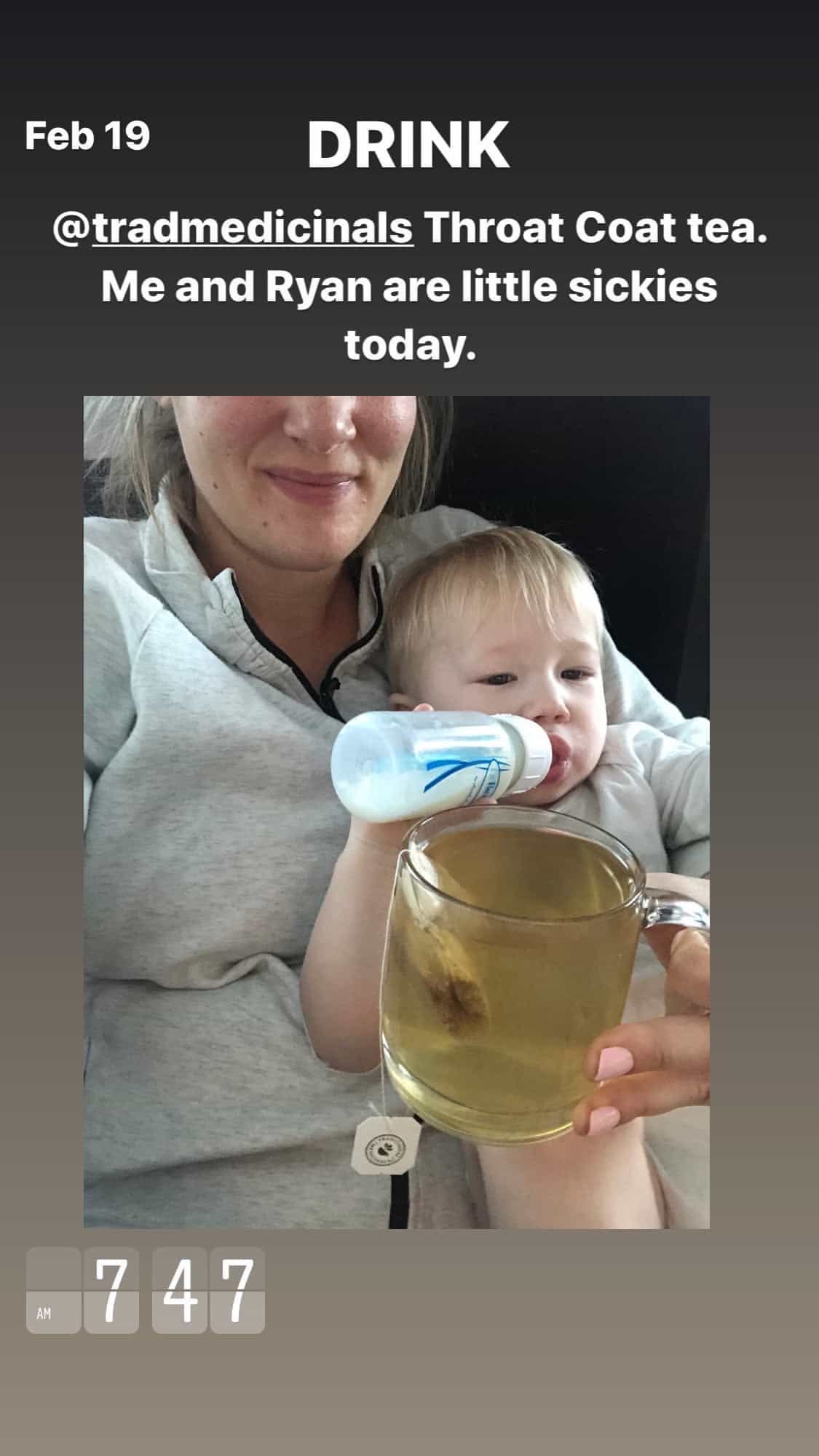 Tea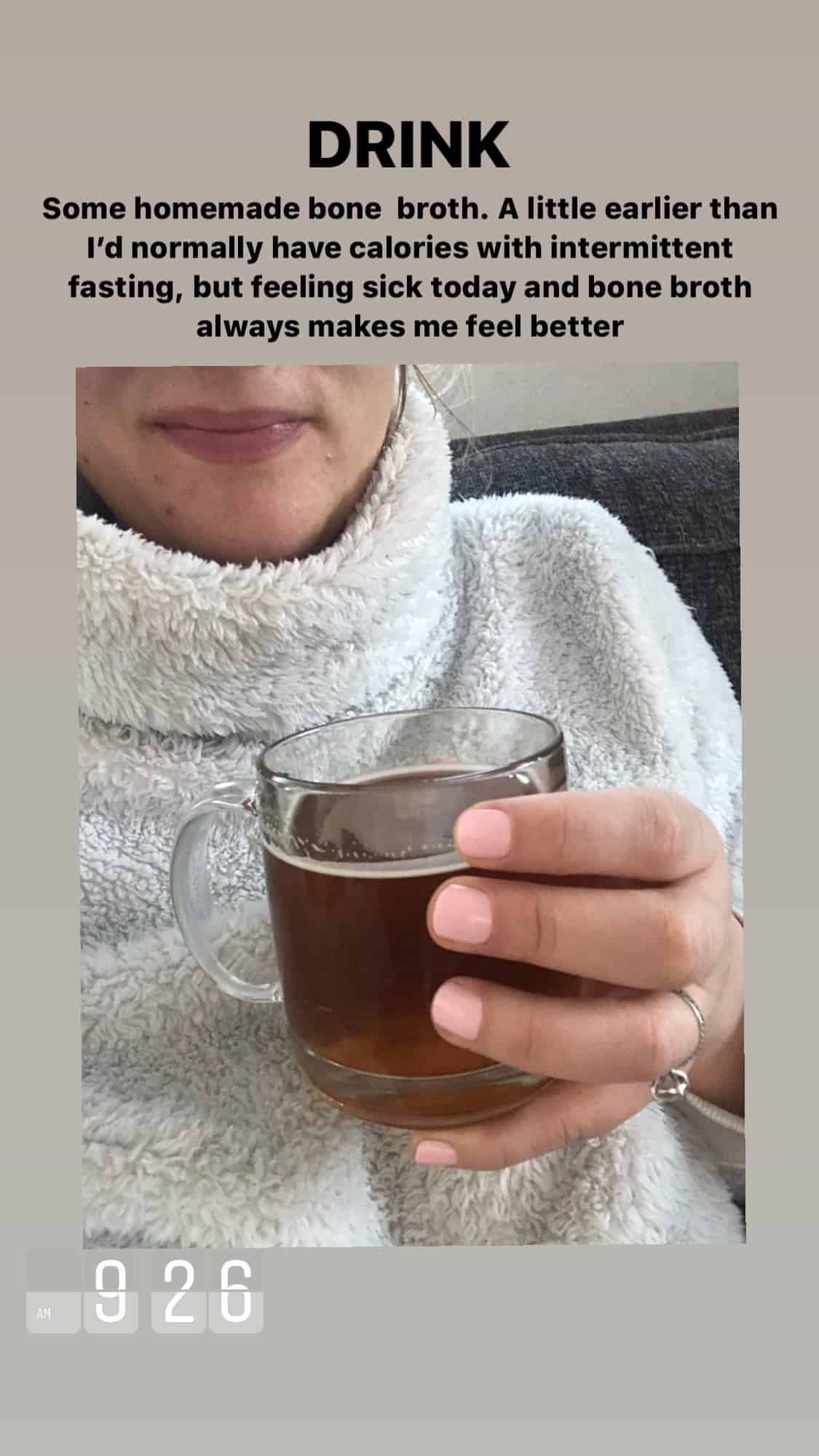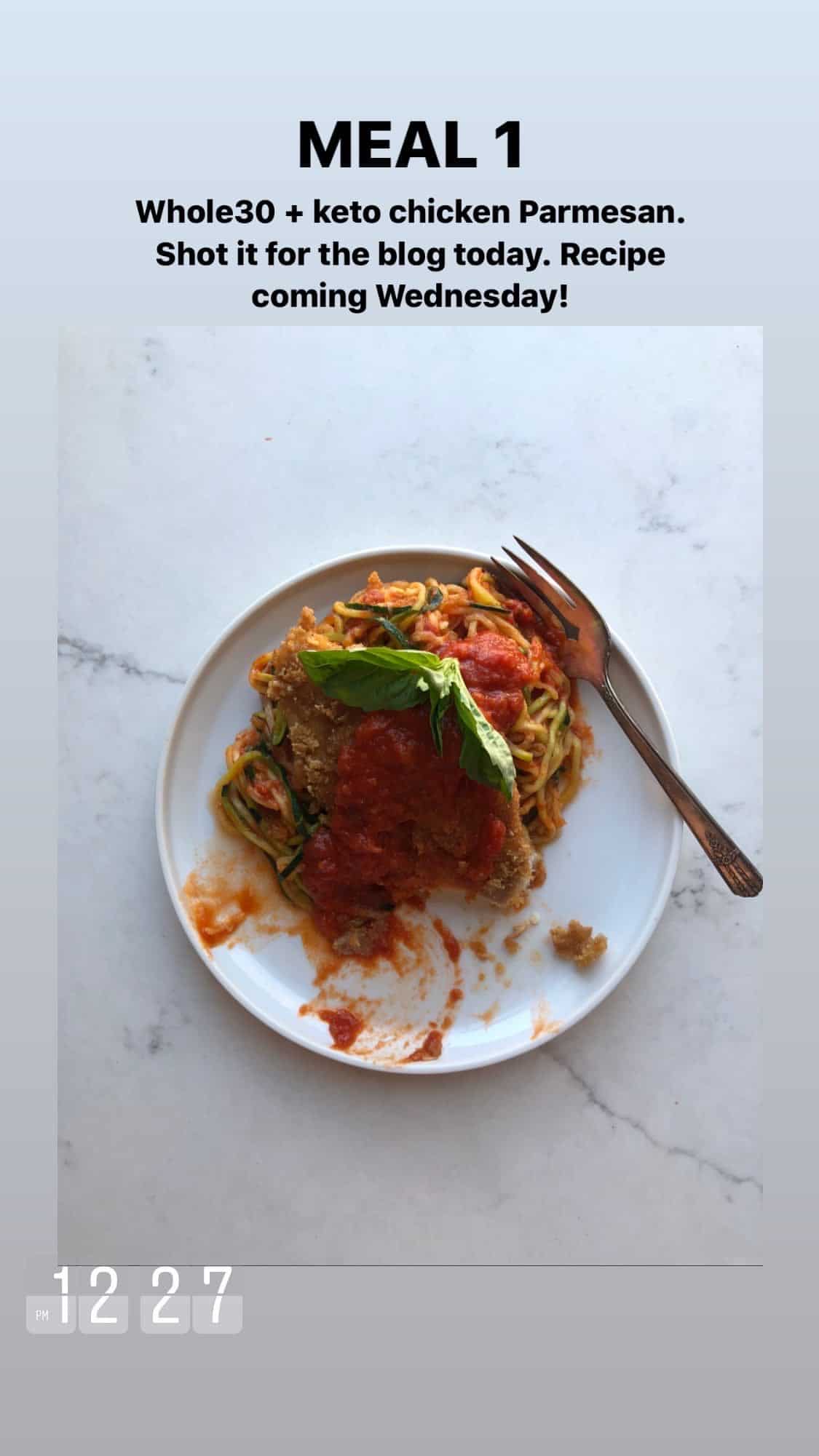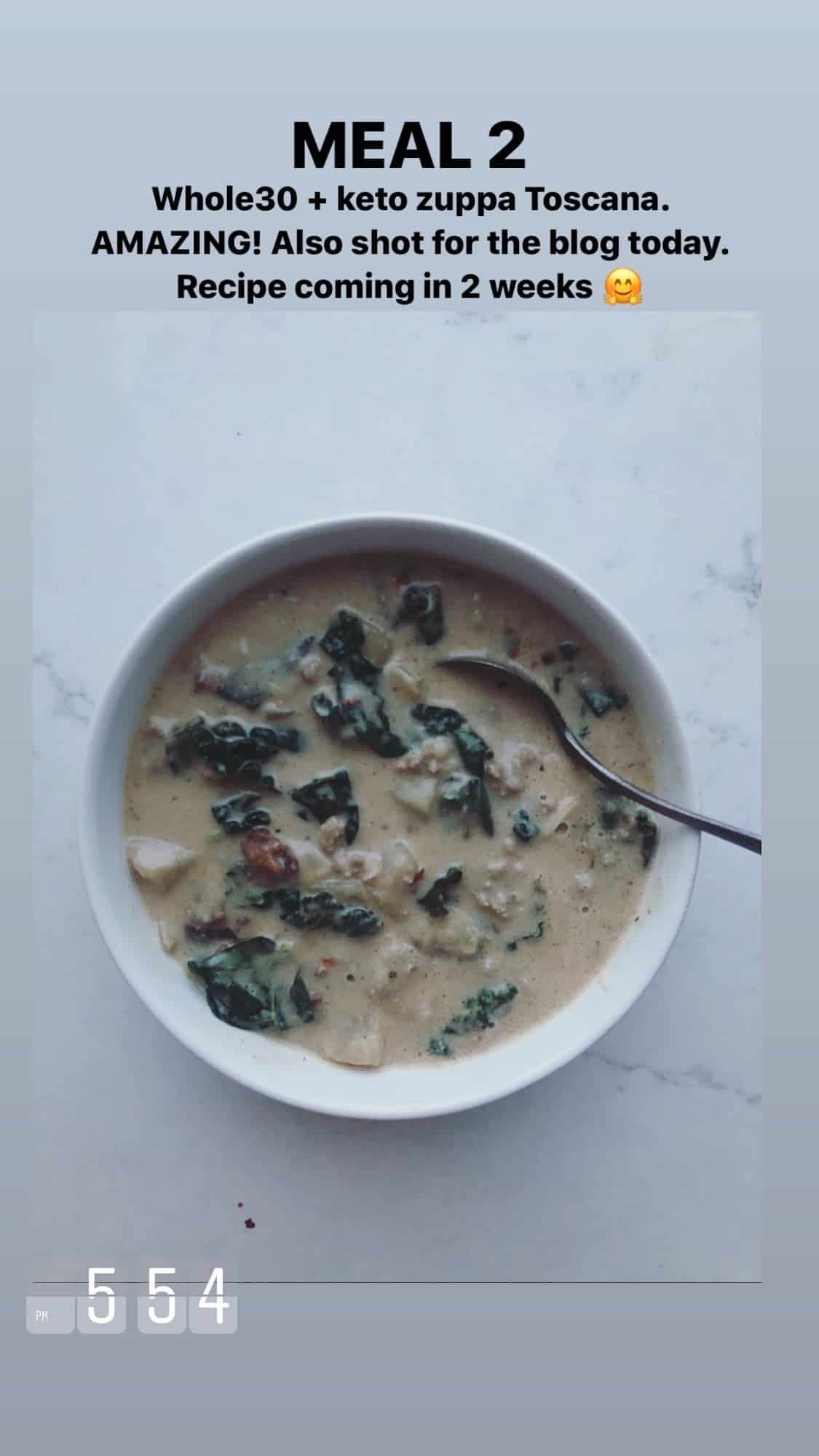 Zuppa Toscana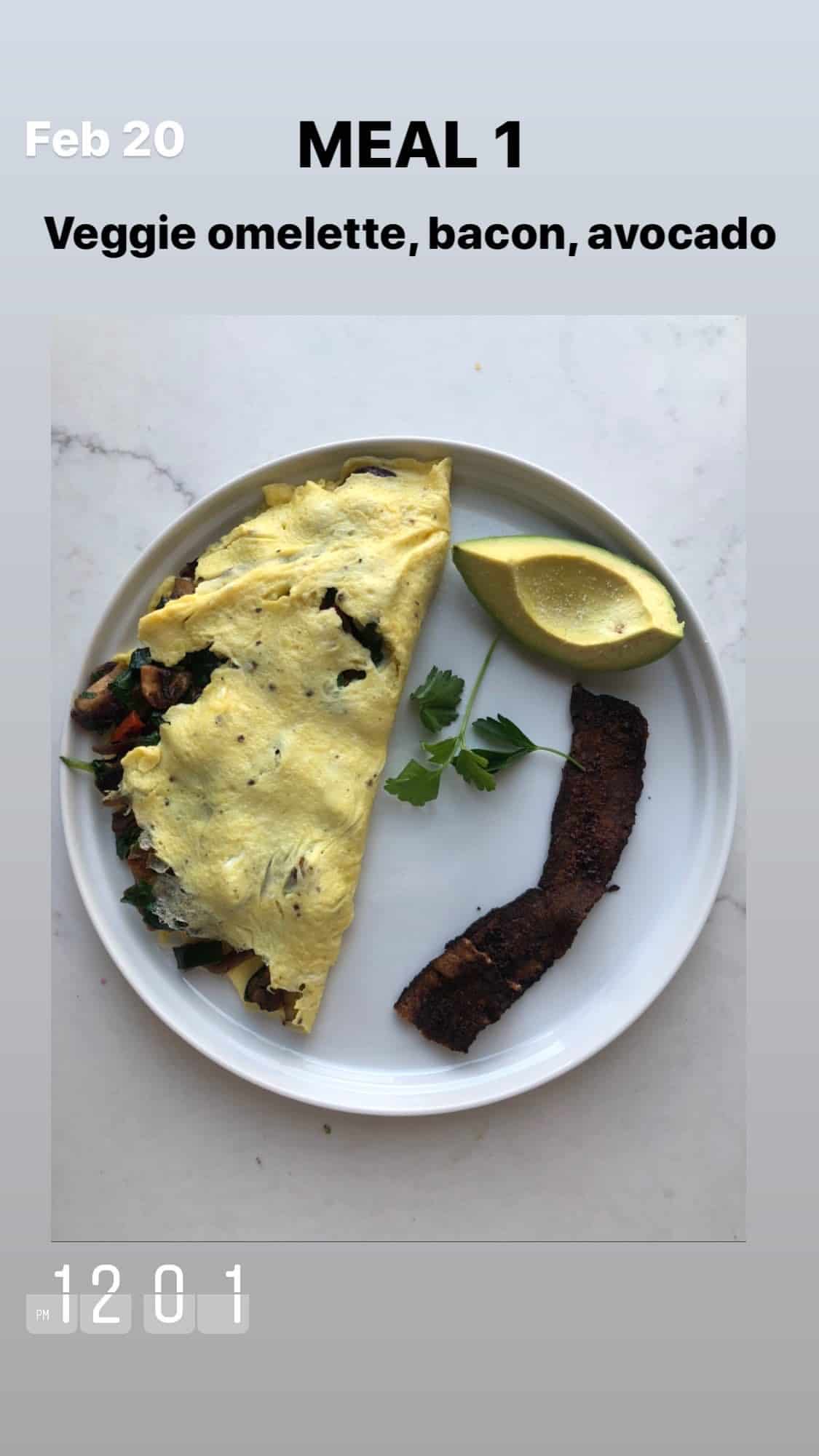 Veggie omelet, bacon, avocado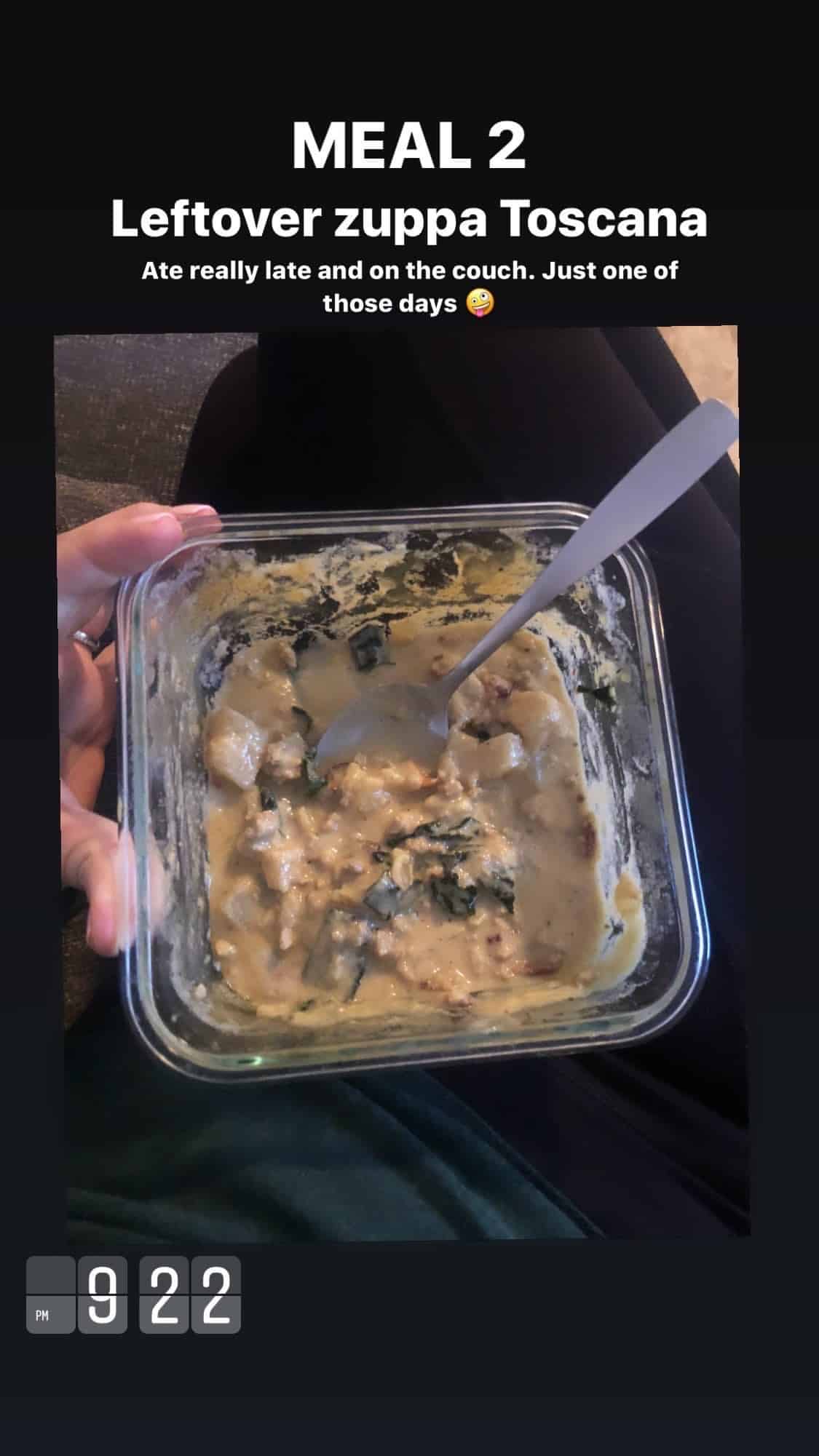 Zuppa Toscana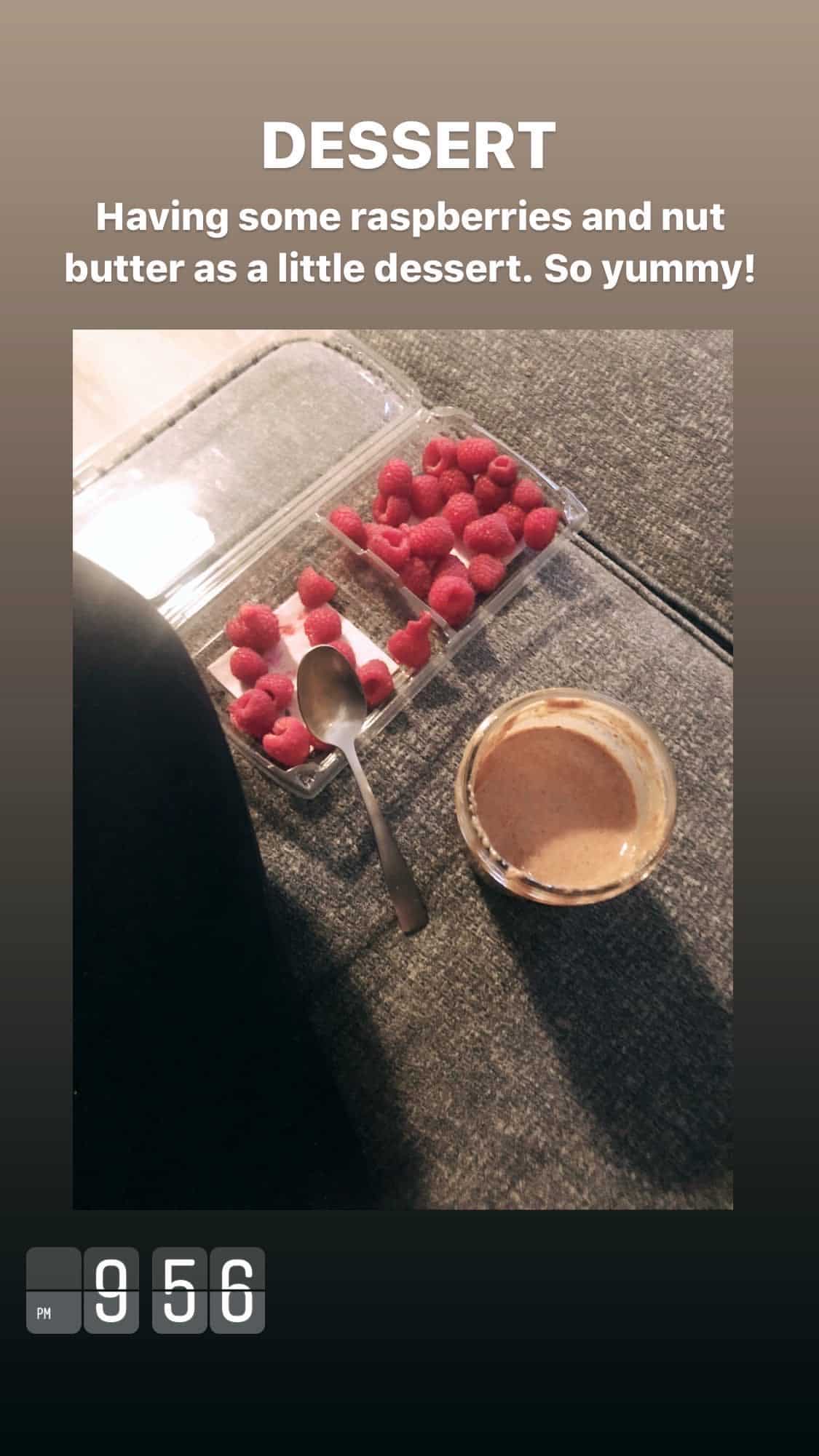 Raspberries, nut butter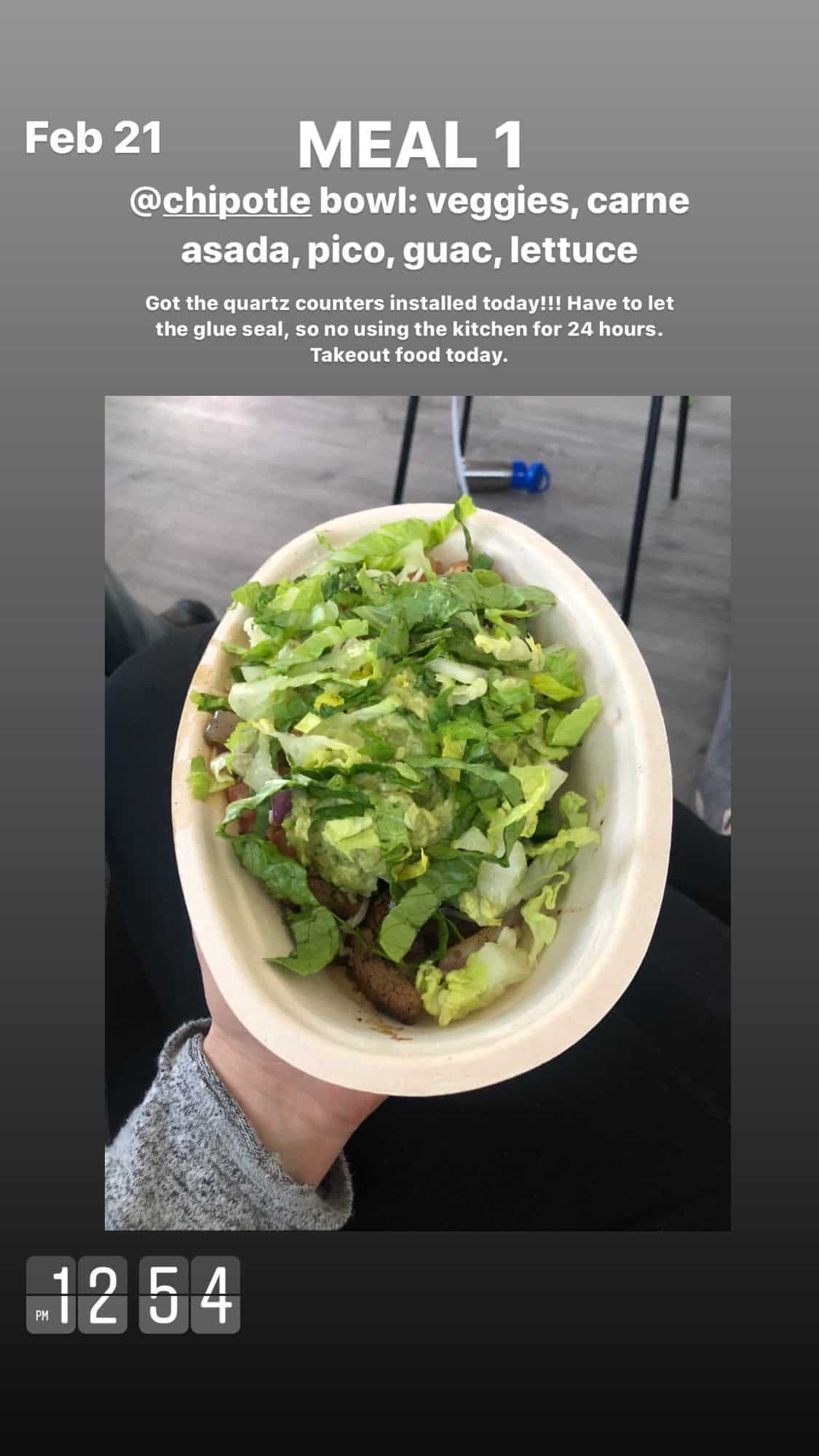 Carne asada Chipotle bowl, pico de gallo, guacamole, lettuce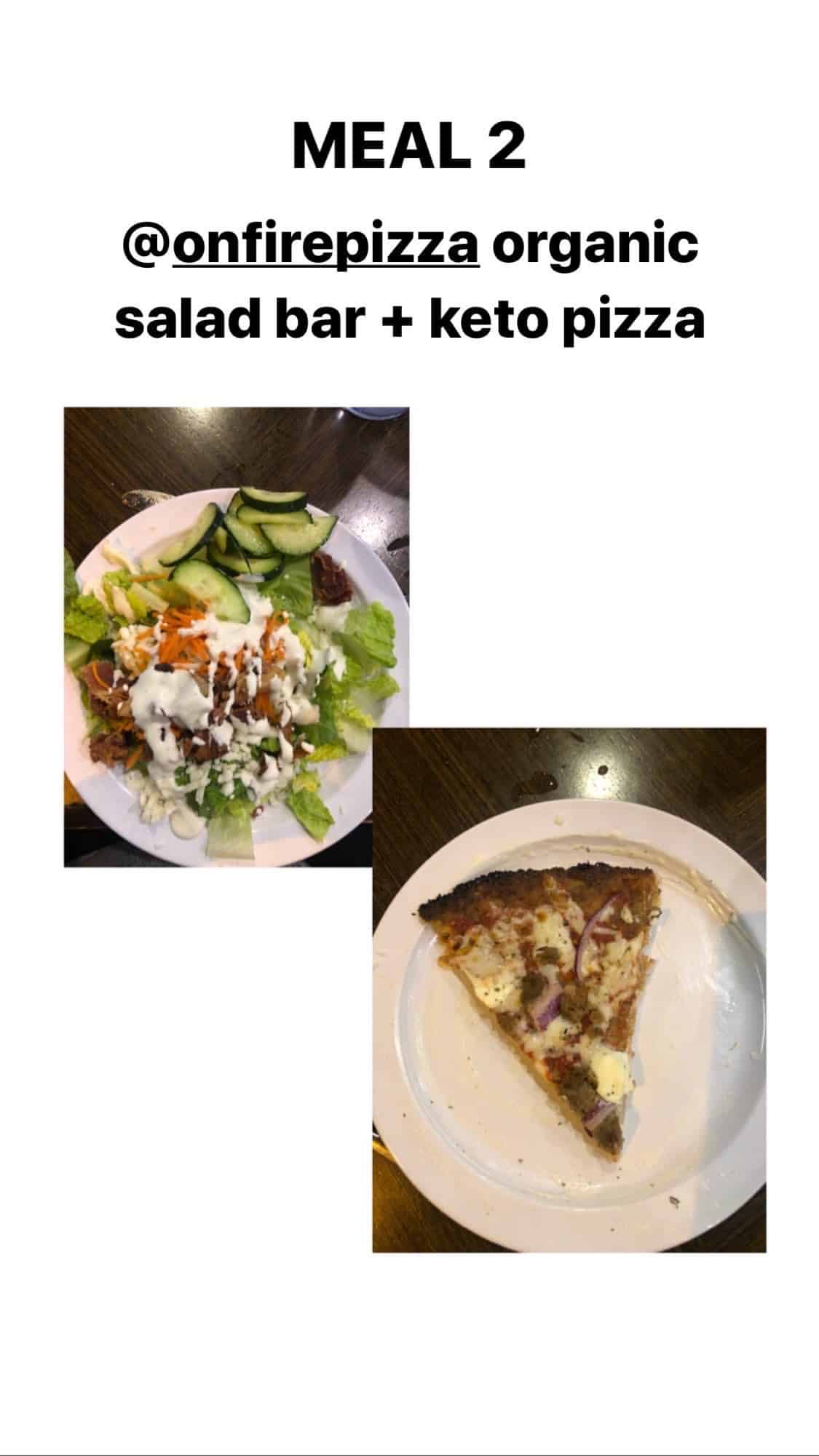 Organic ranch salad, keto pizza from On Fire Pizza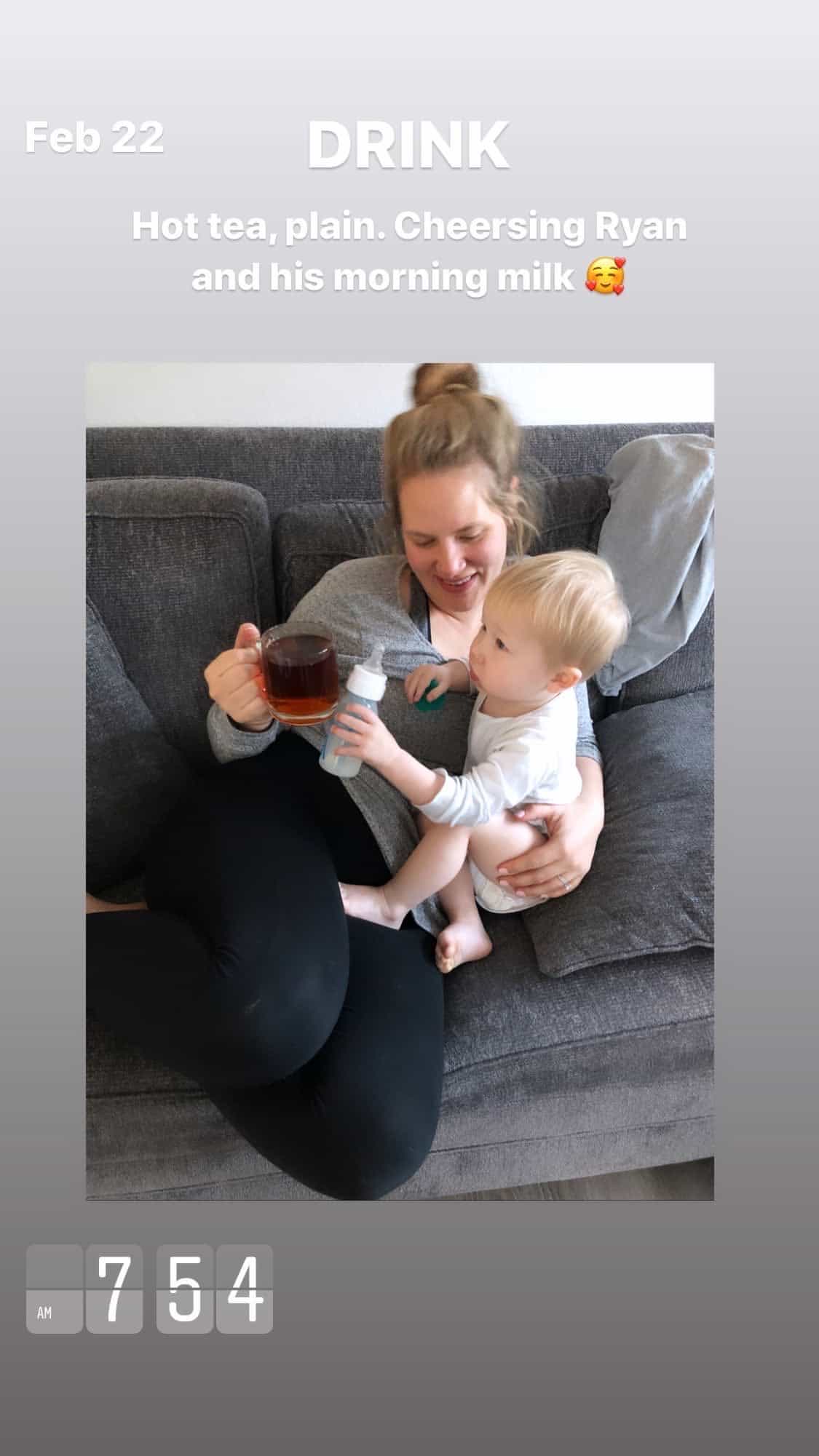 Tea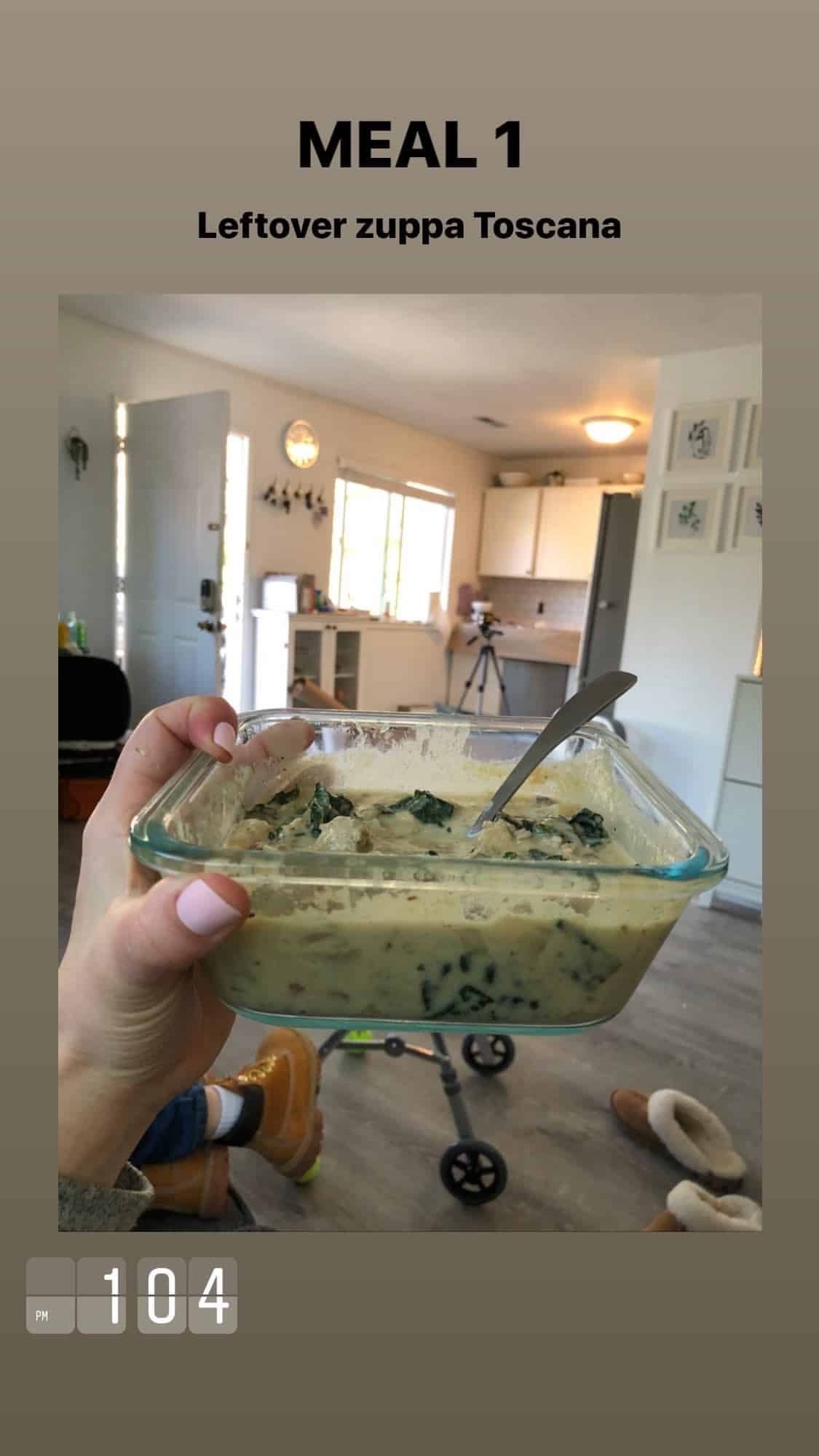 Zuppa Toscana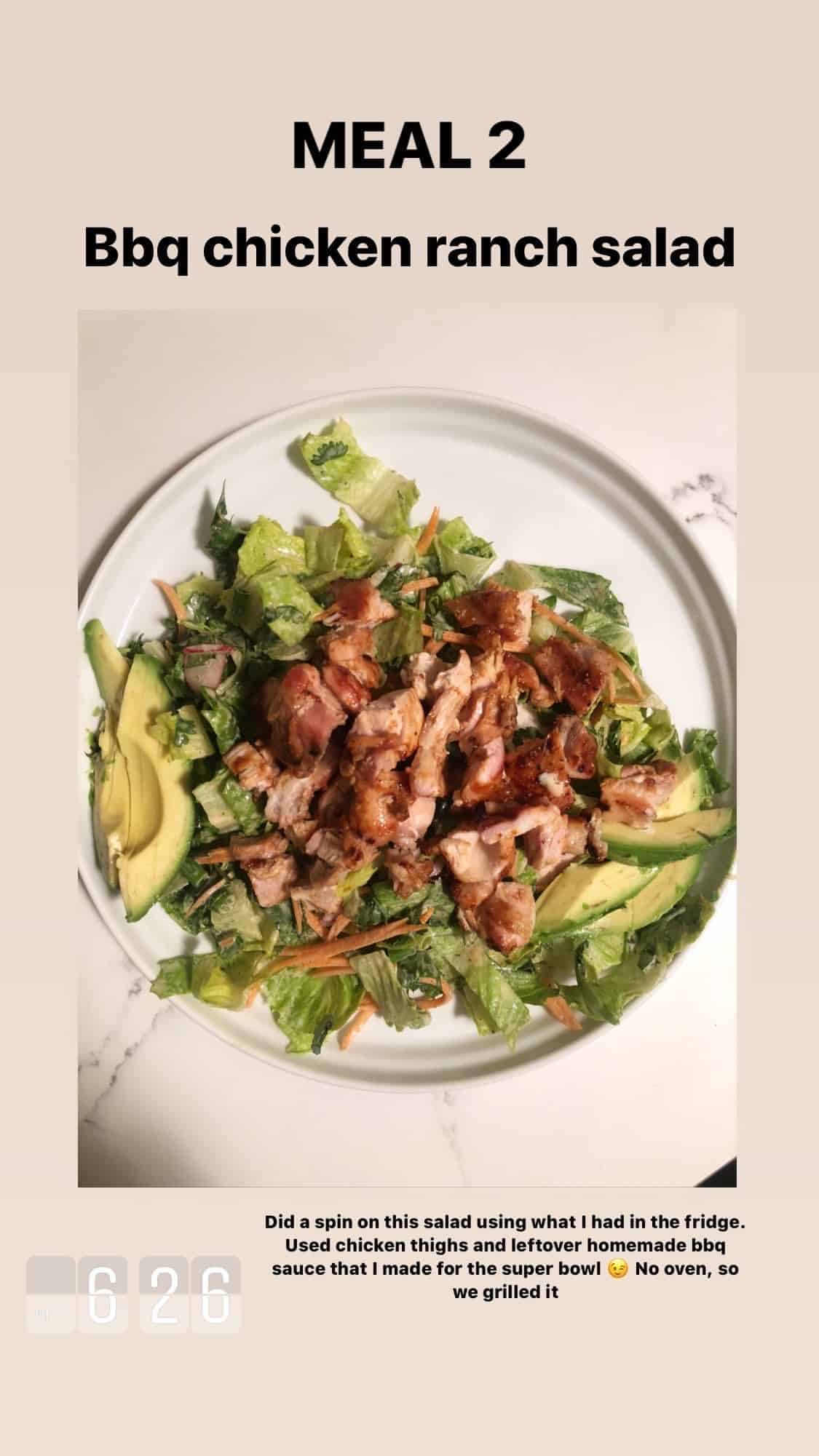 BBQ ranch salad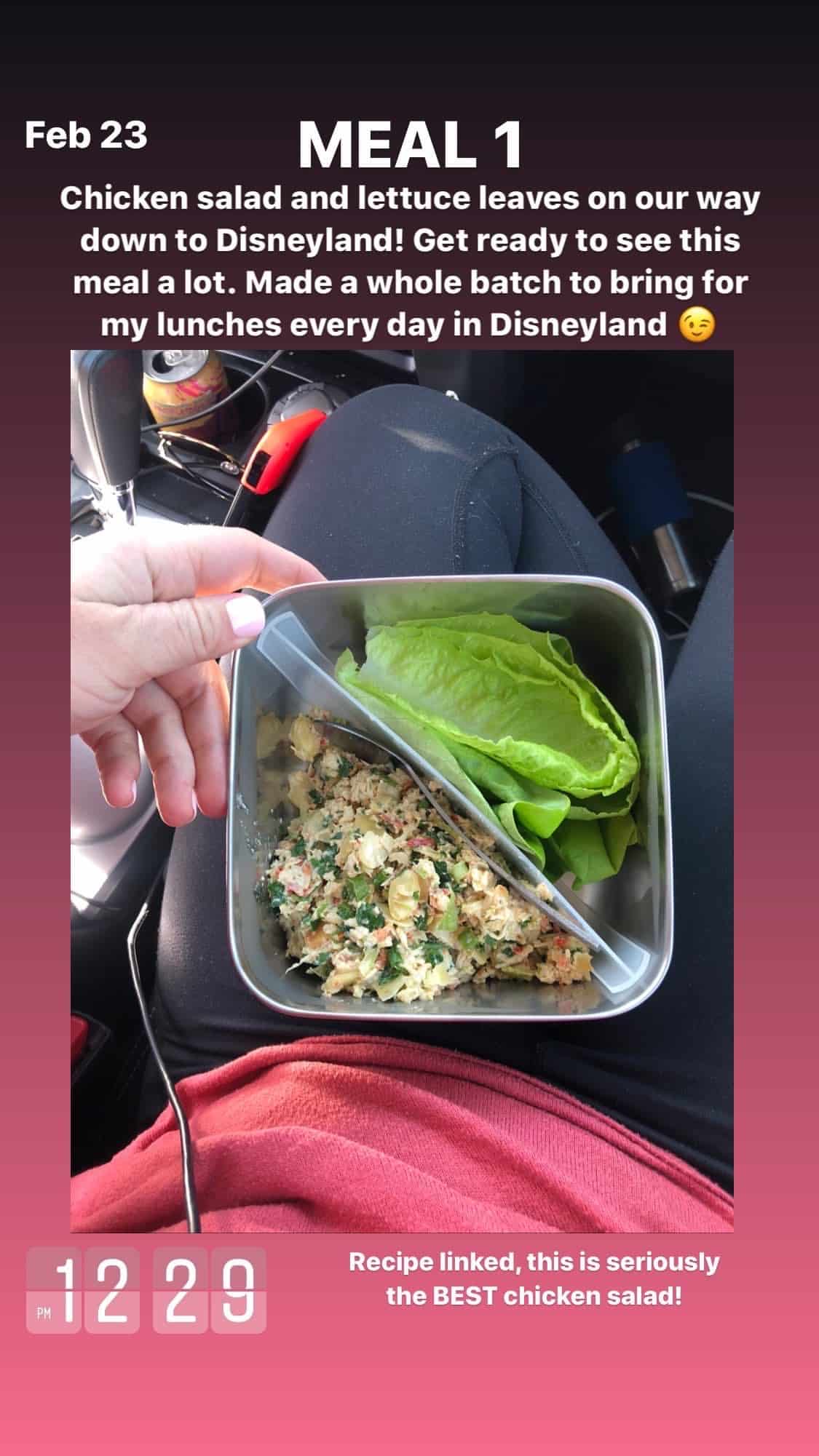 Chicken salad, romaine lettuce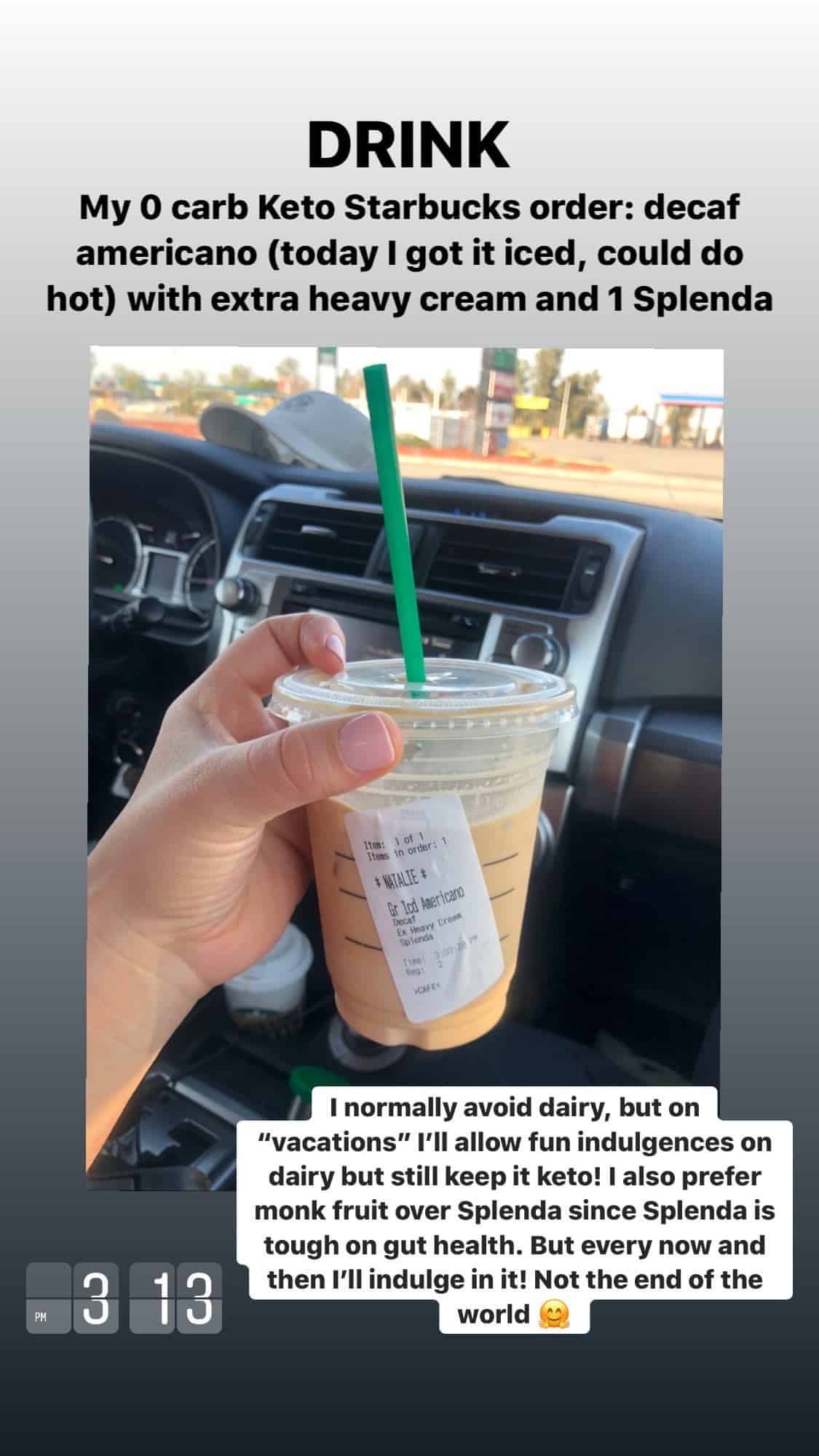 Decaf Americano, heavy cream, 1 splenda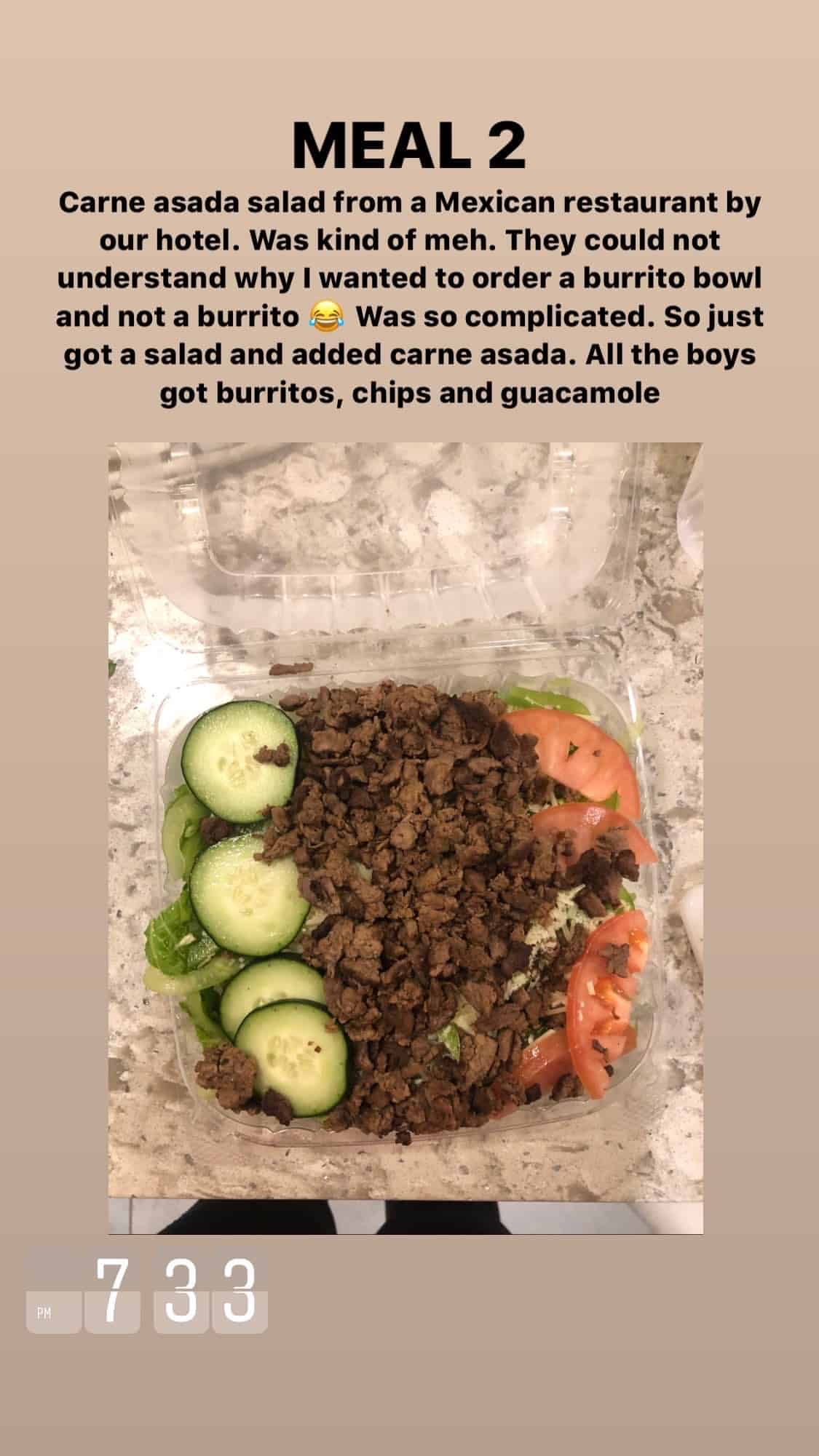 Carne asada salad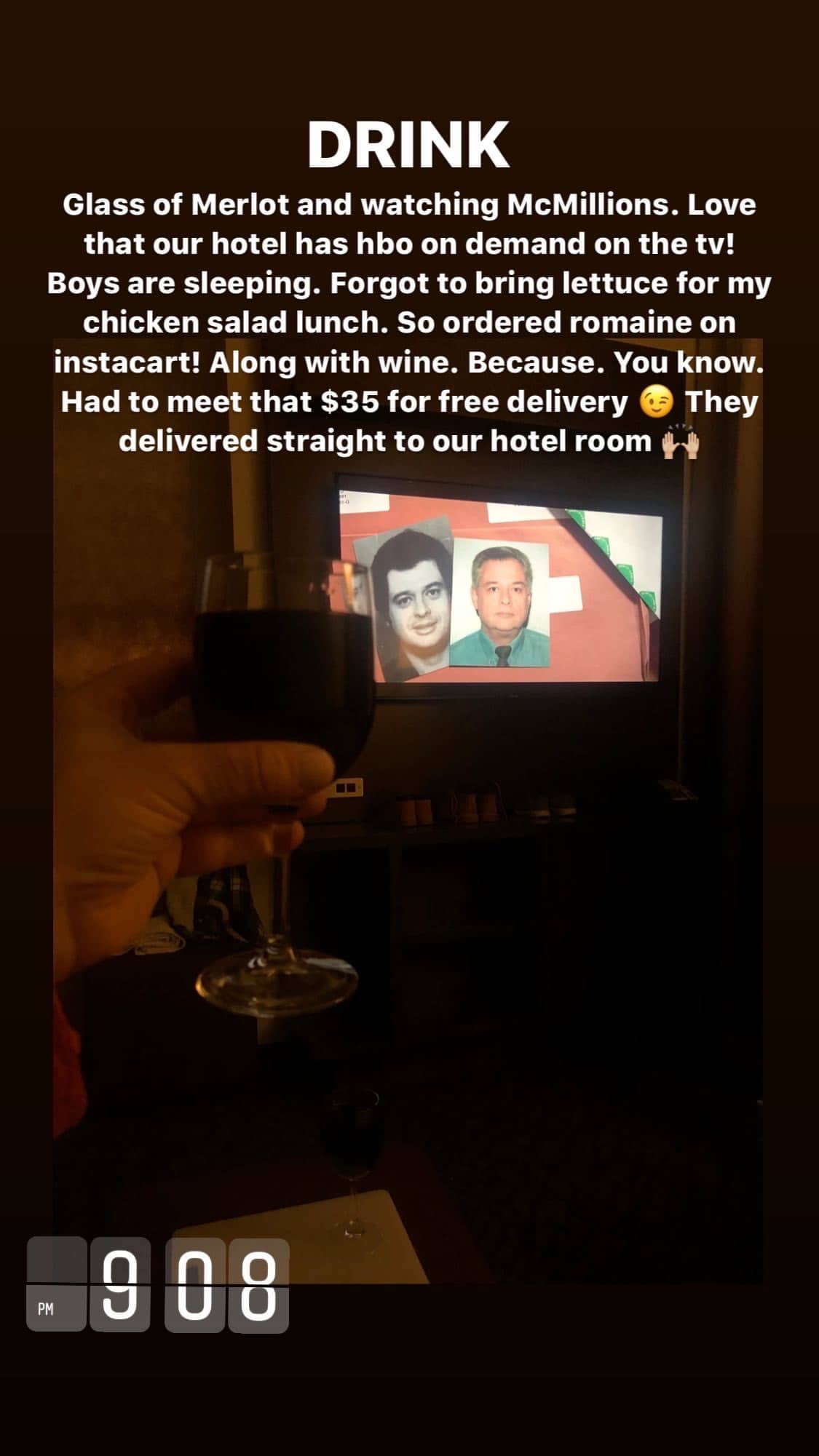 Glass of red wine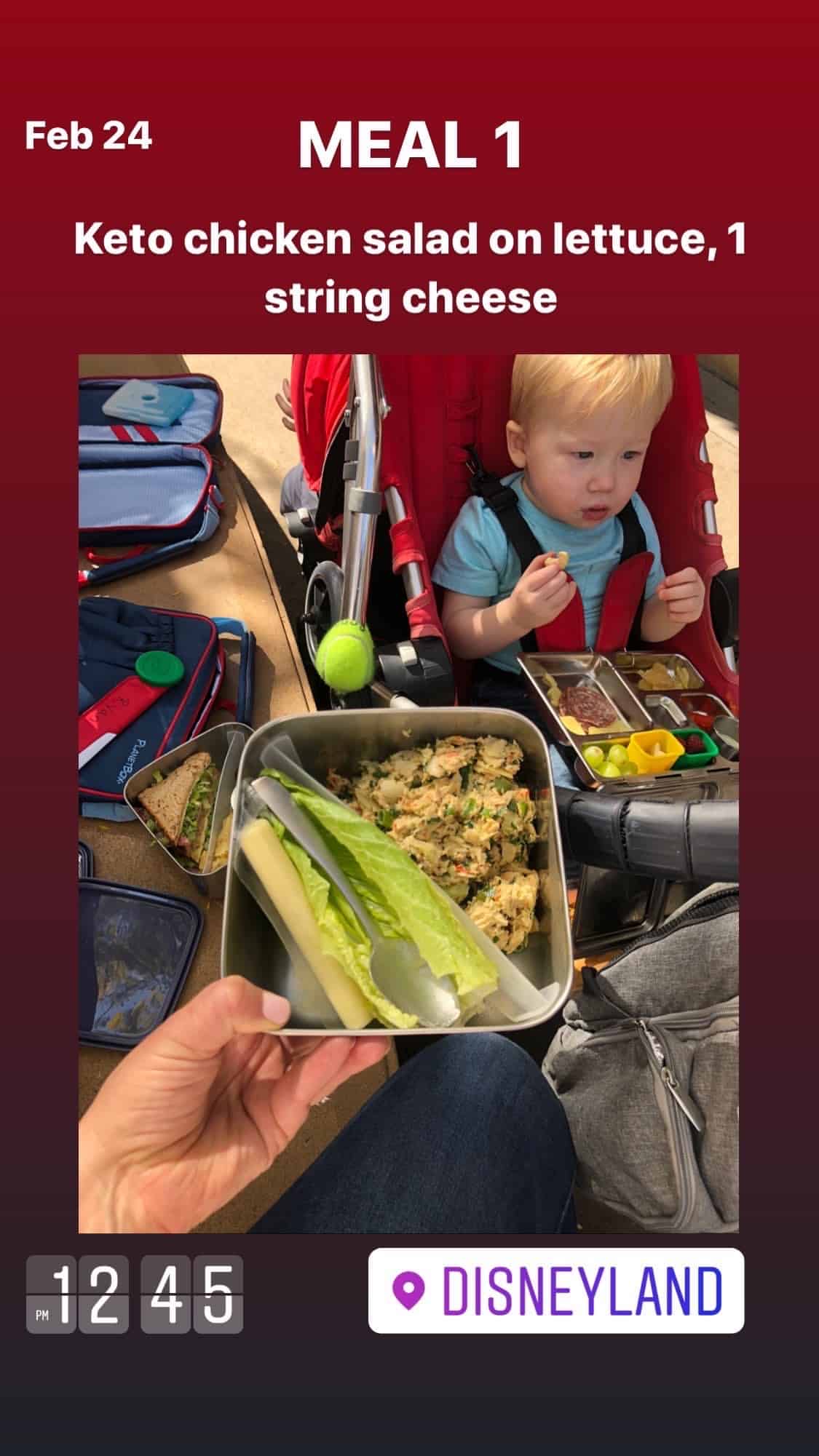 Chicken salad, romaine lettuce, string cheese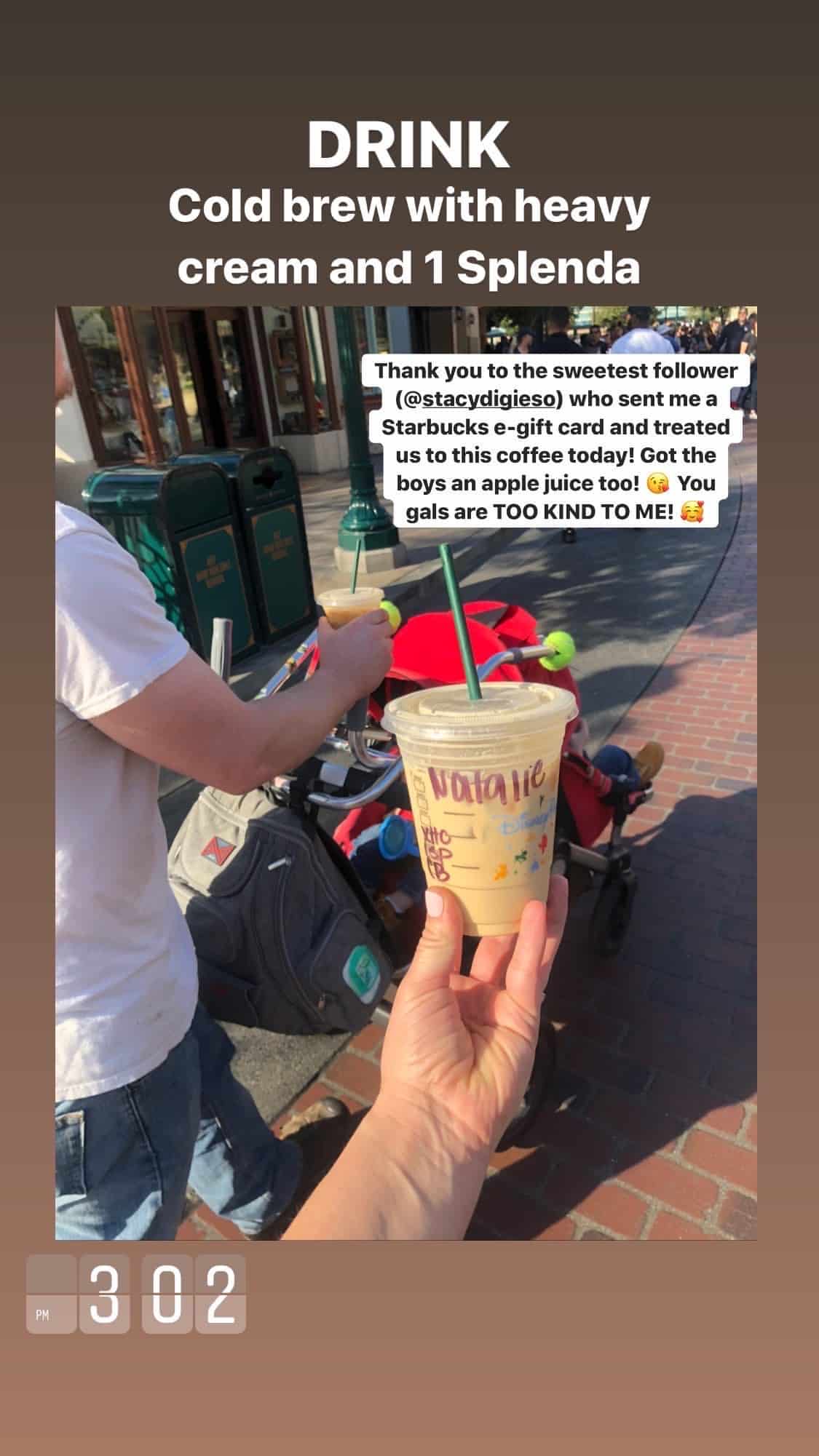 Cold brew coffee, heavy cream, 1 splenda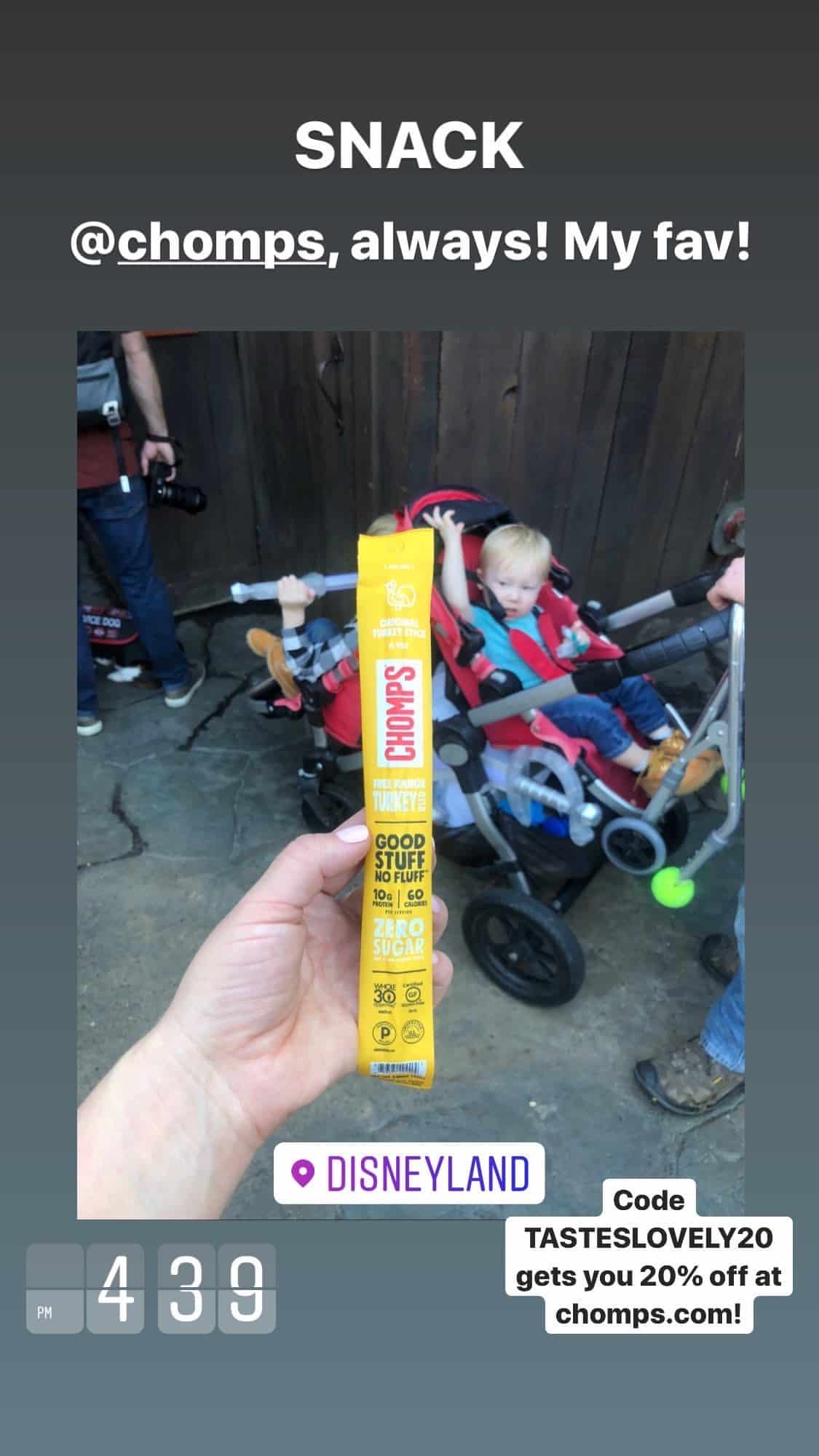 Chomps turkey stick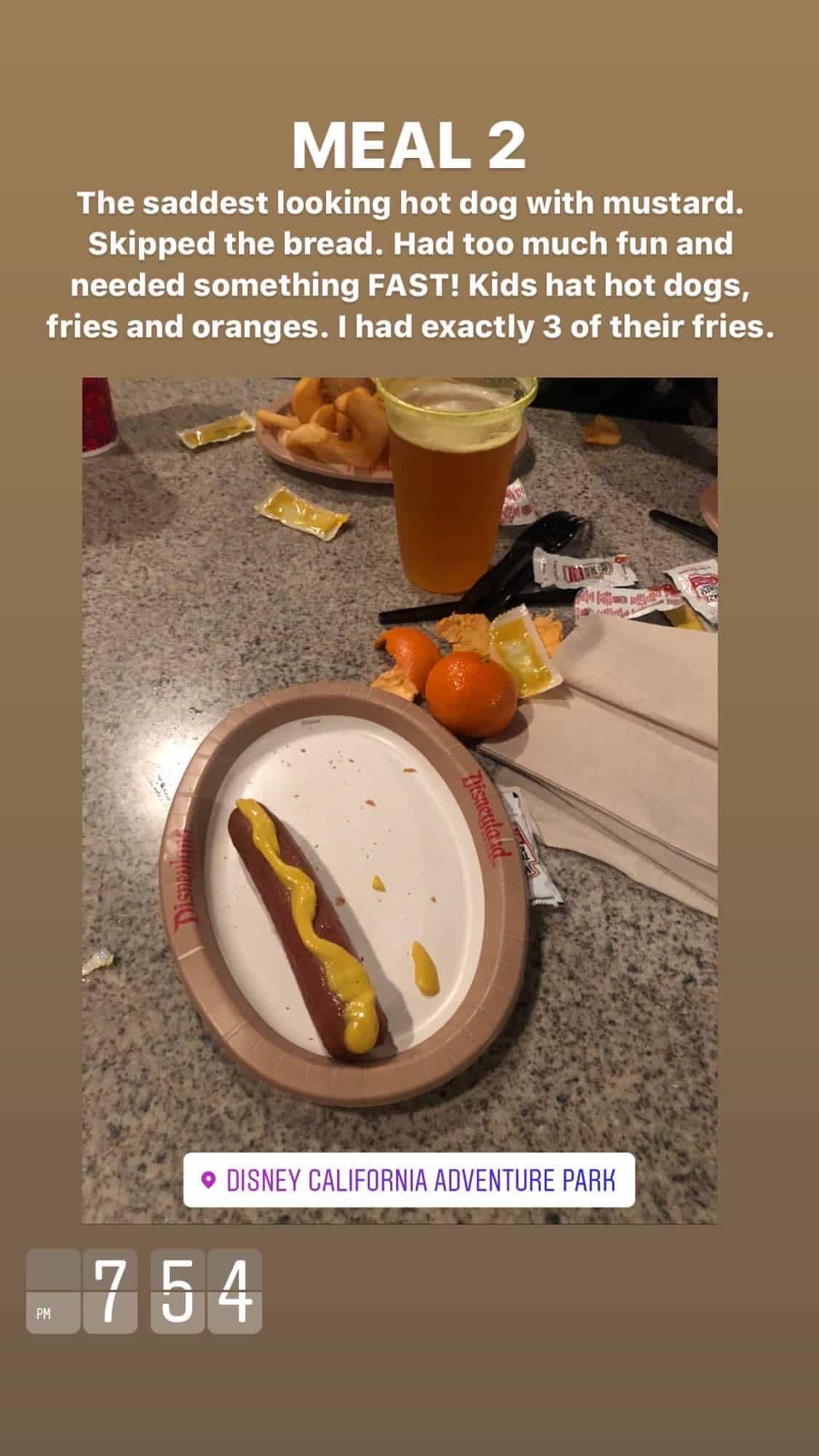 Hot dog, mustard, 3 french fries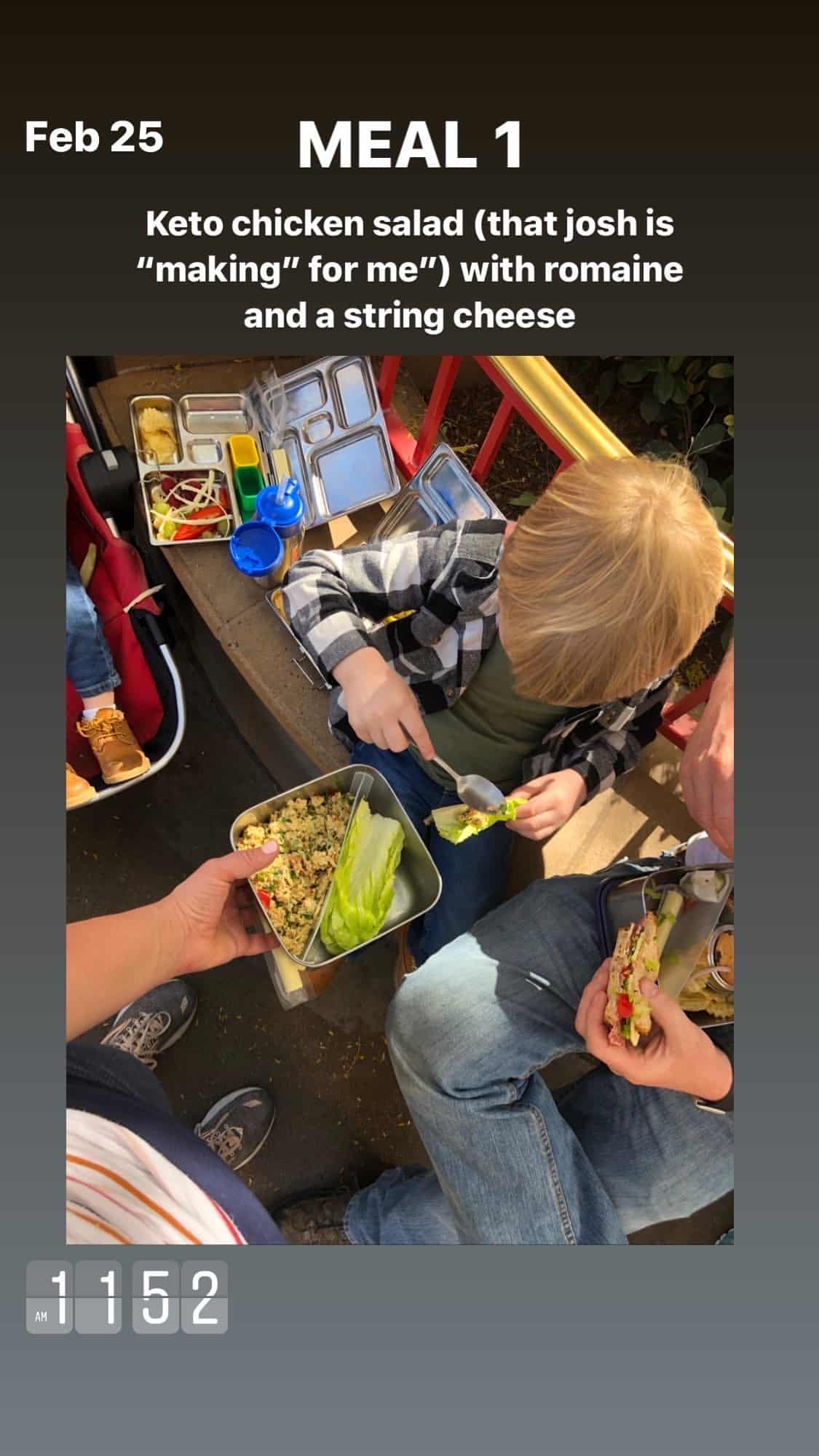 Chicken salad, romaine lettuce, string cheese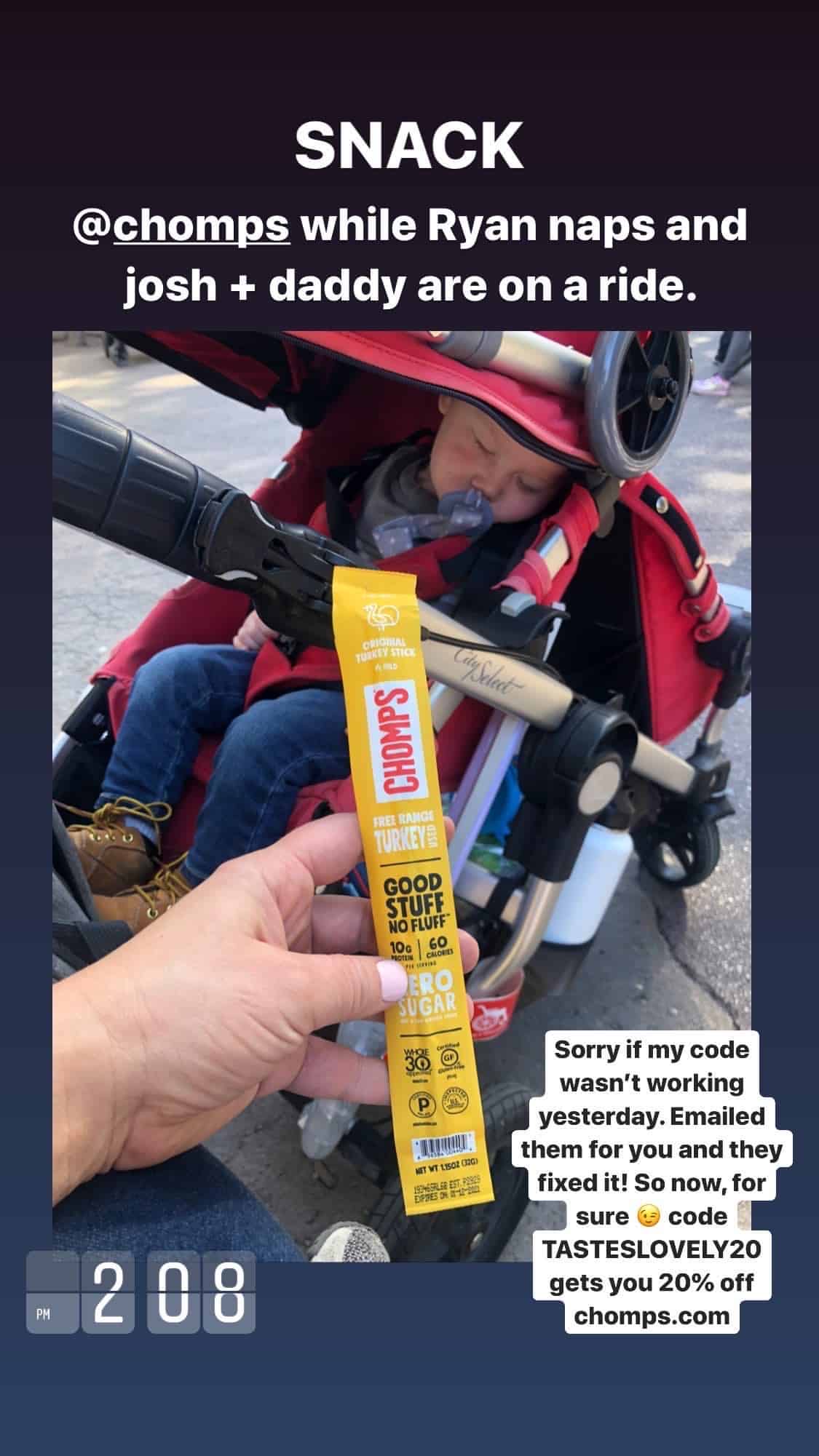 Chomps turkey stick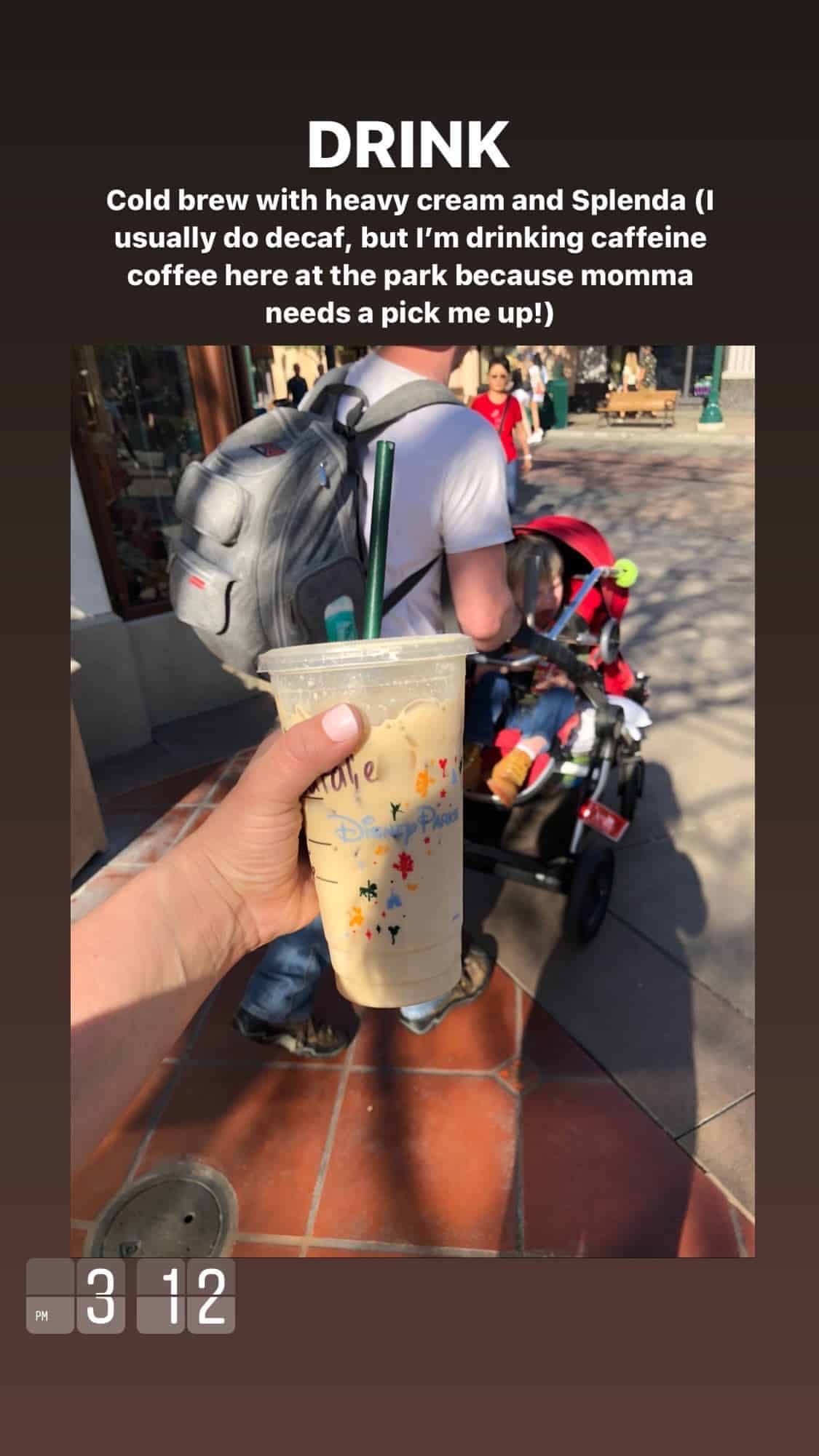 Cold brew coffee, heavy cream, 1 splenda
Herb crusted salmon, vegetables from Cheesecake Factory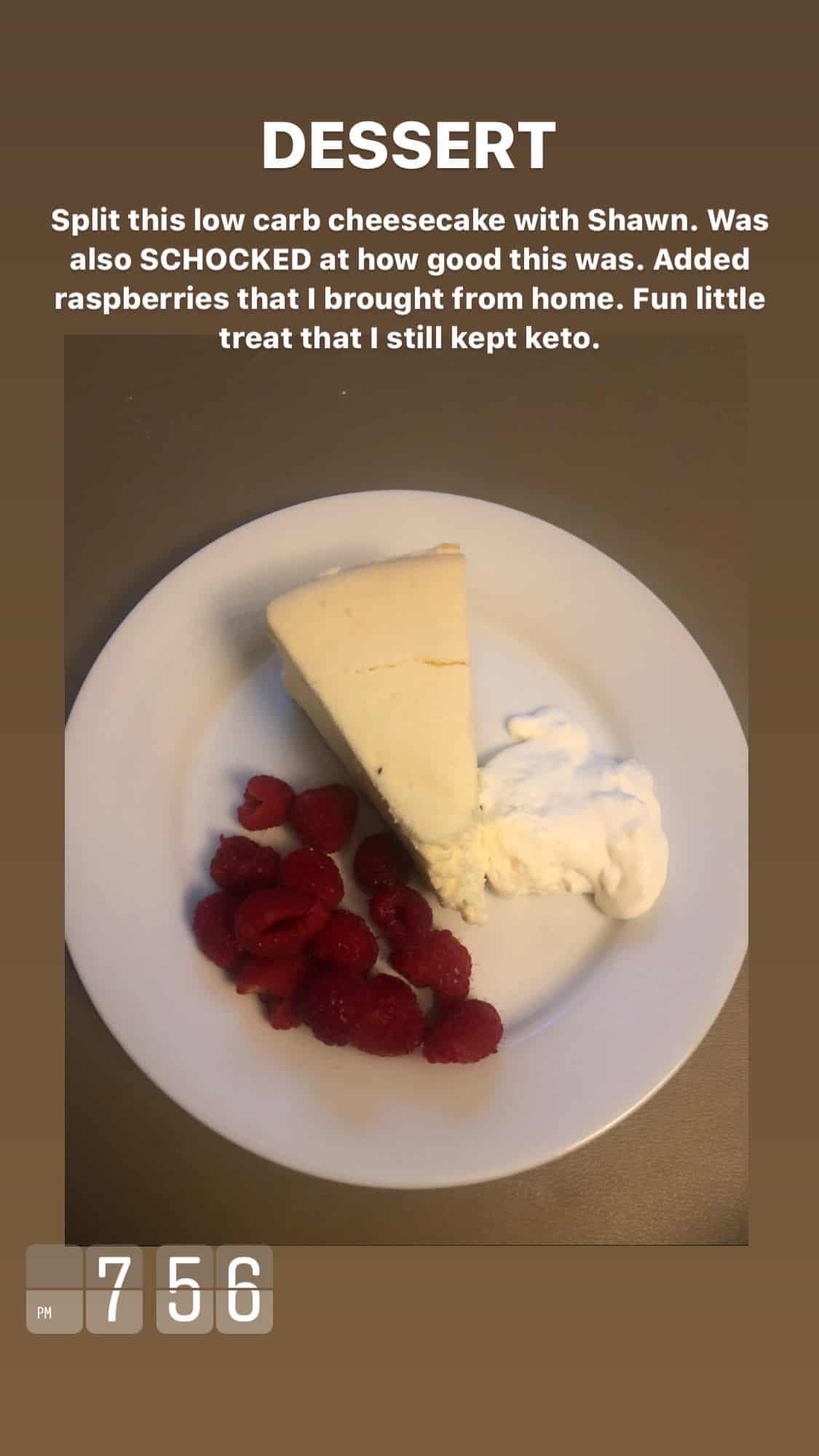 Low carb cheesecake from Cheesecake Factory, raspberries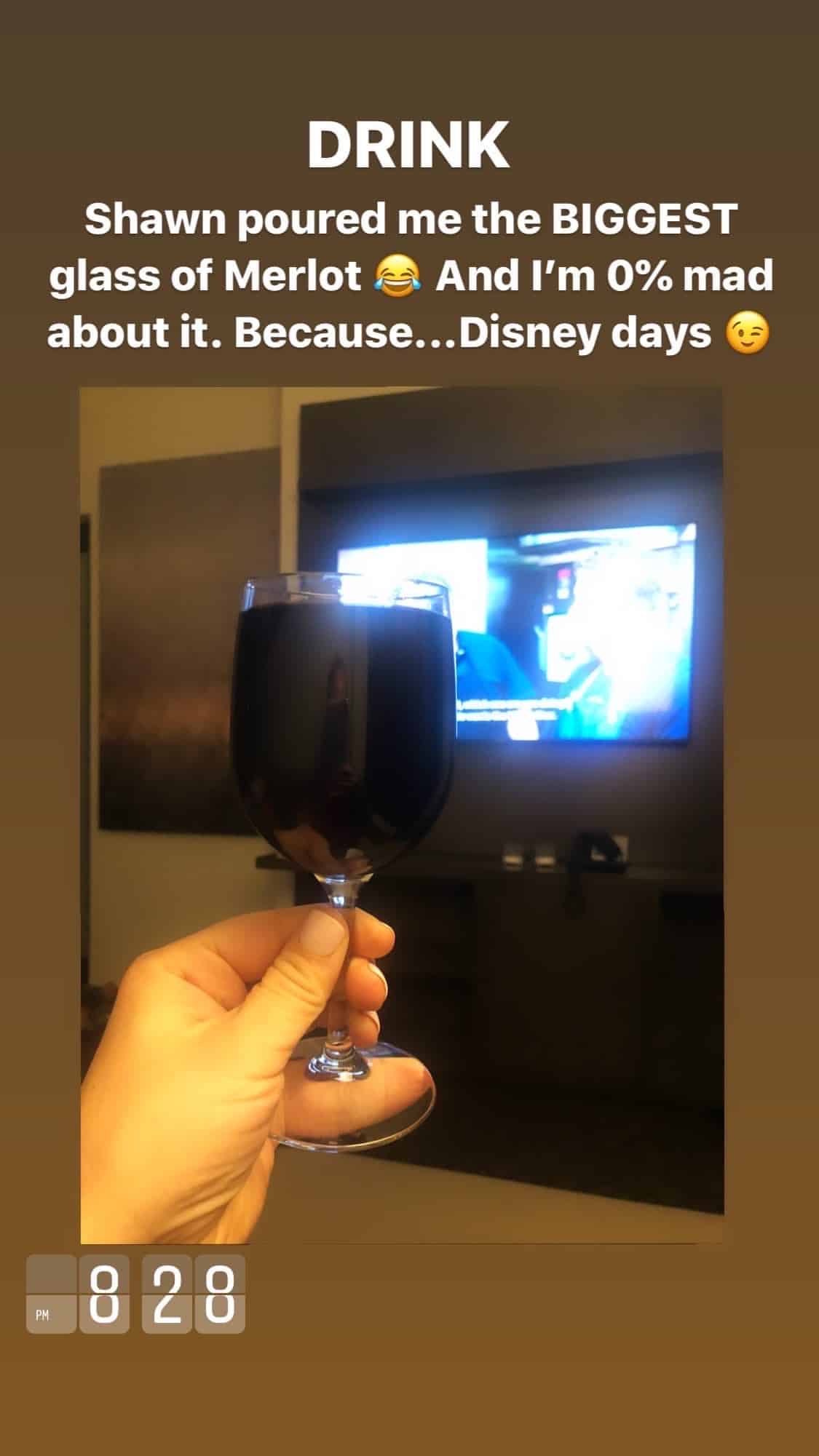 Glass of red wine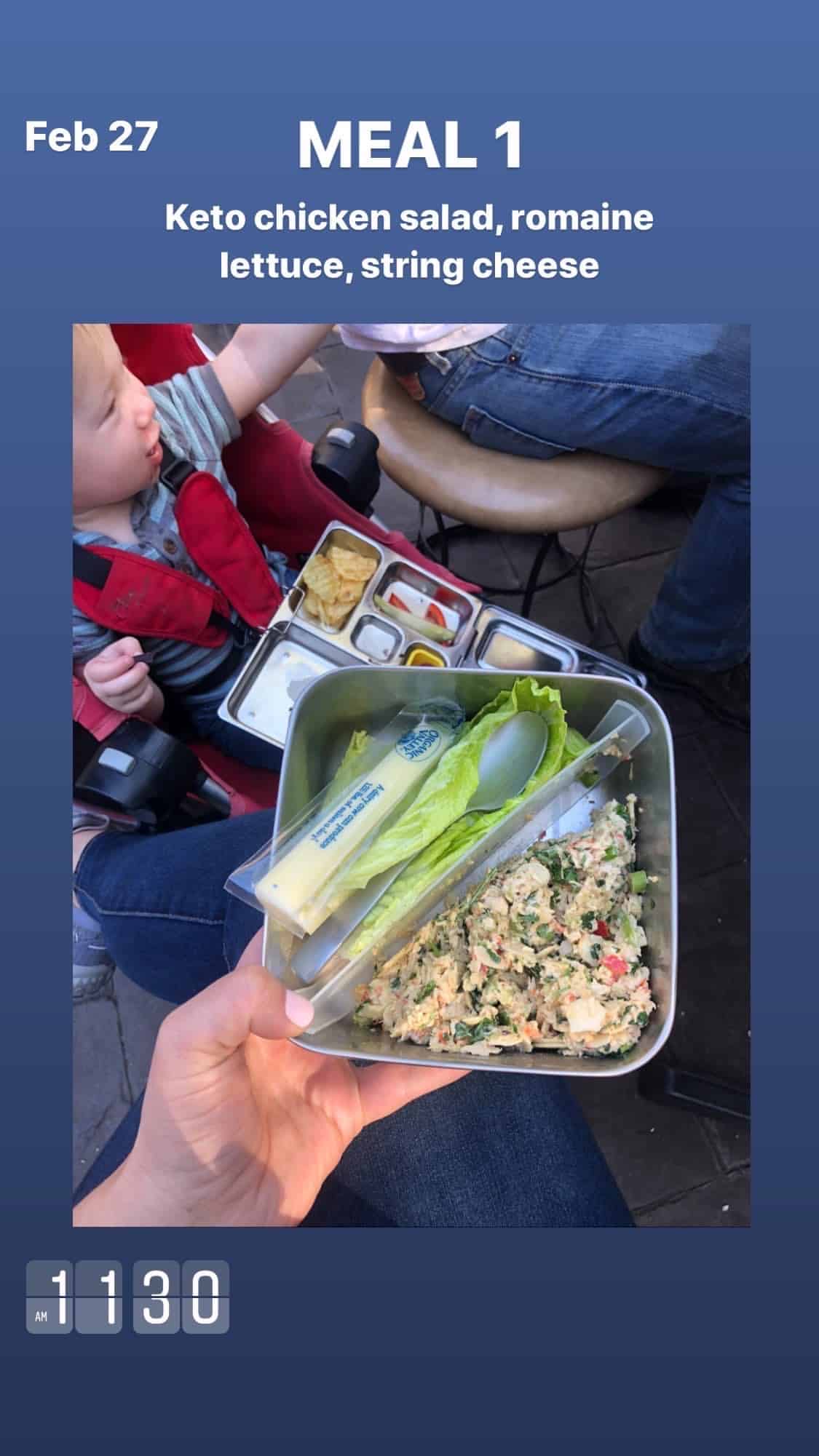 Chicken salad, romaine lettuce, string cheese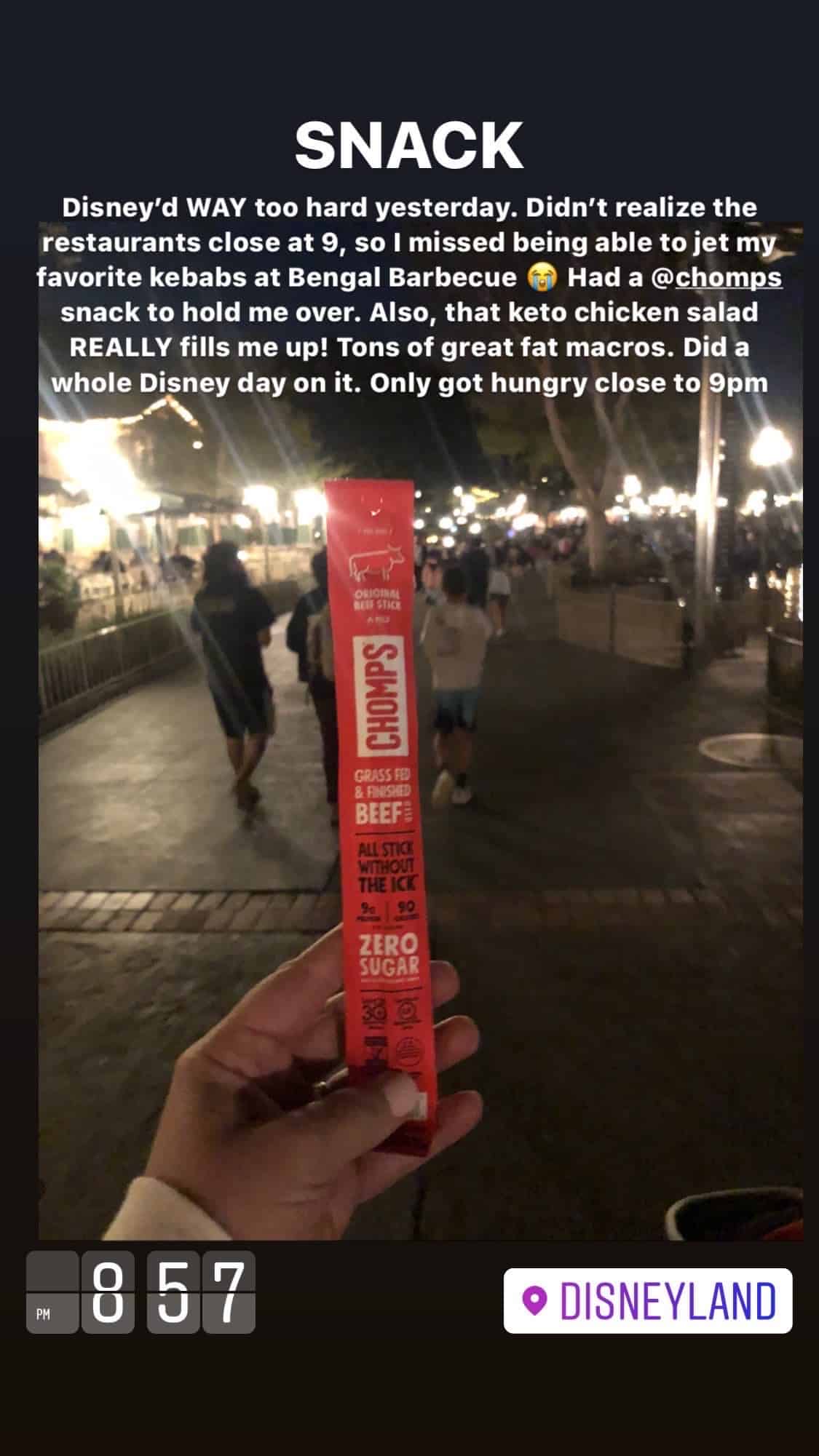 Chomps beef stick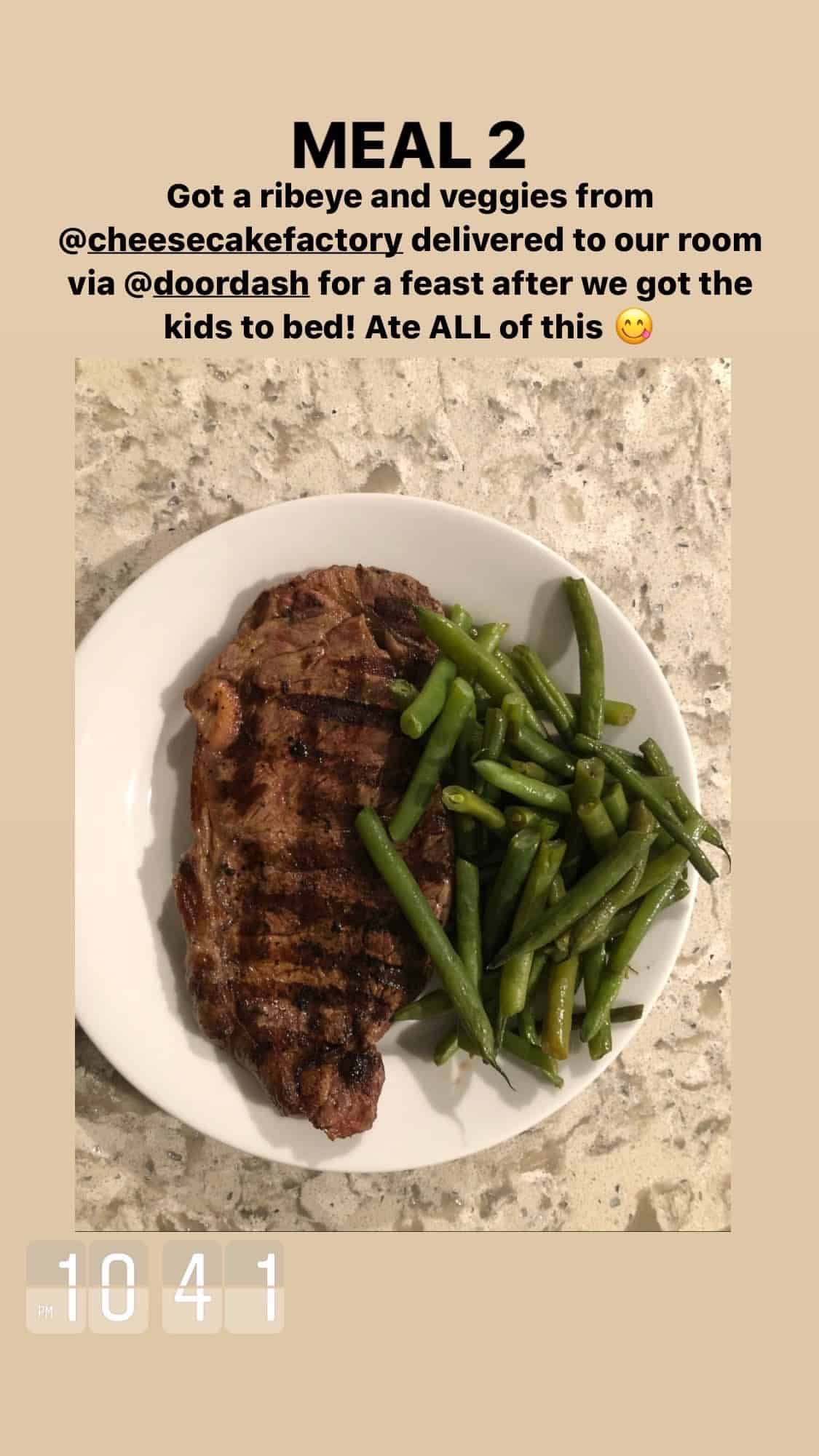 Ribeye steak and veggies from Cheesecake Factory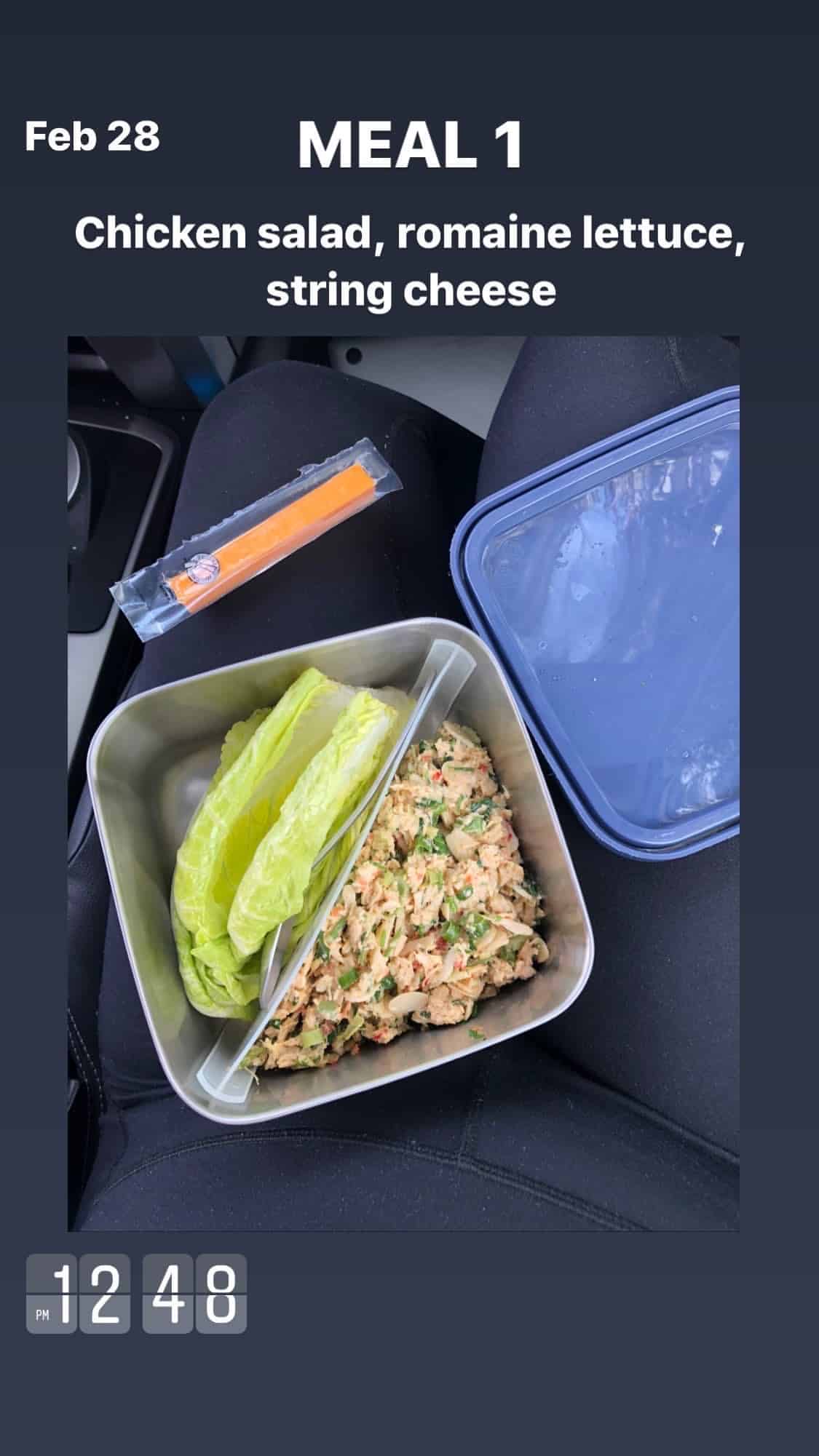 Chicken salad, romaine lettuce, string cheese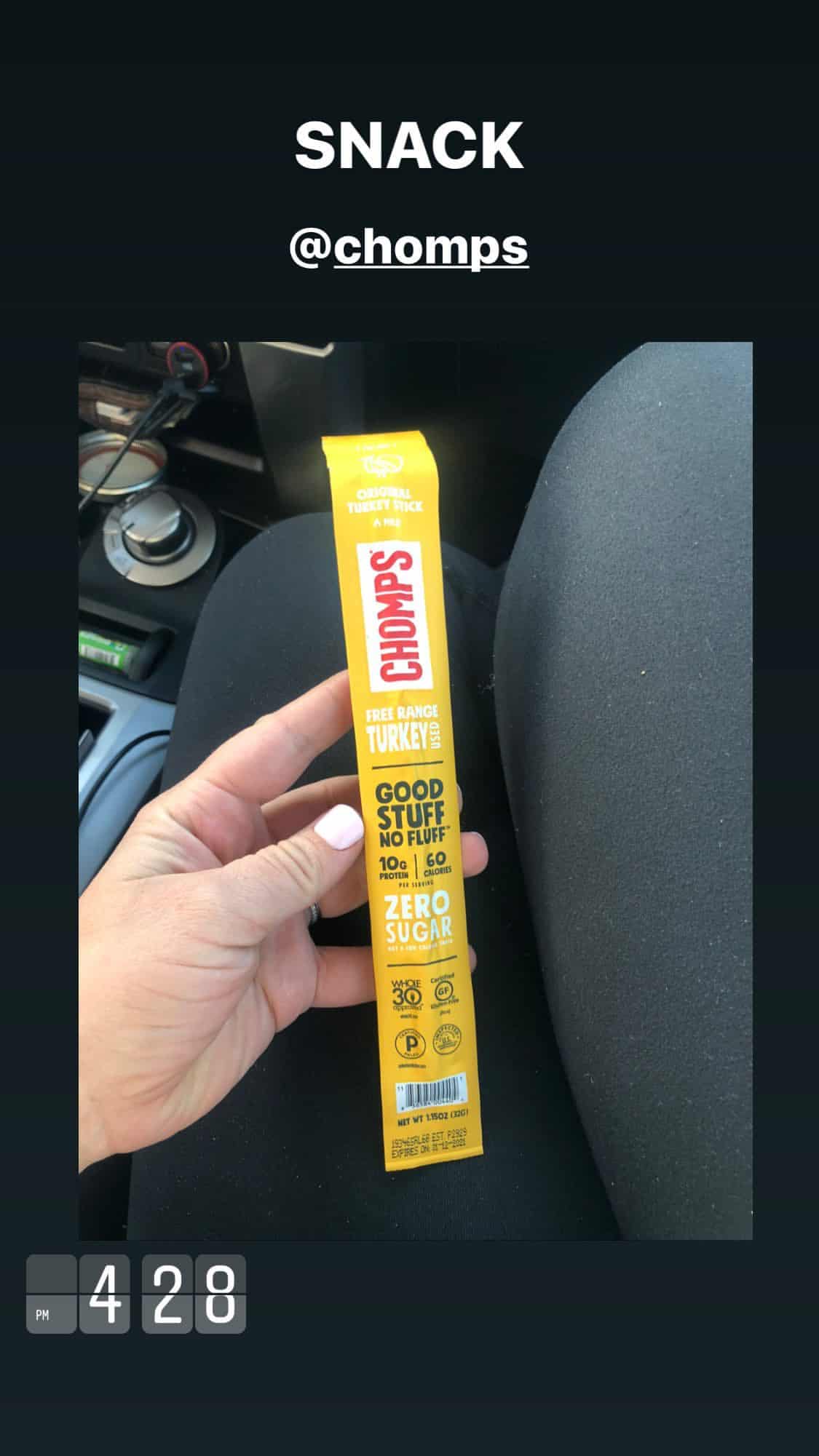 Chomps turkey stick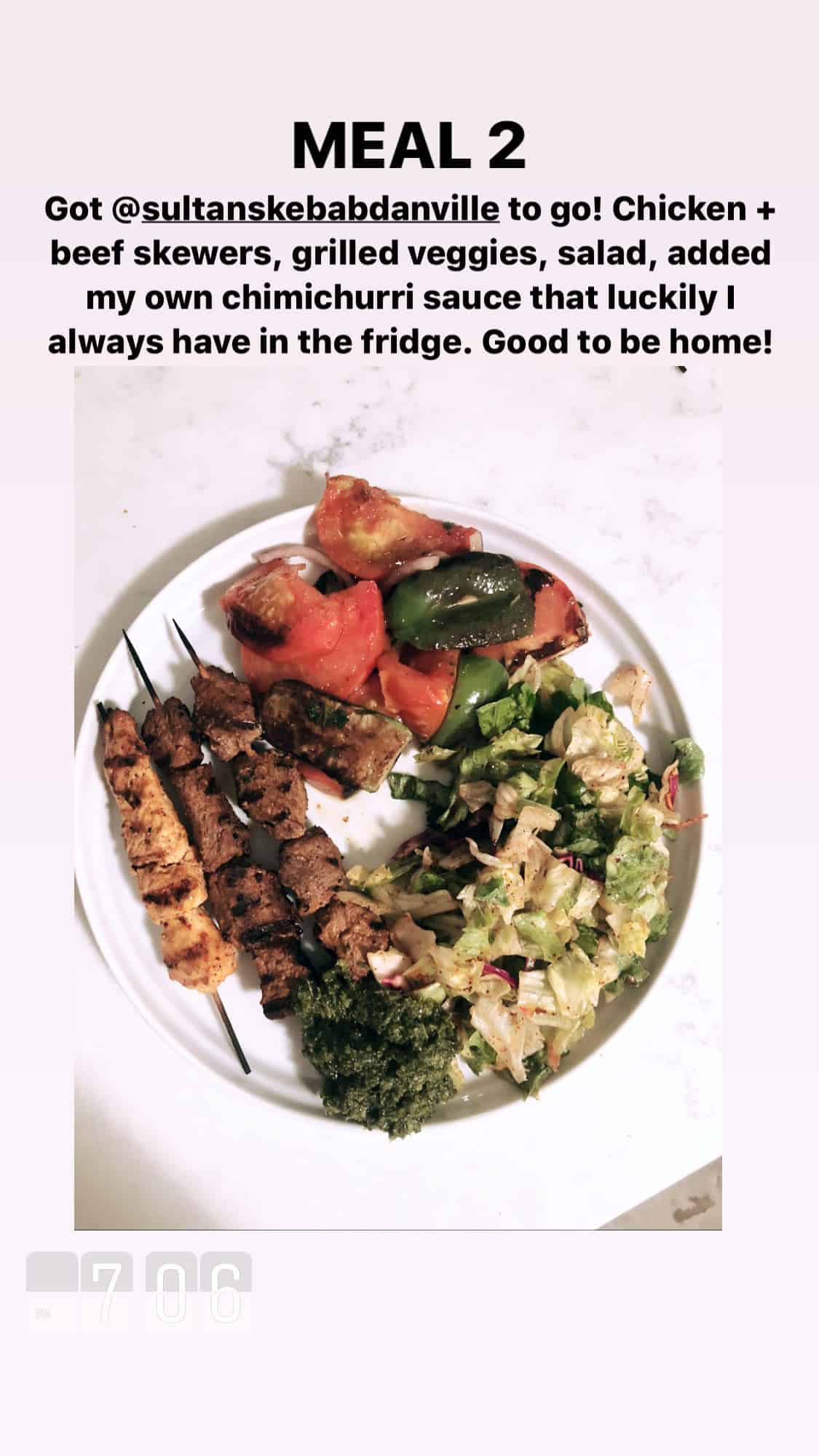 Chicken and beef skewers, grilled veggies, salad, chimichurri sauce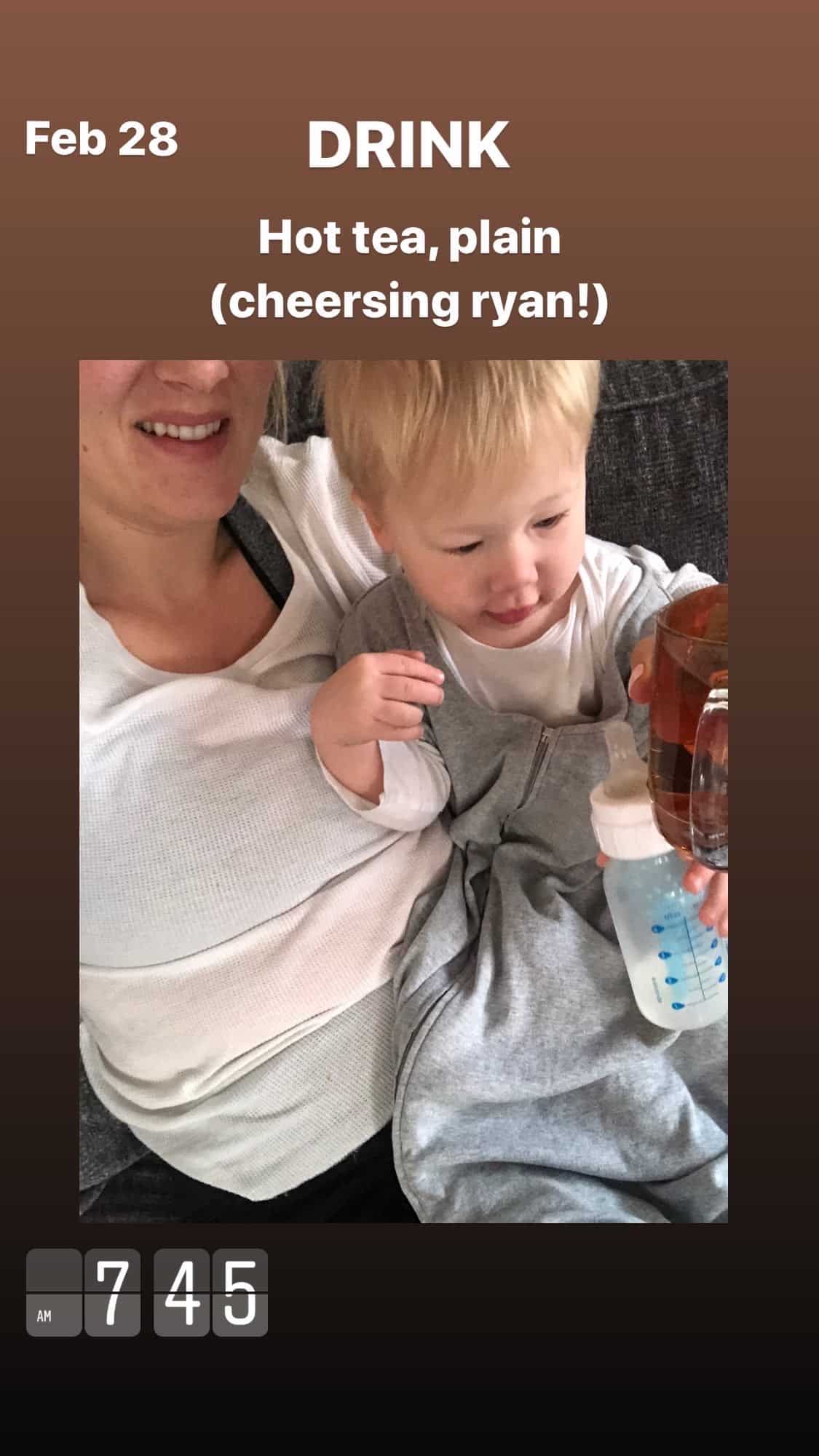 Tea
Veggie omelet, pesto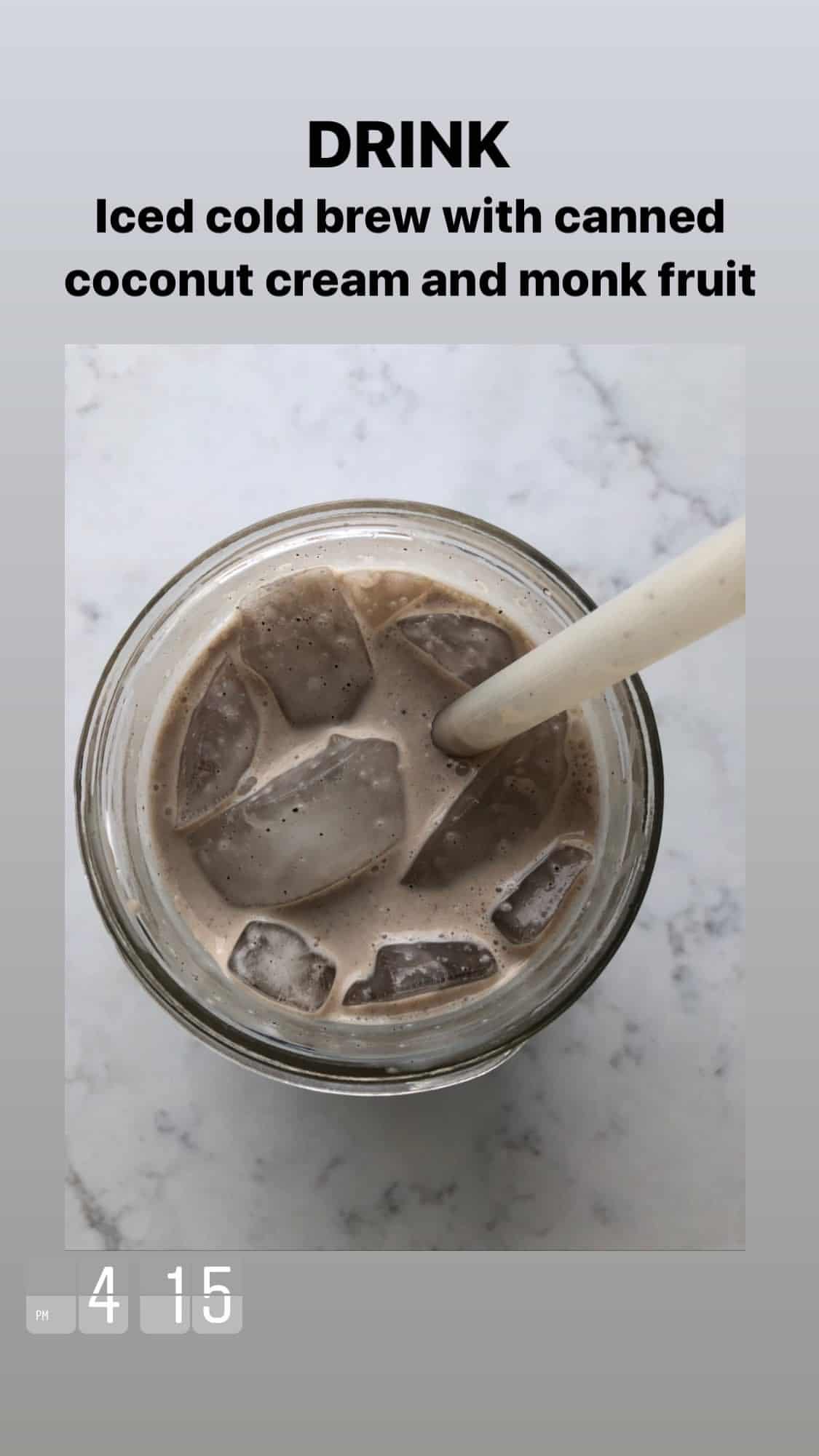 Cold brew coffee, coconut cream, monk fruit
Organic ranch salad, keto pizza from On Fire Pizza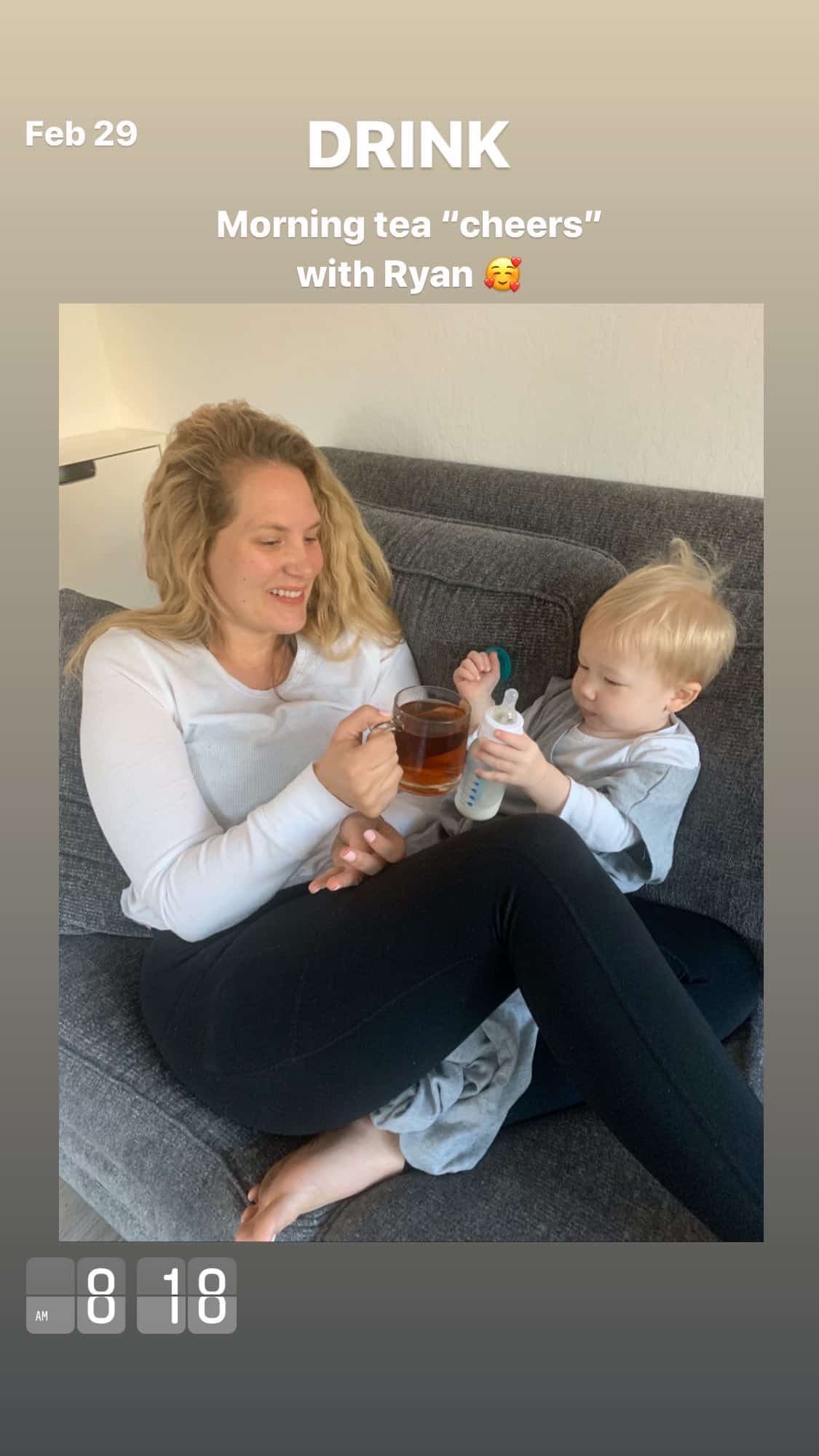 Tea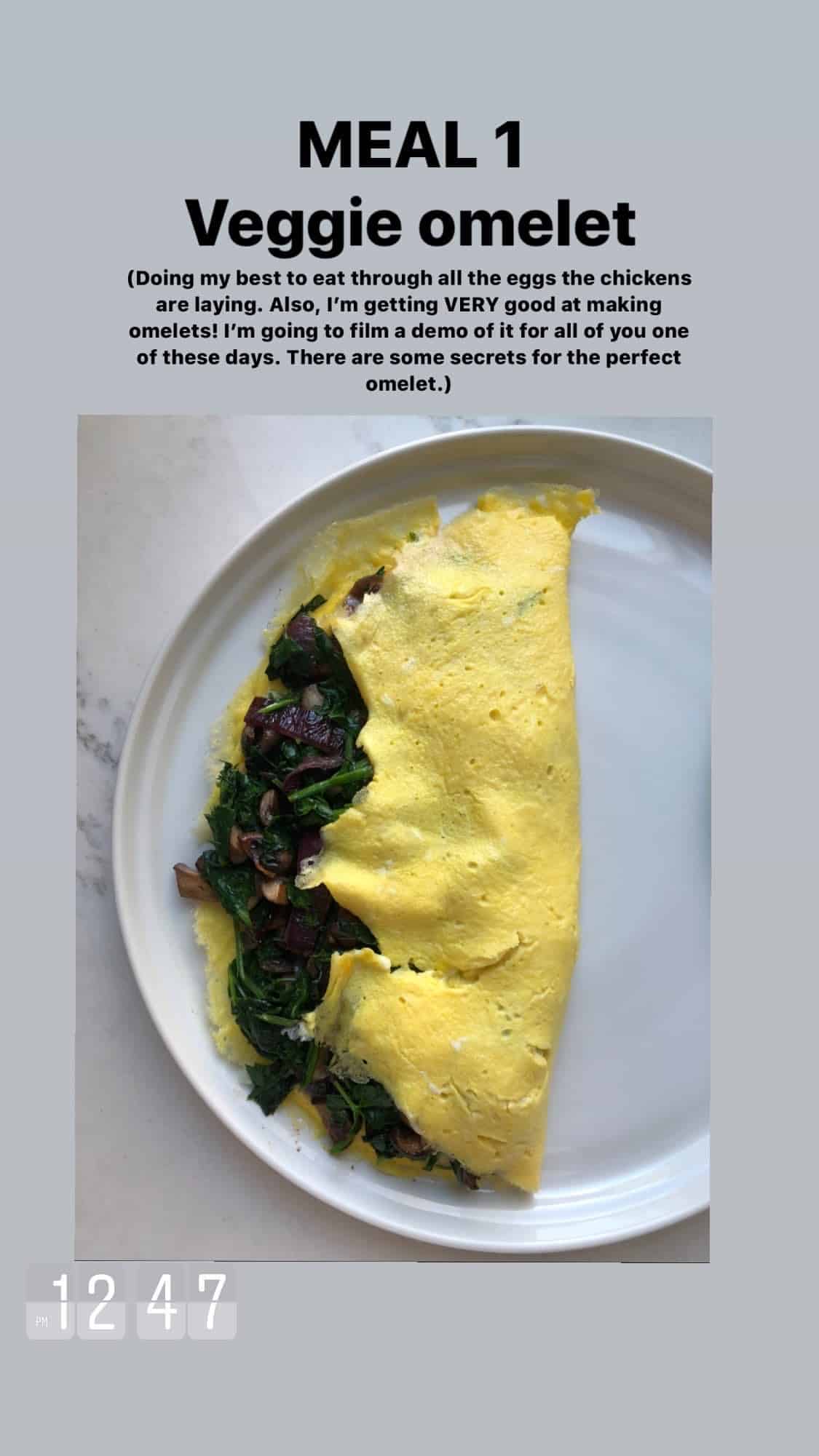 Veggie omelet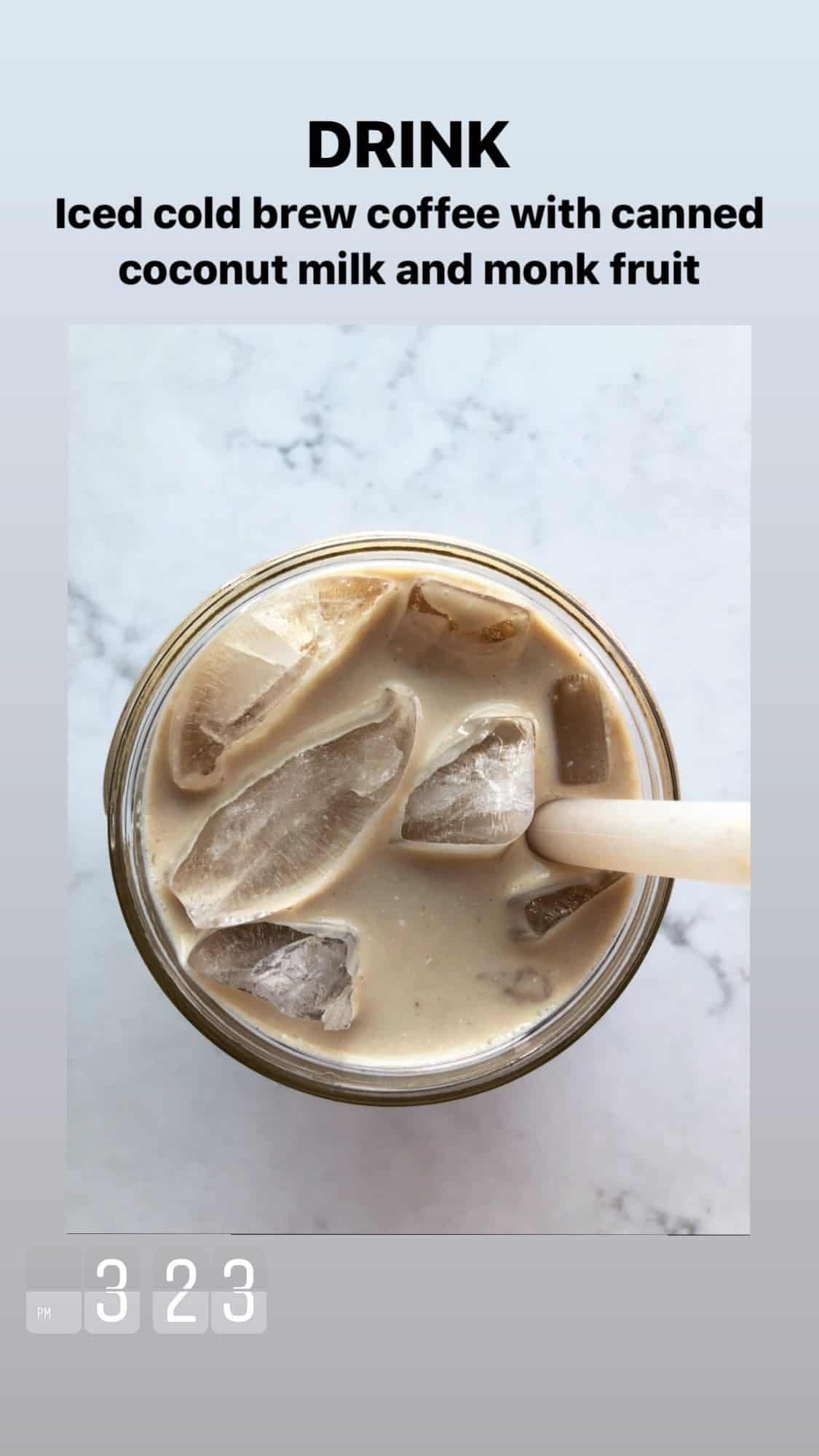 Cold brew coffee, coconut cream, monk fruit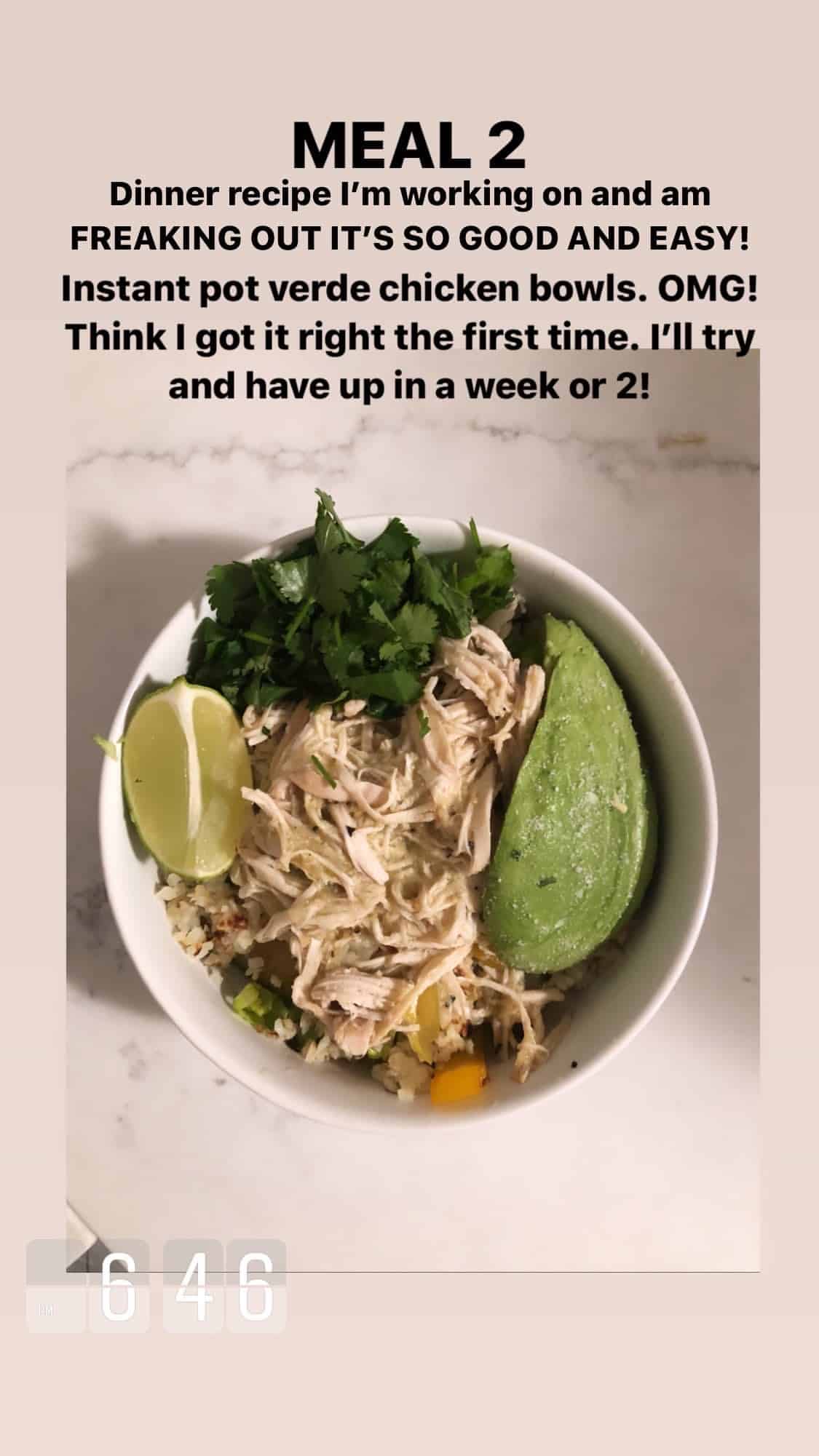 Instant pot verde chicken bowl