Coconut Cream Tart with Sugared Cranberries
Simple and healthy coconut cream tart with sugared cranberries. Made with a sweet and salty honey roasted almond and coconut flake crust, filled with whipped coconut cream, served chilled topped with crunchy sugared cranberries. Dairy free, gluten free, and vegan!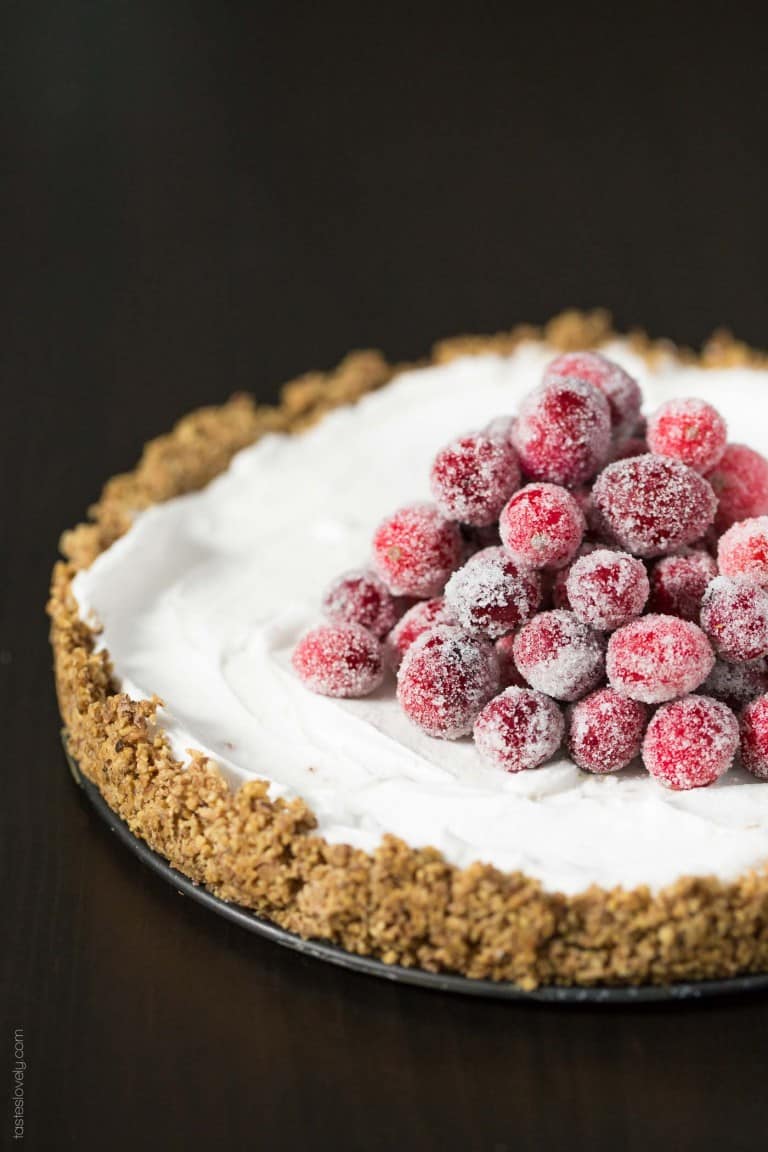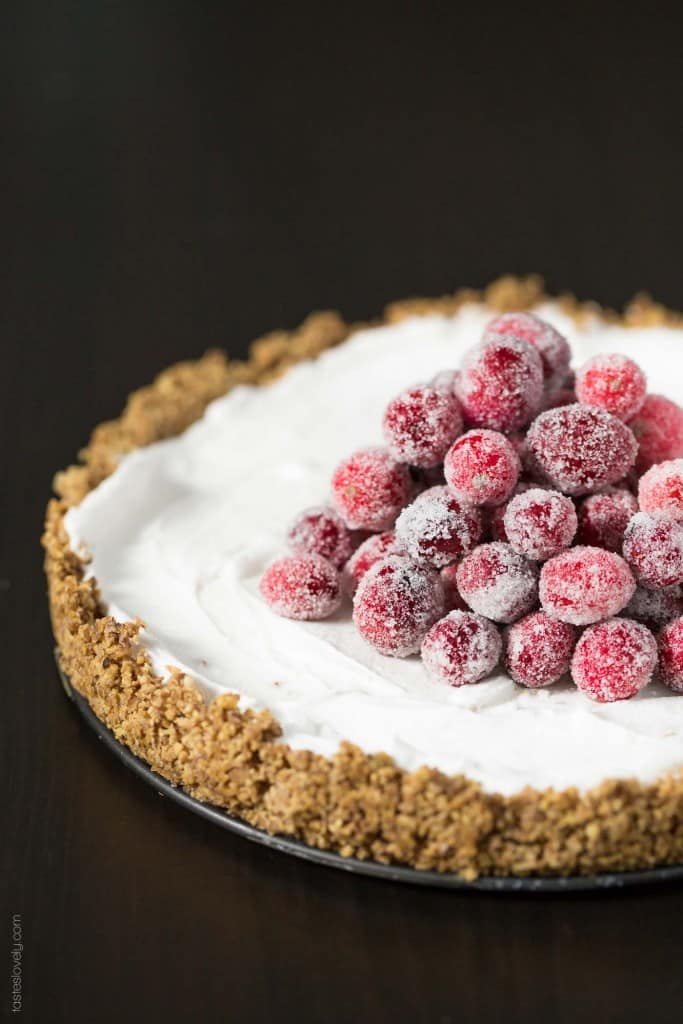 My New Year started off with a slice of this coconut cream tart, so you know it's going to be a good year.
Shawn and I made it all the way to 10:00pm last night. We stayed in with the baby. We tried to be fancy by making a steak dinner, but ate it on the couch, in our sweats, while watching New Year's Eve countdown shows and the baby asleep in between us. I even treated myself and had a glass of red wine!
It may seem lame, but it has been my favorite New Years Eve to date.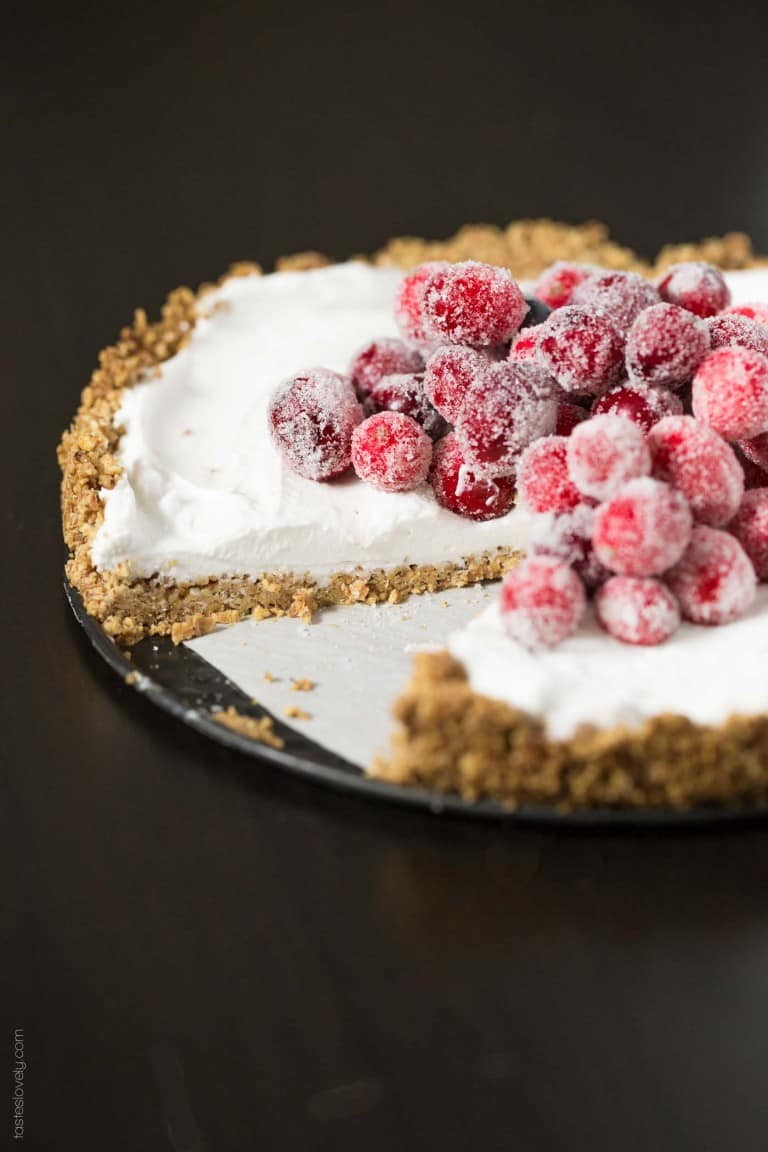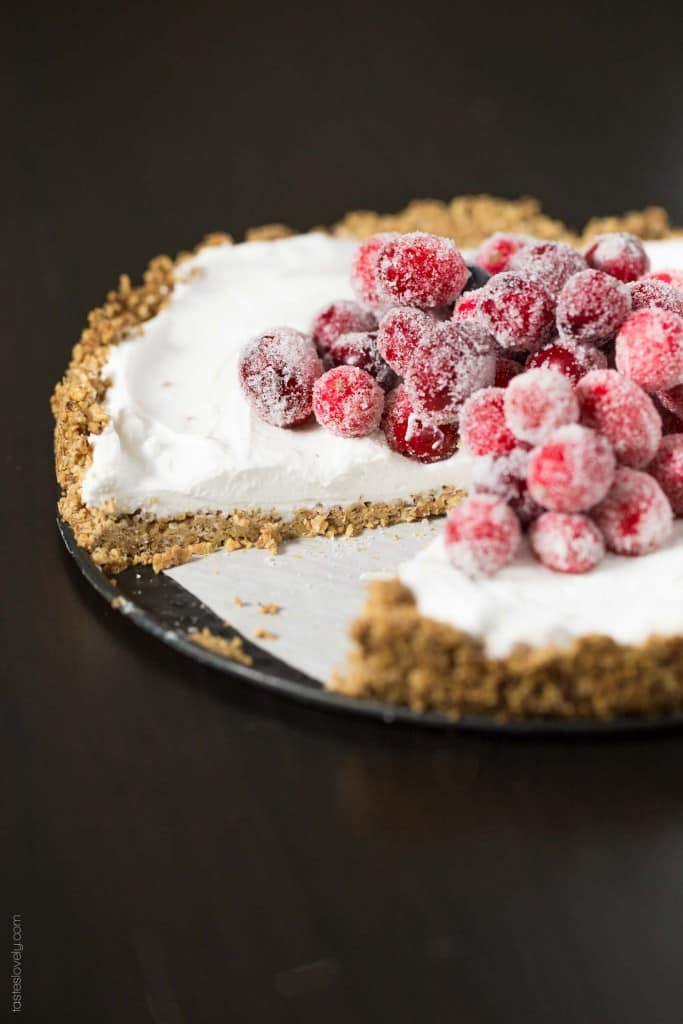 In years past we've gone all out and hit the town on New Years. Usually driving to Lake Tahoe and skiing all day, then taking a nap, and getting all dressed up to gamble in the casinos and dance the night away. Along with everyyyyyy other 20 something in Northern California. It is insane. So crowded. So many drunk people. I spend 2+ hours getting ready in a hotel bathroom, which is never the same as getting ready at home.
By the end of the night I always think, "Meh, I think I would have had more fun snuggling in bed watching movies and ordering room service."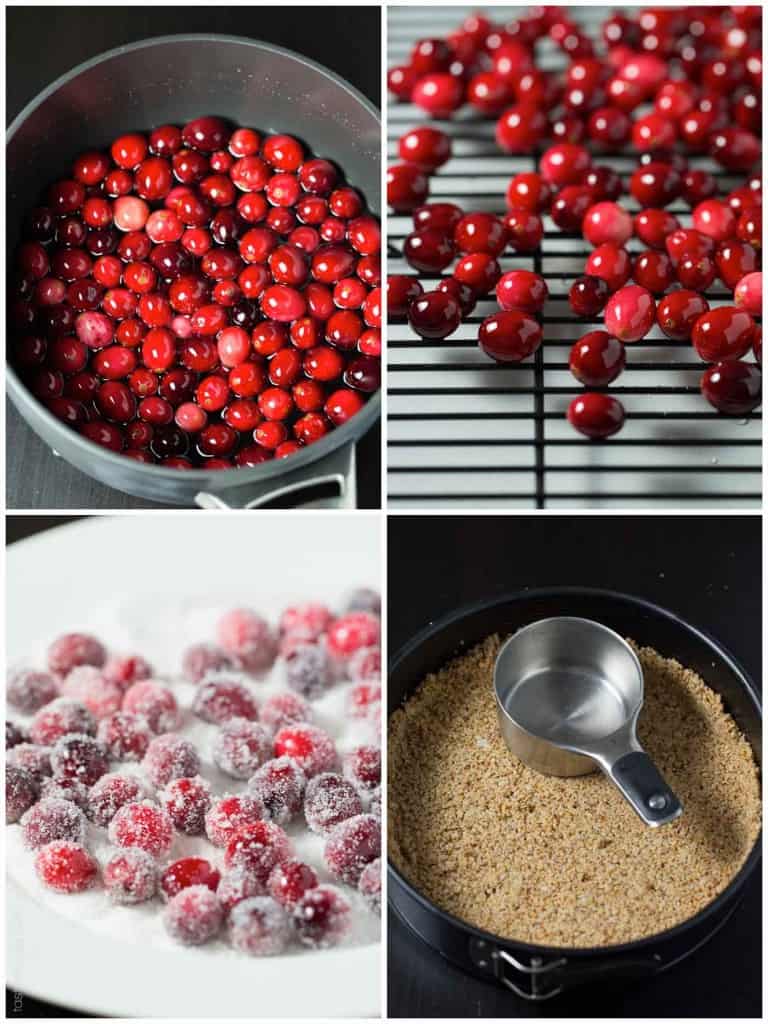 We have now officially transitioned out of "let's go out!" life and into "want to just stay in?" life. And I am loving it. I am a homebody at heart.
I'm also a fancy dinner date at home girl too. Having a good dinner date in yoga pants? Yes please! And with me trying to avoid dairy since baby Josh is so sensitive to it, cooking at home is much easier since I can control all the ingredients of the meal.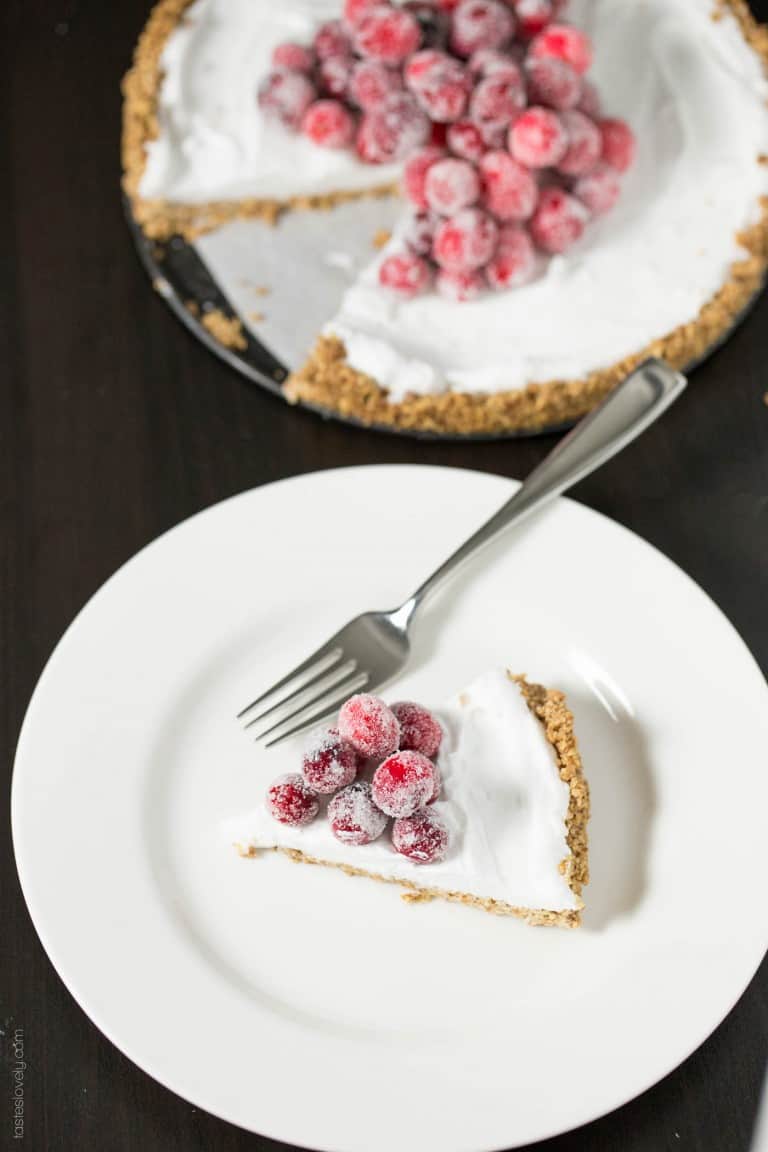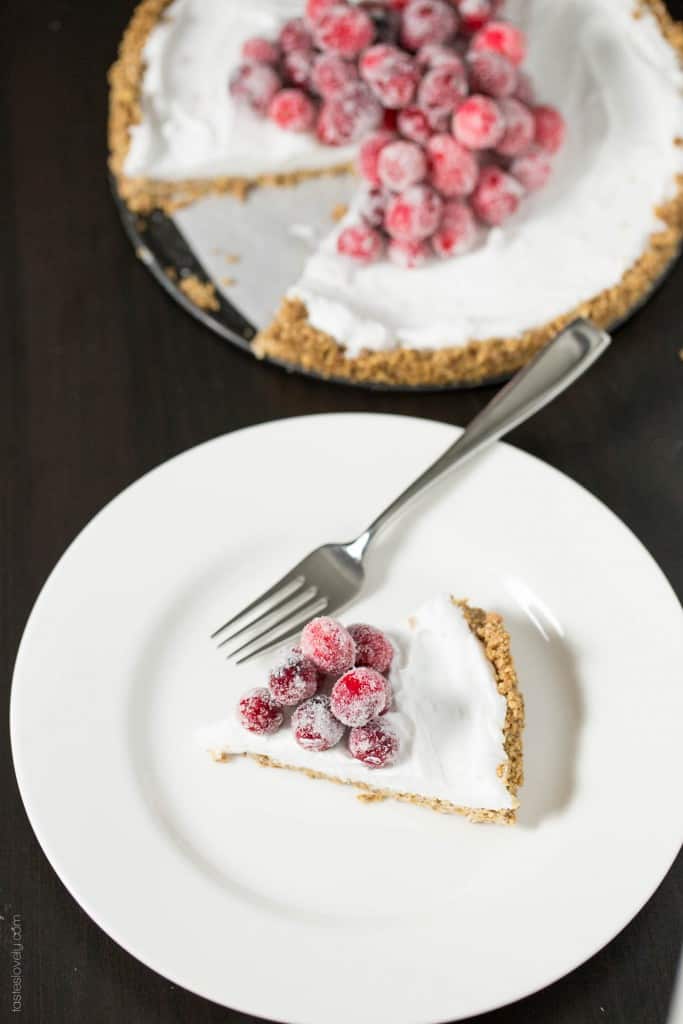 And it isn't a proper fancy dinner without a fancy dessert! I wanted to make us a tasty dessert to end 2015 with, but with ingredients I already had on hand. And of course, it had to be dairy free. I first thought of my healthy chocolate tart, which is so delicious, but I didn't have any avocados. Instead, I thought I could fill the tart with whipped coconut cream.
I recently discovered the deliciousness of sugared cranberries. Crunchy, tarte and sweet. Delicious! I knew they would make the perfect topping. And this coconut cream tart with sugared cranberries was born.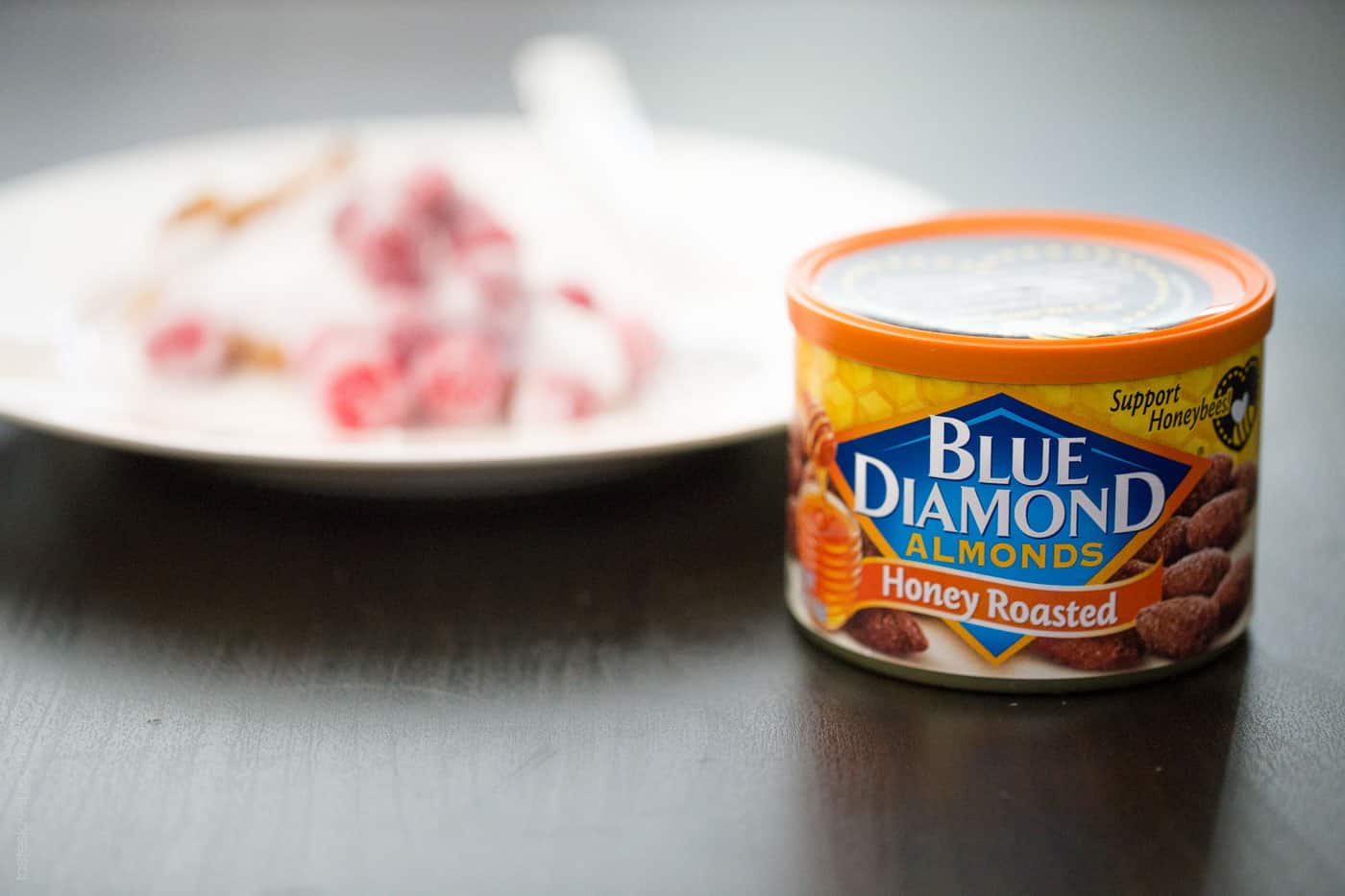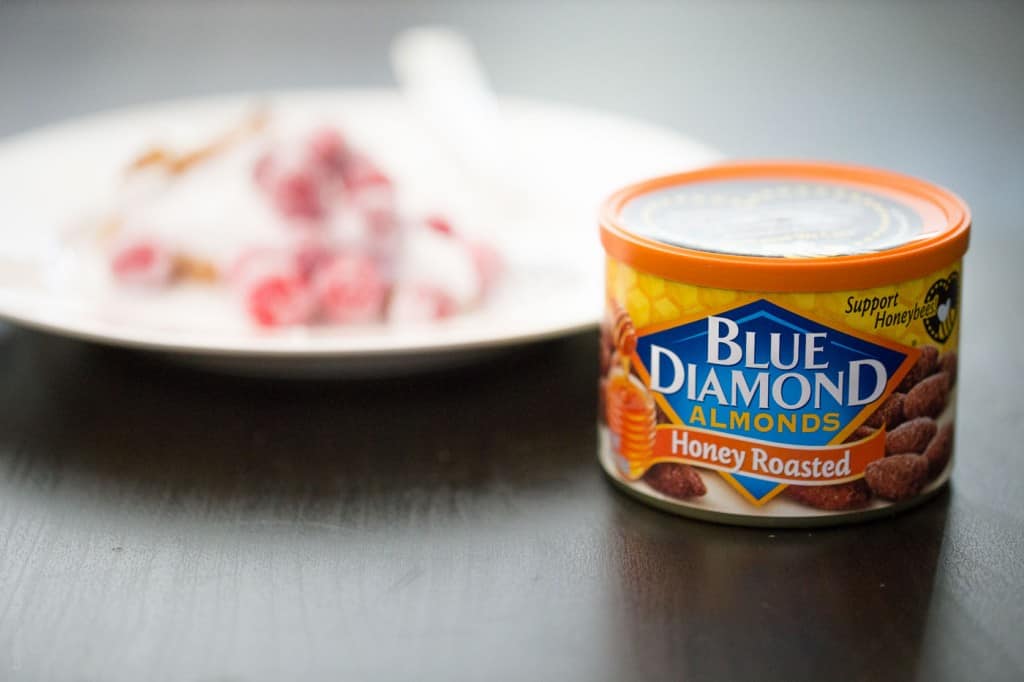 I used Blue Diamond Honey Roasted Almonds for the crust to give it extra flavor. You're not going to believe how delicious it is! I kept sneaking bites of the blended crust before baking it. The combination of honey roasted almonds, coconut flakes, and coconut oil could be a dessert in itself.
We have 1 last holiday get together with family this weekend, and I will be bringing 2 of these coconut cream tarts with sugared cranberries for dessert. They're actually healthy since they're diary free, gluten free and vegan, so everyone will be able to enjoy them guilt free without breaking their New Year's Resolution.
Print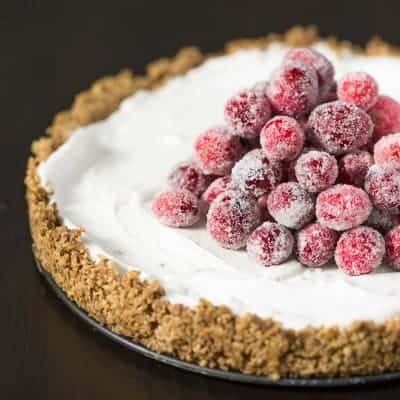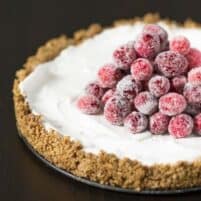 Coconut Cream Tart with Sugared Cranberries
---
Author:

Prep Time:

30 mins

Cook Time:

1 hour

Total Time:

1 hour 30 mins

Yield:

12

1

x
Sugared Cranberries
1 cup

water

2 cups

granulated sugar, divided

1/8 teaspoon

pure vanilla extract
pinch of salt

2 cups

cranberries
Crust
(1) 6-oz can Blue Diamond Honey Roasted Almonds

2 tablespoons

coconut oil, melted
Coconut Whipped Cream
---
Instructions
Sugared Cranberries
In a medium size sauce pan, combine water, 1 cup of the granulated sugar (other 1 cup reserved for coating cranberries later), vanilla and salt. When the the bottom of the pan gets small bubbles, remove the pot from heat, add the cranberries, and cover. Allow the cranberries to steep for 30 minutes.
Remove the cranberries with a slotted spoon and transfer to a wire rack. Allow to cool for another 30 minutes. (save the steeping simple syrup for cocktails!)
Pour the remaining 1 cup granulated sugar to a plate, and roll the cranberries in the sugar. Leave on the plate to dry for at least 1 hour, or up to 48 hours. Do not cover or refrigerate, they will get soggy. You want them to stay crispy.
Crust and Filling
Preheat oven to 350 degrees, with the oven rack in the center position. Brush a nonstick 9″ spring form pan with melted coconut oil. Set aside.
In a food processor, combine the coconut flakes and Blue Diamond Honey Roasted Almonds. Pulse until the mixture resembles medium size crumbs, about 1 minute. Then add the coconut oil. Pulse until the mixture resembles course sand, about 30 seconds.
Dump the coconut almond crust into the spring form pan. Gently spread the crumbs to make an even layer, and to come up the side of the pan about ½". Once the crumbs are even, press the crumbs in with firm pressure using a cup measure. You may need to brush the bottom of the cup measure with coconut oil to make sure the crumb mixture doesn't stick.
Bake the crust for 14 minutes, or until lightly golden brown. Remove the crust, and allow to cool completely.
Once the crust is cooled, add the coconut whipped cream, and spread until even layer. Transfer the filled tart uncovered to the refrigerator for at least 1 hour to chill, or up to 48 hours.
Serving
Remove from the fridge and the spring form pan when ready to serve. (You want to serve this cold so the coconut whipped cream stays firm.) Cut into slices, and top with sugared cranberries.

More Healthy Desserts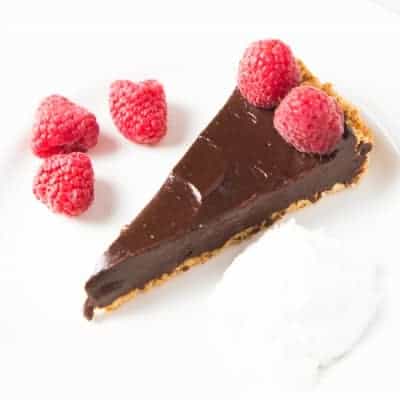 Healthy Chocolate Tart (made with avocados!)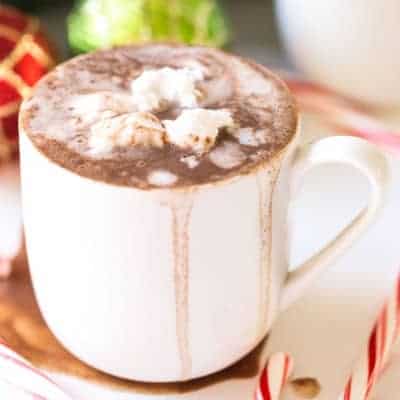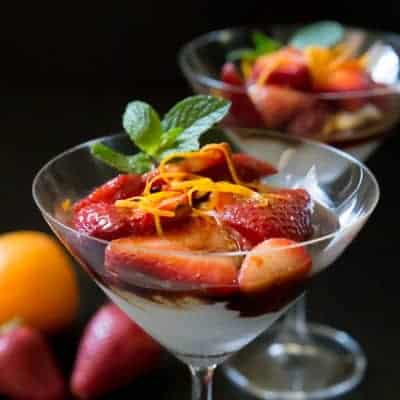 Balsamic Strawberries with Coconut Whipped Cream
This post is sponsored by Blue Diamond Almonds. Thanks for supporting the brands that support me!
Never Miss a Recipe!
Get new posts delivered straight to your inbox! For free!