Day in the Life :: Summer 2019
A glimpse into a day in my life! This particular day is Thursday August 8, 2019. Josh is 3-3/4 years old, and Ryan is 13 months. A mix of mom life and work life with a few straight-from-my-iPhone pictures. Click here to view past Day in the Life posts. 
5:40am – Shawn's alarm goes off. I slowly wake up. I've been trying to get work done in the mornings before the kids wake up. Shawn showers and gets ready, while I finish up this sheet pan chicken fajita post. I schedule the post, schedule out the email to my subscribers, and all the social media. I get bacon in the oven for breakfast and make the bed. Check emails and reply to instagram DM's.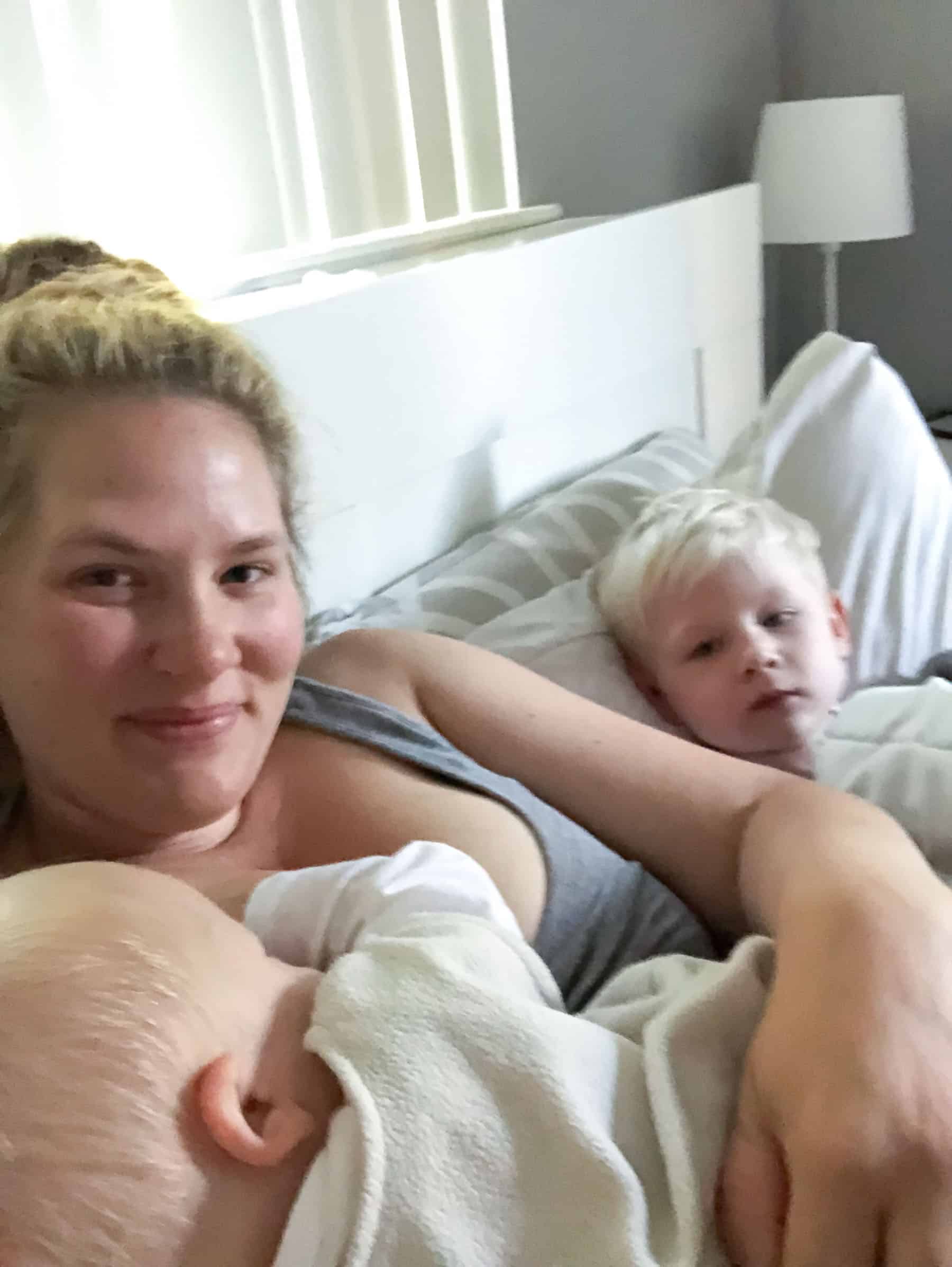 7:30am – The boys are waking up! I turn on the green light on their noise machine so Josh knows it's ok to wake up. Josh opens the door and comes to my bed to get "cozy cozy". I give him big hugs. I got get Ryan out of his crib and give him big hugs and kisses. I nurse Ryan while Josh lays next to me. We talk about our dreams and all the fun stuff we should do that day. Josh is talking SO MUCH. And every other question is "why?". It's so fun teaching him all the things.
7:45am – Get the bacon out of the oven. The boys want to play outside for a bit. I refill the chickens water. Josh checks for eggs. We play outside and inside.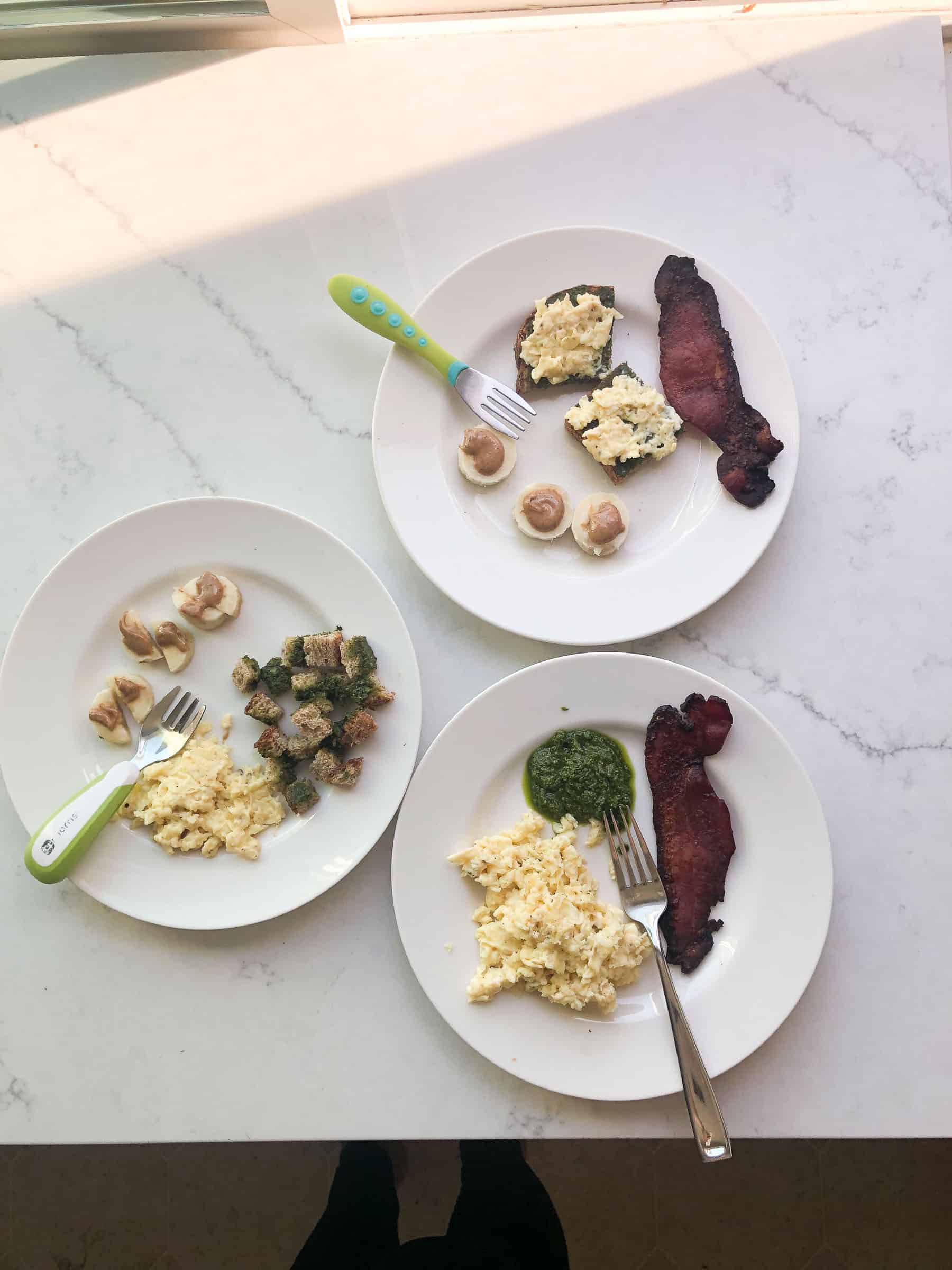 8:30am – Breakfast! I'm having bacon, eggs and pesto. Josh is having bacon, pesto toast with eggs and bananas with almond butter. Ryan is having eggs, pesto toast and bananas with almond butter. We all eat at the table. Josh loves breakfast time! Ryan loves throwing his food around on the floor! Haha!
8:45am – Give Ryan a sink bath because he is such a messy eater. Give him more bites of his breakfast while he's in the bath. Also clean up the kitchen while Ryan is in the sink. Josh is still finishing his breakfast and watching UmiZoomi.
9:15am – Get Ryan down for his first nap. Josh is done with breakfast and watching a show on the couch and playing with toys. I get dressed and do my makeup super fast. Josh and I play with toys together. He got a new remote control monster truck that he is obsessed with. We drive it around the living room.
9:45am – Josh wants to drive his monster truck down to Co's house (my sister Nicole who I live right next door!). We drive it down the driveway all the way to her porch. She comes out to say hi. Josh asks to play there (his favorite). Co says yes! He plays down there for a bit.
10:00am – Rush back up the driveway. Ryan is still sleeping. Shawn finished a wedding video last night. I upload it and do all the custom settings, then email it over to the couple. We also have a wedding in 2 days, so I email the photographer + DJ to introduce ourselves, and email the couple with a final check in and a list of all the detail items to have set aside for us to begin shooting when we arrive.
10:15am – Ryan is waking up! He's always so smiley and happy when he wakes up. I could eat him up! Go scoop him up and nurse him again. Get him dressed for the day. I get Josh's clothes for the day, load Ryan up in the blue car stroller, get our sand toys + Josh's bike and helmet. Walk down to Co's house to get Josh dressed, and me and the boys head down to the park.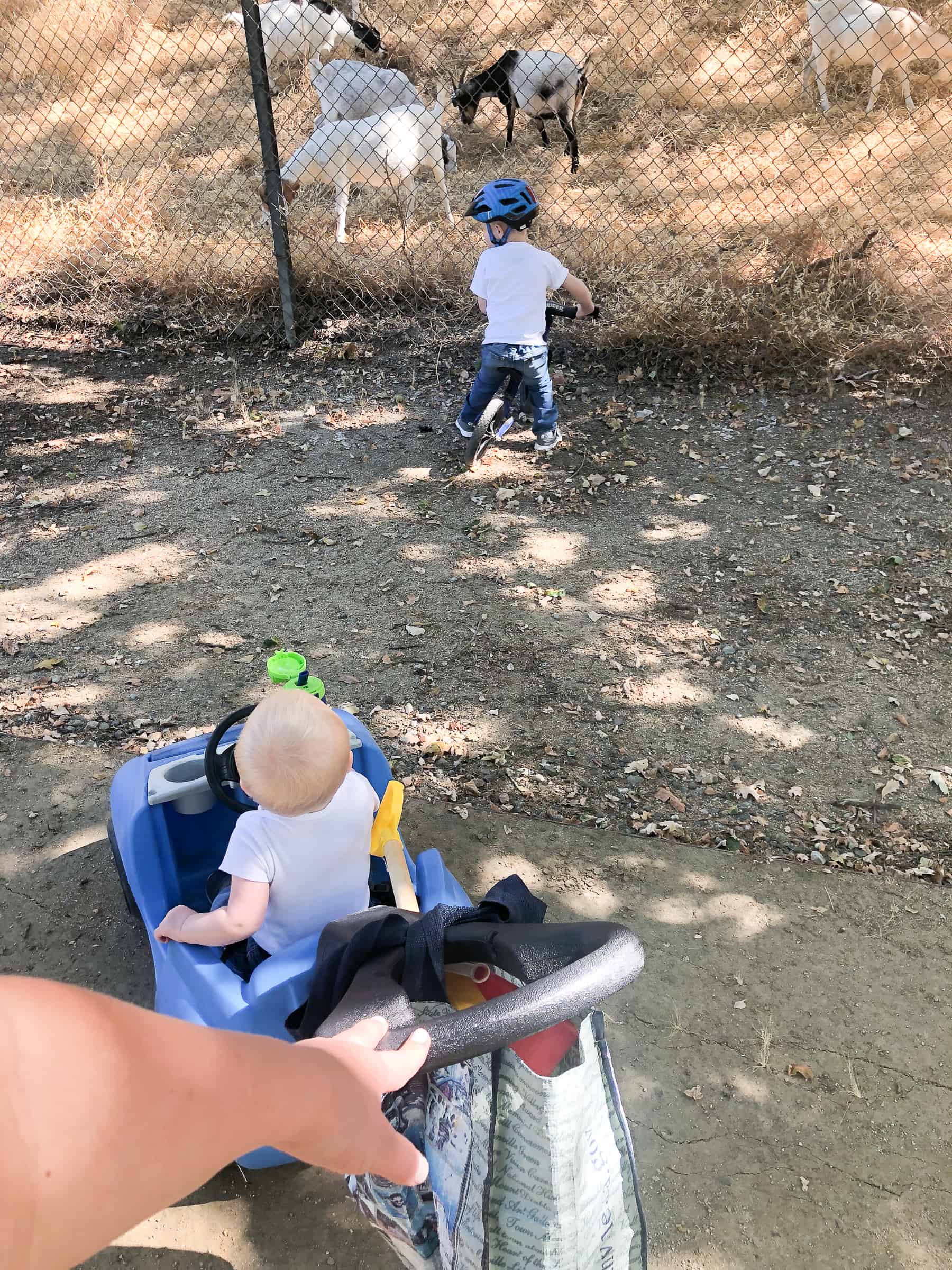 10:30am – Walk down to the park. There are goats on the hill today to trim down all the tall grass. The boys LOVE it! We stop and look and say hi to the goats. Then we head to the park to play. I meet up with an instagram follower who is in town and wanted to have a playdate. So fun! The kids have fun playing together while we chat. We mostly play in the sandbox. Josh also wanders around and goes on the slide. There is a kindergarten meet up with all the kids and moms before school starts. Josh is playing with all those big kids, and also helps himself to one of their popsicles, haha!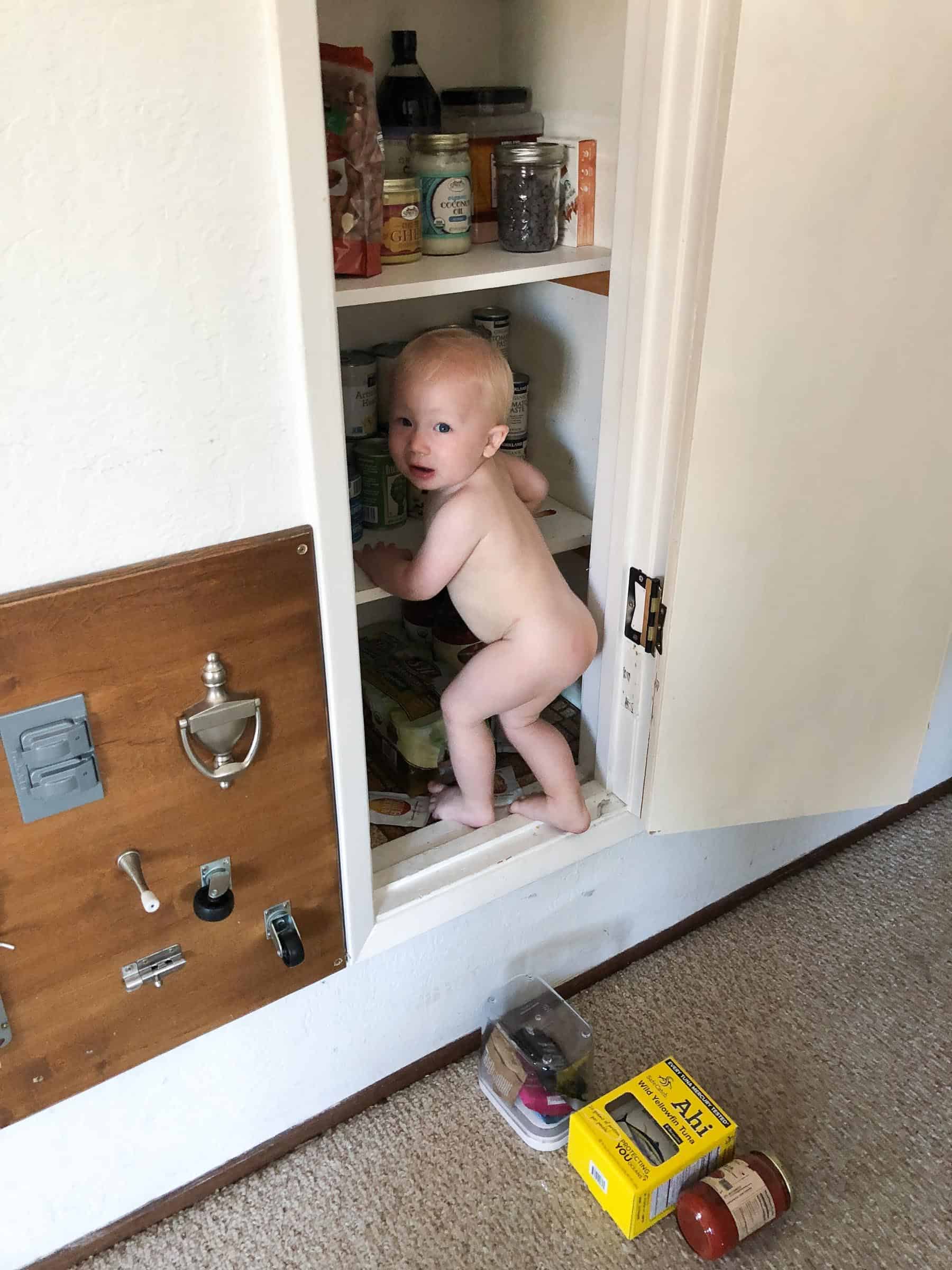 12:15pm – Walk home from the park. Strip the boys down outside since they're covered in sand and dirt. I put on a show for them (Little Baby Bum which is Ryan's favorite) while I make lunch. Ryan pulls his diaper off (his new favorite trick), and climbs in to the pantry that I left open. He's such a little adventure baby!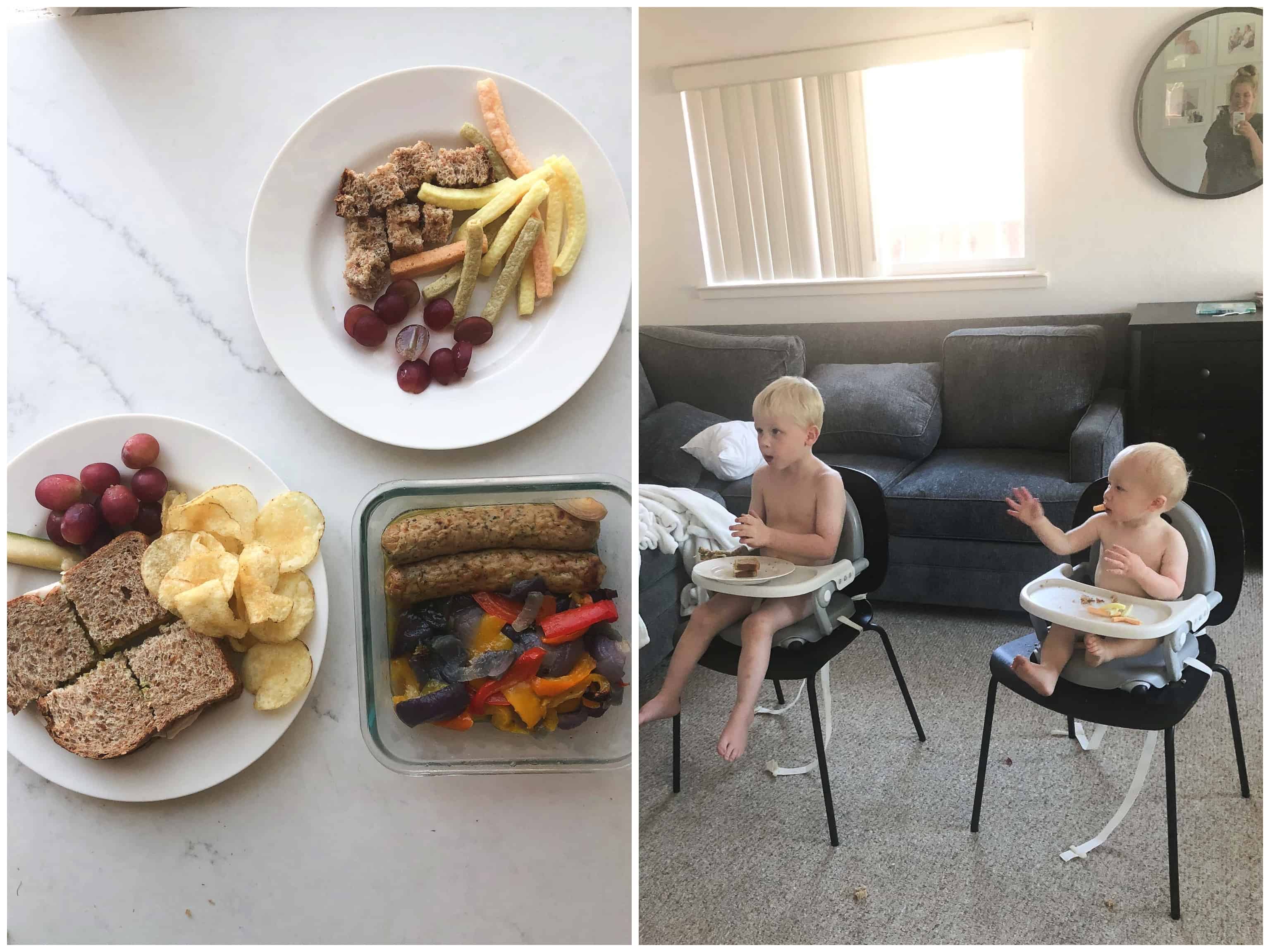 12:45pm – Lunchtime! I'm having leftover sheet pan sausages and veggies, Josh is having a turkey and vegan cheese sandwich with chips, grapes and a pickle. Ryan is having an almond butter and apple sauce sandwich with grapes and veggie straws. The boys eat in front of the TV while I eat on the floor giving Ryan bites.
1:30pm – Naptime! Get both boys tucked in and snuggly. Then rush and do all the things. Clean up lunch really fast and straighten the house.  Then, I upload a step-by-step recipe tutorial of my homemade pickle recipe on Instagram. Then make a story highlight of it. Then save the video clips and upload it to youtube and my blog. Make a custom thumbnail for it and optimize it for SEO. Takes almost all of naptime. So lucky I have such good nappers!
3:15pm – Shawn's home from work! We talk about our day, and savor these 15 minutes when it's just me and him.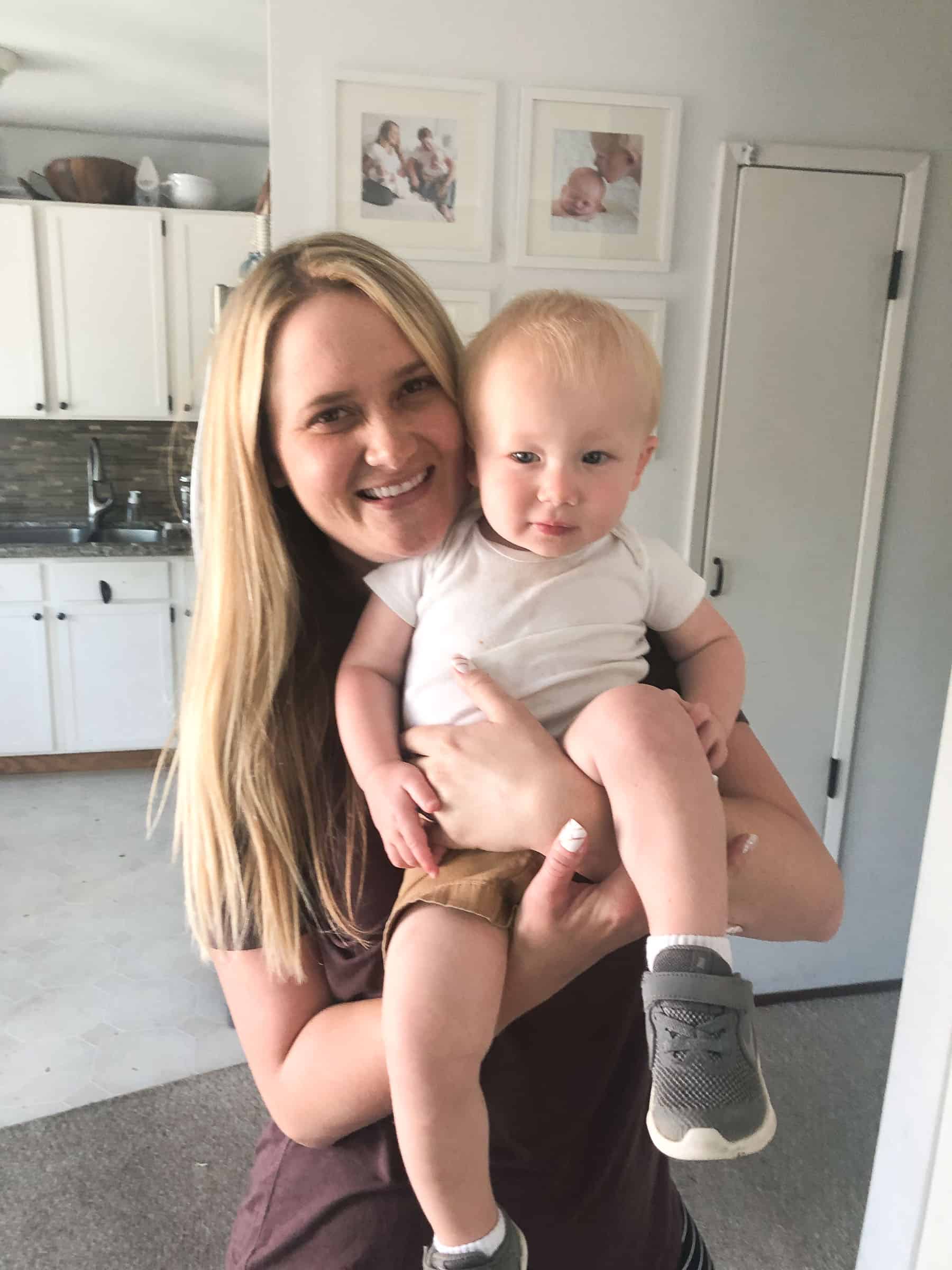 3:30pm – Boys are waking up from their nap! We get so excited to see them! Turn on the green light on their noise machine so Josh knows it's ok to get up. Have big hugs, and they're both so excited to see daddy. We all cuddle on the bed while I nurse Ryan. We play in the living room for a bit with toys, and the boys wrestle daddy. My sister stops by to say hi.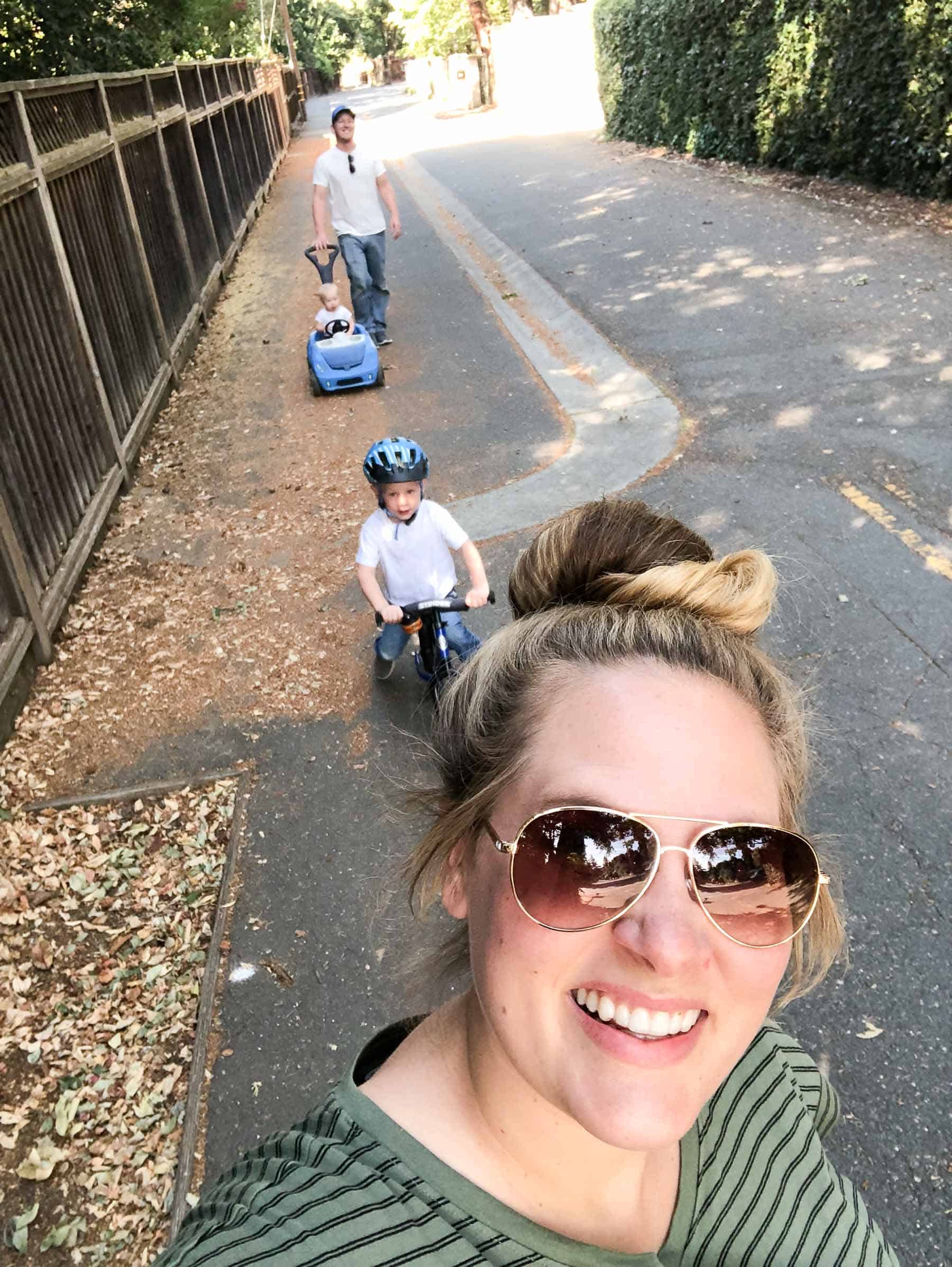 4:00pm – Take the boys on a walk to a further away park. Shawn pushes Ryan in the blue car and Josh rides his bike. While walking by the goats, Josh sees a puddle. He says he wants to throw a rock and make a wish. I ask him what he wishes for. He says he wished for a hot dog and a skateboard. Hahaha! Shawn and I chat with each other and the boys on our walk. This is my favorite time of day.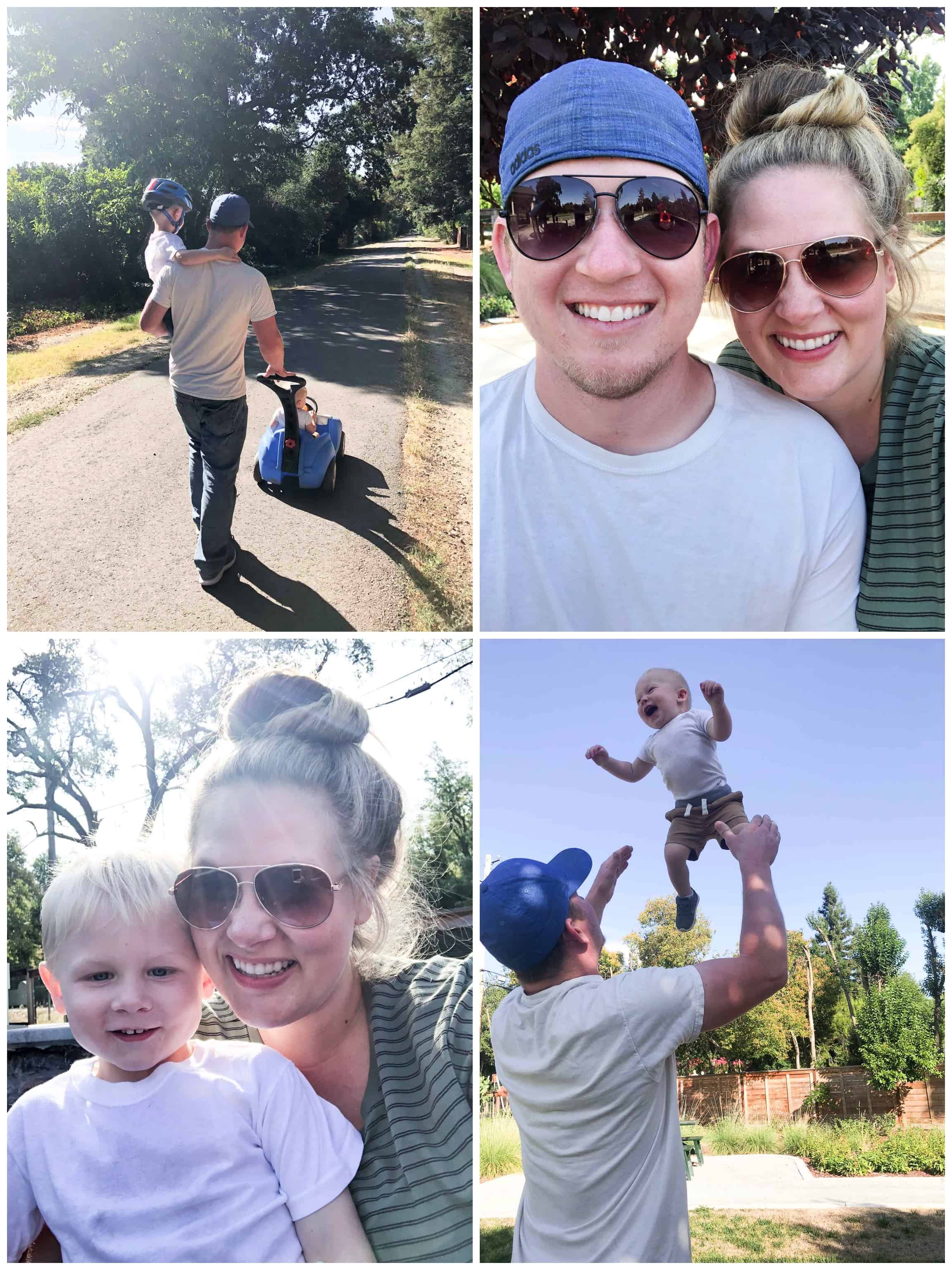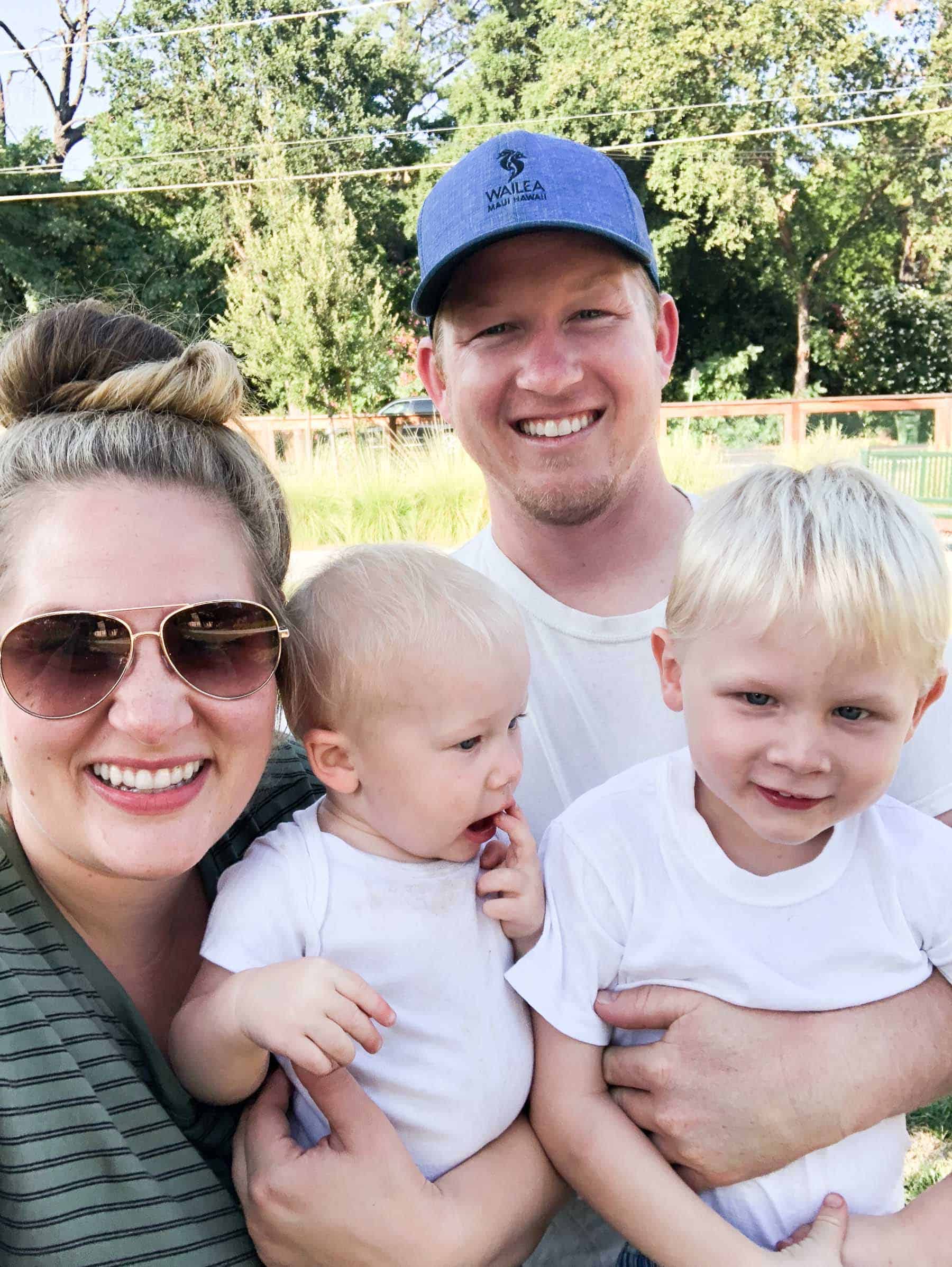 4:20pm – Get to the park. Let the boys run around and play. We play with them too. Josh requests a game of hide and seek, his favorite. We always hide in really obvious places so he can find us. And make noises while hiding. It's so cute. I love how he counts to 10 super fast and then says "ready or not, here I come!". We find bugs, chase the boys in the grass, and push Ryan in the swing. It's really fun that he's walking now, Ryan wants to explore everything! And put lots of things in his mouth. Usually rocks, dirt and trash, ha!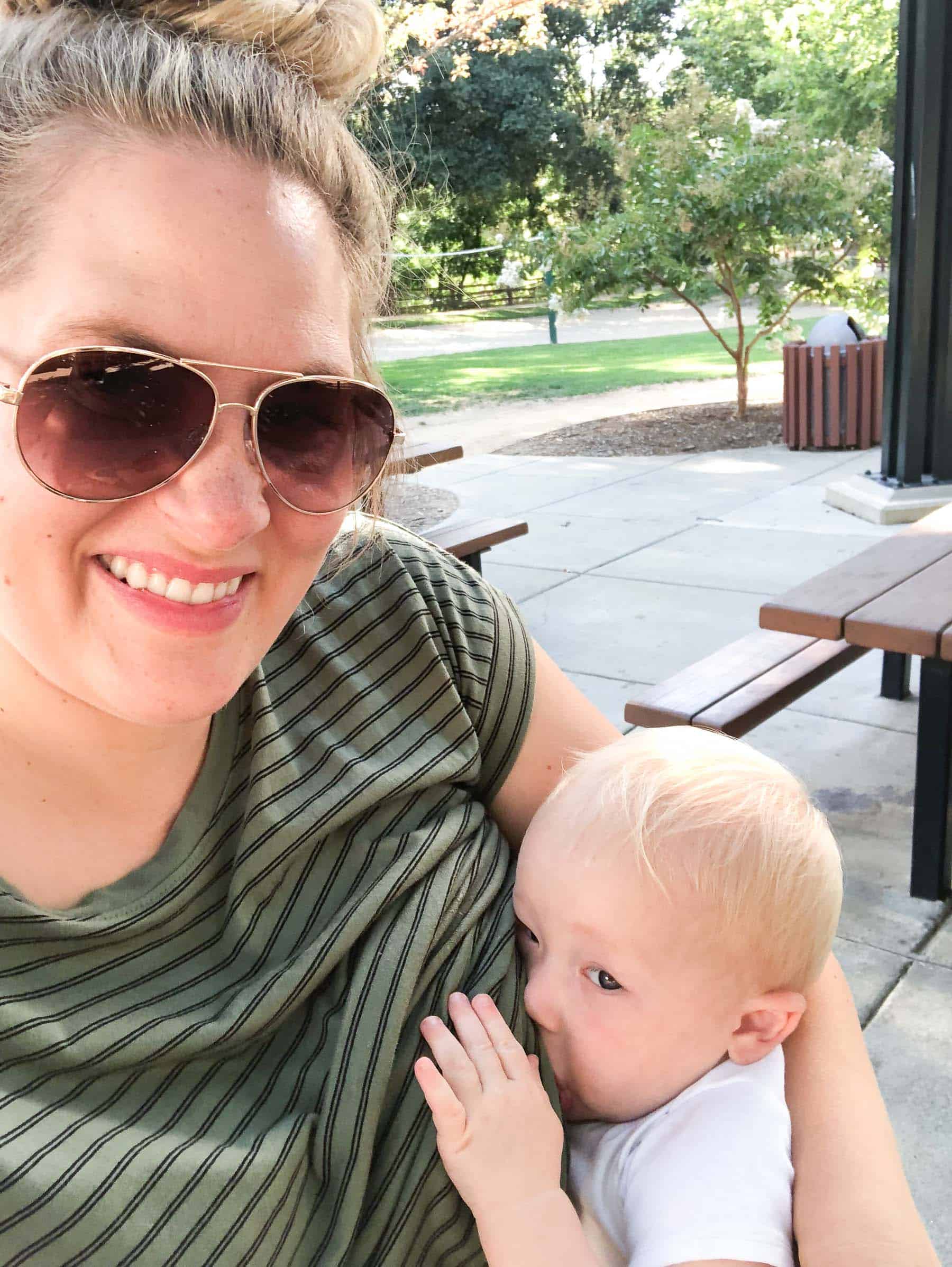 5:00pm – Head home to start making dinner. It's a long walk home since both boys want to ride in the blue car. We give up. Let Josh ride in the blue car. Shawn and I take turns: 1 of us holding Ryan and the other holding Josh's bike while pushing Josh in the blue car. Our arms are tired! Probably should have brought the double stroller. At least it's a good workout. Ryan has learned signed language, and keeps asking for milk. We stop at the park close to our house to let Josh play while I nurse Ryan again. The sweetest.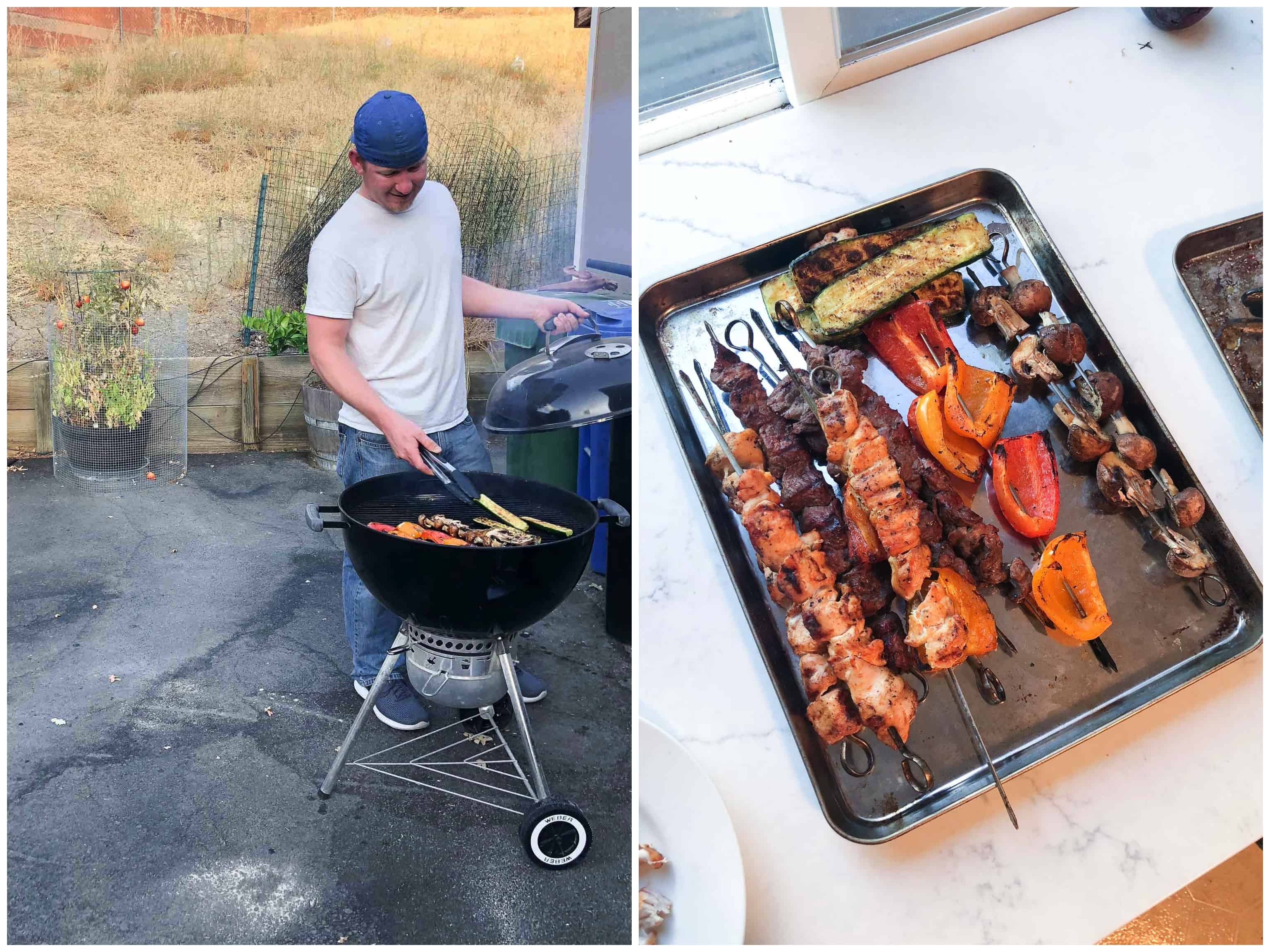 5:45pm – Home from the park. Shawn fires up the grill to BBQ chicken and steak kebabs, and veggie kebabs. I play with the kids inside.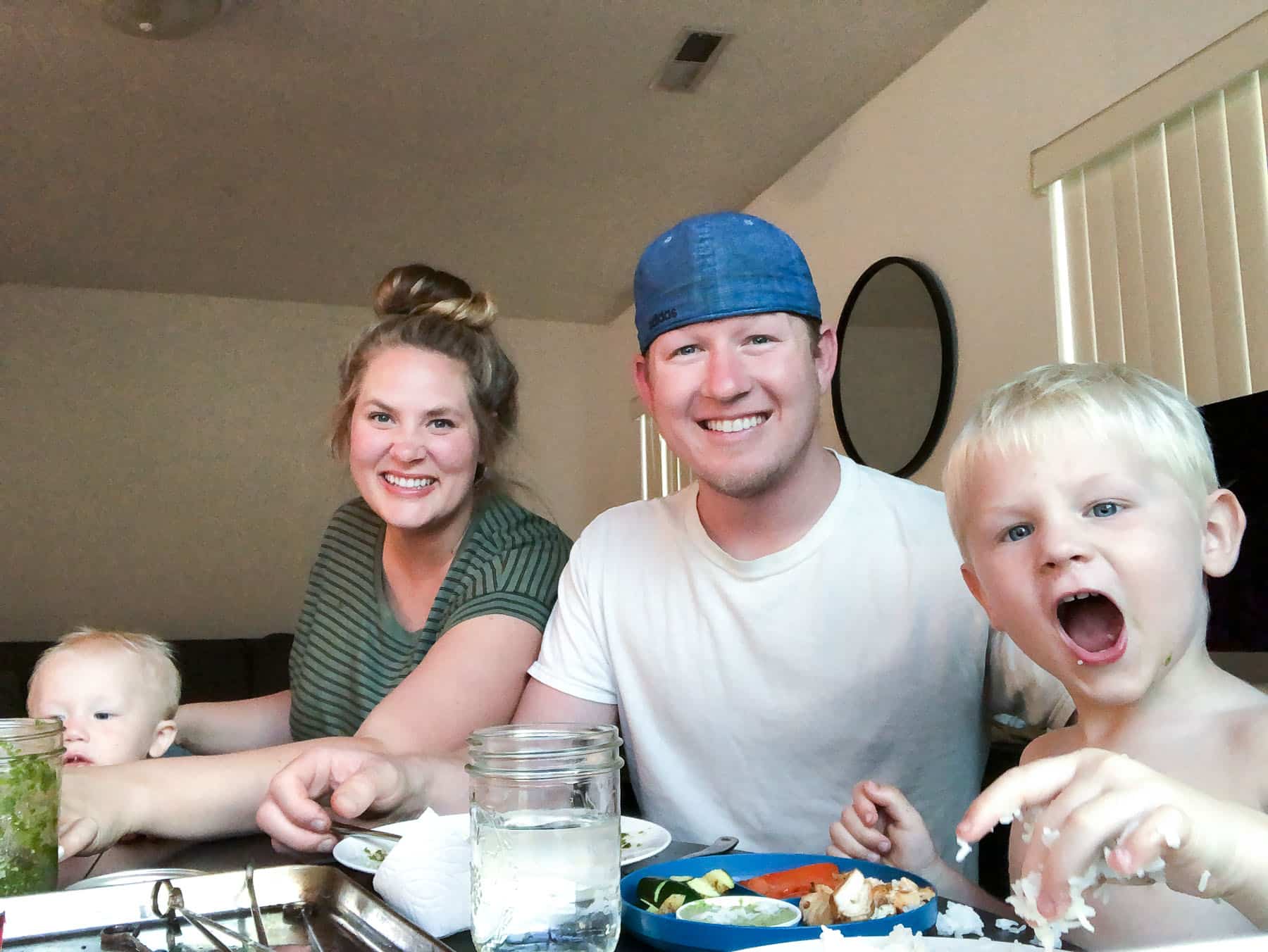 6:30pm – Dinner time! We serve the kebabs with my chimichurri sauce. The boys also have white rice. It's so good! We all eat at the table together and chat and laugh.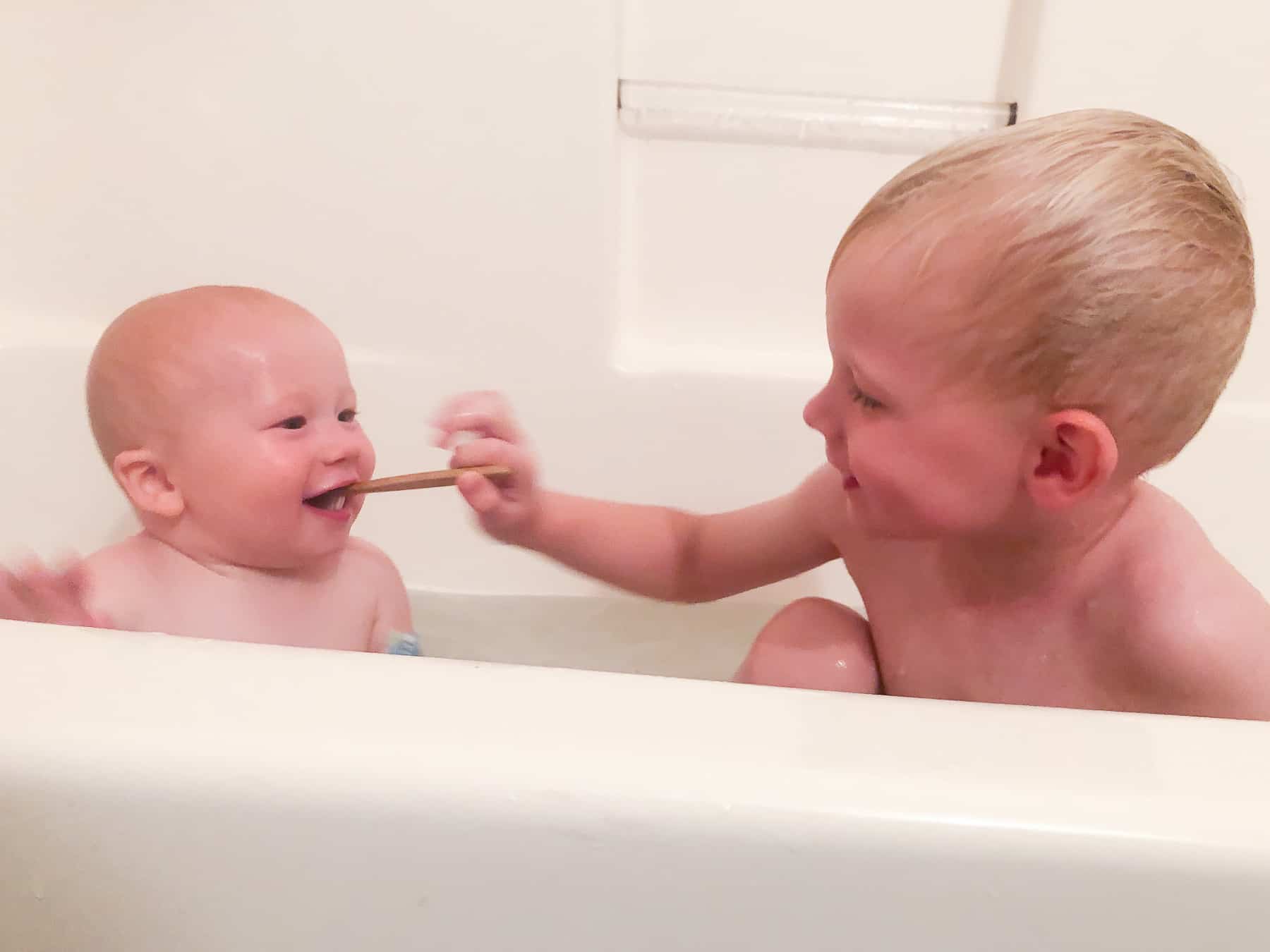 6:50pm – Get both boys in the bath. They're extra messy after dinner time. Shawn cleans up the kitchen and house while I bathe the boys. Ryan and Josh have just started really playing together, and are usually extra nice when in the bath. It is so cute!!! Tonight they are having tons of fun brushing each others teeth, and are both belly laughing. Oh how I love these boys.
7:15pm – Get both boys out of the bath. I get Ryan dressed and nurse him, then get him tucked in at 7:30. Shawn gets Josh dressed while I get through emails and reply to all instagram DM's and comments. I super fast go through my feed and stories of people I follow. I actually don't follow a ton, but just a few close blogging friends. I have a majority of people muted, otherwise I would be on my phone all day long. Would rather spend time with my boys!
8:00pm – Go out in the living room to cuddle and play with Josh. We watch a show together before bed and cuddle on the couch. Tonight it's Blaze and the Monster Machines. Then Shawn and I read him a few bedtime stories, and get him tucked in at 8:30pm.
8:30pm – Both boys are in bed! Shawn and I are wiped out. Some nights we'll watch a show together, but today we get caught up on work. Shawn charges all the camera batteries for the wedding this weekend, and gets our gear all ready. I edit the photos for this sheet pan italian pork tenderloin.
10:00pm – Done working. Shawn stays up to watch a movie for a bit. I take a shower and hop in bed to read. It feels so fancy to be clean and reading in the quiet! Right now I'm reading The Solar War and LOVING it! I love AG Riddle books, and get really excited when new ones come out.
10:30pm – Shawn comes to bed just as I'm about to fall asleep. Best day ever with my boys. I love this life. Goodnight!