Keto Superfood Latte
Keto Superfood Latte Recipe – a low carb, dairy free latte that I drink every single morning. Paleo, gluten free, grain free, dairy free, clean eating, real food.
Keto Superfood Coffee
There's nothing like that first sip of morning coffee. It can't be beat!
Lately, I've been sharing a cute video on my Instagram Stories of me pouring my coffee with my little baby Luke kicking his legs in his Podster right next to me.
Always getting questions on how I make it, so it's definitely time for my favorite keto superfood coffee to have its own post!
Ingredients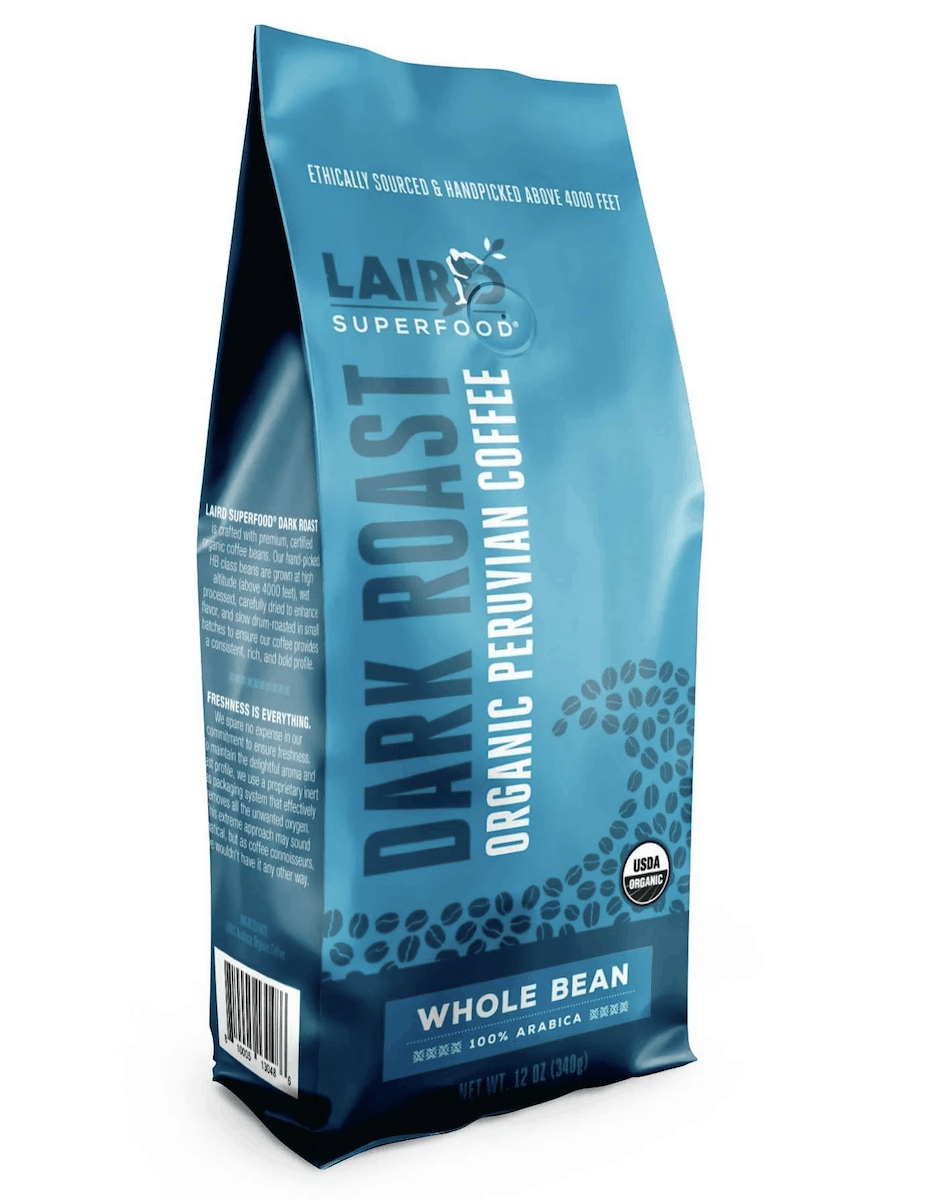 Laird Superfood Peruvian Dark Roast Coffee Beans
These are the MOST DELICIOUS coffee beans I've ever had. I didn't think coffee could taste better. But it can! These coffee beans are grown at high altitude in the shade of Peru, then hand picked when each bean is perfectly ripe. You can taste the labor of love. THIS is how coffee should taste. They're also nitro packed which reduces oxygen content, so they taste ultra freshly roasted.
I do a mix of half their regular beans and half their decaf beans, since I'm a little sensitive to caffeine. Half caff is perfect for me.
TIP! Start buying your coffee in quantities that are enough for just 1 week. Once this nitro packed bag is opened, it will keep staying "fresh" tasting for 1 week. After that, the beans get oxygenated and start losing their boldness and getting "stale". This 1 bag is the perfect amount to last me 1 week.
Bonus, these beans are organic, ethically sourced, and Laird Superfood places such an emphasis on its company lowering its carbon footprint, sustainability and protecting our environment.
Can you tell I really love these coffee beans? Haha!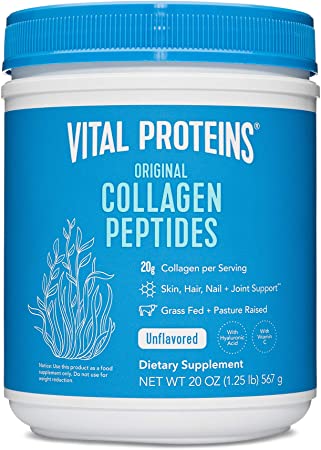 To add some protein, and to improve the health of my hair, skin, nails, joints and gut I love adding in a scoop of collagen peptides.
I don't have a major brand preference. Any brand where the only ingredient is grass-fed, grass-finished pasture raised Bovine Hides is great. I usually get Vital Proteins, which I can get at Costco. I also love the Thrive Market brand one as well.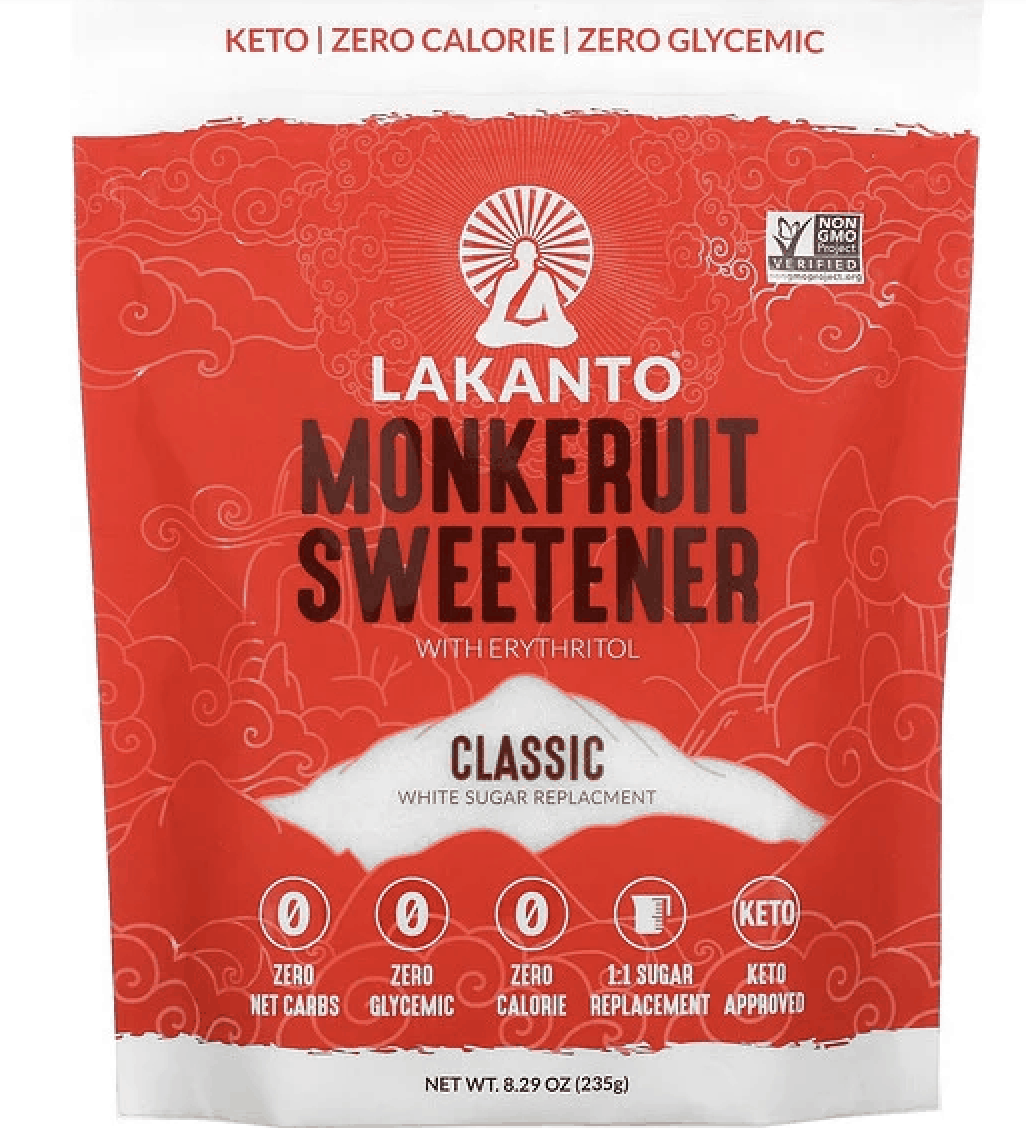 For a touch of sweetness, I love adding in monkfruit, which is my favorite 0 carb sweetener. I get Lakanto, which my Costco also sells.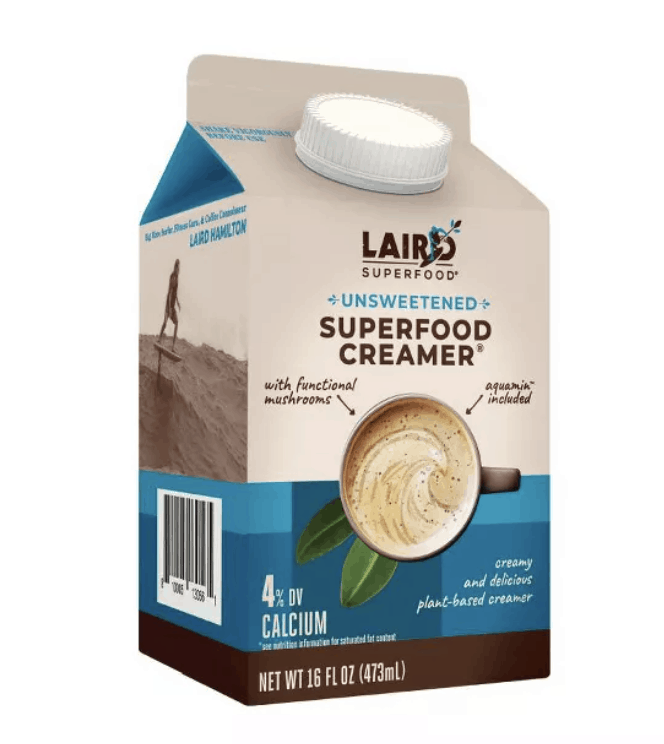 Laird Unsweetened Superfood Liquid Creamer
Just love this liquid superfood creamer. It is 0 carbs, and has naturally occuring MCT's from the coconut cream. And is packed with amazing ingredients!
It has a blend of 3 functional mushrooms (chaga, cordyceps and lion's mane), which are great for energy and brain function. These mushrooms do give the creamer a bit of a light brown color. It also has aquamin, a calcified red sea algae, naturally rich source in calcium, and 72 minerals in trace amounts. You do not taste these superfood add-ins AT ALL! I love whenever I can pack in even more nutrition into something I'm already using.
Bonus? It froths great in my frother!
I get mine at Target, but I think you can also get at Sprouts and Whole Foods. You can check their store locator!
Equipment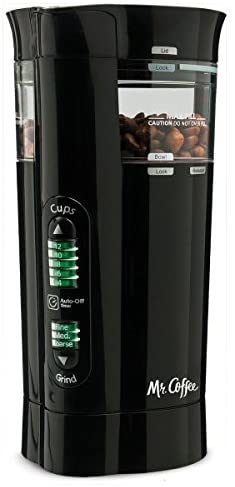 Any coffee grinder would work, but this is the exact one I have. I put in 1 cup of whole beans.
I have the "cups" set to 12 cups, and the grind set to "coarse".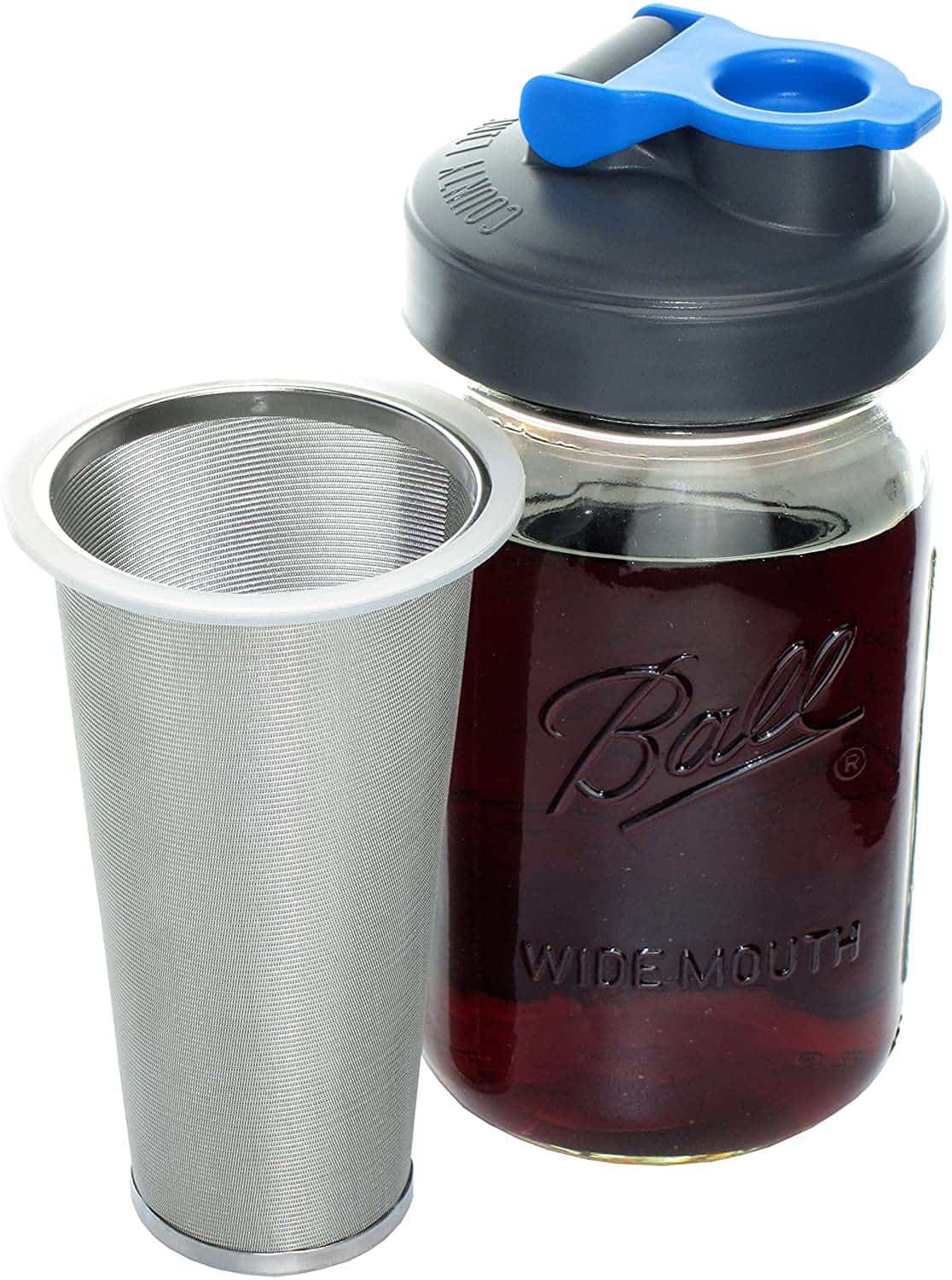 I love cold brew coffee. It is where you steep the coffee grinds in water overnight (or longer!). It gives you a much smoother coffee that isn't acidic at all. Plus, very convenient since it's ready for you in the fridge!
I love that this filter fits in to a quart size wide mouth mason jar that I already have. The less kitchen clutter the better. Plus! Love that once I take the filter out the cold brew is already in the jar I'll be storing it in.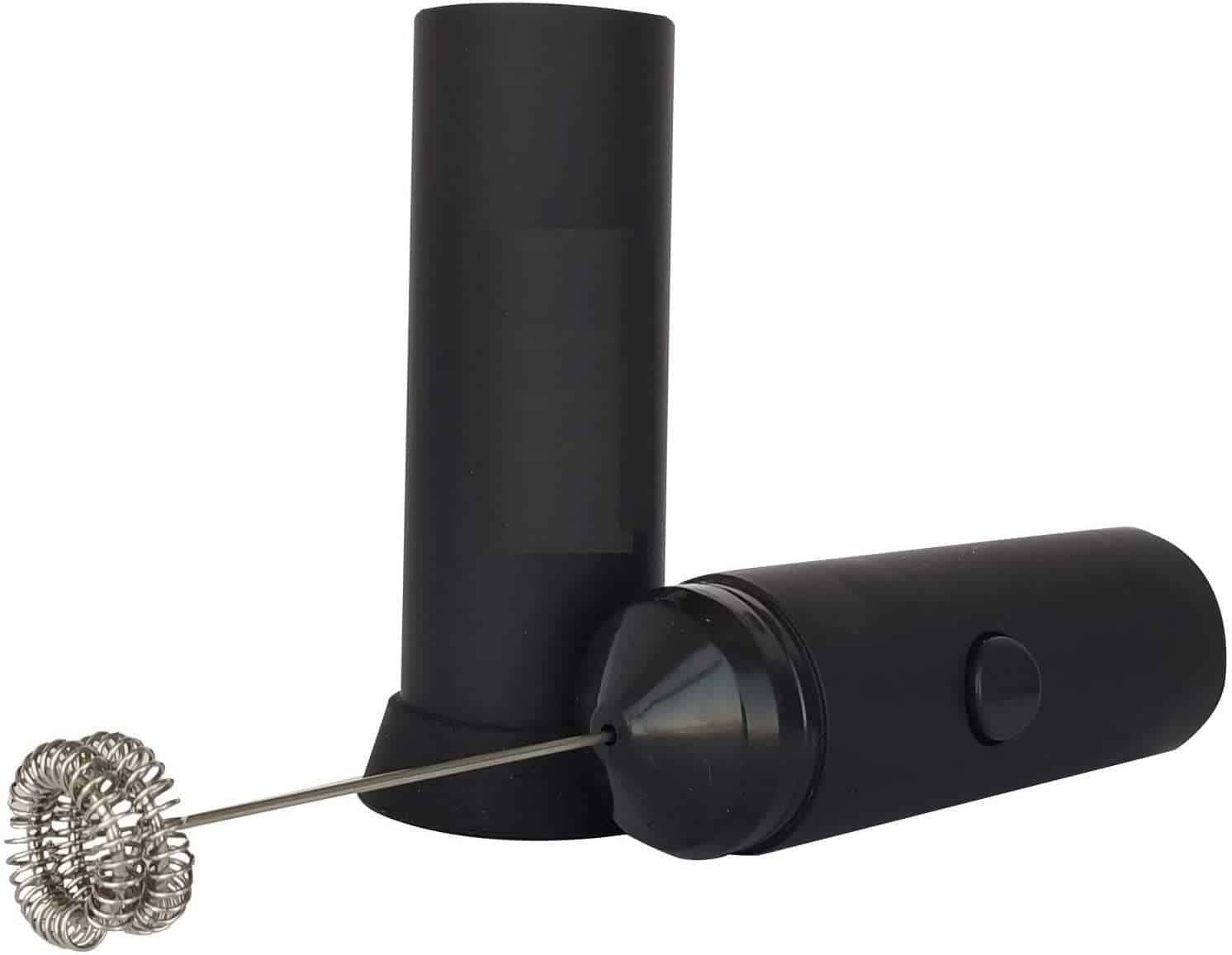 I use this hand frother to mix in my monkfruit and collagen peptides into the heated up coffee. You could use a fork, but I love how quickly this mixes it completely in. I use it to mix a ton of other drinks too!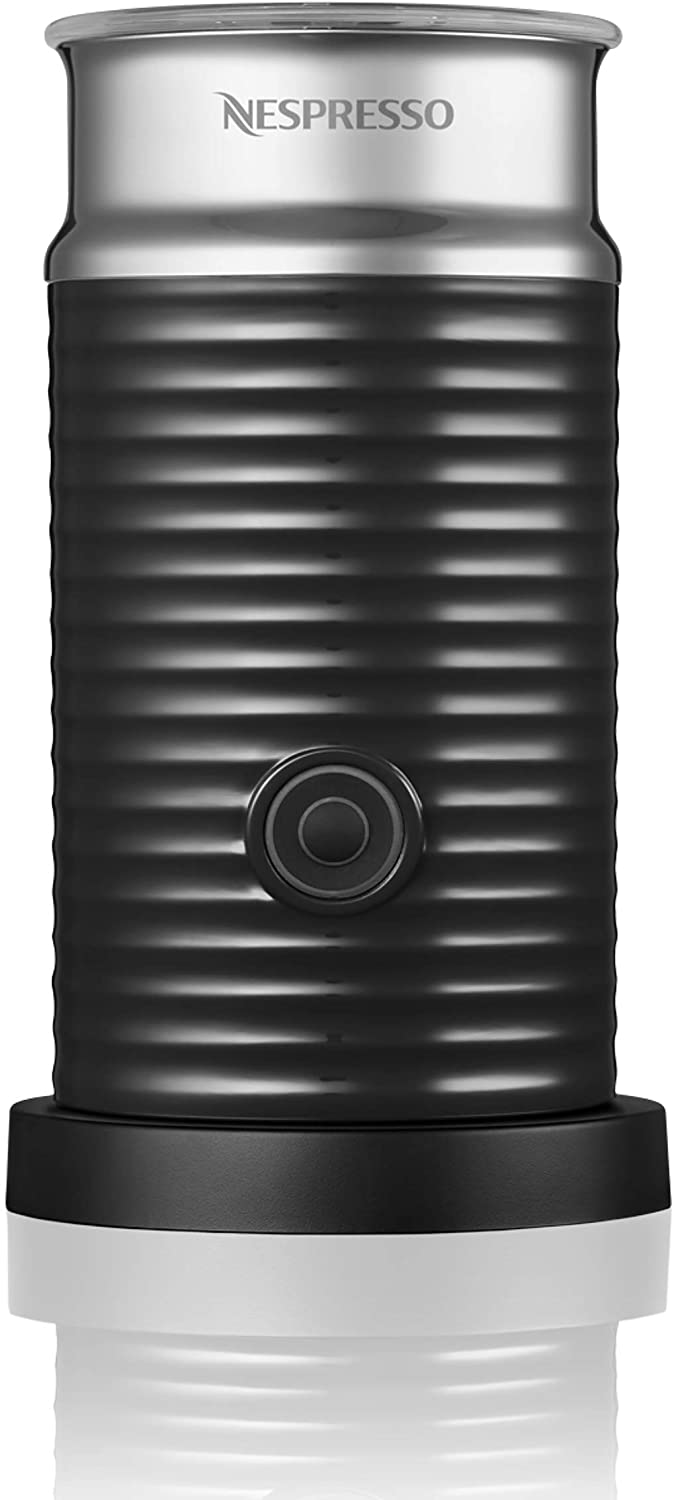 This frother is a GAME CHANGER! You add in your liquid creamer, press the button, and this wonderful gadget heats AND foams your creamer! Gives you that amazing coffee shop style latte at home.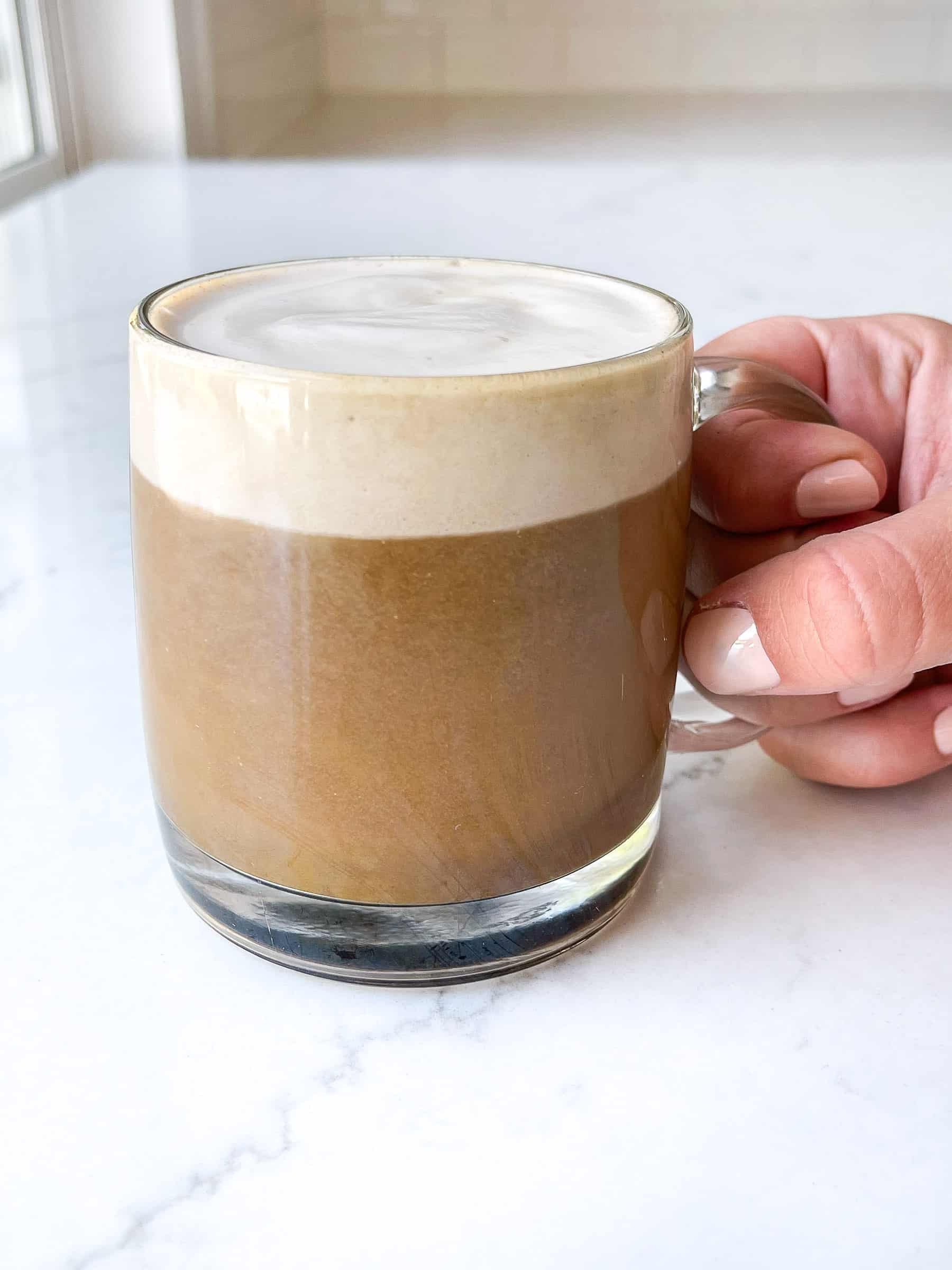 Watch latte recipe demo:
If you make this keto superfood latte, be sure to leave a comment and give this recipe a rating! I love to hear from you all and always do my best to respond to each and every comment. And of course, if you do make this recipe, don't forget to share and tag me on Instagram! Looking through the photos of recipes you all have made is my favorite!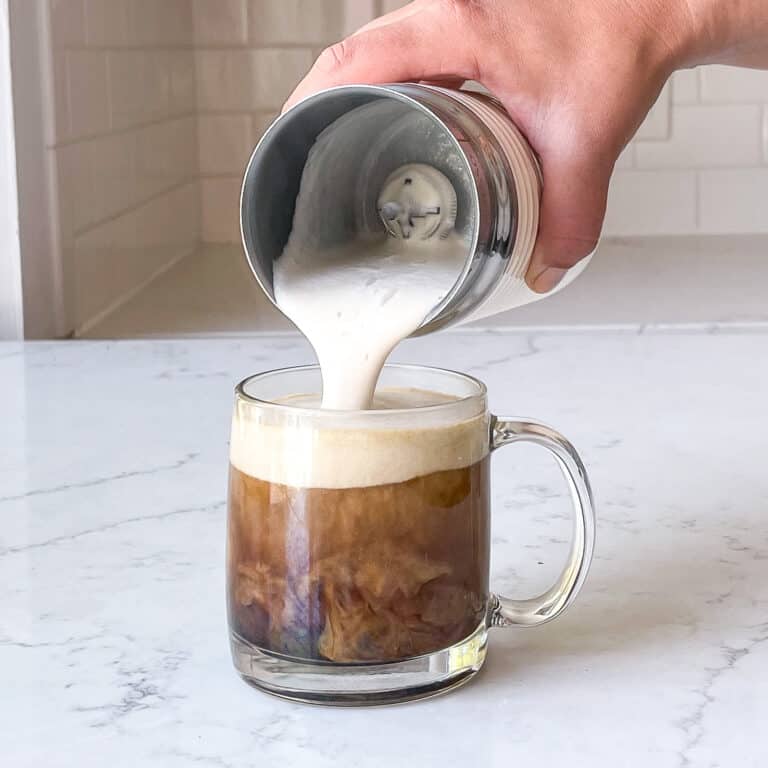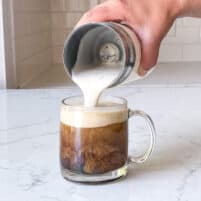 Keto Superfood Latte
This keto Superfood Latte Recipe is a low carb, dairy free latte that I drink every single morning.
Ingredients
Keto Superfood Latte
1.25

cups

cold brew coffee

1

scoop collagen peptides

1

teaspoon

monk fruit,

or more to taste
Instructions
Cold Brew
Set the mason jar cold brew filter in your mason jar. Add in the ground coffee beans, and fill to the top with water.

Steep overnight, or up to 1 week on either the counter or in the fridge.

After it has steeped, remove the filter. You can dilute the cold brew if you wish with more water. But I drink the concentrate as is. No further diluting. I like the bold flavor!

Store the cold brew in the fridge. Will last at least a week (or longer!)
Keto Superfood Latte
Heat the cold brew coffee to your heat level preference. I microwave mine for 3 minutes.

When the coffee is hot, add the collagen peptides and monk fruit. I use this

hand held frother

to combine.

In a coffee mug, pour the hot coffee and top with the frothed creamer.

Enjoy!
Calories:
67
,
Total Carbs:
0
g
,
Protein:
1.2
g
,
Fat:
6.1
g
,
Fiber:
0
g
,
Net Carbs:
0
g
Did you make this recipe?
Please Leave a comment and give this recipe a rating!
This post contains affiliate links, thanks for the love!