Pancetta and Asparagus Deviled Eggs
Deviled eggs with crispy pancetta and asparagus tips. The pancetta adds a much needed crunch! A simple and healthy appetizer that is paleo, Whole30, gluten free, low carb and dairy free.
Now that spring is here, our chickens are laying eggs like crazy! In the fall and winter when the amount of daylight in a day is less, the girls don't lay as often. We'll get maybe 1 or 2 eggs a day. Sometimes none.
But now that is sunny, warming up, and 12 hours of daylight, the chickens are back at it again.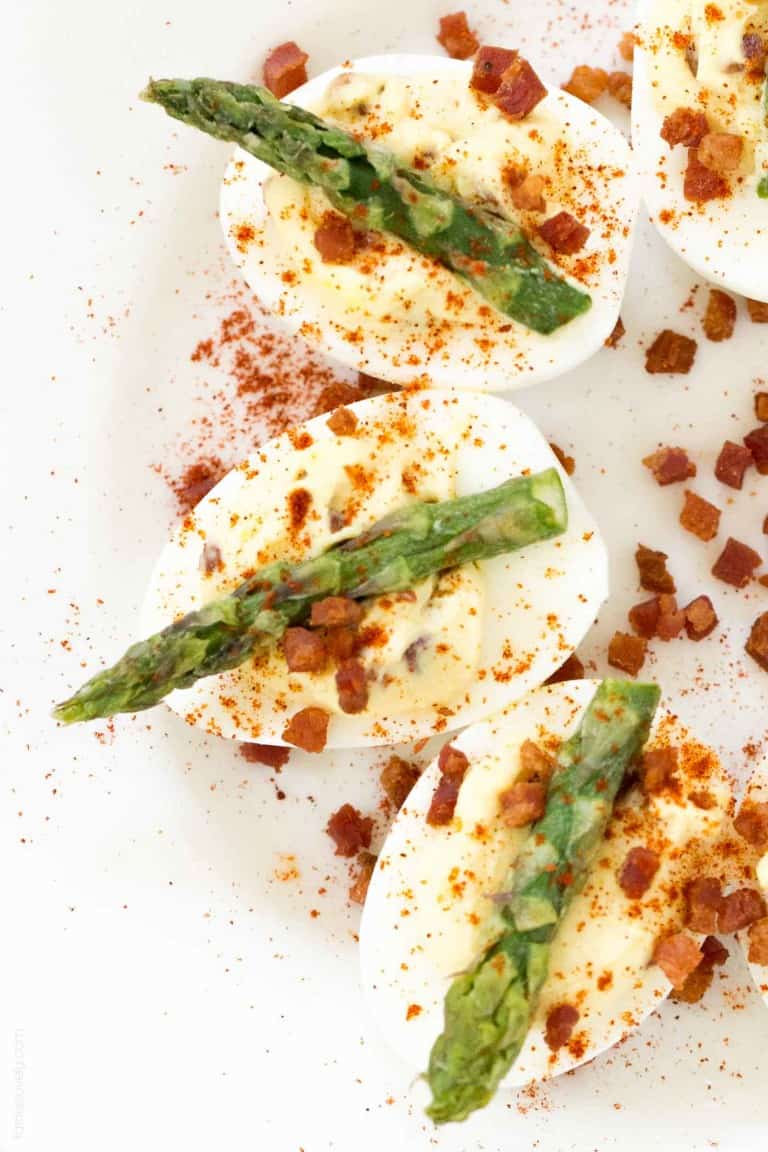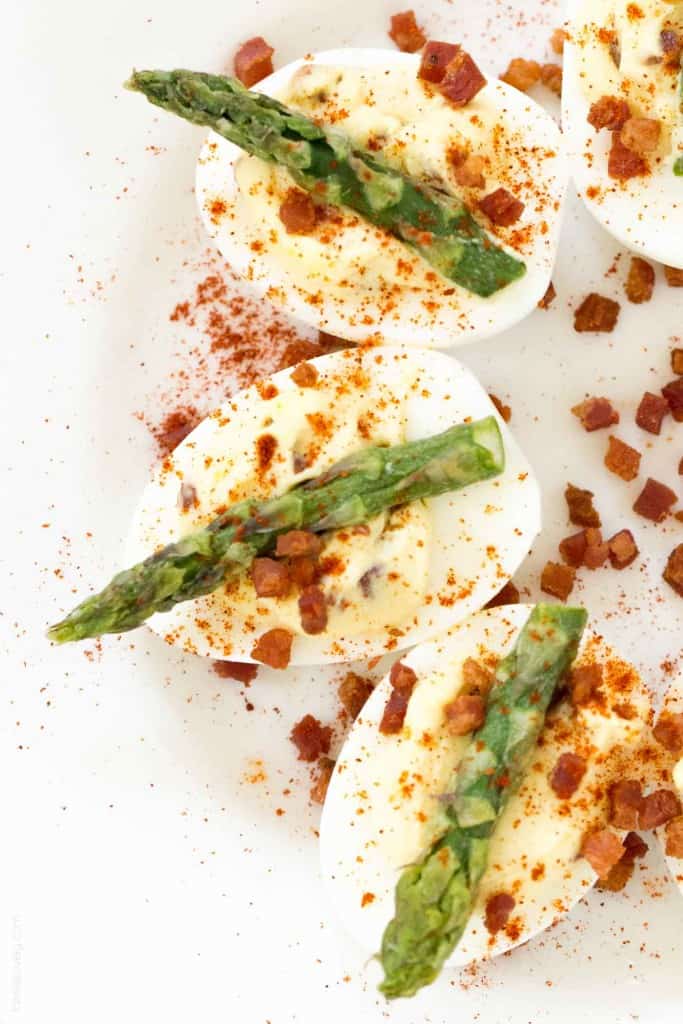 The girls lay late in the morning. I can always tell, because as soon as a chicken lays an egg she comes out very talkative and clucking away. It's cute.
I go and check for eggs with Josh around 3 after he wakes up from his late afternoon nap. This week we had a record, 7 eggs in 1 day. All 7 chickens laid an egg for the first time…ever! Which was very exciting. You have to check out the cute picture on Instagram.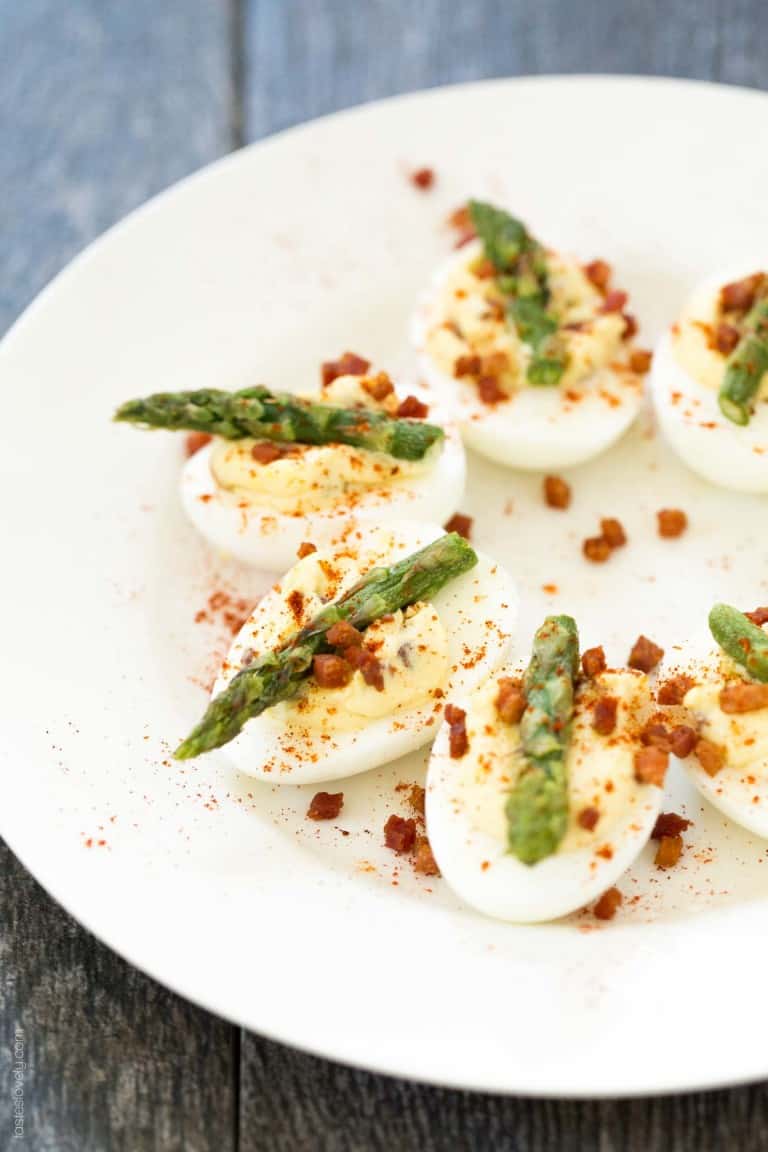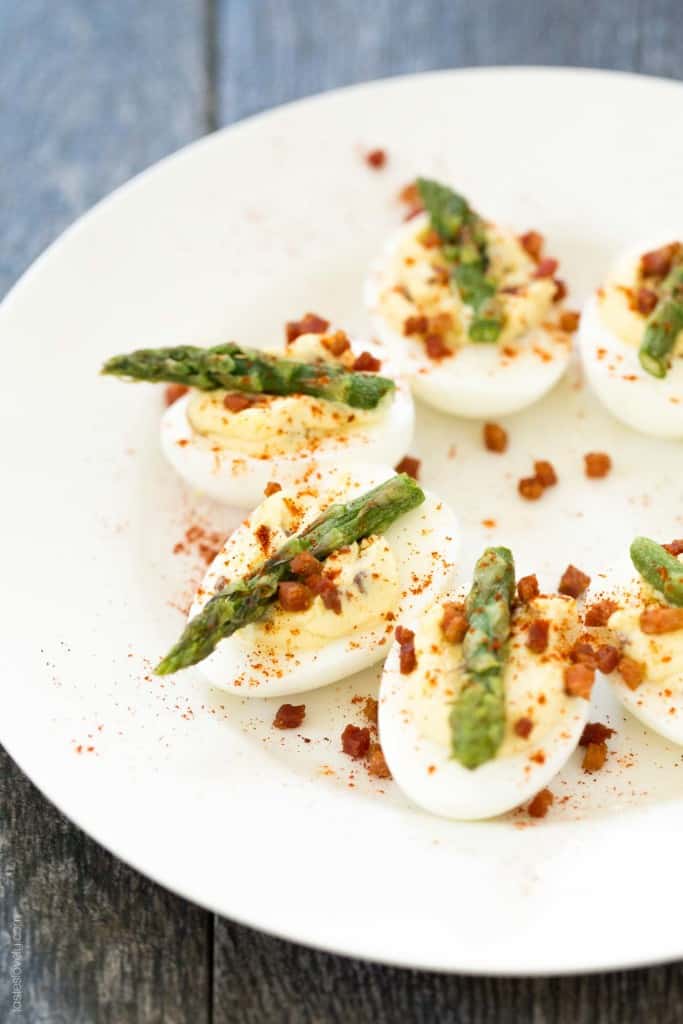 Fresh eggs really are in a completely different league than what you buy in the grocery store. They taste way better. The yolks are bright yellow and gorgeous. And it also helps that we have a variety of chickens, so we have a variety of pretty shell colors.
Now that the girls are laying so many eggs, I have more eggs than I know what to do with. Best problem ever! I'm finding all types of fun ways to use them up. One of my current favorites is to make these pancetta and asparagus deviled eggs, serve them with a cold glass of Gloria Ferrer Carneros Chardonnay, and enjoy them out in our side yard as soon as Shawn gets home from work. It's our fun little spring happy hour at home.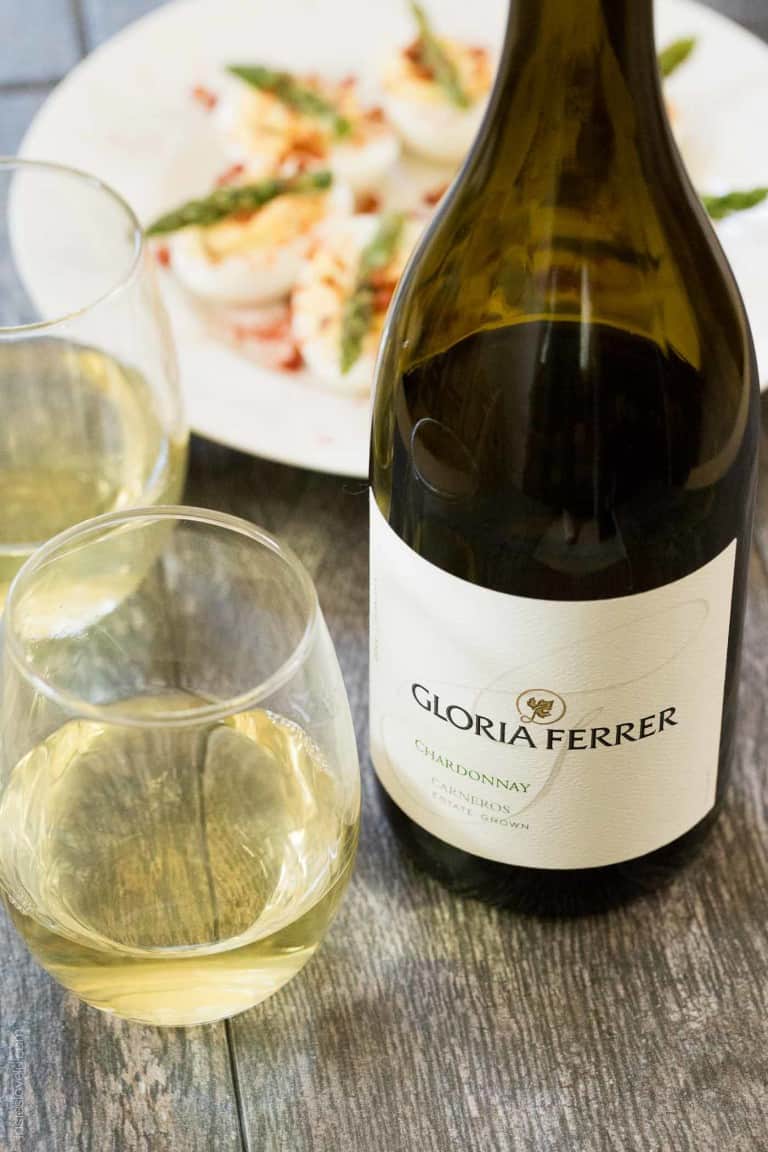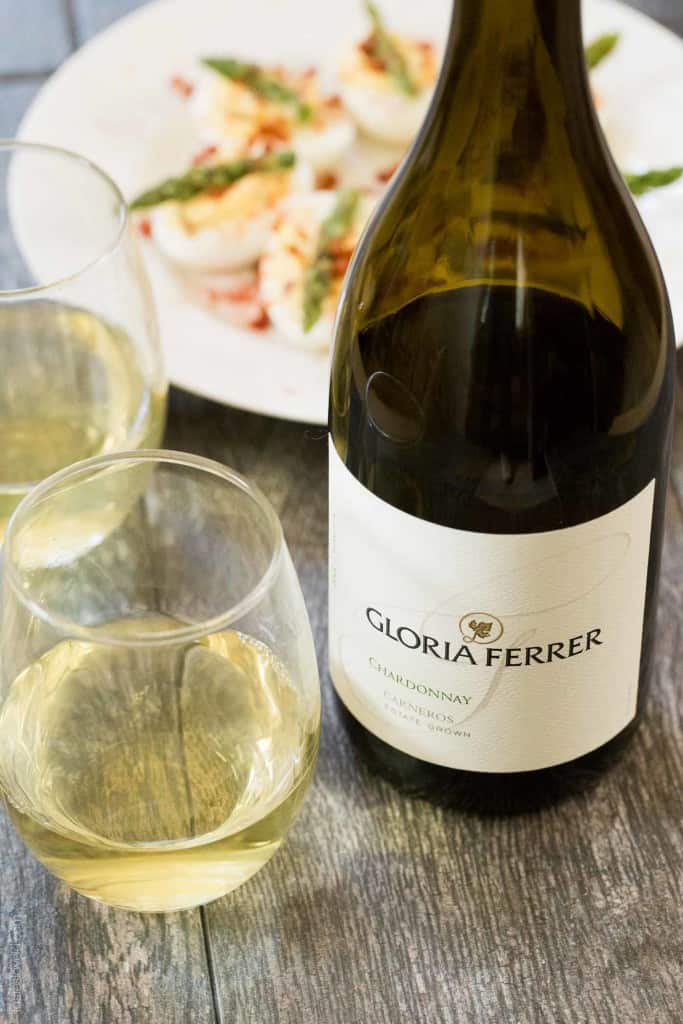 I love Gloria Ferrer wines. Their wines are simply delicious. I particularly love their Carneros Chardonnay, especially in spring and summer. Perfect pairing with these deviled eggs.
I'm so spoiled living within an hour of wine country. I've visited Gloria Ferrer winery many, many times. It's always a must visit on our winery itinerary whenever we head to Sonoma.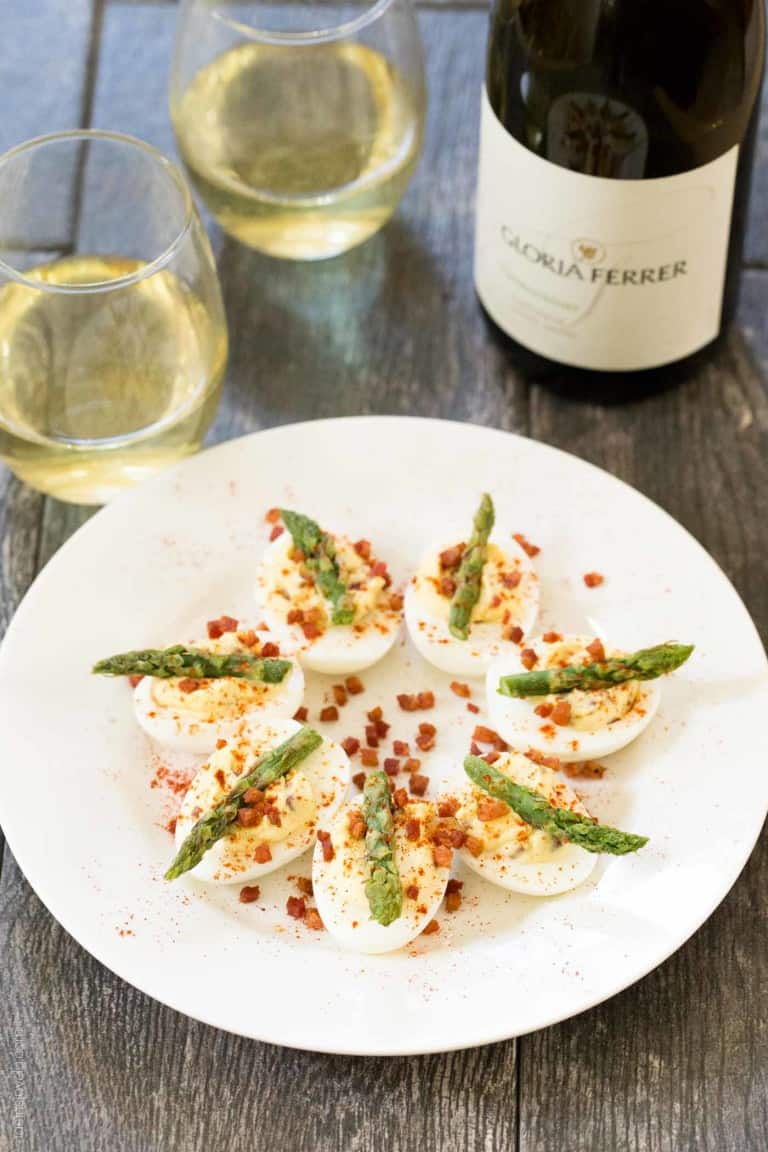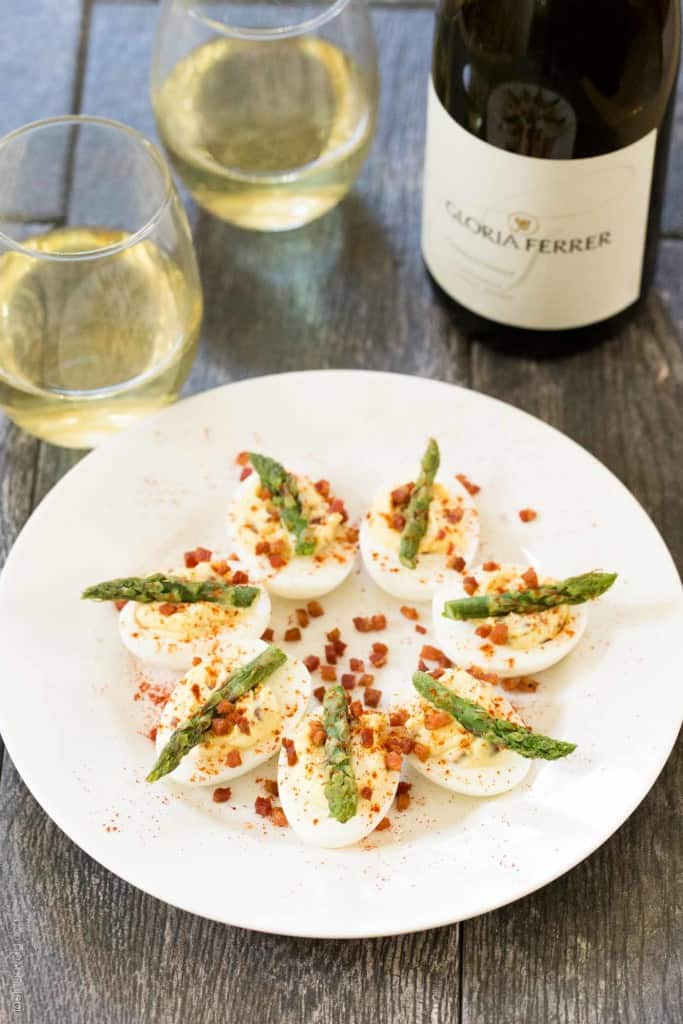 I love deviled eggs, but if there's one thing they're missing, it's some crunch. That's what I love about these deviled eggs. I buy a container of the small cube diced pancetta at the store (way easier than cutting it up myself), and slowly cook them until their crunchy, salty little bites of deliciousness. Exactly what deviled eggs need.
I mix the crispy pancetta right in with the whipped egg yolks, and sprinkle some more on top. The more the better. I top them with asparagus tips that I sautéed in the pancetta drippings. Talk about yum! Perfect spring appetizer. Also, great way to use up any leftover hard boiled Easter eggs!
Bring on the sunshine!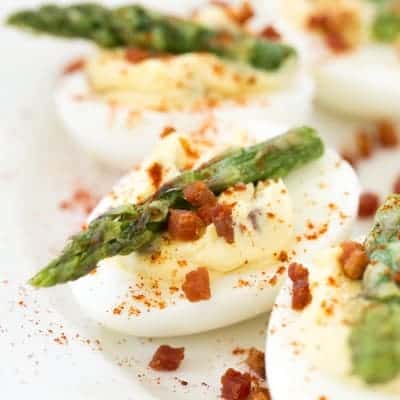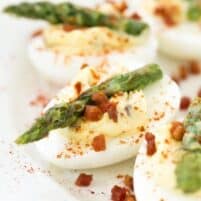 Pancetta and Asparagus Deviled Eggs
These deviled eggs are made with crispy pancetta and asparagus tips. The pancetta adds a much needed crunch to this simple and healthy appetizer!
Ingredients
6

eggs

4-

oz

package of diced pancetta

12

asparagus spears

3

tablespoons

mayonnaise, try making your own mayonnaise!

2

teaspoons

dijon mustard

1/8

teaspoon

white pepper

pinch

of cayenne pepper

smoked paprika to sprinkle on top for garnish
Instructions
Cooking the Eggs

My favorite way to make hardboiled eggs is to steam them. So much easier to peel! And very fresh eggs are particularly tricky to peel.

In a pot that has a steamer basket, fill with 2-3 inches of water and bring to a boil over high heat. When the water begins boiling, add the eggs, cover, and continue to boil over high heat.

Steam the eggs for exactly 12 minutes.

While the eggs are cooking, fill a medium size bowl with water and ice to make an ice bath.

After the eggs are done steaming for 12 minutes, immediately transfer the eggs with a slotted spoon (they're going to be HOT!) to the ice bath. This will stop them from cooking. Leave them in the ice bath until they are completely cooled. At least 20 minutes.

Pancetta

Heat a medium size skillet over medium heat. Line a small plate with paper towels.

Cook the pancetta until it is crispy and golden brown, stirring occasionally. Will take about 10 minutes.

Use a slotted spoon to transfer the cooked pancetta to the paper towel lined plate. Leave the rendered pancetta fat in the skillet

Asparagus

Trim off the asparagus tips. Save the stalks to use in a soup or salad or quiche.

Add the asparagus tips to the same skillet you used for the pancetta, and cook them over medium heat. Cook the asparagus spears until bright green, but still crisp tender, about 3-5 minutes. You don't need any salt, the pancetta fat already has salt in it.

Deviled Eggs

Peel the hard boiled eggs. Cut the eggs in half, and remove the eggs yolks.

In a food processor, combine the egg yolks, mayonnaise, dijon mustard, white pepper, and pinch of cayenne. Pulse to combine

Add 3/4 of the cooked pancetta, and fold it in my hand.

Spoon the yolk mixture into the whites. Top each egg with 1 asparagus tip. Sprinkle on the remaining pancetta and smoked paprika. Serve.

Leftovers will keep refrigerated in an airtight container for 3 days.
Calories:
230
,
Total Carbs:
3.7
g
,
Protein:
9.4
g
,
Fat:
19.8
g
,
Fiber:
1.6
g
,
Net Carbs:
2
g
Did you make this recipe?
Please Leave a comment and give this recipe a rating!

More Appetizer Recipes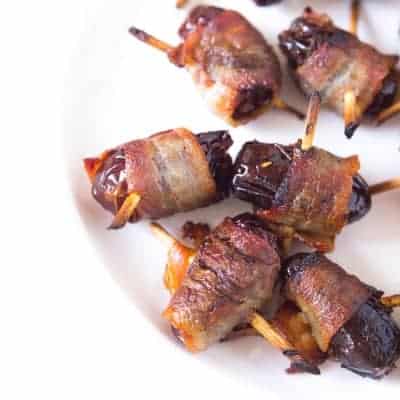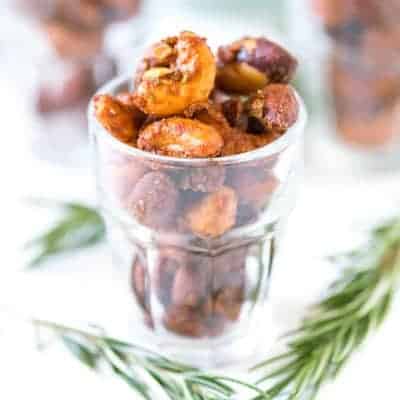 Sweet and Spicy Rosemary Roasted Nuts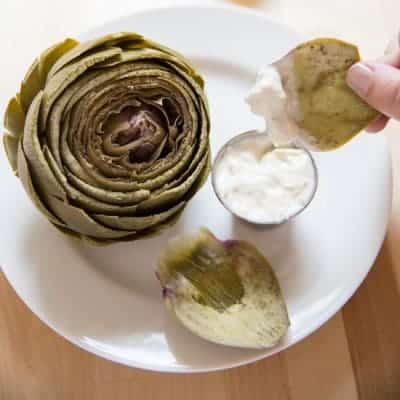 Steamed Artichokes with Lemon Garlic Aioli
This post is sponsored by Gloria Ferrer. All opinions are my own. Thanks for supporting the brands that support me!