Steamed Artichokes with Lemon Garlic Aioli
Welp, it happened. One of my biggest nightmares.
I lost an SD card that had 2 food blog photo shoots and video shoots on it! The worst!
I have turned my house upside down looking for it with no luck, and it whereabouts is now the biggest mystery of my life. I don't know where on earth it could be. Our house is less than 900 square feet, there are only so many places it can be hiding.
The good news is, only the "prep" portion of the photo's and video were on that SD card. All of the "during" and "after" photo's and videos were on a different SD card. Thankfully, these steamed artichokes with lemon garlic aioli are fairly self explanatory, so it's not the end of the world that I lost half the video footage.
The other recipe is a little more involved, so looks like I'll be making that recipe again this weekend so I can salvage the video.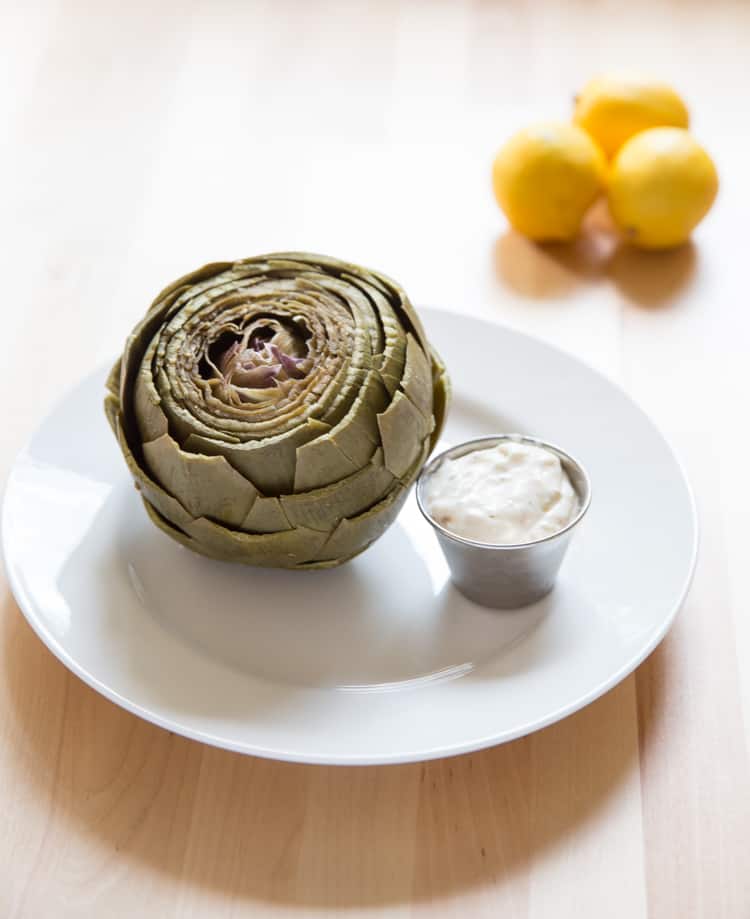 Do you all love artichokes as much as I do? I get so happy when they are in season, one of the best parts of summer. Oh, I could just eat them every day.
This is a far cry from when I was a kid, and the first time I tried them I hated them. I think that has a lot to do with the fact that the dipping sauce I ate them with was mayonnaise. Just plain, room temperature mayo. Ick!
Artichokes are all about the dipping sauce, and this lemon garlic aioli is the BEST artichoke dipping sauce. It's base is mayonnaise, but it's made infinitely better by adding in some grated garlic, lemon zest, lemon juice, and a pinch of cayenne pepper. It's flavorful, and the perfect pairing for meaty artichokes.
Print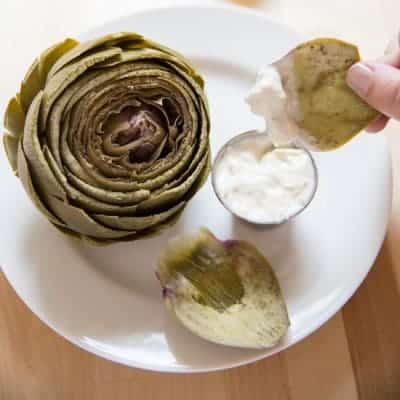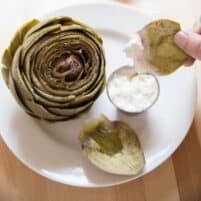 Steamed Artichokes with Lemon Garlic Aioli
---
Author:

Total Time:

1 hour

Yield:

2

people

1

x
2

medium to large size artichokes
Lemon Garlic Aioli
Artichoke poaching liquid
2 cups

water

1 cup

chicken or veggie stock*
splash of white wine, about 1/4 cup*

2

lemon halves left over from lemon garlic aioli
---
Instructions
In a small mixing bowl, make the lemon garlic aioli by combining all ingredients and stirring to combine. Set aside in the refrigerator. Will keep in an airtight container in the refrigerator for 1 week.
Prep the artichokes by cutting off the top 1″ of the artichoke, bottom 1/4″ of the stem, then snipping off the pointy part of each leaf to get rid of the thorns.
In a medium size pot with a lid, heat up all ingredients of the poaching liquid over medium high heat. Add in the artichokes, base side down so the top of the artichokes face up. Cover with a lid, and simmer the artichokes over medium heat for 45-50 minutes. After the artichokes are fully steamed, remove them with tongs, turn them upside down to drain off excess liquid, then put them upside down in a strainer and allow to cool for 3 minutes.
Serve warm with the lemon garlic aioli.
Notes
*If you don't have any white wine or chicken/veggie stock, just use water instead.
Prep Time:

10 mins

Cook Time:

50 mins