Whole30 + Keto Roasted Artichoke Hearts (From Frozen!)
Whole30 + Keto Roasted Artichoke Hearts Recipe – thawed frozen artichoke hearts that get ultra crisp in the oven! Simple, delicious + healthy appetizer or side dish. Paleo, gluten free, grain free, dairy free, sugar free, clean eating, real food.
Sorry, I am about to yell at your eyes…
THESE WHOLE30 + KETO ROASTED ARTICHOKES HAVE CHANGED MY LIFE!!!
I'm serious. They're from frozen artichoke hearts (hello easy!). It's an appetizer or side dish that literally every single diet can love (hello whole30, keto, paleo, AIP + vegans!). And, they're less than 3 net carbs per serving! (hello good macros!)
Watch The Recipe Video
Note: You can also watch this recipe video on YouTube.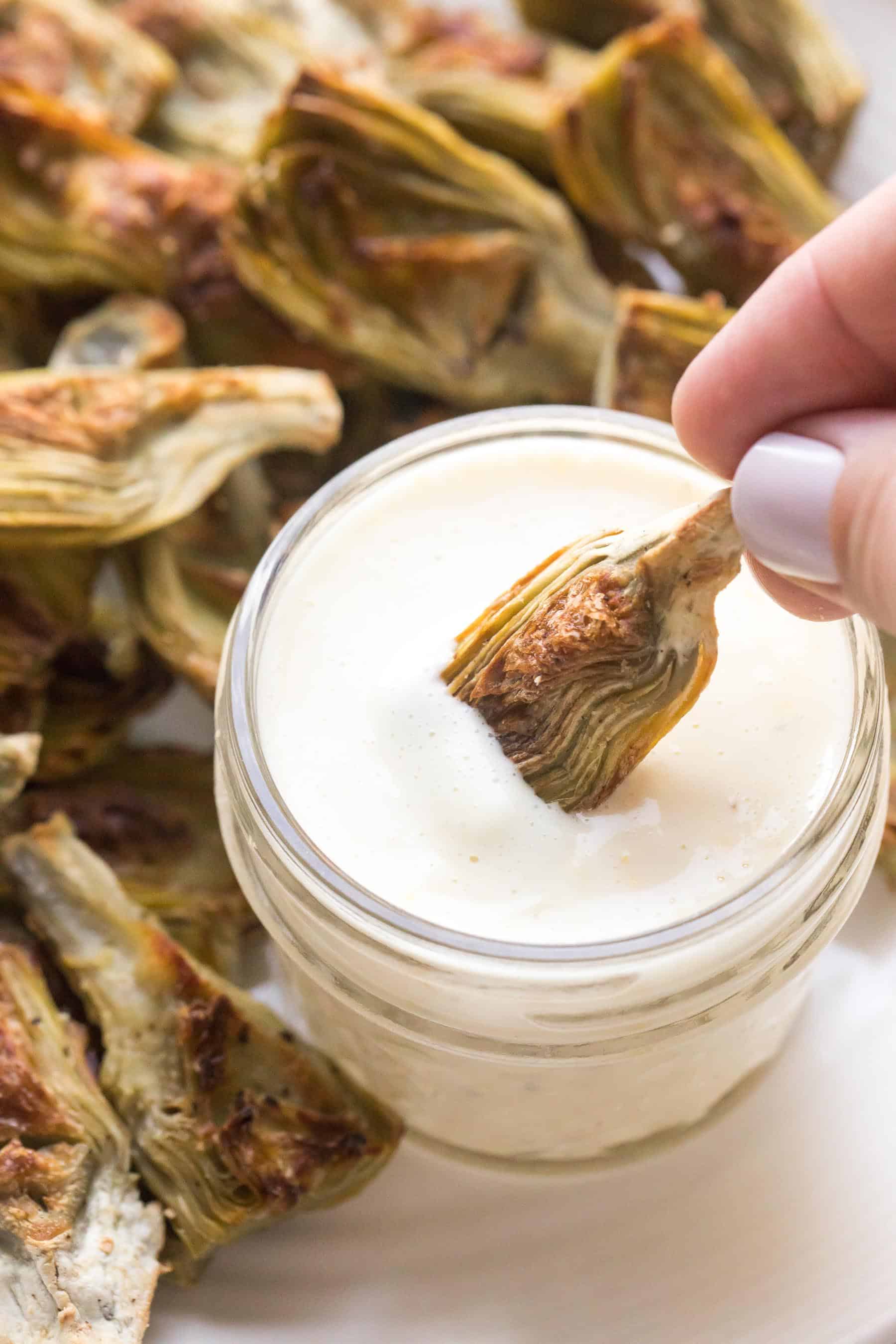 Whole30 + Keto Roasted Artichoke Hearts (From Frozen!)
The very best part of these roasted artichoke hearts is that they're from frozen! As in, you just buy a bag of frozen artichoke hearts, thaw them (or even put them on fully frozen!), toss them in olive oil, and roast away.
No need to trim down whole artichokes. The hearts are even pre-cut for you! The hearts are really the best part anyway. Plus, the hearts are much lower in carbs than the leaves. So better for keto!
Look how crispy they get in the oven!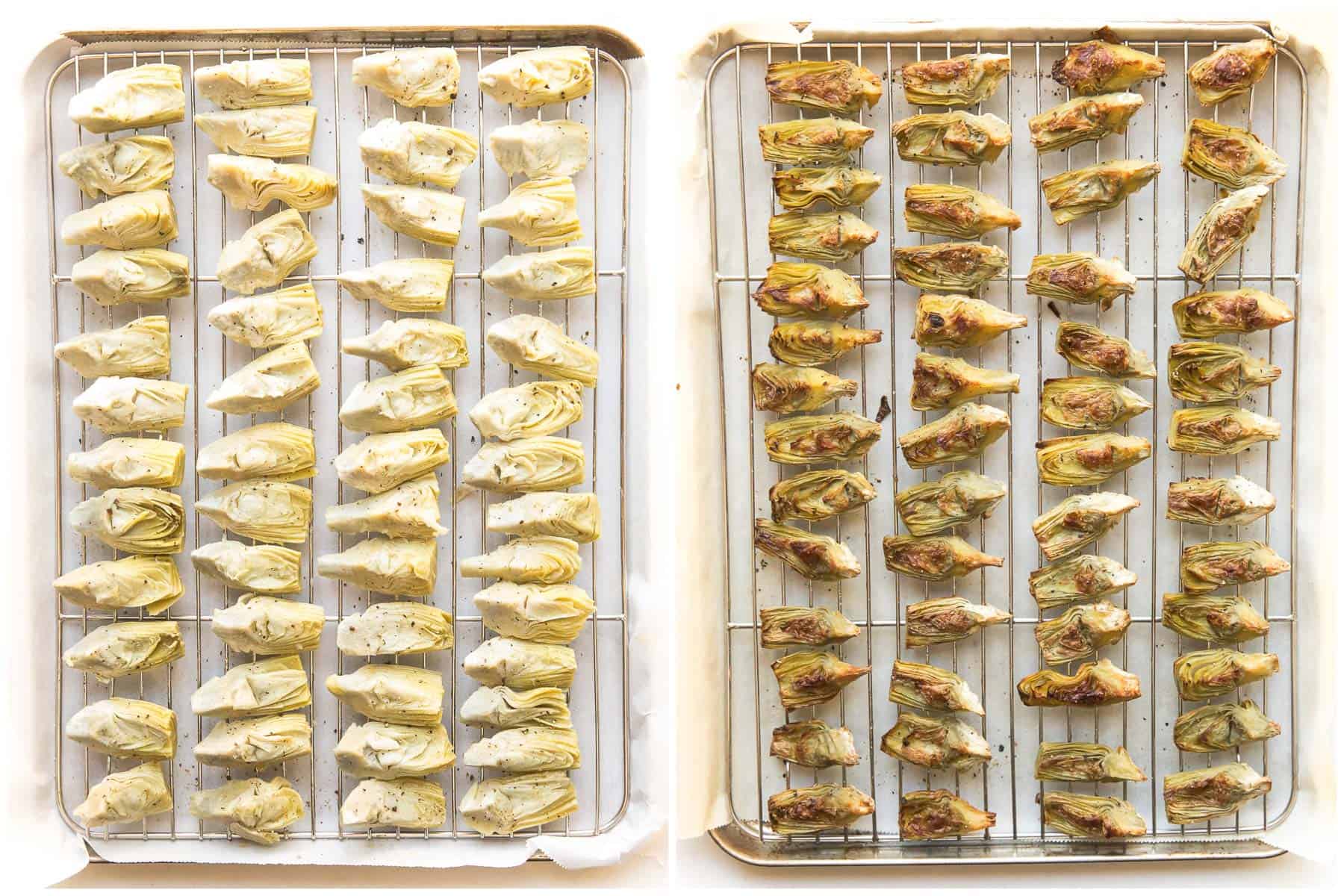 How To Get Crispy Roasted Artichoke Hearts
The secret to their crispiness is to roast them on a wire rack set inside a rimmed baking sheet. This way, any excess moisture can evaporate rather than pooling under the artichokes and making them soggy.
I swear to you on everything, these get so crispy and you would never guess they started out as frozen!
Sadly, the same is not true if using canned artichokes. They don't crisp up, and have a super briney taste. I DO NOT recommend substituting canned artichokes.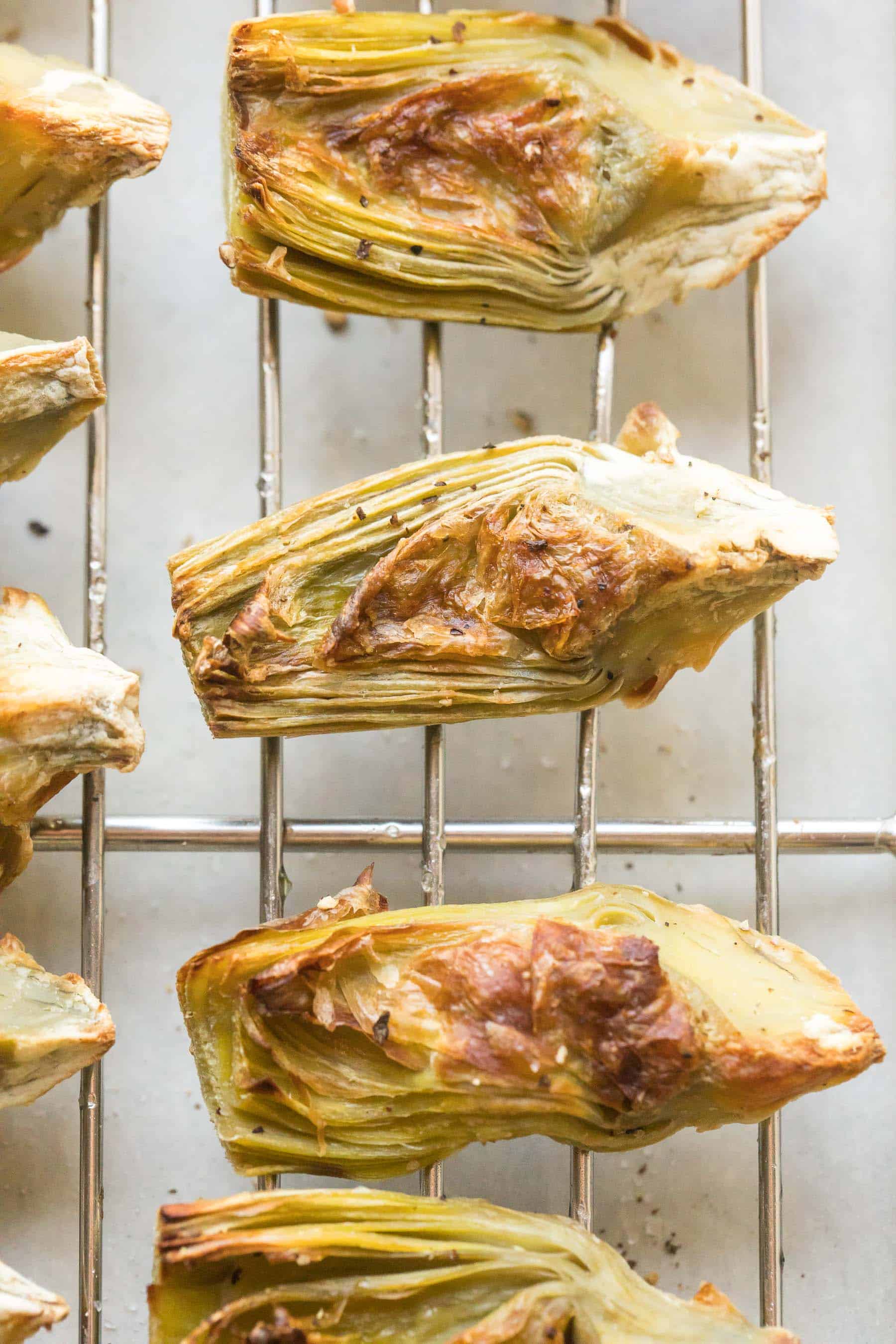 Serving Whole30 + Keto Roasted Artichoke Hearts
You can serve these as an appetizer, or as a side dish. Everyone will love them. Everyone will demand to know how you made these amazing, crispy artichoke hearts. You will be a hero!
I like to serve them warm with my lemon garlic aioli. The perfect pairing!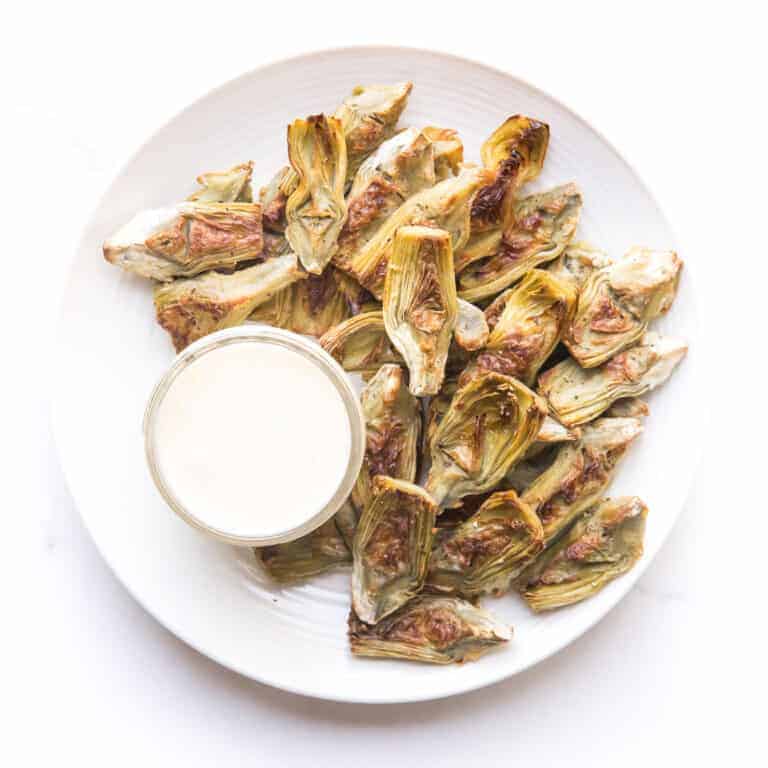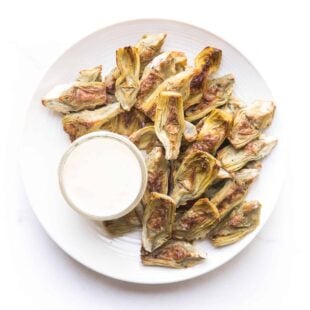 Whole30 + Keto Roasted Artichoke Hearts (From Frozen!)
This Keto Roasted Artichoke Hearts Recipe is thawed frozen artichoke hearts that get ultra crisp in the oven! Simple, delicious + healthy appetizer or side dish.
Ingredients
Roasted Artichoke Hearts
2

12-ounce bags

frozen artichoke hearts

2

tablespoons

olive oil

2

teaspoons

salt + pepper
Lemon Garlic Aioli
1/2

cup

mayonnaise

zest of 1 lemon

1

tablespoon

lemon juice

1

clove

garlic

grated or finely minced

1/4

teaspoon

salt + pepper

or more to taste
Instructions
Preheat oven to 425ºF. Line a rimmed baking sheet with parchment paper (for easy cleanup), then set in the wire rack.

In a medium bowl, add the frozen artichoke hearts. (They can be either frozen or thawed!) Drizzle on the olive oil and toss to coat.

2 12-ounce bags frozen artichoke hearts,

2 tablespoons olive oil

Arrange the artichoke hearts in an even layer on the wire rack. I like to do them leaf side UP, the layers of leaves taste so much better crispier! Season with salt + pepper.

2 teaspoons salt + pepper

Roast for 40-50 minutes (if thawed) or 60-65 minutes (if frozen) until crispy and golden brown. No need to turn the artichokes while roasting.

While the artichokes are roasting, make the lemon garlic aioli by combining all ingredients in a bowl and stirring.

1/2 cup mayonnaise,

zest of 1 lemon,

1 tablespoon lemon juice,

1 clove garlic,

1/4 teaspoon salt + pepper

Serve the artichoke hearts warm with the lemon garlic aioli dipping sauce.

Leftovers will keep for 1 week in an airtight container.
Jump to Video
Recipe Notes
Frozen Artichoke Hearts: Trader Joe's for sure always has frozen artichoke hearts. I've also found them at Whole Foods, and occasionally larger chain grocery stores like Safeway/Ralph's/Von's.
Jarred Artichoke Hearts in Oil: This also works with jarred artichoke hearts in oil. The oil allows them to crisp up. Costco has a great deal on these! This can be found at most stores. Many jarred artichokes in oil have a seasoning in them, which adds more flavor to the artichokes. They may not need salt, depending on the ones you buy.
Canned Artichoke Hearts: This DOES NOT work well with canned artichokes. They're too wet and don't crisp up. Plus, the brine in the can gives them an olive type taste, rather than an artichoke heart taste. This is my least favorite substitute option.
Vegan/Plant Based: Use a vegan mayonnaise to make these vegan
Wire Rack: I prefer roasting these on a wire rack since it allows the air to circulate all around the artichoke hearts and get them crispier. This is the exact sheet pan with a wire rack that I have and love!
Air Fryer: You can make these in your air fryer! I would do them at 400ºF for about 10-15 minutes until crispy, shaking the basket every few minutes.
Leftovers: I love eating the leftovers cold. If you want to warm and crisp them up again, roast in the oven at 425ºF for about 15-20 minutes.
Nutrition
Calories:
206
Total Carbs:
10.8
g
Protein:
4.2
g
Fat:
17.3
g
Fiber:
8.2
g
Net Carbs:
3
g
Nutrition facts are calculated as a courtesy and not guaranteed.
Did You Make This Recipe?
Please leave a comment and give this recipe a rating!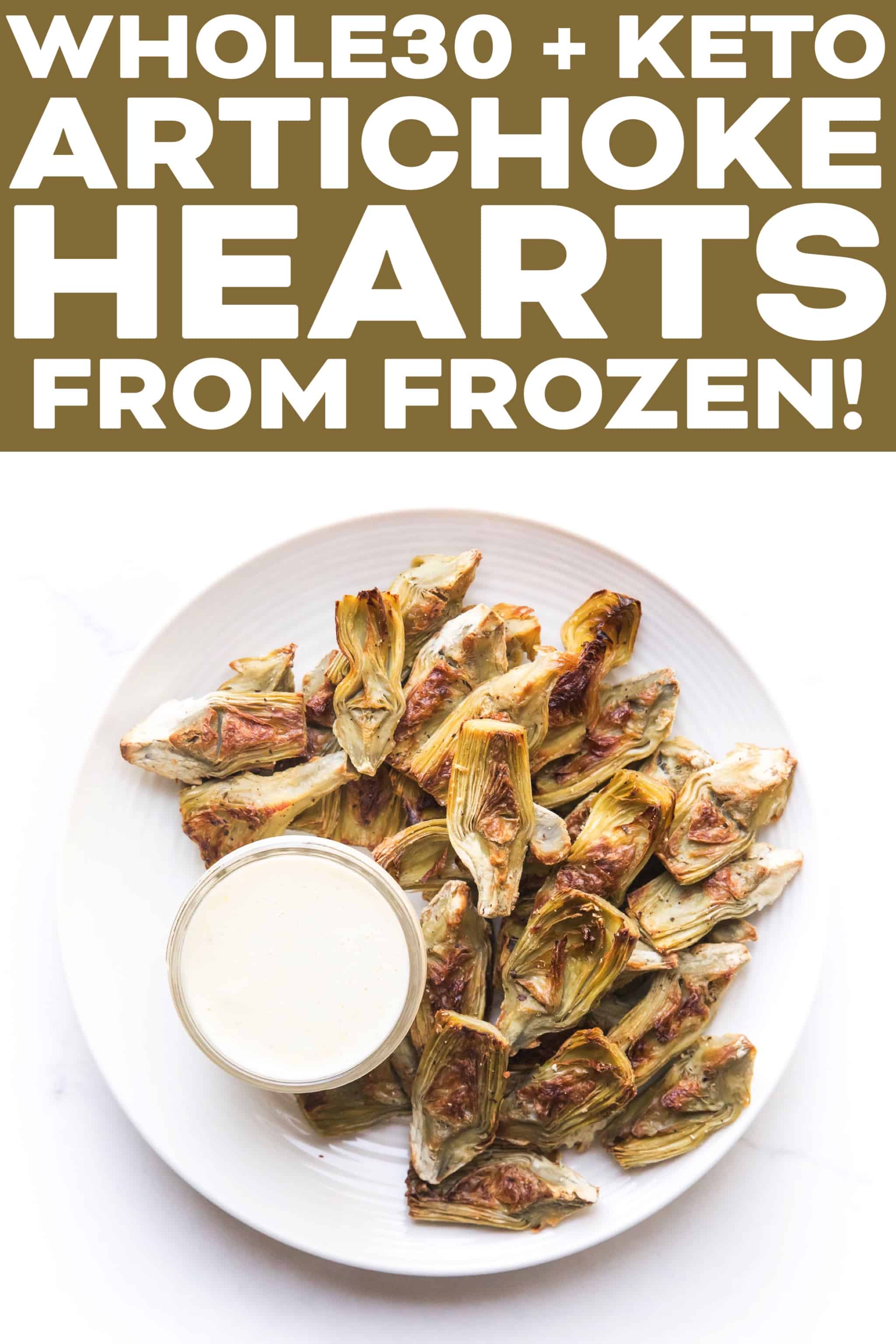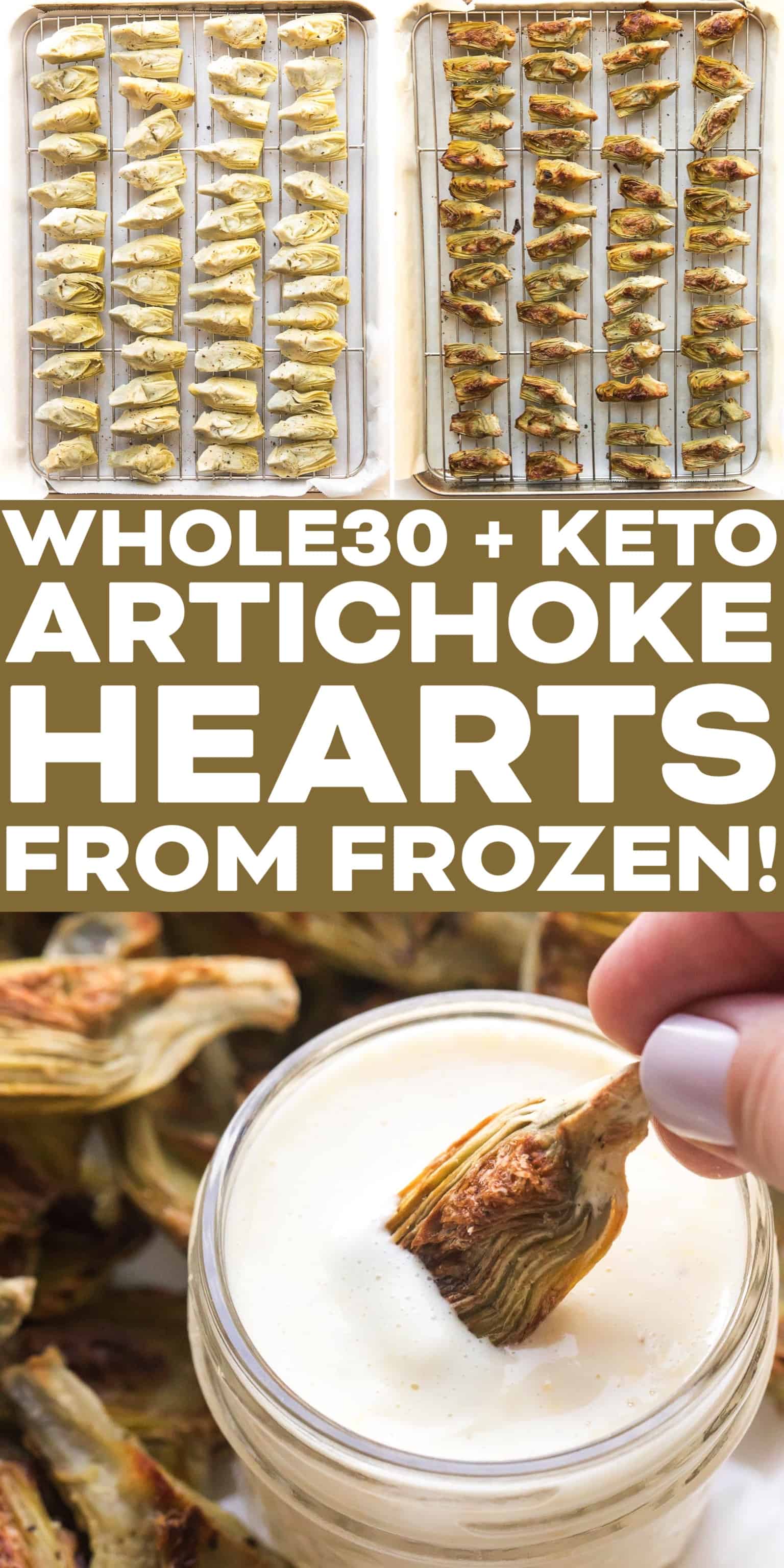 This post contains affiliate links, thanks for the love!