Rosemary Mustard Skillet Chicken
I almost named this Food Heaven Chicken. Almost…
I'm not one to play favorites, but this might be my new favorite recipe. For sure my favorite recipe of the winter. We already know I love a good skillet chicken dinner, and this one has certainly stolen my heart as well. It has so much deep mustard and rosemary flavor that makes your house smell delicious while it's cooking.
And! It comes together in 30 minutes. I love a 30 minute meal. Especially with the crazy week I've been having. Little Max got "snipped" and has been sporting an oh-so-attractive cone around his neck so he can't lick his stitches. Which basically means he continues running around the house full speed and bangs his cone into everything in his path, including me. The sounds of an echoey plastic cone banging into walls and furniture is the new music of the house.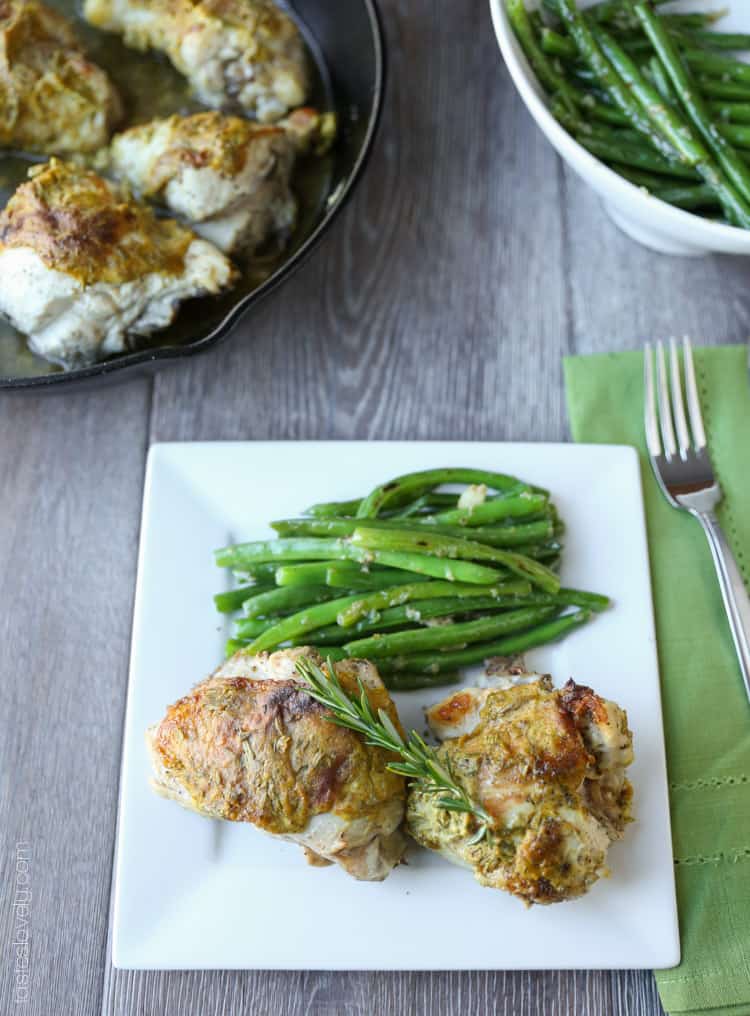 Anyway, back to Food Heaven Chicken. I mean…Rosemary Mustard Chicken.
All of it's deliciousness is thanks to the flavorful sauce of tangy mustard, savory rosemary and sweetened with maple syrup. This sauce isn't just for topping chicken, it's great on roasted pork or even in sandwiches.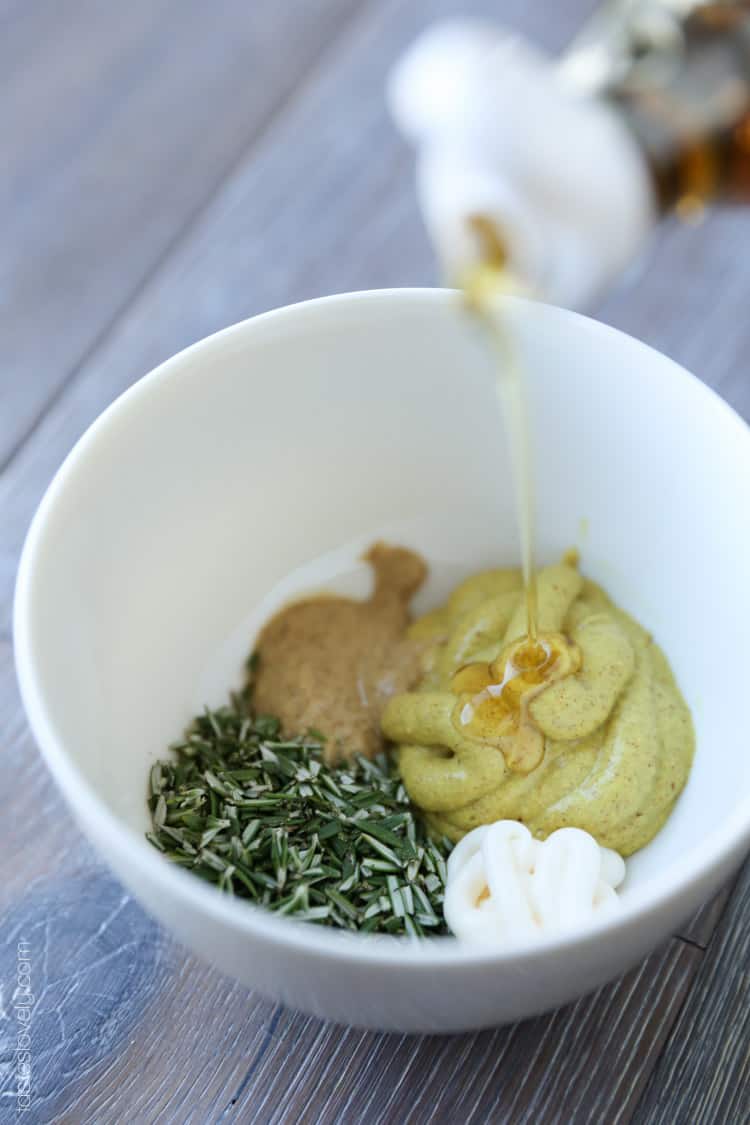 The secret is using a cast iron skillet which gives it crispy skin and cooks it evenly. I have this 12″ Lodge pre-seasoned cast iron skillet that I just LOVE. The food has never stuck, and with these plastic scrapers the dreaded cast iron clean up is a breeze.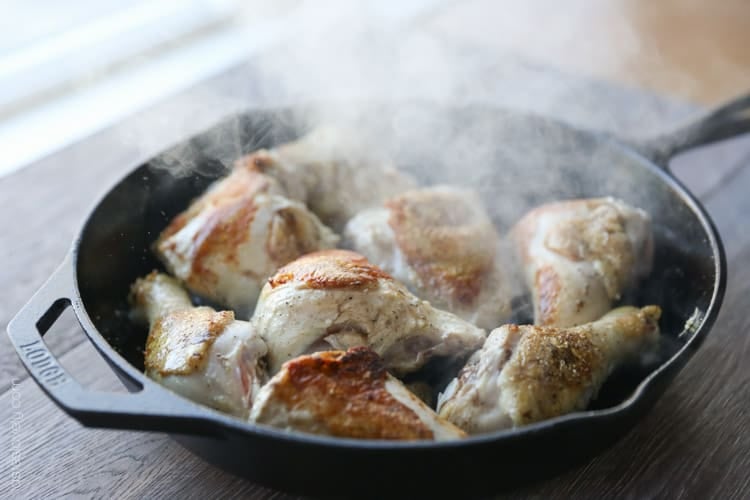 After the chicken is browned up you top it with the rosemary mustard sauce, splash in 1/2 a cup of white wine, throw it in the oven for 20 minutes, and enjoy the intoxicating aroma that fills your kitchen.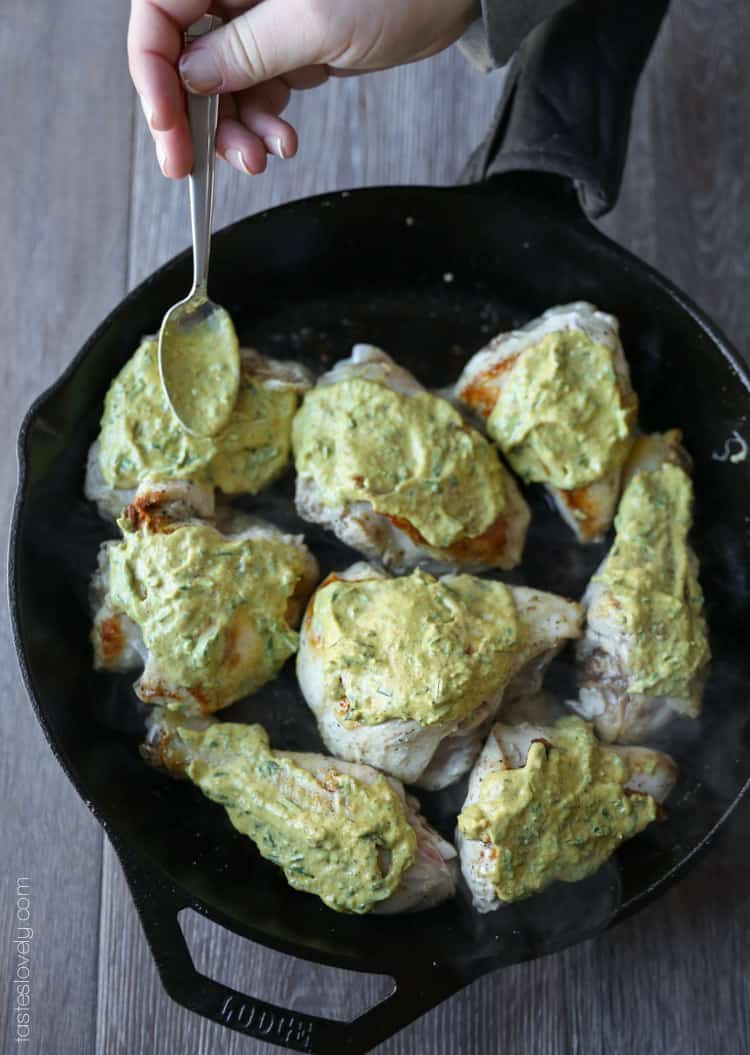 Your family will love the crispy mustard crust on top the chicken. You and your skinny jeans will love that this is less than 370 calories and only 3 carbs.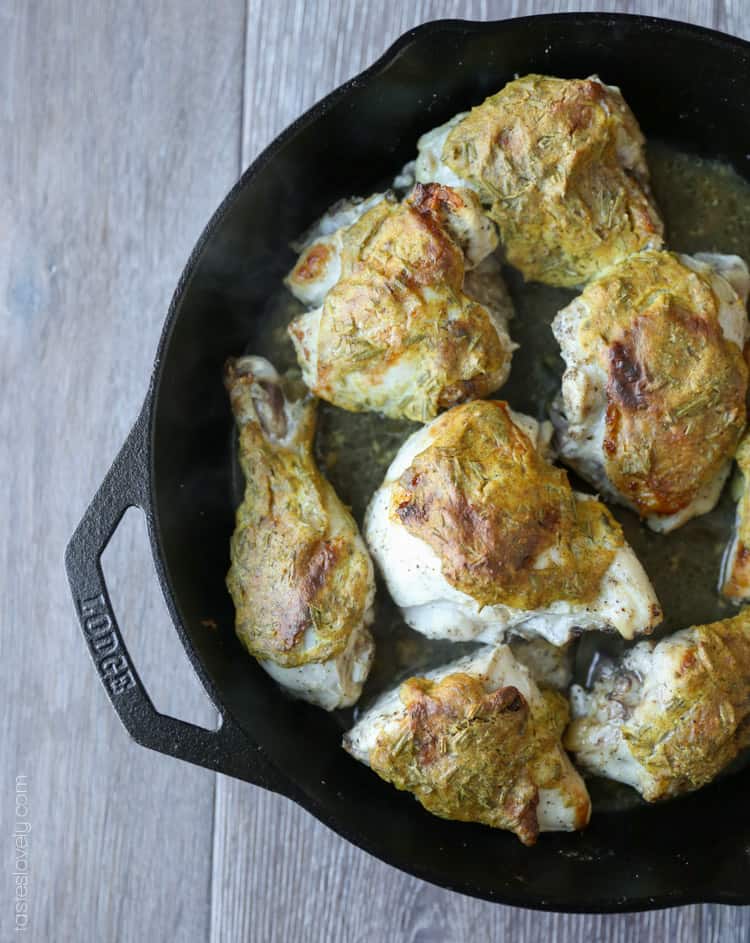 I served this with my garlicky green beans and was in food heaven. I may have liked this so much that I've cooked it twice in the last week. Just looking at these pictures makes me want to cook it again tonight.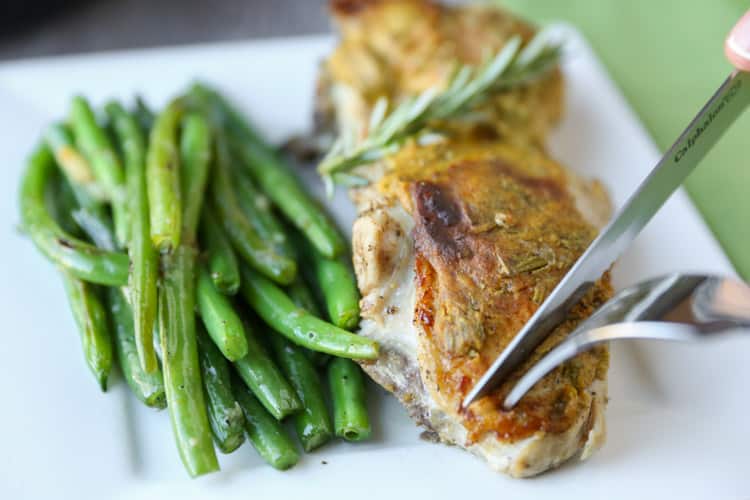 Maybe I will. I know my mister won't be complaining. He loved it so much and gobbled it up so fast I'm surprised he didn't eat the bones.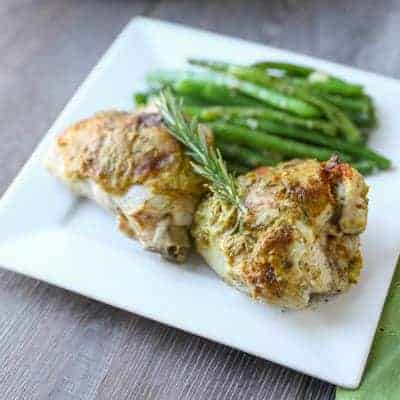 Rosemary Mustard Skillet Chicken
Chicken thighs are smothered in a rosemary mustard sauce, then roasted in the skillet until golden brown. A simple and flavorful dinner.
Ingredients
4

pound

chicken

,

cut into equal sizes, leave skin on and bones in, wings and spine discarded

1

tablespoon

olive oil

1

tablespoon

salt

1

tablespoon

pepper

2

tablespoons

spicy brown mustard

1

tablespoon

grainy mustard

1

tablespoon

mayonnaise

1

tablespoon

plus 1 teaspoon rosemary

,

chopped

2

teaspoons

pure maple syrup

1/2

cup

white wine

,

I use chardonnay

1

tablespoon

butter
Instructions
Heat a cast iron skillet over high heat, and preheat oven to 425 degrees.

Salt and pepper the chicken. Add the olive oil to the cast iron skillet, and cook the chicken starting with the skin side down until the skin is crispy and golden brown, about 5 minutes.

While the chicken is cooking, in a small bowl combine the mustards, mayonnaise, rosemary and maple syrup. Mix to combine.

After the skin is golden brown, flip the chicken and top the crispy skin with the rosemary mustard mixture. Add the white wine to the skillet, then transfer the cast iron skillet to the oven. Cook until the chicken is cooked through to 165 degrees, about 20 minutes.

Remove from the oven and allow to rest for about 3 minutes. Add in the tablespoon of butter and swirl to combine with the the pan juices. Serve the chicken warm topped with the pan juices.

Will keep refrigerated for 1 week in an airtight container.
Notes
This recipe would work with any cut of chicken. It even works on skinless, boneless chicken. Just make sure the chicken is cut into equal sizes so it cooks evenly.
You can substitute agave nectar or honey for maple syrup.
If you don't have a cast iron skillet any skillet will work.
Calories:
663
,
Total Carbs:
4.9
g
,
Protein:
103.4
g
,
Fat:
22.6
g
,
Fiber:
1.1
g
,
Net Carbs:
4
g
Did you make this recipe?
Please Leave a comment and give this recipe a rating!