Vegan Crunchy Baked Eggplant Bites
Vegan crunchy baked eggplant bites, served with a marinara dipping sauce. Everyone goes nuts for this appetizer whenever I make it, it's the first one to get eaten up. And so delicious, no one would guess that it was vegan.
What is the opposite of a green thumb? Because I think we have it. Shawn and I planted a huge vegetable garden again this year. And guys? It isn't going well.
Our tomato plants have gotten really tall and big, but there are barely any tomatoes growing. I planted tons of herbs. Most of them shriveled and died. My lettuce got chewed up by some bugs and now the leaves looks like swiss cheese since they're covered in holes. My zucchini plants looked promising and started growing zucchinis. But as soon as they got the size of pickles they stopped growing. Huh?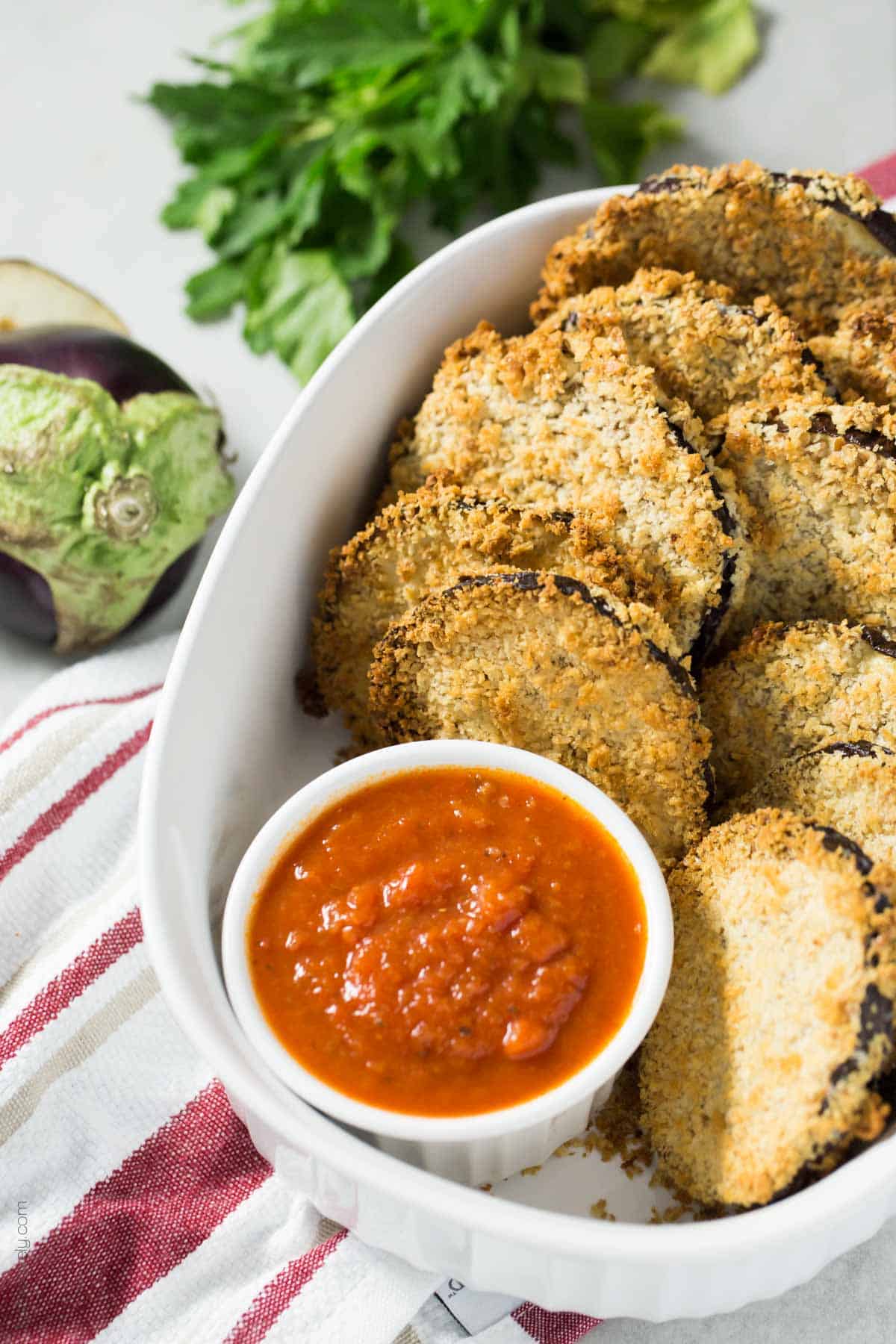 I don't know if it's the soil? Or that we have a big tree next to our garden and the shade is preventing it from getting enough sunlight? Or that we've over watered? Or under watered? Halp!
All I have to say is, thank goodness for farmers markets! Those guys know what they're doing. They're produce is WAY better than anything I can grow.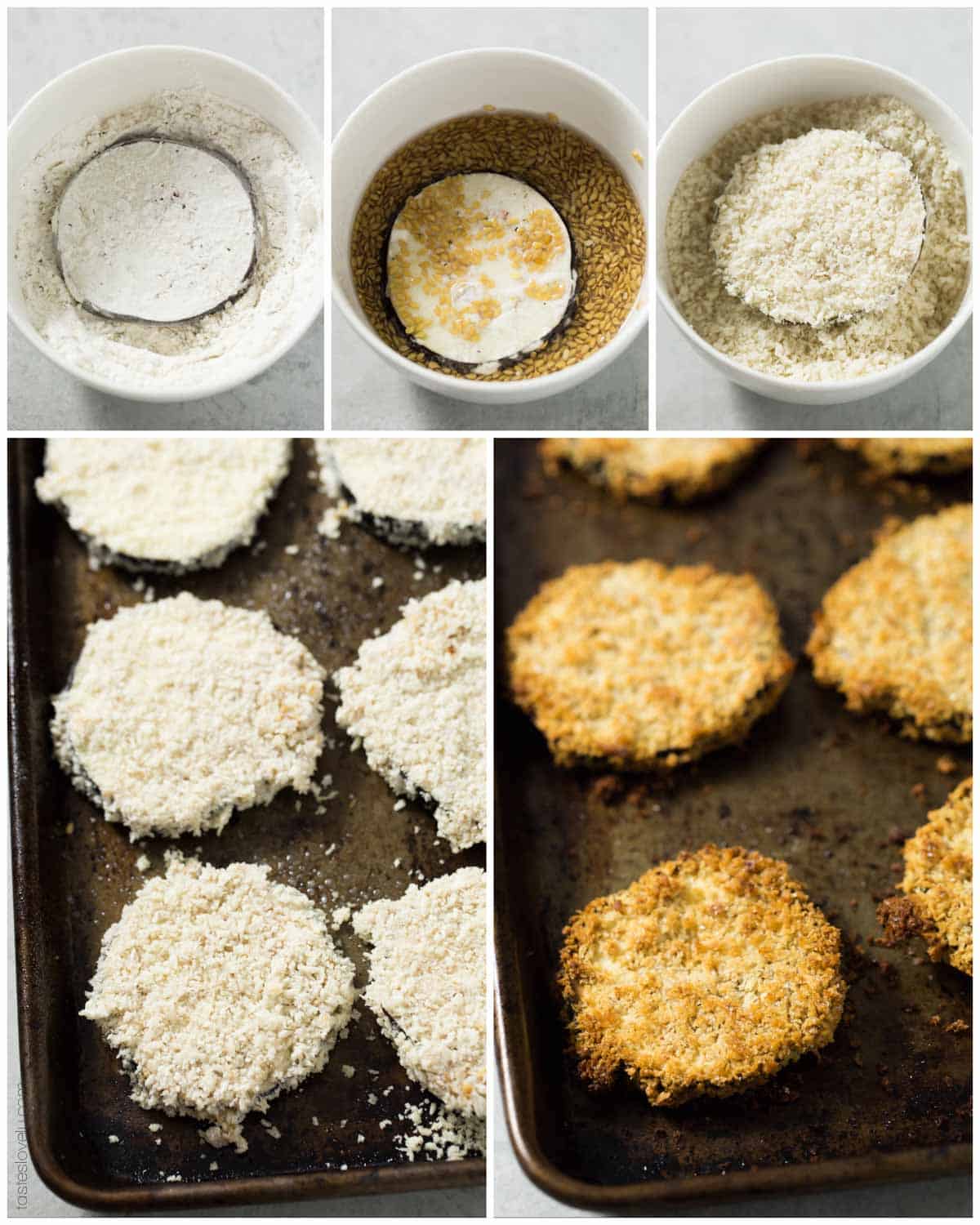 I went to the farmers market and got tons of great fruit and vegetables. Including a particularly gorgeous eggplant. I used it to make these vegan crunchy eggplant bites. This appetizer is a HUGE hit. It's always the first to go at family gatherings.
It is a little bit of prep work to get it all ready, but it's worth it for such a crunchy and delicious appetizer. Instead of using egg in the dredge, I replaced it with a flax seed mixture. It gets sticky and thick when you add water, and is the perfect vegan replacement for egg. Plus, it adds extra nutrients and even more crunch with the panko.
I kept this vegan, and coated it in just panko. But if your diet allows it, this is also great with parmesan cheese mixed in with the panko.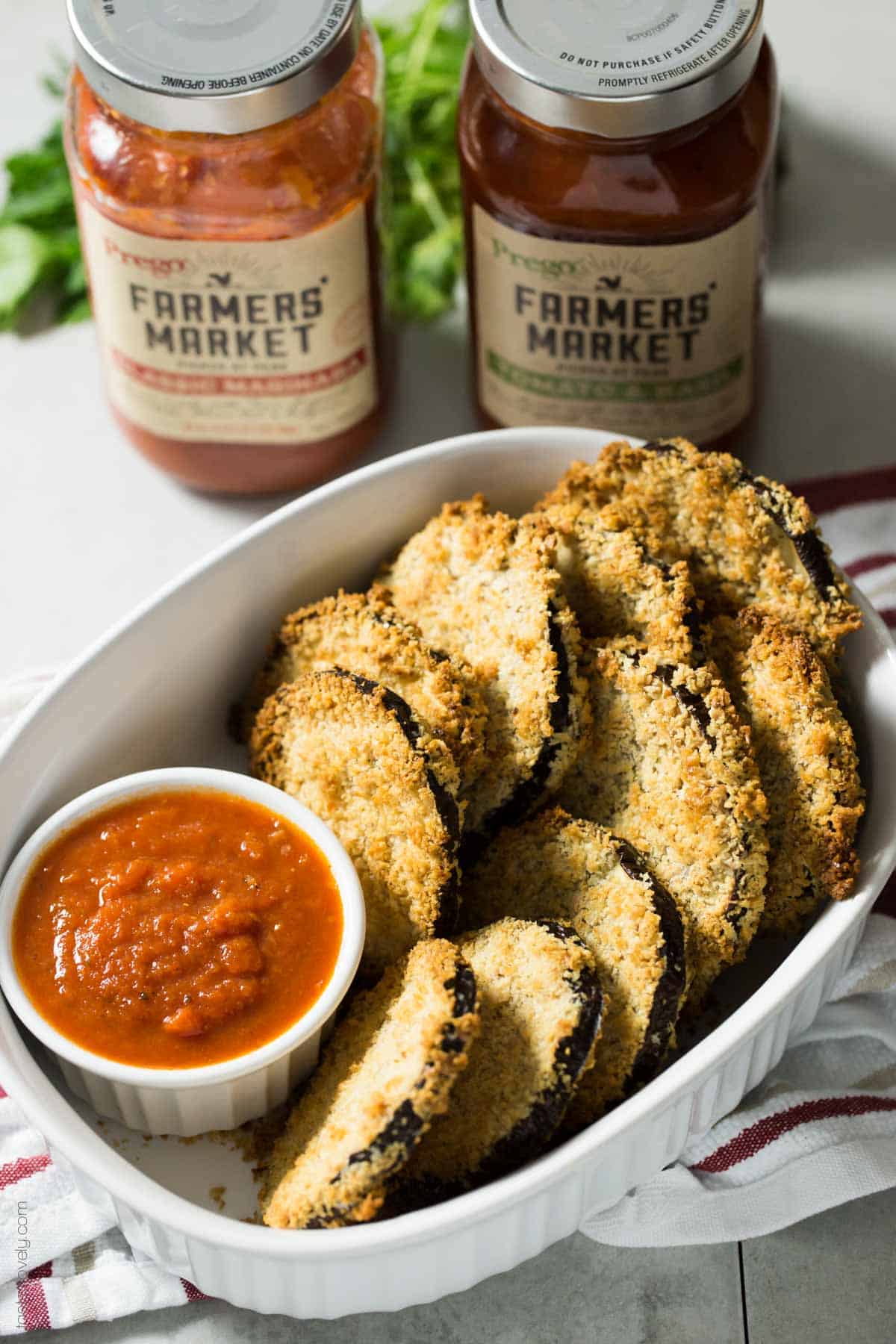 To make these vegan crunchy baked eggplant bites a little easier, I use a store bought marinara sauce for dipping. I love the new Prego® Farmers' Market sauces. They taste so fresh, like they're straight from the famers' market. I couldn't make it taste any better if I made it homemade. The taste is irresistible.
They have 3 flavors: Classic Marinara, Tomato & Basil and Roasted Garlic. They all use ingredients that are "picked at the peak of freshness", and are bursting with flavor. Prego® Farmers' Market brings amazing flavor from simple, farm fresh ingredients.
Print
Crunchy Eggplant Bites
---
Author:

Prep Time:

20 mins

Cook Time:

45 mins

Total Time:

1 hour 5 mins

Yield:

4

1

x
1

medium size eggplant, sliced 3/8″ thick (try to get a longer, skinnier eggplant rather than a shorter, wider one)

1/2 cup

all purpose flour

1/2 teaspoon

salt

1/2 teaspoon

pepper

1 teaspoon

italian seasoning

1/2 cup

flax seeds (or flax meal)

1 cup

water

1.5 cups

panko bread crumbs
olive oil spray
Prego® Farmers' Market Classic Marinara
---
Instructions
Prep
Slice the eggplant 3/8″ thick.
Spread the eggplant in a single layer on paper towels. Sprinkle both sides generously with salt and let sit for 10 minutes. This draws out excess moisture. After 10 minutes, you will see beads of condensation drawn out. Pat dry with a paper towel.
Make the flax seed "egg" replacement. In a small bowl, combine the flax seeds with water. Allow to sit for 10 minutes until thickened and gelatinous.
In another small bowl, combine the flour, salt, pepper and italian seasoning. Stir to combine.
In another small bowl, add panko bread crumbs.
Preheat oven to 375 degrees with the oven rack in the middle.
Breading and Cooking the Eggplant
Set up your dredging station: bowl of flour mixture, flax seed mixture, panko, baking sheet.
Take 1 slice of eggplant. Dip it in the flour so it is coated, shake off excess. Then dip it in the flax seed liquid. Then dip it in the panko bread crumbs, pressing to adhere. Then place it on the baking sheet.
Repeat with all the eggplant.
Spray the top of the breaded eggplant with olive oil spray, and sprinkle with salt.
Bake in the oven for 45 minutes, turning the eggplant half way through, until crispy and golden brown.
Serve warm with Prego® Farmers' Market Classic Marinara as a dipping sauce.
Leftovers will keep refrigerated in an airtight container for 1 week.

More Vegan Appetizers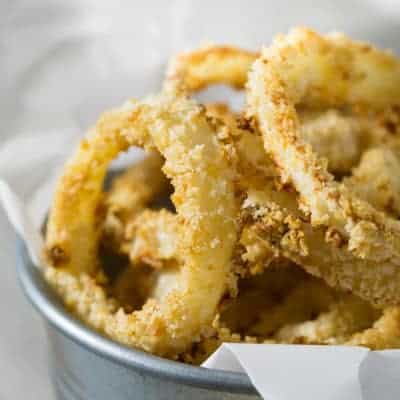 Crispy Oven Baked Onion Rings
(just substitute egg for the same flax meal mixture in this recipe to make it vegan)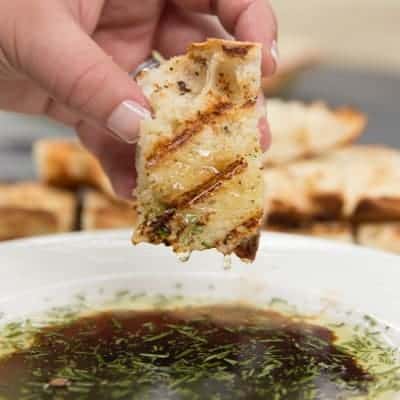 Grilled Bread with Rosemary Dipping Oil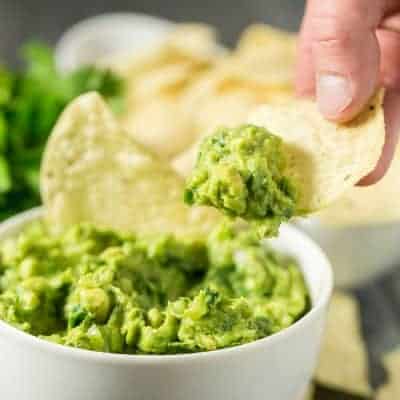 Mexican Restaurant Style Guacamole
This post is sponsored by Prego®. All opinions are my own. Thanks for supporting the brands that support me!