Whole30 + Keto Sheet Pan Sausage + Vegetables
Whole30 + Keto Sheet Pan Sausage + Vegetables Recipe – roast compliant sausages + veggies on a sheet pan and let the oven do the work for you! Great for breakfast, meal prep lunch or dinner! Paleo, gluten free, grain free, dairy free, sugar free, clean eating, real food.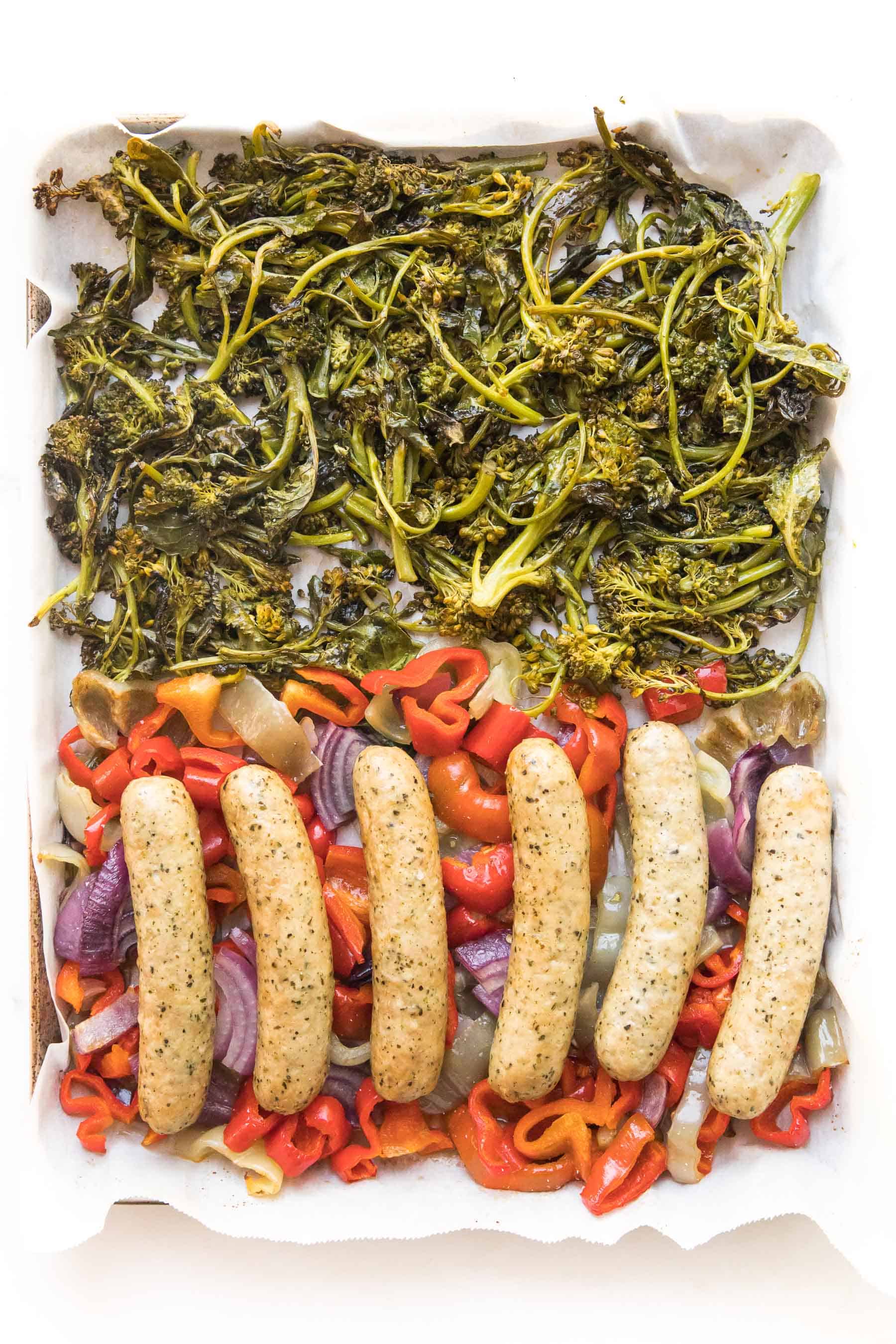 You are looking at not only the most cooked recipe in my home, but also a remake of one of the most popular recipes on my site.
We live and breath by this whole30 + keto sheet pan sausage + vegetables! I'm serious. I make this dinner almost every single week.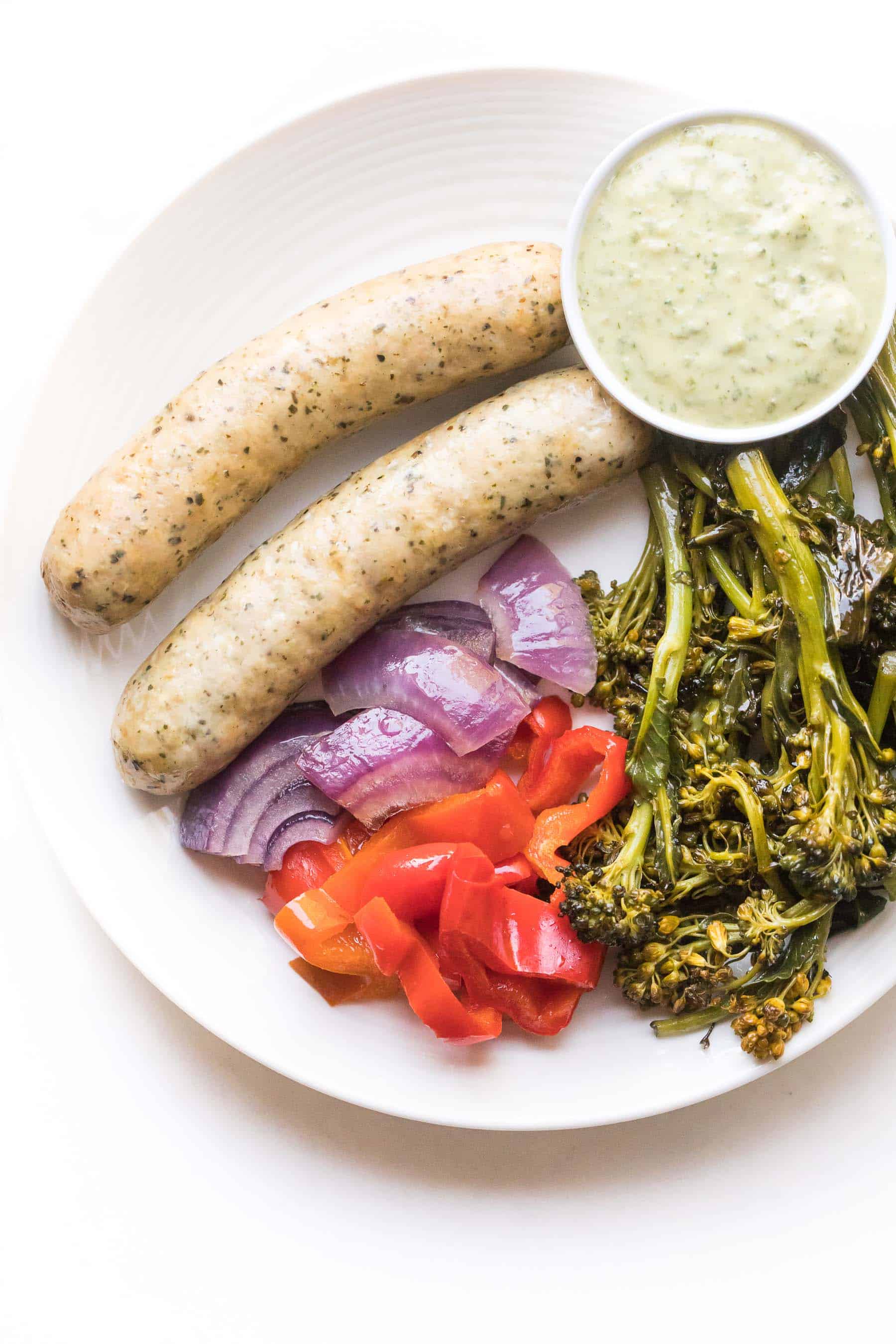 I first shared a whole30 version of this recipe a few years ago. It has potatoes + chicken apple sausage, which are whole30 but not so great for keto.
I make this recipe so often, and link to it so much, that it was time my whole30 AND keto version has it's very own post.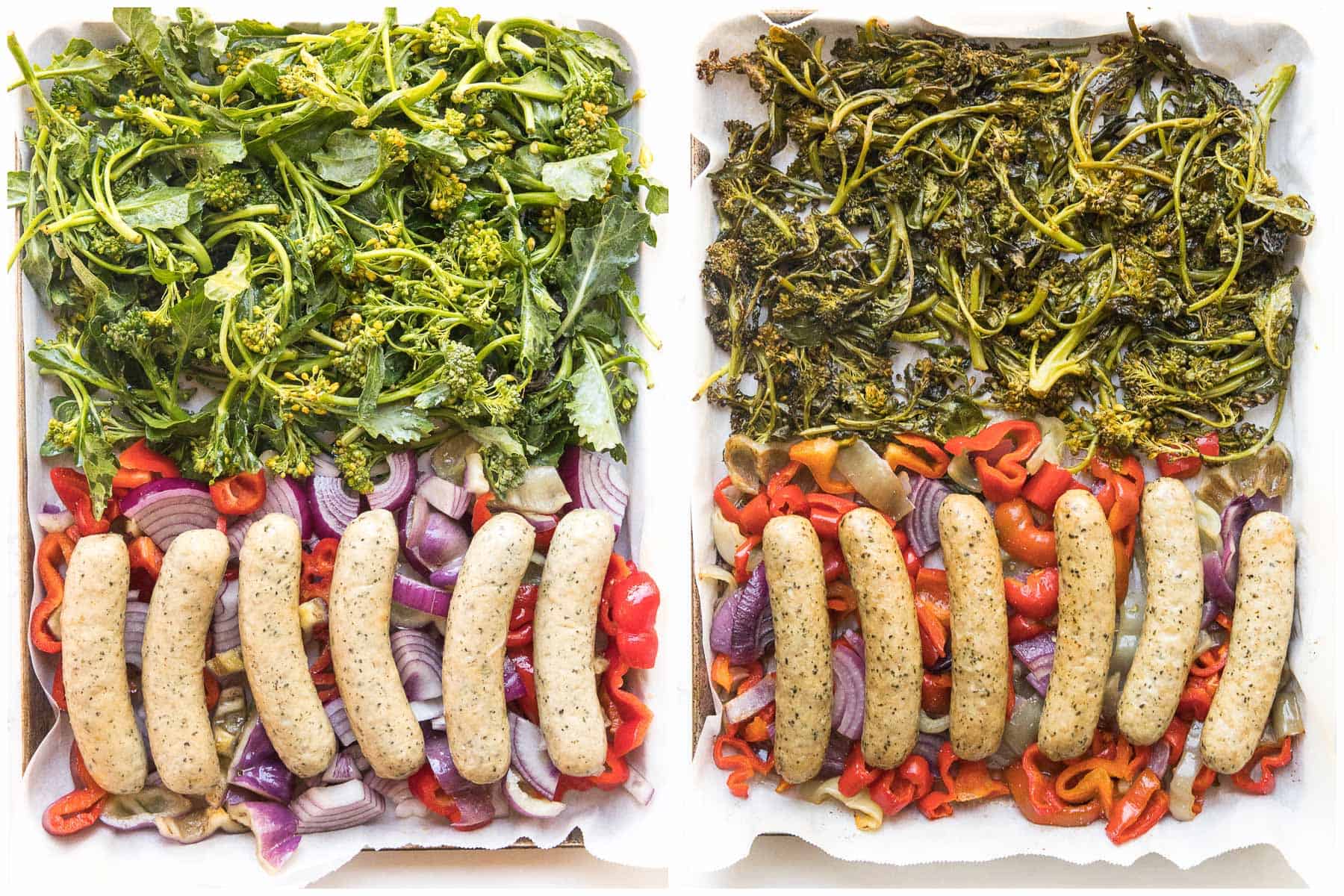 Vegetables To Use
What I love most about this recipe is how simple it is! I can have all the chopping done in 15 minutes. Lay everything on a sheet pan, and the oven does the rest of the work for me!
I have it pictured with bell pepper, onions and broccoli. But you can use whatever keto friendly vegetables you have on hand!
Brussels sprouts, cauliflower, radishes, turnips, kale, zucchini, yellow squash, turnips, green beans, etc.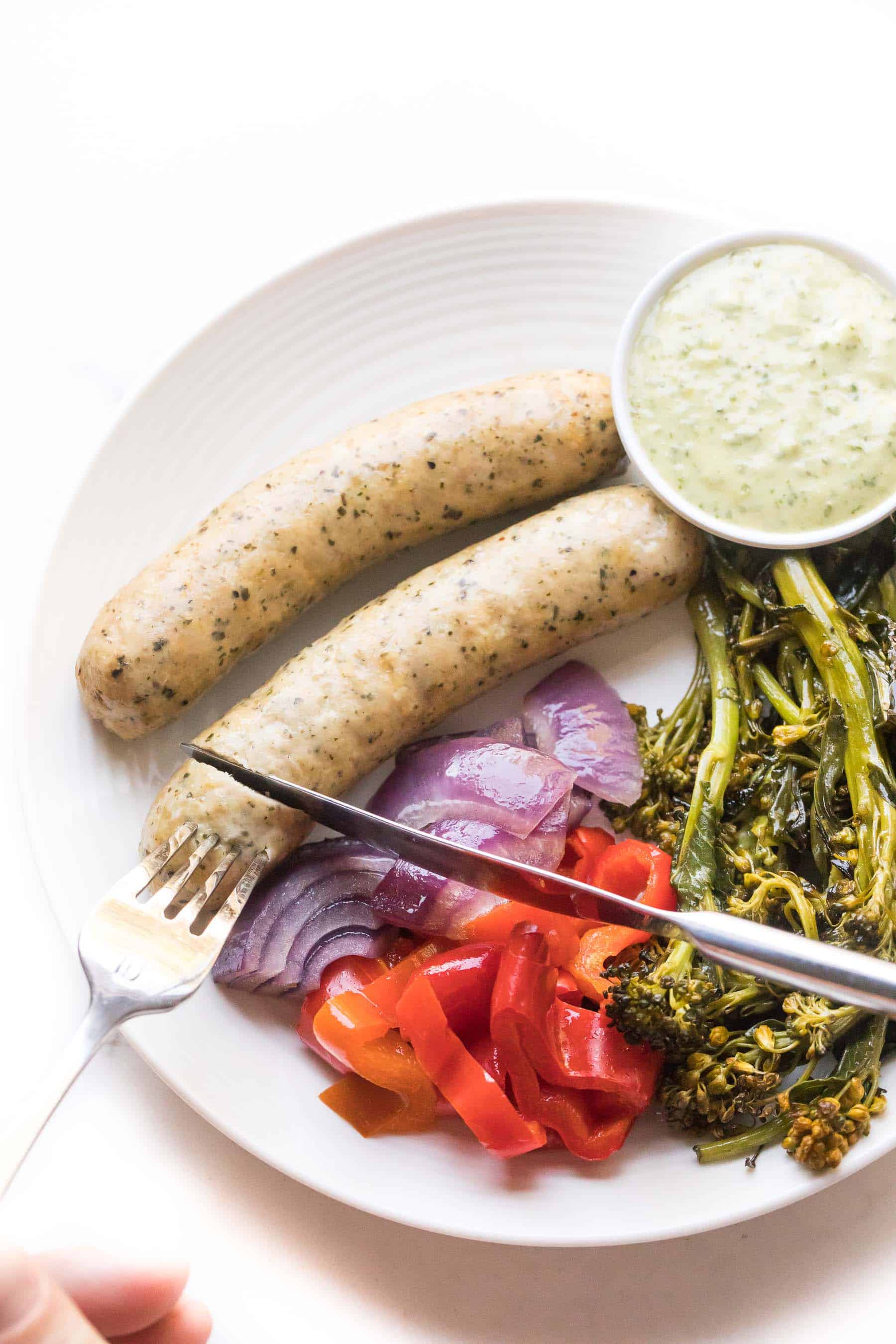 Whole30 + Keto Compliant Sausages
The most important part is to make sure you're getting a compliant sausage. A ton of sausages have added sugar or added fruit or added cheese.
These are a few great hormone + antibiotic free options I have found that are both whole30 AND keto (go to their website for store locators):
Teton Waters Ranch Beef Sausages: Black Pepper + Coriander, Bratwurst, Hardwood Smoked, Spicy Andouille, Polish Kielbasa
Sabatino's Chicken Sausage: Organic Basil + Cracked Pepper
Fra'mani Pork Sausages: Salt + Pepper, Savory Herb, Andouille, Italian sausages
Pederson's Natural Farms Pork Sausages: No Sugar Added Double Smoked Bratwurst,  No Sugar Added Old World Kielbasa, No Sugar Added Uncured Kielbasa, No Sugar Added Smoked Sausage, No Sugar added Organic Smoked Sausage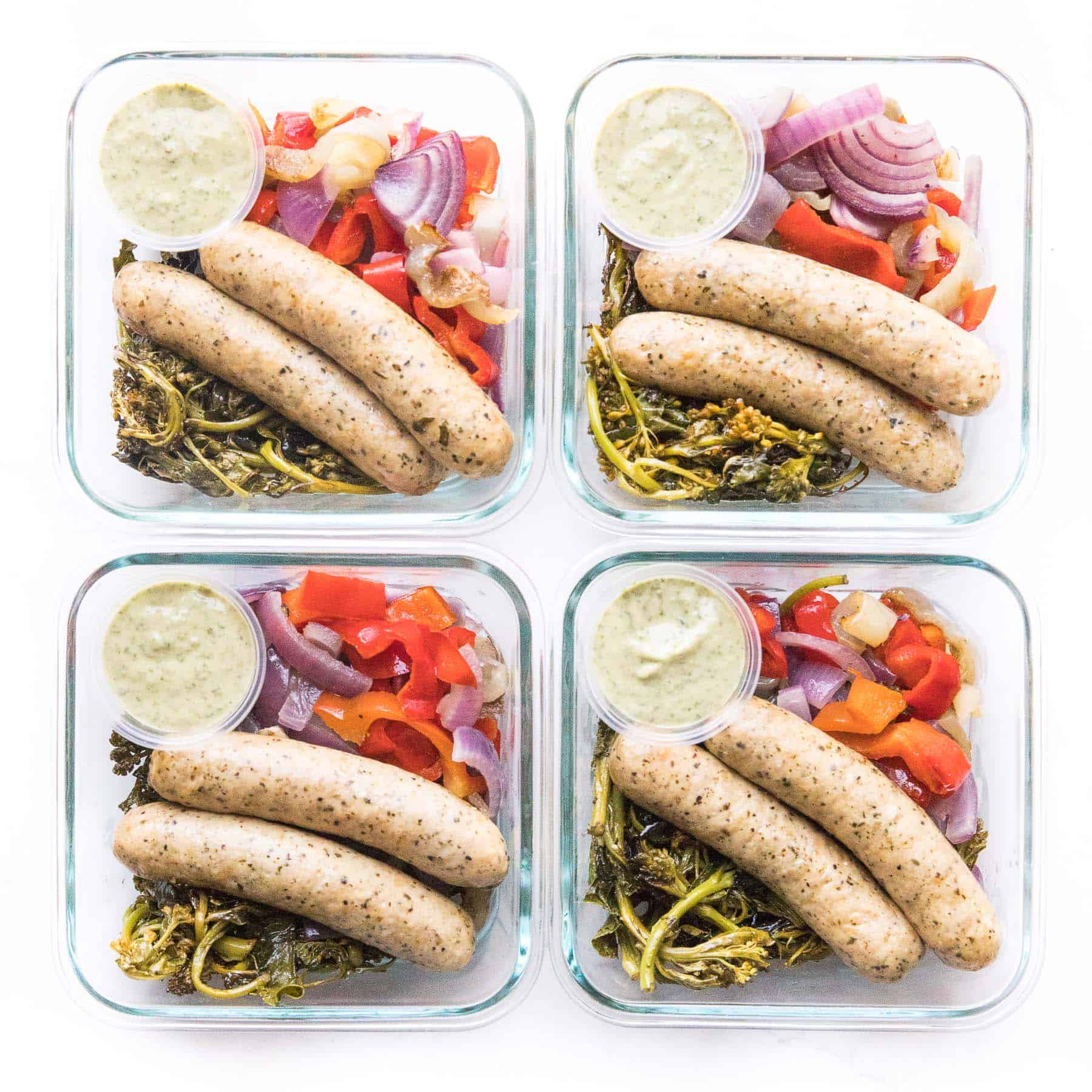 Whole30 + Keto Sheet Pan Sausage + Vegetables Meal Prep
The main reason I love this dinner so much is because it makes the most amazing meal prep that I do not get sick of. Whenever I make it, I double it and make 2 sheet pans worth. 1 for dinner, 1 for leftover lunches. So genius!
I have meal prep instructions in a the Recipe Notes below.
Watch Recipe Demo (3:18 minutes)
Print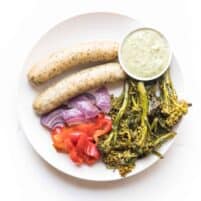 Whole30 + Keto Sheet Pan Sausage + Vegetables
---
Author:

Prep Time:

15 mins

Cook Time:

30 mins

Total Time:

45 minutes

Yield:

4

1

x
4 (or more!) compliant sausages*
2 bell peppers, sliced
1 red onion, sliced
1 pound broccoli florets
2 tablespoons olive oil
2 teaspoons salt
2 teaspoons pepper
---
Instructions
Preheat your oven to 425ºF. Line a rimmed baking sheet with parchment paper for easy cleanup.
Toss the bell pepper + onions in olive oil. Lay in an even layer at the top half of the sheet pan. Season with salt + pepper.
Toss the broccoli in olive oil. Lay in an even layer at the bottom half of the sheet pan. Season with salt + pepper.
Lay the sausages on top of the bell pepper + onions.
Roast for 30 minutes, flipping the sausages half way through roasting.
Serve warm. Delicious with my pesto aioli! Or my ranch dressing, True Made Foods ketchup, or dijon mustard.
Will keep in an airtight container for at least 5 days in the fridge. Great for meal prep! See meal prep instructions below.
Notes
*My favorite whole30 AND keto sausages are Sabatino's Basil + Cracked Pepper (I get them at Costco), Framani Salt + Pepper Smoked Sausages (I get them at Costco) and Tenton Waters Ranch has a few different flavor options (available at most grocery stores, even Walmart!).
Meal Prep Instructions: Store in an airtight container for up to 5 days in the refrigerator. I love these plastic ramekins to hold the pesto aioli. HEATING: Remove the pesto aioli, and either microwave until warm, about 3-5 minutes (I like to sprinkle in a little water to help it steam and prevent it from drying out). Or reheat in a 350ºF oven until warm, 10-15 minutes. Could also reheat in a cast iron skillet on the stove top.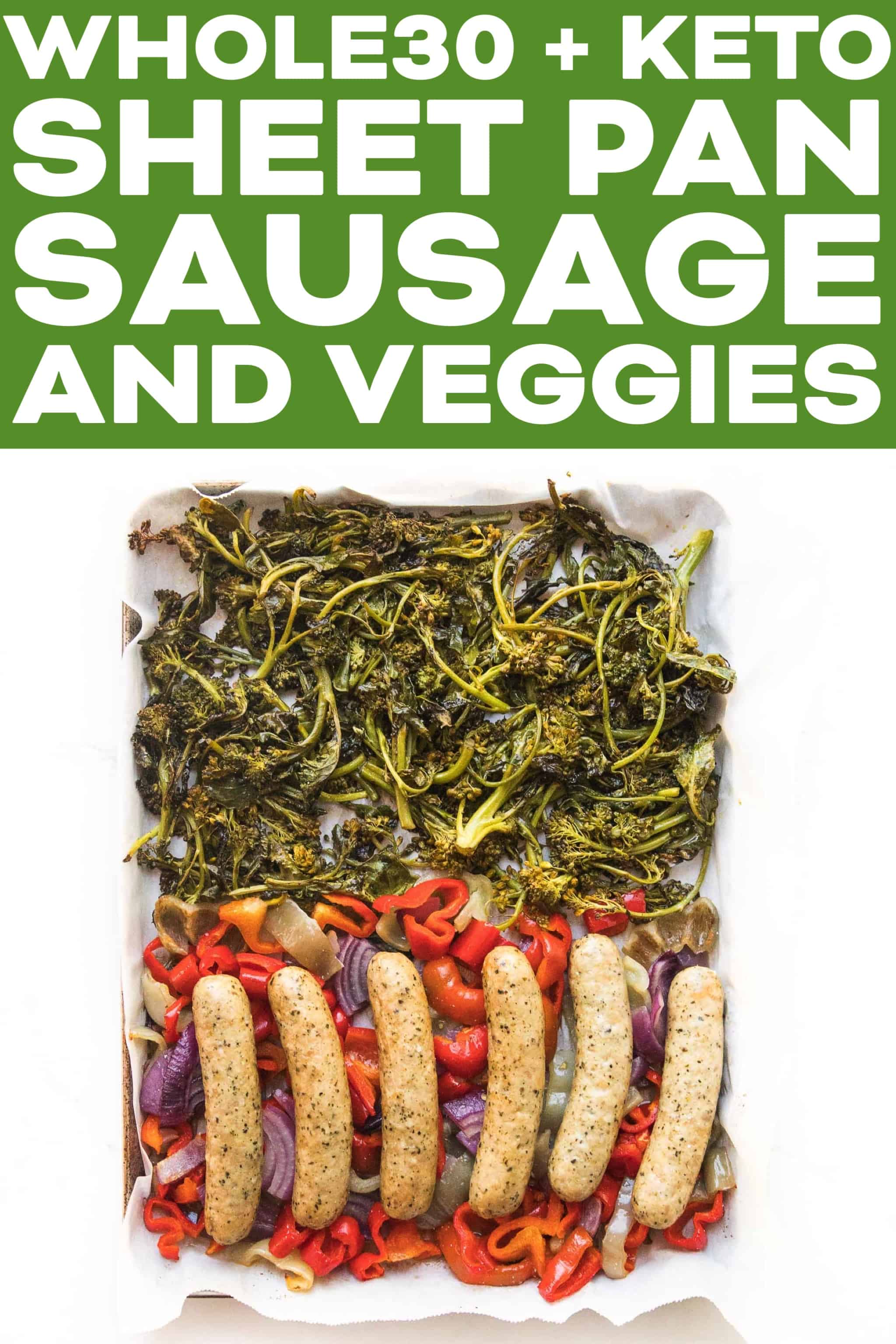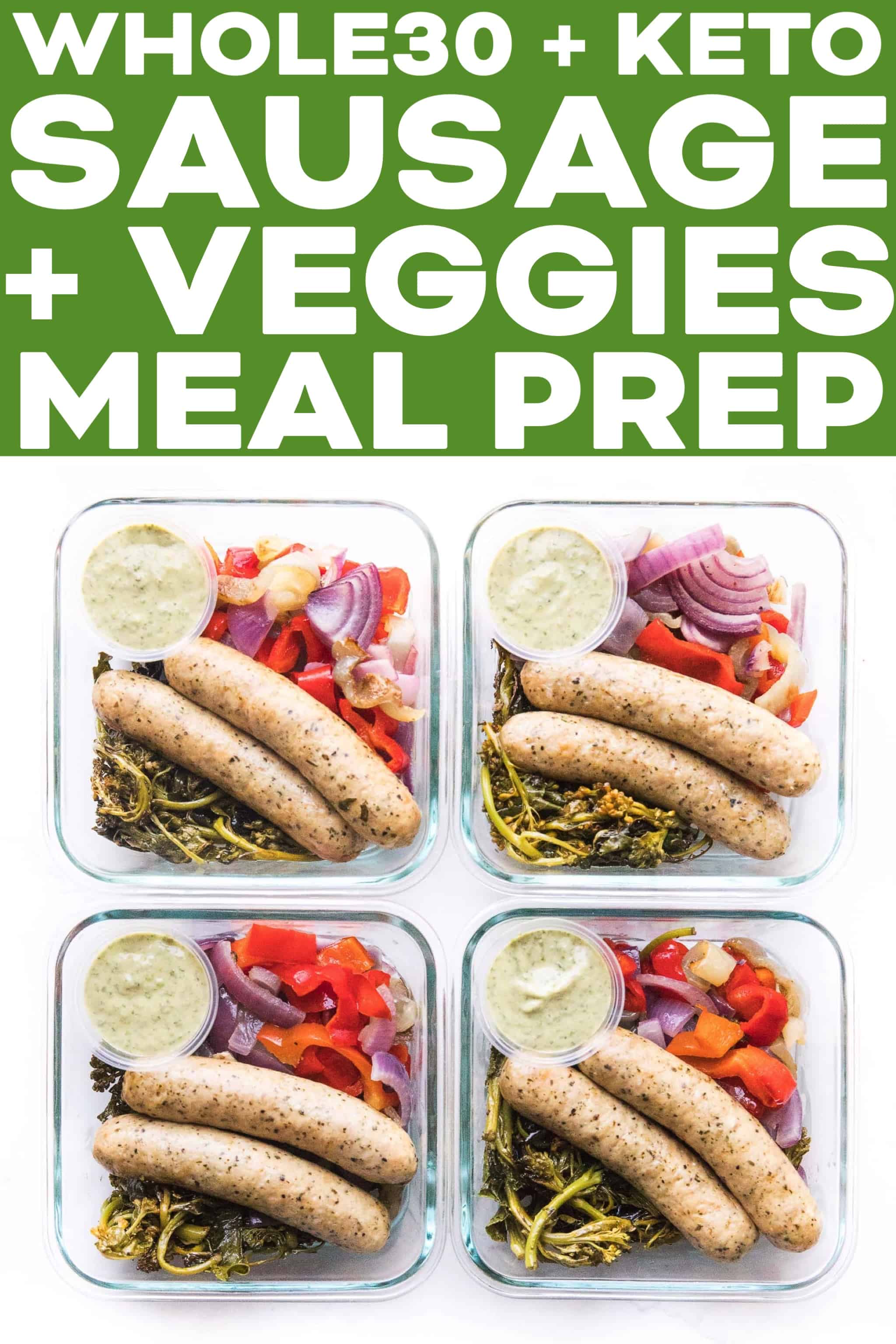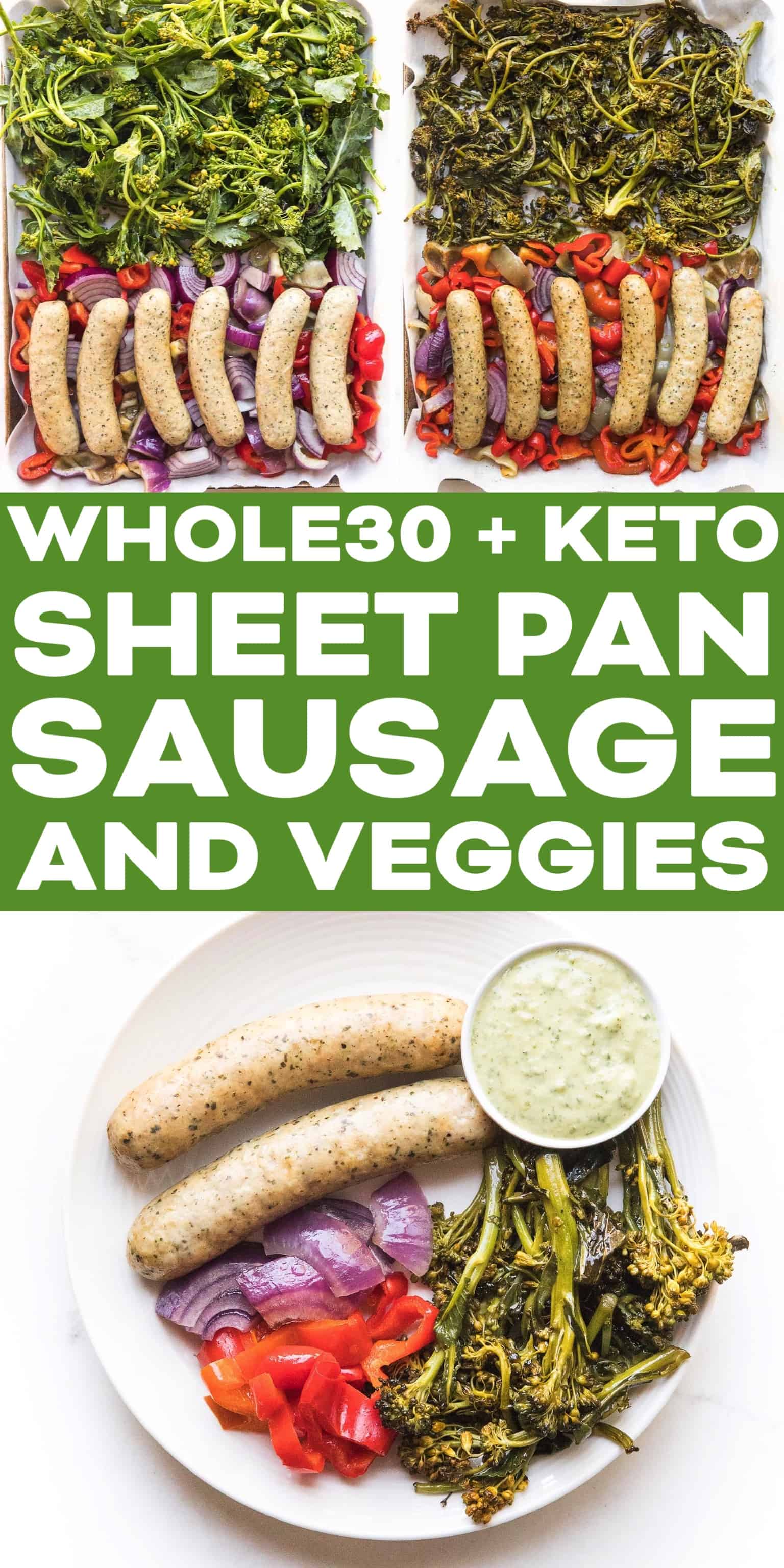 This post contains affiliate links, thanks for the love!
Never Miss a Recipe!
Get new posts delivered straight to your inbox! For free!