Keto Zucchini Fries
Keto Zucchini Fries Recipe + Video – low carb oven baked zucchini fries and dipping sauce. A crispy and crunchy breading made without almond flour. Paleo, Whole30, gluten free, grain free, dairy free, sugar free, clean eating, real food. 
Keto Zucchini Fries
You're looking at the healthiest dang version of burger and fries that is so delicious you will forget that you're eating so clean.
I love a good lettuce wrapped burger, but the real star here is the whole30 + keto zucchini fries. All fries will now be zucchini fries!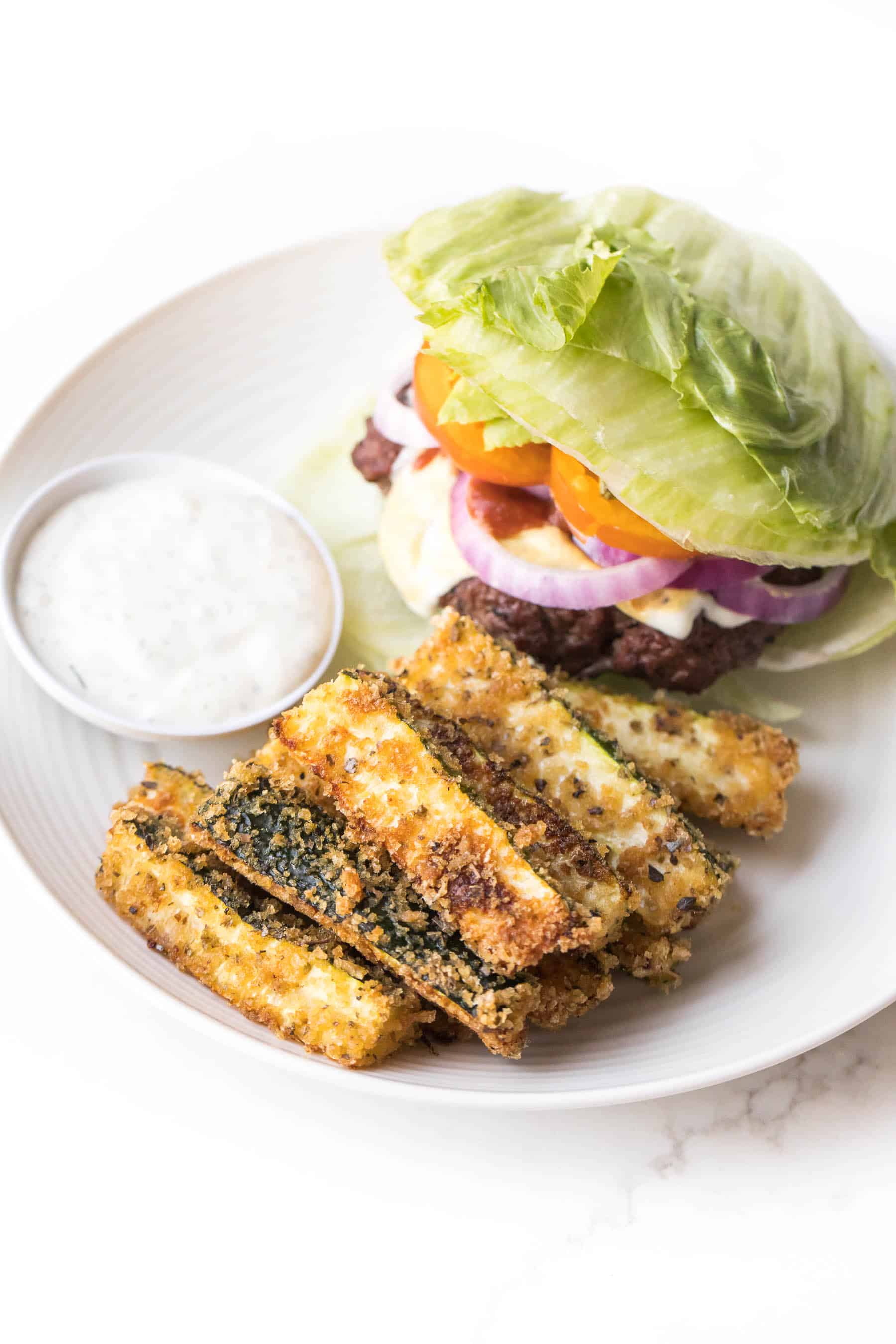 Breading for Keto Zucchini Fries
To make these zucchini fries crunchy and crispy, I coat them in my favorite 0 carb breading that is also Whole30 friendly and dairy free. Hurray for pork panko.
If you haven't tried pork panko yet, this is about to change your life. It is ground up pork rinds that have the same resemblance and crunch as panko. They taste similar to a ground up potato chip, and have 0 carbs! Don't be intimidated by the idea of eating pork rinds. Swear to you these are good!
You can buy pork panko on Amazon, or simply grind up pork rinds in your food processor.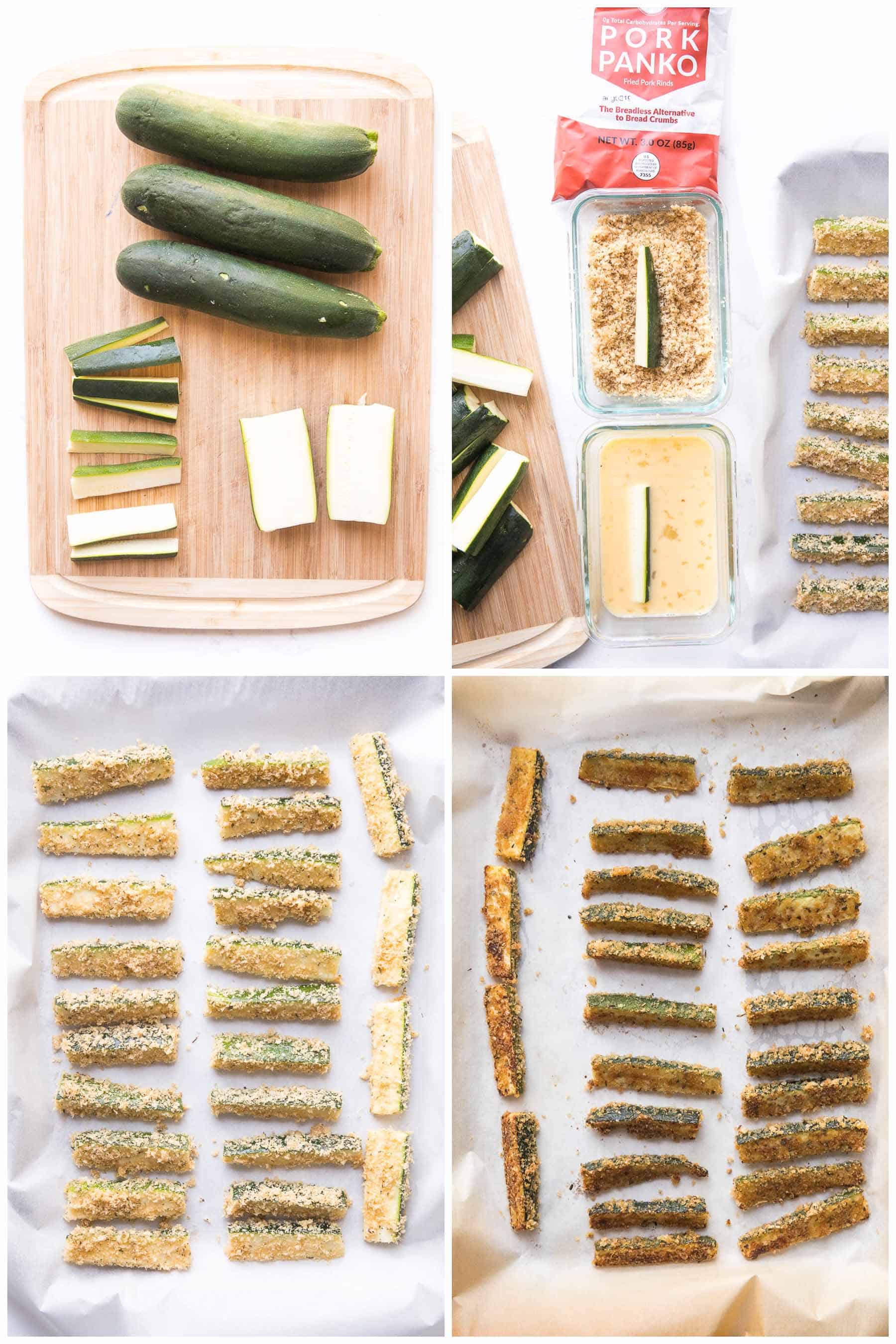 Oven Baked Vs Air Fryer
You can use your air fryer to make these zucchini fries, but I actually prefer baking them in the oven. They turn out just as crispy, you can cook way more at the same time and breading doesn't fall off when shaking them.
The recipe gives instructions for the oven, but in the Recipe Notes below I give tips for making them in the air fryer if that is what you prefer.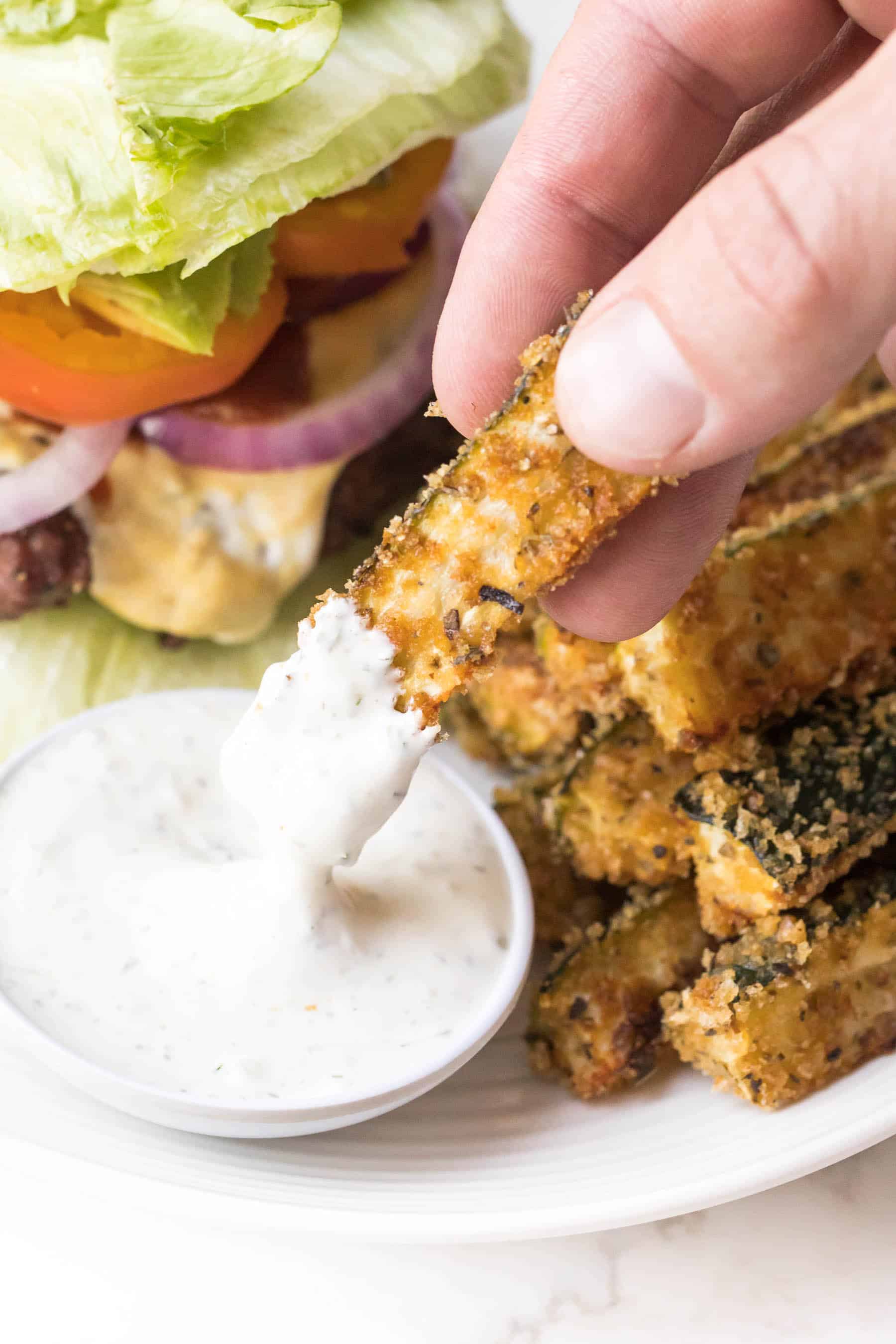 Keto Zucchini Fries Dipping Sauce
My very favorite dip for these zucchini fries are my homemade keto ranch dressing (it's dairy free also!).
Because what is better than fries and ranch? Nothing.
Watch Zucchini Fries Recipe Demo
If you make these keto zucchini fries be sure to leave a comment and give this recipe a rating! I love to hear from you all and always do my best to respond to each and every comment. And of course, if you do make this recipe, don't forget to share and tag me on Instagram! Looking through the photos of recipes you all have made is my favorite!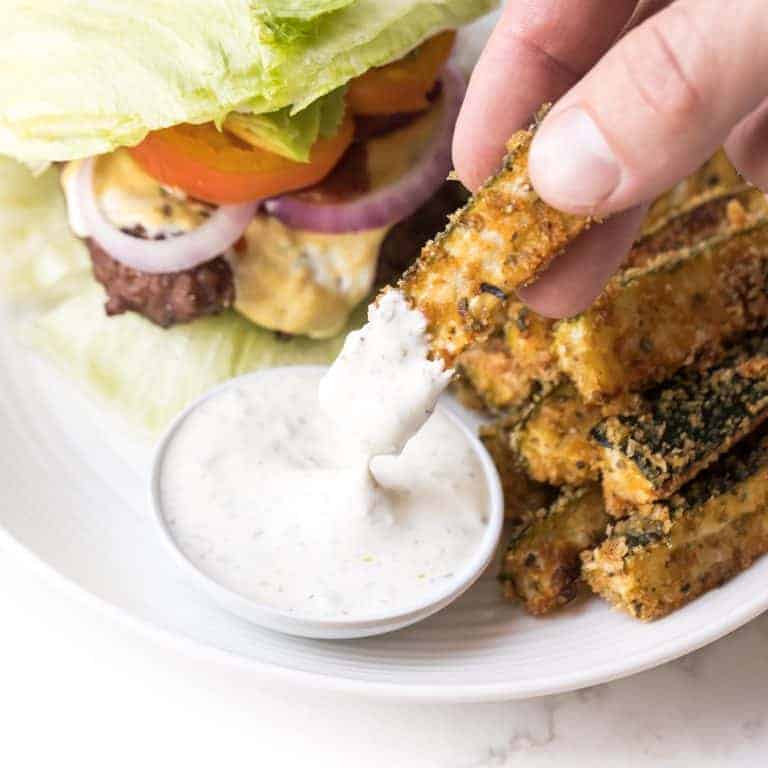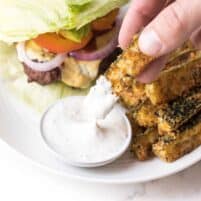 Keto Zucchini Fries
These Keto Zucchini Fries are a low carb oven baked zucchini fries and dipping sauce. A crispy and crunchy breading made without almond flour.
Instructions
Preheat your oven to 450ºF. Line 2 rimmed baking sheets with parchment paper for easy cleanup.

Cut your zucchinis in half, then in half again, then those halves into quarters. It will make 16 "fries".

In a small bowl, beat the 2 eggs.

In a separate bowl, combine the pork panko, italian seasoning + garlic powder. Stir to combine.

Dredge each zucchini fry in the egg, then in the pork panko until it is fully coated. Place on the baking sheet. Repeat with all the zucchini fries. Space out the zucchini fries on the baking sheet so they are not touching, otherwise they will steam and not get crispy.

Bake for 25-25 minutes, flipping half way through, until it is crispy and golden brown.

Serve while warm. Great with my homemade ranch dressing!

See the Recipe Notes below for more tips, FAQs and substitution info!
Notes
Air Fryer Instructions: Follow the above prep instructions, but place the dredged zucchini fries in a single layer in your air fryer. Cook at 400ºF for around 10 minutes until crispy. You will have to repeat several times to get all the zucchini fries to fit Pork Free: If you don't eat pork, you could substitute almond flour. They won't get as crunchy, but still a good low carb breading. If you're not worried about it being low carb, regular panko or gluten free panko would work as well. Same quantities for all substitutions. Egg Free: I've never tried it, but you *should* be able to use a flax egg or chia egg in place of the egg to keep this egg free. You'll need 1 tablespoon flax seed meal or chia seeds soaked in 2.5 tablespoons water for 5 minutes. Reheating: To reheat, bake in a 450ºF oven until warm and crispy again. Usually 15ish minutes.
Calories:
182
,
Total Carbs:
6
g
,
Protein:
18
g
,
Fat:
9.5
g
,
Fiber:
1.6
g
,
Net Carbs:
4
g
Did you make this recipe?
Please Leave a comment and give this recipe a rating!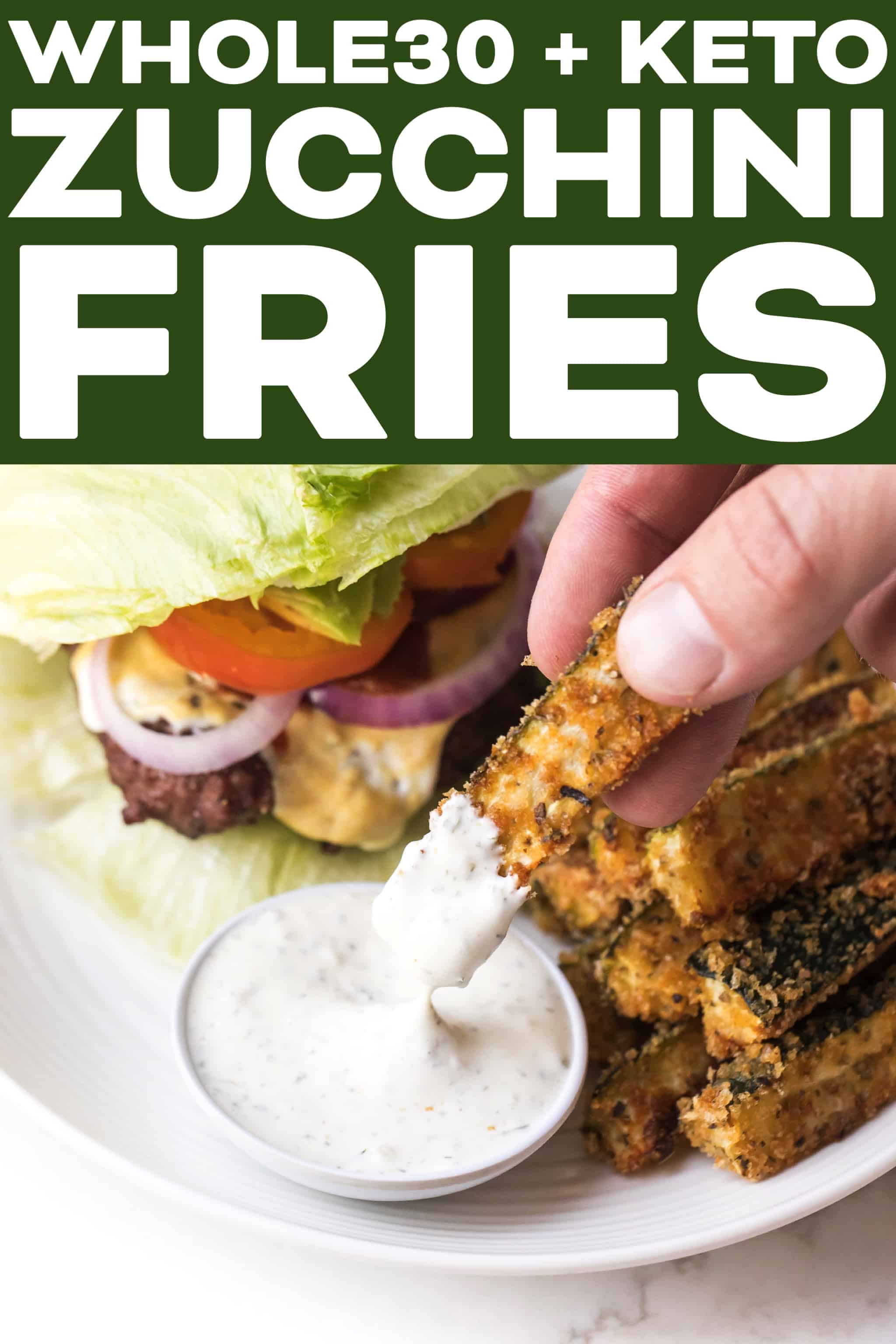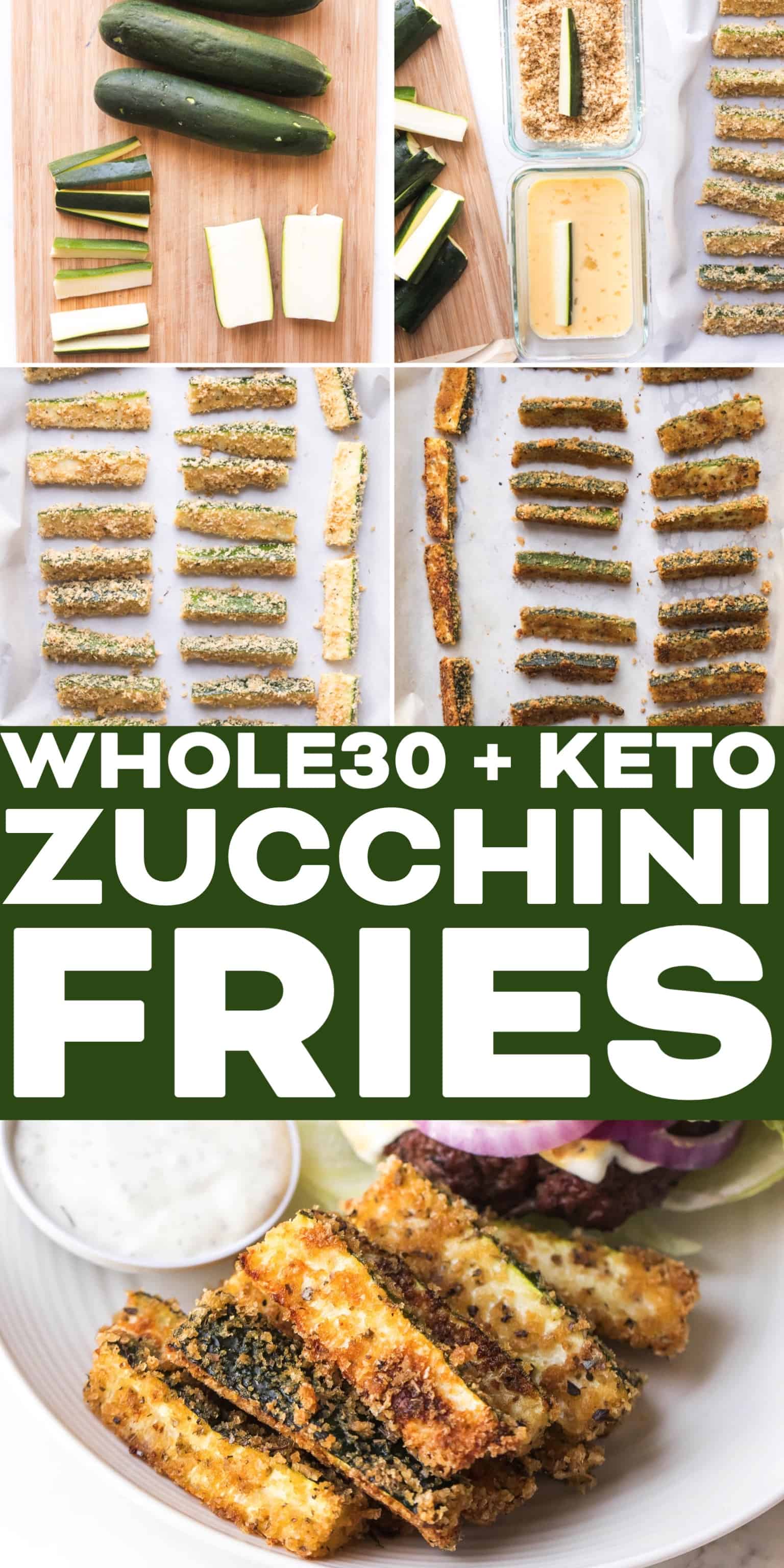 This post contains affiliate links, thanks for the love!